If you're running an online store, you can take your brand to the next level with the right WooCommerce plugin. A study says, 12.96% of the eCommerce websites on the internet use WooCommerce.
WooCommerce is a one stop eCommerce solution that is built on WordPress. It allows you to add new features and make your eCommerce journey much better.
In this blog, we've listed some of the best WooCommerce plugins that help your brand grow more revenue. From improving your site's functionality to improving your customers' shopping experience, these plugins will help you boost sales, increase conversions, and grow your business.
These plugins will give you the edge you need to succeed in the competitive world of eCommerce. Let's get started!
Maximize your eCommerce potential with our top-rated WooCommerce plugins. Don't wait any longer, try them today!
Why do you need WooCommerce plugins for your eCommerce store?
WooCommerce plugin for your eCommerce store allows you to enhance your store's functionality, create an exceptional customer experience, and ultimately boost your sales.
Here are some reasons why you must have WooCommerce plugins for your eCommerce store:
Boost Sales and Revenue: WooCommerce Plugins can help you increase sales and revenue in an easy way. You can add features such as upsells and cross-sells, abandoned cart recovery, and personalized recommendations. You can also use plugins to create discounts, coupons, and loyalty programs.
Enhance Customer Experience: WooCommerce plugins can help you create a better customer experience for your online store. For example, you can use plugins to create a responsive design, optimize your store for mobile devices, and provide live chat support.
Improve Store's Functionality: WooCommerce plugins can help you add new features, such as payment gateways, shipping methods, and product filters to improve store's functionality. You can also improve the store's functionality by adding social sharing buttons and leaving a review panel.
Simplify Store Management: Plugins can help you manage your store more efficiently by automating inventory, order processing, and customer management tasks. You can also use plugins to track your store's performance, analyze customer behavior, and create reports that simplify store management.
Best WooCommerce Plugins To Boost Your eCommerce Business
WooCommerce plugins are a game-changer for any eCommerce store. With the best WooCommerce plugins mentioned in the blog you can give your customers an amazing shopping experience.
Without any delay, let's dive into the blog!


Discount Rules for WooCommerce is one of the most powerful WooCommerce plugins. You can create unlimited dynamic pricing and discount scenarios for your WooCommerce store. You can use this discount plugin to create a variety of simple to complex discounts for your WooCommerce store.
You can configure discount scenarios such as store-wide global discounts, tiered pricing discounts, order total-based deals, and more. You can also configure a variety of advanced features to increase the value and sales, such as Category discounts, percentage discounts, BOGO deals, user role-based discounts, bulk discounts, and more.
Features
Include or exclude products from rules.
Options to automatically apply coupons.
Set discount based on user-role, subtotal amount, purchase history of the user, category combination, product combination.
Set usage limits and expiration dates.
Display promotional items based on cart quantity.
Offer discounts for all product, specific products,category,attributes and more
Offer free shipping.
Easily create smart coupons.
Multiple setting positions to display discount tables and discount bars.
$59/ Year for single site
$89/ Year for five sites
$149/ Year for 25 sites
Retainful – Abandoned cart recovery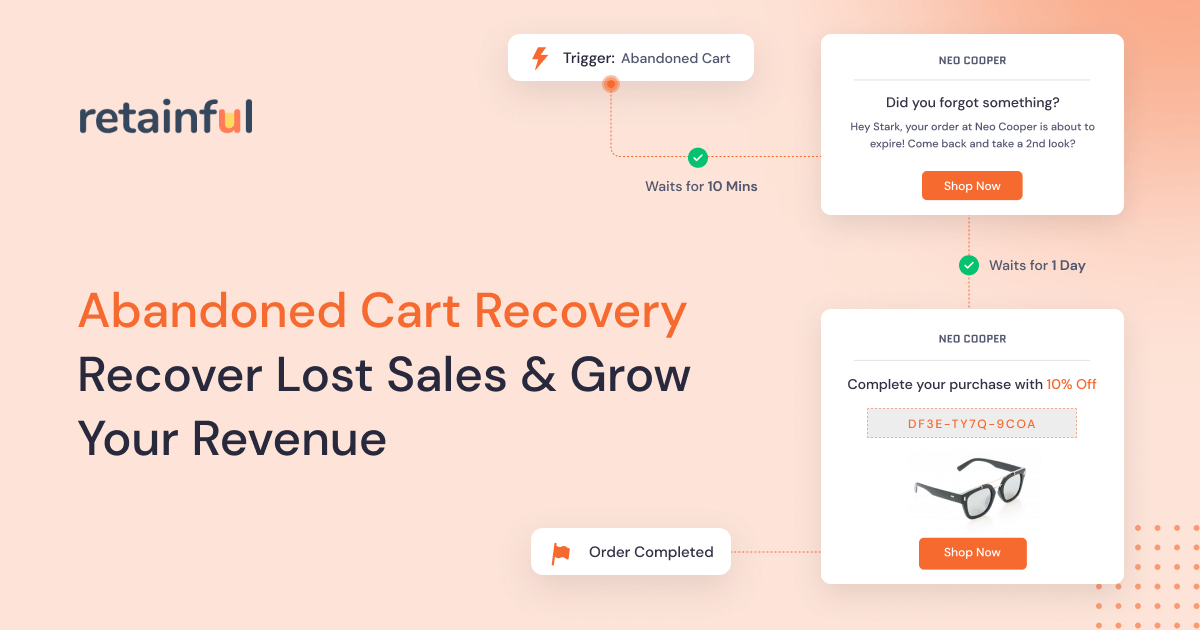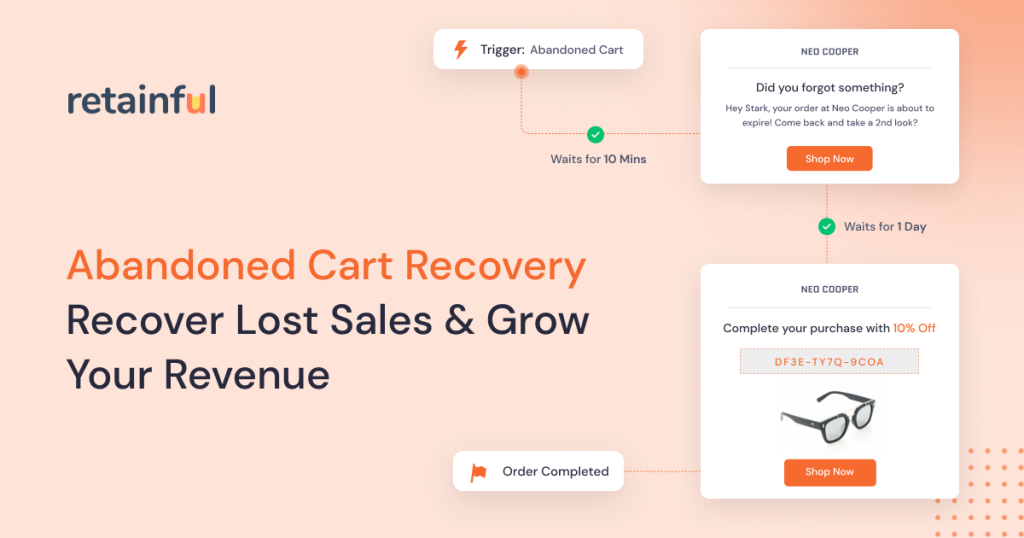 Retainful is one of the must-have WooCommerce abandoned cart recovery plugins, with an easy-to-use interface that allows you to recover abandoned carts and increase revenue. You can easily personalize abandoned cart emails and send reminders to customers who have abandoned their carts. You can also add dynamic coupons and Next order coupons to entice the customer to come back and finish their purchase. It has pre-built email templates and pre-built workflow based on best practices to maximize abandoned cart recovery.
The order follow-up emails and post-sales engagement emails like Welcome and Thank you emails help engage customers better and boost sales. You can also try the referral program to retain customers and acquire new customers which drives more traffic to your website and grows your revenue.
Features
Send unlimited emails.
Pre-built automation workflow templates
Pre-built email templates
Conditional split rule
Percentage, flat amount & free shipping discount
Next order coupon
Drag and drop email editor
Dynamic coupon codes
Add to Cart/ Exit intent popup to prevent cart abandonment
Free with limited features
$19/ Month for Starter
$49/ Month for Growth
$199/ Month for Professional
WPLoyalty – WooCommerce Points and rewards plugin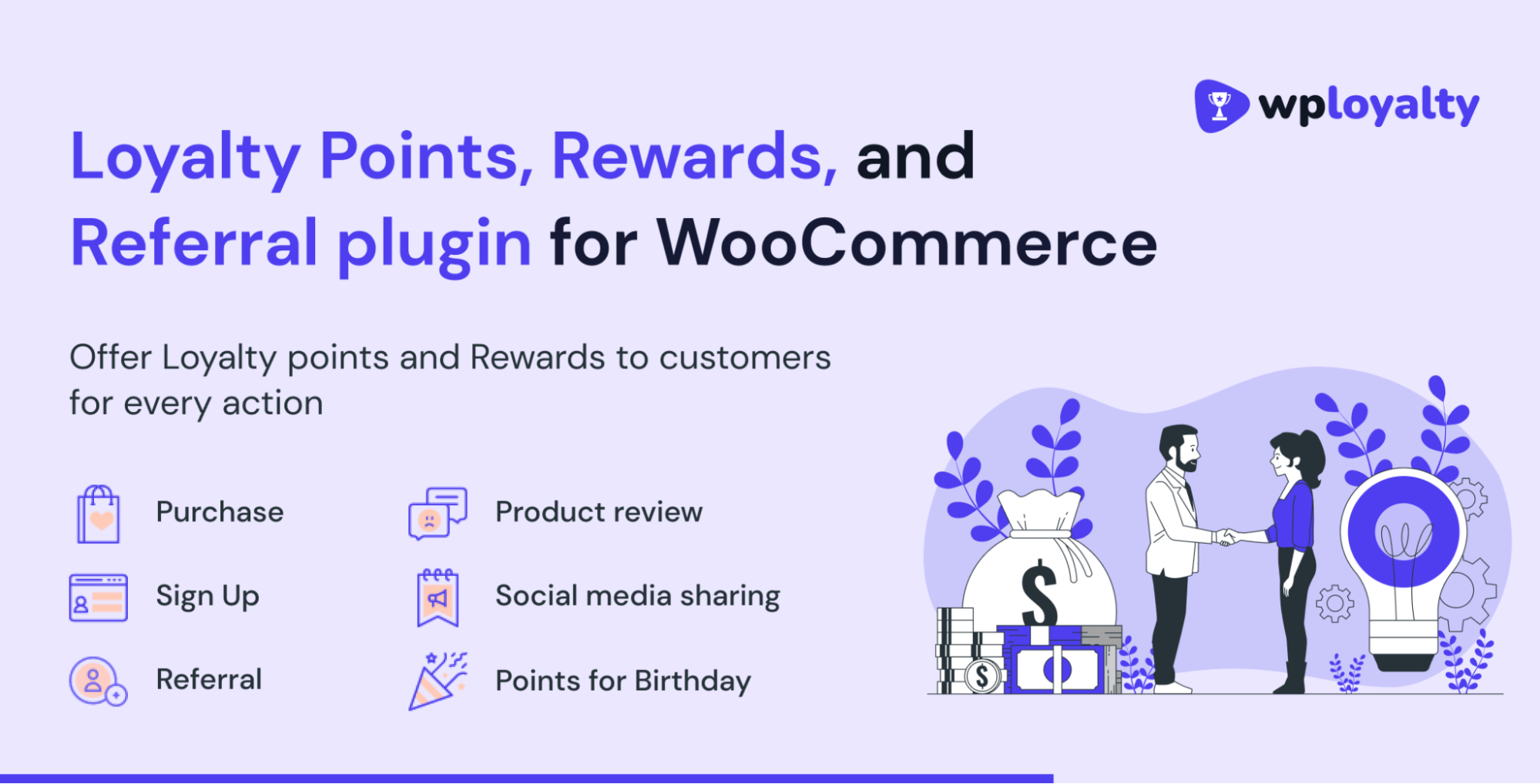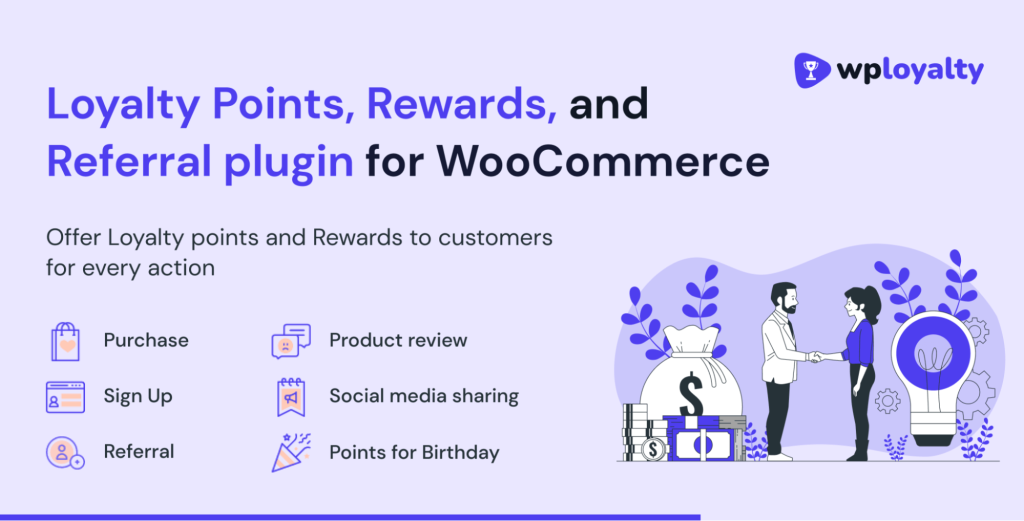 WPLoyalty Points and Rewards plugin lets you acquire loyal customers and expand your customer base through rewarding customers for every action. Customers can be rewarded with points or rewards for every purchase, signing up for your store, referring a friend, or on special occasions such as birthdays.
You can start acquiring new customers by implementing a referral program with WPLoyalty. You can offer exciting discounts and deals to both existing and new customers. This will not only help you acquire new customers, but it will also increase customer loyalty and retention.
WPLoyalty also has add-on features – Point-expiry app and a launcher widget. Point expiry app allows you to set point expiry dates to the points earned by each customer. This will motivate customers to use the points before it expires. On the other hand, the Launcher widget allows users to easily discover the loyalty program.
Additionally, WPLoyalty has now launched the Free Version – Points and Rewards for WooCommerce lite. Now, you can use the WPLoyalty free version with limited features without spending any revenue. Exciting?
Features
Offer a personalized set of rewards
Offer fixed discount or percentage discount
Offer free product or free shipping
Create campaigns based on various conditional rules
Customize the launcher widget to your store's style
Manage customers points easily via dashboard
You can set campaign start and end dates
You can set point expiry to customer's points
$99/ Month for Starter
$129/ Month for Growth
$199/ Month for Professional
Stop struggling to increase conversions and sales. Let our top-rated WPLoyalty plugin do the work for you.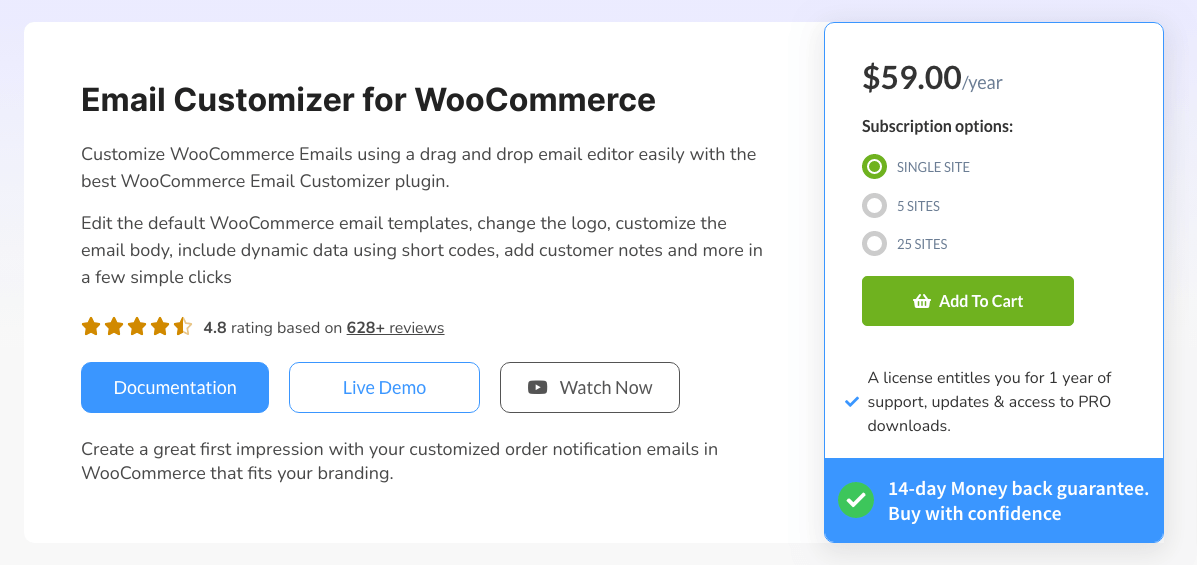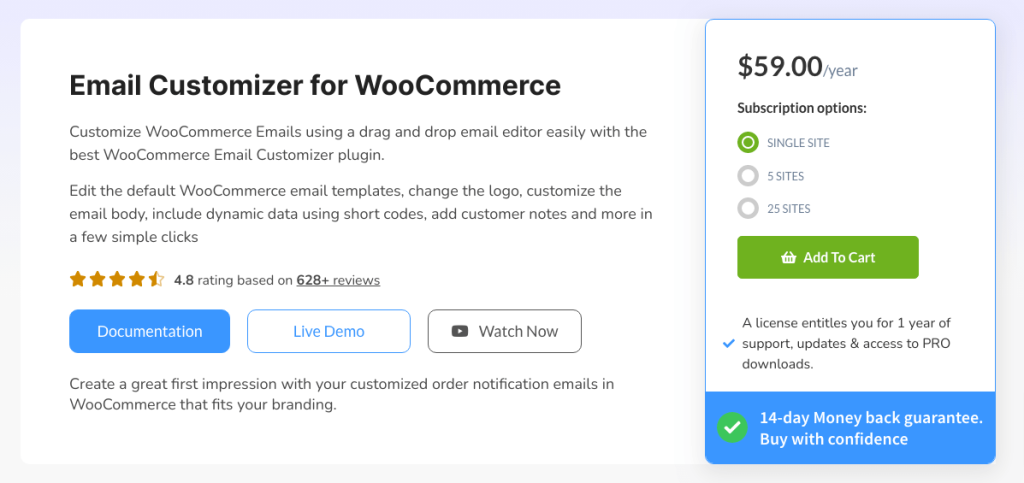 Email Customizer Plus for WooCommerce is a simple drag-and-drop customizer that lets you quickly create more professional-looking emails.
To create well-designed transactional emails, you can use the plugin's multiple features to build your brand by adding a logo, header, footer, custom paragraph texts, social icons, and more.
For all WooCommerce emails, the email customizer provides ready-made email templates. The plugin also includes a live preview option, allowing store owners to send a test email before going live.
Features
Readymade email templates
Responsive, Mobile friendly
Supports 14 templates of WooCommerce Booking Plugins
Instant live preview
WPML support
Test email options
Backup email templates in a single click
$49/ Year for single site
$69/ Year for five sites
$99/ Year for 25 sites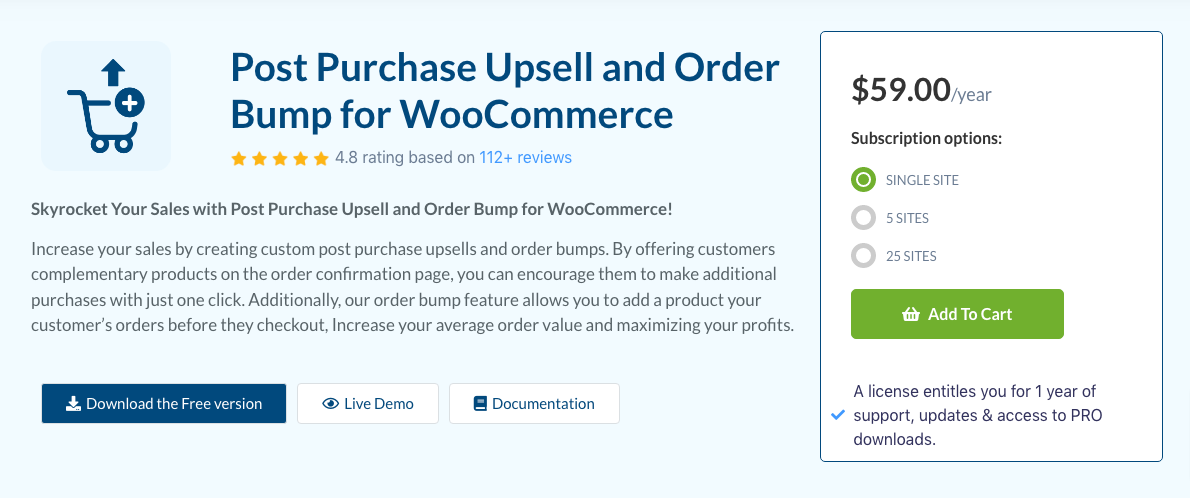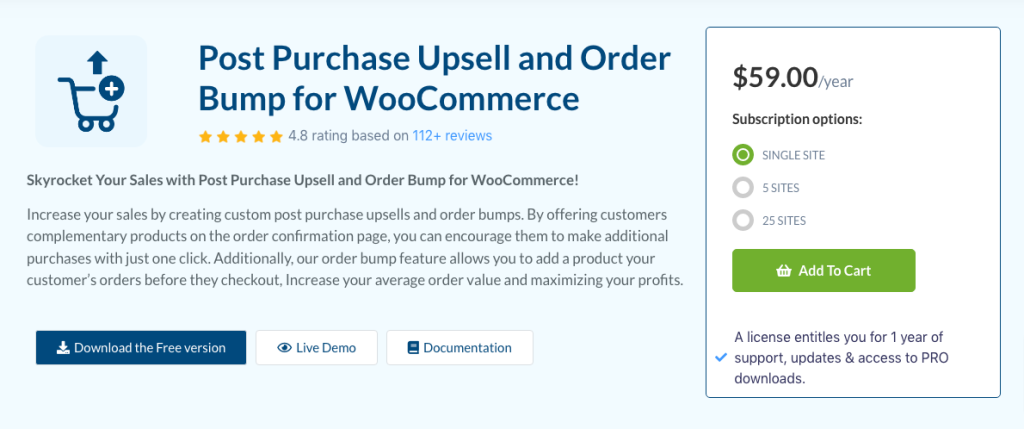 Every WooCommerce store aims to attract existing customers to buy more and return. You can create an unlimited number of order bumps with the checkout upsell and order bump for WooCommerce to display upsell products in your online store at the checkout page with a single click.
You can increase sales and average order value with attractive offers without affecting the checkout process.
Features
Create percentage or fixed value discounts for upsell products.
Schedule and promote your order bump offers.
Personalize and apply powerful targeting rules based on product, category, cart subtotal, and other criteria.
Upsell your products throughout the checkout process.
Prioritize your campaign's upsell offers.
Customize your upsell offer with appealing content and a compelling description.
Data and analytics in real-time to track the upsell campaign
Offer usage limits offer used, and views options.
$49/ Year for single site
$99/ Year for five sites
$199/ Year for 25 sites


The checkout field editor and manager for the WooCommerce plugin make it simple to add, modify, delete, duplicate, and relocate checkout fields. The plugin provides 17+ custom checkout fields to help you collect additional customer information at checkout.
To provide more flexibility, you can update the default and custom fields, add new sections, or change the fields in the order, shipping, and payment sections.
Features
Validating fields automatically
Positioning sections is simple
Create & place the custom section
More customizable options
Simple field editing
Simple checkout improvements
Enables validations
Many modifications
Additional CSS classes
Compatibility with WPML
Pricing
$49/ Year for single site
$79/ Year for three sites
$129/ Year for ten sites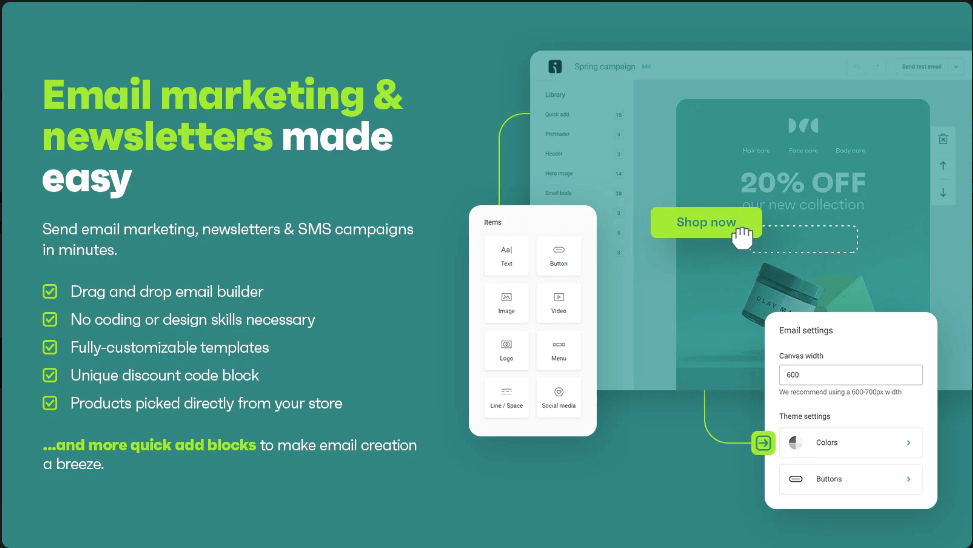 Omnisend is one of the best WooCommerce plugins and a perfect solution for your eCommerce store. Also, it is a one stop solution for your eCommerce marketing. You can enhance your sales with Omnisend – Email & SMS marketing plugin.
Additionally, Omnisend has made you work easy with their automation tool. You can now engage your eCommerce customers in a short span of time. In short, Omnisend automation tool is a time saving plugin.
Omnisend has a variety of templates that makes your store look professional and allows you to send eye-catching emails. Additionally, you can customize the emails you send based on your store needs and preferences.
Features
Pre-built eCommerce Workflows
Drag & Drop Automation Editor
Gather customer data to personalize messages
Allow customers to fill a complaint forms
Engage customers with automated messages
Analyze performance metrics & automation reports with the reporting tool
No third-party connectors required
Pricing
Free with limited features
$16/ month for Standard
$49/ month for Pro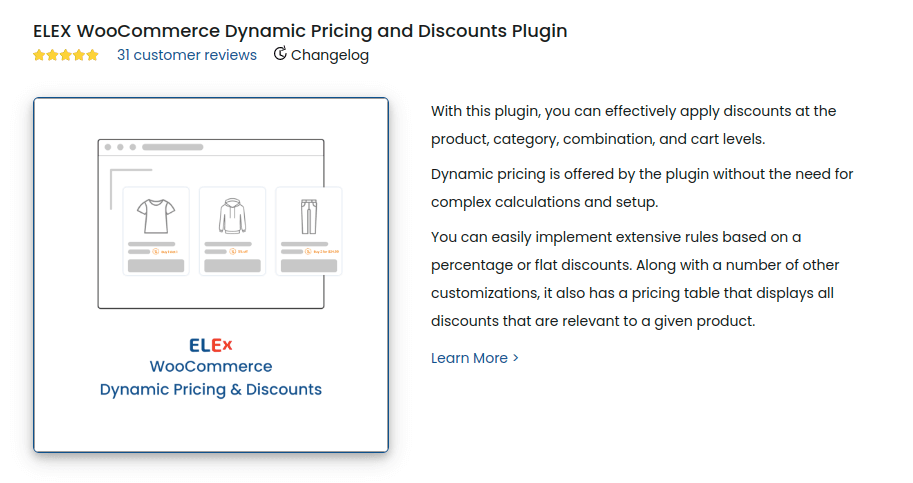 With ELEX WooCommerce Dynamic Pricing and Discounts Plugin, you can provide discounts for the product, category, combination, and cart levels. The plugin provides dynamic pricing without the need for any complex calculations or setups.
You can quickly build complex rules based on a percentage or flat discount. It contains a pricing table showing all discounts relevant to a specific product and several other customizations.
Features
Provide discounts for all the WooCommerce products
Provide discounts on WooCommerce Product Categories.
Buy One, Get One Free Offers (BOGO)
Provide discounts based on WooCommerce product tags.
Provide a BOGO discount based on WooCommerce Product Tags .
Display the pricing table on the product page.
Display the offers table on the product page.
Pricing
$79/ Year for single site
$119/ Year for five sites
$199/ Year for 25 sites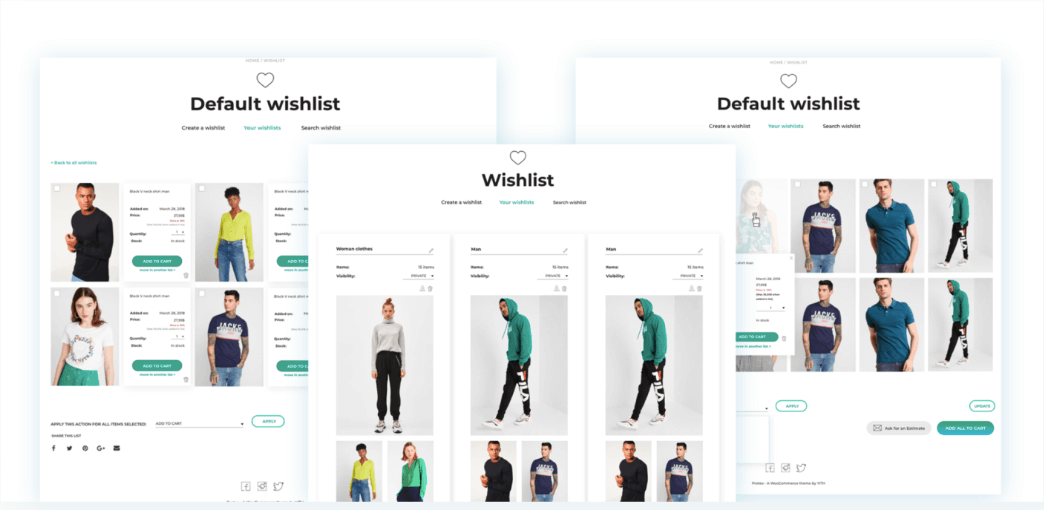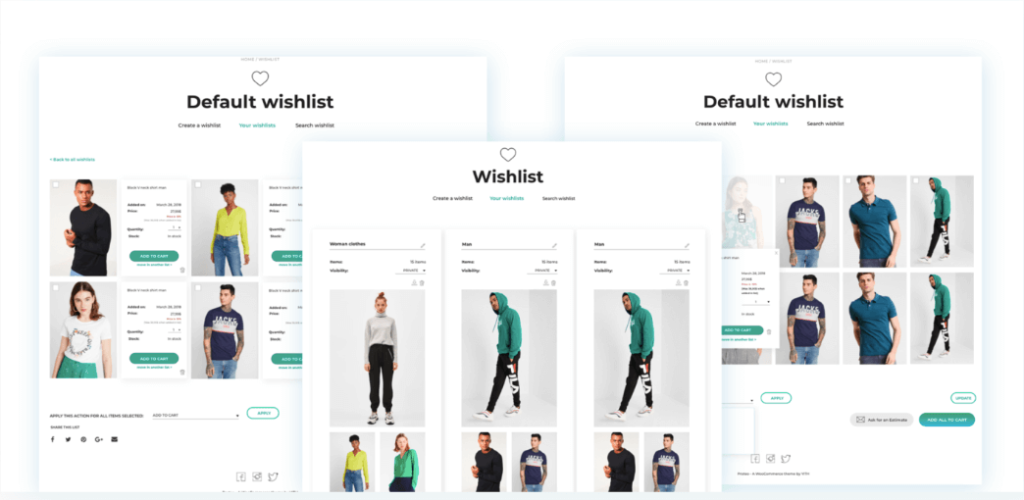 YITH WooCommerce Wishlist is another must-have WooCommerce plugin for your eCommerce store. This plugin allows shoppers to create and share wishlists with friends and family. With these wishlists, their friends can gift their favorite products. It's similar to the "Favorites" list that you can find on eCommerce stores like Amazon or Flipkart.
Features
Keep track of the products your customers are interested in.
Analyze your customers' preference and products in their wishlists.
Send users promotional emails
Allow customers to share their wishlists with friends and relatives
Pricing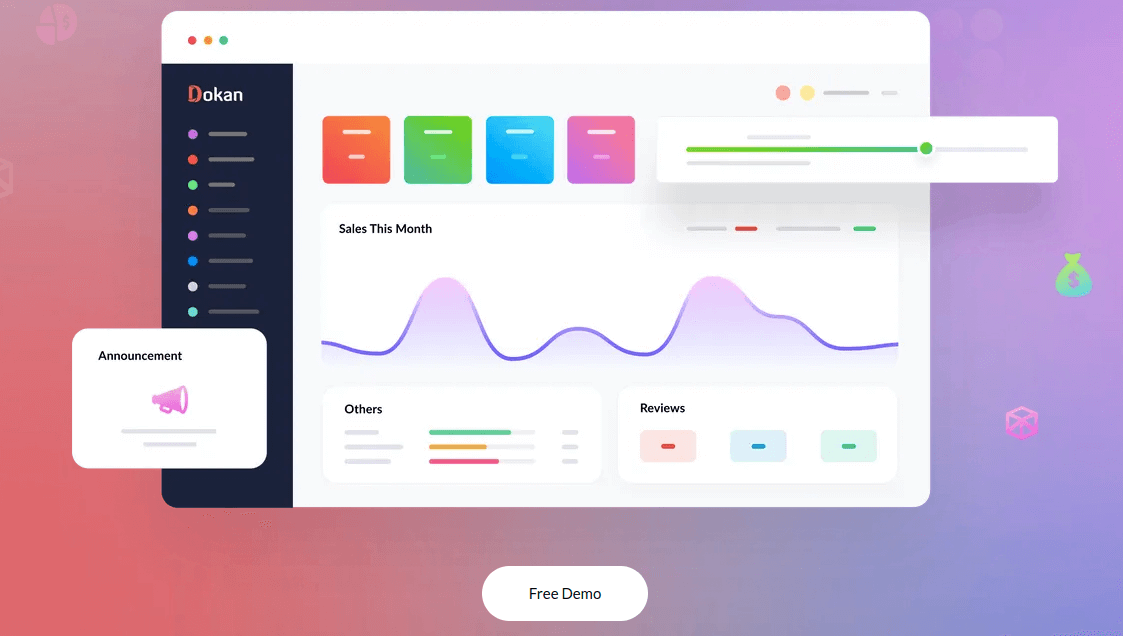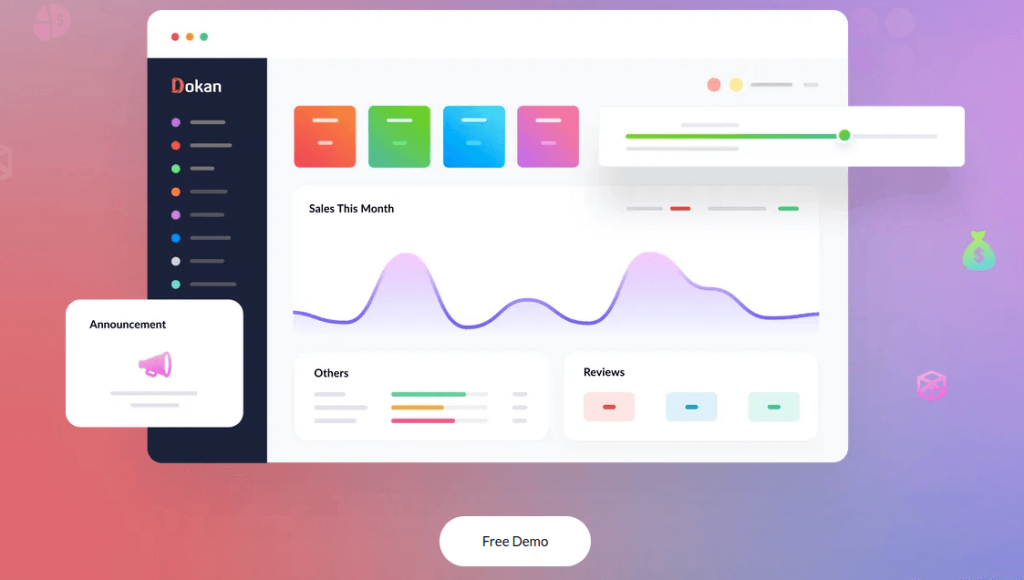 The Dokan Multivendor plugin is one of the top WooCommerce plugins that multi-vendor WooCommerce platforms use. With its various features and ease of use, you can quickly build a multi-vendor marketplace similar to Amazon or eBay.
With its various features and ease of use, you can quickly build a multi-vendor marketplace similar to Amazon or eBay. Dokan has a powerful front end for sellers, unlike any other WooCommerce multi-vendor plugin. Each supplier has a dashboard to track and manage their business properly.
Features
Supports every payment network
Multilingual support
Manage the shipping rates
Allow customers to login using their social media profile
View earning reports right on your dashboard
Pricing
Free with limited features
$149/ Year for Starter
$249/ Year for Professional
$499/ Year for Business
$999/ Year for Enterprise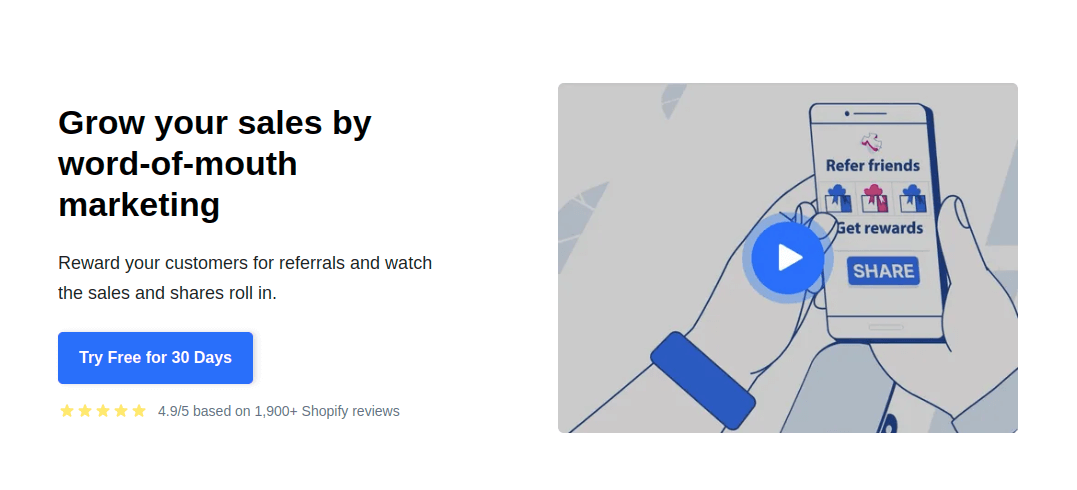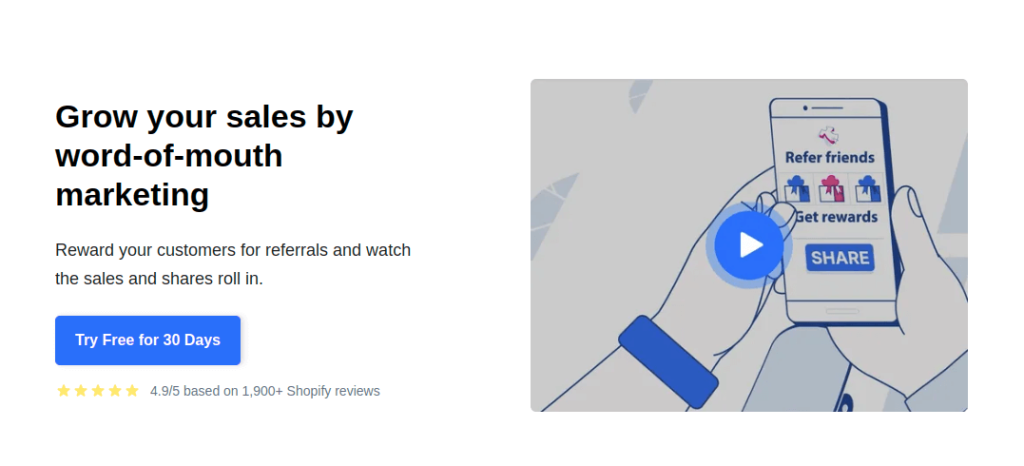 ReferralCandy is one of the best plugins for WooCommerce that lets you automate customer referral campaigns.
By rewarding your customers who refer customers to your brand, ReferralCandy helps in the success of your store. They offer each of your customers a unique reward link that they can share on their social networks.
Features
Send automated emails after each purchase.
Reward customers who have made successful referrals.
Send post-purchase popups, landing pages, and referral widgets to grab attention.
Pay commissions for new referral sales
Give your customers a unique referral link
Pricing
Starting from $0 per month.
$47/ month for Premium
$239/ month for Plus
Enterprise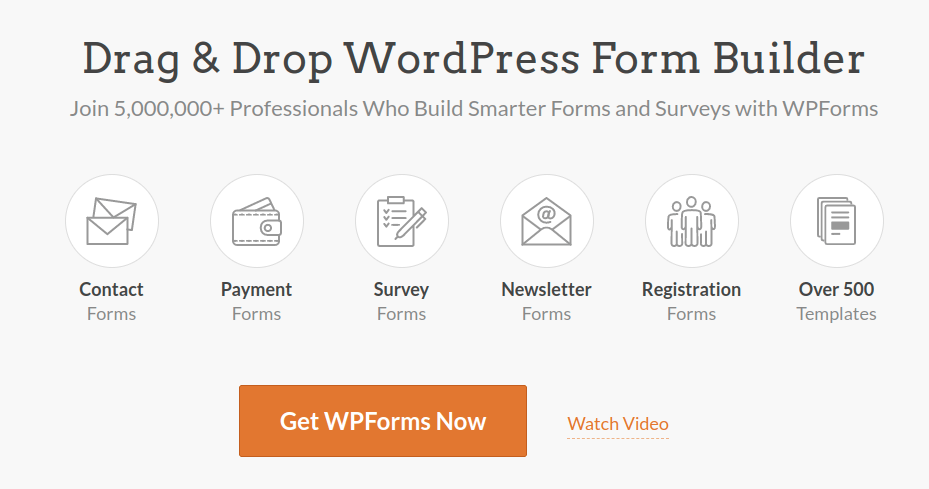 WPForms is the best WooCommerce extension and the best free form and survey builder for WordPress. With WPForms, you can design it to be both powerful and user-friendly. You can create unlimited forms, including contact, registration, login, order, and other custom forms.
WPForms is said to be user-friendly. It is compatible with all widely used WordPress themes and has substantial features and WooCommerce extensions that expand its capabilities to accommodate all types of websites, including e-commerce sites. A reliable customer support team supports WPForms with a ton of documentation and helpful instructions to help you make the most of the plugin.
Features
Create form using Drag & Drop Form Builder
Create pre-built form templates
Responsive to all mobile devices
Create high performance forms with smart conditional logic
Respond to leads with notification feature
Create various pages for long forms to enhance user experience
Let users submit forms with files and media uploads.
Pricing
$49.50/ Year for Basic
$99.50/ Year for Plus
$199.50/ Year for Pro
$299.50/ Year for Elite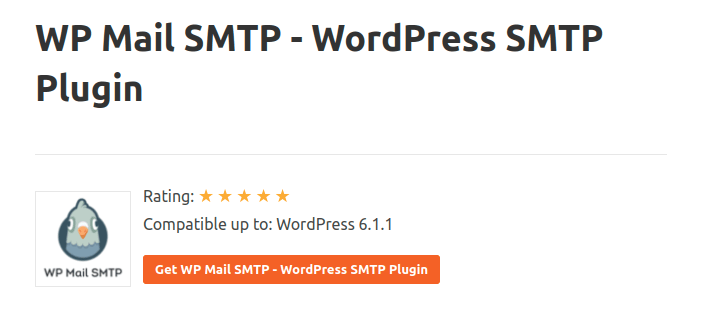 WP Mail SMTP is one of the best WooCommerce extensions, significantly increasing WordPress email deliverability. It addresses the common issue of emails from WordPress websites disappearing or popping up in spam bins.
You won't again have to be concerned about emails from your site disappearing again once you install WP Mail SMTP. It can even be used to customize email notifications for your website and keep track of emails you send.
Features
You can easily integrate with popular email services such as – Gmail/G Suite, Office 365, Amazon SES, MailGun and more.
You can easily manage WordPress emails and notifications
Track of all the emails sent from your site.
Step-by-step documentation and tutorials for your better understanding
The plugin speed up your performance
Pricing
You can try the free version of the WP Mail SMTP plugin.


A wonderful approach to increase website traffic, raise brand awareness, expand your social media following, and even boost sales is to run an online giveaway.
One of the best WooCommerce extension giveaway plugins is RafflePress. You can build an effective giveaway campaign quickly with the drag-and-drop giveaway builder and pre-made giveaway templates.
Features
Create giveaway campaigns using Drag & Drop Giveaway Builder
Use pre-built giveaway templates
Responsive to every mobile devices
Allow customers to enter your giveaway easily
Implement word of mouth marketing
Get more followers on social media using social media networks
Integrates easily with your favorite email marketing services & CRMs.
Use optimized giveaway landing page
Pricing
Free version with limited features
$39.20/ Year for Pro version


Making appropriate product suggestions can be challenging when several categories and products are available. This WooCommerce Product Suggestion plugin is extremely useful in these situations because it helps you build up cross-sells and upsells that work well.
With this plugin, you can place the recommendations in more than 20 different places on your WooCommerce. Additionally, it gives detailed analytics that can help optimize your marketing plans. Further, you can generate upsells and cross-sells in bulk based on various criteria.
Features
Various formats for product recommendations.
Offer suggestions in various locations throughout your website.
Provide a list of the most popular products, including best sellers, top-rated items, and frequently purchased items.
You can give suggestions regarding the product pages, checkout pages, or even post-purchase.
To boost the total value of orders, provide incentives such as complimentary shipping.
Insights on analytics that are comprehensive and in-depth.
Pricing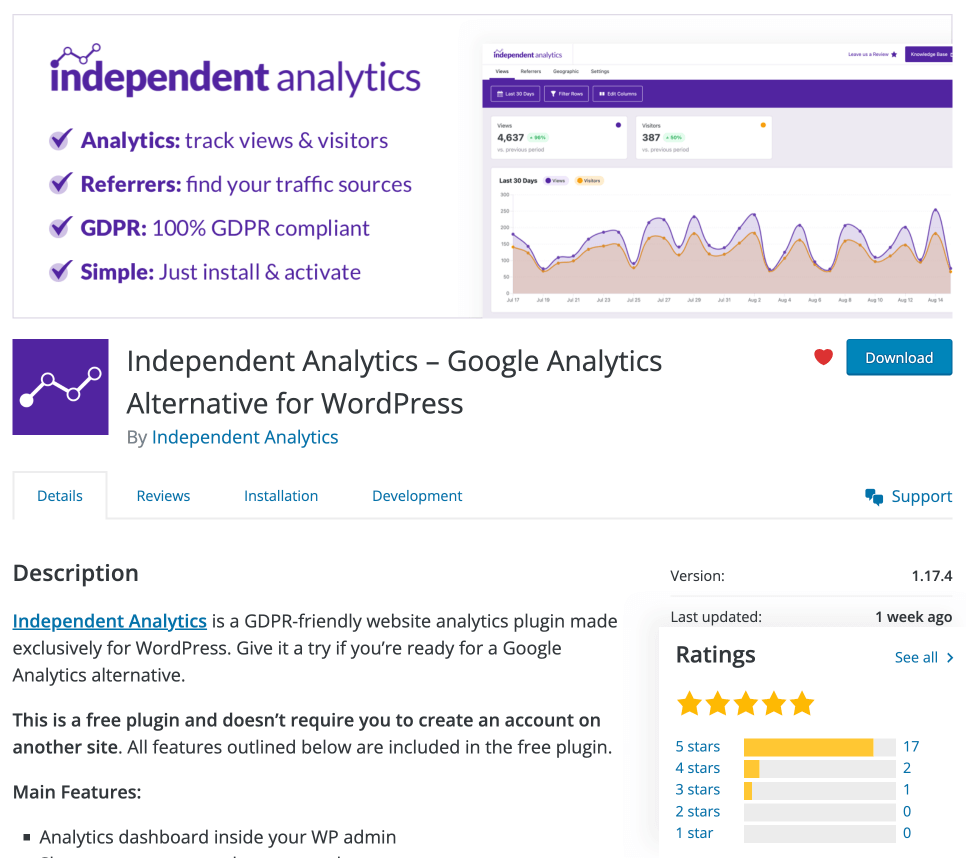 Independent Analytics is a WooCommerce free plugin for tracking your site's traffic and visitors. It reports on your top pages, referrers, and geographic locations. Even better, it does so without slowing down your site and complying with GDPR laws.
As an alternative to Google Analytics, you can get started without creating any new accounts – just install and activate the plugin to start tracking.
Features
Check Data using the analytics dashboard.
Assured that the plugin is 100% GDPR compliant.
Create and track campaign URLs
Use real-time analytics to the number of people looking at your website.
Track websites who send you more visitors
Get the report in the form of Pdf through mail every month
Pricing
Free with all features described here
$54/year for Pro version with additional features


FunnelKit (formerly WooFunnels) is a one-stop solution and the best plugin for WooCommerce for creating high-converting powerful funnels for your WooCommerce.
Without any coding experience, you can easily design the ideal conversion-optimized shopping experience for WooCommerce-powered stores using its simple user interface.
Features
Build a streamlined checkout process.
Use rule-based post-purchase upsells and downsells.
Create templates, and dynamic offer linking.
Create bumps on the checkout page with relevant recommendations.
Create a list of subscribers using appealing and effective opt-in funnels.
Split the traffic between two or more versions of your page.
Pricing
$99.5 for Basic
$179.5 for Plus
$249.5 for Professional
$399.5 for Elite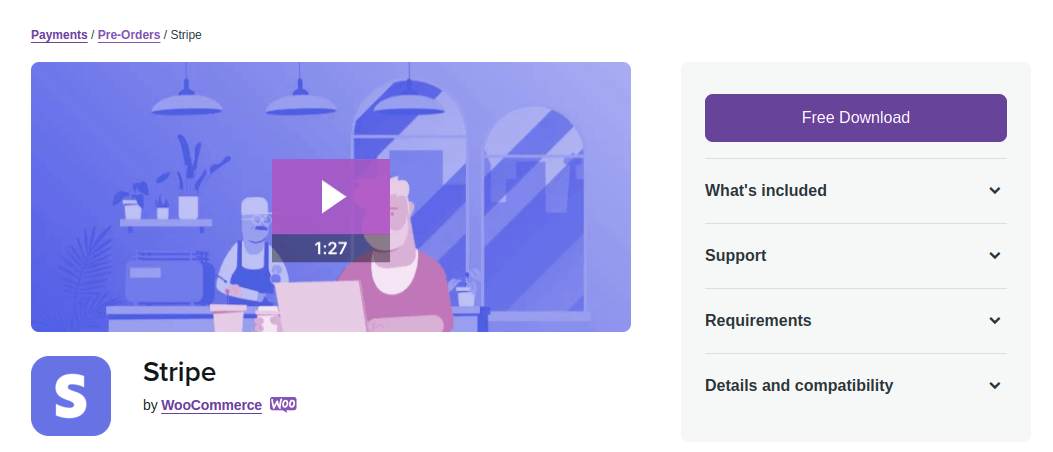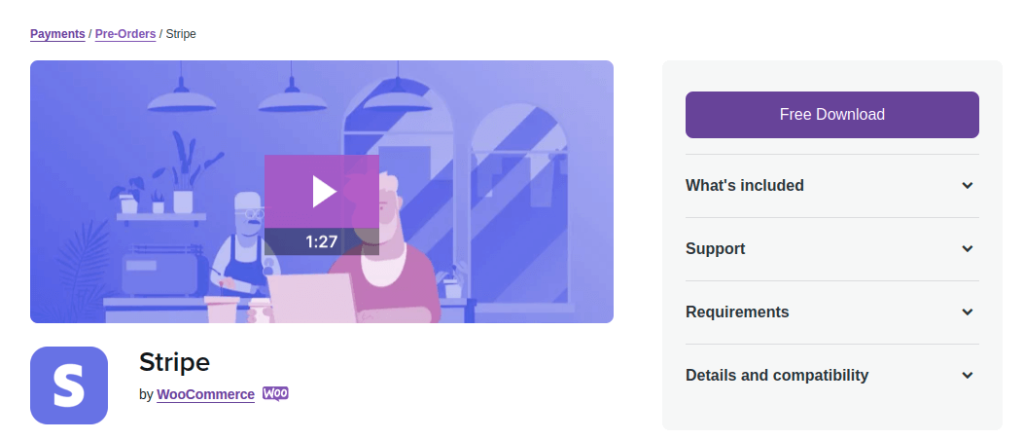 WooCommerce Stripe Payment Gateway is one of the most popular WooCommerce plugins. Stripe allows customers to complete their purchases on their check out page rather than directing to other pages. This leads to an increase in conversion rates.
The Stripe API is used by the WooCommerce plugin to accept payments on your website. Additionally, it keeps track of customers who make purchases through WooCommerce. As a result, repeat customers who choose Stripe as their payment method can move forward with their future transactions without providing their payment details every time.
Features
Give you a PCI-compliant checkout experience
You can customize to perfectly fit into your store's theme.
Easily activated the payment plugin from your Stripe Dashboard
Dashboard that displays the purchase along with the payment method
Easily Activate additional payment methods
Built-in support for Apple Pay, Google Pay, and the Payment Request API
Provide advanced machine learning fraud protection tools
Manage all Stripe data and the account balance via dashboard
Pricing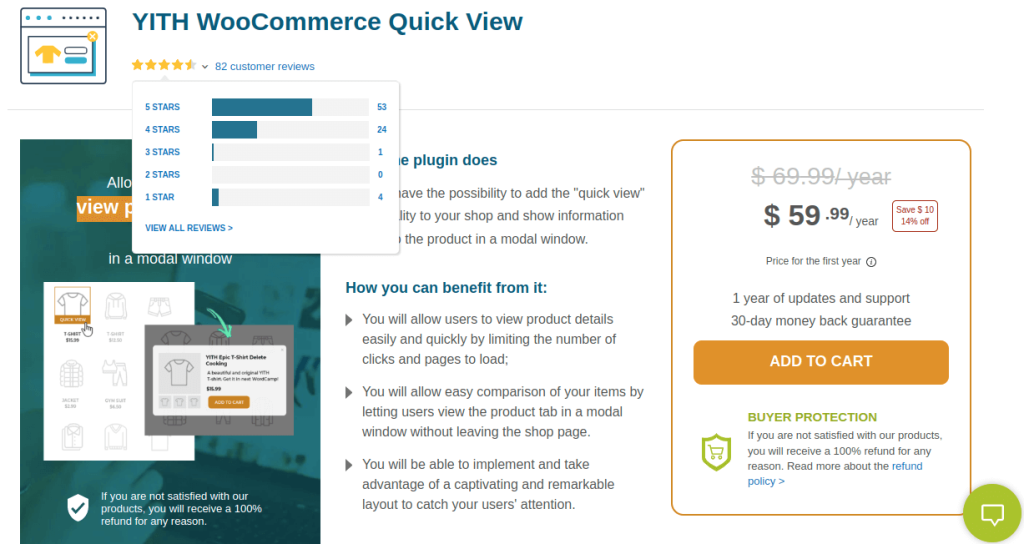 Customers can view product details in WooCommerce Quick View without leaving the page, and it is one of the top WooCommerce plugins.
Customers can rapidly access product information by clicking a button and opening a lightbox popup. There displays a larger product image, a description, and an Add to Cart button that helps customers make their purchase decision easily.
Features
Easily add "quick view" functionality to your site.
Showcase information related to your product in a modal window.
Allow users to discover product details easily.
You can also limit the number of clicks and pages to load.
Allow customers to compare products.
Attract customers using the remarkable layout
Pricing


The WooCommerce Weight Based Pricing plugin allows you to set prices based on the weight ranges of the products. This plugin works efficiently and is simple to use. Offer your customers the option of selecting the weight they prefer. That applies to all products with a weight portion.
Our plugin for weight-based pricing is user-friendly. You can select a custom product weight to customize the product more closely to the customer's tastes. With simple drag-and-drop fields and useful features, the plugin enables you to customize your product rating.
Features
Weight Unit
Min & Max Weight Options
Weight Intervals
WPML Compatibility
Wastage Percentage
Pricing Rules
Pricing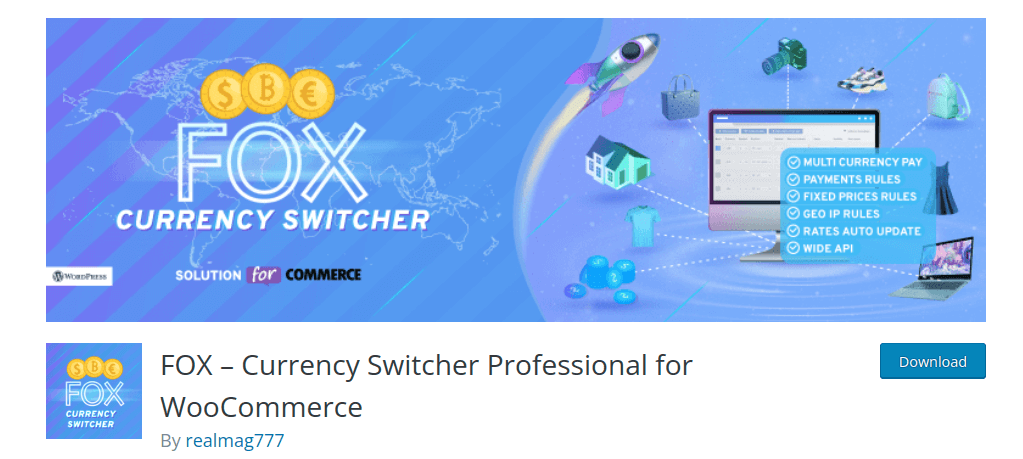 With the help of the free WordPress plugin WooCommerce Currency Switcher (WOOCS), your customers can quickly convert currencies and receive real-time exchange rates in their home currency.
With a shortcode or a sidebar widget, you can quickly add the currency switcher and keep using WooCommerce's various payment channels.
To personalize and automate the shopping experience, you can configure this plugin to change the currency automatically based on the customer's location.
Features
You can set the price format according to your store.
You can create and use own money symbols
Use Multi-currency drop down switcher
You can set currencies as Public or as Private.
Use rules to hide/show payment gates on the checkout page
Set different price for each user role in basic currency
Show currencies based on different countries
Set minimum amount for FREE delivery
Pricing


If you're running an eCommerce store, Mailchimp is one of the amazing plugins for WooCommerce.
Whether a customer purchases from your storefront or online, you can sync their purchase information with your Mailchimp account and utilize it to send them to your target audience.
Also, you can suggest products, send emails to customers who abandoned their shopping carts and send post-purchase follow-up emails.
Features
Convert more customers by sending appropriate messages.
Receive AI-assisted recommendations
Choose specific customers and track their activities.
Father more data and connect more tools.
Use Customer Journey Builder to set up automated emails
Pre-built journeys that allow cross-selling and cart recovery.
Pricing
Free with Limited features
₹770/ Month for Essentials
₹1,150/ Month for Standard
₹23,000/ Month for premium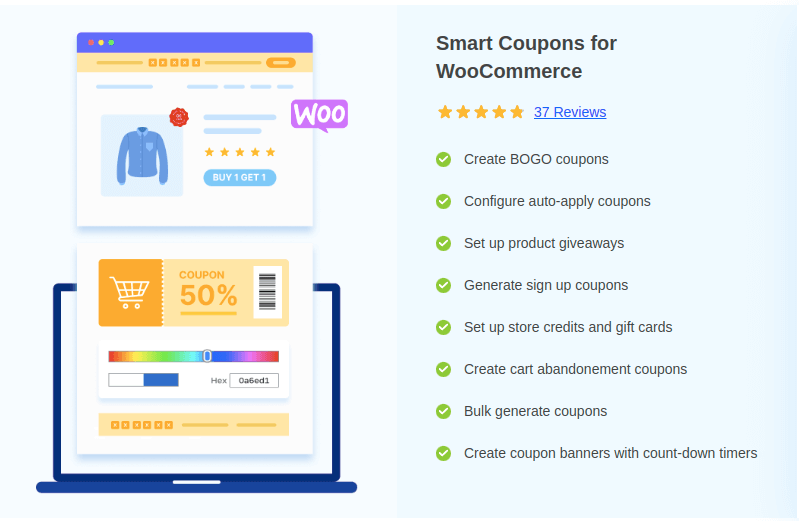 Smart Coupons for WooCommerce is the all-in-one advanced WooCommerce coupon plugin. You can increase conversion by offering smart coupons such as giveaways, free shipping, flash sales, and more.
You can create different kinds of coupons – Fixed amount, percentage, Fixed product discount, subscription discount, etc. You can also create Different types of BOGO discounts with coupon conditions and restrictions.
Features
Create different coupons and offers with advanced coupon rules.
Create a Buy One Get One offer for any product
Reward customers for every penny they spend.
Use various combinations of coupon features
Create many offers and discount options to maximize sales
Create coupons based on customer activity
Customers can purchase store credit/ gift coupons and use it on their future purchases
Customers can share their store-credit/ gift coupons with their loved ones.
Create urgency in your customers using countdown discount sales
Create thousands of coupons in a single click
Pricing
$69/ Year for single Site
$99/ Year for five Sites
$199/ Year for 25 Sites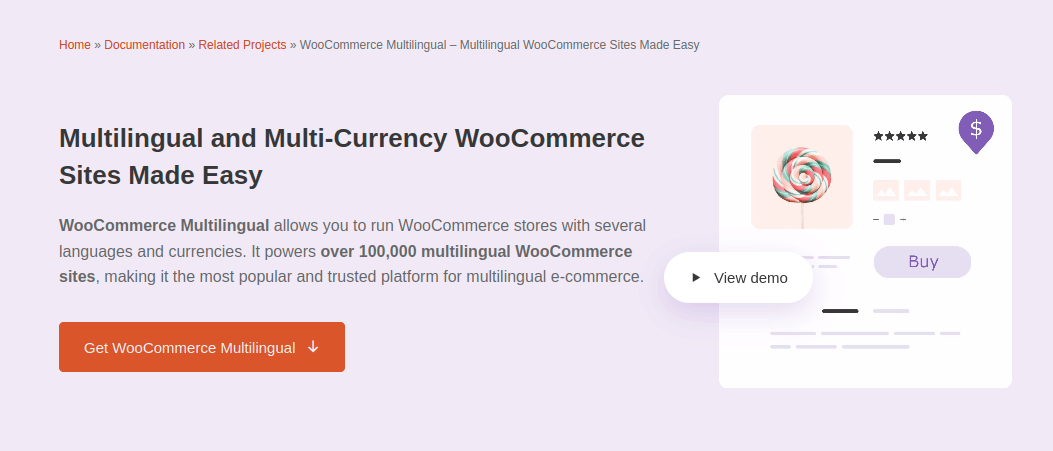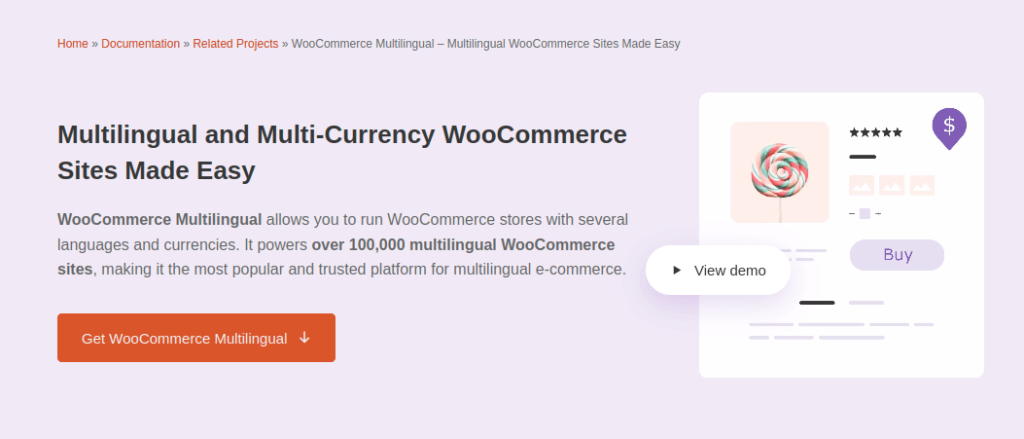 With WooCommerce Multilingual, you can add numerous currencies and translate every section of your online store. It enables you to take chances in international markets and provide customers with a wonderful shopping experience in a language of their choice.
You may choose between automated and manual translation with this plugin, and it also has excellent tools for translation reviews and multilingual SEO optimizations.
Features
Enable translation for every text that customers encounter during the checkout process.
Includes Multilingual CMS and Multilingual Agency packages.
Automatic translation of the entire WooCommerce site
Set prices and payment collection in various currencies
Perform SEO in various languages
Translate the shop emails, variants, and products.
Pricing
Free with limited features
$99 for more exciting features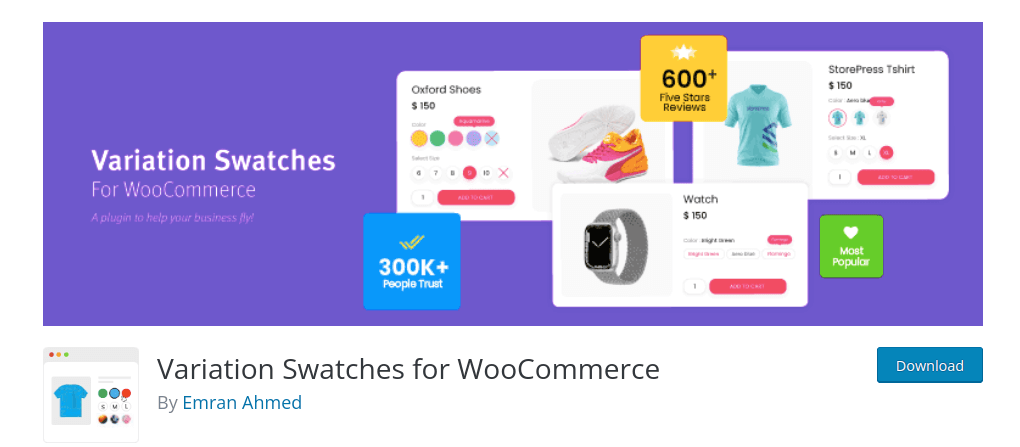 The WooCommerce Product Variation Swatches Plugin is one of the best WooCommerce extensions. It is simple to use, and it provides a professional experience for choosing qualities for different products. It converts the product variation of radio image, color, and label.
Installing the WooCommerce Variation Swatches plugin will allow you to quickly change the variation pick options from the drop-down to buttons. Once the plugin is installed, your product variation will be automatically converted to button swatches.
Features
Easily convert all variation Dropdowns to Button Swatch
Switch on color swatches for variations in variable product attributes.
Enable color swatches with Printful Technology
Display product variations that are more accessible through Image Swatches
Adjust the swatch size on the product page.
Display product variation names
Install the plugin and convert the variation select dropdown into buttons
Compatible with the Elementor page builder plugin.
Pricing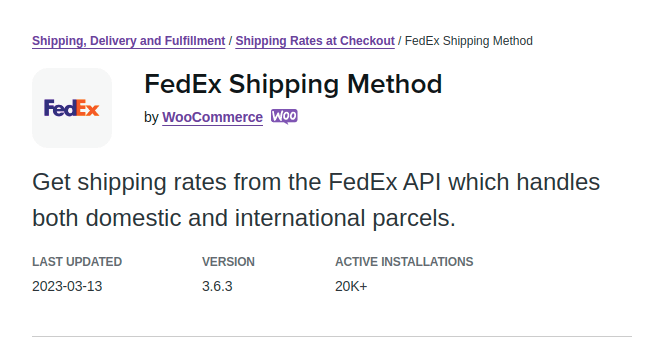 WooCommerce Shipping Plugin for FedEx with Print Label enables you to fully automate FedEx shipping. The plugin allows you to see shipping charges on the cart/checkout page, identify boxes for packing things automatically, and enable shipment tracking.
Based on the address, the WooCommerce Shipping Plugin for FedEx with Print Label calculates and displays current FedEx shipping prices.
Features
Live FedEx Shipping Rates
Domestic & International Services
Track All Your FedEx Shipments
FedEx LTL Freight Shipping for WooCommerce
FedEx Address Classification
Return FedEx Shipping Rates in Base Currency
Pricing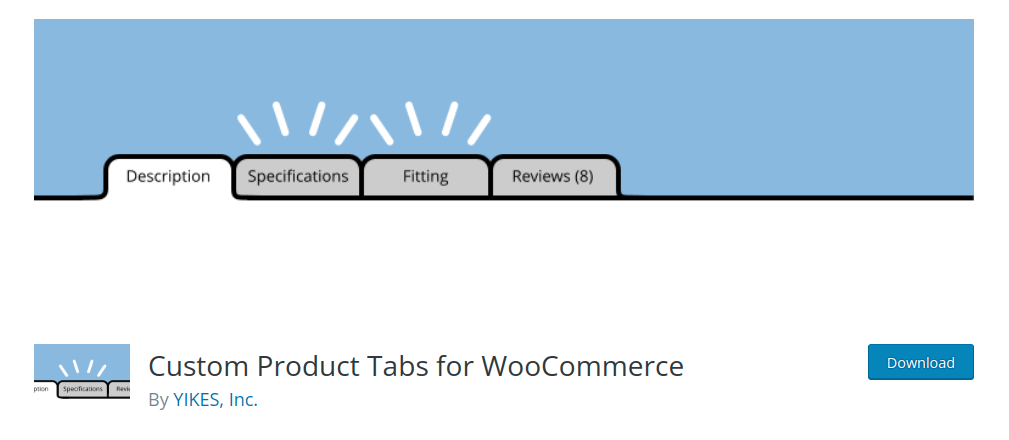 Custom Product Tabs for WooCommerce is a plugin that manages your product pages with consolidated tabs. In this way, you can give tabs titles that include details such as descriptions, requirements, reviews, and more.
Every tab you add to your store can display text, photos, and videos in addition to other types of material. No special code is required; you can manage the tabs in the default WordPress editor.
Features
Integrates uncomplicated tabs into your product pages.
All tabs in the basic WordPress editor need to be edited.
Save certain tabs to be pasted onto different product pages.
Elements such as shortcodes, images, and text are included.
The website is designed to work seamlessly with WPML, allowing for easy translation in the future.
If necessary, your product data will be exported.
Pricing
Free with limited features
$29.99 with upgraded features
How To Choose the Best WooCommerce Plugins for your eCommerce Store
There are many plugins available that can enhance the functionality of your store. However, to choose the best plugin for your WooCommerce store, here are some tips to help you choose the best WooCommerce plugins for your eCommerce store:
Identify your specific needs – Payment gateways, shipping options, and many other things.
Check compatibility
Read the plugin reviews
Check for the plugin support options
Get a live demo or try out the plugin before purchasing it.
Remember, do not install too many plugins, affecting your store's performance. Also, choose a plugin that will match your store's needs.
Give your customers an amazing shopping experience with advanced rewards features using WPLoyalty plugin.
Conclusion
To truly take advantage of the WooCommerce plugin's features and capabilities, you'll need to use the best WooCommerce plugins. With the right plugin, you can enhance your store's functionality, improve your customers' shopping experience, and increase your sales.
By using some of the best WooCommerce plugins available, you can streamline your store's processes, automate tasks, and grow your business. So take a look at the plugins we've highlighted and choose the ones that best suit your need for your store. With the right combination of WooCommerce plugins, you can take your eCommerce business to the next level.
Learn more about the 5 Best WooCommerce Points and Rewards Plugins, 5 Best Referral Plugins For WooCommerce, and Best Customer Loyalty Program Ideas With Examples
Which WooCommerce plugin is best?
The best WooCommerce plugin depends on the specific needs of your eCommerce store. Still, some popular plugins that can enhance your online store include WPLoyalty – Points and rewards for WooCommerce, Flycart – Discount rules, and Retainful – Abandoned Cart recovery. These plugins are considered more effective in boosting your sales by many users.
What are the most valuable plugins for WordPress?
WPLoyalty plugin helps you to create a loyalty program for your customers. Flycart and Retainful plugins deal with discount rules and abandoned cart recovery campaigns for eCommerce websites. These plugins are considered one of the most valuable plugins for WordPress for their functionality and the features available.
What are WooCommerce extensions?
WooCommerce extensions are plugins that add extra features and functionality to your online store, such as payment gateways, shipping methods, product add-ons, and marketing tools. These extensions can be used to enhance the performance of your website and provide a better user experience for customers.
How can WooCommerce plugins help me increase sales and revenue?
WooCommerce plugins can help increase your sales and revenue by adding functionality to your eCommerce store. For example, you can install a plugin that allows you to create upsells or cross-sells during checkout or a plugin that helps you implement customer loyalty programs.

By improving customer experience and offering various options to your customers, you can increase conversions and generate more revenue naturally.
Can I install multiple WooCommerce plugins on my online store?
Yes, you can install multiple WooCommerce plugins on your online store. However, it's important to choose plugins carefully and avoid installing too many, as this can slow down your site and create conflicts between plugins.