Loyalty is not something you earn in a day, but you build it day by day. To achieve loyalty, you must be creative in rewarding your customers. Rewarding customers for referrals will create loyalty between you and your customer.
Reward your customers and make them speak for your brand. Because when you talk about your product, it's marketing. But, when your customers speak for your brand, it's social proof.
Always remember, exciting rewards will attract customers to buy more of your product and suggest the same to their friends. Read more to know how to reward customers for referrals. Also, don't miss out on the benefits and the types of referral programs.
What is a Referral Rewards Program?
Referral programs are more common in ecommerce stores, and store owners use customer referral programs to acquire new customers. Remember, to grow, you must gain loyal customers, which can happen through a referral marketing strategy.
Referral Rewards Program is a game plan to generate revenue and increase sales. You must use effective ways to change your loyal customers into brand advocates.
Why Reward Customers?
By rewarding customers, you can create a personal bond with them. It's essential to gain the trust of customers, and trust is a matter of impression, and every business must earn it. Customers love when you appreciate them for their effort.
Customers always keep certain things in mind while making their purchases, like being rewarded with coupons or discounts, free shipping, or free products on any occasion. So, learn their expectations first, and then offer them the best. Your old customers are like a treasure box; all you have to do is fill the container with rewards. Only then can you earn their loyalty, which will boost your store's revenue.
How do we reward customers for Referrals?
Your rewards must be meaningful and exciting and evoke your customers' interest. Customers don't just buy products from your store; they are buying experiences. So, it's in your hands to make their experience better.
With our WPLoyalty Plugin, you can easily reward customers for referrals. There are various reward types that you can use and set to your preference. Through this plugin, you can excite and make your customers happy.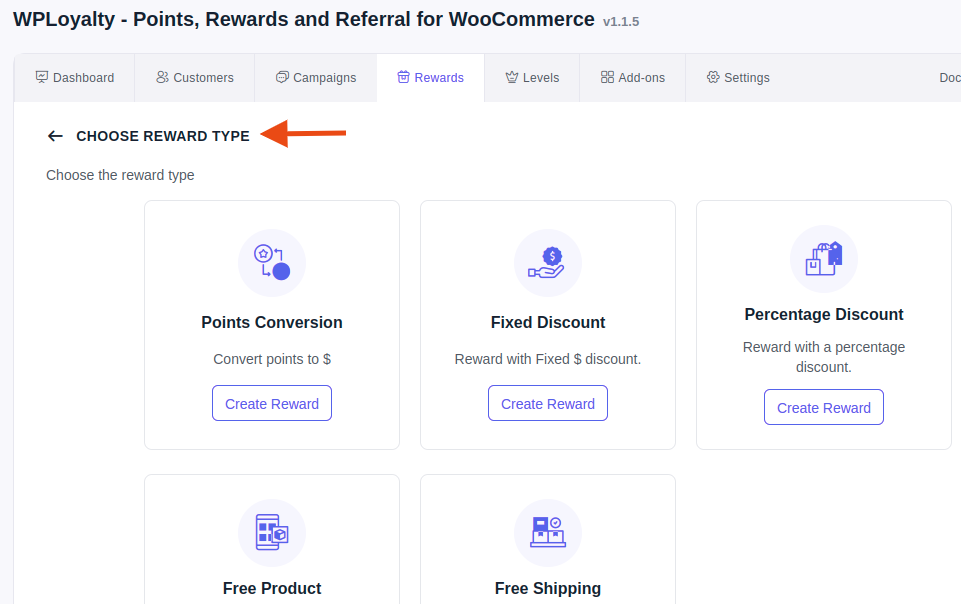 Now that you have the best plugin, it's time to rethink how you will motivate your customers to participate in the referral program. Tell them that you offer different rewards and value their efforts. Apart from providing good products, good incentives will work as a charm.
So, ensure that you offer a well-chosen reward that makes the referral worth it. Example: The rewards you offer can be points, coupons, or discounts, and you can also give them a free product or free shipping.
Usually, customers will not share a product with their friends or family unless it's their favorite. Sometimes, people speak about your product, mainly because of your rewards. You have to decide beforehand to whom you are going to offer incentives. Is it an old customer or a new customer, or both?
When you reward only your existing customers, they tend to make more referrals. Similarly, when you reward only your new customers, your current customers will stop making efforts on referrals. But when you decide to reward both the existing customer and a new customer, you will get a double bonus as you will gain a customer and gradually increase your sales. Most ecommerce owners use referral programs because the benefits of rewards are excellent and practical.
Benefits of Referral Program
Most ecommerce owners use referral programs because the benefits of rewards are excellent and practical. Have an eye at the benefits a referral program offers.
Time is what we want most! You can save time by letting your existing customers do the work. They walk into each door and bring you a new customer. You have to just welcome newbies into your store by offering them rewards. Similarly, You can save your revenue in this referral program. Take into account: You don't pay your employees to advertise your store or products to their friends and family. Instead, your existing customers do it free of cost.
When your existing customers refer to your product, it creates customer engagement and strengthens the relationship between you and your customer. New customers will also feel comfortable since the products are referred to them by their trusted person.
Three types of referrals
You're in a place where referrals are everything. Your customers will refer to your product only if you gain their trust. One way to boost your referral program is to use various referral programs at your store – Word-of-mouth, Social media referrals, and Review referrals.
Customer referral rewards programs matter when considering taking your business to the next level. So, keeping that in mind, let's look into the types to enhance you on how to reward customers for referrals.
Word-of-mouth Referrals
Though it's word-of-mouth referrals, and your customers will do the work for you, you must constantly engage and push them to make many referrals. Usually, customers rely on word-of-mouth referrals while making a purchase.
You can conduct a campaign or spin the wheel game, so when they win, you can make them refer their product to their friend or family to unlock the coupon. Tell them the more they share, the more they earn. Customers usually don't remember the rewards you offer, so it's in your hands to constantly engage them and make them remember.
Show them it's fun to spin the wheel and keep them on their feet about the rewards they get.
Social-media Referrals
The social media impact is enormous; moreover, it's ruling millions of people currently. You can make your customers share the products on social media and reward them.
Example:
Tell them to share your products with their friends on social media.
Give them a 1% offer for each share.
If they share it with ten people, give them a 10% offer.
So, the more they share, the more rewards they get. This way, people will find it more exciting, and to get more offers, people will share it with many people.
Interesting right? Your customers will refer many people to get an offer, and simultaneously you will gain more customers.
Review Referrals
People have the habit of reading reviews before buying any product, and review is crucial to making customers buy more of your product.
So, review referrals work in such a way that you make your customers write a review about your product and reward them for it. Review, in any form, is a gift because it allows you to see your company through the eyes of the consumer. It also enables you to engage customers deeper and continuously improve their experience, resulting in repeat purchases and referrals.
Reward customers for sharing the product photo or the review with their friends or families.
How does a referral program work?
You must follow a few steps to make this referral program work smoothly.
Generate a special referral link or code. You can create a unique referral link for every customer.
You must send the links or codes to the customers via mail or messages.
Tell your customers that exciting rewards will be unlocked once they make a referral.
Generating and sending a link to your customers can be done very quickly.
How to create a customer referral program?
You can download and install the WPLoyalty plugin to create a customer referral program.


Click on campaigns -> click on create new campaigns. Once you click on create a new campaign, various campaigns will reward customers for purchases, sign up, write reviews, social sharing, refer their friends, and more.
Now, let's look at how to create rewards for referral programs.

There you can see referral campaigns -> click on create campaigns.

The steps below will guide you through creating a Referral Campaign in WPLoyalty.
You can give a campaign name. Example: Referral Program
Give a campaign image and a campaign description. This field is optional.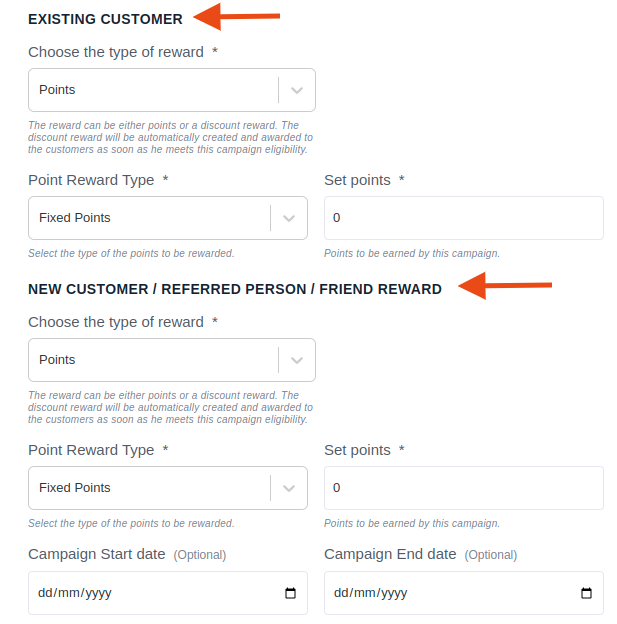 You can offer rewards for both existing customers as well as new customers.
Choose the reward type. It can be either as points or coupons
If it is points, choose the reward type. It can be either as fixed points or percentages based on subtotal
You can start and end the campaign dates as per your preferences.
There are conditional rules which are optional. But, if you prefer, you could add them as well. There are two conditions – Language and Currency.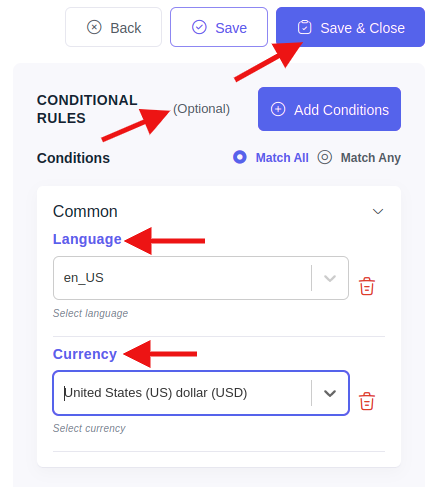 Language – You can choose language preference as en_US, and only customers with that language knowledge will be able to receive the reward.
Currency – There are various currencies, and once you add your preferences, customers who use those currencies will be able to receive the reward.
Note: This field is optional.
Once you set your preferences -> Click on save and close.
Conclusion
Have patience throughout this referral program journey, and remember how to reward customers for referrals. Since we have already heard this proverb, 'Slow and steady wins the race. Take each step slowly and steadily, but a constant effort and an effective strategy are necessary.
Then day by day, your revenue and sales will gradually grow higher and higher. So, what are you waiting for? Buy the best plugin and start to reward customers for referrals right now.
How do you motivate referrals?
You can provide exciting rewards and coupons to motivate referrals. Also, conduct engaging campaigns or games and show them that they are recognized for every action they make.
Why is it important to reward customers?
Rewarding customers will take your business to the next level, generating revenue and increasing sales.
What are good referral bonuses?
You can give away points or coupons to your customers whenever they make a referral. Also, sometimes you can give them free shipping or free products. All these bonuses will excite your customers to make more referrals.