Product Reviews play a meaningful role in every eCommerce store because they provide valuable feedback and insights for potential customers. They can help build trust and credibility for the store, as well as help improve the overall customer experience.
Reviews online can have a significant impact on an eCommerce store's success by helping to increase sales, improve the customer experience, and increase brand visibility.
A study says 66% of customers said they trust online reviews while purchasing a product. Make sure to collect reviews from your customers to help other customers know about the product. People invest their time when it comes to rewards. So, reward customers with points that will encourage them to write reviews. Our WPLoyalty plugin makes your work easy by allowing you to reward customers with points quickly and simply.
Before getting started, let's look into how rewards motivate customers, influence sales, why make customer reviews part of your loyalty program, and how to ask for one.
93% of the customers read product reviews before buying a product. So, start encouraging customers to write reviews with rewards in a simple way.
How do rewards motivate customers?
Rewards motivate customers to continue making purchases or engaging with the store. When customers know that they will receive an incentive for their loyalty or for reaching a certain threshold of purchases, they are more likely to continue making purchases to enjoy the perks.
Rewards can also create a sense of inclusiveness among customers, further motivating them to buy more to earn more rewards to join the premium customers club. This can be especially effective if the rewards program includes tiers or levels, allowing customers to see their progress and work towards higher levels of rewards.
There are various ways to reward your customers through the WPLoyalty plugin,
Points for purchase
Rewards based on spending
Order goals
Referrals
Social-media share
Writing reviews, and more
How do product reviews influence sales?
Product reviews can significantly influence sales in a number of ways.
Trust: Positive reviews from existing customers can build brand trust, attracting potential customers to make a purchase confidently.
Decisions: Reviews can help potential buyers make informed decisions about the product, as they provide insight and first-hand experiences from people who have actually used the product.
Social proof: Seeing a large number of positive reviews can create a sense of social proof, where potential buyers feel that others have had good experiences with the product, and therefore they should too.
Brand reputation: Positive reviews can improve a brand's reputation, increasing sales as people are more likely to purchase from a trusted brand.
Search rankings: Reviews can also impact search rankings, as search engines often use them as a ranking factor. This means that a product with a high number of positive reviews is more likely to appear at the top of search results, increasing its visibility and potential sales.
Reward customers with points when they leave a review and earn their trust easily.
How do you ask for a product review?
Now you have understood how crucial product reviews are, make sure you ask your customers for them. While requesting or prompting them to give a review, make sure you adhere to the following tips:
Send appealing eye-catchy emails.
Use good subject lines when asking for a review
Give rewards in the form of points/coupons
Guide your customers on how to write a review.
Remember, reviews can be either positive or negative. You feel happy when you receive positive reviews, but only with negative reviews will you learn a lesson. As most customers read reviews before making a purchase, give a reply to those negative reviews because those are the reviews that help you improve your product quality and customer experience.
Why make customer reviews part of your loyalty program?
Making customer reviews a part of your loyalty program is essential as it shows how much you value your customers. When you reward customers for reviews, it will motivate them to write more reviews. Most importantly, rewards have the potential to turn your loyal customers into brand advocates.
Even a point reward can be a great start from your side. Simple rewards can go a long way toward making every customer connection feel genuine and approachable, and it also boosts the likelihood that customers will be keen to leave reviews.
How to reward loyalty points for product reviews in WooCommerce?
Customers writing product reviews after their purchases are great, and all you have to do is reward them for the action they make at your store. With the WPLoyalty plugin, you can easily do this. Have a look at the below steps to learn how to do this.
Note: You can reward customers by offering them points or coupons. In this blog, you will see how to provide points with.
Step 1: Go to your WordPress.
Before getting started, ensure that you have installed the WPLoyalty plugin, do download the plugin from your account (link), and then go to your WordPress.
Now, visit the dashboard – Plugins – Add new – Upload the plugin – Install and activate it.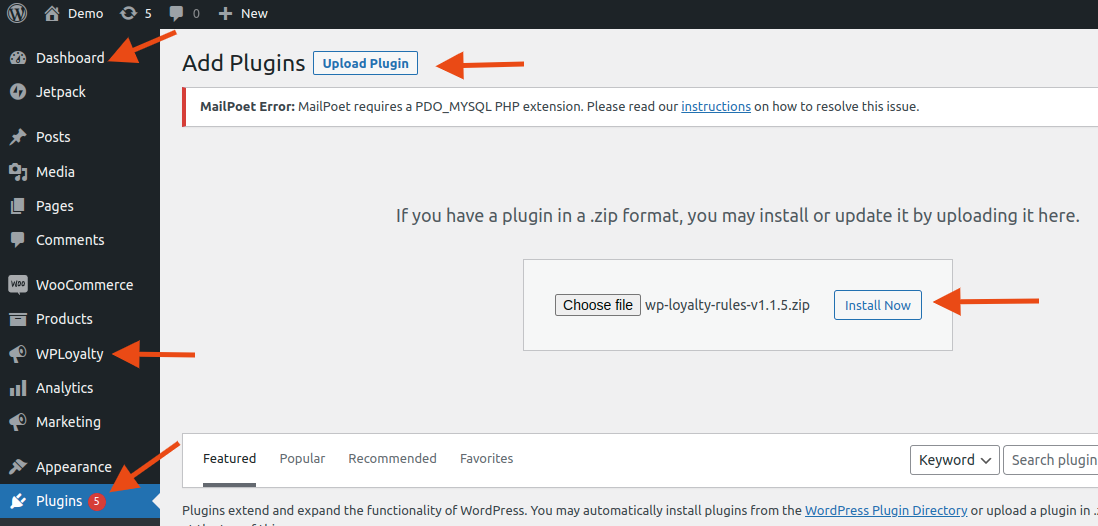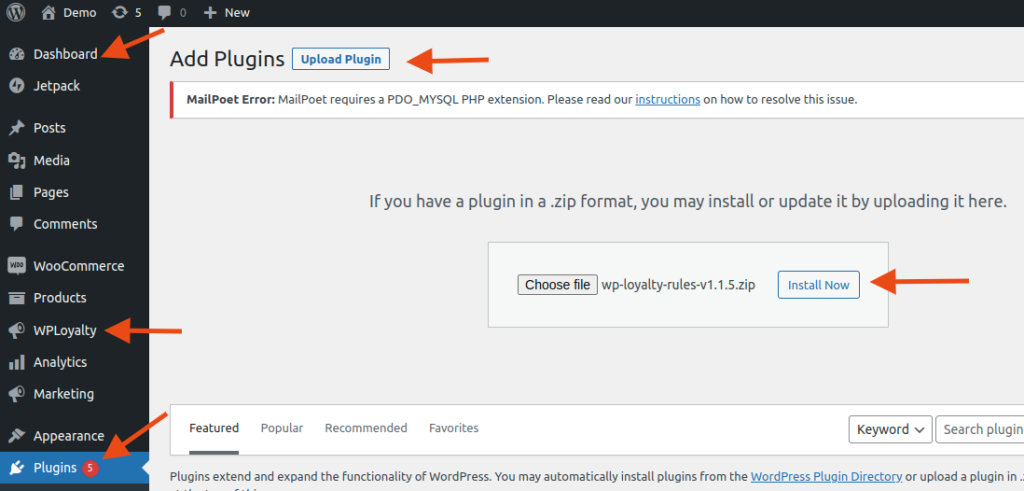 Once the installation is done, you can start creating a review campaign and reward customers for writing reviews.
Step 2: Create a review campaign
Click on campaigns – Scroll down to find the write a review campaign. Once you find it, click on it.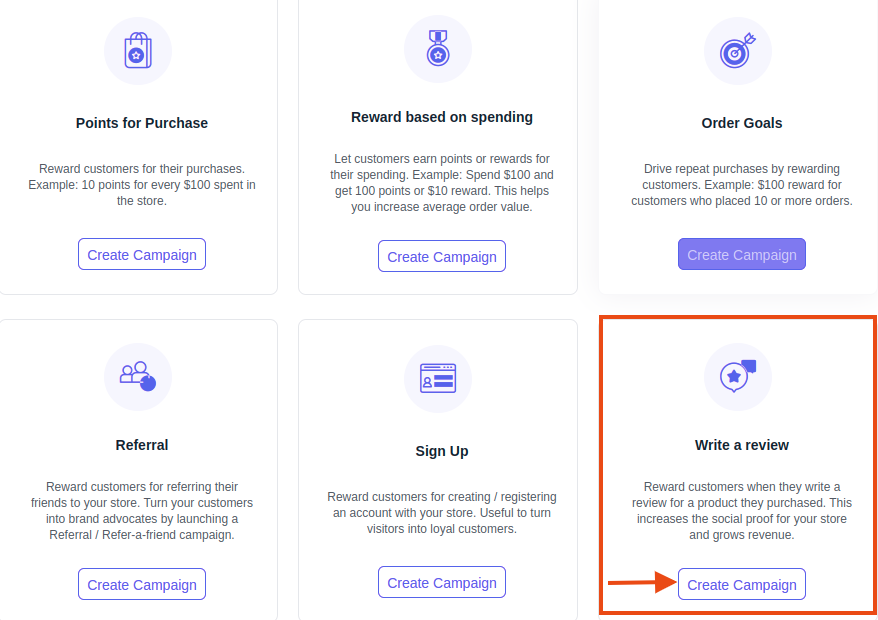 Now, you have to fill in the details to create a campaign.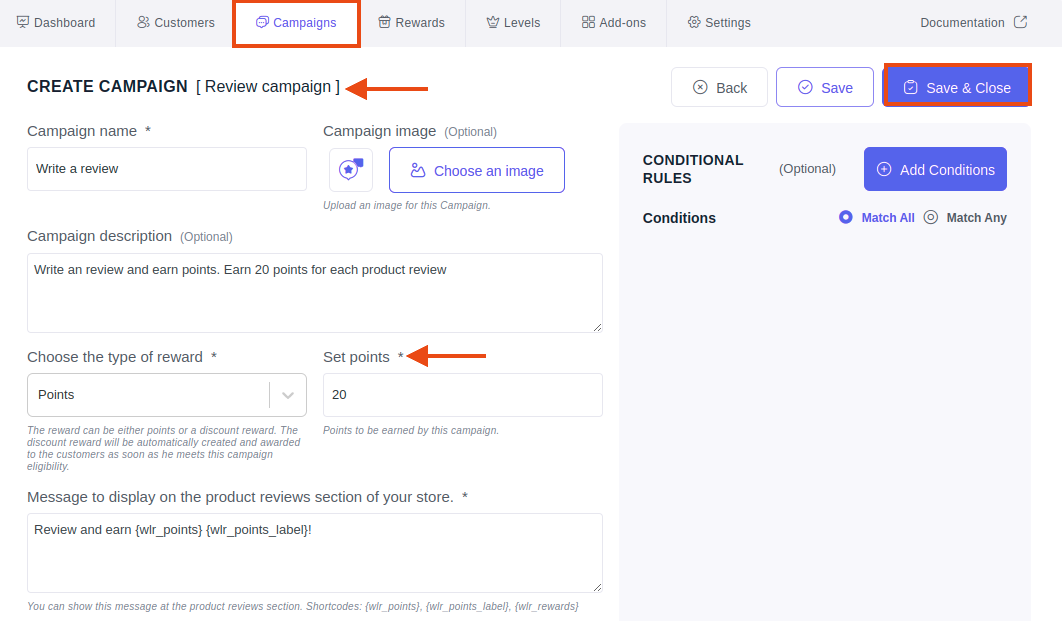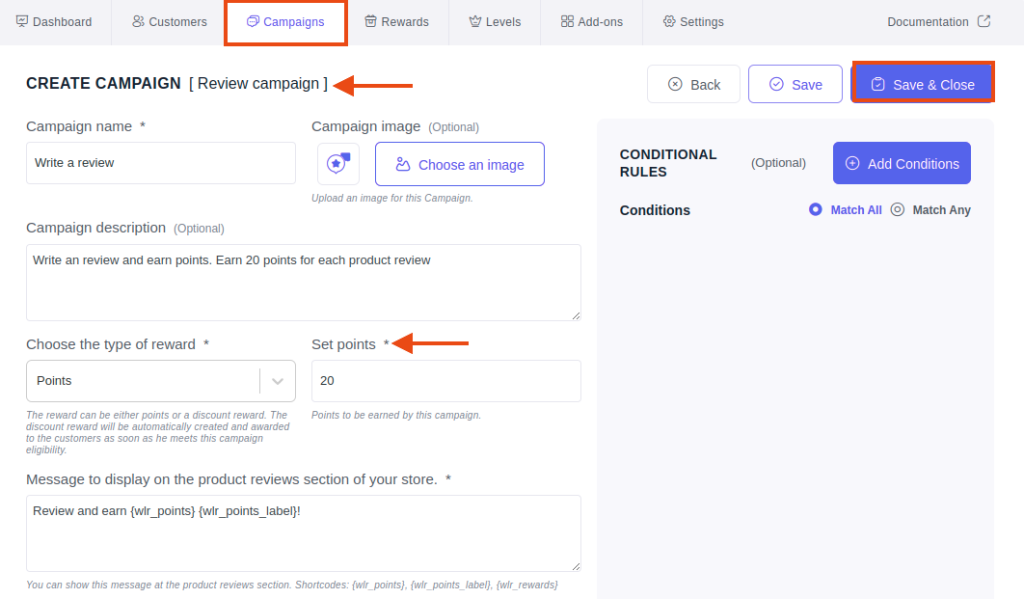 Fill in the campaign name and campaign description ( Optional field). In choosing the type of reward field, choose points. Set the number of points customers want to earn by writing a product review and clicking on save.
Once the details are filled in, you can see that the campaign has been created. You can enable and disable the campaign at any time.


Step 3: Customer's Page
Now, your customers can review the product and earn points. Thus, customers can rate and review all the products they purchase and collect points. They can also redeem the points earned in their future purchase.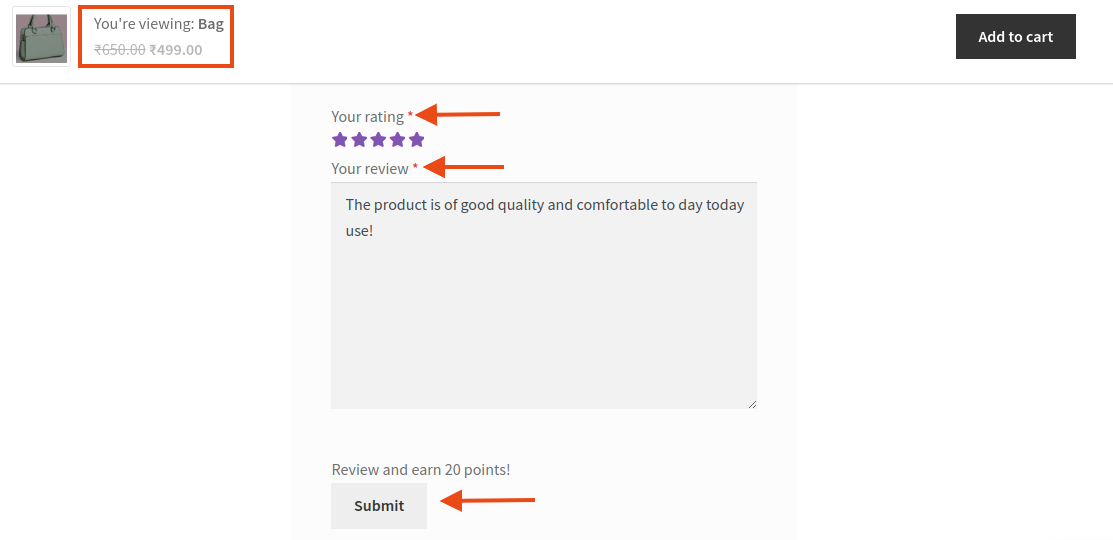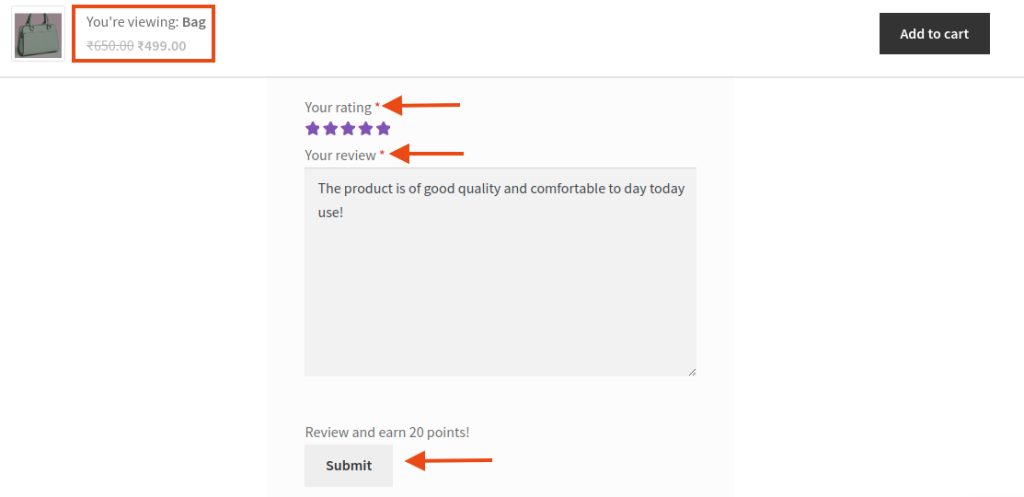 Once your customers click on submit, 20 points will be added to their account.
How do my customers earn points for product reviews?
Your customers have to look out for the products they have purchased, rate them, and give a review. Also, customers will earn points for the review only if they buy a specific product. They can provide as many reviews as they want for a product, but they will earn 20 points only once, and that is on their first review.
Most of the customers make various purchases, then leave your store without giving a review. But, if giving reviews benefits them, most of them give one. So, you have to reward them with points, and your customers will automatically review the product.
How can I edit the number of points my customers earn for leaving product reviews?
You can edit the number of points your customers have earned for leaving product reviews by visiting the customer's page. This option will be helpful if the customer leaves the review, earns points, and then deletes it.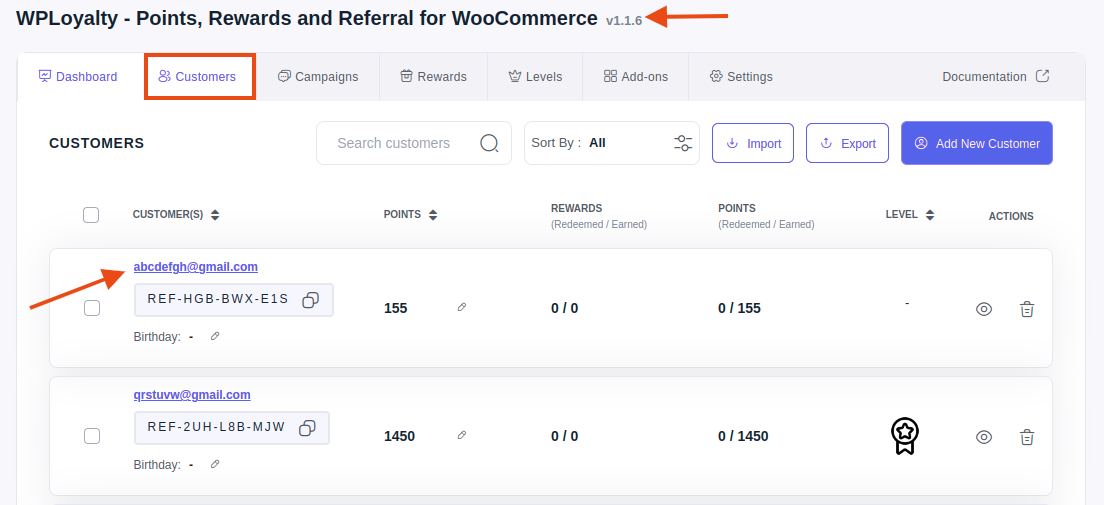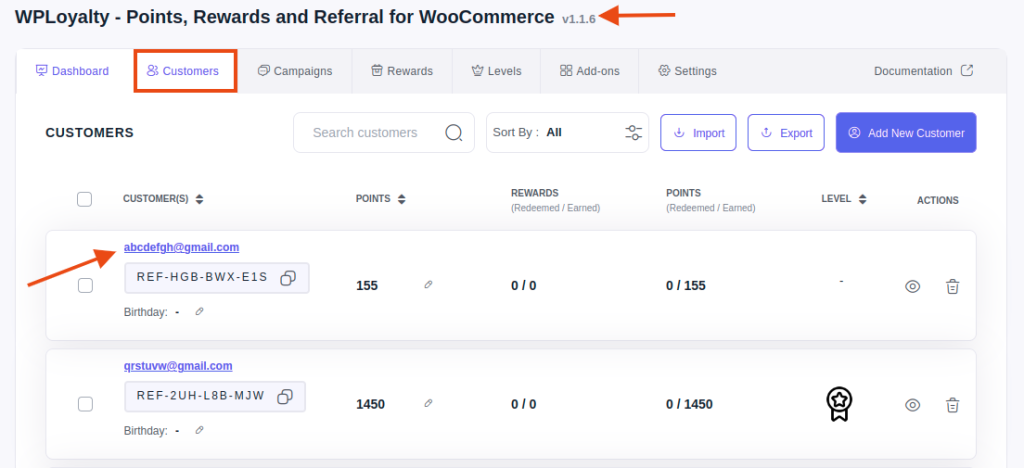 Click on the particular customers for whom you want to edit the points.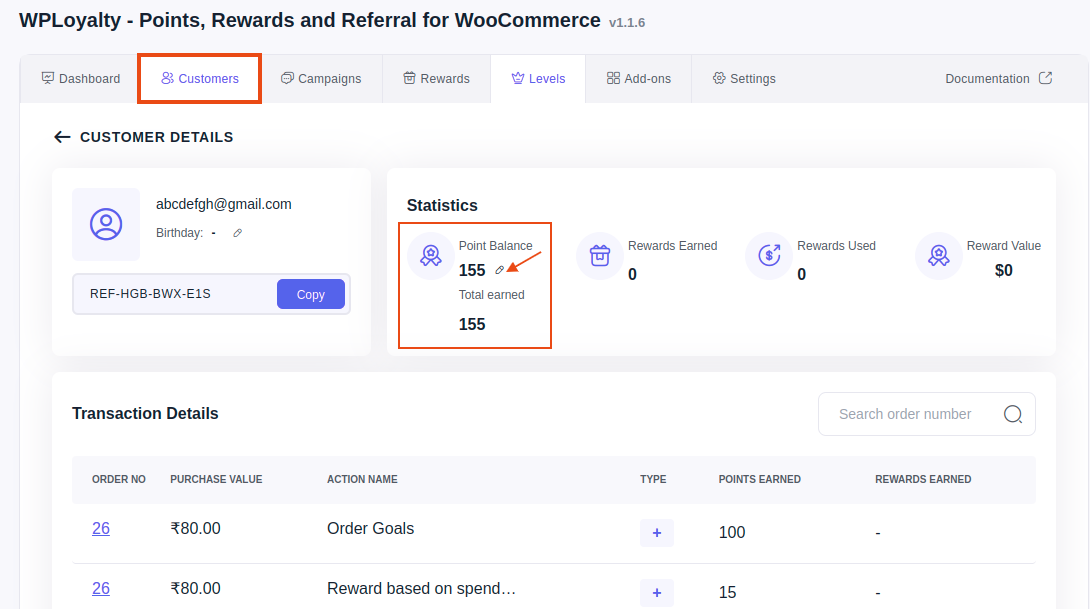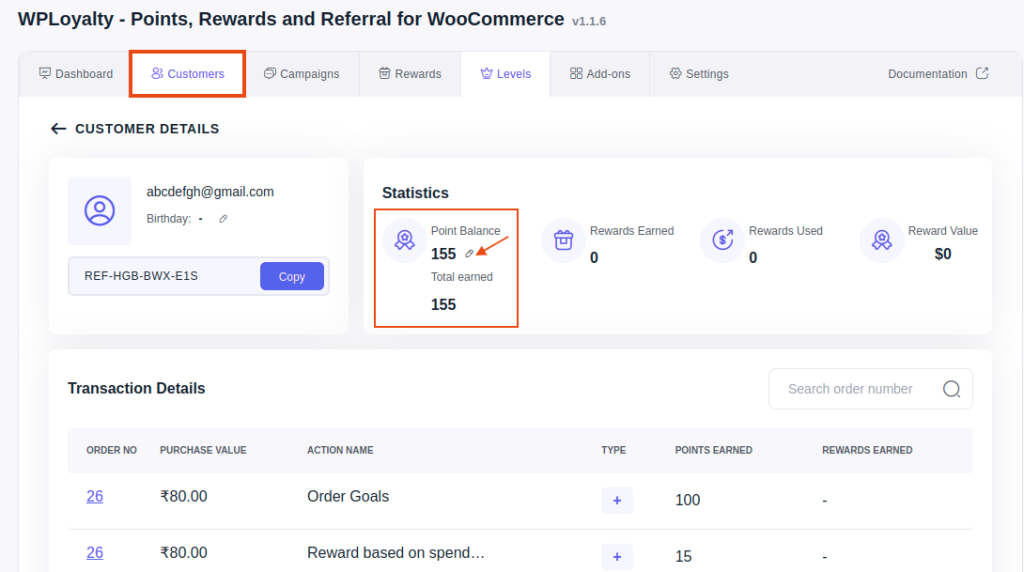 So, now click on point balance – edit the points earned – click on save. Now, you can see that the points are reduced to 135 points.


Note: There is also another way to edit the points of a group of customers at a time. You can use the import/export option on the customer's page. To know how it works, click on the link.
Automatically reward customers with points for writing reviews in an easy way.
Conclusion
Inviting customers to participate in a reward program will nurture and retain customers. With the WPLoyalty plugin, you can automate your rewards program and send points instantly to those customers who write reviews.
Without reviews, you may experience low sales, so ask and motivate your customers so that they never slip out of your brand.
How do you reward customers for reviews?
You can reward your customers with points, freebies, free shipping, coupons, and discounts.
How can you encourage positive reviews from customers?
You can encourage customers to write positive reviews by sending them emails asking for reviews, offering incentives, responding to the reviews made, and solving them.