Competition is snowballing rapidly among e-commerce stores day by day. Ecommerce businesses are keenly working on marketing and sales strategies to boost their sales and revenue. A customer reward program is one of the most important strategies eCommerce stores implement to stay ahead of their competitors.
So it's an open secret that giving away rewards to your new customers will redefine their shopping experience and interest them in coming back again for more. Also, by rewarding them for their engagement and loyalty, you can maintain your sales level, make extra profit, and gain more customers through word-of-mouth referrals.
Learn more about how customer reward programs work through this blog.
What is a Customer Reward Program?
A customer reward program is a customer retention strategy that repeatedly encourages customers to buy products from your stores. To make this strategy effective, you must recognize their role and reward them accordingly to approve of their consistent participation.
A reward program encourages and excites customers and eventually increases your sales. Reward programs for customers will help you retain old customers and bring in new customers to your store.
What makes a Customer Reward Program so important?
Money isn't free-flowing, so decide where to invest your money wisely. Let your primary focus be on retaining the current customers because retaining is proven effective in growing your ecommerce store. And a customer reward program is a big part of it.
If you are unsure whether to focus on acquisition or retention, here's why existing customers are important. Most of the customers would switch brands for a better customer experience, offers, or reward programs. Likewise, some customers will choose the brand with points and rewards.
So, what are you waiting for? Give your customers the best customer reward program and prove that you are a reliable ecommerce store.
How to Keep Customers Loyal?
A well-designed customer reward program will attract customers and make them loyal to your brand. Hence, pay attention to your customers' demands, instantly resolve them in time and earn their trust. Similarly, utilize the technology at your disposal to make it simpler for customers to contact you for any requirements.
To assist customers regularly and in time, AI chatbots are increasingly being used by ecommerce stores. These chatbots can suggest related products that increase conversion rates and even upgrade customers.


As a 'thank you' for their purchase, extend special deals, sales, and discounts to make your customers come back. To stay loyal, make sure that the unique discount or offer is related to the objectives of each customer. Regardless of your preferred approach, always try to make them feel important.
Why does your store need a reward program?
A customer who supports your loyalty program is more likely to purchase regularly from your store. So by running the best customer rewards program, you can appreciate their loyalty and enjoy the mutual benefits of increasing your sales.
However, just thanking them through an email after each purchase is not enough to attract them. Most customers acknowledge that attaining an expectation or rewarding themselves keeps them loyal.
The advantages of having a customer loyalty program become even more apparent when you consider that you would reward referrals, and the customer receives a reward for promoting your brand. Additionally, it's like you appointed someone to handle your acquisition marketing. In the same way, you get a new customer to your store, and it's more like a win-win situation. Also, it is the best way to acquire more customers for your ecommerce store.
Different Types of Customers Reward Programs
Customer Reward Programs for small businesses are inexpensive to increase sales and customer retention. You must always remember that giving away reward points to your customers is always a better strategy.
One of the simplest and most effective ways to strengthen your relationship with your customers is to express your gratitude sincerely. It's clear cut, but surprisingly few companies never take the time to thank customers for their purchases sincerely. One of the easiest ways to thank your customers is by a reward points program.
Let's look into the different types of customer reward programs that you can offer to your customers.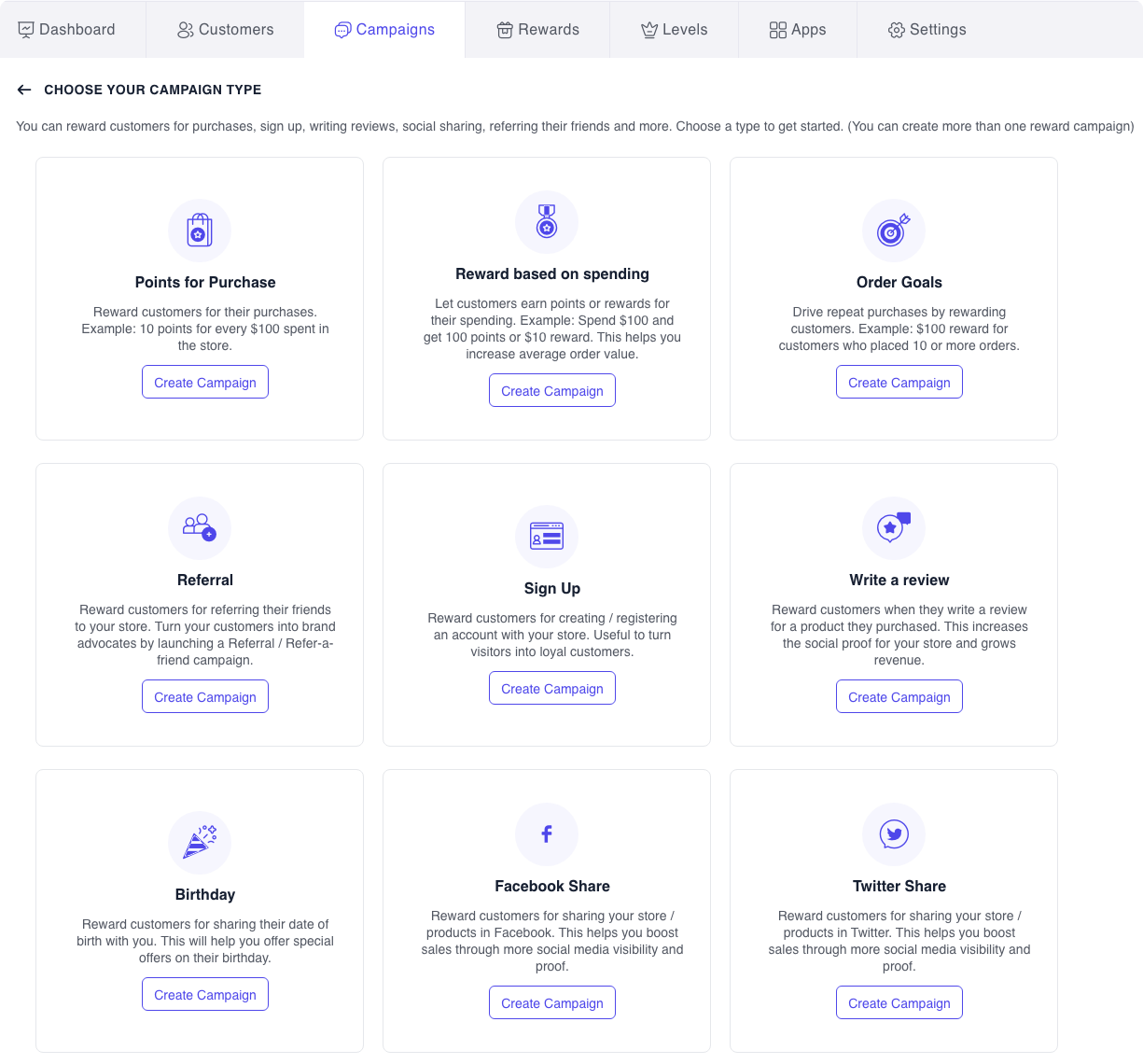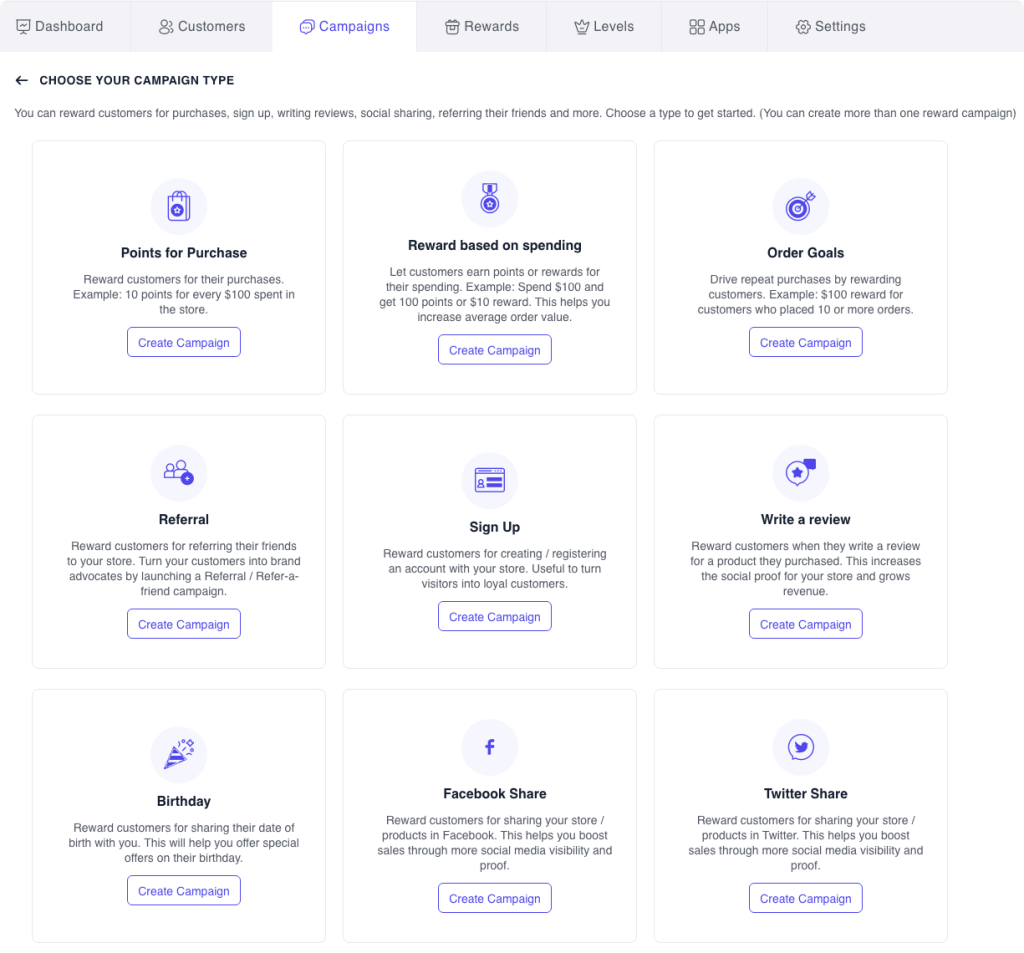 Rewards for purchase – Reward your customers as soon as they make their first purchase. Create offers and discounts to attract customers and make them purchase more of your product. It will draw the attention of your customers.
Rewards based on spending – Giving customers a loyalty and reward program can boost productivity and sales. A customer reward program is significant as loyal customers spend more dollars on each transaction. So, reward your customers for spending each dollar in your store.
Rewards based on order goals – Provide a reward to your customers based on their repeat purchases or when they exceed the order limit. Remember, rewards are one of the reasons for your sustainable growth.
Rewards for Referrals – Customers will always trust more when a friend recommends it to them. So, give away rewards whenever your customer refers your store to their friend or colleague. This way, you can earn a new customer and retain your old customer.
Rewards for signing up – Your customers will feel special whenever you welcome them with a bonus or reward. So, reward your customers as soon as they sign up for your store, which would encourage them to continue their purchases from your store.
Rewards for review – Make your customers write a review about a product and reward them for doing it. This way, you will get more reviews and sales, which is a win-win situation for you.
Rewards for social media share – Reward your customers for every little effort they put in. Giveaway rewards to your customers whenever they share your products on social media like Facebook, Twitter, or Instagram.
Best Customer Rewards Program Examples
Let's look into the best customer rewards program, which is found to be more effective among customers.
TOMS Rewards Program
TOMS Reward program is a free customer reward program where customers can earn points for buying, clicking emails, and liking TOMS on social media. When customers sign up, they start earning points for buying, clicking emails, and liking TOMS on social media. They receive perks like coupons and early access to their store.
Customers usually prefer TOMS for giving away such perks whenever they make their purchases, encouraging them to make many more purchases at their stores.
Hyatt Rewards Program
Hyatt offers a five-tiered customer rewards program to reward customer loyalty. Hyatt's loyalty program is available to everyone because they provide a membership that is free and has no restrictions.
They provide benefits, including discounts at their resorts and hotel stay, entry to exclusive member-only offers, and the opportunity to earn points for nights at the hotel, dining, spa services, and other activities.
Customers prefer Hyatt as they can choose the reward and spend the points earned according to their preferences.
Swarm Rewards Program
Swarm is a check-in app where customers are rewarded for the check-in they make at different locations. They offer a 20% off coupon at Best Buy for every check-in.
Customers love using the Swarm app as they give away prizes, including vacations, spa days, and shopping excursions.
Odacite Rewards Program
Odacite customer reward program encourages customers to return to them frequently to make a purchase. Customers are divided into three tiers based on the amount they spend. They offer one point for every dollar they spend, and the earned points can be used to exchange money when they finally check out.
The main objectives are to accomplish and benefit both the company and its customers.
How do reward programs increase customer engagement?
With a customer reward program, you can create the best impression the very first time. You should always initiate your first move to your customers. Make them realize the value of earning points and remind them more often about how interesting this reward program works.
By doing so, you could increase customer engagement. Likewise, their loyalty to your brand will grow each time you engage them. Rewards will undoubtedly excite a customer, and your engagement rate will continue to rise if you consistently leave your customers wanting more.
End Line
Customer reward programs can be highly beneficial to boosting customer loyalty, and it need not be challenging to set one up. So, don't wait to get started. With all the needful information on how a reward program works, give away the best loyalty reward program to your customers and make them feel special.
Also, choose the best plugin like WPLoyalty and give an amazing customer reward program and meet up the expectations of your customers.
Frequently Asked Questions
What is the purpose of a rewards program?
Ecommerce stores usually create customer reward programs to increase sales and retain their customers. This way, they could attract customers and make them purchase more from their stores. Generating more revenue is one of the purposes of this program.
How to start a customer reward program?
To get started with a customer reward program, all you should do is study your customers' preferences and the product they like and prefer. Then set your goals and budget, decide on the target customers, and finally, use the proper tactics and launch a reward program.
Why is customer loyalty important?
A study says loyal customers usually buy more of your products again and again than shifting brands, and loyal customers spend more than new customers. So, to make them stay loyal, you must reward and retain them.
How do rewards programs generate revenue?
The rewards program will increase word-of-mouth sales (WOM). So, when your customer refers your brand to their friends or colleagues, sales will automatically increase, generating more revenue for your store.
Why do companies create loyalty programs?
Companies create customer reward programs to increase their profits and improve new sales, leading to sustainable growth.