Running an e-commerce store, especially on platforms like WooCommerce, you often communicate with your customers through emails, right?
Every time a customer makes a purchase, they expect emails regarding order confirmations, shipping updates, and more. But how do customers feel if those emails seem plain and uninteresting? That's where WooCommerce email customizer plugins help.
Email Customizer for WooCommerce makes your emails look better and match your store's style. Look at the top 5 WooCommerce email customizer plugins to improve your store's emails.
Reward your loyal customers and build your brand identity easily using WPLoyalty
Criteria to Select the Best WooCommerce Email Customizer Plugins
Choosing the right WooCommerce email customizer plugin can elevate your communication to a new level. But how do you choose the best plugin? We have curated the essential criteria that will guide you in making the right choice. It will ensure your emails look professional and connect with your customers.
User-Friendliness
A good email customizer for woocommerce should have an easy-to-use interface. Even if someone has little technical knowledge, they should be able to use it.
Helpful tips or step-by-step guidance can be beneficial for users to customize their emails.
It's great if the plugin lets users quickly see a preview of the changes they make to their emails.
Customization Capabilities
Offering a variety of templates allows users to have more options for email customization.
It's good if users can change elements like text, images, colors, and fonts according to their preferences.
With the drag-and-drop feature, users can easily move elements around in the email. It makes the customized design feel natural.
Responsiveness and Compatibility
Since many people check emails on their phones, they must look good and work well on mobile devices.
Emails should look right in places like Gmail, Yahoo, or Outlook. They should appear the same in all of them.
Ensure that the plugin works seamlessly with the latest version of WooCommerce and doesn't conflict with other plugins.
Support and Documentation
Clear and understandable documentation or manuals should be available to help users get started and troubleshoot any problems.
A good plugin is regularly updated to fix bugs and add new features.
It's beneficial if the plugin offers various support channels, such as forums, email support, or live chat, so users can quickly get help when needed.
5 Best WooCommerce Email Customizer Plugins
Email customizer for WooCommerce plugin lets you change how your emails look and work so that people enjoy buying from your store and remember your brand. Here are the top 5 picks of woocommerce custom email plugins.
Email Customizer for WooCommerce By Flycart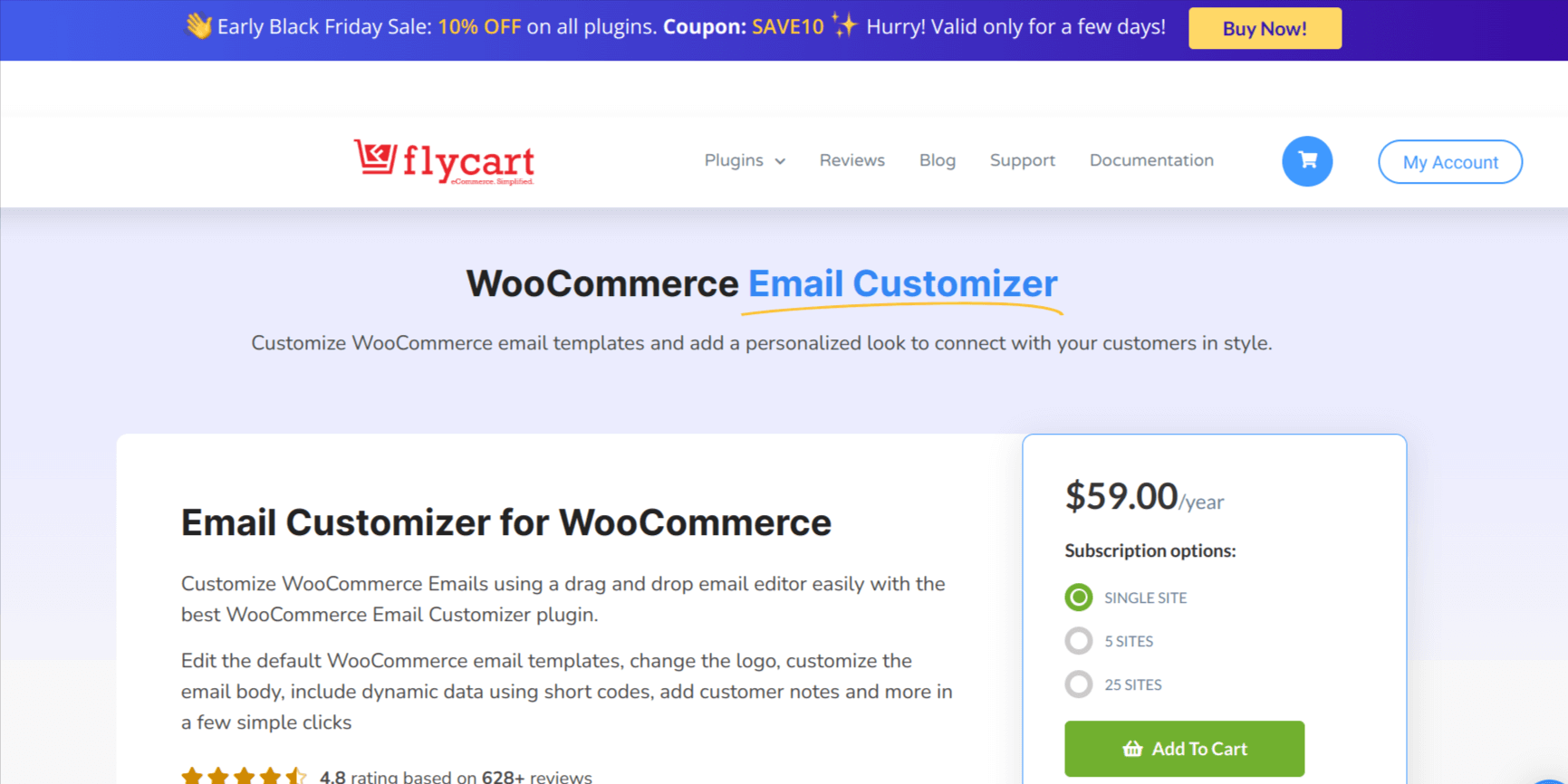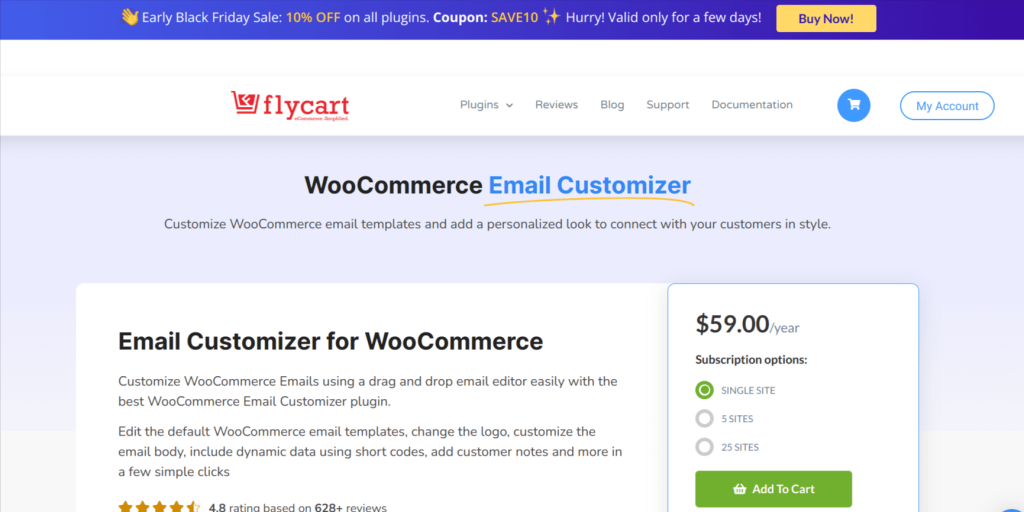 Email Customizer for WooCommerce by Flycart is one of the best Email Customizer plugins for WooCommerce. The plugin helps you transform boring transactional emails into beautiful branded emails with its unique customization options. 
Emails with your Brand's logo, color, and personal touch create a strong impression in the customer's mind. As a result, you can increase brand recognition, get repeat purchases, and increase revenue.
With this plugin, you can customize a generic WooCommerce email from the header and footer and change the complete look and feel. The plugins have blocks and design options to craft emails exactly as you want them to be.
Features
Drag and drop email editor to customize easily.
Ready-made email templates for quick customization.
15+ elements to add the Brand's logo, CTA buttons, social media icons, and more.
Use shortcodes to add Dynamic Content like the Customer's name, address, and order summary.
Check the desktop view and mobile view.
MJML options to import or export email templates.
Preview or send test emails.
Schedule the email templates.
Multiple Language support to translate emails in many languages.
Ensure Your Customers Feel Valued! 
Install Email Customizer plugin today and make your emails catchy!
WooCommerce Email Customizer By MailPoet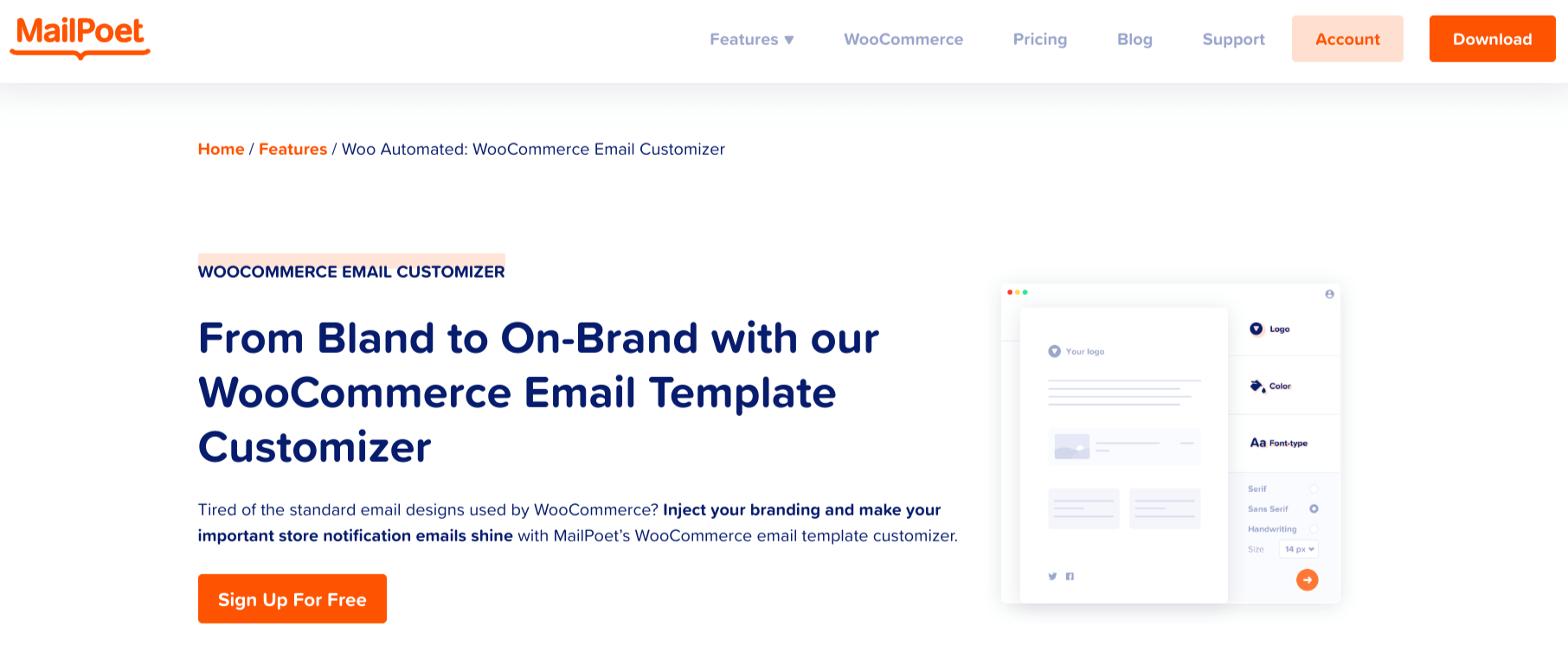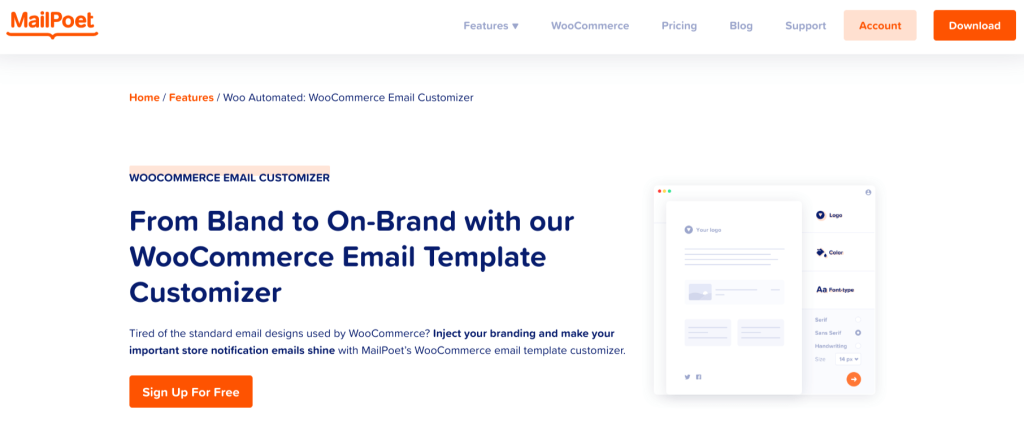 MailPoet is a brilliant custom WooCommerce emails plugin that can give a colorful touch to your dull transactional emails, transforming them into vibrant and engaging messages. This plugin is ideal for those who want to maintain brand continuity across all customer interactions. You can custom-design your emails and provide a personal touch to your communications, helping you to build a stronger bond with your customers.
Features
50 pre-designed templates to customize easily.
User-friendly design tool.
"Last post notifications" to alert the users about new posts.
Dedicated WooCommerce customers list.
Customizable signup forms to grow your mailing list.
WooCommerce Email Template Customizer – Villa Theme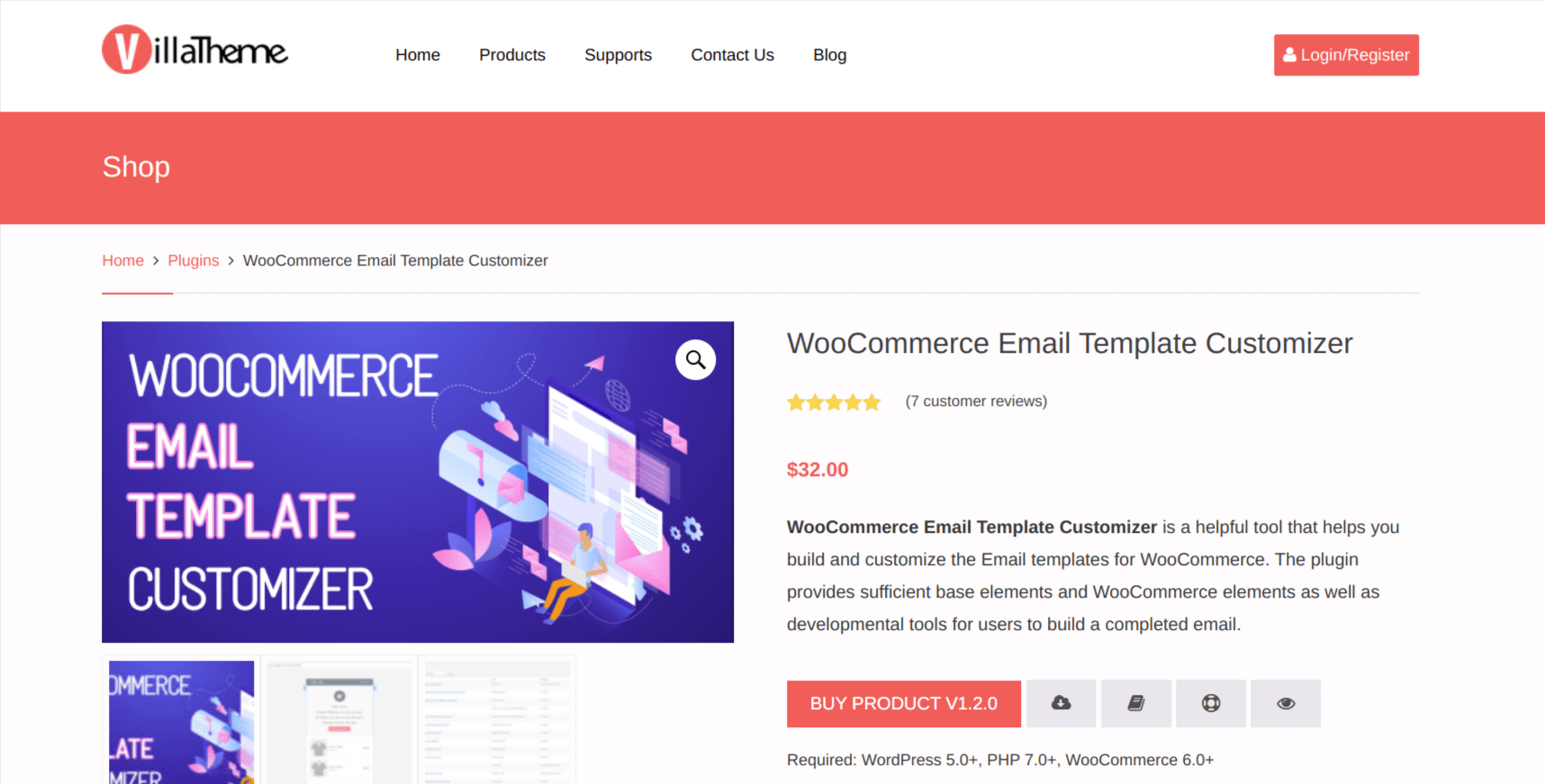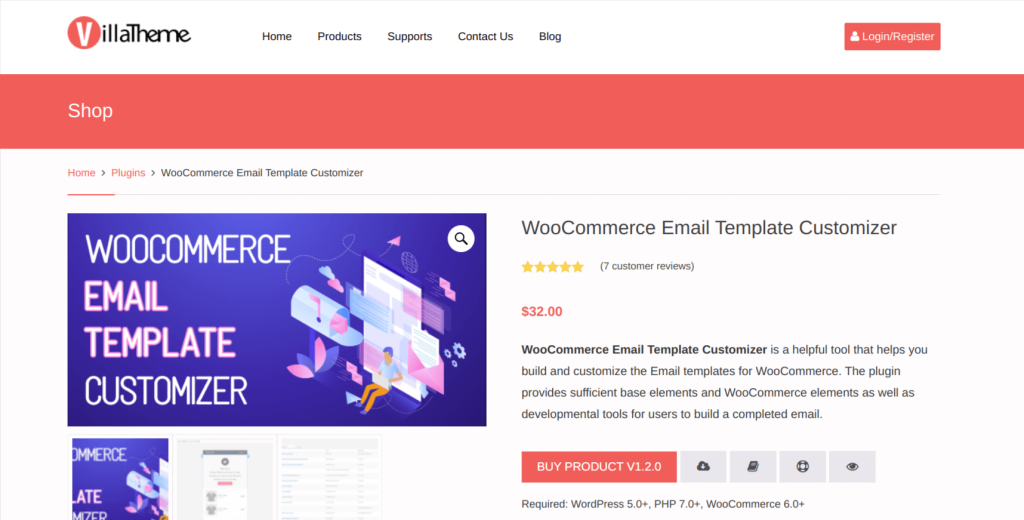 Villa Theme's WooCommerce Email Template Customizer is perfect for making transactional emails more stylish and appealing. It lets you change the usual WooCommerce notifications into something your customers will be excited to get. This plugin makes the emails you send out for your online store way cooler and more interesting, turning regular updates into fun messages that your customers will enjoy.
Features
Visual drag and drop builder to arrange elements effortlessly.
Preview to check the changes in real time before sending them out.
Easy customization of colors, fonts, and images.
It can work seamlessly with your WooCommerce store.
Multilingual support to translate your emails.
Email Customizer For WooCommerce by ThemeHigh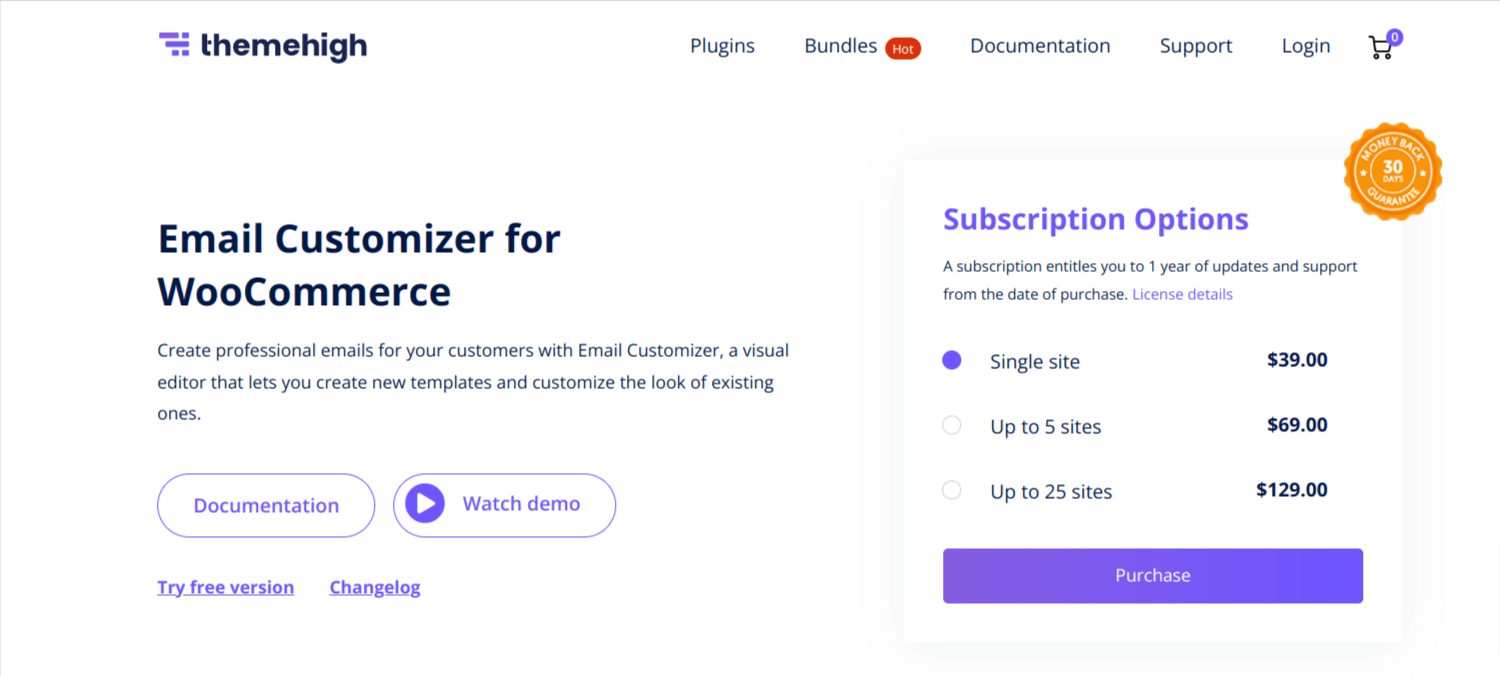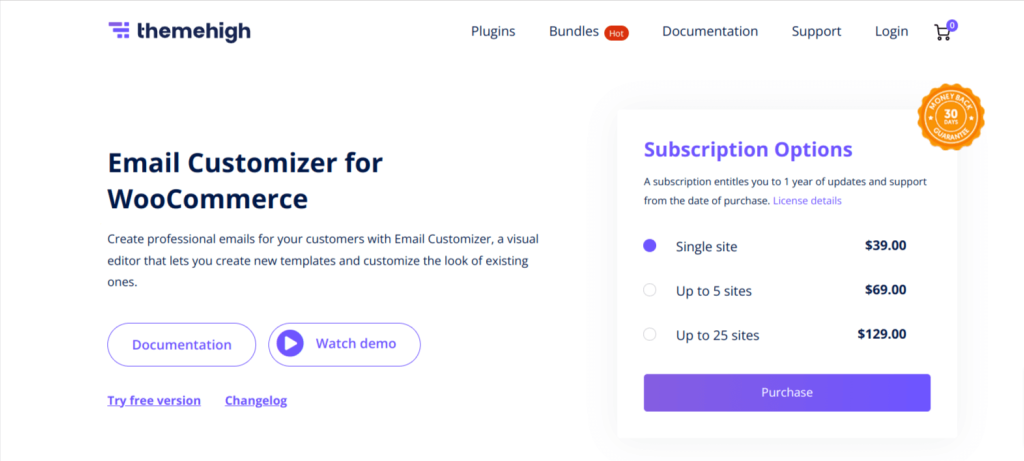 Email Customizer by ThemeHigh is suitable for those who love online selling. It lets users change their usual transactional emails easily, making them look catchy and unique. It's a super choice for anyone who wants to show off their brand's style in every message they send to their customers.
Features
20+ elements to customize email templates easily.
Use shortcodes to add personalized customer information.
Responsive layouts that are visually appealing on any device.
Easy navigation with drag and drop option.
Woocommerce hooks or custom hooks for easy transfer of data
Kadence WooCommerce Email Designer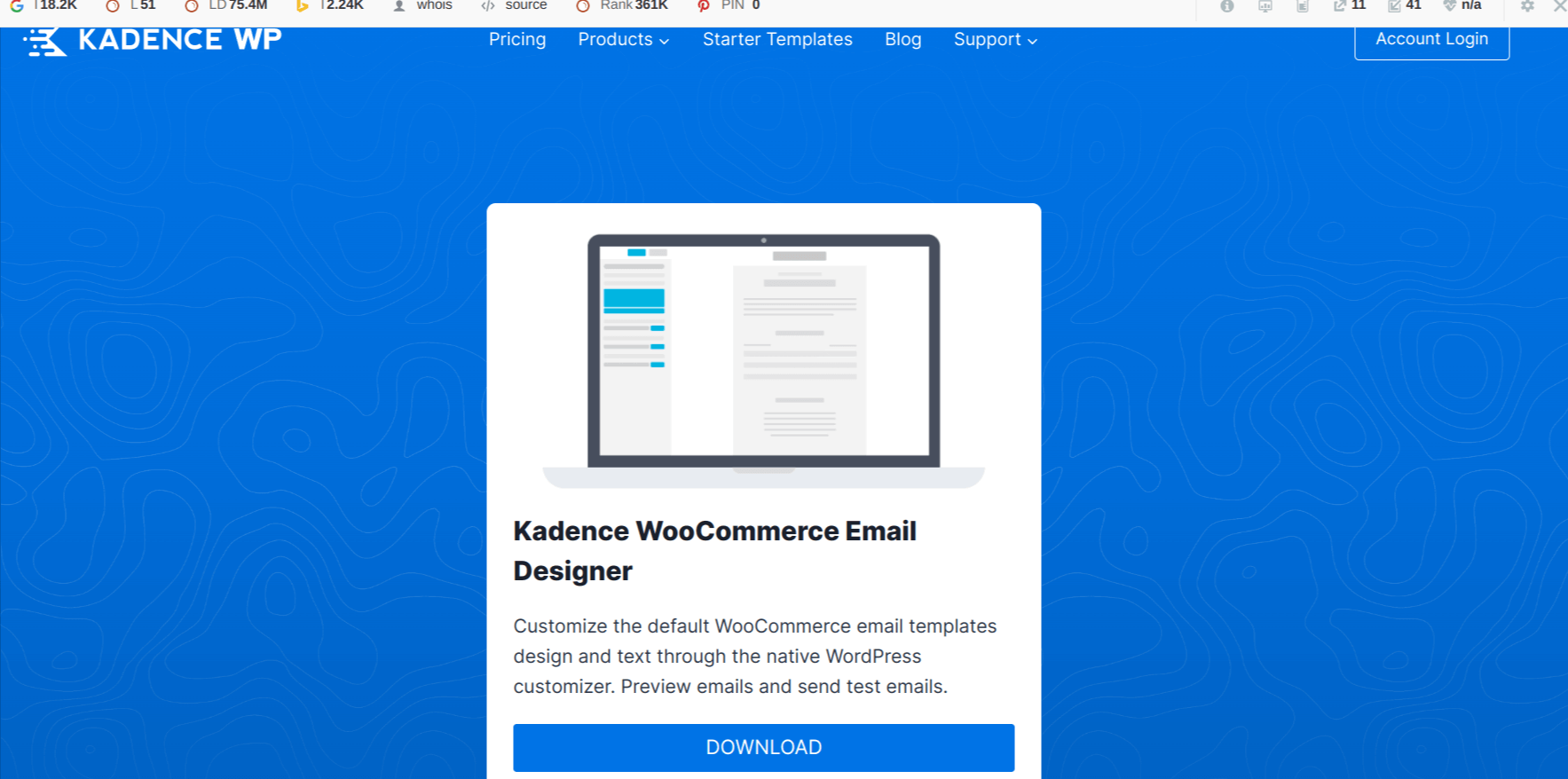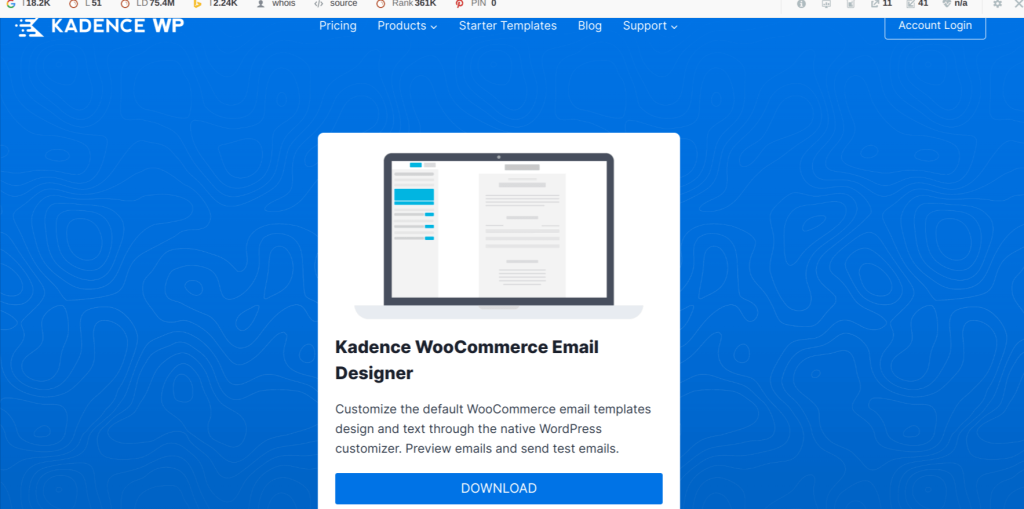 Kadence WooCommerce Email Designer is perfect for anyone who understands the impact of attractive emails. It pledges to make the emails from your WooCommerce more vibrant and appealing, making sure they connect well with your customers and strengthen your brand's image.
This customize WooCommerce emails plugin allows you to make emails that are not just informative but also reflect your brand's uniqueness and charm, leaving a memorable imprint on your customers. It makes your emails look friendly and inviting, helping build a stronger connection between your customers and your brand every time an email is received.
Features
Header and footer customization.
Live customization to view the modifications in real-time.
Unique pre-designed email template.
Customization with the option to add your own styles.
Build a community of loyal customers with WPLoyalty! 
Download and start rewarding!
Final Words
WooCommerce Email Customizer plugins are important tools when setting up your online store. They help create a memorable customer experience and build your brand's identity.
So, when you start with WooCommerce, think about how you can use email customizers. Look at different plugins, learn what they do, and think about what you need for your store. Then, pick the one that fits best with your brand and helps you connect with your customers in the best way.
What are some top features to look for in an email customizer plugin?
Look for a user-friendly interface, template variety, dynamic content insertion, responsive design, and customization options for headers, footers, and product details, allowing for brand consistency.
How do I customize my email in WooCommerce?
Navigate to WooCommerce > Settings > Emails, select the email to customize, and use the available options or a specialized email customizer plugin to modify content, appearance, and layout.
How do I create a custom email layout?
Use an email customizer plugin; select a template and modify elements like headers, footers, text, and images, ensuring responsive design and coherence with your brand's visual identity.
Can I use multiple email customizer plugins at the same time?
Using multiple plugins can lead to conflicts. It's preferable to use one that meets all your customization needs to avoid functionality and display issues.
How can I test emails after customizing them?
After customization, send test emails to various email clients and devices to ensure compatibility and responsiveness, checking visual appeal and all links functionality.