Are you ready to take your website to the next level and generate more leads? Look no further than WordPress form plugins! With WordPress powering over 40% of all websites, it's clear that this platform is a favorite among website owners. And with the right contact form plugin, you can easily collect valuable data from your visitors, such as their contact information, feedback, and inquiries.
But with so many options available, how do you know which form plugin to choose? That's where we come in. In this blog post, we've compiled a list of the 10 best WordPress form plugins for effective lead generation.
So if you're ready to supercharge your website's lead generation, sit back, relax, and let us guide you through the top WordPress form plugins on the market today.
Want to generate more leads while also enjoying exclusive rewards? Elevate your loyalty game with our loyalty program.
What are WordPress Form Plugins?
WordPress form plugins are powerful tools that allow you to create and embed forms on your website without any coding knowledge. You can use these forms for a variety of purposes, such as contact forms, surveys, registration forms, and more.
One of the best things about WordPress form plugins is their ease of use. Most plugins have a user-friendly drag-and-drop interface that makes it easy to customize and design your forms. You can choose from a wide range of form field types, such as text fields, radio buttons, checkboxes, and drop-down menus, to build your form exactly how you want it.
Another great feature of WordPress form plugins is their versatility. Many plugins offer advanced features like conditional logic, file uploads, and payment integrations, making them useful for various applications. Whether you're running an eCommerce store or just want to collect feedback from your users, there's a WordPress form plugin that can help you achieve your goals.
Using a WordPress form plugin, you can streamline your workflow, improve user engagement, and gather important information from your audience. Overall, WordPress form plugins are an essential tool for any website owner who wants to build a user-friendly website and generate leads.
How do WordPress Form Plugins help you generate leads?
WordPress form plugins can help generate leads by allowing website owners to create custom forms that collect contact information from potential customers. These forms can be placed on various pages of the website, including landing pages and blog posts, to encourage visitors to submit their information.
When a visitor fills out the form and submits their information, it gets captured in the website's database, and the website owner can use the data to follow up with the lead via email or phone. Thus it creates an opportunity to generate leads and move them further down the sales funnel.
Additionally, many form plugins offer integrations with popular email marketing platforms, such as Mailchimp, Constant Contact, or Retainful. These plugins allow website owners to automatically add leads to their email lists and send targeted email campaigns to further engage with them.
Benefits of using the WordPress contact form plugin
WordPress contact form plugins offer a convenient way for website owners to add customizable forms to their sites, allowing visitors to get in touch with them easily. Here are some of the benefits of using a WordPress contact form plugin:
Easy to install and use: Best form plugins for WordPress are easy to install and set up, even for those with limited technical skills. Most plugins offer drag-and-drop interfaces that allow you to create and customize your form without coding.
Customizable: WordPress contact form plugins offer a range of customization options, including the ability to add fields, change form layouts, and customize email notifications. Now you can tailor your form to your specific needs and preferences.
Spam protection: Most contact form plugins come with built-in spam protection features that help prevent unwanted messages from reaching your inbox.
Increased efficiency: Contact form plugins allow you to streamline your communication process by gathering all relevant information in one place. Now you can respond to inquiries and keep track of your correspondence easily.
Analytics and tracking: Some best WordPress plugins for forms provide analytics and tracking features that allow you to monitor how visitors interact with your form. This can help you identify areas for improvement and optimize your form for better conversions.
10 Best WordPress Form Plugins for Effective Lead Generation
Using the best WordPress form plugins is excellent for attracting potential customers and generating leads. With various WordPress form plugins available in the market, getting the best one for your eCommerce store may be tricky.
Here's the list of best WordPress form plugins for effective lead generation, so pick the right one that matches your store. Let's get started.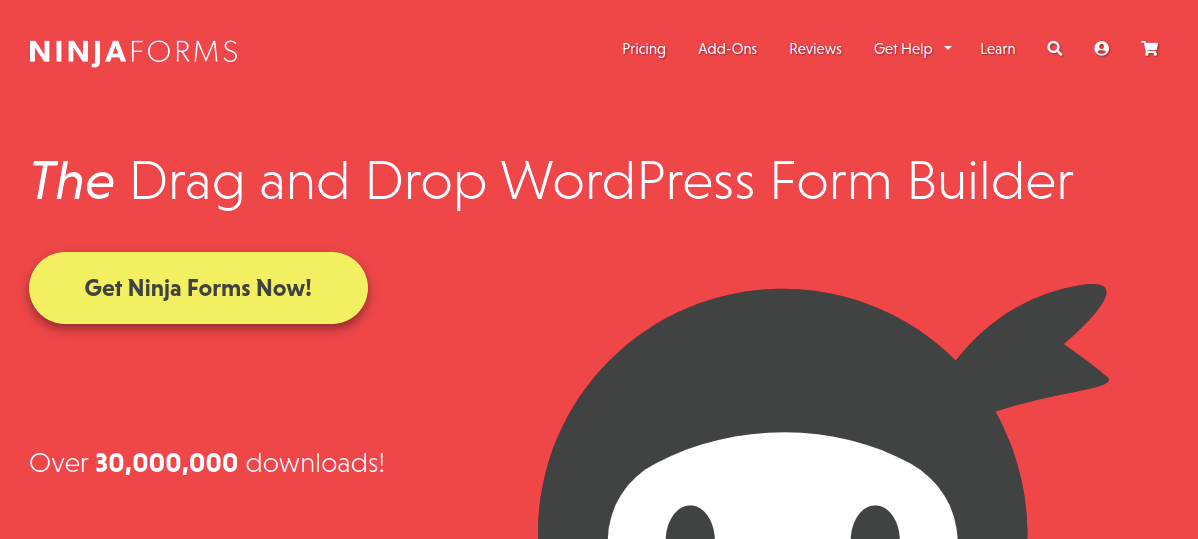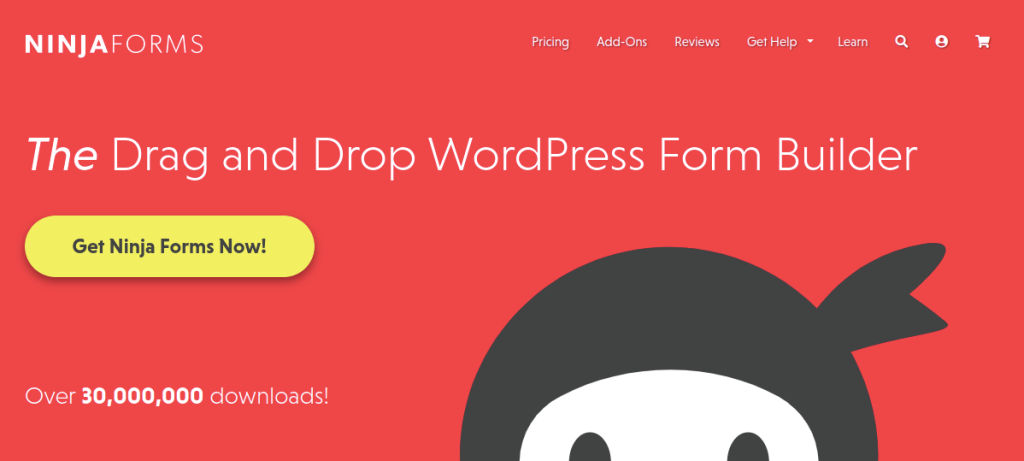 Ninja Form is one of the beautifully designed best WordPress form plugins with user-friendly features. It allows you to build your forms in a professional way. With this WordPress form plugin, you can create stunning, complex designs like an expert.
Ninja Forms makes it simple to create your form from scratch with the drag-and-drop builder or one of the pre-made templates. Additionally, you can make your WordPress form responsive to ensure that it works effectively and seems well on screens of all sizes, from laptops to smartphones.
Key Features:
Create unlimited forms.
Manage form submissions and accept infinite entries.
Submissions are exported as CSV files and attached to emails.
After submitting the form, send an email confirmation.
Send free success messages.
Set up a redirect thank you page.
Calculations can be used to generate a free quote form, calculate a quiz score, or collect dollars.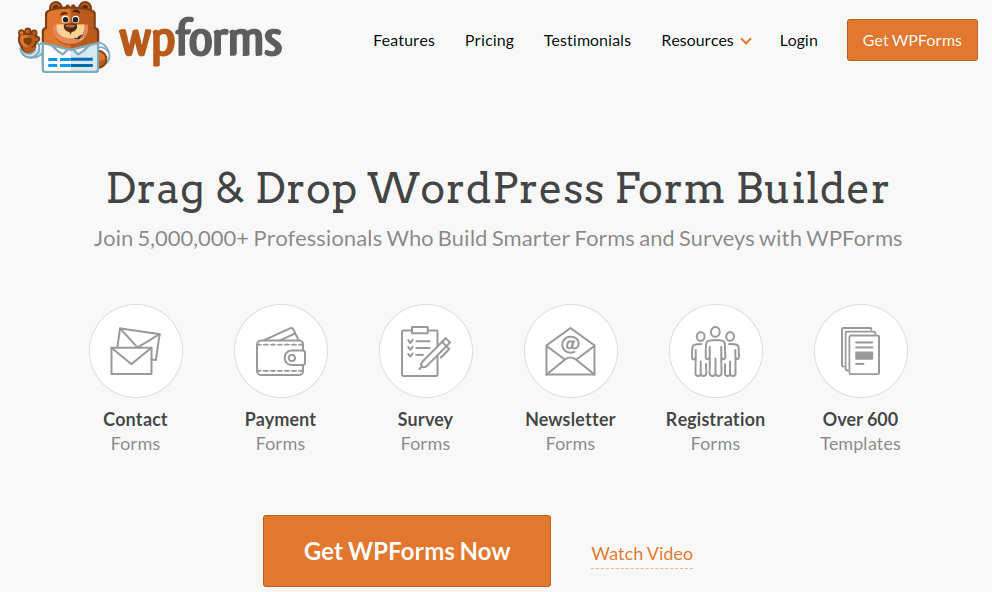 WPForms is another best WordPress contact form plugin that is most user-friendly for beginners. With just a few clicks, you can quickly create a stunning contact form, email subscription form, payment form, or any other type of online form with the drag & drop online form builder.
WPForms was developed using a UX (user experience) first approach, making sure that it is really simple to use. It also offers every functionality you'll need to build a strong and flexible form for your website. You can create polls and surveys with WPForms. It includes reports of your results in attractive graphs and charts.
Key Features:
Create a stunning form quickly and easily without creating any code in just a few minutes.
Start with utilizing pre-made form templates.
WPForms is fully responsive on desktop, tablets, and mobile devices.
Smart conditional logic makes it simple to construct high-performance forms.
Use form notification tools to respond to leads quickly.
For a more efficient workflow, view all of your leads in one place.
To improve user experience, split lengthy forms into multiple pages.
Allow visitors to submit forms with files and media uploads.
With the Stripe extension, it is simple to accept payments, donations, and online orders.
Fluent Forms is one of the beginner-friendly WordPress form builders that allows you to create beautiful forms without any special coding. You can just use pre-made templates and the drag and drop builder to create unlimited forms. You can increase conversion rate by engaging customers with web forms.
Regardless of the screen size, Fluent Forms allows you to display your forms beautifully. To protect you from spam, Fluent Forms have Akismet, reCAPTCHA, Honeypot, and more in their toolbox. With Stripe, PayPal, coupons, and dynamic calculation, Fluent Forms has a reliable payment solution.
Key Features:
Choose a template to quickly create a form.
Through interactive web forms, start a discussion with your customers.
Create various quizzes and experiment with advance scoring.
Divide lengthy forms onto multiple pages.
Enables users to submit data and automatically create posts or pages.
Provide a form for customers to upload files and images.
Activate reCAPTCHA for human verification.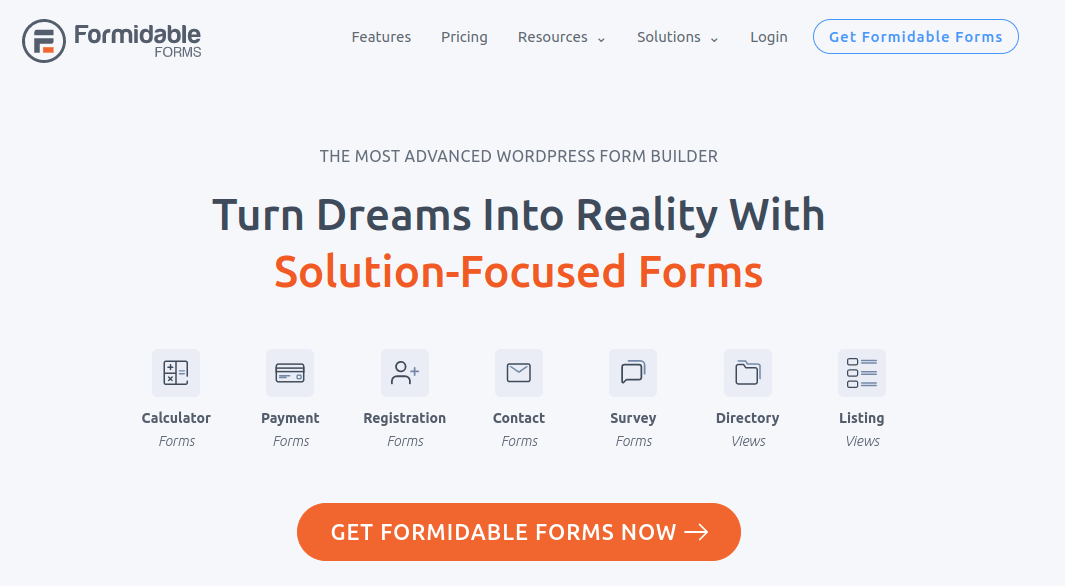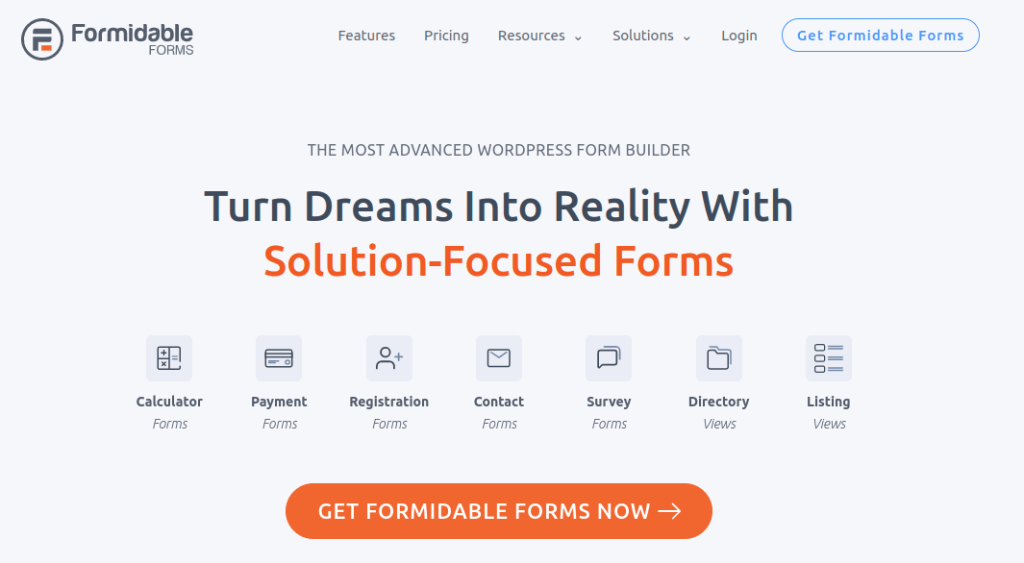 Formidable Forms is one of the most advanced form builders for WordPress. The form builder not only helps you create forms and collect data but also allows you to turn your forms into powerful, data-driven applications. You can create infinite forms in just a little time.
Create easy contact forms or complex multi-page forms with conditional logic, calculations, and file uploads. After that, you can show views and graphs using the collected data. Get much more than just WordPress forms using Formidable forms.
Key Features:
Easily build complex forms using drag and drop form builder.
Transform entries into directories, calendars, listings, and other effective front-end content.
Collect information, such as team registrations, employment histories, and events.
Quickly and easily create polls and surveys.
Utilize form templates to get started quickly, then edit to meet your needs.
Calculate complex product options and provide immediate online estimates.
Without any coding experience, gather data and consumer feedback like an expert.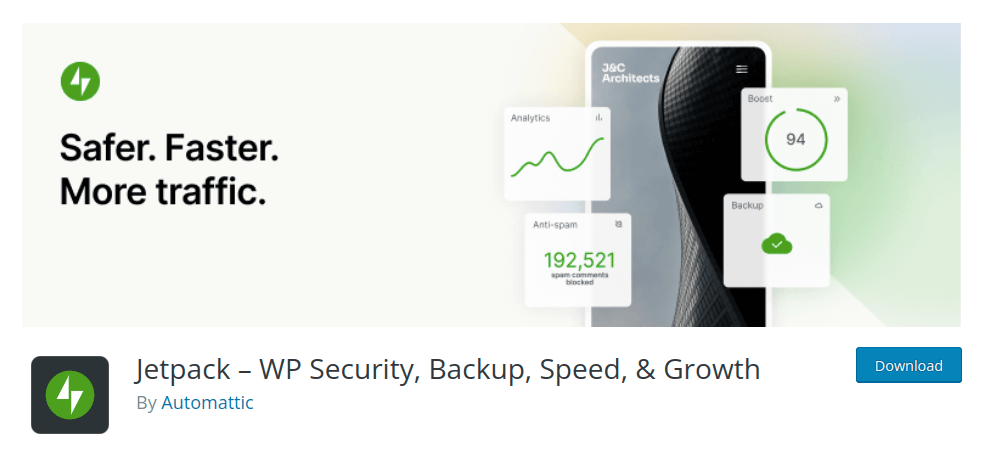 Jetpack form plugin is another best WordPress plugin for forms to create forms in just a few clicks. Installing the plugin makes your site safer, works faster, and helps you improve your store's traffic. The plugin also provides security to make your site work effectively.
Jetpack form plugin is easy to use and the plugin includes, malware scans, spam protection, real-time backups, and easy resorts. The plugin also provides free uptime/ downtime monitoring and force protection.
Key Features:
Automatic real-time site backup that you can instantly restore to any point.
Automated malware and security checks for other potential code threats.
Choose a basic theme to get started with, or a premium theme to stand out from the competition.
Freely create as many contact forms as you want without any coding knowledge.
Receive Email notification for each form response.
Ready to generate more leads while being rewarded for your loyalty? Sign up today for exclusive rewards and stay informed about our latest offerings.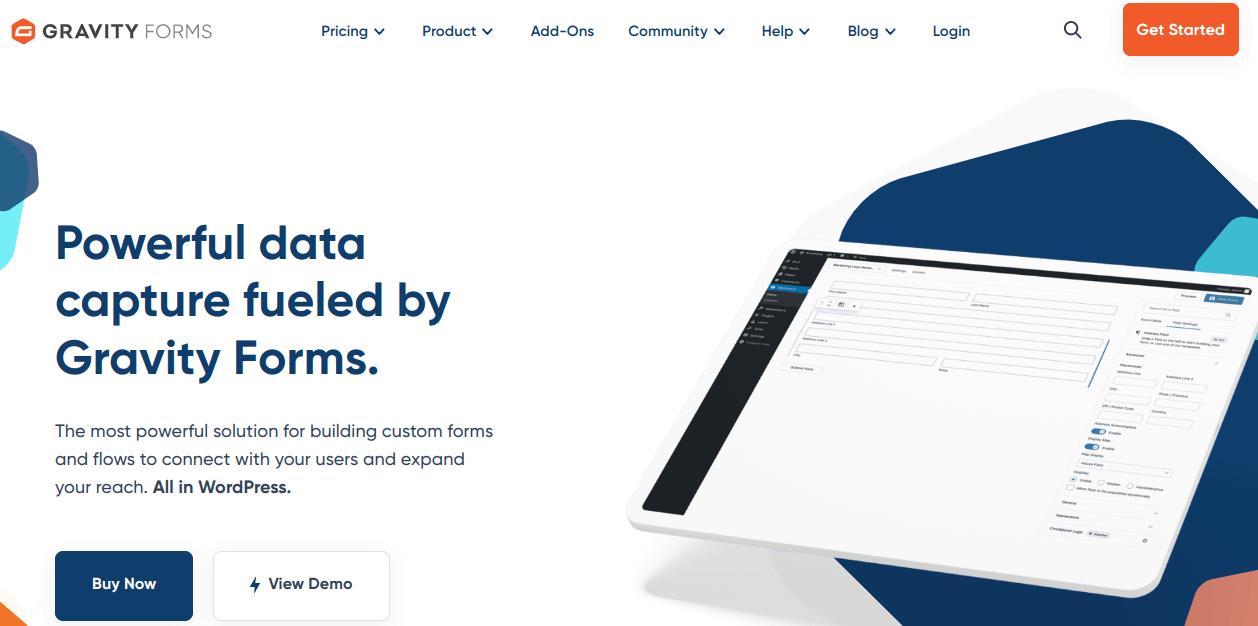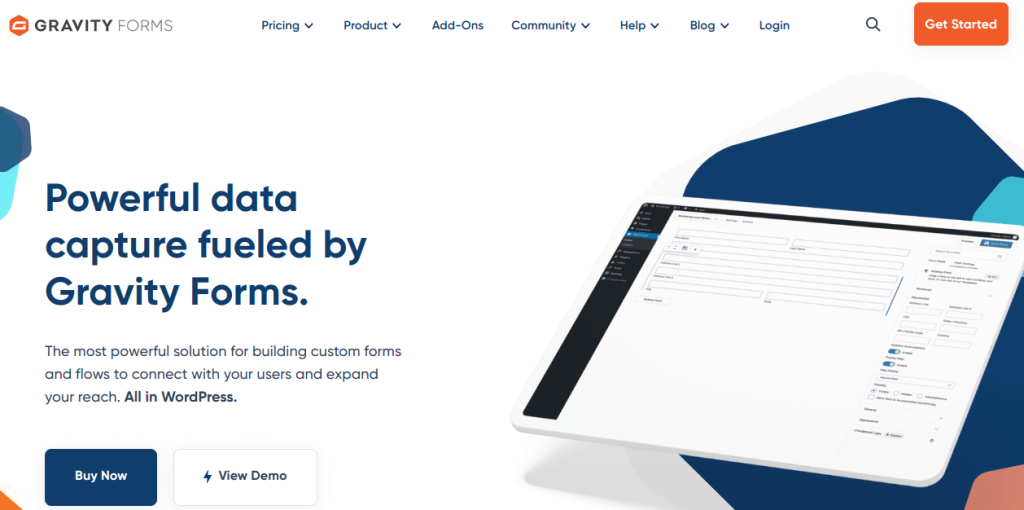 Gravity Forms is the most effective method for creating unique forms and workflows that connect with customers and extend your reach. You can create unique web forms to generate leads, collect payments, streamline processes, and expand your business online.
Gravity Form is the amazing management plugin you'll need for your store. The plugin comes with a variety of features and tools that save your time. You can make your form appear fantastic and draw in the attention of your audience. Also, you can use the drag and drop form fielder to see how a form will work.
Key features:
Use the user-friendly visual form editor to quickly design and create your WordPress forms.
Use the same tool you use to generate contact forms on your website to manage transactions.
Set your form's fields, sections, pages, and buttons to hide or display depending on the user's selections.
You can quickly create automated custom workflows for any form you create.
By displaying or hiding fields, sections, or entire pages based on user inputs, you can make your forms more relevant to your audience.


With the best form plugin like TypeForm, you can build a relationship with your customers and stand out from the crowd. TypeForm plugin lets you create beautiful, appealing forms that allow you to collect data of your valuable customers.
TypeForm is not only an interface but there are hundreds of powerful integrations. None of the forms you create requires any coding. All you have to do is sign up and get ready for smooth onboarding. Additionally, the plugin also lets you use their hundreds of beautiful templates for you to choose from and make your website run even faster.
Key Features:
Stripe integration allows you to collect payments.
Use personalized Thank You screens and redirects to take users to the next phase of the journey automatically.
Integrations that sync data with your CRM or workflow will speed up the process.
Make your typeforms unique like your brand by customizing them.
Choose from the gallery's thousands of free templates.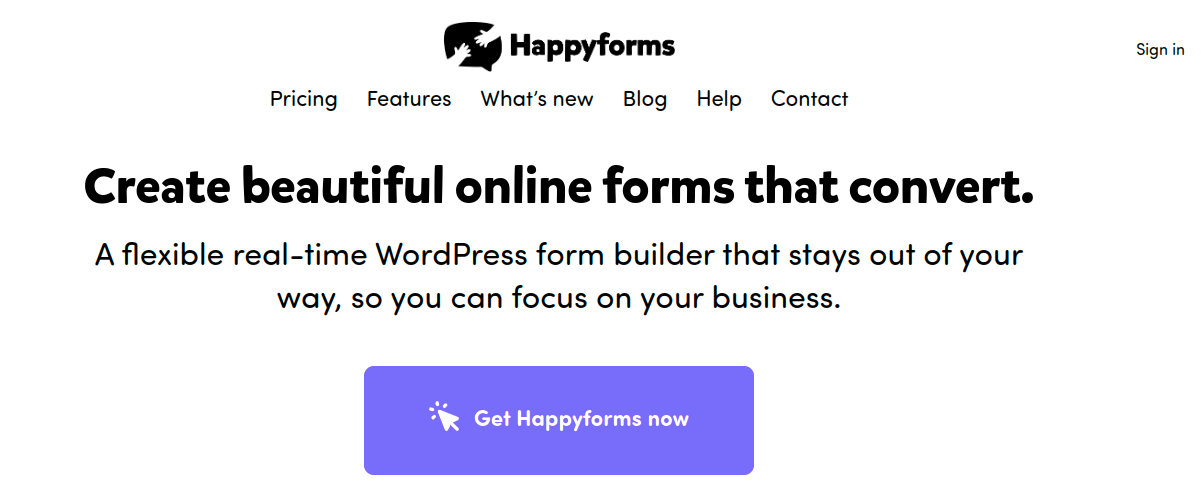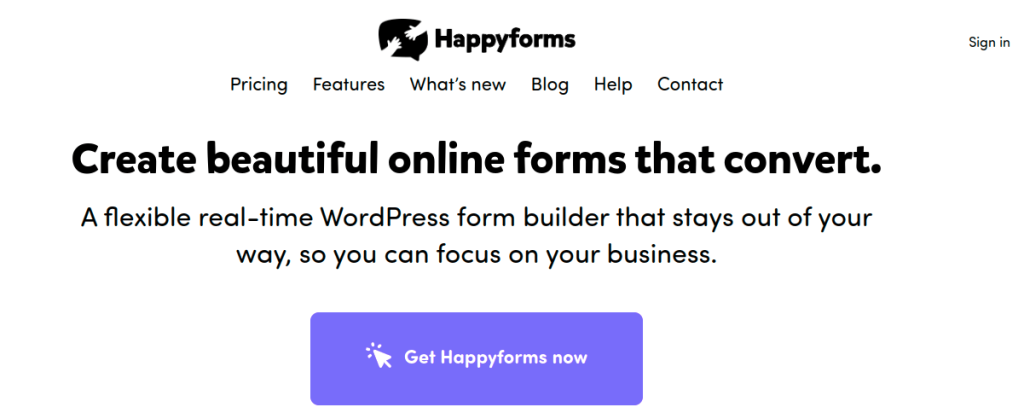 HappyForms is an amazing way to create appealing forms that help you convert your visitors into customers. It is one of the flexible form builders designed effectively for your WordPress. You can create online order forms with various payment methods and gradually increase sales.
HappyForms allows you to create and set up signup forms that will gradually expand your mailing list. You can easily create custom registration forms, export spreadsheets and pdf documents in just a few clicks. Most importantly, using HappyForm plugins can save your time and effort.
Key Features:
Divide lengthy forms to multiple pages. Simple drag-and-drop page creation.
Create forms with an unlimited number of responses.
With clever conditional logic, you can display or hide form fields.
With the very powerful and simple to use reCaptcha, put an end to spam users.
Use the effective new Signature function to quickly construct forms.
Use coupon codes to provide discounts on your purchase forms.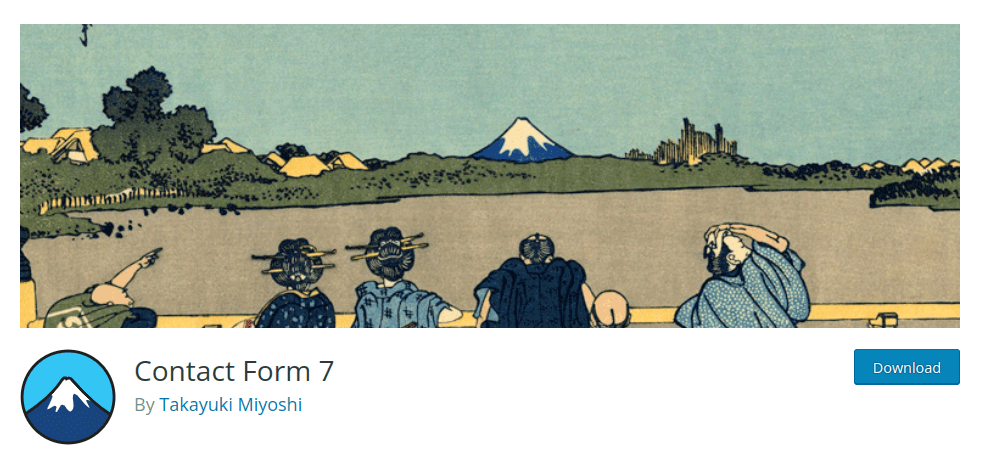 With Contact Form 7, you can manage multiple contact forms easily. You can customize the form freely and the email's contents with easy markup. Additionally, the form supports CAPTCHA, Akismet spam screening, Ajax-powered submission, and other features.
Contact Form 7 themes are also used in WordPress to built-in contact forms. It has amazing customization and advanced features. Integration is now made easy and simple with this plugin.
Key Features:
Customization to meet your business needs
Simple integration and implementation procedures
With Akismet, the Contact Form 7 provides spam filtering.
All messages sent through your forms can be stored in a database.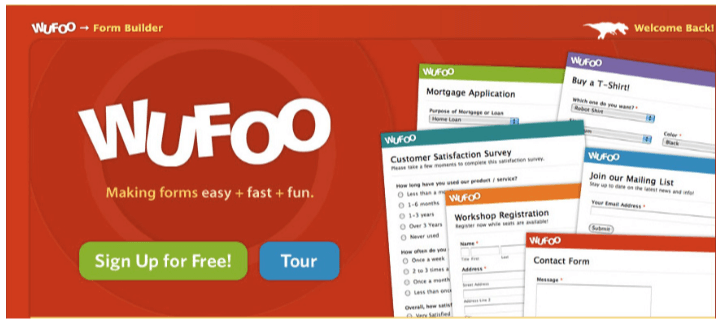 Wufoo is another incredible plugin that allows you to build forms online in a simple way. The form builder gives you an easy to use interface, easy customization, templates and galleries to make the process easy. Without any technical code, you can create the forms and collect files, data and payments.
Key features:
Drag 'n drop form builder makes building forms easy.
Design your own forms using the customization feature.
Include the brand features and logo for your business in the form.
Collect the information and payments you need as per your preferences.
Utilize the form to collect all kinds of files, which you can then access from your account whenever you need to.
Receive a notification as soon as someone submits your form.
Set rules that customize the form-filling experience.
How to Choose The Best WordPress Form Plugins?
WordPress form plugins are essential tools for website owners who want to create forms and collect data from their visitors. With so many WordPress form plugins available, it can be overwhelming to choose the best one for your needs. Here are some factors to consider when selecting a WordPress form plugin:
Features
Ease of use
Compatibility
Support
Performance
Security
Price
By considering these factors, you can choose the best WordPress form plugin for your needs and create professional-looking forms that engage and convert your visitors.
Looking to generate leads and build loyalty? Start earning exclusive rewards and stay connected with our brand by joining our loyalty program today.
Conclusion
By using any of the top 10 WordPress form plugins we've discussed, you can easily create custom forms, surveys, quizzes, and polls to collect valuable data and generate leads. Whether you're a small business owner, a marketer, or a blogger, you can benefit from these form plugins to boost your lead generation efforts.
Each plugin mentioned in the blog has its own unique features and advantages. It's important to consider your specific needs and budget when choosing the right plugin for your website.
Overall, these WordPress form plugins make it easier for your audience to engage with your brand, while also providing you with the data you need to improve your marketing strategy. So why wait? Install one of these form plugins today and start generating more leads for your business!
Does WordPress have built-in forms?
Yes, WordPress does have built-in forms, but they are very basic and limited in functionality. To create more advanced forms, you will need to use a WordPress form plugin.
How easy is it to set up and use WordPress form plugins for lead capture?
Most WordPress form plugins are very user-friendly and easy to set up. They usually come with drag-and-drop form builders, pre-built form templates, and customization options. With a little bit of guidance, anyone can set up a WordPress form plugin and generate leads.
What are the best practices for capturing new leads with WordPress form plugins?
Some best practices for capturing new leads with WordPress form plugins include keeping your forms short and simple, placing them strategically on your website, offering a valuable incentive for filling out the form, and following up with leads in a timely manner.
What features should I look for in a WordPress form plugin for lead generation?
Some features to look for in a WordPress form plugin for lead generation include drag-and-drop form builders, customizable templates, advanced form fields, conditional logic, integrations with email marketing services and CRM systems, and analytics and reporting tools.
How do WordPress form plugins help businesses convert leads into customers?
WordPress form plugins can help businesses convert leads into customers by collecting valuable data from potential customers, nurturing those leads with targeted marketing campaigns, and providing a seamless and personalized customer experience. Using form plugins to capture leads, businesses can increase their chances of converting those leads into loyal customers.