Skeletons in the closet? Nah, we've got killer Halloween marketing ideas in there! Do you know that 148 million Americans celebrate Halloween?
Every October, businesses everywhere put on their spooky hats, trying to bewitch customers with hauntingly good deals and promotions. But how do you stand out in a graveyard full of competitors?
Don't get spooked by the competition! We've carved out 12+ clever Halloween marketing ideas that'll have customers rushing to your door like eager goblins. So, let's fly through these tricks to treat your business this spooky season!
Boost your Halloween sales by offering irresistible rewards with WPLoyalty!
Why Halloween Presents a Unique Opportunity?
Halloween is special because it's a festive time when people love to dress up, have fun, and indulge in treats. For businesses, it's a golden chance to connect with customers in creative ways.
According to NRF, Halloween spending in 2023 is expected to hit an all-time high of $12.2 billion, with more people joining in than before the pandemic.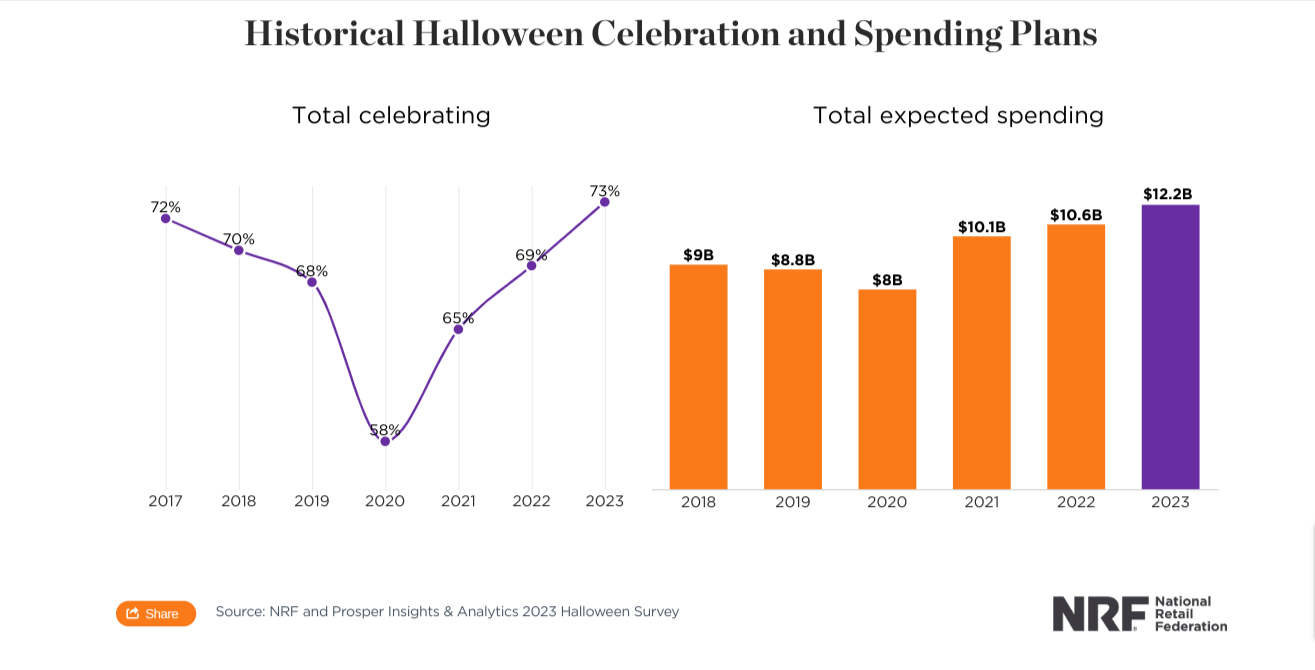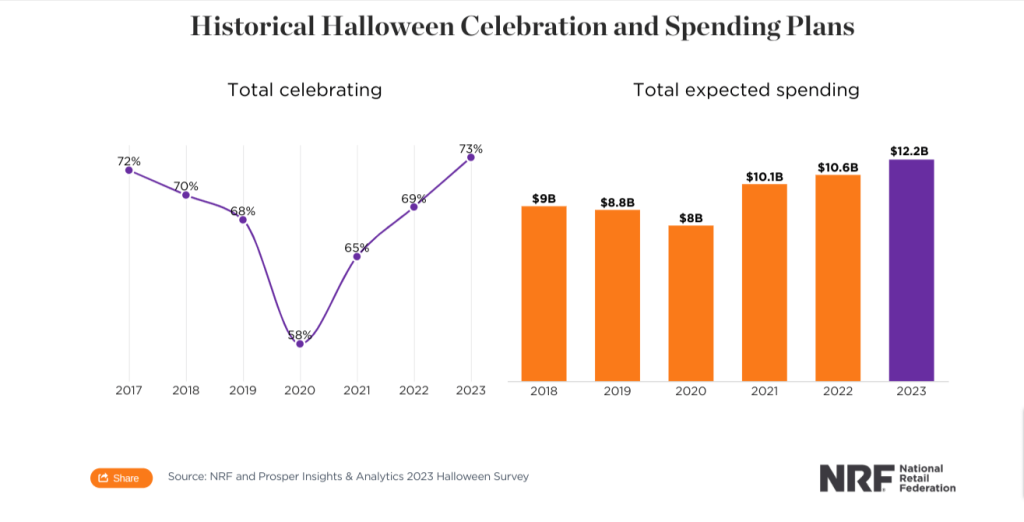 Successful Halloween Marketing Ideas
When October rolls around, businesses can tap into the spooky spirit to attract customers and increase sales. Here are some winning and clever Halloween marketing ideas to consider:
Themed Content Creation
Halloween is all about fun, fright, and creativity. You can write blog posts, make videos, or even create artwork that ties in with the spooky season. It makes people excited and more likely to share with their friends.
For example, if you're a food blogger, post recipes for 'scary' snacks.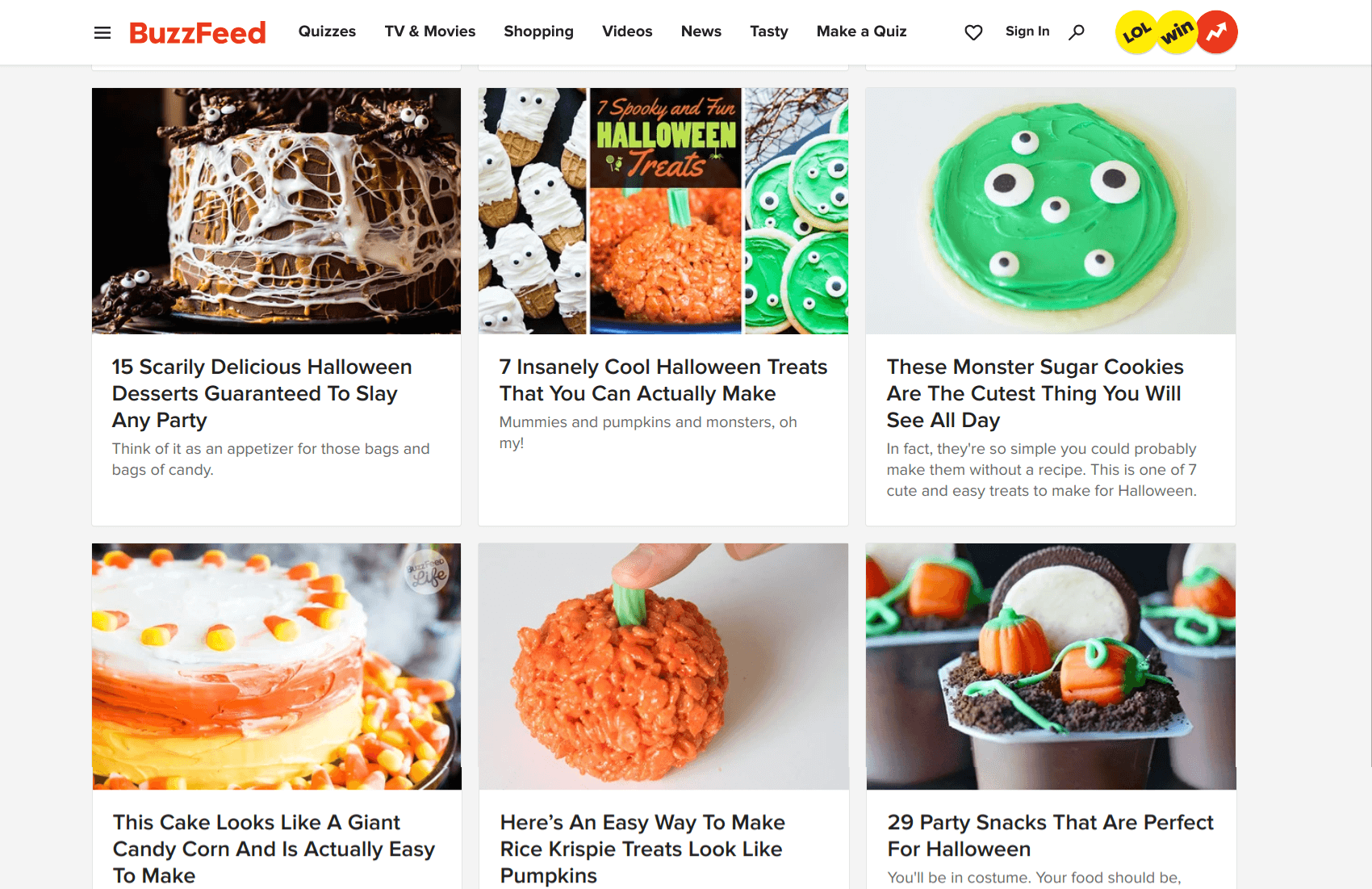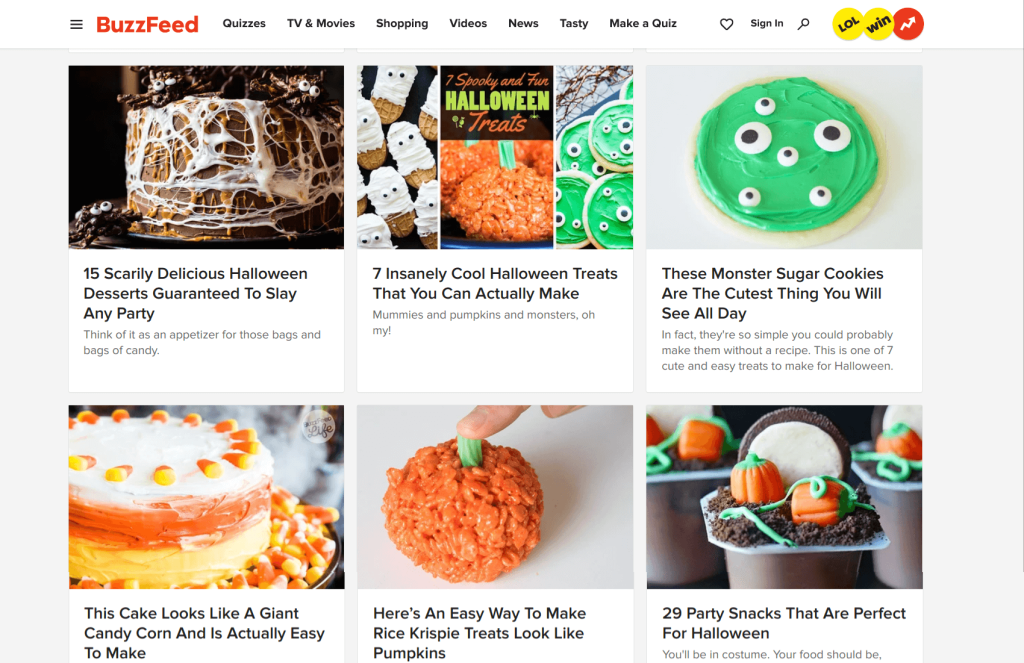 This is an example from Buzzfeed, which shows how they create content based on specific Halloween themes.
To make this a successful promotion:
Plan Ahead: Think of your Halloween campaign ideas ahead of time. This way, you can be more creative and not rush at the last moment.
Leverage User-Generated Content: Encourage your audience to share their own Halloween-themed content related to your brand with a particular hashtag.
Tip: Ensure that the content you share aligns with your brand's voice and message. It should be more about engaging the audience than direct selling.
Spooky Social Media Campaigns
Another essential part of Halloween marketing ideas is creating spooky social media campaigns. Lots of people post pictures of their outfits, house decorations, and fun moments.
Why not start a trend like #SpookySaleSaturday or #MonsterDealMonday?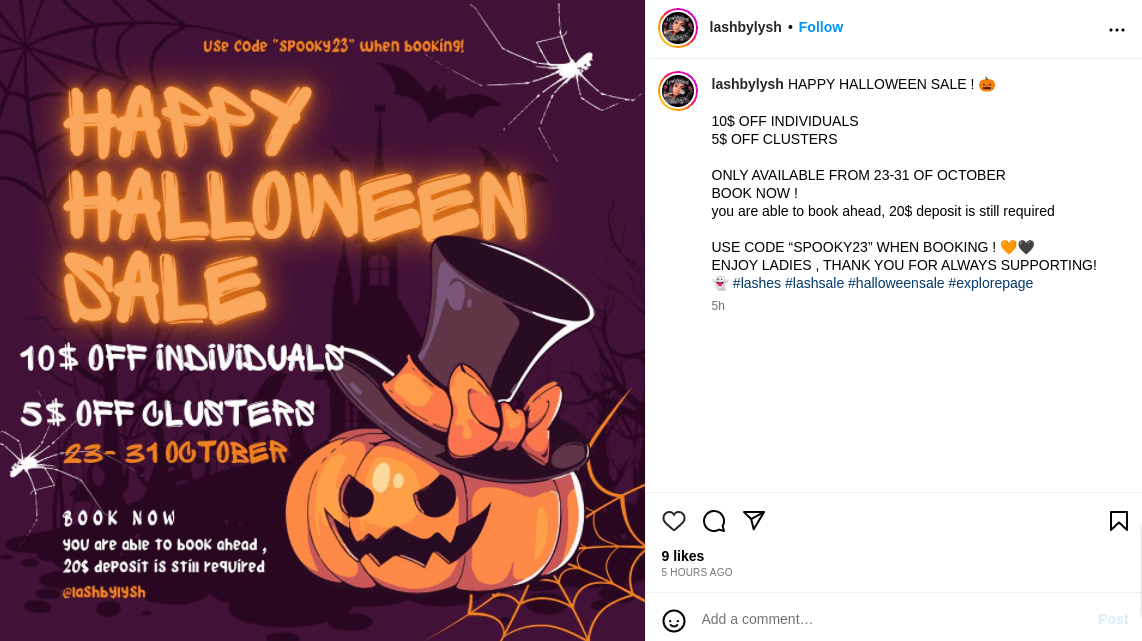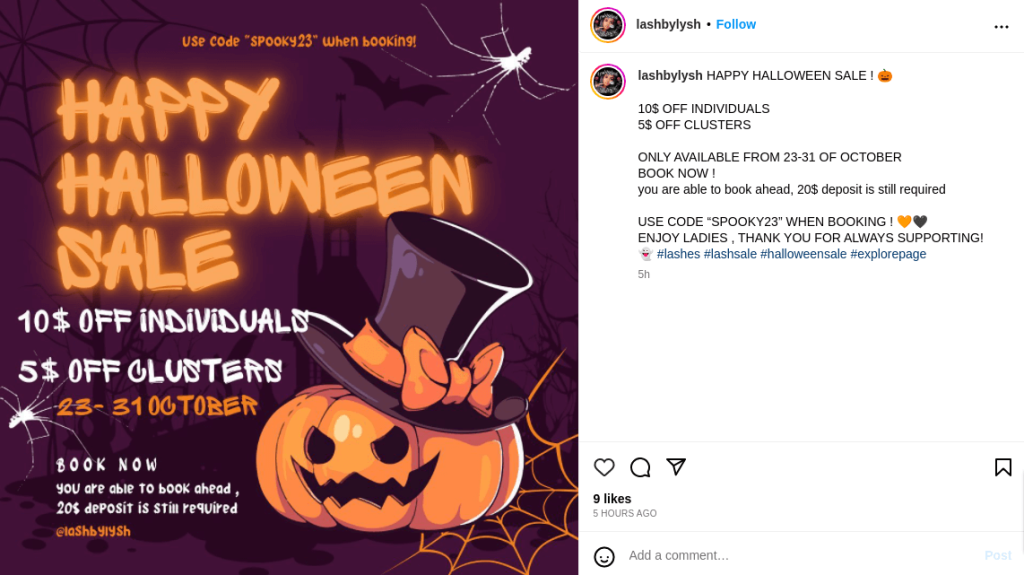 Here is an example of a social media post with spooky Halloween deals.
To make this a successful promotion:
Engaging Graphics: Use Halloween pictures like pumpkins, bats, or haunted houses.
Interactive Posts: Conduct polls, quizzes, or even a 'Guess the Ghost' type challenge.
Countdowns: Begin a countdown for a big Halloween sale or party to get people excited.
Tip: Post regularly but not too much, and always respond to people who comment or send messages.
One of the proven Halloween marketing ideas that is sure to be a treat for your subscribers is Halloween emails. Instead of your usual template, send an email with cool, ghostly designs and awesome Halloween deals. You can create such cool designs effortlessly using email template creators.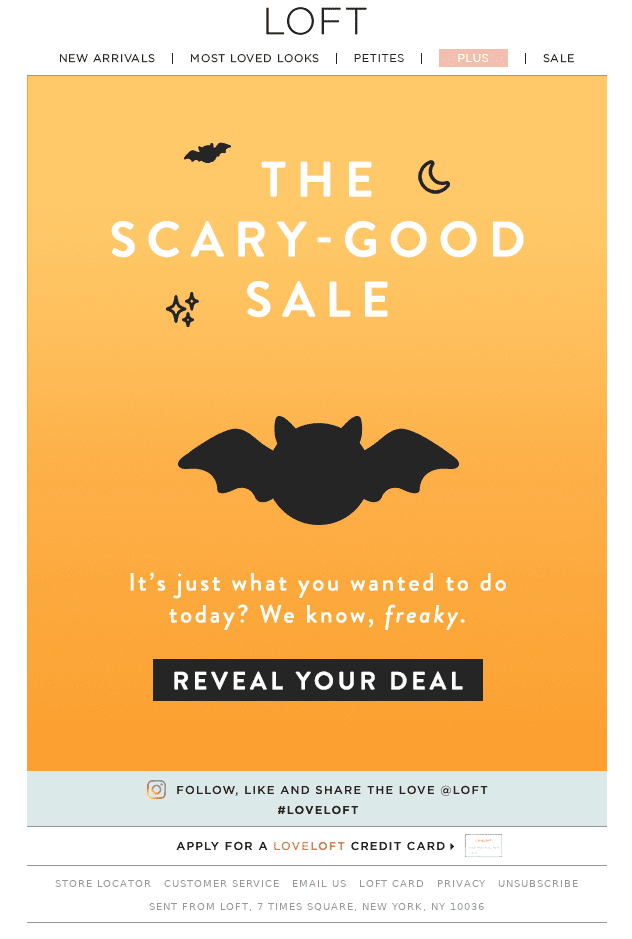 Here is an example of Halloween email marketing from Loft, which showcases their special deals with attractive CTA, "Reveal your Deal."
To make this a successful promotion:
Personalization: Address the recipient by name and show deals or items based on what they've bought before or how they've interacted with your brand.
Special Halloween Deals: Give your subscribers special discounts just for Halloween or let them see sales before others.
Catchy Subject Lines: Use fun email subject lines like"UnBelievable Deals Inside!" or "No Tricks, Just Treats!"
Call to Action: Have a clear button or message telling them what to do next, like "Shop Now, if You Dare!"
Remember, while creativity is essential, make sure your email is still clear and easy to go through.
Limited-Edition Products or Services
Releasing Halloween-themed products or limited-time services is a great Halloween marketing idea. It generates buzz and excitement, making these items feel exclusive.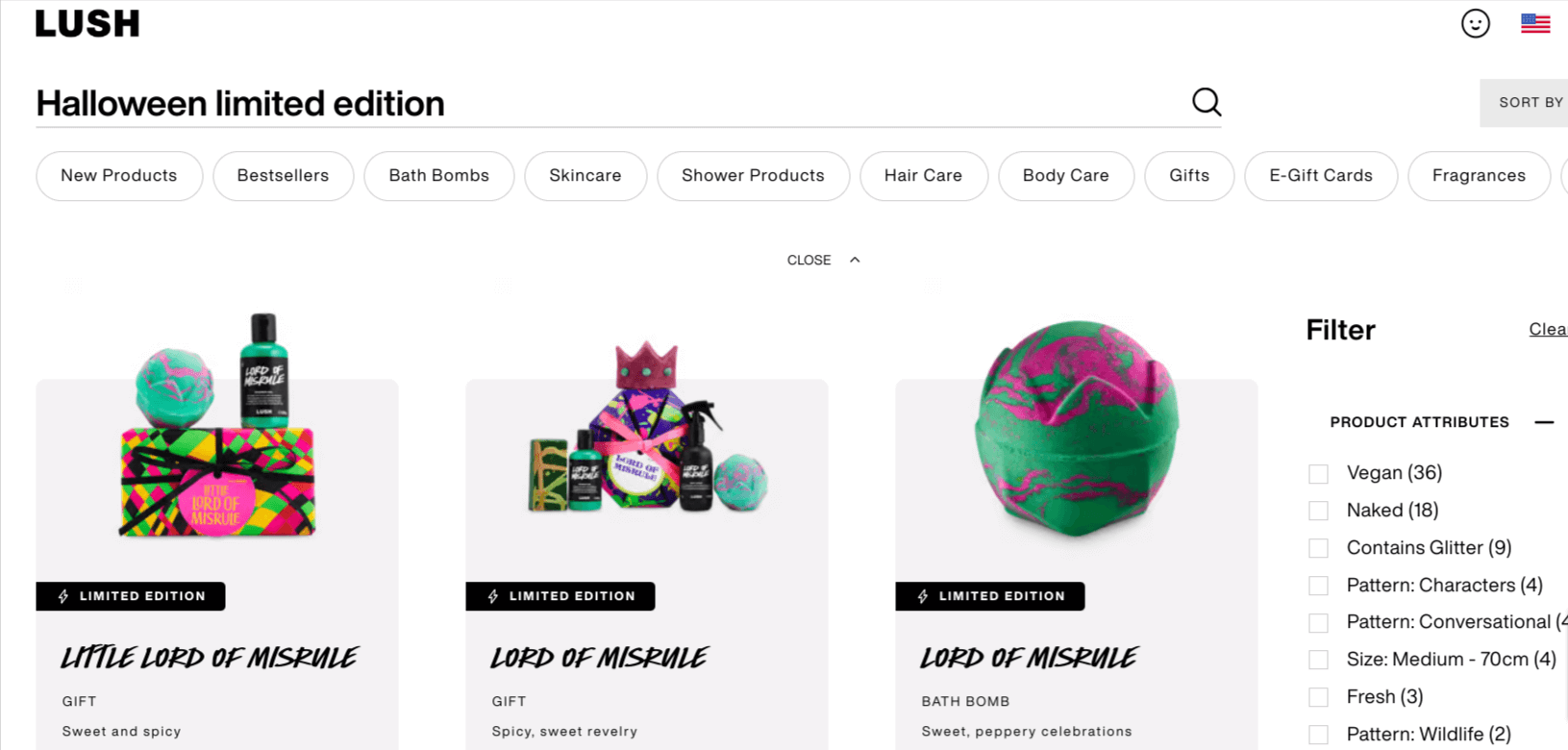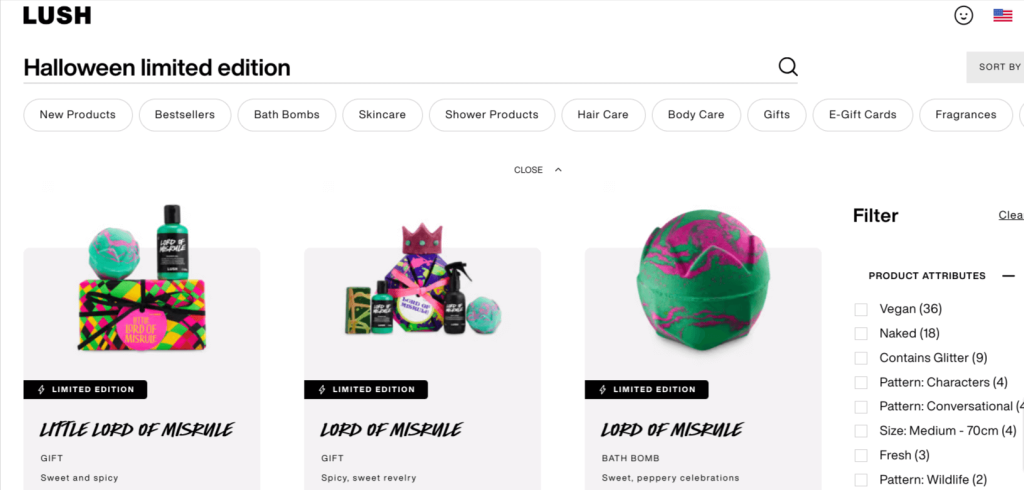 Here is an example of Limited edition Halloween products of Lush Brand, which are specially crafted for the spooky season.
To make this a successful promotion:
Quality: Ensure that these products maintain the quality standards of your regular offerings.
Packaging: Think about using Halloween designs or labels.
Bundling: Group Halloween items with popular products at a discounted rate.
Feedback: Ask people what they think about these new items so you know what to do better next time.
Halloween-themed interactive Landing Pages
A well-designed, interactive Halloween landing page that is fun to click around can grab people's attention and make them want to do something about it. It's not just about showing things but making it interesting and engaging.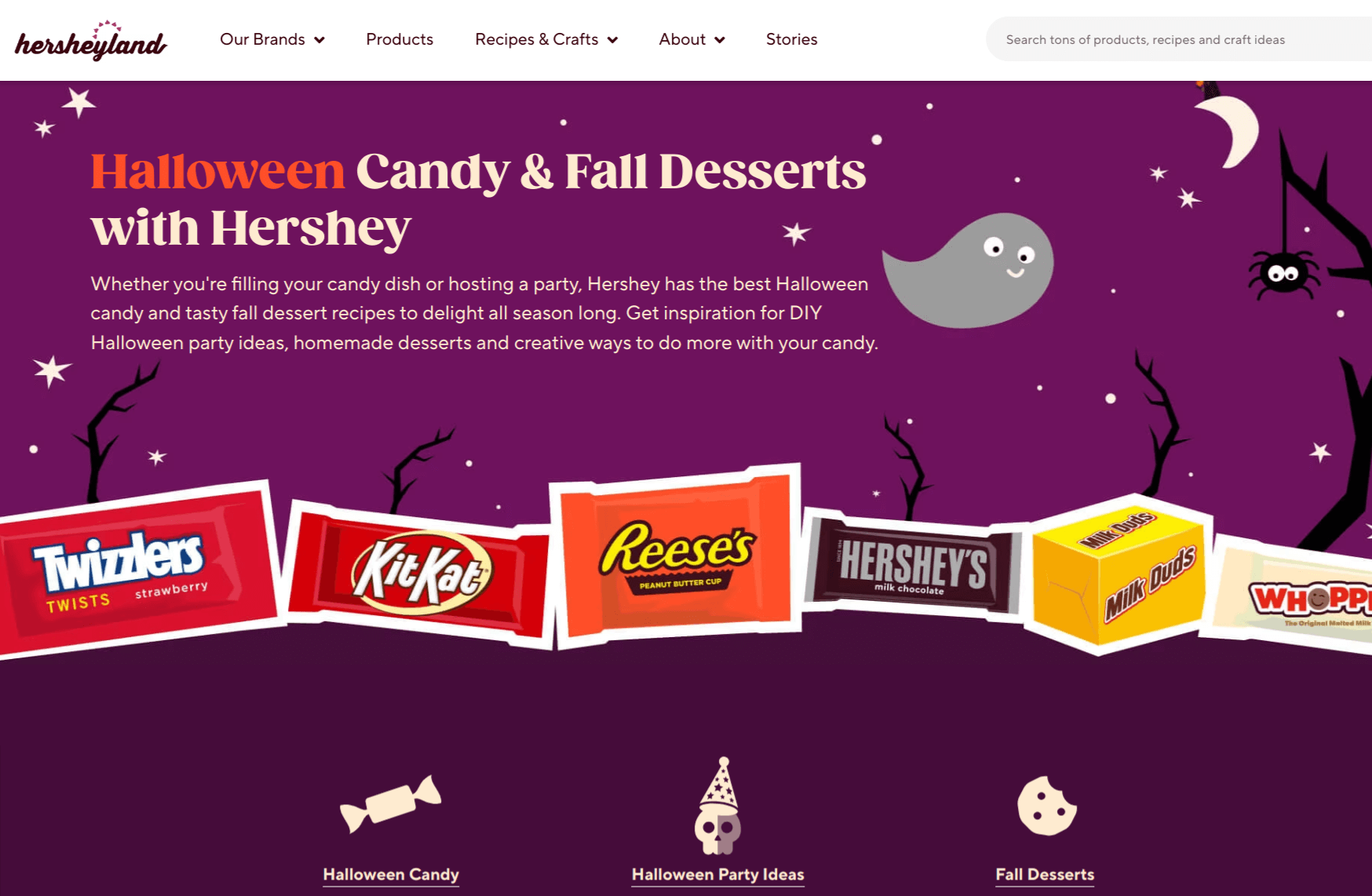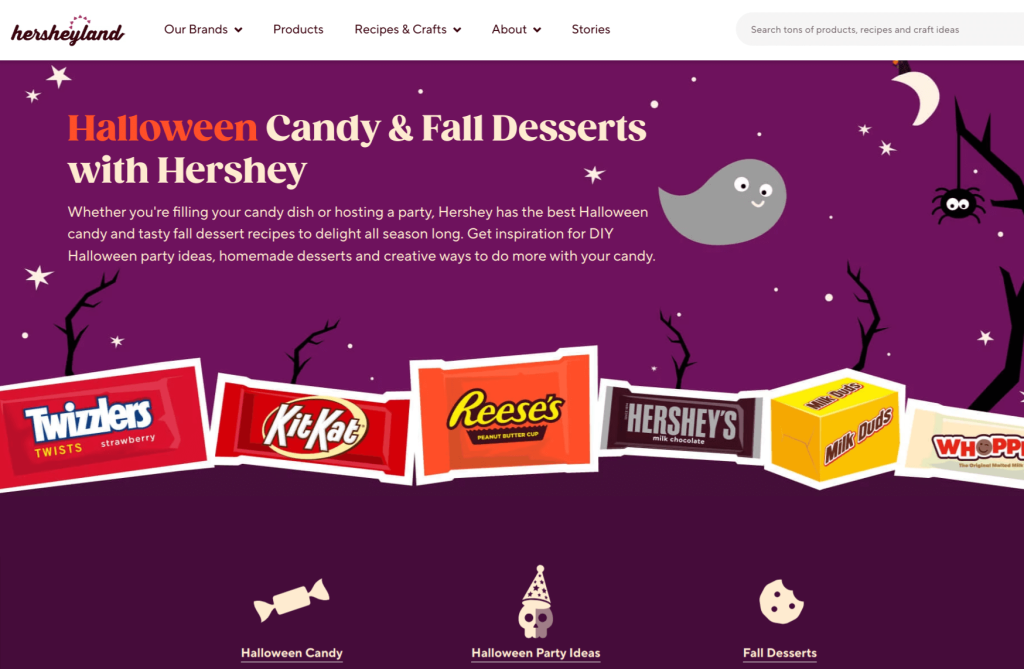 Here is an example of an interactive Halloween landing page of Hershey Land, which showcases spooky designs while ensuring the content remains clear
To make this a successful promotion:
Cool Designs: Use Halloween pictures and moving images like floating ghosts, flying bats, or a nighttime sky.
Interactive Elements: Add fun clickables, like a 'spin the witch's cauldron' for discounts or a mini-game like 'catch the candy.'
Mobile-friendly: Make sure your page looks good on phones since many people might visit it from there.
Fast Loading Times: Sometimes, interactive elements on a page make it slow. Make sure yours loads fast so people don't leave because they're bored.
Integration with Campaigns: If you're running email campaigns or social media promotions, ensure that the landing page integrates seamlessly.
Tip: Ensure that the interactivity doesn't overshadow the main message or offer.
Halloween Loyalty Program Boosts
Loyal customers are like friends at a party; you want to give them the best treats. Offering them Halloween perks shows appreciation. Maybe give bonus points for Halloween purchases or a special "mystery" reward. Loyalty Rewards Program strengthens the bond between brands and customers.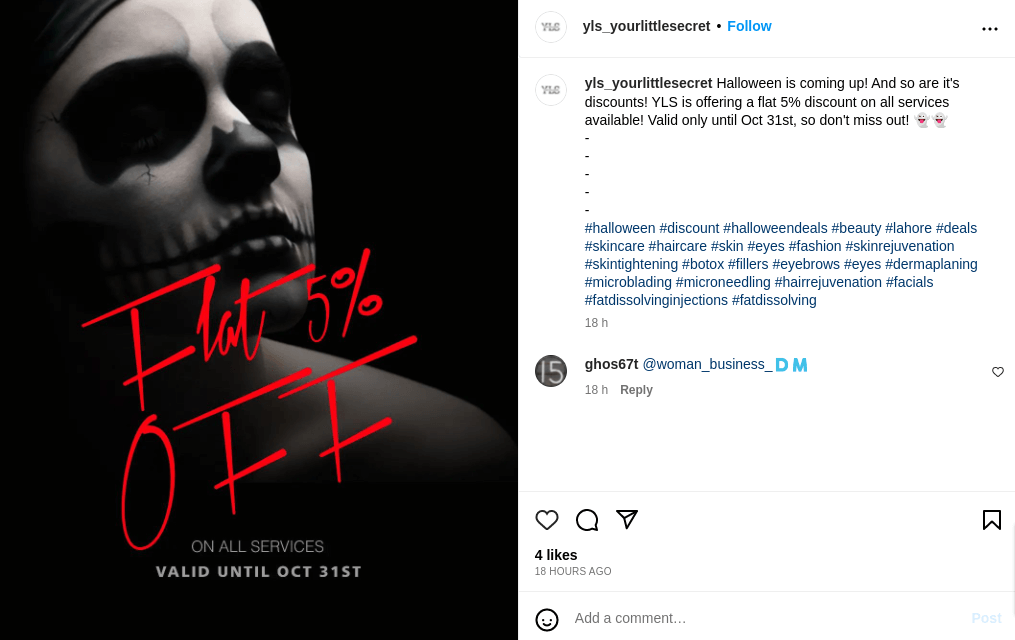 Here is an example of Loyalty program members receiving Halloween bonuses
To make this a successful promotion:
Bonus Points: Offer bonus loyalty points for purchases made during the Halloween period.
Exclusive Deals: Provide special deals or early access to sales for loyalty program members.
Themed Rewards: Introduce Halloween-themed rewards or redemption options.
Treat your customers to the best with points and rewards. Bite into the benefits of a loyalty program this Halloween.
Halloween Influencer Collaborations
Partner with popular social media personalities. They can showcase your products in their Halloween posts or videos. This way, you reach a wider audience in a fun and relevant manner.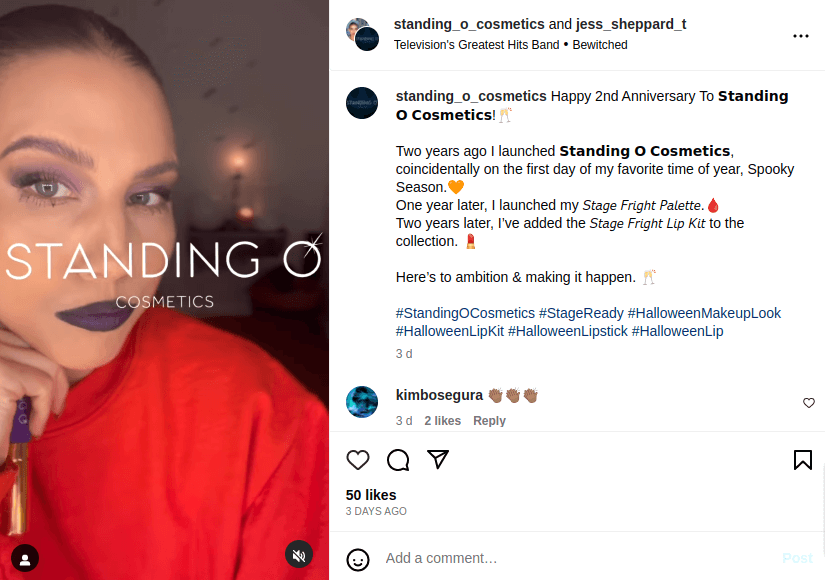 Here is an example of an influencer promoting a brand's Halloween product
To make this a successful promotion:
Relevance: Work with social media stars whose fans are the same kind of people you want to reach.
Be Creative: Ask them to use your product in a fun Halloween way.
Use Hashtags: Make a special Halloween hashtag for this project.
Authenticity: The collaboration should feel real and not just like an ad.
Working with influencers can offer fresh perspectives and innovative ways to showcase your products or services.
Interactive Halloween Contests
Everyone loves a challenge. By hosting a contest, you're giving your audience a platform to showcase their creativity. Make sure the instructions are clear, like "Share a picture of your pet in a costume." Highlighting the best entries can make participants feel valued.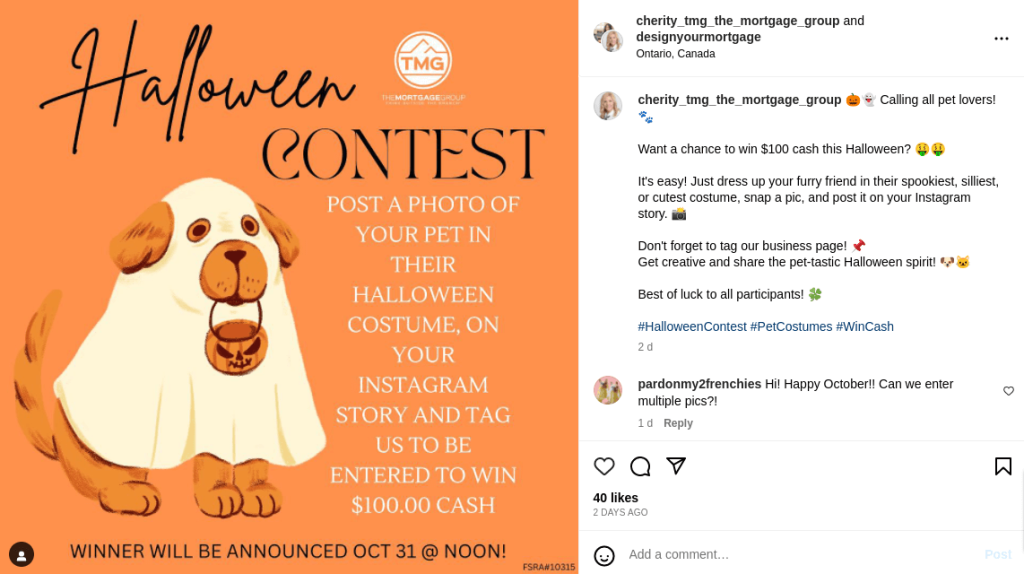 Here is an example of an interactive Halloween contest post on social media
To make this a successful promotion:
Clear Guidelines: Clearly mention the rules, participation criteria, and deadlines to avoid confusion.
Diverse Participation Options: Offer various ways to join. For example, let people join by telling a ghost story or showing their Halloween costumes.
Engaging Prizes: Give away prizes that fit the Halloween mood and represent your brand.
Spooky User-Generated Content
Ask your audience to share their own Halloween stories, photos, or creations using a specific hashtag. Share the best ones on your platform. This builds community and increases brand loyalty. By using a specific hashtag, you can easily track these shares.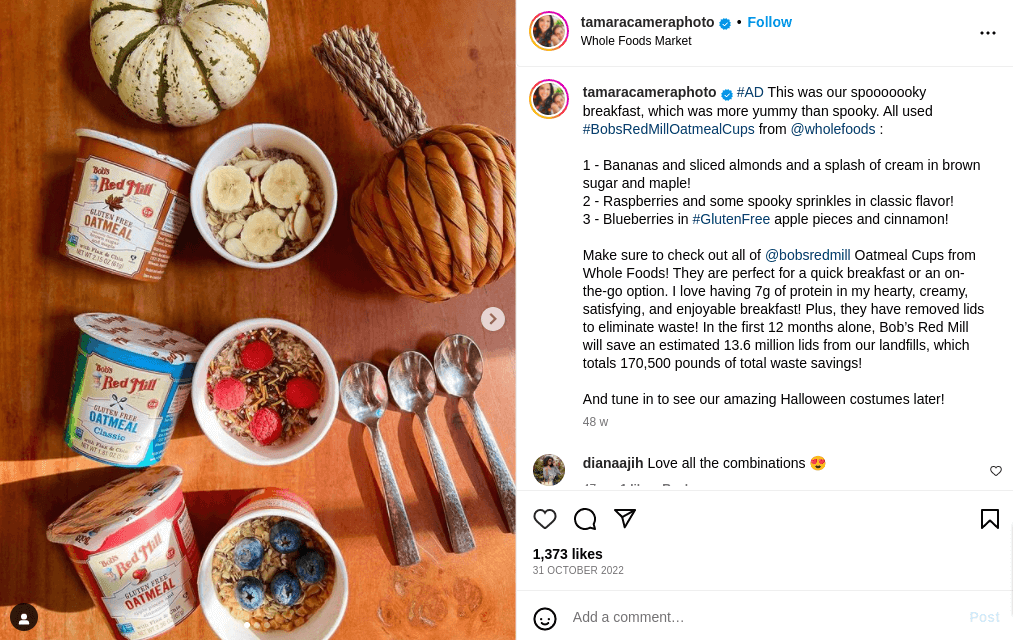 Here is an example of an Instagram user's post featuring a brand's product in a Halloween setting.
To make this a successful promotion:
Hashtag Campaign: Create a specific hashtag for users to include in their posts.
Show Love: Like, comment, and share the best content you see.
Incentives: Give special discounts or feature top posts on your main page.
Virtual Halloween Events or Webinars
The online world can be as engaging as the real one. It is a modern Halloween promotion idea that bridges the gap between physical distance and engagement. Host a DIY mask-making session or a virtual escape room challenge. It makes your brand more interactive and memorable.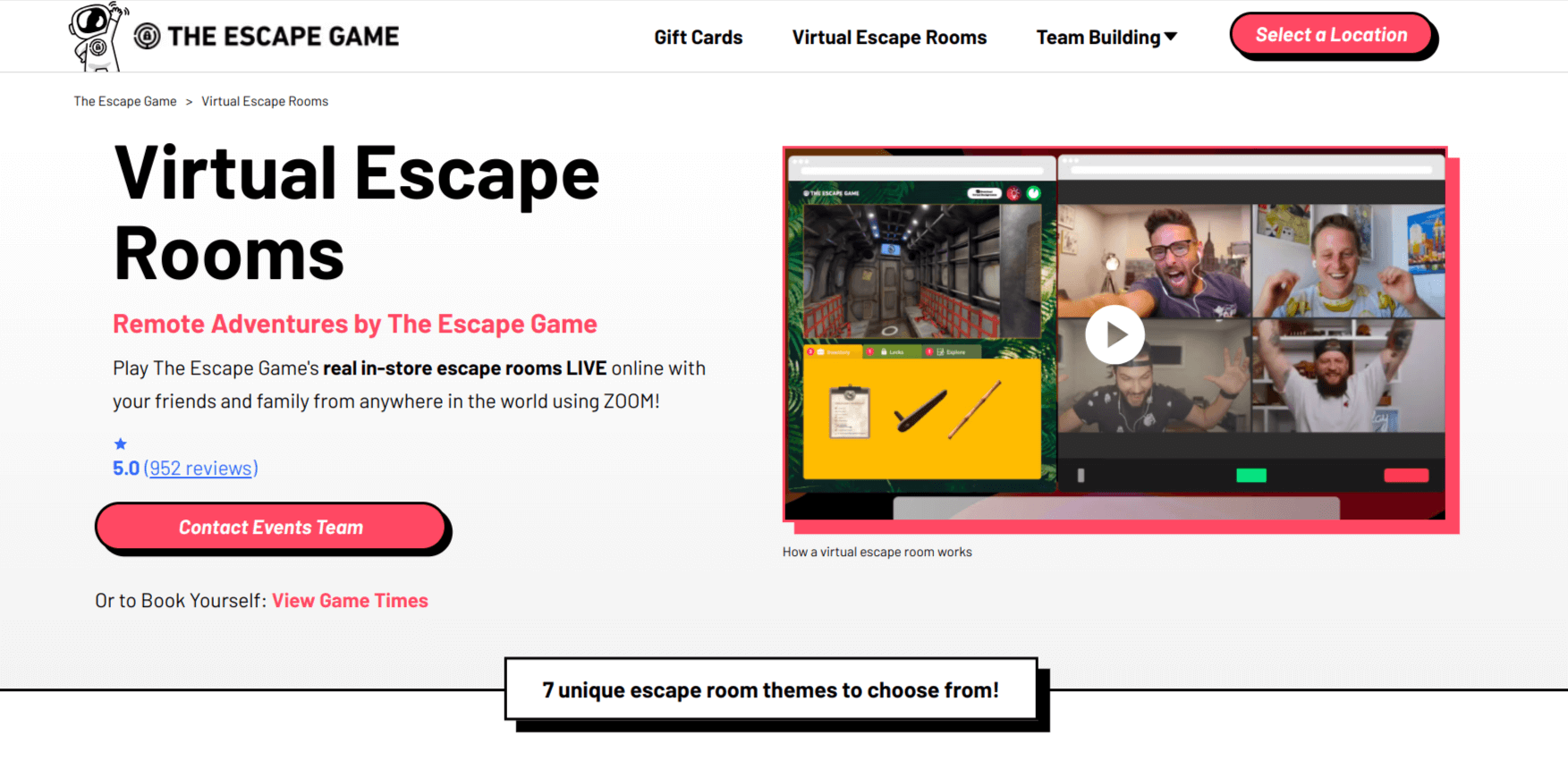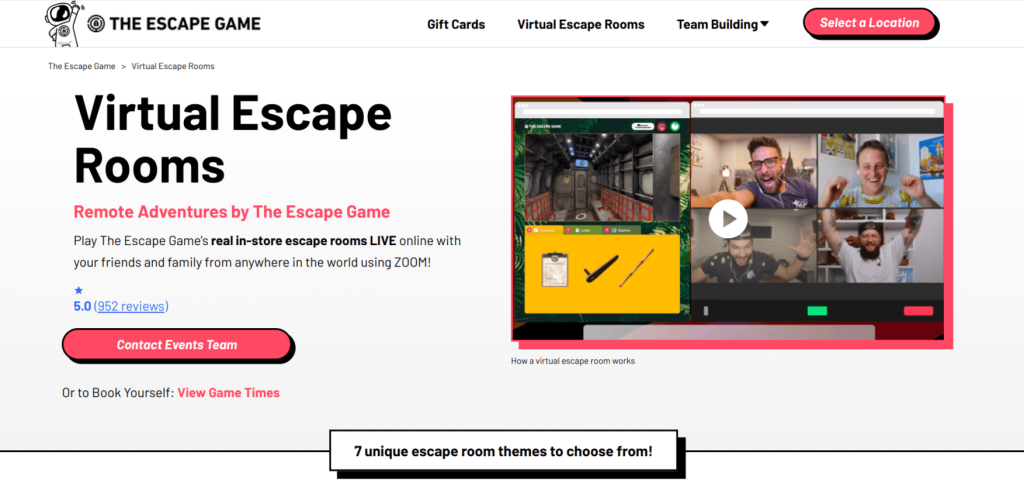 Here is an example of a virtual event from The Escape Game, which allows Halloween participants to solve puzzles online together.
To make this a successful promotion:
Engaging Topics: Pick topics that match Halloween and your brand.
Special Guests: Invite popular people to make your event even more exciting.
Interactive Elements: Incorporate Q&A sessions, polls, or quizzes to keep everyone involved.
Halloween Bundles and Packages
Halloween bundles act like the ultimate treat bag for customers, making it a great Halloween marketing idea. Group products together and offer them at a special price. For example, a 'Halloween Party Pack' with decorations, snacks, and games. By giving customers an experience rather than just products, you're adding value to their purchase.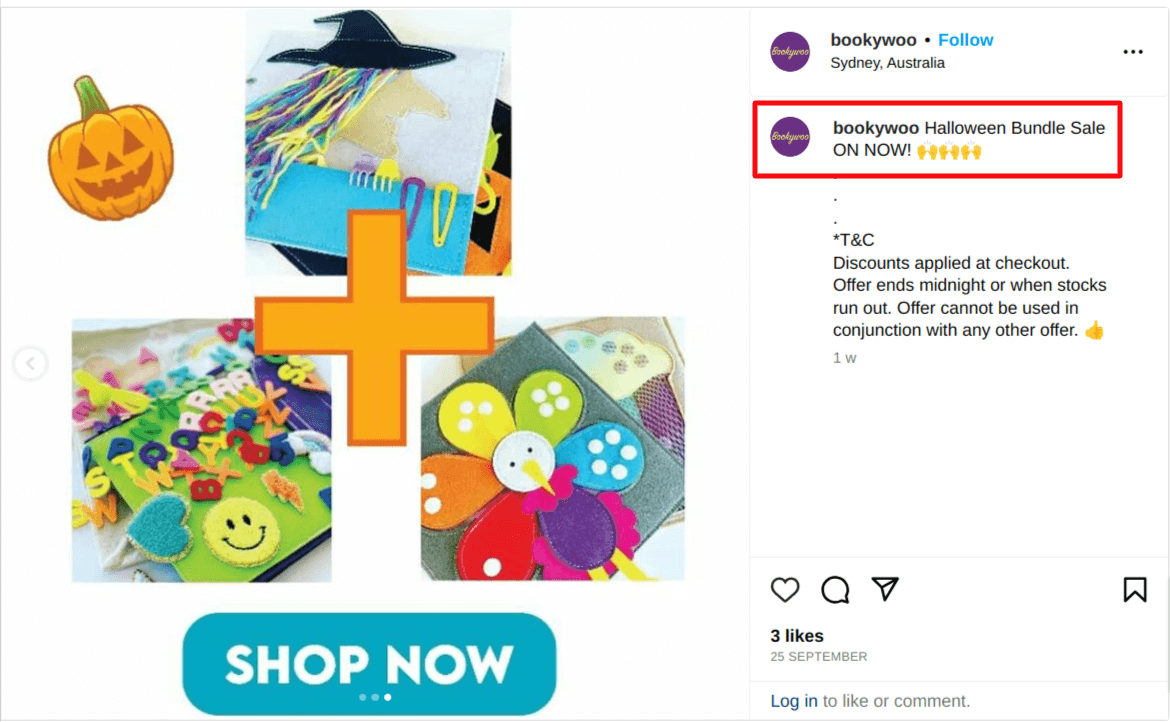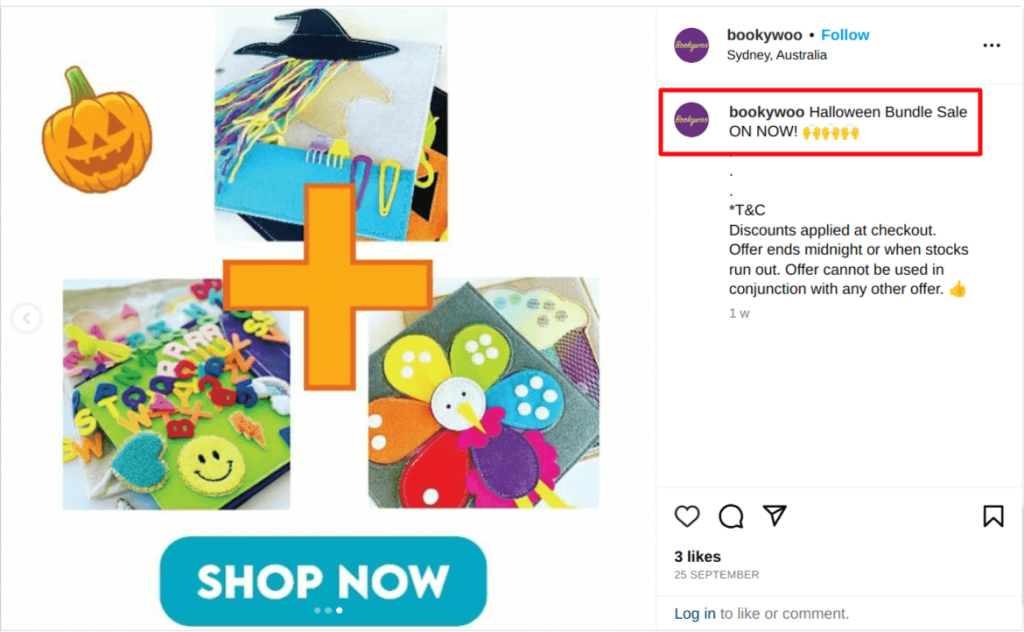 Here is an example of a Halloween bundle offer from Bookywoo, which provides spooky-themed books and activities perfect for teens.
To make this a successful promotion:
Themed Packaging: Use Halloween designs for packaging.
Value Proposition: Tell customers how much they're saving with this deal.
Limited Time Offer: Highlight the bundle's limited availability to create urgency.
Promotion: Put the special deal everywhere – your website, social media, and other ads.
Organize a Haunting Scavenger Hunt
Halloween is all about mysteries, surprises, and fun! Organizing a scavenger hunt can combine all these elements into an exciting event.
You can do it in a park, at your shop, or even online, where players answer riddles or find items on your website or social media.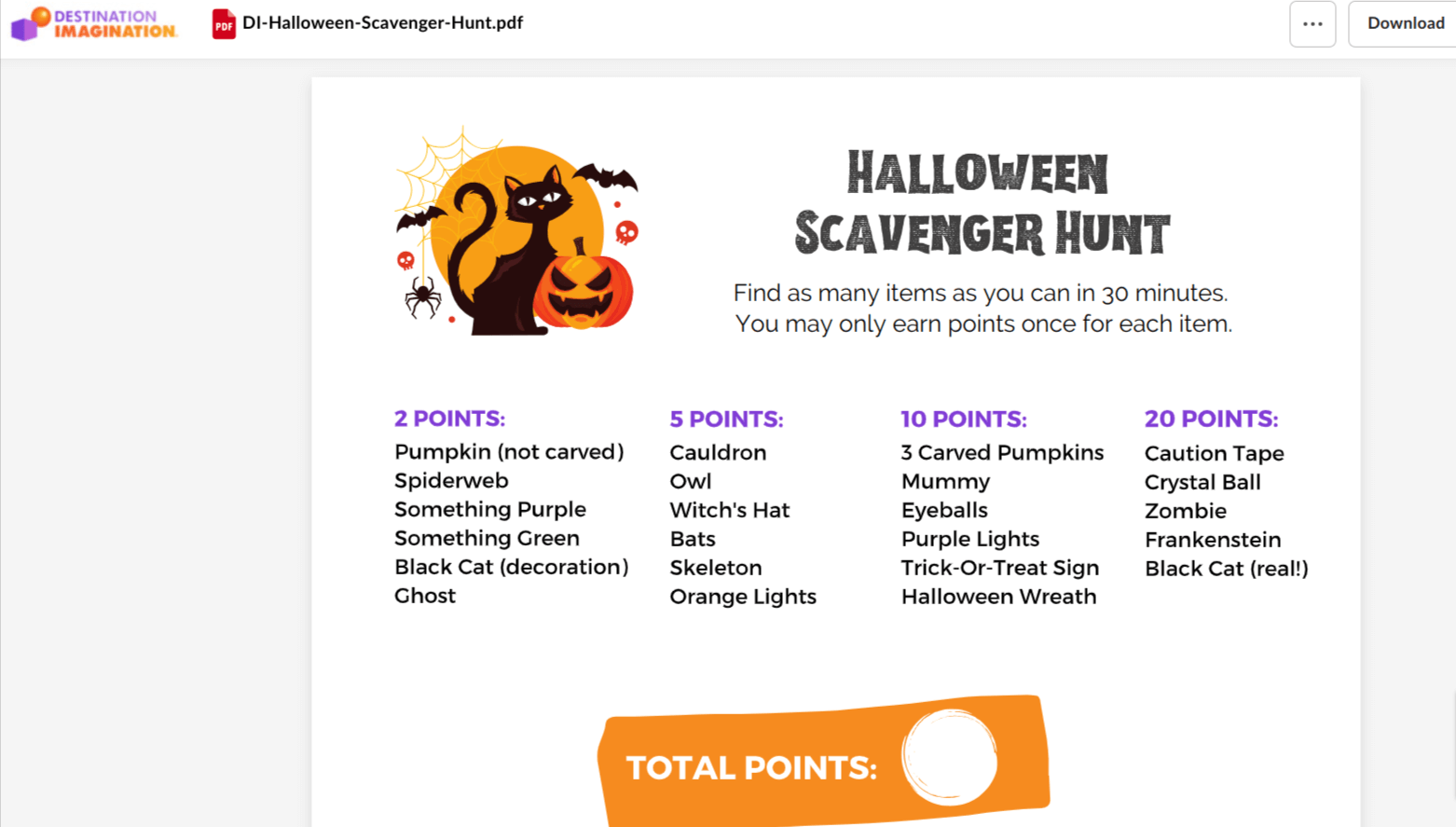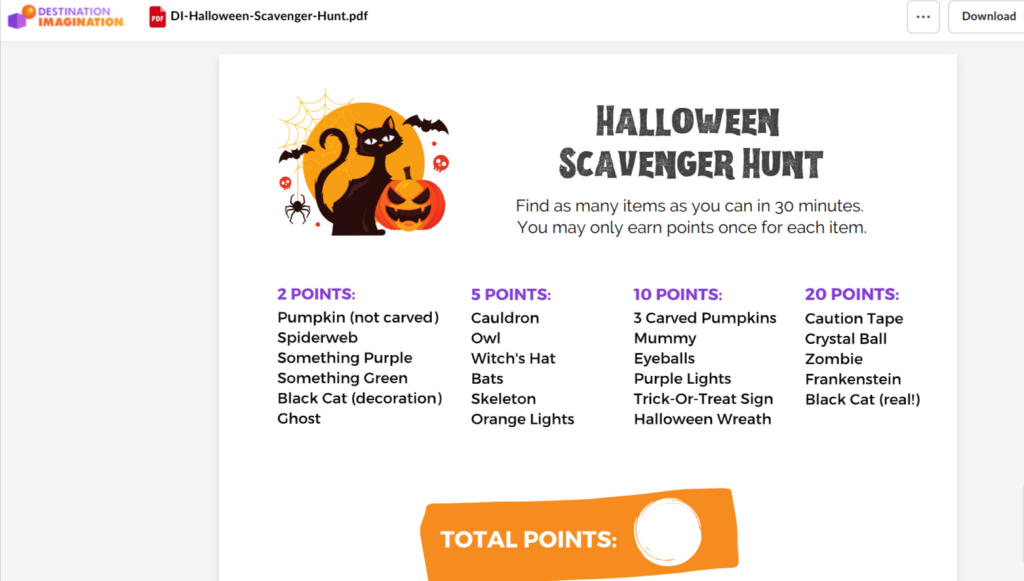 Here is an example of a Halloween scavenger hunt by Destination Imagination, which challenges creativity and teamwork
To make this a successful promotion:
Online Sign-ups: Use an online portal for registrations. It makes things easier to handle and communicate with everyone.
Themed Clues: Your clues should fit the Halloween spirit. They could be about scary movies, famous Halloween figures, or even things you sell.
Rewards: Reward those who finish the hunt. Think about giving out smaller prizes along the way to keep everyone excited.
Capture the Moment: Get someone to take pictures or videos. Sharing these moments online can show off your event and make it something to remember.
Best Halloween Promotion Ideas That Drive Sales
Halloween isn't just about costumes and candy; it's also a golden opportunity for businesses to boost their sales. Here are the best Halloween promotion ideas that will boost your sales.
Flash Sales with a Frightful Twist
Imagine a sale that appears suddenly and lasts for a very short time, like a ghost! It creates a rush because customers know they have limited time to grab the deal.
How to do it?
Choose a few items in your store and reduce their prices for a few hours. Give it a Halloween touch by naming the sale something fun, like "Midnight Ghostly Deals."
Mystery Discounts or Treat Bags
It's like trick-or-treating but for shopping! Customers get a mystery discount or a surprise gift with their purchase.
How to do it?
When customers buy something, let them pick a sealed envelope or a "magic potion" bottle. Inside could be a voucher with a surprise discount for their next purchase or a small freebie.
BOO!-GO (Buy One Get One) Offers
It's a classic deal where if you buy one item, you get another for free or at a reduced price. Perfect for Halloween buddies shopping together!
How to do it?
Pick items that can be paired together, like Halloween-themed mugs. When a customer buys one, they get the second for free or half the price.
Special Discounts for Costumed Customers
It's a fun way to get into the Halloween spirit! Offer special deals to customers who visit your store in costume. Actually, 47% of people, which is almost half, wear costumes for Halloween.
How to do it?
Promote this idea before Halloween through posters or online posts. When a costumed customer walks in on Halloween, give them a fun discount or a free gift.
Spooky season, loyal customers! Enjoy and utilize additional Halloween discounts on WPLoyalty.
Final Words
By implementing these Halloween marketing ideas, businesses can grab people's attention, sell more, and make memorable events.
Just like carving a unique pumpkin, using special halloween marketing ideas can help a business stand out and bring in more people during the Halloween season. So, enjoy the process and make this Halloween special with your marketing tricks!
How do you market a Halloween event?
To market a Halloween event, create spooky-themed graphics and share them on social media platforms. Collaborate with local businesses for promotions or joint events. Utilize email marketing with catchy titles and offer early bird discounts
How do you increase sales at Halloween?
Boost sales by offering seasonal discounts, bundle deals, or flash sales. Introduce limited-time Halloween-themed products or services. Consider hosting an in-store event or contest to attract more customers.
How do I advertise my business on Halloween?
Advertise your business using Halloween-themed flyers, banners, and social media posts. Collaborate with influencers for themed promotions. Use hashtags related to Halloween. Offer special deals or discounts for those in costumes or for sharing your advertisement.
When should I start promoting Halloween?
Start promoting Halloween at least 4-6 weeks in advance. This allows consumers time to plan and make purchases. Early promotions can include teasers, followed by detailed offerings as Halloween approaches.
What are Halloween shoppers spending most money on?
Halloween shoppers typically spend the most on costumes, followed by decorations, candy, and party supplies. Each year, trending costumes may vary based on popular culture. Offering a mix of classic and trendy items can maximize sales.