Birthdays are special, and your customers' birthdays are even more special. Gifts, birthday points, and coupon rewards help businesses drive potential customers toward their brand. Also, customers feel included and valued when they receive birthday rewards on their special days. Hence, rewarding points on their birthdays amplifies customer retention and customer loyalty and shows that the brand values its customers.
This simple act of personalization boosts customer satisfaction and improves customer engagement. The better the customers feel about your brand, the more revenue you concede. It's a breakthrough strategy to increase brand awareness and acquire new customers. Essentially, giving reward points for birthdays is a small but meaningful gesture that makes the customers feel important and adhere to your brand closer. It also significantly increases the brand's lifetime value and customer loyalty.
Birthday campaigns are also more effective. Experian research has shown that when compared to advertising emails, birthday emails:
Create more revenue
Higher rate of unique clicks
See an 89% increase in open rate.
64.4% of birthday emails will be opened.
Sending birthday emails daily or weekly has a higher transaction rate of 40%.
It shows that birthday email promotions will have a significant impact on your store as well as the customers. So investing the time and effort to make your birthday campaigns stand out is worthwhile. Please continue reading to give birthday points on your customer's birthday using the WPLoyalty plugin.
Launch WPLoyalty and reward customer birthday points on WooCommerce easily.
What are the benefits of introducing birthday rewards?
The benefits of introducing birthday rewards on WooCommerce can make the customer feel appreciated and valued by the business. This can strengthen the customer's loyalty to the business and encourage them to continue making purchases in the future. This can help to drive sales and increase customer loyalty over the long term.
Overall, offering birthday points on customer birthdays is a simple but effective way for an eCommerce store to show appreciation and strengthen its customer relationship.
Birthday rewards should be a part of your overall strategy for several important reasons:
Increased customer loyalty: Birthday points can help to build stronger relationships with customers, as they feel valued and appreciated on their special day. It can lead to increased loyalty and repeat business.
Improved customer satisfaction: By offering birthday rewards, you can make customers feel special and appreciated and increase customer satisfaction with the company and its products or services.
Increased brand awareness: Birthday points or rewards can help to spread the word about a company and its offerings, as customers may share their rewards with friends and family. It leads to increased brand awareness and potentially more business.
Increased sales: WooCommerce rewards for customer birthdays can be used as an incentive for customers to purchase, leading to increased sales for the company.
Improved customer retention: By offering customer birthday points on WooCommerce, brands can show their appreciation for their customers and encourage them to continue doing business with the company, thus improving customer retention rates.
How do you ask for a customer's birthday in WooCommerce?
To ask for a customer's birthday in WooCommerce you have to use a little tactic that works well. You can't ask for birthday dates from each customer directly, and they don't spend time responding to the messages. But you can use different ways and get their birthdates and give them birthday points for each customer's birthday. Let's look into the various ways to get your customer's birthday information.
Sign-up
Customers visit your store to do a purchase. Please don't force them to enter only their birthdate. Instead, you can send an attractive customized signup popup where they can enter their basic information and birthdates.
Offering birthday points to your customers during birthdays is a great way to attract people to sign up for your store. A signup form can make customers subscribe to your store and benefit you in collecting customer data.
Email Forms
Send a popup to unlock rewards by filling out the details. For instance, "fill in the details to unlock the rewards." So, attract them with your customized pop-ups. Likewise, when they enter their email address, send them birthday email campaigns.
Birthday emails work much better than sending emails on normal days. People always look forward to opening emails during their special days. So, people will share their information if they know they are receiving a reward.
Profile creation
When customers create profiles at your store, allow them to enter their birthdates. The other way is when they enter their address and ask for the birth date during the checkout. This way, people will add the dates to make a purchase.
You can collect your customers' birthdates in various ways and offer them points or rewards on special occasions.
Surprise your WooCommerce customers with birthday rewards
Birthday points campaigns, when done correctly, can boost customer retention, loyalty, and engagement. You can do this by offering special discounts, freebies, and more.
Special Discount
Special discounts deliver speedy results and provide valuable data when implemented appropriately. If you're new to birthday points campaigns, consider starting with a unique offer that customers enjoy during their birthday month.
It's simple and easy to provide birthday points to customers. Establish unique promo codes for each customer to track who is using your special discount.
Free shipping/ Free Product
You can offer your customers a freebie or free shipping on their special day. Freebies are a perfect option to encourage your customers to try your products or if you have samples and excess stock to give away.
When customers get free shipping, they feel that they are valued. They will purchase during their big day when there is a reduced amount through free shipping.
Personalized Gifts
Want to keep shoppers curious? Consider providing personalized gifts and surprises to your customers throughout their birthday month. For instance, send them gifts based on their purchase history or most purchased product.
Personalized gifts are a great way to retain your loyal customers. Make sure your birthday freebies are worth the hype and leave them wanting more.
Also, the birthday could be to your brand as well. Celebrate your brand's birthday and thank customers for their constant support. Give them birthday points or exciting discounts during your brand's birthday month.
WPLoyalty allows you to surprise customers with exciting freebies easily.
How do I give customers reward points for birthdays?
To give customers rewards points for birthdays, you can use the WooCommerce Points and Rewards plugin and reward points to your customers on their special days. Let us guide you on providing reward birthday points with our plugin.
Step 1: Install WPLoyalty
Before starting, please ensure you have installed and activated the WPLoyalty plugin. You can download the WPLoyalty plugin from your account.
A step-by-step guide for both installing and activating the WPLoyalty plugin can be found in the documentation.
Once the installation is done, you will be directed to the WPLoyalty dashboard.
Step 2: Create a Birthday Campaign
Click on campaigns: Click on the Birthday campaign. Fill out the campaign details to create a birthday campaign. You can offer your customers two rewards: points or coupon rewards.
This guide will show how to reward customers with points on their birthday.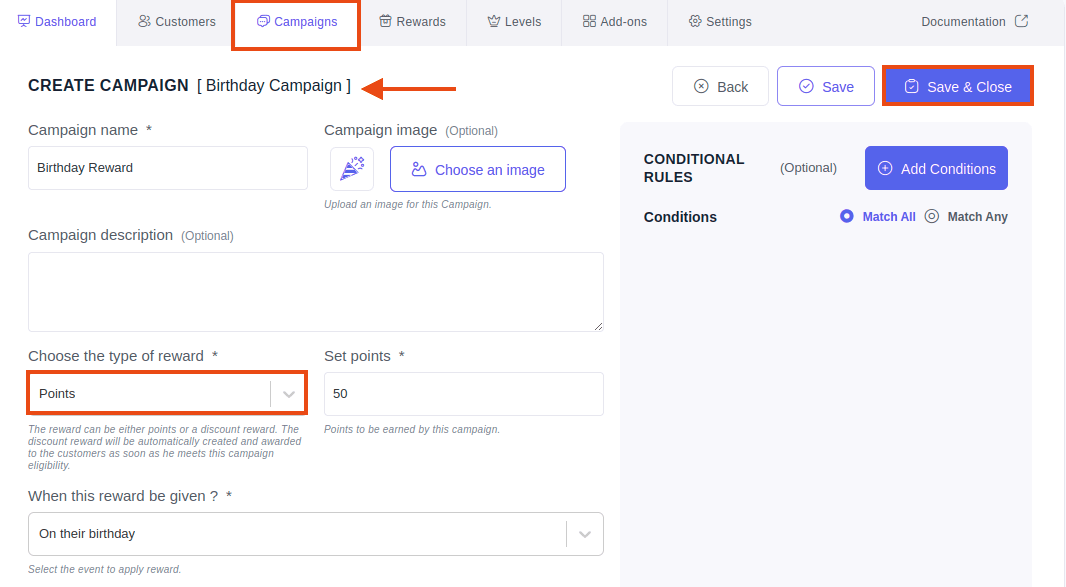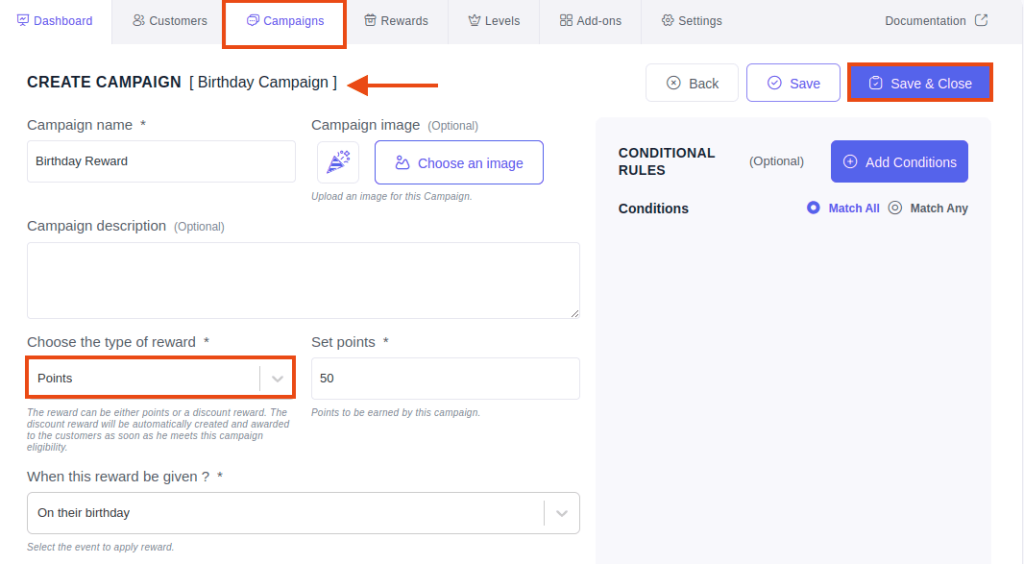 Note: Remember to click on 'Save to create the campaign.
You can reward your customers in two ways: an instant reward when they enter their birthdate on your site or during their birthday.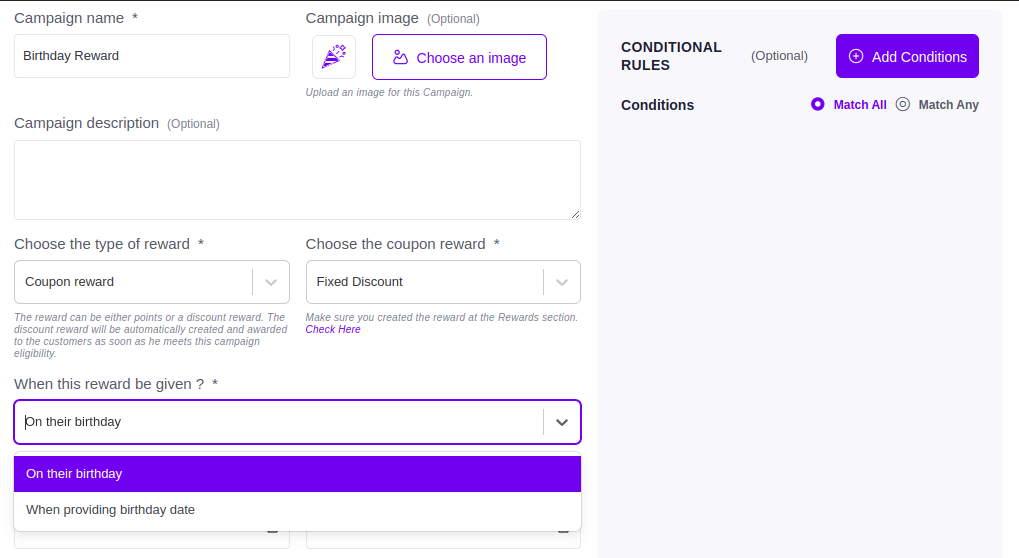 Step 3: Campaign Dates
Another helpful feature is that you can set campaign start and end dates. For instance, You can set the campaign so that the birthday points will be provided throughout their birthday month or one month from their birthday whenever they make a purchase.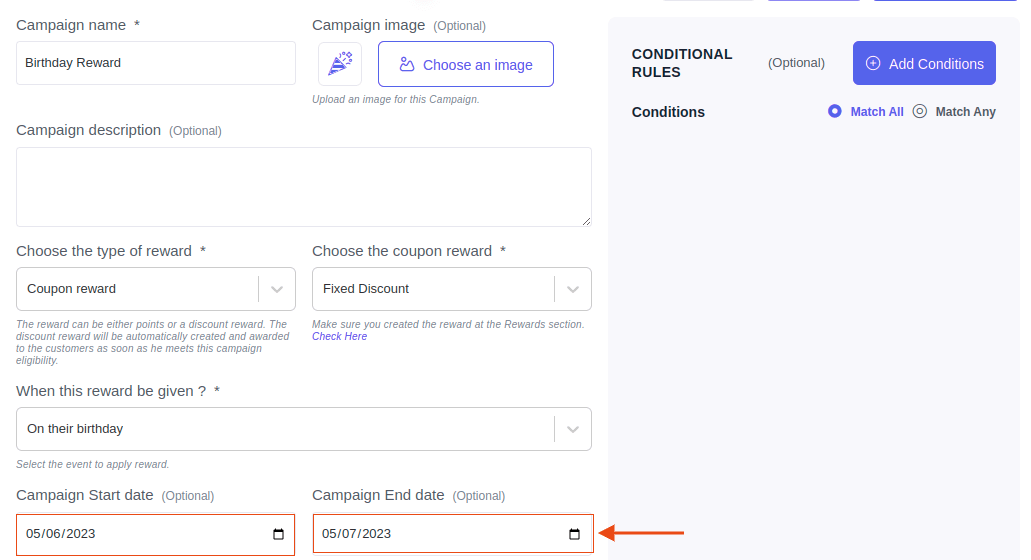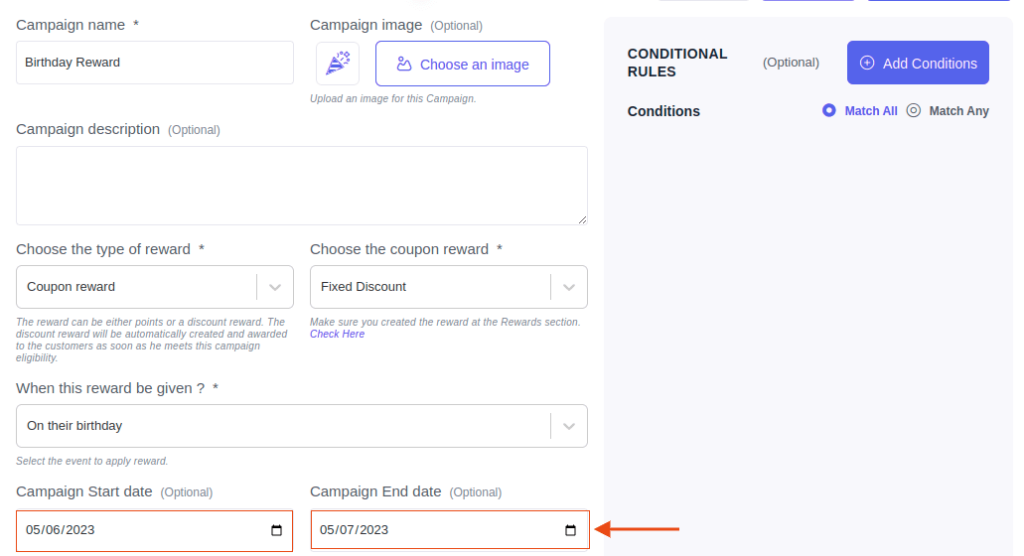 Step 4: Customer's Page
Your customer gets to see the birthday reward in their reward section, and the reward gets activated on their birthday as you set your preferences.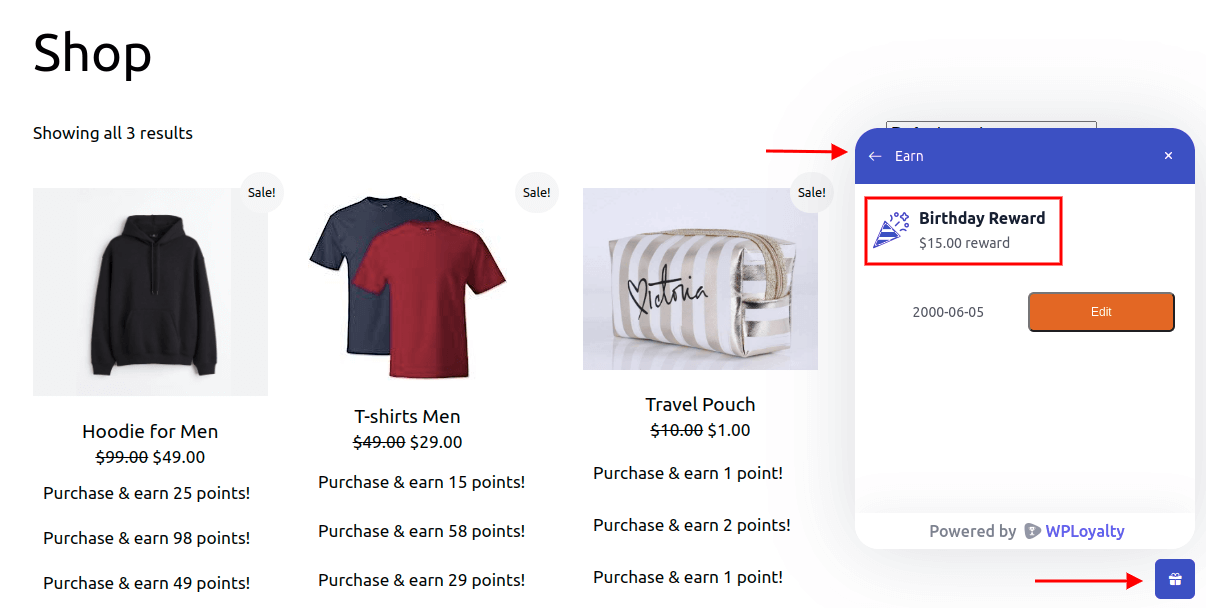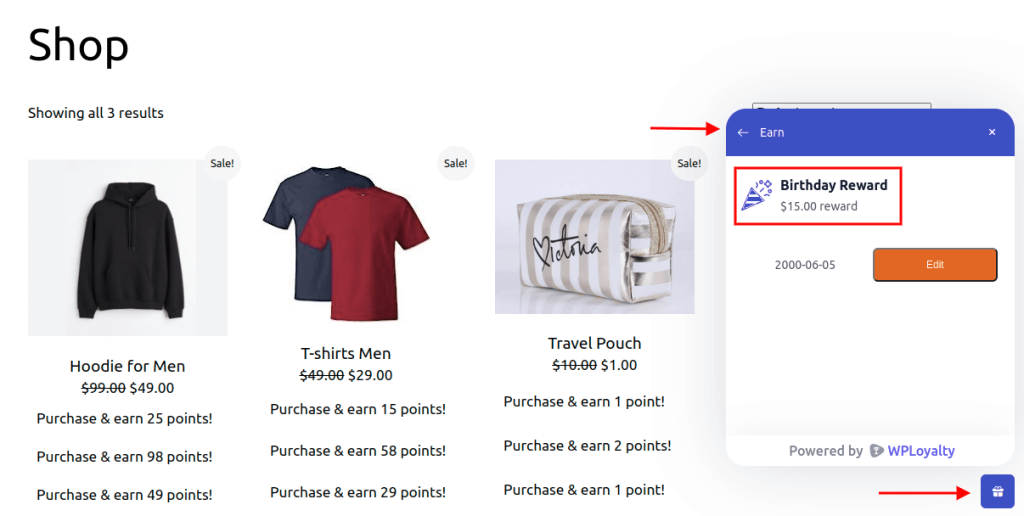 Boost your sales & conversions quickly by rewarding points for birthdays.
Conclusion
Birthdays may be an absolute delight not just for your customers but also for your brand. So, on this special day, build campaigns that make your customers feel valued.
Celebrating your customers' birthdays is just one aspect of how you can develop customer loyalty. Need help creating a birthday campaign? Please sit back and let WPLoyalty – Points Rewards Plugin do your work.
What are smart birthday discounts for WooCommerce?
Smart birthday discounts for WooCommerce are targeted promotional offers that brands can offer their customers on birthdays. These discounts are a great way to reward loyal customers and encourage them to continue purchasing with your brand.
What is a birthday campaign on WooCommerce?
A birthday campaign on WooCommerce is a marketing campaign designed to celebrate a customer's birthday. This type of campaign can include targeted emails, personalized offers, and special discounts.
How do you make a birthday campaign on WooCommerce?
To create a birthday campaign on WooCommerce, you can start by segmenting your customer email list based on their birthdates. From there, you can design and send personalized emails with special offers and discounts to customers on their birthdays. To automate the process, you can also use WooCommerce plugins like WPLoyalty – Points and Rewards.
How can I send a customer birthday points?
To send a customer birthday points, you can use WPLoyalty – Points and rewards for WooCommerce, which allows you to send birthday reward points to customers on their birthday dates.
Do birthday campaigns work effectively?
Birthday campaigns work much better than other campaigns. People are likely to open personalized emails on their special days. Receiving coupons or discounts makes them more connected to a brand.