A point-based loyalty program is a rewards program where customers earn points for purchases made at your WooCommerce store. The higher they spend, the more reward points they earn. These points can then be redeemed for various rewards or discounts, such as free products, discounts on future purchases, or exclusive access to new products or big sales events.
Point-based loyalty programs are often used to encourage customer loyalty and encourage repeat sales.
The right strategy means you are taking the right step toward growing your business. Customers keep returning to your store if they love the loyalty program you implement. A study says 87% of customers want their favorite store to run a loyalty program.
Offering points is now easy and simple with the best WooCommerce points and rewards plugin.
One of the Best WooCommerce Point-based loyalty plugins, WPLoyalty, will help you give points to each customer in various ways. Look at the blog to learn how to create a point-based loyalty program with the WPLoyalty plugin.
Launch a loyalty program today with WPLoyalty & drive repeat sales easily.
What is a Point Based Loyalty Program?
Points-based reward programs are commonly used by eCommerce stores where customers receive reward points for each purchase they make at a store. The points are easy to earn and redeem, so customers can redeem points for a coupon, discount, free shipping, or product once they saved up enough points.
When you reward your customers, you reach out to them on a personal level. This is distinctive from giving cheaper costs than competitors or offering higher-quality products or services. Customers are always loyal to brands that meet their expectations.
People who are showered with loyalty points feel obligated to reciprocate the favor. In return, they buy more products from your store than from your competitors.
Advantages of a WooCommerce Point Based Loyalty Program
A WooCommerce point based loyalty program offers various benefits to your store and customers. Have a look at the advantages it offers;
Increased customer retention: A point-based loyalty program rewards customers for their repeat business, encouraging them to continue shopping at a particular brand or store. This can lead to increased customer retention and long-term customer loyalty.
Increased customer spending: Customers are often motivated to earn points and redeem them for rewards, which can lead to increased spending to earn more points. This can be particularly effective for businesses that offer higher-value rewards for more points, as customers may be motivated to spend more to earn those rewards.
Personalized marketing opportunities: A point-based loyalty program can gather data on customer preferences and spending habits, allowing businesses to personalize marketing efforts and offer tailored rewards and incentives to individual customers.
Increased customer loyalty: By offering rewards and incentives to customers through a point-based loyalty program, businesses can create a sense of loyalty and appreciation among their customers. This can lead to increased customer satisfaction and advocacy for the brand.
Increased customer engagement: A point-based loyalty program can encourage customers to engage with the brand or business through various activities such as filling out surveys, sharing social media content, or referring friends and family. This can help businesses build stronger relationships with their customers and increase brand value.
Create a Points and Reward program for your store and build customer loyalty easily.
How do you Create a Point Based Loyalty Program in WooCommerce?
Using the WooCommerce loyalty points plugin, you can create a point based loyalty program and give points to your customers. Let us guide you on how to create one.
Step 1: Install WPLoyalty
Install the WPLoyalty plugin on your WordPress – Go to dashboard – Plugins – Add new – Upload the plugin – Install and activate the plugin.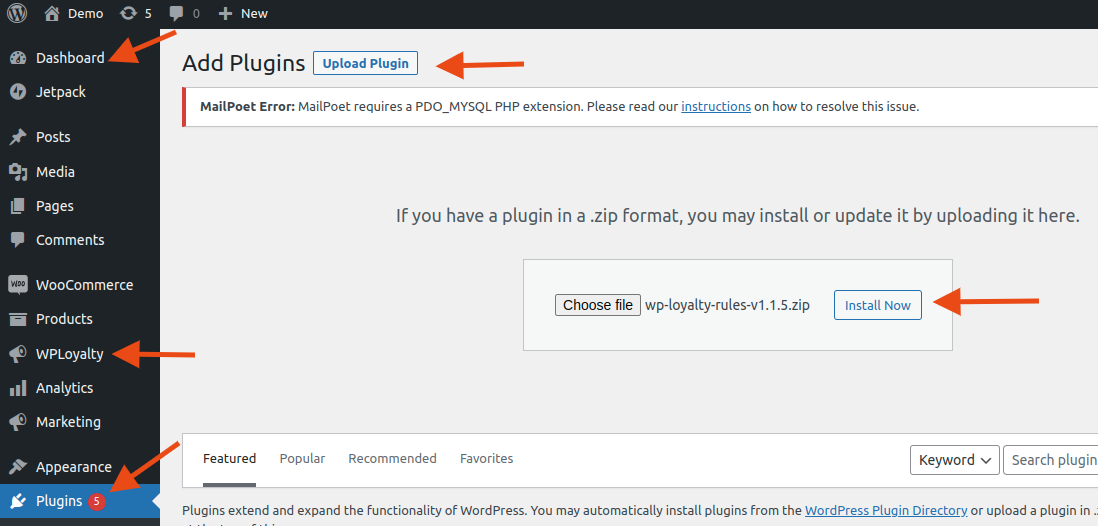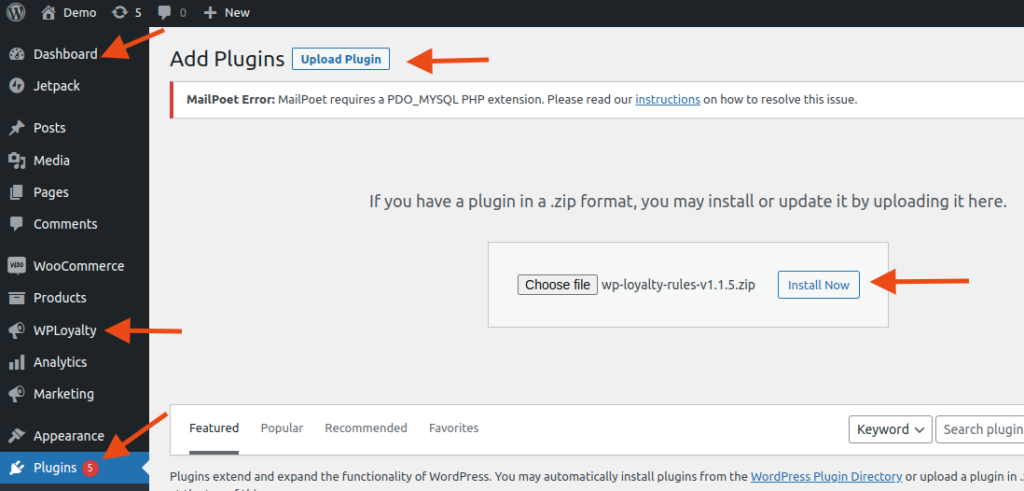 Once the installation is done, You can use the WPLoyalty plugin. Next, you will be directed to the WPLoyalty dashboard. Click on campaigns.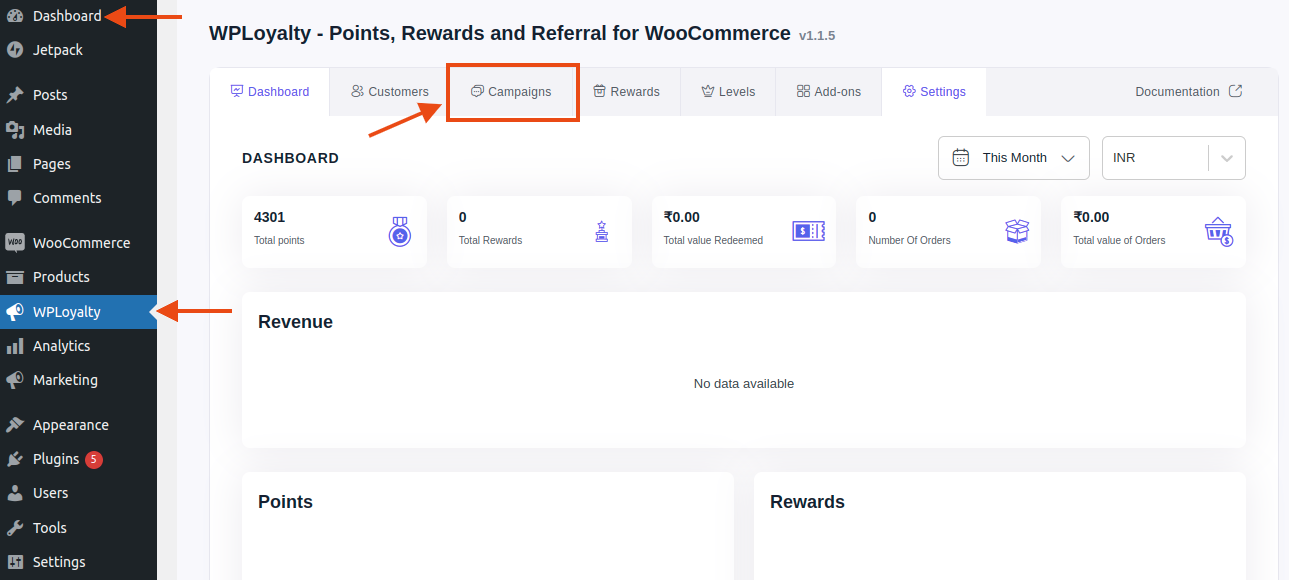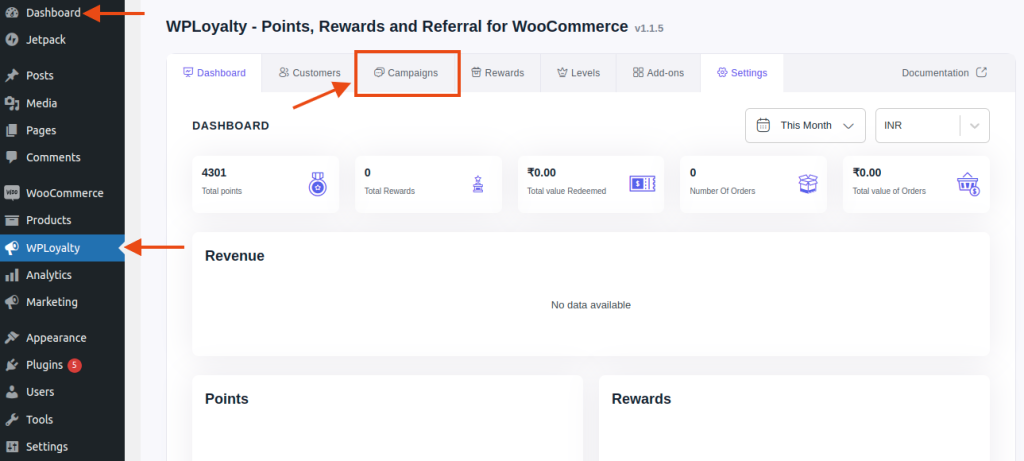 Step 2: Campaigns
In campaigns, various ways are available to offer points to your customers. The list goes like this;
Points for purchase
Reward-based on spending
Order goals
Referral
Sign up
Write a review
Birthday
Social-media share
Follow up
Let's look briefly at how each Loyalty points campaign works.
Points for purchase:
Give points to your customers for every dollar they spend during their purchase. For instance, Reward 20 points for spending 40$ on your store. Set the campaign as per your preference, and there are optional rules for you to add. Once you set your preference, click on save and close.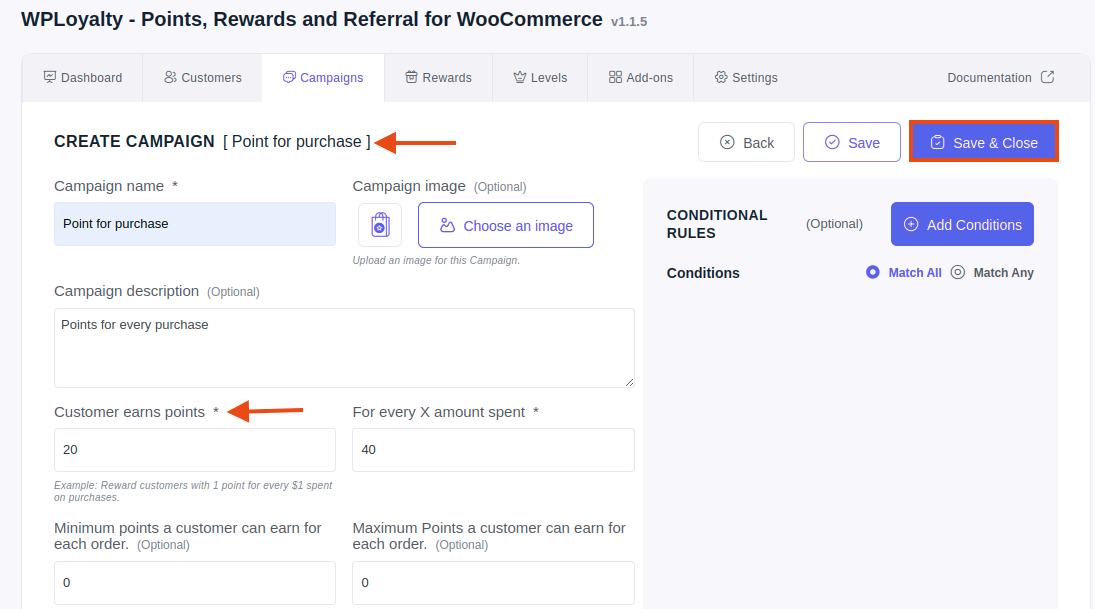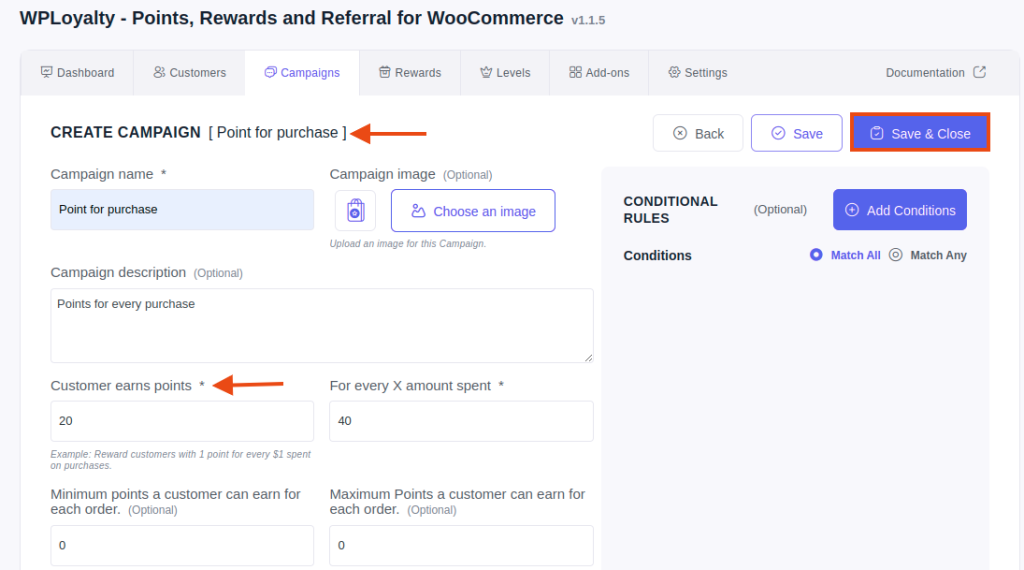 Reward-based on spending
Reward constant points for every purchase, whatever the total amount be. For instance, even if your customer spends $1 at your store, they will receive 15 points for every purchase. Fill out the campaigns as per your preference and click on save and close.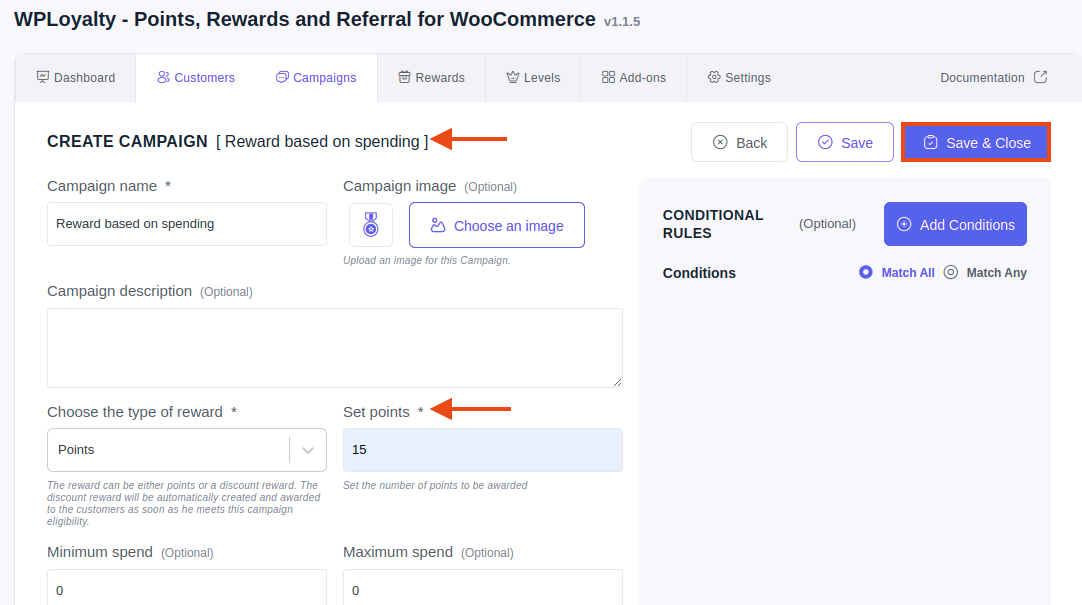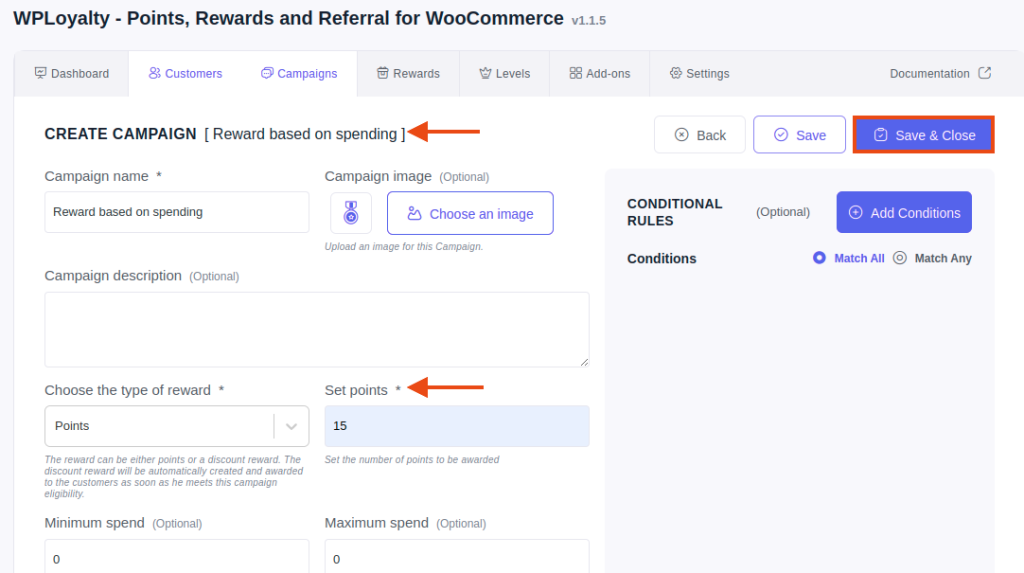 Order Goals
Offer points based on the order goals. For instance, customers have to order ten or more products to get 100 points. You can change and set it according to your preference. Click on save and close.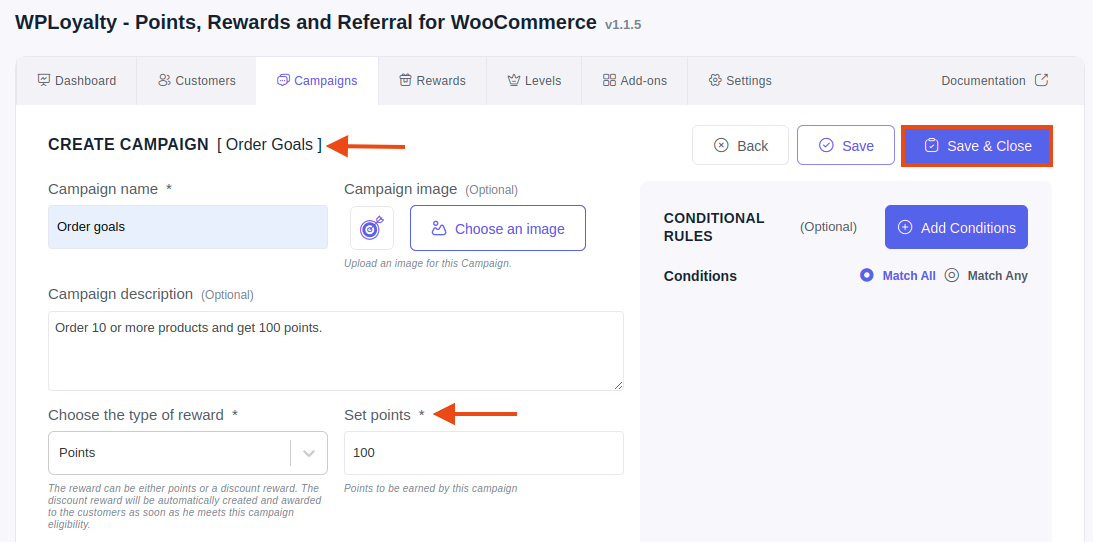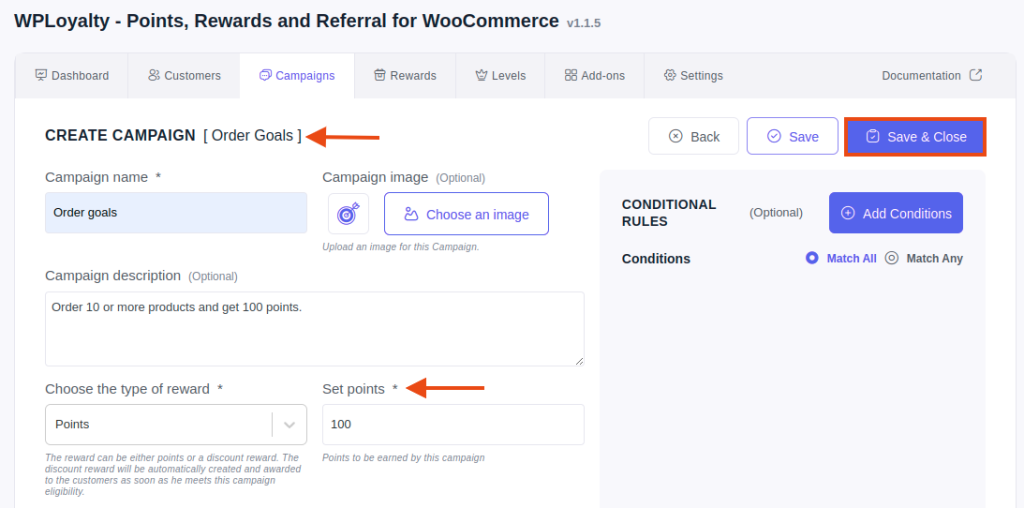 Referral
Referrals are one of the effective ways to bring in new customers. So, when your existing customer makes a referral, your current customer will receive points, and the new customer will also receive points when they make a purchase.


You can give different points to your existing customer and your new customer. Set your preference and click on save and close.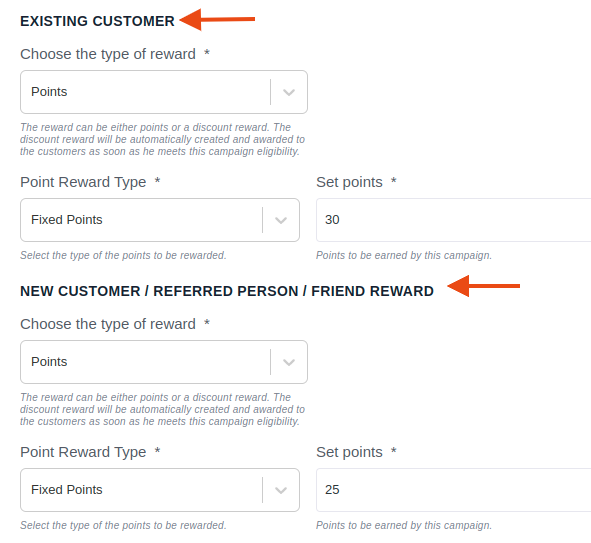 Sign up
Reward points for customers signing up for your store. This will encourage your customer to enter their details and sign up for your brand. You can send welcome and thank you emails with the email address they use to sign up. Also, send coupons through their mail. Customers will receive points only once with this campaign. I.e., On their first sign up.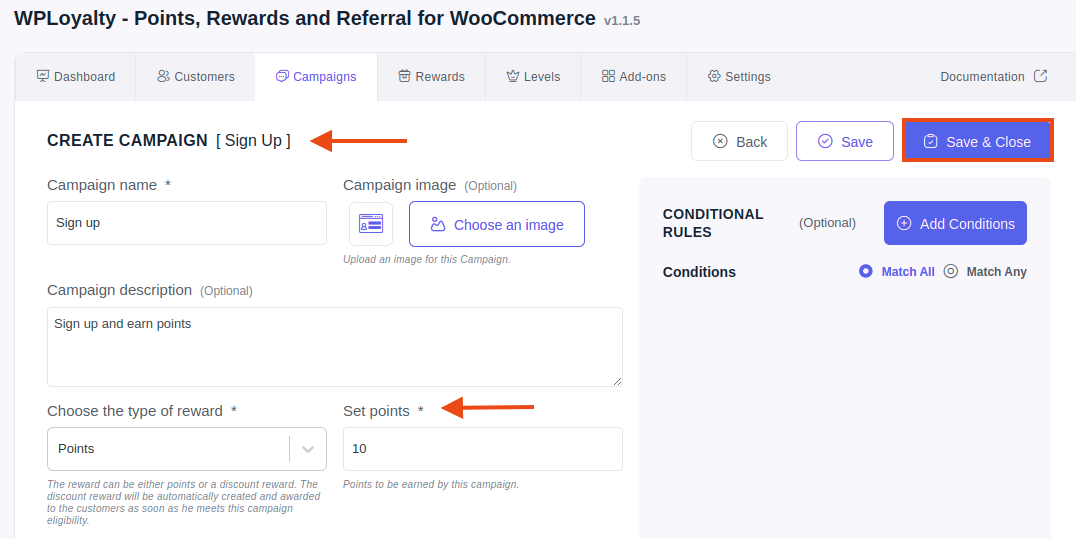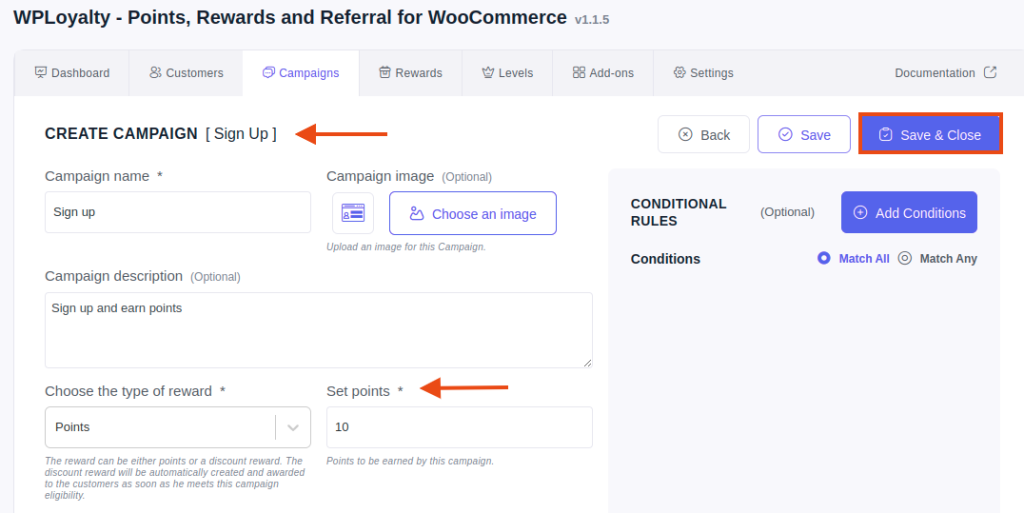 Write a review
Reward customers for writing reviews. This way, you can understand what your customers think of your products. Also, you will get to know what products people like in your store.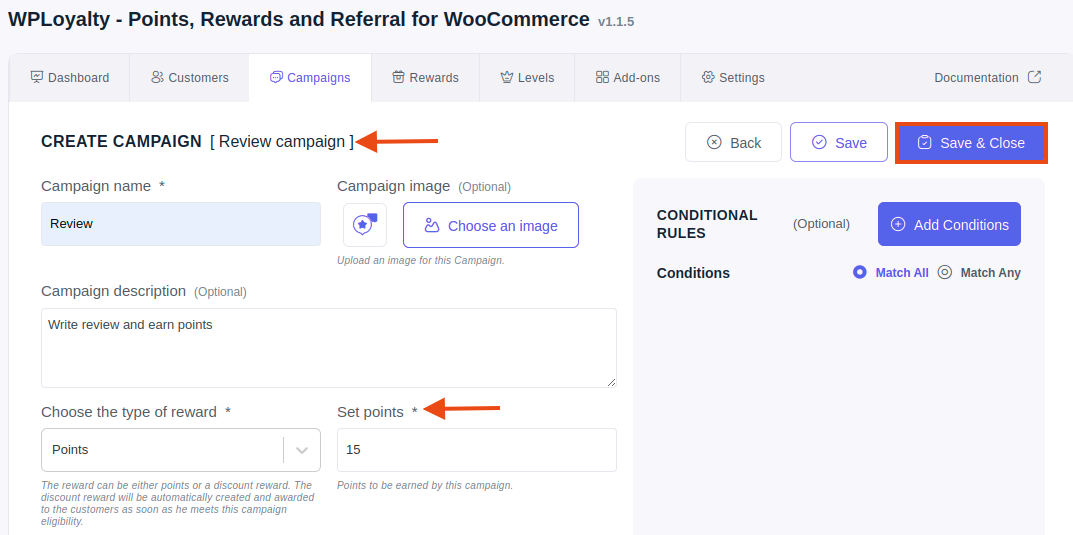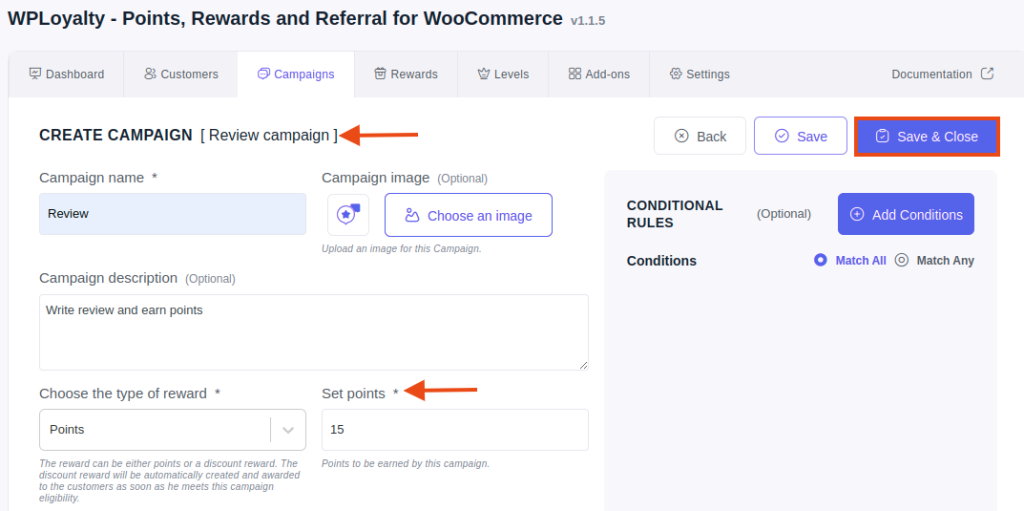 Birthday
Birthdays are always special to your customers. Make them feel special. Show them you celebrate your customers' birthdays by giving points on their birthdays or special occasions.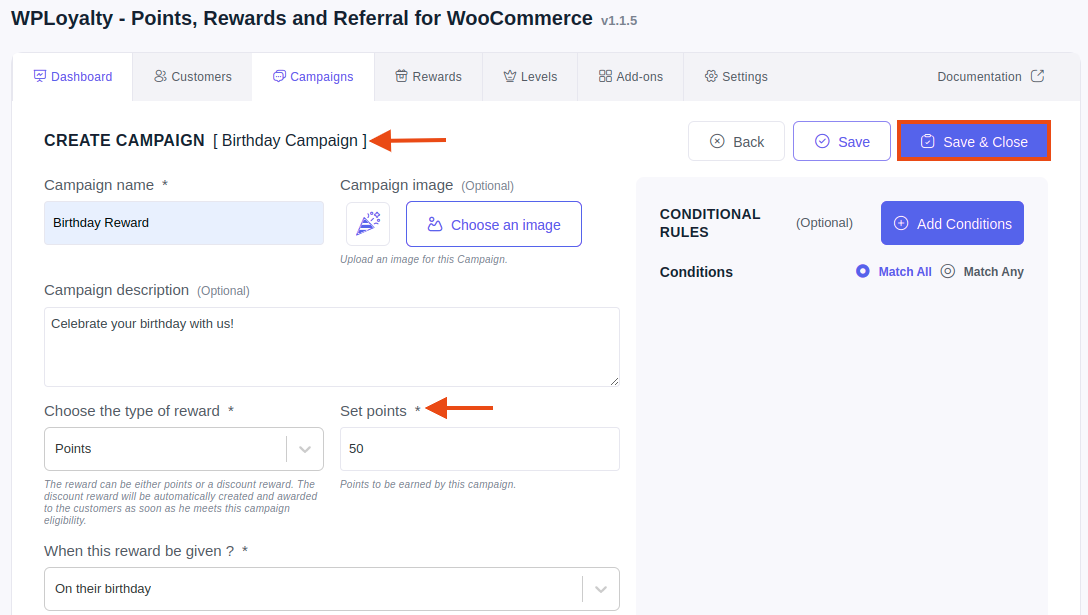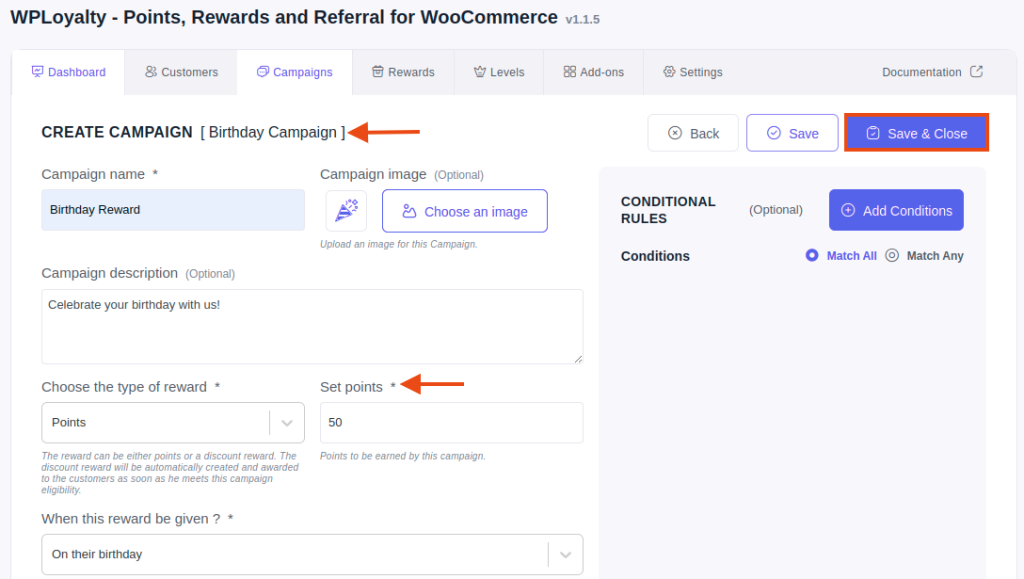 Social-media share
When customers share your product on social media, reward them with certain points. Social media like Facebook, Twitter, WhatsApp, and email. People are usually more active on social media, so take advantage of it to increase product visibility and brand awareness.
For instance, let's look at Facebook share campaigns.
Note: Social share campaigns work effectively only if there is a referral link.
How do you create a point based loyalty program?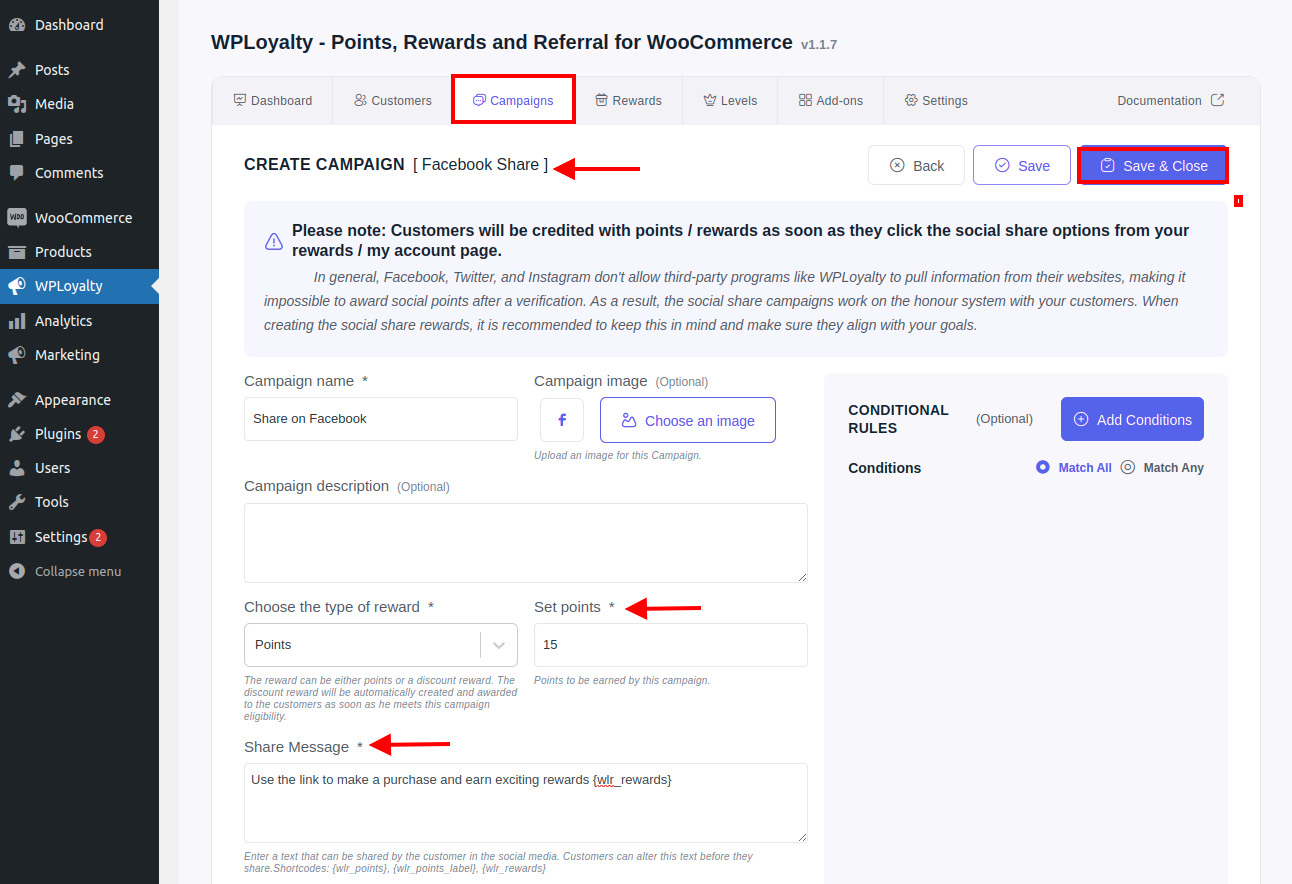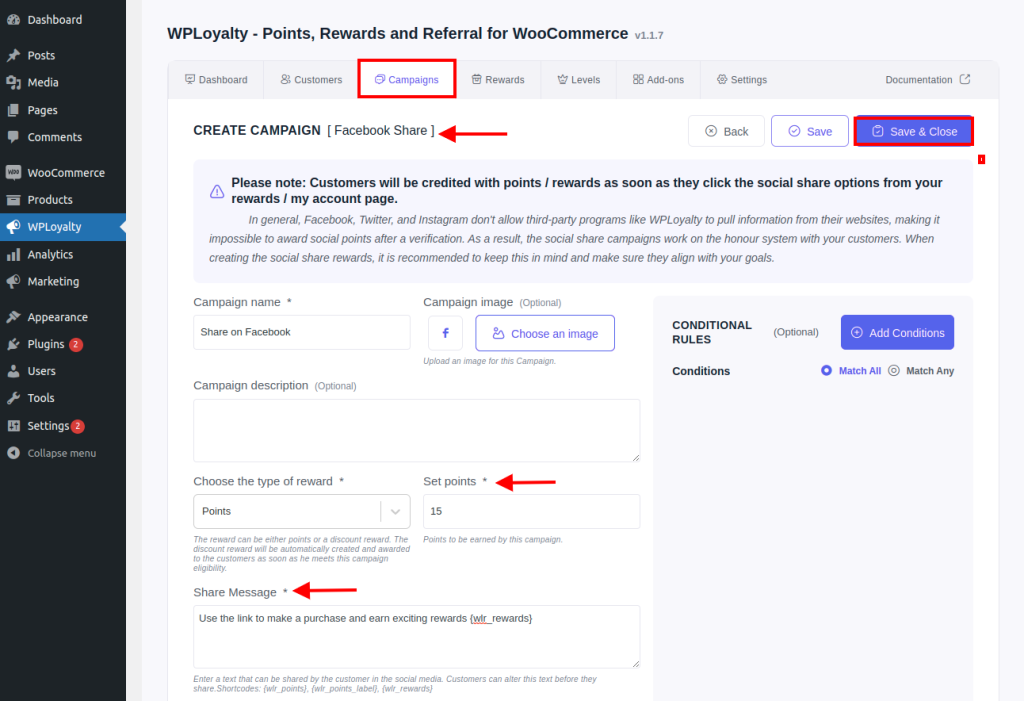 Follow up
Let customers follow your pages on social media like Facebook, Twitter, and Instagram. Reward them with points for following your pages. This way, many people will follow your page, and it will reach more customers quickly.
Note: Give your social media page URL on the field – 'URL for your page. So, it will be easy for customers to click on the link and visit your page.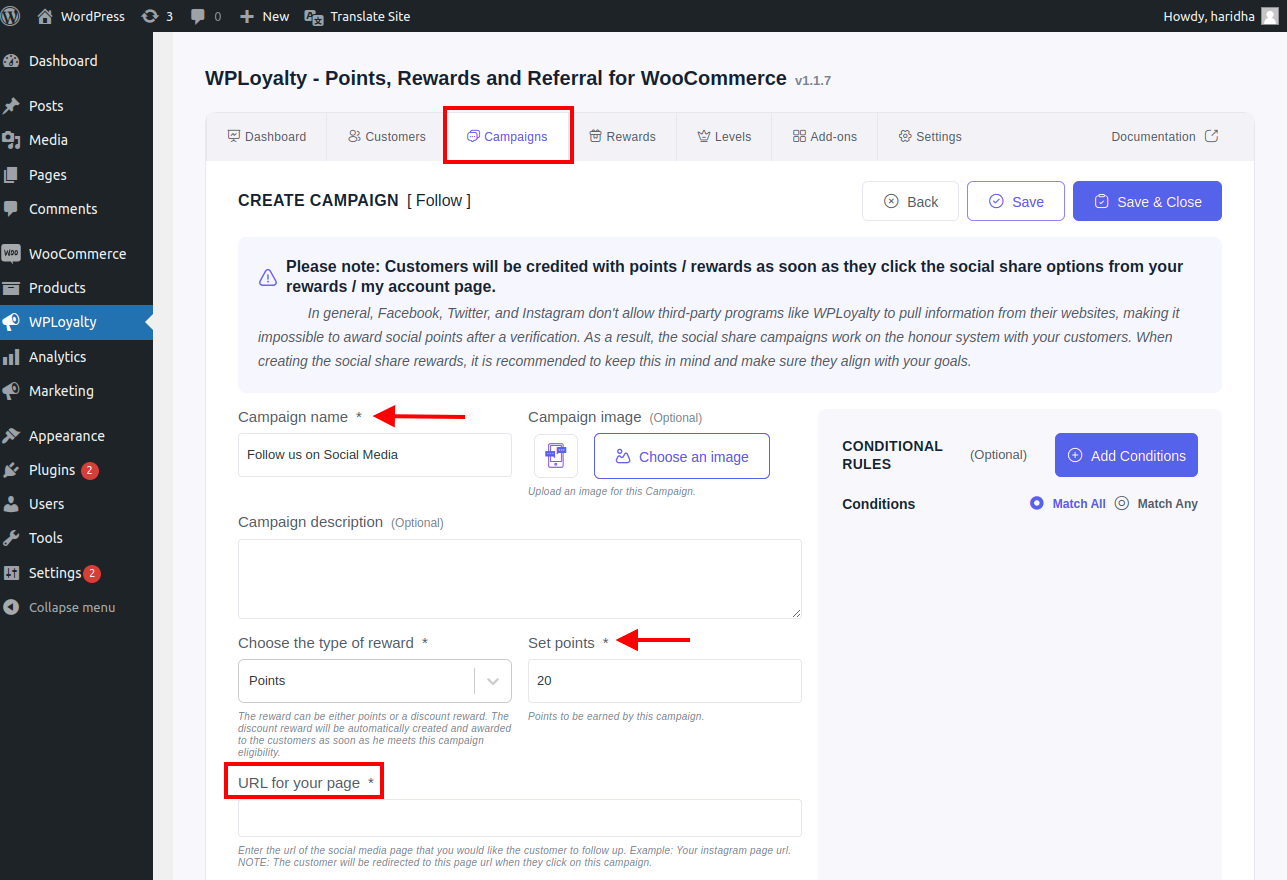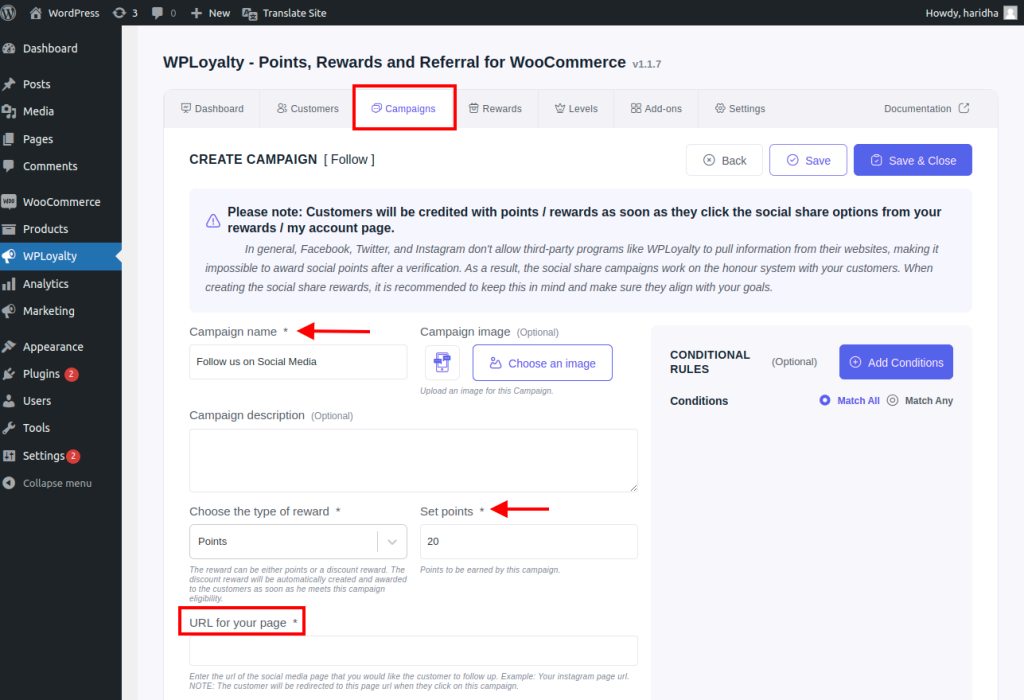 Get the WPLoyalty to engage customers with point-based loyalty programs easily.
Conclusion
point based loyalty programs are a fantastic way to retain customers and increase sales. Customers always feel motivated when you offer them points for every action they make. Make a proper plan and implement a strategy for when and how to reward your customers.
With the best WooCommerce plugin like WPLoyalty, You can offer points to your customers in just a single click. So, don't delay any more; get the plugin and take your brand to the next level.
How to earn loyalty points?
Earn loyalty points through purchases. Reward customers loyalty points for every action they make at your store. In simple terms, purchase more to earn more loyalty points.
How are loyalty points calculated?
Here are some rules for calculating points based on tiers: If a customer is on the first tier, they will receive one point for every dollar spent. A customer on the second tier will receive 2 points for every $1 spent. If a customer is on the third tier, they will receive three points for every dollar spent.
How to use loyalty points?
You can provide your customers the option to use their accumulated loyalty points to redeem any offer or discount coupons.