Sharing is caring! In the world of business, it means rewarding your loyal customers when they share the love and bring in their friends. That is why the power of referrals can always go right.
In this guide, let us discover how to reward customers with a Guest referral add-on, especially in the WPLoyalty Plugin.
By the end of this guide, you'll have a clear idea of how to reward your amazing customers every time they introduce someone new to your brand. Let's dive in.
Boost brand loyalty with exciting referral rewards on the very first purchase, for both existing and new customers, using WPLoyalty.
What is a Guest Referral Add-on?
The Guest Referral Add-on is a great tool that allows you to offer referral rewards to new customers (referred by advocates) on their initial purchase. When a new customer enters their email through a referral pop-up, they get a discount coupon right away. They can use this discount on their first purchase.
The person who referred new customers also receives referral rewards through referral campaigns once their friend completes the first purchase.
Benefits of Guest Referral Add-on
Guest Referral add-on creates a great impact on the customers and encourages them to repeat purchases. Here are some key benefits:
Builds Trust: Offering guest referral rewards for new customers in their first purchase will increase word-of-mouth marketing. If a friend says a place is good, others are likely to believe it. This trust can make new customers more comfortable trying out a business.
Lifetime Value: Your store can reach a wide range of customer base, keeping them engaged with your brand. Acquiring a customer through a referral often has a higher lifetime value.
Loyal Customers: If someone is willing to refer a friend, they probably like the product or service a lot. These loyal customers can keep buying and referring, making them very valuable to the business.
Increased Sales: More customers usually mean more sales. So, if the referral program
works well, the business will sell more products or services.
Types of Referral Rewards to Offer
Rewards always boost customer's curiosity. Here are some of the popular referral rewards you can offer:
Loyalty Points
You can reward your customers with points. Over time, these points can accumulate, allowing them to be redeemed for discounts or special items.
Fixed Discount Coupon
You can offer your customers a fixed amount of discount.
Percentage Discount Coupon
Encourage more referrals by giving your customers a percentage, like 10% or 20% off.
Free Shipping
You can show appreciation to your loyal customers by covering their shipping costs.
Free Product
You can offer your customers a complimentary product as a token of gratitude.
How to Reward Customers with a Guest Referral Add-on?
Guest referral rewards encourage customers to engage more actively with the brand and spread positive word-of-mouth. Now let us look at how to reward customers for guest referrals with a "Guest Referral add-on" in a user-friendly Plugin like WPLoyalty.
Note: WPLoyalty provides guest referral rewards like points, percentage discount coupons, fixed discount coupons, free shipping, and free products for referrals.
You can choose any of the reward types for advocates and friends. But, in this guide, let's create an example for rewarding existing customers with 50 points and new customers (friends) with a percentage discount (10%).
Step 1: Install WPLoyalty
The initial step is to download the WPLoyalty plugin. Once downloaded, please ensure you have installed and activated the WPLoyalty plugin.
A step-by-step guide for both installing and activating the WPLoyalty plugin can be found in the documentation.
Step 2: Create Rewards
First, let us create a 10% discount coupon reward. To create Rewards, Go to WPLoyalty -> Rewards -> Create New Reward -> Percentage Discount.
Then, fill in the details as shown in the screenshot.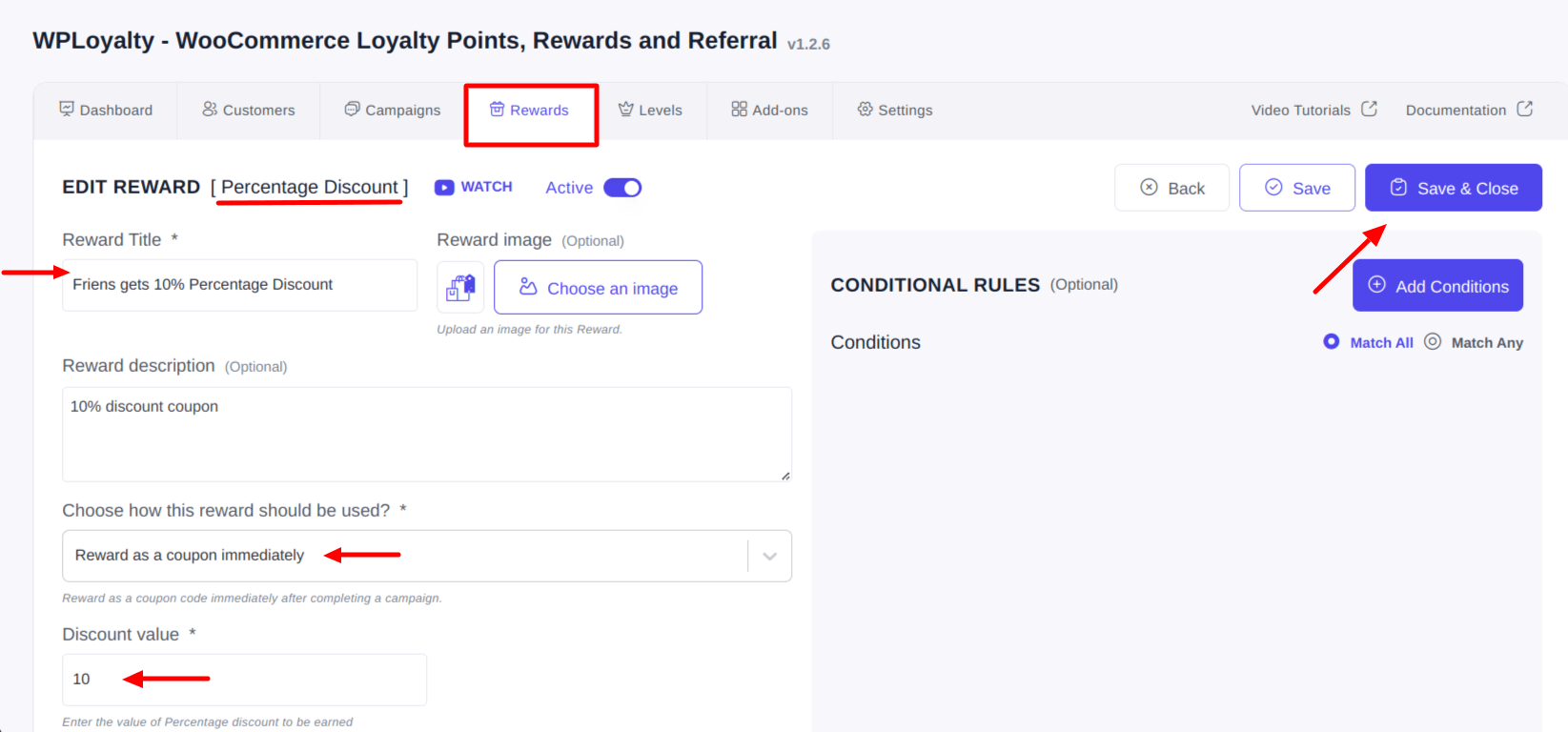 Step 3: Create a Referral Campaign
Once the reward is created, set up the referral campaign. Go to WPLoyalty -> Campaigns -> Create New Campaign -> Referral.
Then, fill in the details as shown in the screenshot.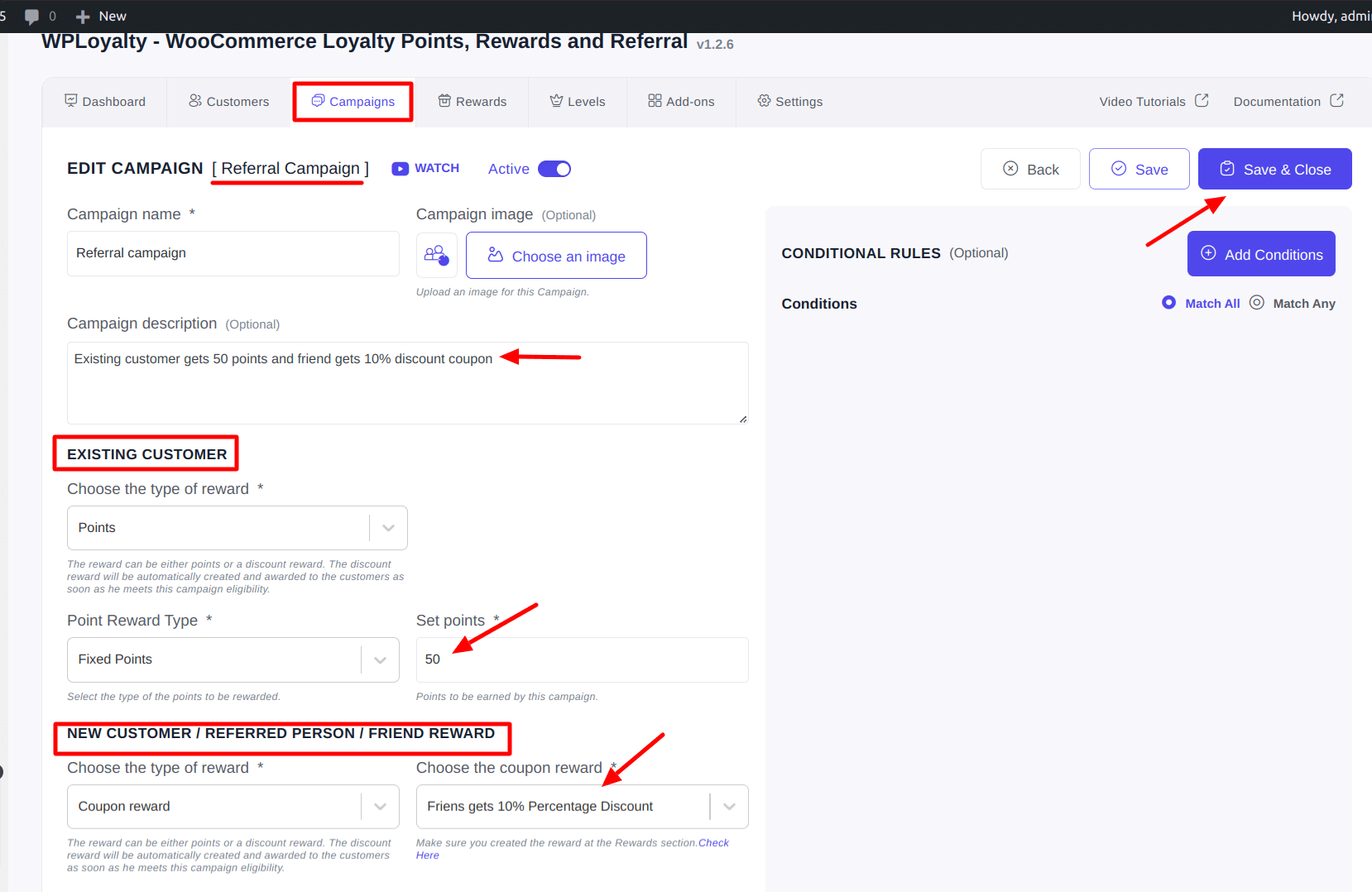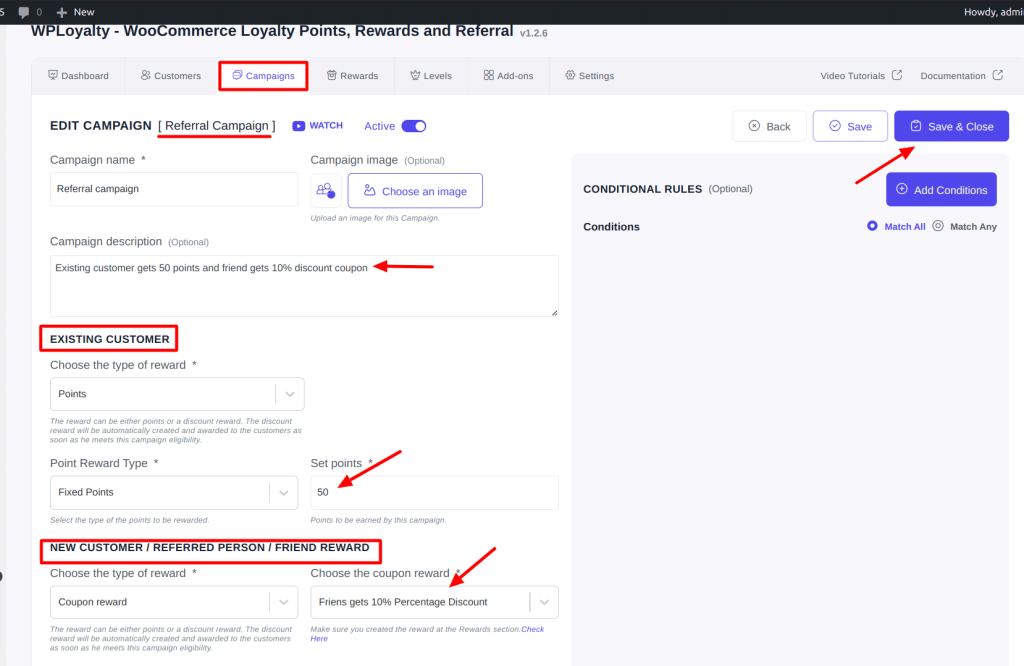 Strengthen your customer relationships. Start a referral campaign and turn your loyal customers into brand advocates.
Step 4: Set Up the Guest Referral Add-on
Purchase and download the WPLoyalty – Guest Referral Add-on. Once downloaded, proceed to install and activate the add-on.
Note: You need to enter the license key and activate it.
To set up the add-on, go to the WPLoyalty dashboard -> Add-ons. Activate the add-on "WPLoyalty – Guest Referral"-> click on the button "Open."
Then, from the settings tab, select the created Referral Campaign in the setting "Choose a referral campaign that is eligible for the guest referral" and save it.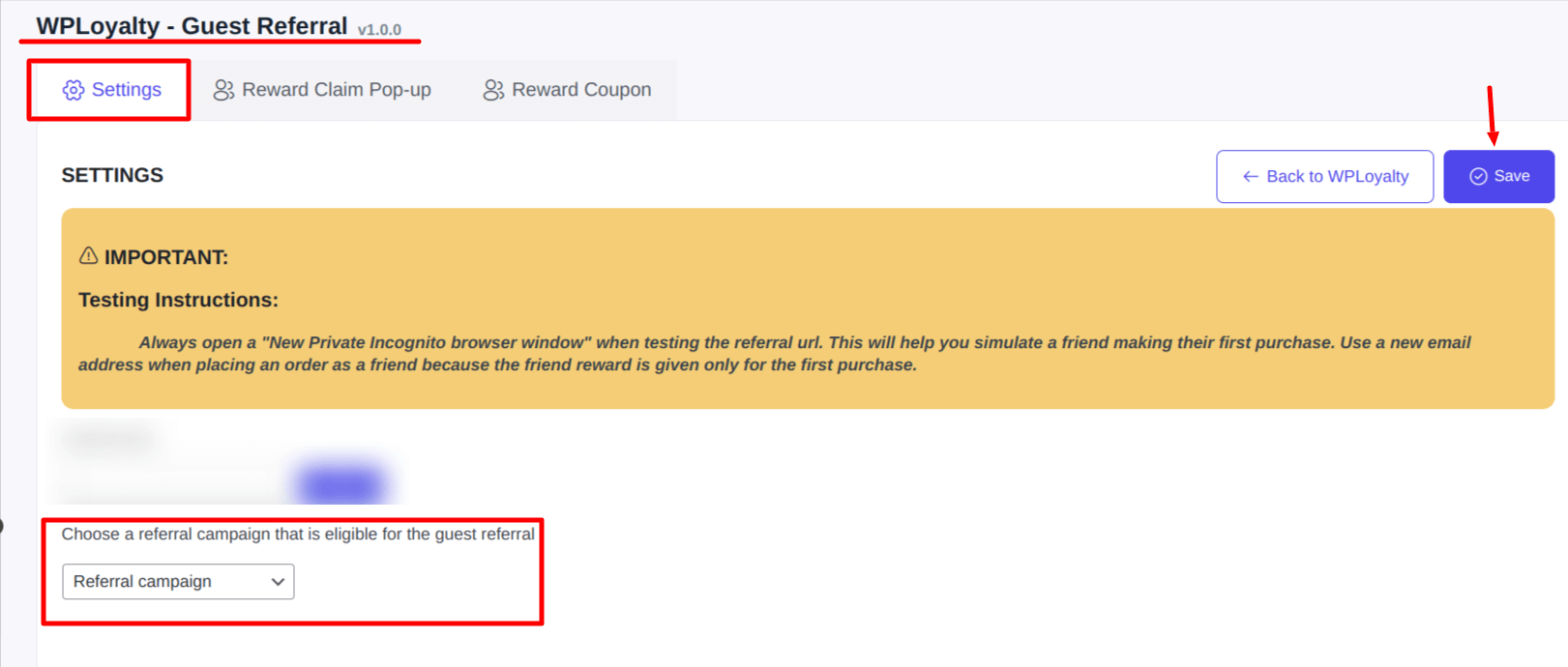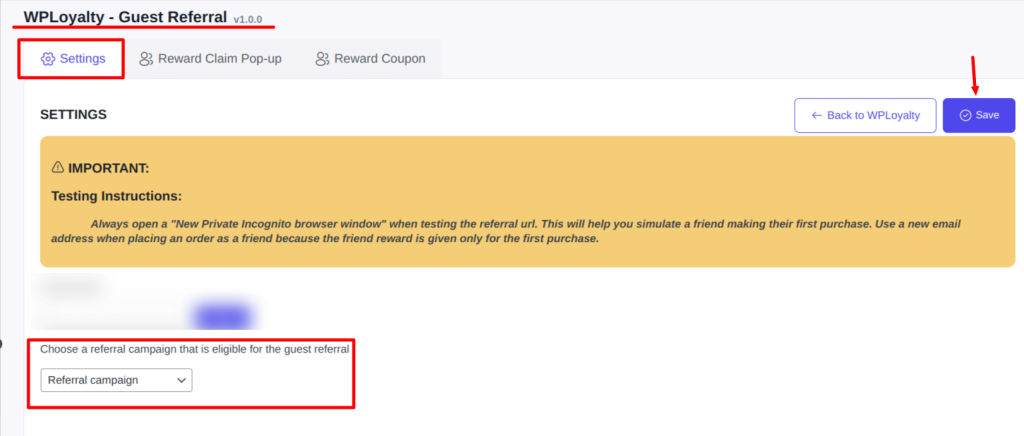 Step 5: Referral Rewards to New Customers
When a new customer joins via a referral link from an existing customer, a pop-up
appears, prompting them for their email address. Here is the screenshot of the pop-up.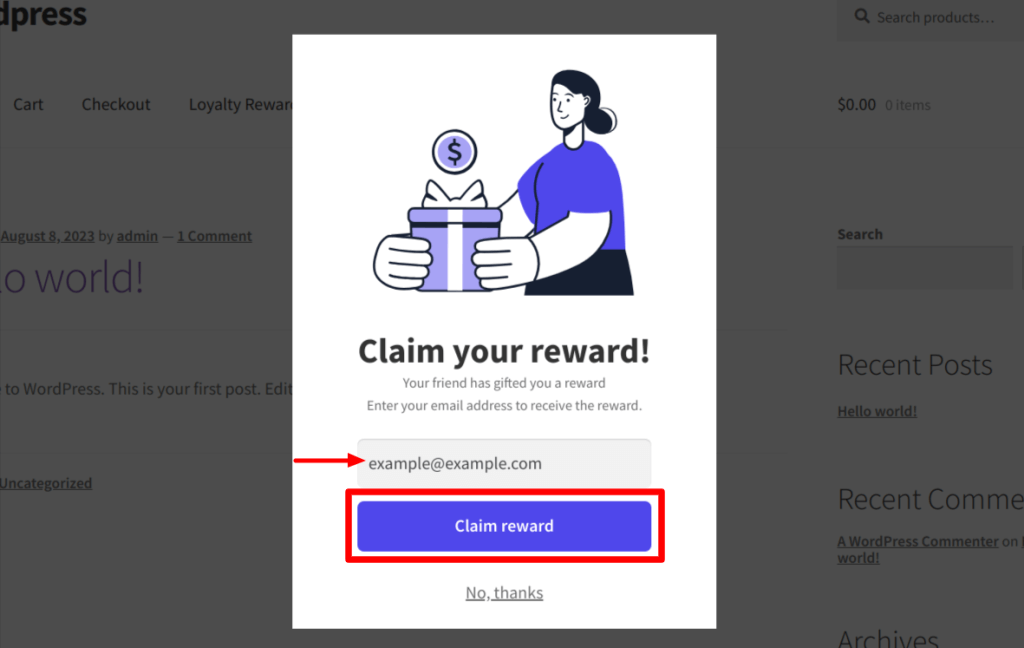 After providing their email and selecting "Claim reward," the new customer immediately receives a coupon (10% discount coupon we created in the example), which they can use for their first purchase. Here is the screenshot of the reward earned by the new customer.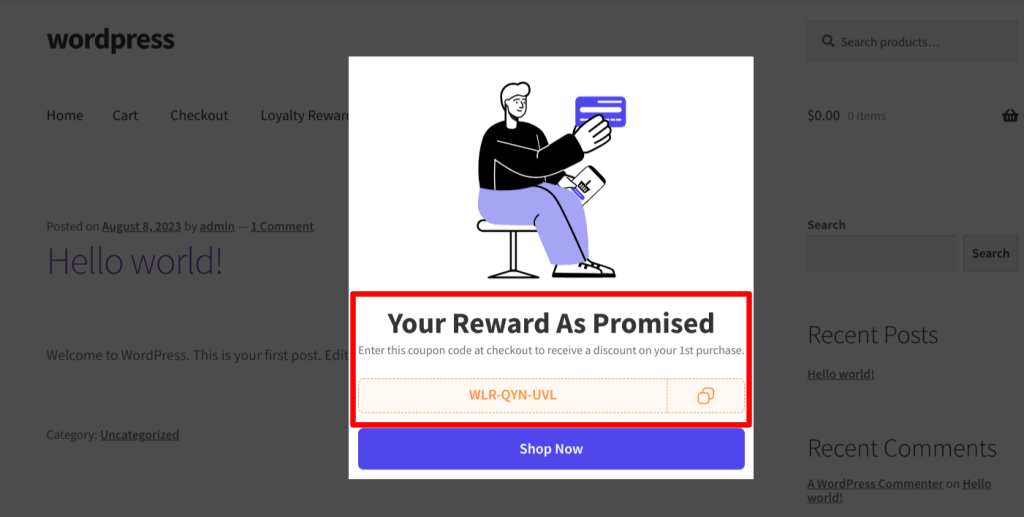 According to our example, once the new customer makes their first purchase, the referring customer also receives a reward of 50 points.
Gift your customers the joy of sharing and earning. Empower your business with referrals and let your customers do the talking.
Wrapping Up
The Guest Referral Add-on offers a fantastic way to appreciate and reward our loyal customers for bringing new faces to our business.
Not only does it show them that we value their support, but it also helps grow our customer base organically. Implementing such a system is like creating a win-win situation: your customers get rewards for their referrals, and you gain new customers.
Thus, it's a simple yet effective way to keep our community engaged and ensure the continued success of our business.
Why is a referral strategy important?
A referral strategy is a plan businesses use to get their happy customers to tell friends and family about their product or service. It's important because people trust recommendations from the people they know.
What is the power of referral marketing?
Referral marketing is when customers spread the word about a product or service. Its power lies in trust. People are more likely to buy something if a friend suggests it rather than just seeing an advertisement.
Why are referrals important to customers?
Customers value referrals because they offer guidance. Instead of trying to figure out if a product is good, a recommendation from someone they trust can quickly help them decide. It saves time and reduces the risk of making a bad choice.
Do referral programs increase customer loyalty?
Yes! Referral programs reward customers for telling others about a business. This makes customers feel appreciated. When customers feel valued, they're more likely to stick around and keep supporting that business.
Do referrals make a difference?
Absolutely! Referrals can lead to more sales and help a business grow faster. Because these suggestions come from trusted sources, potential customers are more likely to give the business a try.