Gamification has become an effective strategy for engaging website visitors and boosting user interaction. By incorporating game-like elements into your WordPress site, you can create an immersive and interactive experience that keeps users coming back for more.
These plugins leverage techniques such as points, badges, leaderboards, challenges, and rewards to motivate users to participate actively and achieve specific goals on your site.
To implement gamification on your WordPress site, you need powerful and feature-rich gamification plugins. In this article, we will explore the best gamification plugins available for WordPress, their benefits, and how to choose the right one for your needs.
So, get ready to explore the world of gamification plugins for WordPress and take your website to the next level!
Implement loyalty program and reward points/ badges to your customers using WPLoyalty.
What Are Gamification Plugins for WordPress?
Gamification plugins for WordPress are tools that allow you to add game-like elements to your website. This can be done in order to increase user engagement, improve customer loyalty, and boost sales. These plugins use game mechanics to engage and motivate users, encouraging them to interact with the website and complete desired actions.
With the help of a gamification plugin, reward points are typically awarded for completing certain tasks or achieving certain milestones. Also, badges are earned for specific accomplishments. Additionally, leaderboards allow users to compare their progress with others, while progress bars show how close users are to completing a particular goal.
WordPress gamification can be used for a variety of purposes, such as encouraging customer engagement, increasing site traffic, and improving user retention. They can also be used to incentivize users to perform specific actions, such as filling out a form, leaving a comment, or sharing content on social media.
Benefits of Gamification Plugins
Gamification plugins can offer several benefits and can be a valuable tool for increasing user engagement, improving learning outcomes, and enhancing the overall user experience of websites. Here are some of benefits of gamification plugins:
Increased Engagement
Gamification can make the user experience more enjoyable and interactive, resulting in increase in sales and retention. By leveraging game-like mechanics such as challenges, rewards, and VIP Tiers, gamification can help keep users interested and motivated to use the platform.
Improved Learning
Gamification techniques such as quizzes, puzzles, and interactive challenges can help users learn and retain information more effectively. This is particularly useful for educational platforms or websites that offer online courses or tutorials.
Motivation and Rewards
Gamification can motivate users to complete tasks by offering rewards such as points, badges, or levels. This can increase their motivation to continue using the website or application, as well as their likelihood of completing specific actions or tasks, such as filling out a form or completing a purchase.
Data Collection
Gamification plugins can be used to collect data on user behavior and preferences, which can be used to improve the website or application's functionality and user experience. By tracking user engagement and user experience, gamification can provide valuable insights into user behavior and inform future marketing and product development strategies.
Increased Social Interaction
Gamification can encourage social interaction by allowing users to compete against each other or collaborate on tasks. This can lead to a more dynamic and engaging user experience, as well as increased user loyalty and brand advocacy.
Best Gamification Plugins For WordPress
Using the best Gamification Plugin for WordPress is excellent for improving customer experience. With various gamification plugins available in the market, getting the best one for your website may be tricky.
Here's the list of the best Gamification Plugin for WordPress for effective lead generation, so select the right one that matches your store.
WPLoyalty is one of the must have WordPress plugins for your site to create a tiered level program and reward customers based on their achievements. The plugin allows you to reward customers with points, discounts, freebies or free shipping for various actions.
With WPLoyalty, you can create a level/tiers for your customers. Also, you can reward customers with different rewards based on the level they are in. This type of strategy will motivate customers to make more purchases in order to receive the perks. Additionally, you can also create an achievement campaign and reward customers for daily login and moving from one level to the next.
Key Features:
Create badges for your customers based on their levels.
Customers can redeem points for exclusive discounts.
Reward customers with conditional rules.
Create referral, birthday campaigns and more.
Chat-like launcher widget to discover your rewards.
Personalize the launcher widget to match your store's style.
Customization options.
Point-expiry feature to encourage customers to redeem points before it expires.
Reward customers with points, badges and discounts easily using WPLoyalty plugin.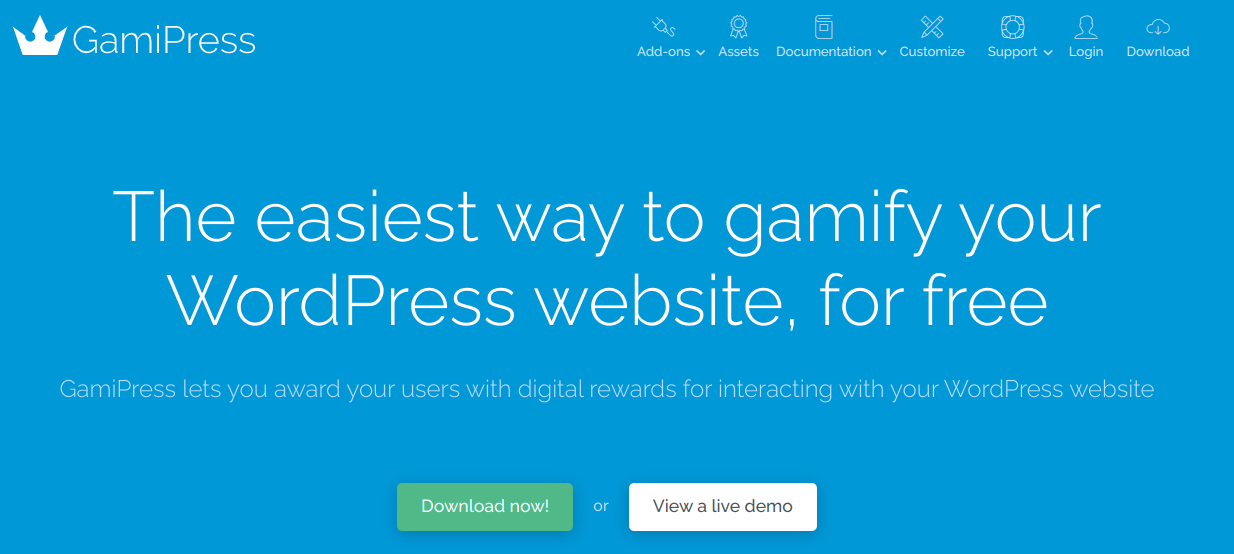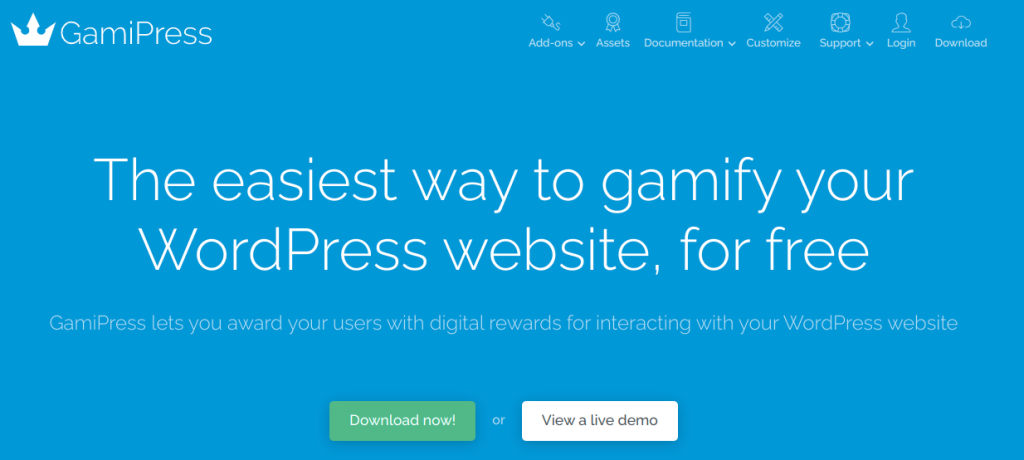 GamiPress is one of the best gamification plugins for WordPress. The plugin lets you reward customers with points automatically for every interaction. Additionally, you can also reward customers for their achievements and create a ranking system like grade, level using GamiPress.
GamiPress allows you to provide credits, gems, coins, badges, quests, etc to your customers for their visit on your website. The plugin allows you to easily set up automated ways to provide or deduct points from your users. You can encourage customers to unlock any rank or achievements by creating conditional requirements.
Key Features:
Set a time for customers to complete a requirement.
Drag and drop controls to easily set up gamification.
Users can share their achievements and ranks on any social network of their choice.
Customers will be notified by their rewards through email.
Utilize the theme folder and customize everything you want.
Add unique functions and features.


Gamification is one of the amazing features of Optinmonster that you will definitely love for your website. You can create a coupon wheel and customize the wheel in the form of discounts and coupons. Additionally, you can decide whether customers should win the discounts or not.
You can customize the coupon wheel's font, colors and make it fit your brand's style. The plugin comes with designed templates that are easy to use. Also, you can make use of the drag and drop builder to easily add elements from icons to videos and much more.
Key features:
Use the optin forms to display the coupon wheel to your customers at the right time.
Display offers based on the specific interests of your visitors.
You can offer gifts to only specific locations by using geolocation targeting.
Use Timed Display Control, Scroll Trigger, and Campaign Scheduling to showcase the coupon wheel at the right time.
Send a coupon wheel when customers are about to exit.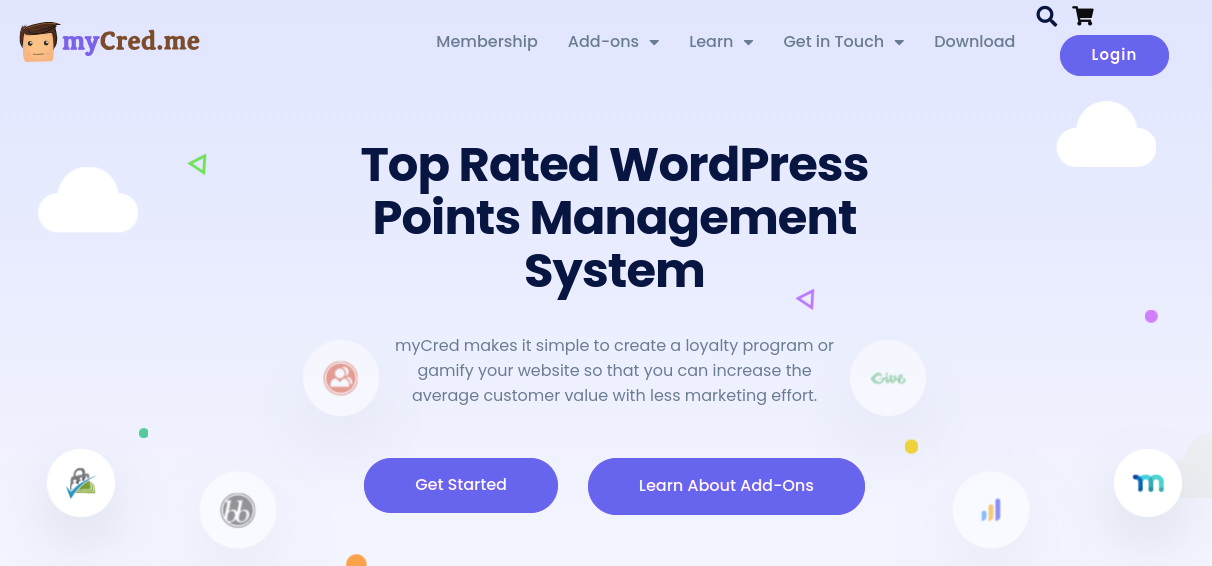 MyCred gamification plugin is one of the best ways to encourage customers to make more purchases at your store. As a token of appreciation, you can implement a ranking system on the user's achievements at each stage. Further, you can also provide points and badges to different level users and reward unique badges to each customer.
With MyCred, you can let users make partial payments and you can reward customers with points for every share on social media. Additionally, the plugin comes with the notification add-on which allows you to send instant messages for badges and ranks.
Key Features:
Provide users digital badges based on their points history.
Allow customers to purchase myCred points with cash.
Allow customers to exchange their myCred points for real money.
Create coupons that your users can use to get rewards.
Give your users the option to get email updates regarding their point status.
Allow myCred points to be used as payment on your online store.
Enable popup notifications to show status updates.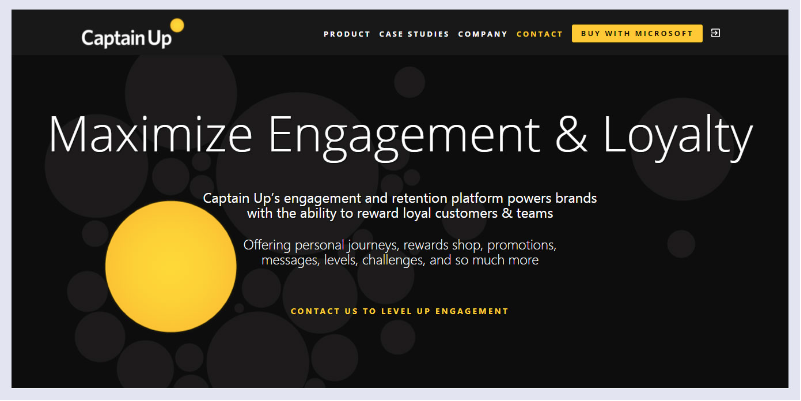 Captain Up is another popular WordPress gamification plugin to improve user experience and increase customer satisfaction. Through this plugin you can encourage customers to make an active participation in promotions, in-play achievements and challenges.
The plugin allows you to create campaigns based on customer behavior and link their actions for rewards automatically. Excite your customers with fun filled activities and goals like 'MetaGame.' Send popup messages to your customers and make interaction at the right time to increase conversion rate.
Key Features:
Allow customers to collect trophies and upgrade to new levels.
Allow customers to earn daily and weekly rewards.
Get instant responses from your customers.
Reward customers with points and coins.
Reward customers with free spins, cash prizes or free tickets.
Reward customers with loyalty points, bingo / IG bonuses or virtual gifts.
Create new currencies and reward players with exciting incentives.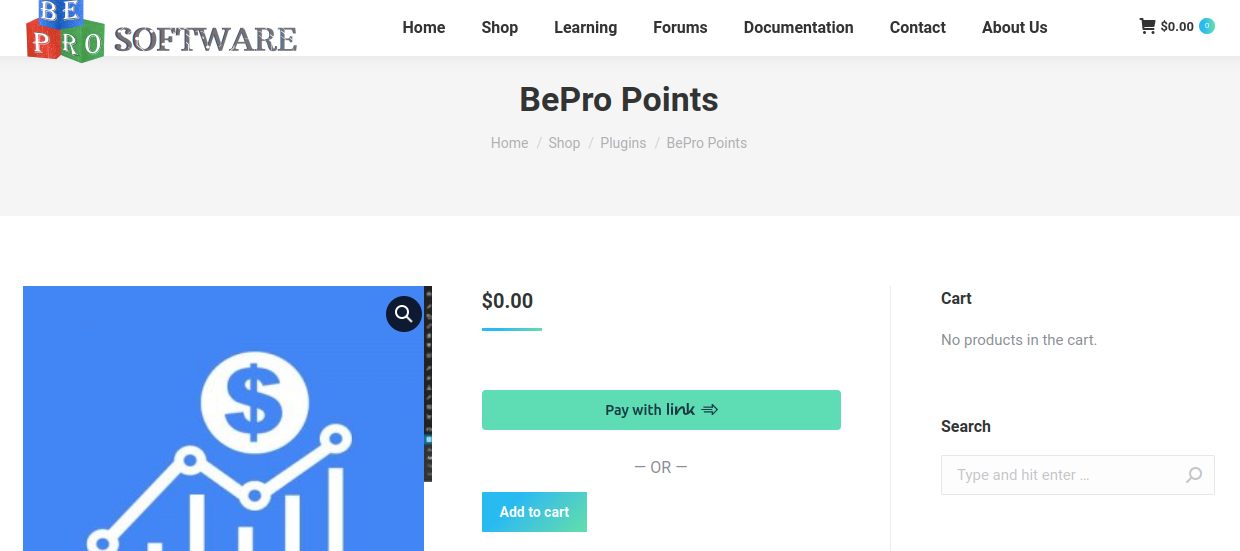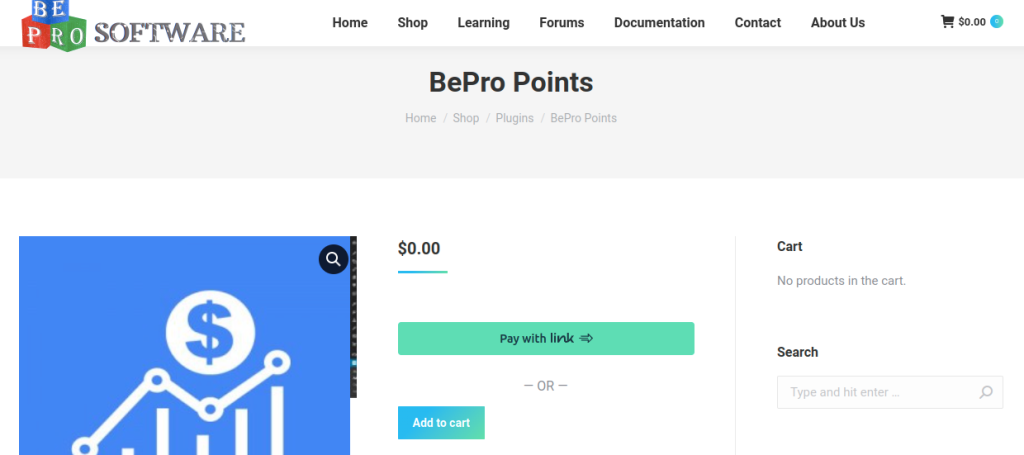 BePro plugin is another powerful WordPress gamification plugin for your WooCommerce site. With the plugin, you can add gamification modules and give your customers a seamless experience. Also, the plugin made it easy for you to actively interact with your customers by rewarding them with points.
The gamification plugin allows users to earn virtual credits for writing reviews, comments or making a purchase and redeem the same on their future purchases. One of the best plugins to convert your normal visitors into loyal customers.
Key Features:
Create a point management system for your customers.
Display the points and activities in the user profiles.
Choose one particular product category to provide rewards.
Exclude some products while offering points.
Include product details, prices and categories.
Sell both digital and tangible products.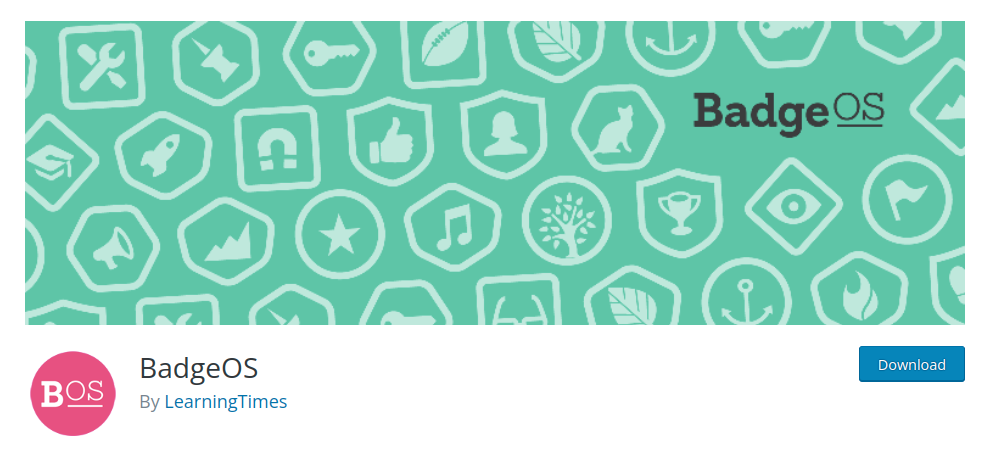 BadgeOS is one of the best WordPress gamification plugins to reward users with points, ranks and digital badges. With the plugin, you create unlimited ranks and achievements campaigns that allow you to easily engage with your audience.
The gamification plugin allows you to reward different types of points based on customer's purchase history and based on the tasks your customer completes. You can easily reward as well as detect points based on your customers' actions on the site. You can also motivate customers to complete specific tasks and earn points for the same.
Key Features:
Create multiple badges, medals, and trophies.
Create a hierarchy system that includes various rank types and rankings for your users.
Grant verified, open-badge compliant to verify users' knowledge and abilities.
Allow customers to share their badges on different social media platforms.
Send users emails when they acquire achievements, ranks, or points.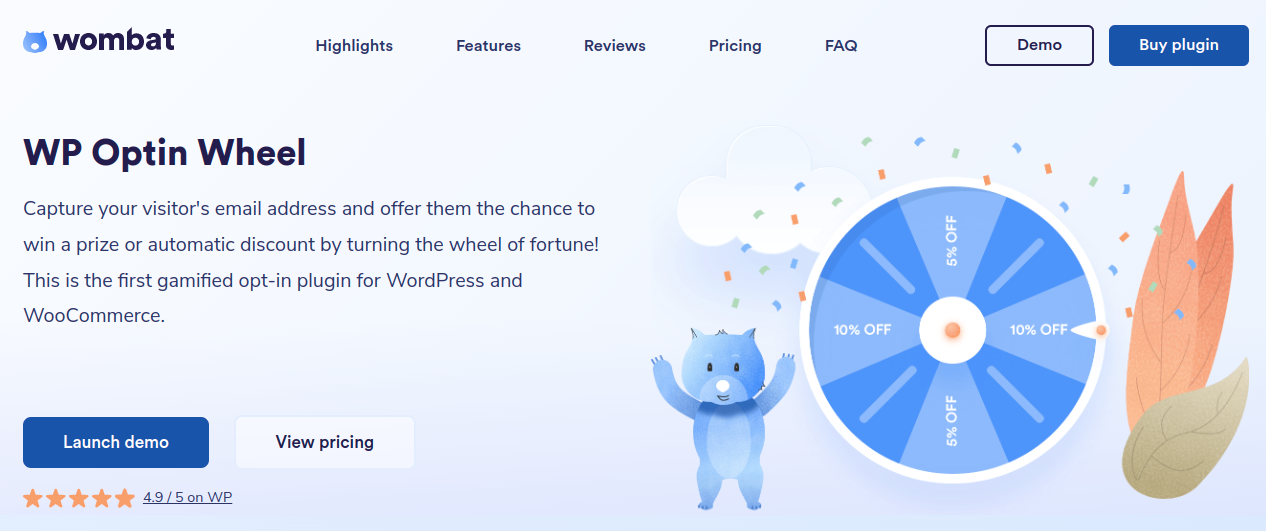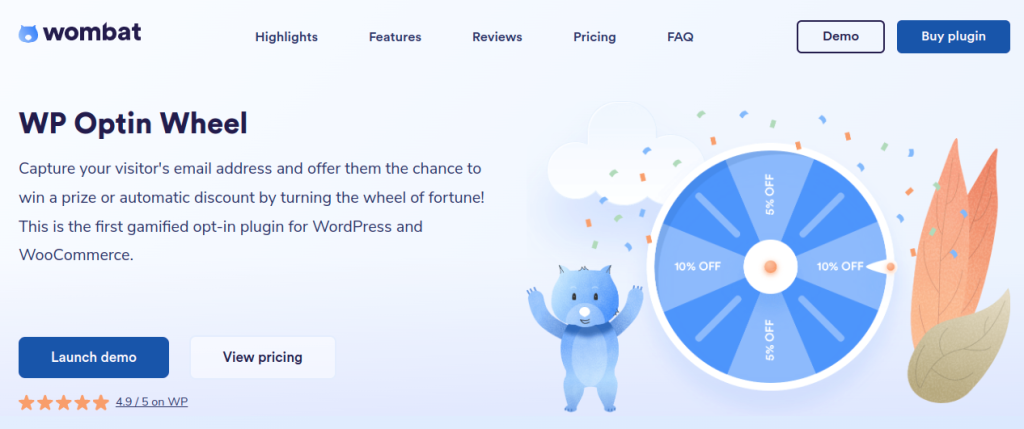 WP Optin Wheel is the first opt-in gamified plugin for WooCommerce and WordPress. The plugin allows you to capture your customer's email address and give them a chance to win exciting prizes. You can allow your customers to spin the wheel by entering their email address and earn discounts.
The plugin allows you to create your own predefined or custom theme based on your store's style. It also gives you a customization option to edit the slice color, background image and much more. WP Optin wheel integrates seamlessly with Woo coupons that allows you to generate coupon code automatically.
Key Features:
Allow customers to receive an email whenever they win or lose.
Easily decide which user has to win and lose.
Prevent anyone from joining your list by identifying false or invalid email addresses.
Before players are added to your email lead program, add checkboxes and make sure they are checked.
When a player wins, pop confetti, or play tick sounds when the wheel spins.
integrates WPML or Polylang with your multilingual store.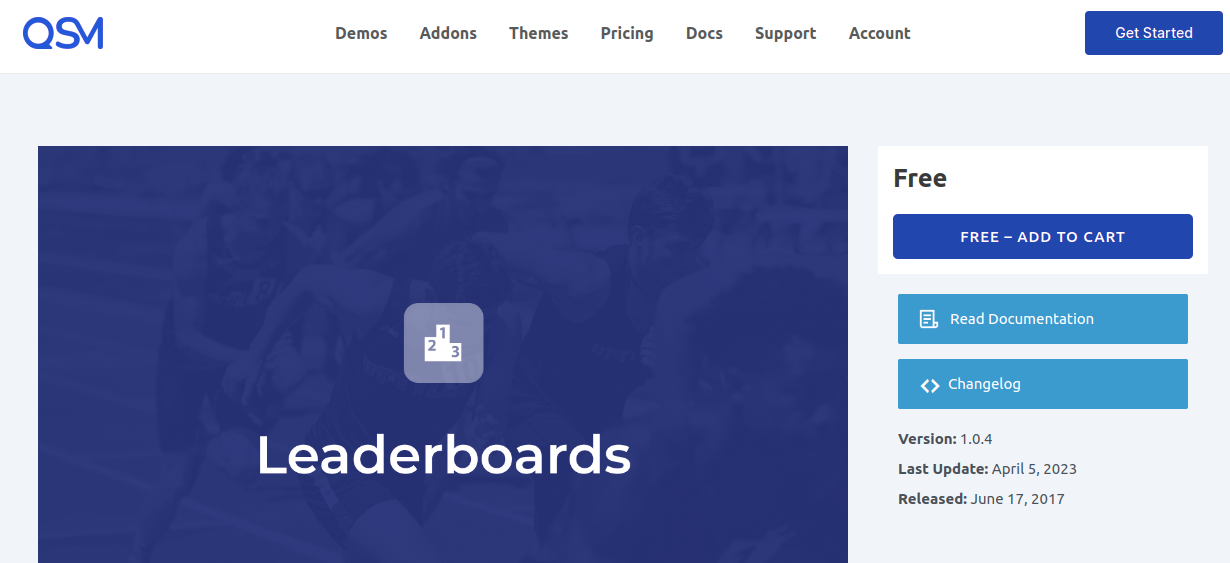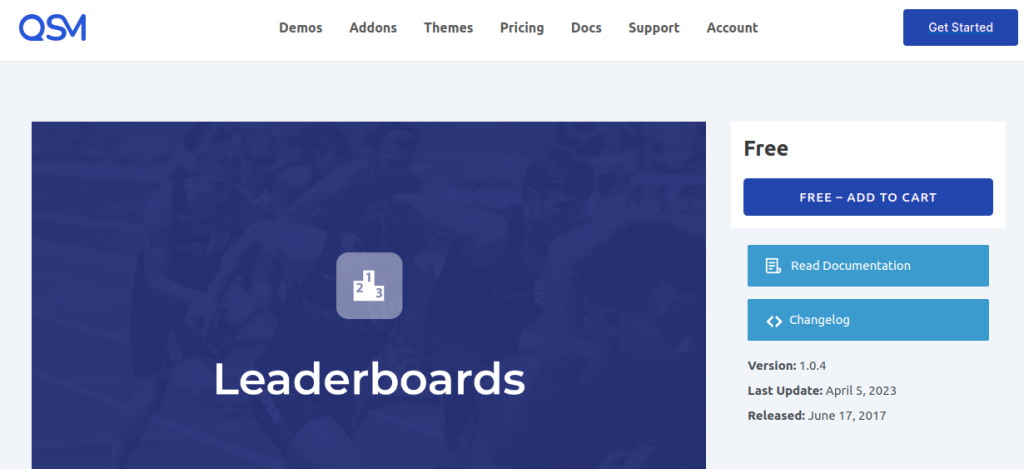 QSM Gamified Quizzes and Leaderboards is a plugin designed for the WordPress-based quiz management system. This plugin enhances the user experience by adding gamification elements to the quizzes and surveys created through QSM.
This is one of the excellent plugins for anyone looking to add gamification elements to their quizzes and surveys created through QSM. The plugin is easy to use, customizable, and provides a fun and engaging experience for users.
Key features:
Add gamification elements such as badges, points.
Create quizzes and surveys using QSM.
Offer rewards whenever customers complete the quizzes.
Add leaderboards, to display the top scorers for each quiz or survey.
Provides various customization options for gamification elements.
Send email notifications to users when they earn a badge, reward, or achieve a high score.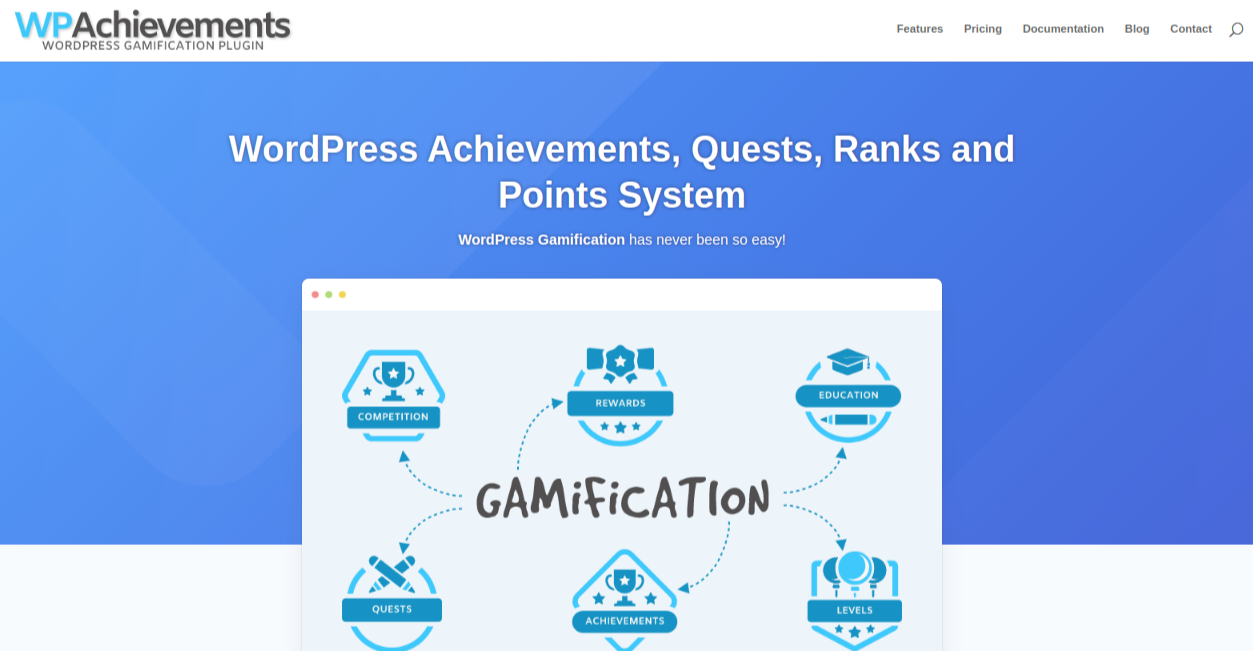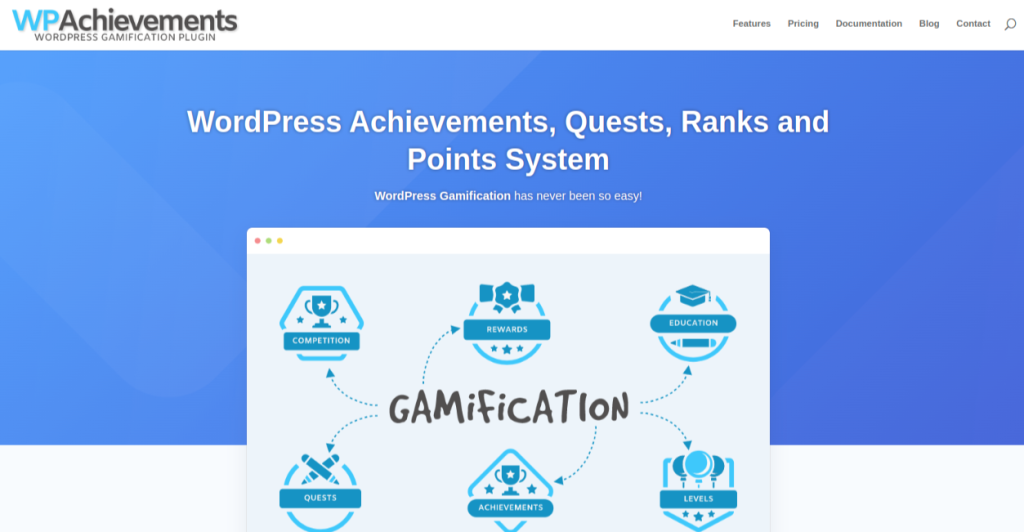 WPAchievements is a gamification plugin for WordPress that allows you to add game-like features and rewards to your website to increase engagement. The plugin is ideal for businesses, e-learning platforms, and community websites looking to create a more immersive user experience.
Using WPAchievements gamification plugin you can increase user engagement and drive conversions. The plugin offers a range of features, including points, badges, rewards, leaderboards, and third-party integrations, all of which can be customized to fit your needs and preferences.
Key features:
Send instant popup notifications to users whenever they unlock an achievement or solve quests.
Display an interactive progress map, to encourage users to complete quests.
Allow customers to unlock achievements by entering special activity code.
Create shortcodes with the right parameters without any code knowledge.
Users can view the milestones they were not able to achieve.
Limit access to content depending on completed quests, achieved accomplishments, or user levels.
How to Choose The Best WordPress Gamification Plugin?
When it comes to choosing the best WordPress gamification plugin, there are several factors to consider. Here are some tips to help you choose the best gamification plugin for your needs:
Compatibility
The first thing you should consider when choosing a gamification plugin is compatibility. Make sure the plugin is compatible with your website or application's platform, and that it doesn't conflict with any of your existing plugins or custom code.
Features
Consider the features offered by the plugin. Look for features that align with your goals, such as point systems, leaderboards, badges, and challenges. Also, look for features that allow for customization, such as the ability to create your own badges or challenges.
User Experience
Consider how the plugin will affect the user experience. Will it enhance the user experience, or will it detract from it? Look for plugins that are easy to use and understand, and that don't overwhelm or confuse users.
Support
Make sure the plugin you choose has good support. Look for plugins that have documentation, tutorials, and a support team that can help you if you run into any issues.
Reviews
Finally, consider the reviews of the plugin. Look for plugins with positive reviews and high ratings, and read through the reviews to get an idea of what other users think of the plugin.
Gamify your plugin using WPLoyalty and start converting visitors into customers.
Conclusion
WordPress Gamification plugins can be a great way to increase engagement and user interaction on your website. Whether you want to reward your visitors for completing certain actions or simply make your site more fun to use, there are many great options available. From simple point systems to full-fledged games, the plugins we've discussed here offer a range of features to suit any need.
When choosing a gamification plugin for your site, it's important to consider what you want to achieve and which features are most important to you. Do you want to encourage social sharing, drive more traffic, or simply make your site more enjoyable to use?
Overall, installing a gamification plugin on your WordPress site can be a fun and effective way to boost engagement and drive more traffic. By choosing the right plugin and implementing it effectively, you can create a more rewarding and enjoyable experience for your users, while also achieving your business goals. So why not give it a try today and see the results for yourself?
What is gamification in WordPress?
Gamification is the use of game design elements and mechanics in non-game contexts to motivate and engage users. In the context of WordPress, gamification typically involves adding game-like features to your website or online community to encourage user engagement..
What features should I look for in a gamification plugin for WordPress?
When choosing a gamification plugin for WordPress, you should look for features such as customizable point systems, achievement badges, leaderboards, social sharing, email notifications, and integration with other plugins and services.
Can a gamification plugin help me increase my sales?
Yes, a gamification plugin can help increase sales by incentivizing users to take specific actions on your website, such as making purchases, leaving reviews, or referring friends. By rewarding users with points, badges, or other rewards for completing these actions, you can encourage them to engage more with your site and become more loyal customers.
How do gamification plugins help with user retention on a WordPress site?
Gamification plugins can help with user retention by providing users with ongoing incentives to return to your site and engage with your content. By creating a sense of achievement and progress through points, badges, and leaderboards, users are more likely to stay engaged and come back to your site again and again.
What are some popular gamification plugins available for WordPress?
Some popular gamification plugins for WordPress include WPLoyalty, BadgeOS, GamiPress, myCred, and WP Gamification.
What are the Examples of Gamification?
Examples of gamification include loyalty programs, reward systems, progress bars, quizzes, challenges, leaderboards, and social sharing.
How Do I Gamify My Website?
To gamify your website, you can use a gamification plugin for WordPress, such as BadgeOS, GamiPress, or myCred. These plugins allow you to set up customizable point systems, achievement badges, and leaderboards, and integrate with other plugins and services to incentivize user engagement on your site.