In today's competitive eCommerce world, it's difficult to find creative ways to increase sales and engage customers. Offering free gifts is one of the proven strategies to incentivize purchases. In this blog, we've listed the top 10 best WooCommerce free gift card plugins for increasing sales and providing the best customer experience. These well-designed plugins help you offer free gifts to WooCommerce customers, incentivizing them to make purchases and increasing customer loyalty.
WooCommerce free gift plugins not only help you stand out from your competitors but also give your customers a unique and engaging experience. So, what are you waiting for? Let's dive into the best WooCommerce free gift plugins and discover how they can help you take your eCommerce store to the next level!
Use the best free gifts on WooCommerce to increase sales and revenue quickly.
Benefits of WooCommerce Free Gift Cards Plugin
The wooCommerce gift cards plugin is a valuable addition to any eCommerce store to increase customer experience and sales. With features like seamless integration and customizable gift cards, the WooCommerce free gift plugins help store owners take advantage of gift card potential. Here are some benefits of using the WooCommerce free gift plugin in your eCommerce store.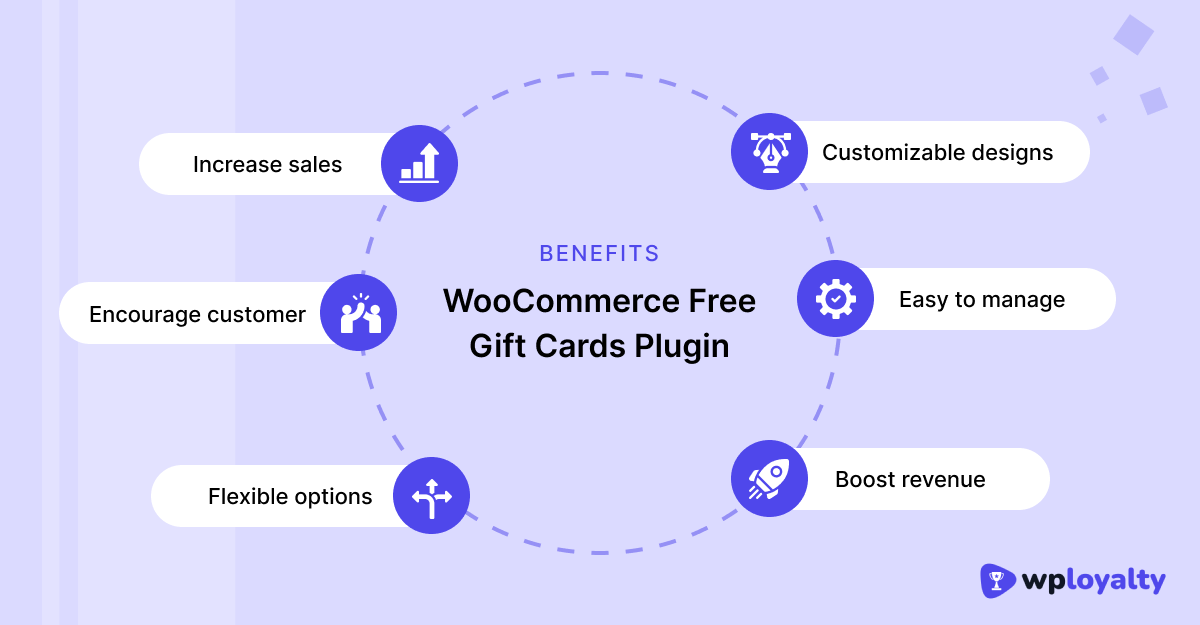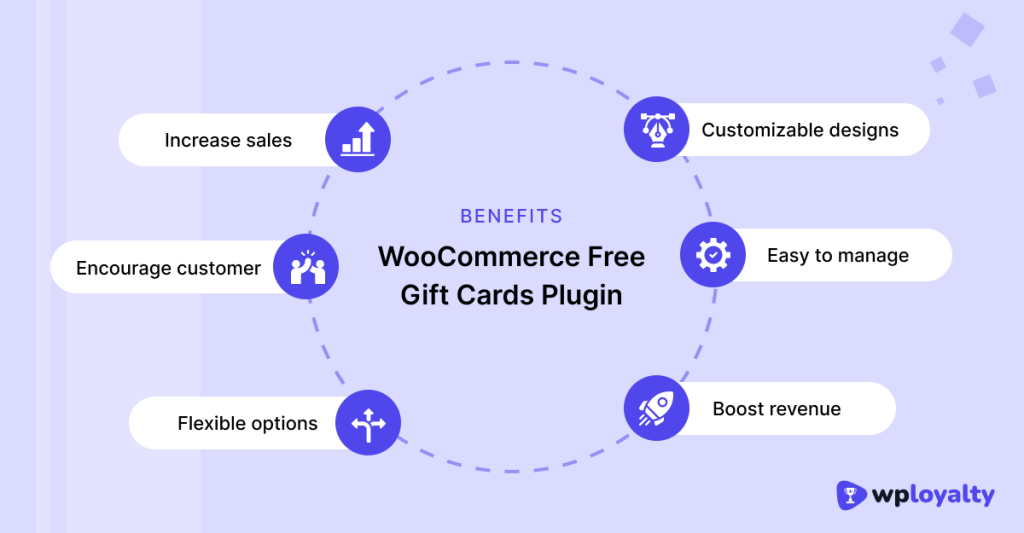 Increase sales: Gift cards are a popular choice for customers who want to give presents to their loved ones. You can attract more customers and increase sales by offering gift cards in your store.
Encourage customer loyalty: Customers who purchase a gift card from your store are more likely to return and shop again. Gift cards can help build customer loyalty and increase repeat business.
Flexible options: The WooCommerce gift cards plugin allows you to set up different options for your gift cards, such as the card value, expiry date, and design. You can also offer physical or digital gift cards, depending on your preference.
Customizable designs: The free gift plugin for WooCommerce comes with a range of customizable gift cards designs, allowing you to personalize the card to your eCommerce brand and style.
Easy to manage: With the free gift plugin, you can manage and track your gift card balances and sales easily. You can view and manage all gift card transactions from your WooCommerce dashboard.
Boost revenue: Gift cards can help you generate revenue even when customers are not actively shopping in your store. Customers may purchase a gift card for themselves or as a gift which can help boost your revenue.
Overall, the WooCommerce gift cards plugin is a useful tool for any online store looking to increase sales, build customer loyalty, and offer flexible gift card options to customers. Try it out and see how powerful it can be in helping your online store grow.
Best WooCommerce Free Gift Plugins to increase sales
WooCommerce is a famous eCommerce stand for online businesses. Giving out free gifts is excellent for attracting potential customers and boosting sales. With various free gift plugins available in the market, getting the right one for your eCommerce store may be challenging. Here's the list of WooCommerce gift card plugins that helps you boost your sales and pick the right one according to your business needs. Let's get started.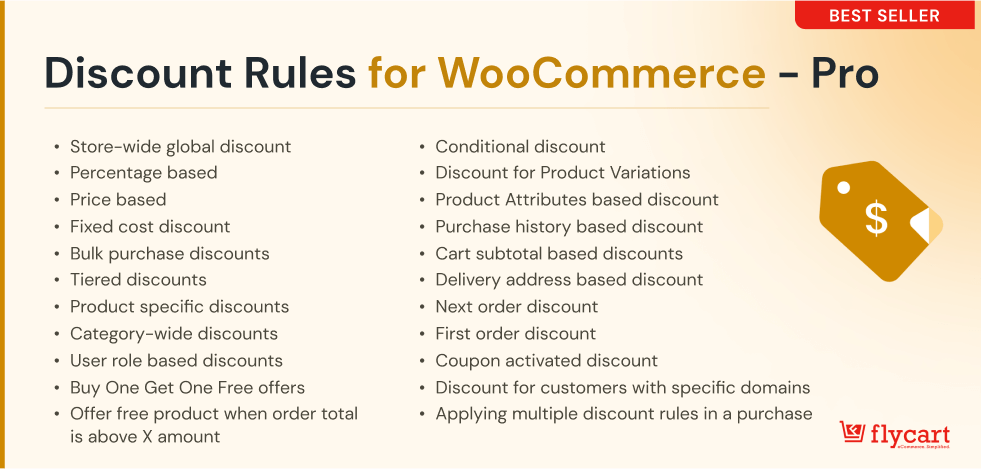 Discount Rules for WooCommerce is a powerful plugin that offers Buy one get one free in WooCommerce. This plugin allows you to easily offer BOGO deals for the same product (Buy X Get X) or different products (Buy X Get Y). Moreover, you have flexible options to provide BOGO offers for all the products, particular products, specific categories, or attributes in your WooCommerce store.
WooCommerce Discount Rules lets you offer a free product based on the subtotal value of the customer's purchase. By giving free products, you can attract potential customers and eventually increase your online sales.
Features:
Provide Buy one get one free, Buy 2 get 1 free, or Buy 3 get 1 free offer.
Offer Buy one get one free only for specific user roles.
Offer free products for the minimum amount spent by the customer.
Give free products based on the purchase history of your customers.
Offer free products for purchasing in a specific time period.


Free Gifts for WooCommerce by FantasticPlugins is a free gift plugin for WooCommerce that allows you to offer free gifts to your customers when they purchase specific products or spend a certain amount on your store. The WooCommerce free gift plugin lets you set up rules for the free gifts, such as the minimum order amount required to receive the gift and the quantity of the free gift that will be given out.
With the Free Gifts for WooCommerce plugin, you can create multiple rules for different products and offer various types of free gifts to your customers, such as free products, digital downloads, or discount coupons. The plugin also includes features like automatic gift generation, customizable email notifications, and the ability to exclude certain products from the promotion.
Features
Reward Free Gifts for every purchase
Automatically add free gifts to the user's cart
Customers get a chance to select their Free Gifts
Admin has the ability to create an unlimited amount of rules in advance
Configure Free Gift rules based on Cart Subtotal or Quantity.
Provide Free Gifts to any user
Customize the maximum number of Free Gifts per order
Pricing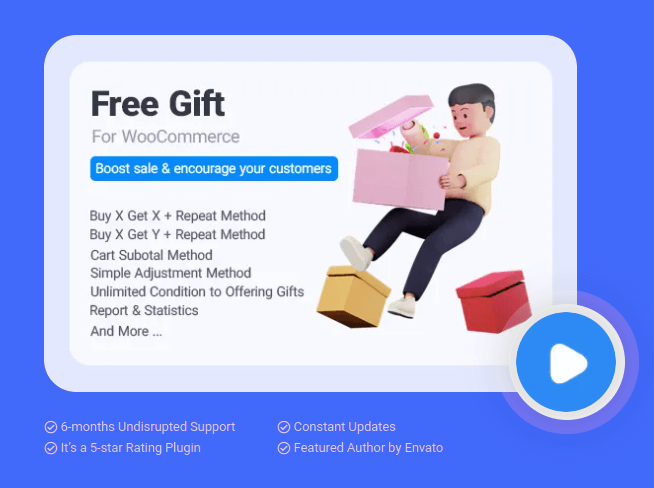 Free gift plugin for WooCommerce is one of the effective plugins to attract and encourage customers to spend more revenue on your store. To do this, you can offer exciting discounts and freebies.
Rewarding customers' free gifts proves that you value their presence and appreciate their effort. Free Gift for WooCommerce Plugin allows you to offer BOGO deals, add free gifts that can be added to your cart automatically, and so on.
Features
Unlimited Free Gifting Rules
Buy X Get X Free Gifting Method
Bulk Quantity Gifting Method
Tiered Quantity Gifting Method
Offer Gift Products Based on Individual Products
Offer Gift Products Based on Individual Variations
Offer Gift Products Based on Category Quantity
Pricing
Annual Plan – $49
Lifetime Plan – $99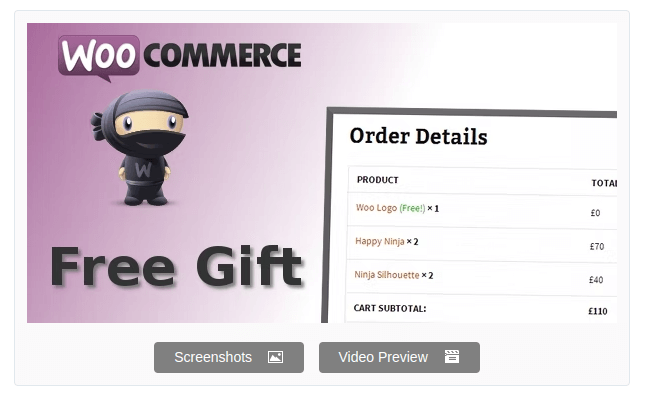 WooCommerce Free gift plugin by Themegrids is another best option to give away products and encourage customers to spend more than a certain value on your store. With this plugin, you can choose any one product as a gift product. On the other hand, you can also allow customers to choose their gift from a certain category according to the cart price.
You get the chance to offer free gifts to all your customers or only for the registered customers. Also, you can set the spending limit for customers to receive free gifts.
Features
Specify a single product as the gift
Allow customers to choose their gift
Restrict gifting the same customer twice
The gift might be a specific product variation
You can set the two levels of gifts according to the order price
Can exclude Specific products or categories
Pricing
Regular License at $18
Extended License at $145
Boost your sales today with the best WooCommerce free gifts.

Bonanza – WooCommerce Free Gifts Lite is another best WooCommerce free plugin to increase sales. This plugin allows you to run free gift promotions and encourage customers to spend more money with your brand.
You can run special free gift campaigns with the Bonanza plugin. For example, Buy 'X' Get 'X' Free. You can also set up a free product for every purchase your customers make. The specified free gift will always be added to your customer's cart, regardless of the shopper's purchases. Additionally, you can set a cart value limit to get a free gift. This way, you can increase sales and revenue.
Features
Offer gifts on items with certainly specified tags
Offer gifts when customer purchase from a specific payment gateway
Schedule the free gift campaign
Reward free gift on your customers' first order
Reward free gift on the coupon code used
Reward free gifts based on the order goals
Pricing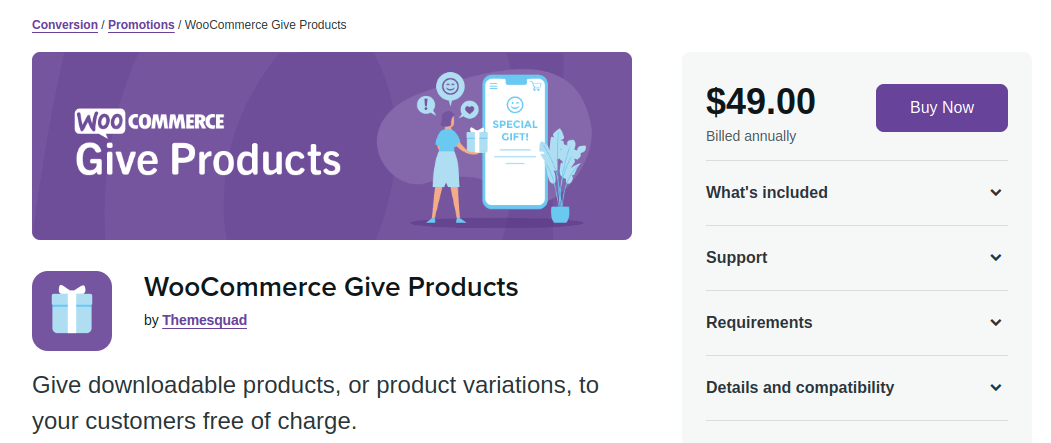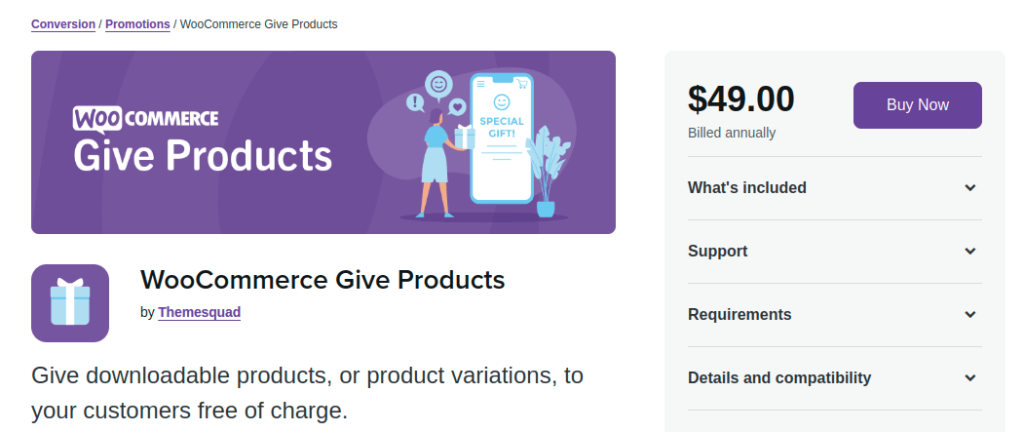 WooCommerce give products by Themesquad allows you to gift a product for free to customers. One of the main advantages of the plugin is that you can enable customers to get the product without going through the checkout process.
This plugin has an easy user interface and is easy to manage. Just select the customer and the free product you want to offer, rewarding a free product is just done in a few simple clicks.
Features
Easy configuration
Simple giveaway process
Automatic discount
Flexible settings
Customizable messages
Compatible with other plugins
Pricing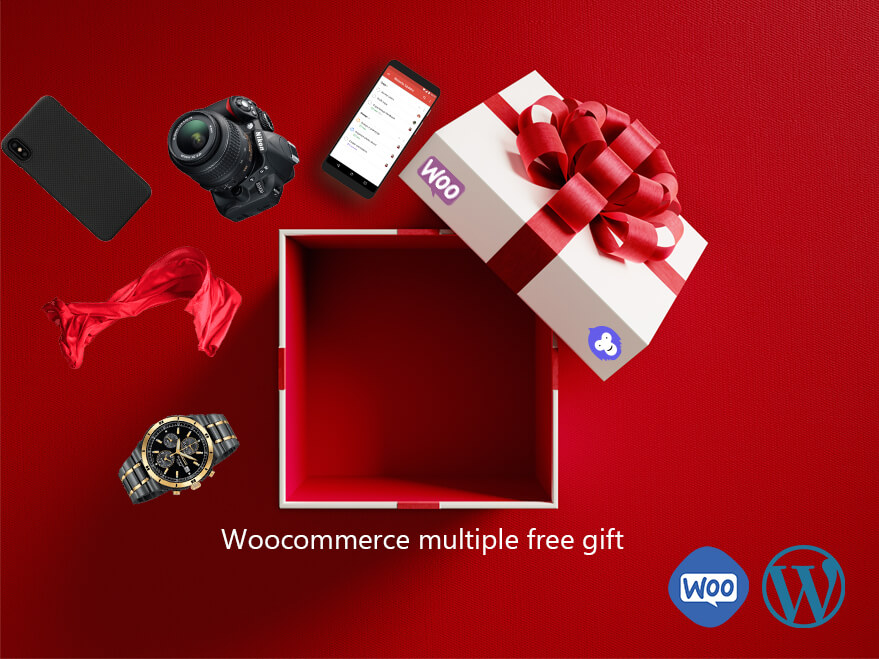 The WooCommerce Multiple Free Gift Plugin PRO is a premium plugin that offers advanced features for store owners who want to offer multiple free gifts to their customers. This plugin provides a flexible and effective way to incentivize customers to make purchases, increase sales, and improve customer satisfaction and loyalty.
One of the key features of this plugin is the ability to offer multiple free gifts based on different criteria. For example, a store owner can offer one free gift for customers who spend a certain amount, another free gift for customers who purchase a specific product, and a third free gift for customers who belong to a particular customer group.
Customers can select the free gift they want from a list of available options when they meet the criteria for the free gift offer. This feature helps increase customer satisfaction and engagement by allowing customers to choose the free gift that they find most appealing.
Features
Multiple free gifts
Gift selection
Customizable gift options
Advanced gift rules
Flexible criteria
Customizable messages
Pricing

Gift Cards for WooCommerce Pro is a powerful tool that helps store owners sell gift cards on their WooCommerce store. This plugin offers a comprehensive solution for gift card sales with customizable gift card templates, flexible pricing options, and multiple delivery options.
Its automatic gift card generation, balance tracking, and gift card usage restrictions features provide a seamless experience for both store owners and customers. Integration with other WooCommerce plugins and detailed reporting makes it easy to use and manage.
Features
Customizable gift card templates:
Flexible pricing options
Multiple delivery options
Customizable email notifications
Automatic gift card generation
Balance tracking
Gift card usage restrictions
Pricing
One site plan for $79
Five site plan for $189
Ten site plan for $259
Increase customer loyalty and sales with these powerful WooCommerce free gifts.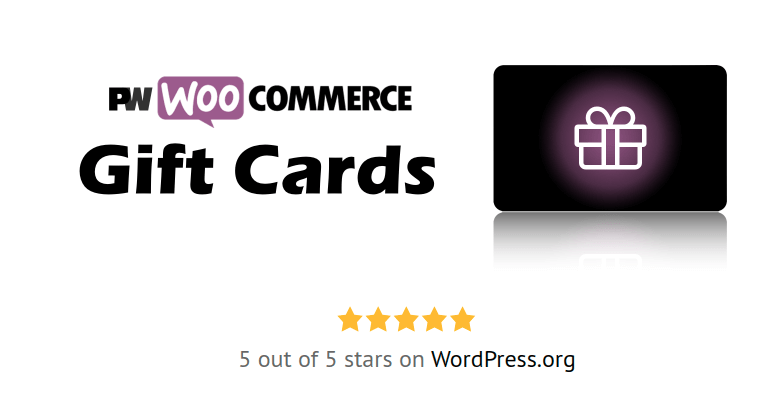 PW WooCommerce gift cards plugin is one of the best free gift card plugins to increase sales naturally. It makes it easy for you to sell gift cards to your customers who visit your store and make a purchase. On the other hand, this plugin is easy to install and get started. You can start selling gift cards for your WooCommerce store in minutes as soon as you install the plugin.
Features
Customers can specify the amount, recipient, message, and delivery date during the purchase.
Elegant Emails
Email Designer
Order Integration
Customers can quickly check their gift card balance
Easy customization to meet your needs
Bonus gift cards available. For example, if you purchase a gift card for $25, you will get another gift card worth $5 free.
Pricing
$79 for One site
$109 for Five sites

Buy One Get One(BOGO) is one of the best plugins for every eCommerce store. This plugin can clear out and move inventory and generate more cash. Customers have to purchase more to get the offer, so this will naturally increase your revenue and sales.
You can easily set the promotion's start and end date. The plugin provides a shortcode that helps display the available gifts in any page. Also, you can easily apply offers/promotions to product categories, particular products, or every product in your store.
Features
Customize your customers' purchasing decisions.
Add a free product automatically to the cart when the customer buys two products.
Allow the customer to choose a product for free.
Add automatically one product of the same product that the customer purchased.
Create unlimited offers as you wish
Set the minimum amount that a customer needs to purchase to avail free gift.
Restrict how many times a user can utilize a promotion.
Provide offers for particular user roles.
Pricing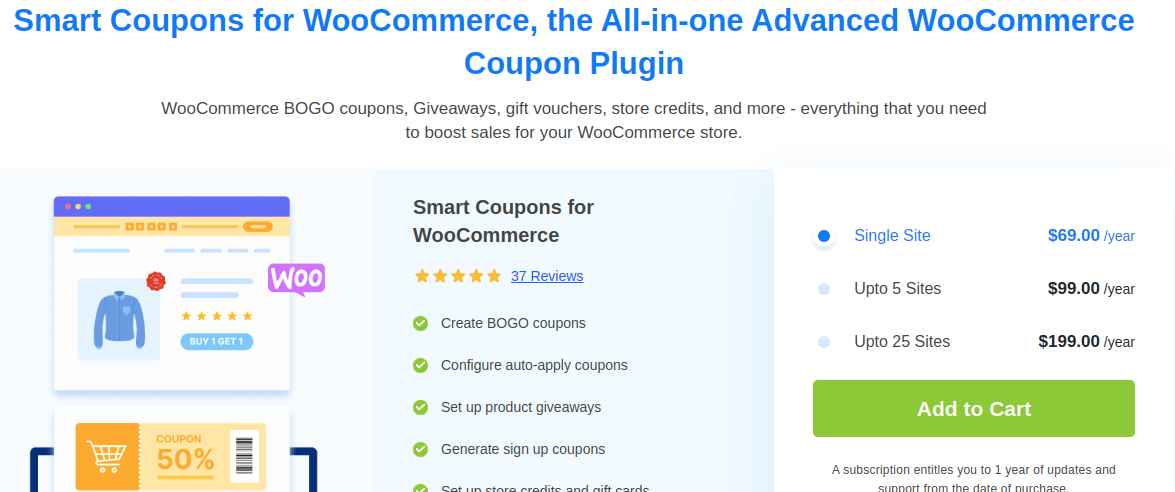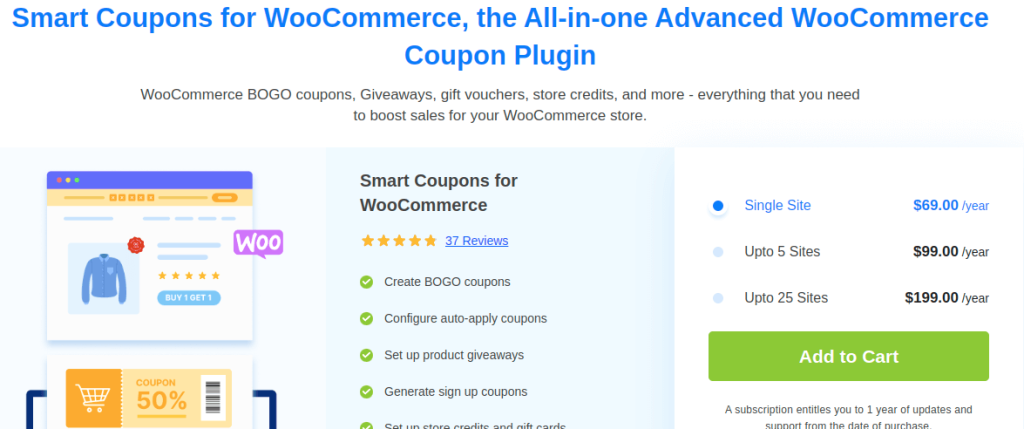 Smart Coupons plugin for WooCommerce is one of the best gift plugins. With this plugin, you can create gift cards and vouchers for customers to purchase products from your store. To create a gift card, you can create a coupon and set the discount amount to the value of the gift.
For example, if a customer purchases a $50 gift card, you can create a coupon with a discount of $50. The customer can then use this coupon to buy products from the store. Smart Coupons also allow store owners to set up expiration dates for their gift cards, and this ensures that customers use their gift cards before they expire.
Features
Create different kinds of coupons
Create Different types of BOGO discounts with coupon conditions
Create a combination of coupons
Ensure a maximum or minimum sales
Increase conversion with customizable coupons and coupon banners
Automatically generate coupons
Pricing
$69 for One site
$99 for Five sites
$199 for Twenty-five sites
Unlock the Power of Free Gifts and Boost Your Sales with the Best WooCommerce Plugins
Conclusion
If you're looking to boost your sales and attract more customers to your WooCommerce store, implementing a free gift strategy can be a game-changer. With the help of the 10 best WooCommerce free gift plugins we've covered in this blog, you can easily set up free gifts and incentives for your customers.
Whether you're looking to reward loyal customers, upsell your products, or increase your conversion rates, these plugins will keep you covered. So why not give them a try and see how they can benefit your eCommerce store? With the right free gift plugin, you might just be surprised at how quickly your sales and revenue can grow.
Choose the best WooCommerce free gift plugins today according to your business needs and grow your business to the next level.
How do I give a free gift on WooCommerce?
To give a free gift on WooCommerce, you can use a free gifts plugin, like WooCommerce Free Gift. These plugins allow you to set up free gifts for customers and meet certain criteria, such as making a purchase over a certain amount or buying a specific product.
What is the best gift card plugin for WooCommerce?
The best gift card plugin for WooCommerce depends on your specific needs and preferences. WooCommerce Ultimate Gift Cards plugin allows you to offer gift cards in your store and customize them to fit your brand.
How do I add a gift in WooCommerce?
To add a gift in WooCommerce, you can use a free gifts plugin such as WooCommerce Free Gift or Advanced Coupons for WooCommerce. These plugins allow you to set up rules for when a free gift is added to a customer's cart, such as purchasing a certain amount or a specific product.
Are WooCommerce plugins free?
Not all WooCommerce plugins are free, but many free plugins are available in the WordPress plugin repository. However, some premium plugins may require a one-time or recurring fee to access their full range of features.
Why do customers want free gifts?
Customers want free gifts because it makes them feel appreciated and valued by the store. It also provides an added incentive to make a purchase and can encourage repeat business.
Why are Free gifts attractive?
Free gifts attract customers because they provide a huge benefit and can make them feel like they're a part of your business, thus strengthening the bond between your brand and the customers.
Do consumers prefer free shipping or discounts?
Consumers usually prefer free shipping or discounts as it saves their money and simplifies the checkout process. Discounts encourage customers to stick with your brand and choose your brand over competitors.