Are you seeking the best WooCommerce product recommendation plugins?
Today's eCommerce industry is highly competitive, you need to showcase products effectively to stand out in the market. The product recommendation plugin helps your store to display products using different features like upsell, cross-sell, show related products, product slider, and more.
In this article, you will find out the top product recommendation plugins for your WooCommerce store.
What is a WooCommerce Product Recommendation Plugin?
WooCommerce Product Plugin is a powerful tool that recommends products to customers on their checkout page based on their behavior, purchase history, and preferences. It suggests related products, items frequently bought together, and personalized recommendations tailored to each customer.
The main purpose of WooCommerce recommended products plugin is to present customers with products they are more likely to be interested in, thereby increasing the chances of conversion and cross-selling.
Ready to take your sales to the next level? Enroll loyalty program and double your revenue instantly with WPLoyalty!
Benefits of WooCommerce Product Recommendation Plugins
Product Recommendation plugins help you increase average order value of your customer's purchase and boost sales. They can give a number of benefits to your online store. Let's discuss each benefit in detail.
Increase Average Order Value: When you suggest additional products that match your customers' interests, they are more likely to buy them. This means they will spend more money on their purchase, increasing the average order value. By using this strategy, you can boost your earnings and make the most out of each customer's shopping experience.
Happy Shopping Experience: By suggesting the products customers might have forgotten, you provide a satisfying and joyful shopping experience on your online store. Customers who discover these relevant recommendations feel happy with their shopping journey.
Earn Customer Loyalty: Suggesting relevant products makes customers feel you understand and value them. When your customers enjoy shopping with your brand, there is a high chance that they will become your loyal customers.
Repeated Purchases: By consistently providing valuable product recommendations, the plugin reminds customers of your brand's presence and encourages them to return for additional purchases. Repeated purchases will earn customer loyalty and strengthen relationships with your customers.
Competitive Advantage: The exceptional shopping experience you provide to your customers makes you stand out from your competitors. By using product recommendation plugins, you can make shopping easier for them. You can stay ahead in the market by focusing on making your customers' shopping experience great with product recommendation plugins.
Boost sales: Boosting sales is easy with such plugins. These plugins suggest products your customers will love, encouraging them to buy more. By personalizing the recommendations based on what your customers like and how they shop, the plugins will encourage customers to return to your store and boost sales.
Best WooCommerce Product Recommendation Plugins
In the below section, we have listed top product recommendation plugins to enhance the visibility of your products and boost your eCommerce store's sales.
Post Purchase Upsell and Order Bump for WooCommerce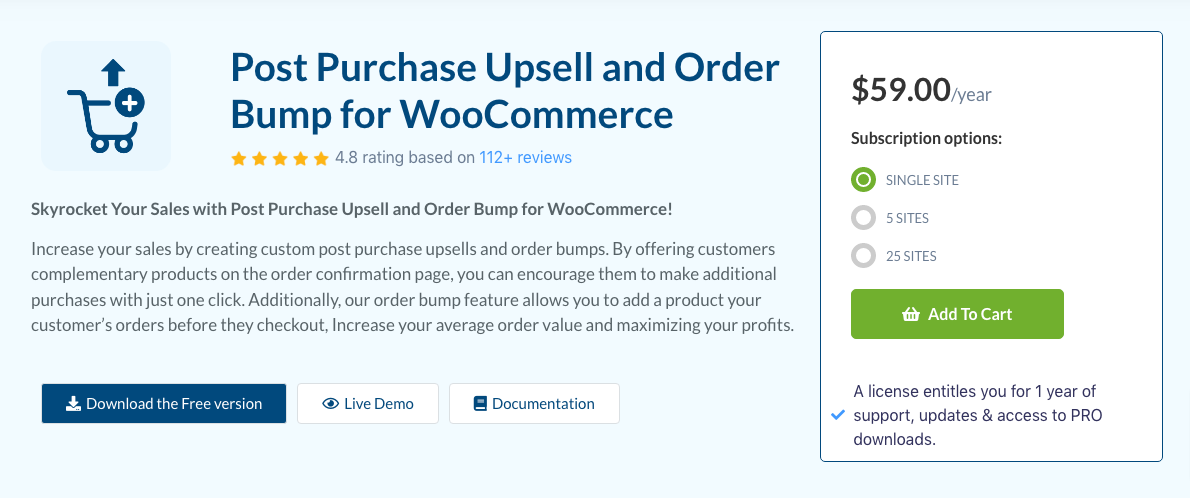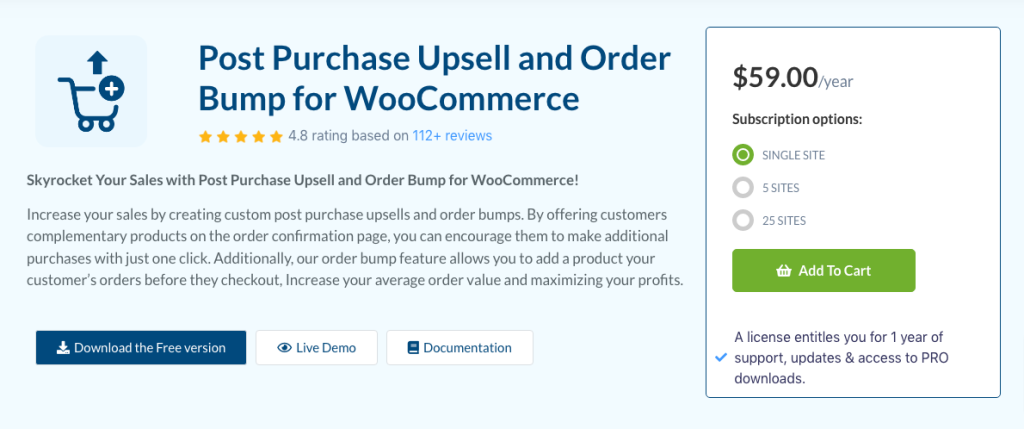 Flycart's Post Purchase Upsell and Order Bump for WooCommerce is one of the best WooCommerce Product Recommendation Plugins. With just a single click, your customers can add upsell products to their cart, maximizing their purchase and adding value to their order. It provides a seamless and convenient shopping experience for your customers, which increases customer loyalty leading to more purchases in your online store.
The plugin allows you to easily set percentage discounts, fixed discounts, or no discounts for your offers. This helps you to provide attractive deals and encourage your customers to add the product to their purchases. Eventually, the average order value of the purchase will increase.
The notable feature of this plugin is its flexibility. You have options to apply restrictions to each offer based on specific products, categories, cart subtotal, and cart items. So you can upsell the exact preferences that your customer wants.
Don't settle for boring upsells! With the Post Purchase Upsell plugin, you can customize the page, add attractive images, and create personalized offers for your customers. This plugin helps you catch their attention and make tempting recommendations, encouraging them to add more to their purchase. Say goodbye to dull upsells and impress your customers with exciting offers using this powerful plugin.
When customers reach the cart page, using a product recommendation strategy, you have the opportunity to prioritize and display relevant product recommendations along with special offers. This helps guide their purchasing decisions and encourages them to explore additional products that align with their interests.
Features:
Customers can add products to their cart with one click.
Offer a fixed discount, percentage discount or no discount for the Upsell products.
Choose the display position for upsell offers.
Prioritize and recommend products.
Track the Upsell Campaigns.
Set usage limits based on the offer or user.
Compatible with WordPress and WooCommerce.
Set offer limits based on product, category, cart subtotal, and cart items.
Additionally, the plugin provides comprehensive reports and analytics. These insights allow you to evaluate the performance of each campaign, track the effectiveness of your offers, and identify areas for improvement.
Overall, the plugin's features of providing single-click upsell offers, setting discounts, applying restrictions, scheduling campaigns, and utilizing reports and analytics offer you the tools and capabilities to create targeted and successful promotional campaigns, increase customer engagement, and drive revenue growth for your business.
Experience the power of loyalty programs and witness the impact on your sales and revenue with WPLoyalty.
Product Recommendations by WooCommerce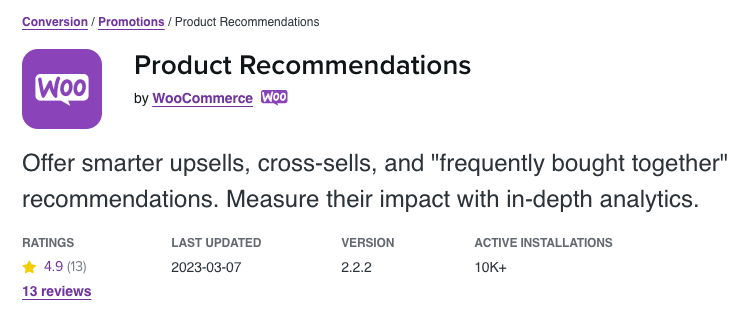 Product Recommendations plugin by WooCommerce is a complete package to create cross-sell, up-sell, frequently bought together, product recommendations, and more. With these features, store owners can display product recommendations on any page of their store site.
The plugin will help you set rules for product recommendations in WooCommerce. You can improve the shopping experience storewide by placing relevant recommendations at a strategic location.
Highlights
Build frequently bought-together recommendations
Create up-sell or cross-sell product recommendations for bulk products
Enable recently viewed products on the checkout page
Create product recommendations for individual product page
Price
Premium Plugin Price – Starts from $99/year.
Related Products for WooCommerce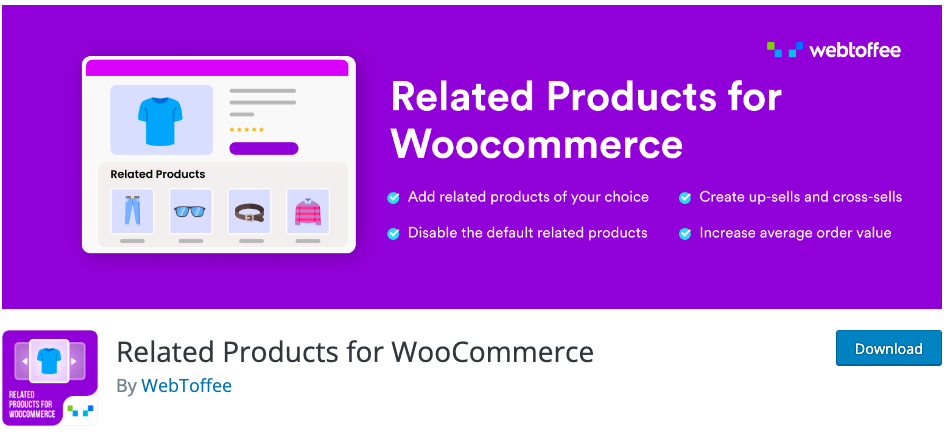 Related Products for WooCommerce plugin is the best tool to feature relevant items and recommend products on your WooCommerce store. It allows you to display relative products on a specific product page and encourage customers to purchase extra items in a place.
You can feature relative products based on tags, and categories, and choose any products. This free plugin helps you generate and feature customer-favorable products on respective pages. As a result, this will increase sales on your online store.
Highlights
Create related products for storewide
Exclude out-of-stock products from displaying related products
Feature-related products in a slider
Compatible with WPML
Recommendation Engine

The recommendation Engine plugin is a powerful tool to create product recommendations that's similar to Netflix and Amazon-style in your WooCommerce customers. The plugin will let you auto-suggest products for customers. It works based on purchase history, frequently bought together products, and so on.
The plugin offers unique styling of product recommendations based on product views and purchase history. The plugin creates a separate widget for showing relevant products to customers.
Highlights
Create automated cross-sell or up-sell products
Display product recommendations based on user parameters
Showcase frequently purchased products attractively
Uses customers' purchase history data to determine product recommendation
Price
Premium Plugin Price – Starts from $79/year.
Products of the Day for WooCommerce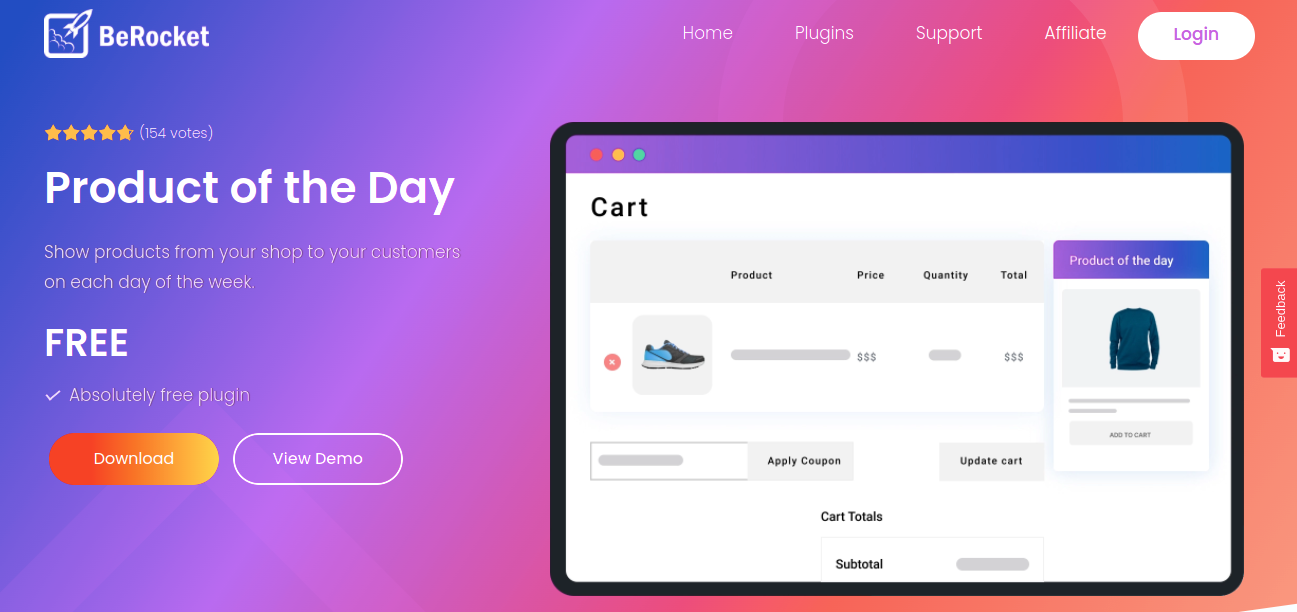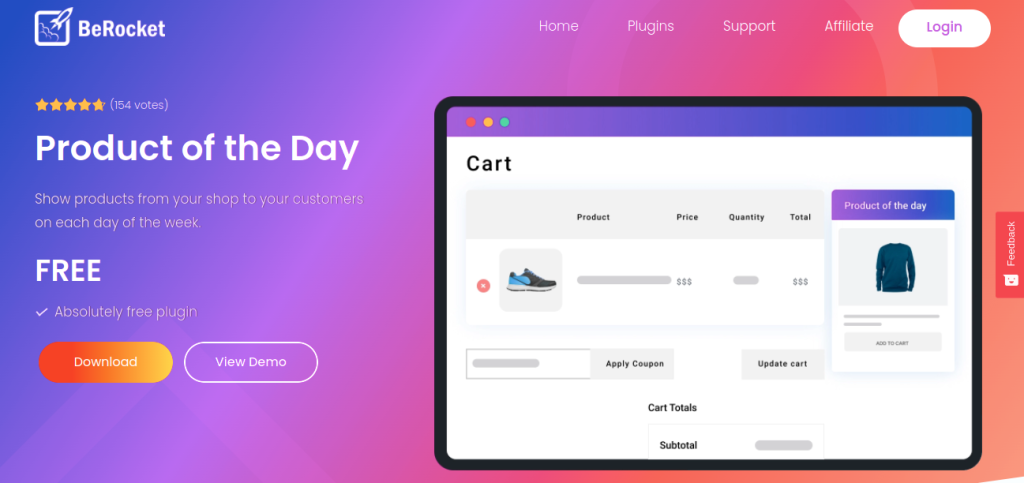 BeRocket Product of the Day promotes your shop's products to customers every day by selecting specific items through the settings page. Customize the sorting of products with a drag and drop system, and display them effortlessly using widgets and shortcodes with the option for further customization.
Take advantage of this feature to engage customers with a variety of products throughout the week. Whether it's highlighting new arrivals, seasonal specials, or customer favorites, you have the flexibility to showcase your chosen products seamlessly through widgets and shortcodes, all while maintaining a customized sorting order for an optimal shopping experience.
Highlights
Unique Daily Custom Products: Enhance eCommerce with personalized items.
Widget & Shortcode Integration: Display daily products effortlessly.
Eye-catching Product Thumbnails: Engage customers visually.
Quick "Add to Cart" Functionality: Streamline the purchasing process.
Customizable Product Counts: Tailor widget displays as desired.
Price
Free Plugin
WooCommerce Best Sellers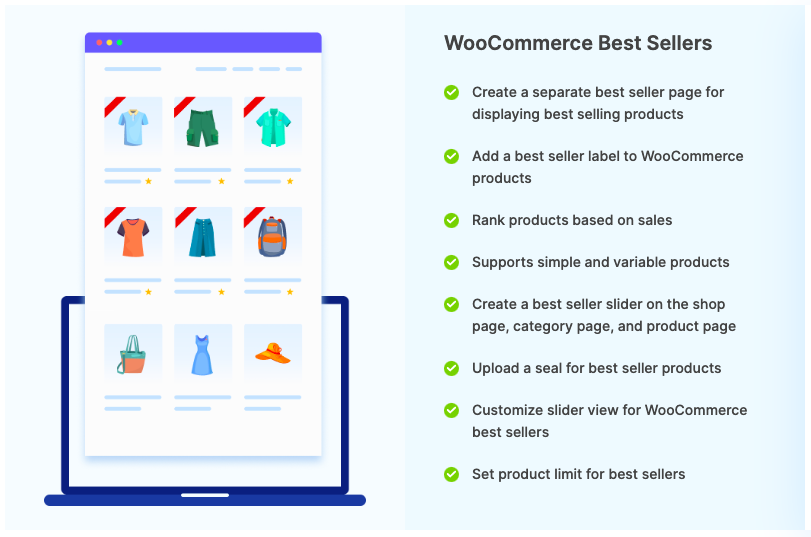 WooCommerce Best Sellers plugin is one of the top WooCommerce product recommendation plugins to display chosen products for customers with custom badges. This plugin will let you create product sliders to highlight best-selling products and provides quick access to the best-selling products.
The plugin allows you to display top-selling products based on two conditions: total sales count and choosing a custom past sales of days, weeks, or months. You can also manage how many products to display inside the best-seller slider in the WooCommerce store.
Highlights
Use the best seller slider on the shop page, category page, or single product page
Apply best-seller thumbnails to the product listing
Create conditional based best seller slider like disabling thumbnail and using product slider alone for minimalist webpage
Exclude out-of-stock products from displaying best-seller products
Price
Premium Plugin Price – Starts from $49/year.
WPC Smart Compare for WooCommerce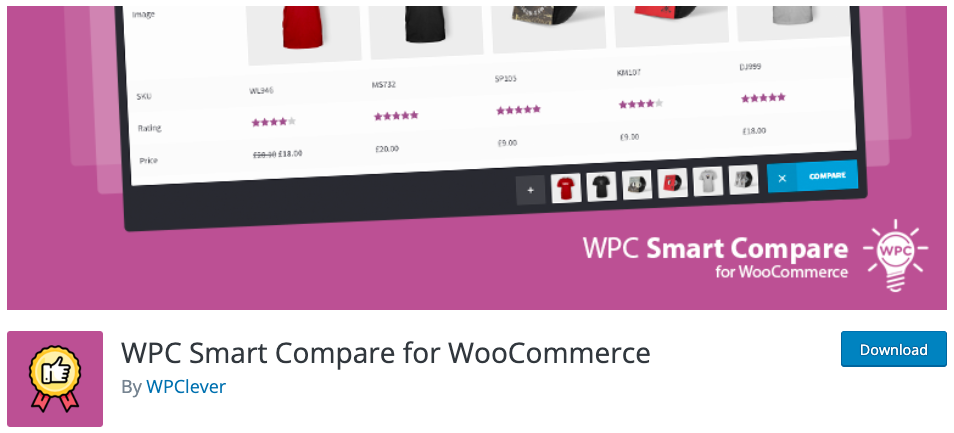 WPC Smart Compare for WooCommerce is a great product comparison tool that allows users to compare and showcase products to determine the best one for them. The plugin will also help you create a category-based comparison product list for customers.
You can choose and insert an icon for the compare button to notify whether or not you are down with comparison. You can also choose fields that you want to show on the comparison table.
Highlights
Rearrange products ascendingly or descendingly in the line of the comparison table
Enable or disable the comparison table for related products quickly
Simply click the search button to add new items to the comparison list
Creates responsive and mobile-friendly views on any devices
Price
Premium Plugin Price – Starts from $36/year.
Leo Product Recommendations For WooCommerce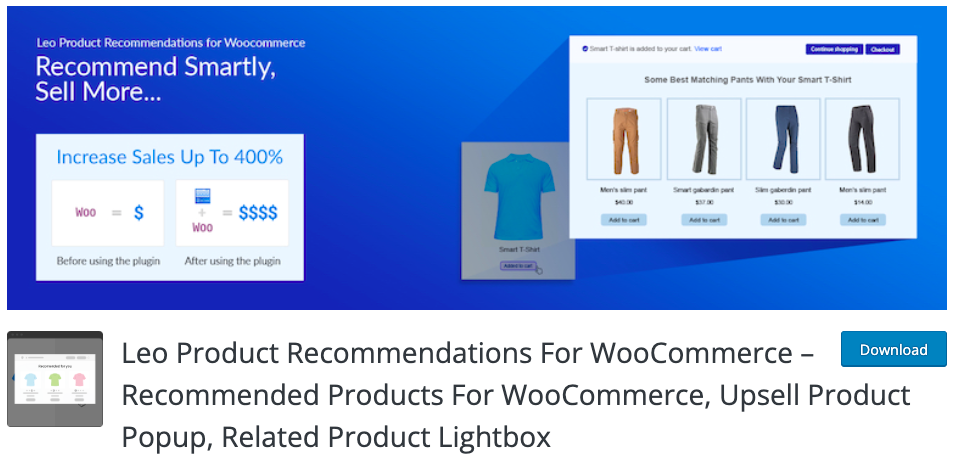 Leo product recommendation plugin for WooCommerce is a smart tool to recommend products with highly appealing pop-ups. An appealing popup will show when the user places the item in their shopping cart. It motivates customers to add more products to their cart and eventually boosts online store sales.
The plugin uses Ajax to operate each feature to enhance the customer's shopping experience. It saves a lot of time and lets the customers purchase desired products instantly from the eCommerce store.
Highlights
Create responsive popups
Allows store owner to pick products manually
Supports variable, grouped, or simple products
Build override templates with the respective theme file
Price
Premium Plugin Price – Starts from $79/year.
Frequently Bought Together for WooCommerce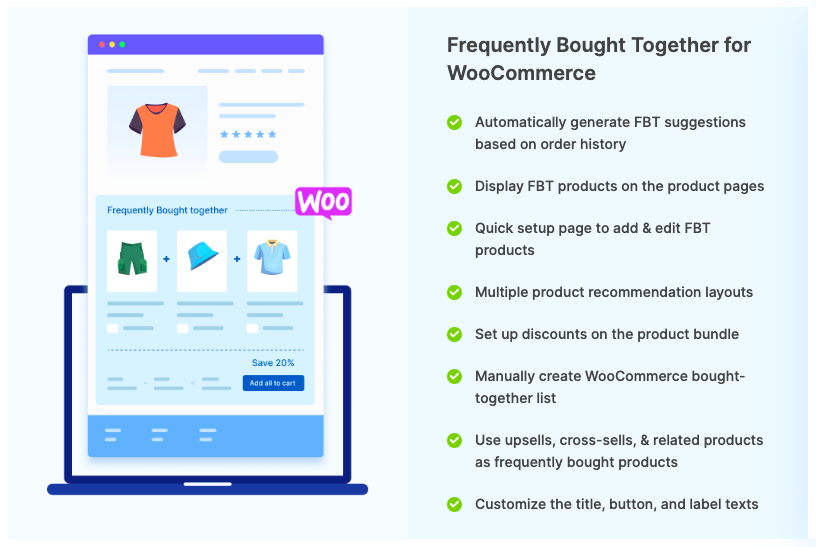 Frequently Bought Together for WooCommerce (FBT) is a well-known plugin to showcase or recommend products for customers. It's a great option to upscale your product selling in the WooCommerce store. A separate dashboard is there to edit or customize the FBT section for any product page.
The plugin lets you create frequently purchase product recommendations based on upsell, cross-sell, custom, or related products. You can also choose the layouts like list view, table view, and gallery view and alter the positions as required. It helps to boost conversions and increase average order value in the WooCommerce store.
Highlights
Enable a checkbox for the customer to select or unselect specific product
Choose what to display inside the "frequently product together" layout
Manage the number of products to showcase on the product page
Create product bundle discount for frequently bought together products
Price
Premium Plugin Price – Starts from $59/year.
Product Recommendation Quiz for eCommerce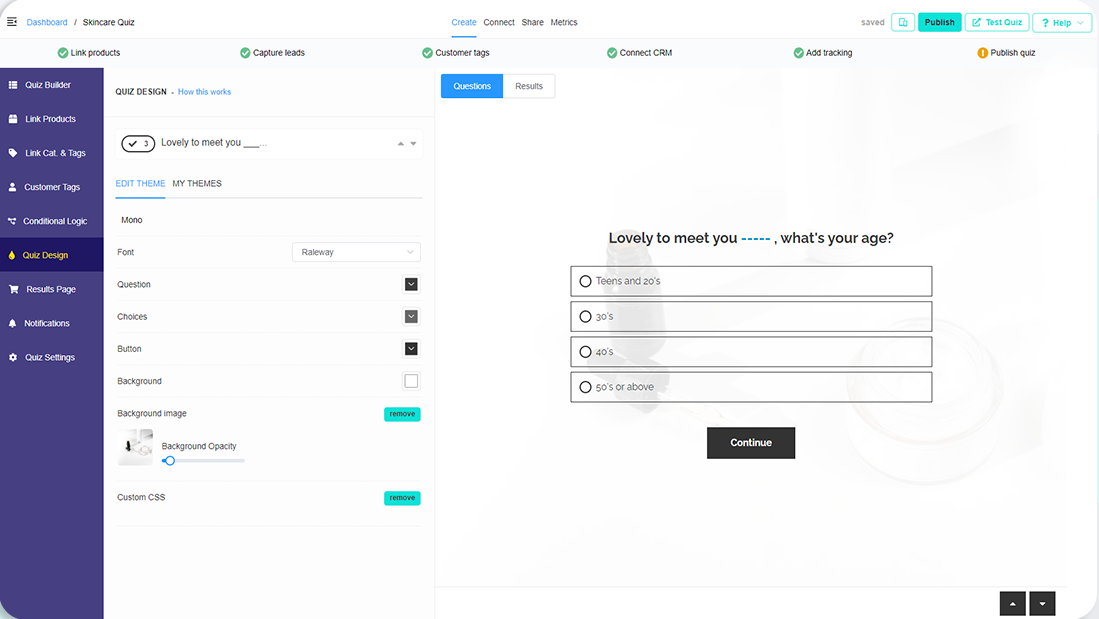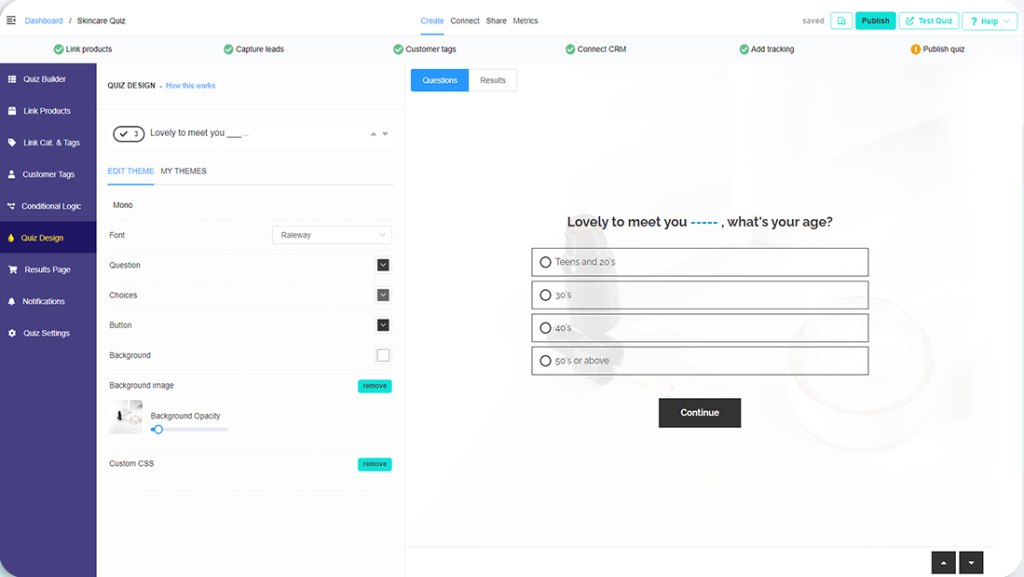 Product Recommendation Quiz for eCommerce is the best online personal shopper assistant that asks multiple questions to customers to guide them and helps them to get the right products at the right time. The plugin will let you build a product finder to ask relevant quizzes for visitors and convert them into happy customers.
The plugin provides actionable data that you can transfer directly to CRM and run your targeting campaign. You can create personalized product recommendations and increase your online store sales easily.
Highlights
Choose display mode as inline, popup, or automatic
Create customizable quizzes for customers
Change the styling with multiple fonts and color palettes
Incentivize customers for providing contact details
Price
Premium Plugin Price – Starts from $39/month.
Experience a significant boost in sales and double your revenue through joining our loyalty program designed for ultimate success.
Conclusion
The WooCommerce product recommendation plugin is a valuable plugin to recommend the best products for customers, improve the shopping experience and enhance sales of your WooCommerce store. It's crucial to pick the right plugins for your online business in order to offer the finest product recommendations.
The listed plugins will help store owners display or promote products using various conditions. You can advance your business by selecting a suitable plugin and highlighting the top products for customers.
How does a WooCommerce product recommendation plugin work?
A WooCommerce product recommendation plugin works by analyzing data about your customers and products. Based on this analysis, it generates personalized suggestions for customers, helping them discover relevant products and improving their shopping experience on your WooCommerce store.
Why should I use a product recommendation plugin for my WooCommerce store?
You should use a product recommendation plugin for your WooCommerce store because it helps you to increase the average order value of your Customer's purchase. The recommendations help customers discover relevant products they may have missed, increasing the chances of making repeated purchases.
Are WooCommerce product recommendation plugins compatible with all themes and plugins?
Yes, WooCommerce product recommendation plugins are designed to be compatible with a wide range of themes and plugins. However, it's important to note that compatibility can vary depending on the specific plugin and the theme or plugins being used on your website.
Can I display personalized recommendations based on customer behavior?
Yes, you can display personalized recommendations based on customer behaviour using a plugin like "Post Purchase Upsell and Order Bump for WooCommerce."
How does a WooCommerce product recommendation plugin handle out-of-stock or discontinued products?
A WooCommerce Product recommendation plugin may have options to exclude out-of-stock or discontinued products or may also recommend suitable alternative products. It's recommended to review the documentation and features provided by the plugin developer to understand how they specifically address this aspect.