Are you looking for ways to increase your WooCommerce sales? Look no further than the best WooCommerce popup plugins! These plugins are designed to grab your customers' attention and encourage them to make a purchase. In this blog, we'll introduce you to some of the best WooCommerce popup plugins on the market and show you how they can help you boost your sales.
Using the right WooCommerce popup plugins can help store owners increase their sales by displaying targeted popups at the right time to their customers. By choosing the best WooCommerce sales popup plugin, store owners can see a significant increase in their sales and conversions.
In this blog post, we'll explore some of the best WooCommerce popup plugins available in the market that can help you take your online store to the next level.
Don't miss out on your WooCommerce sales and revenue growth! Harness the power of points and rewards programs to boost your store.
What is a WooCommerce Popup Plugin?
A WooCommerce popup plugin is a tool designed to create customizable popups that appear on your online store powered by WooCommerce. These pop ups can be used to promote products, offer discounts, or encourage visitors to subscribe to your email list.
WooCommerce popup plugins come with a variety of features and options that allow you to customize the design, display settings, and targeting options. You can choose from pre-made templates or create your own design to match your brand's style. You can also control when and where the popup appears, such as after a certain time or when a visitor tries to exit the site.
Using a sales popup plugin can be an effective way to increase conversions and grow email lists. However, it's important to use them thoughtfully and not overwhelm visitors with too many popups.
Why does your Store Need a WooCommerce Popup Plugin?
A WooCommerce popup plugin is a tool that allows you to create and display popups on your online store's website. The popup plugin can be a valuable addition to your eCommerce store for several reasons. Here are some of them:
Increase Conversion Rates
Popups are attention-grabbing and can encourage visitors to take action, such as making a purchase, adding items to their cart, or subscribing to a newsletter. A WooCommerce popup plugin can help you create customized popups that target specific audiences and increase conversions.
Build Email List
Email marketing is a powerful way to engage with your customers and drive sales. A WooCommerce popup plugin can help you grow your email list by offering incentives like discounts, free shipping, or exclusive content in exchange for subscribing to your newsletter.
Promote New Products
Popups are an effective way to promote new products or announce sales and promotions. By displaying a popup with a limited-time offer or sale announcement, you can create a sense of urgency and drive sales.
Provide Customer Support
Use the Popup plugins to provide customer support. You can display a message to visitors asking if they need help with anything. This can help to improve customer satisfaction and reduce the number of support tickets you receive.
Target specific audiences
With a WooCommerce popup plugin, you can create customized popups that target specific audiences based on their browsing behavior or other criteria. This can help increase the effectiveness of your marketing efforts.
10 Best WooCommerce Popup Plugins to Boost Sales
WooCommerce popup plugins are one of the effective ways to boost sales for your eCommerce store. With various popup plugins available in the market, getting the right one for your store may be challenging. Here's the list of WooCommerce popup plugins that help you boost your sales. Let's get started.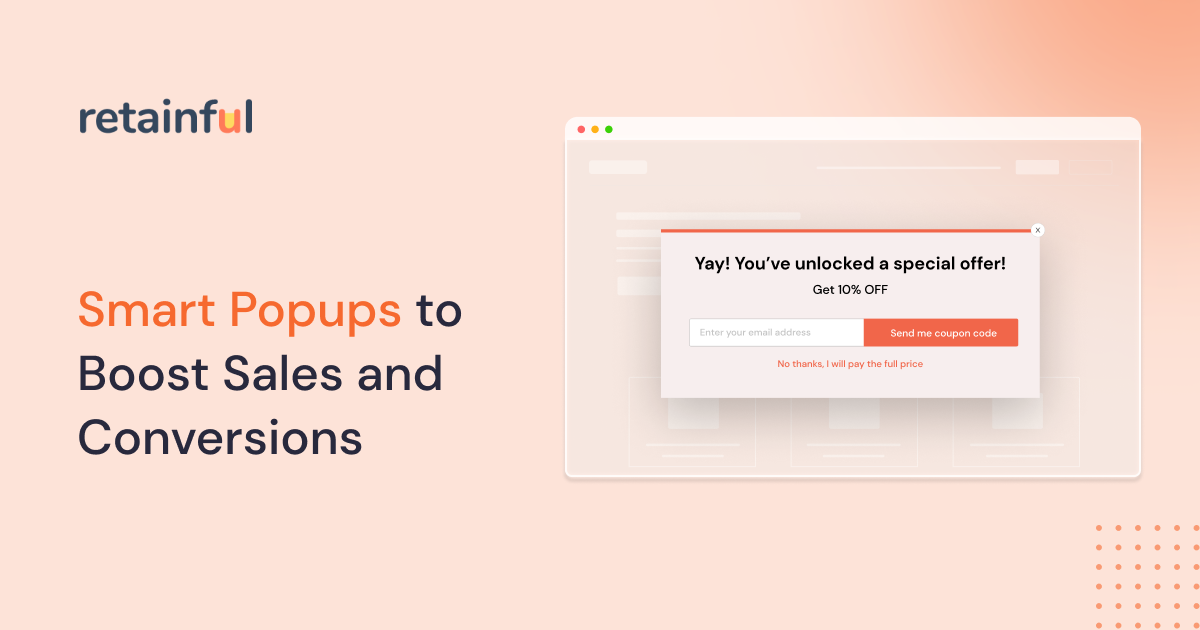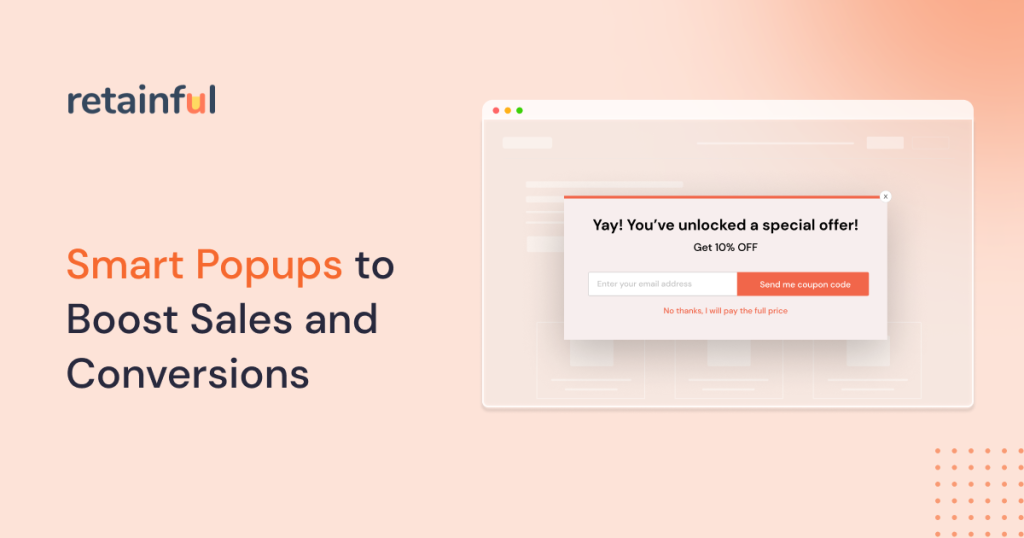 Retainful is a popular WooCommerce popup plugin that offers a range of features to help eCommerce businesses increase their revenue. One of the amazing premium version features Retainful has is its exit intent popup. Additionally, it has a popup builder that allows you to customize the design of the popups to make them look appealing.
The plugin allows you to keep track of your customer's cursor activities. Whenever they move the cursor toward the exit, you can send them an exit popup. To stop customers from leaving your store and encourage them to complete their transactions, you can include offers in your Exit Intent popups.
This is also useful when you want to build your email list, as these exit intent popups are good at capturing your guest user's email address before they leave the site. You can easily use their email address to send targeted emails to make them visit your store.
Key Features:
Customize the popup to match your store's style
Trigger popup automatically when customers click the cart button.
Reward coupons using pop ups to encourage customers to provide their email address.
Easily track your customer's website in your store.
Show a sales countdown timer with personalized messages
Create unique coupon codes with expiration dates and messages.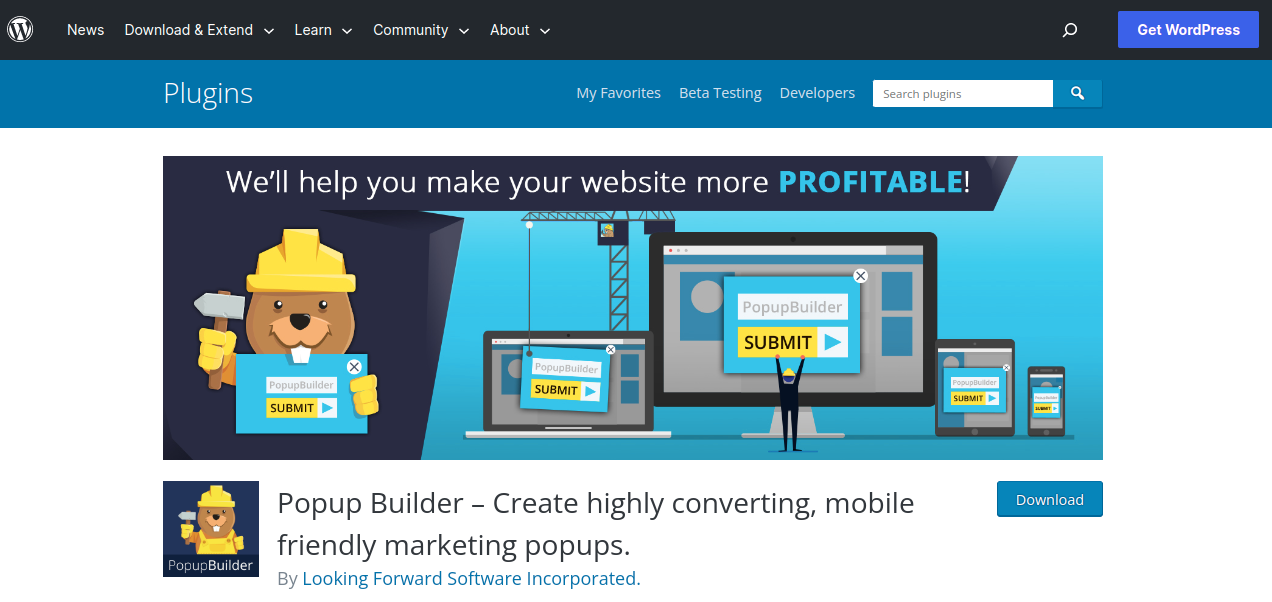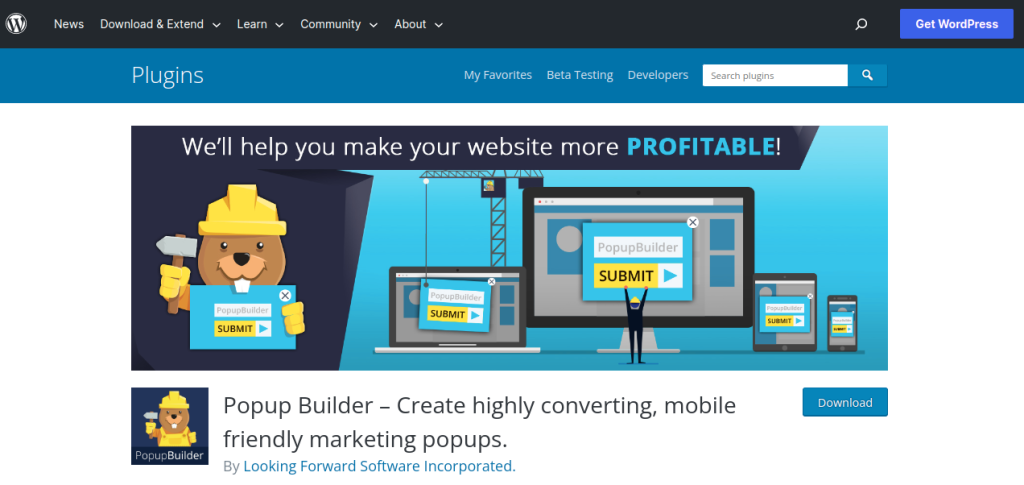 Popup Builder is another best WooCommerce popup plugin with a wide range of features. Using this builder, you can send an image popup, exit intent popup, and countdown popup to your customers. With this builder, you can improve conversion rate and easily boost sales.
With no special coding, this builder has a user friendly interface and is compatible for all stores. You can customize the popup builder according to your store and customer preferences. The builder saves your time and allows you to set the powerful WordPress popups within minutes.
Key Features:
Create a unique style and design for your WordPress pop up.
Build unique email marketing plans.
Make sure that your popups are responsive and mobile-friendly for all devices.
Add like and share buttons to your website to encourage visitors to share the product on social media.
Add videos from sites like DailyMotion, Vimeo, or YouTube, or upload your own videos.
YITH WooCommerce Popup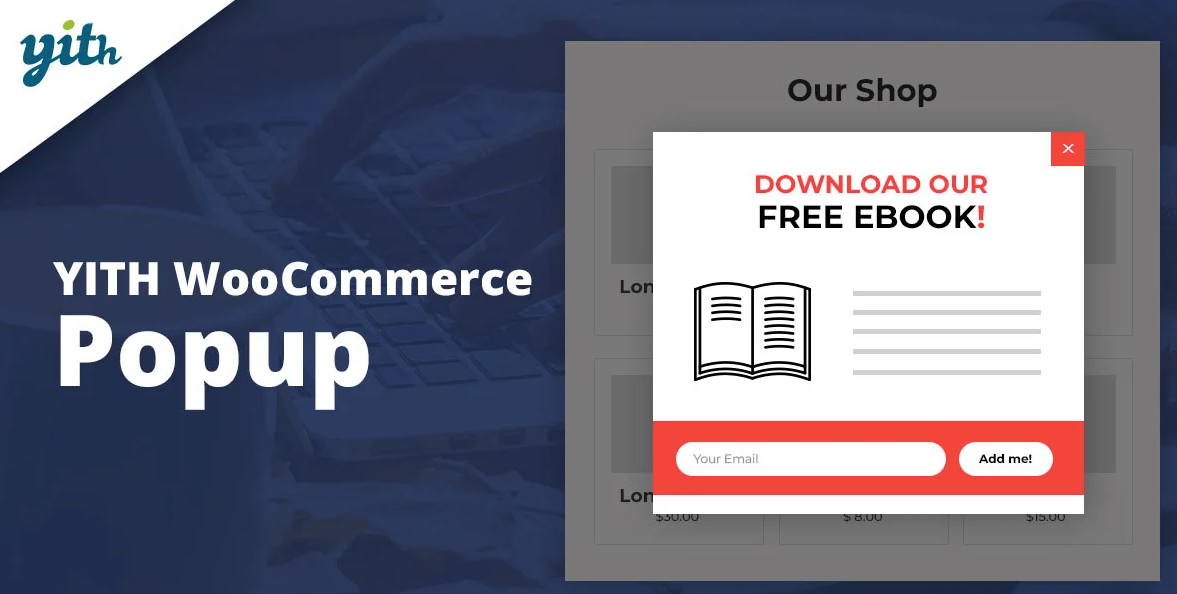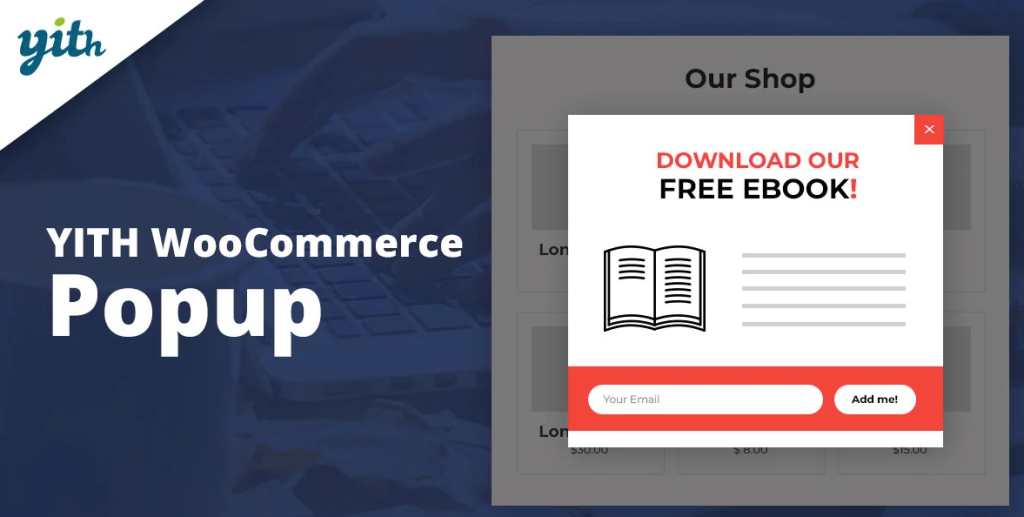 YITH WooCommerce Popup allows you to customize and set up a popup modal window for your eCommerce store. The plugin allows you to suggest and promote products using the popup. Also, you can choose when to show your popup to your customers – On specific conditions or when customers are about to leave your store site.
You can reward your customers with coupons or freebies using the popup for entering their email addresses. Additionally, you can add contact forms and even newsletters to the popup. YITH WooCommerce Popup allows you to select the page and position of where you like to showcase your popup.
Key Features:
Choose from a variety of templates for your popup windows.
Add contents that are most appropriate, such as social media profiles, a contact form, or a simple note.
Put the popup where you want it to be on your website.
Set the timing so it can be displayed without any limitations.
Use the effective WPML tootranslate the plugin quickly.
Set your popup easily from your website's pages.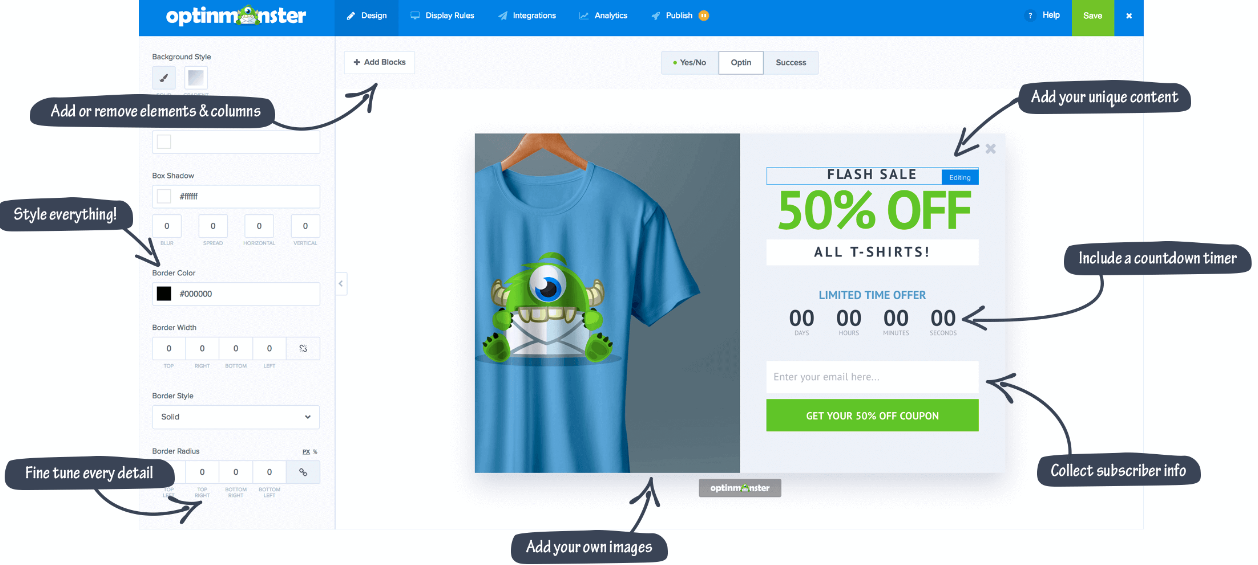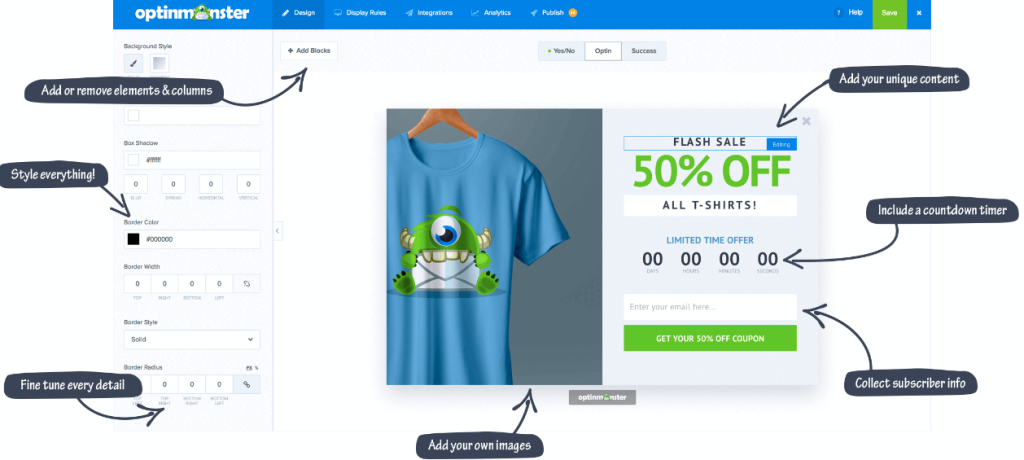 With the help of OptinMonster's powerful drag & drop popup builder, you can make enticing popups and popup campaigns designed to generate the highest conversion rates. The popup is designed especially to create more leads for your eCommerce store.
Optinmonster form builder makes it simple to develop attractive optin forms, targeted popups, gamified overlays, and marketing campaigns. Additionally, you can expand your email list, attract more leads and boost sales. The best part is that you won't require any coding or design skills.
Key Features:
Create your own campaign design for your popup
Customize the texts, images, fonts, and colors to create a perfect popup layout.
Add photos, dividers, buttons, videos, countdown clocks, and other features to any campaign.
Display campaigns based on customers' interests.
Choose the location and timing of your optins.
Dynamic text replacement allows you to customize your campaigns.
Recognise when users are about to leave your website.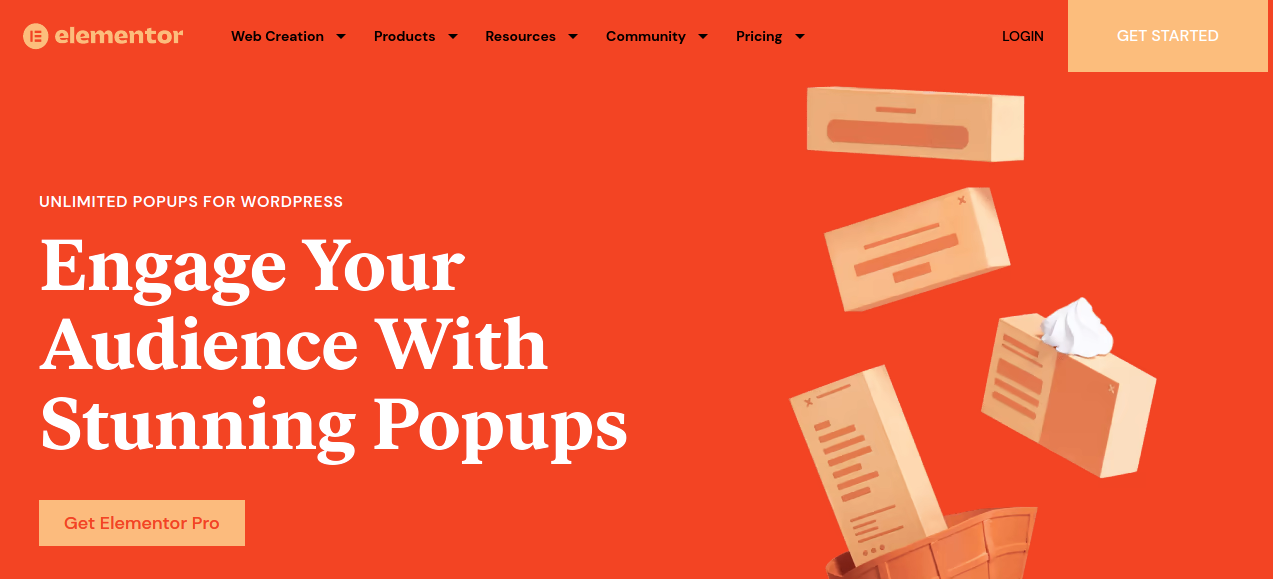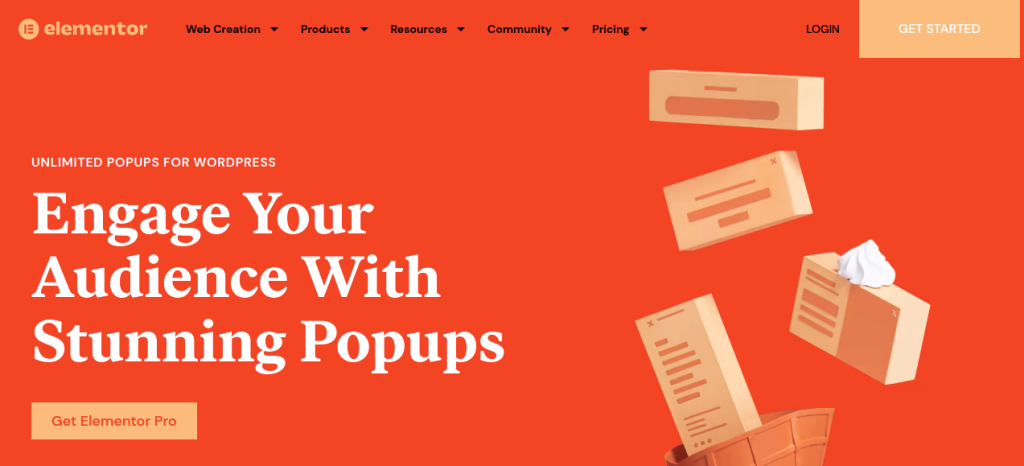 Elementor Pro WordPress popup builder allows you to create attractive and appealing popups for your customers. The popup builder does not require any type of coding, and it is easy to create custom popups with Elementor Pro. Engage your audience at the right time using the advanced features of the popup builder.
Attract your customers by creating professional popups with Elementor's visual editor. The primary goal of this Elementor Pro is to increase conversion and boost revenue by expanding your email list. Moreover, the popup builder is the perfect solution for matching the popup with your store's style.
Key Features:
Choose if you want your popup to be displayed on every page of your website.
Set triggers for the page to load, a click to be made, a scroll to an element, a page exit intent, or after inactivity.
Make your popups appear after a visitor has browsed from a certain device, viewed a certain amount of pages, and other events.
Every popup you create can include custom forms.
Lead gathering, email list expansion, event registration, and more.
Manage entries, export data, and keep track of submission progress easily.
Keep customers happy and loyal with a loyalty program. Understand your customers, offer rewards and build great relationships that increase your online revenue.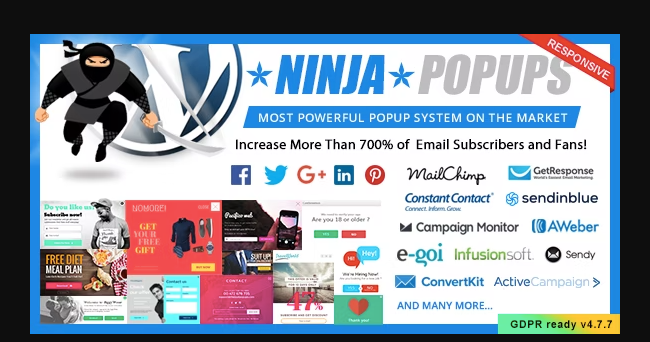 Ninja Popups is another best WordPress popup plugin that's designed to convert your visitors into regular customers. With this popup system, you can allow customers to sign in to your newsletters, and you can reward them for their actions. The plugin offers you 65+ popup themes to customize to your customer preferences.
You can create your own popup design for your eCommerce store within seconds. All it needs is a single click to import all your popups to your WordPress. This powerful popup plugin increases opt-ins for your mailing list and provides you with high-quality leads.
Key Features:
Complete integration of APIs with mail services
Popup Plugin Updates for Free
Unlimited Pop Ups can be created.
Show a popup when a page loads
Show a popup on leaving/closing a page
Pop-up social network page lock
Pop-up newsletter lock (page can be locked)
Popup statistics (views and conversion)
Settings for the time display (start date, finish date, hour, and minutes)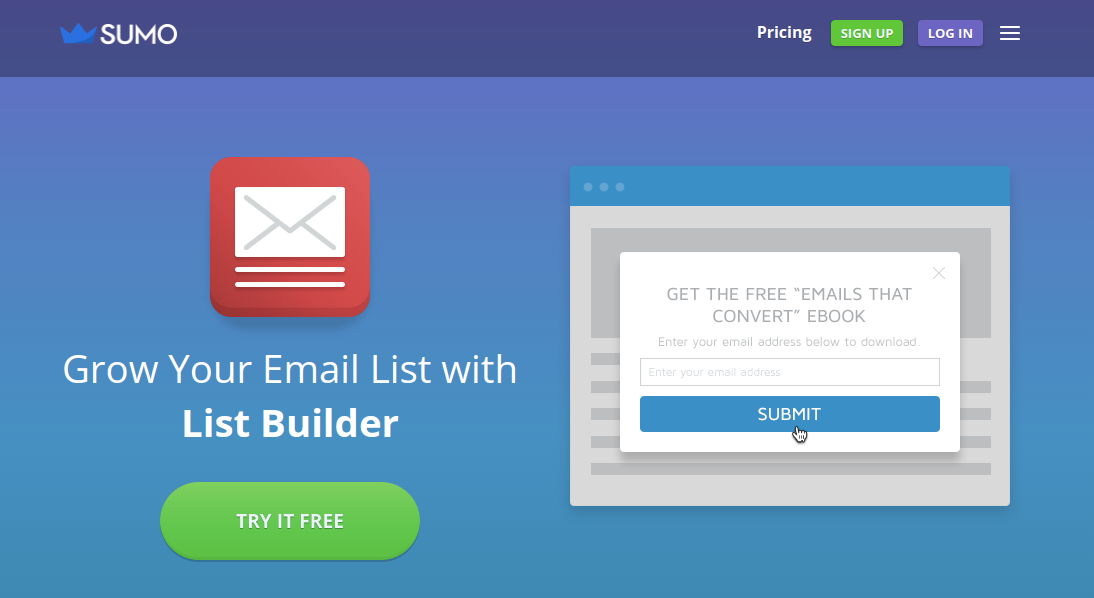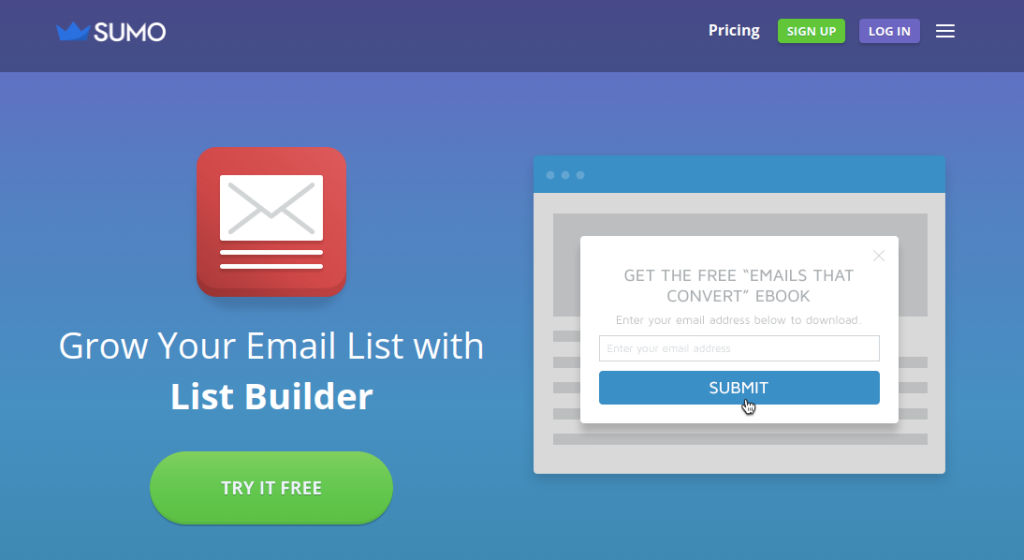 SUMO Popup list builder helps you to convert one time visitors into long-lasting customers.Make pop-ups that look professional and that appear on clicks, timers, and just before users depart. This is the most advanced (and user-friendly) email capture tool available online with its powerful drag-and-drop feature.
Decide when to display your popup to your most engaged visitors. Use List Builder's Smart Mode technology alternatively to display a popup just before a visitor leaves. To effectively match your popup to the layout of your website, List Builder provides you complete control over the background/button color, text color, text font, and other factors.
Key Features:
Use drag-and-drop to navigate to a popup to match your store's style.
Create the popup you want with no restrictions by adding personalized photos, buttons, text, and more.
Simply choose one of four goals for your popup to receive dozens of professionally designed, pre-made themes that are tailored to achieve that goal.
For different visitors, you can display different popups.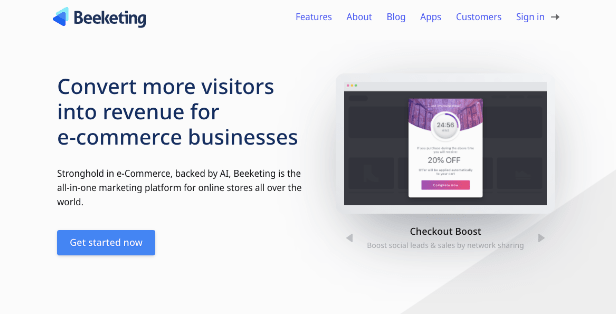 With Beeketing WordPress popup plugin, you can entice visitors to make a purchase which will increase your store's sales. You do not require any special coding skills to create this popup for your store. Beeketing made it easy for you by allowing you to create a popup in just one minute.
Beeketing popup plugins are user-friendly and responsive to all mobiles. Additionally, you can start building a highly converting coupon popup with the perfect coupon box.
Key Features:
Convert Website Visitors Into Subscribers & Sales.
Build an email list.
Develop your social presence.
Create Your Own Custom Themes.
Avoid Site Abandonment.
Boost Sales & Checkout Rate.
Identify the Right Target Audience
Popup maker plugin is customizable and easy-to-use for your WordPress website. You will be impressed with the button popup's wide range of stylistic options and premade layouts. The popup maker plugin will help you carry out your business's tasks in an easy way.
The plugin helps you enhance customer engagement, attract more clients to your website, enhance your leads, and expand the number of your followers. With this popup maker, you can announce sales and special offers.
Key Features:
You can create and control as many pop ups as you like.
Make use of the amazing templates to make a popup.
Customize the look and feel of popups.
Customize the animation effect of a popup.
Attractive opt-in forms.
Create a popup with custom HTML content using the HTML popup tool.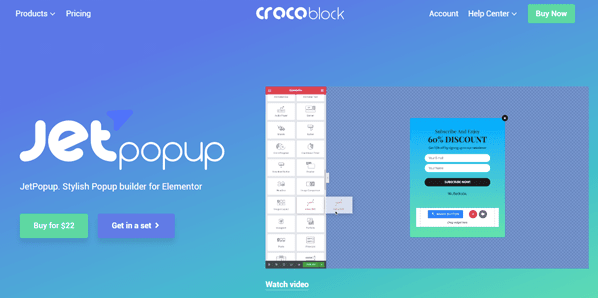 With the Jet Popup builder, you can create the needed layout and add text/content to it. Creating pop up is now made easy and simple with the elementor widgets. When the popup blocks are about to appear on the page, choose the eventbuilder to apply animation effects to popup windows and start attracting your target audience. You need not waste time by creating the popups from scratch. Instead, simply pick one of the multiple popup settings. JetPopup offers everything: countdowns, sales, discounts, and subscribe buttons.
Key Features:
Use the popup window to display ongoing sales, discounts, latest news and publications.
Use the pop up window to appear when customers close the sign up form, special offer or yes/no form.
Display basic steps, offers for subscription and social sharing links using pop up.
Use the pop up to display contact information, links to social media or any other content.
Choose the time and date for the popup to appear on the website page.
How to Choose The Best Popup Plugin in WooCommerce?
Choosing the best popup plugin for your WooCommerce store can be overwhelming, as there are numerous options available in the market. Here are some factors you can consider to make an informed decision:
Features
User-friendly interface
Compatibility
Support
Read reviews
Pricing
Unlock the key to customer satisfaction and long-term success – Install WPLoyalty that adds value and grows your online sales easily.
Conclusion
Using a popup plugin can be an effective strategy to boost sales in your WooCommerce store. With the right popup plugin, you can create targeted and personalized messages that convert visitors into customers.
In this blog, we have listed the 10 best WooCommerce sales popup plugins that offer a variety of features. Each of these plugins has its own unique set of features and pricing, allowing you to choose one that fits your specific needs and budget.
With the right popup plugin and a well-designed popup strategy, you can engage with your customers effectively and increase your conversion rates. So go ahead and choose a popup plugin that works for you, and start boosting your sales today!
Learn more about 5 Best WooCommerce Rewards Plugin To Drive More Sales, 10 Best WooCommerce Free Gift Plugins To Increase Sales and 10 Best WooCommerce Affiliate Plugins To Boost Online Sales.
How can a WooCommerce popup plugin help boost my online store's sales?
A WooCommerce sales popup plugin can help increase your online store's sales by displaying attractive and attention-grabbing popups to visitors. These pop ups can feature special offers, discounts, promotions, or other incentives that can persuade customers to make a purchase.

Using a popup plugin that integrates with WooCommerce, can easily create and customize popups that are targeted to specific audiences and timed to appear at key moments in the customer journey.
How do I choose the right WooCommerce popup plugin for my business?
When choosing a WooCommerce sales popup plugin for your business, consider factors such as ease of use, customization options, targeting capabilities, and compatibility with your theme and other plugins. Look for reviews and ratings from other users, and choose a plugin that has a good reputation for reliability and customer support.
What features should I look for in a WooCommerce popup plugin?
Some important features to look for in a WooCommerce sales popup plugin include,
1. Customizable templates and designs
2. Targeting options based on user behavior or demographics
3. Scheduling and timing options
4. Analytics and reporting tools
5. Compatibility with popular email marketing platforms.
Can I use multiple WooCommerce popup plugins on my website?
While it's technically possible to use multiple WooCommerce popup plugins on your website, it's generally not recommended. Multiple plugins can cause conflicts and slow down your website's performance, and it can also be difficult to manage and optimize multiple popups at once.
Can I display different popups to different types of customers using a plugin?
Yes, many WooCommerce sales popup plugins allow you to target specific audiences based on their behavior, demographics, or other criteria. This can help you deliver more personalized and relevant messages to different customer segments, increasing the chances of making a sale.
Does a WooCommerce sales popup plugin work on mobile devices?
Most WooCommerce popup plugins are designed to work on mobile devices, but it's important to test your popups on different devices and screen sizes to ensure they display properly and don't interfere with the user experience. Some plugins may offer mobile-specific customization options or features to optimize the display of your popups on smaller screens.