Gaining new customers is the main objective of every eCommerce store. However, attracting new customers and converting them into loyal customers is a challenging task, and a store must implement many eCommerce customer acquisition strategies to make it happen.
Different businesses, different strategies. It's important to find the one that fits your brand. A robust eCommerce customer acquisition technique sure makes the difference. Are you looking forward to finding the right eCommerce customer acquisition strategy to attract new customers?
Keep reading! Let's learn more about the best ways to acquire new customers.
Use the best eCommerce customer acquisition strategy to acquire new customers with WPLoyalty.
What is a WooCommerce Customer Acquisition Strategy?
Simply put, a WooCommerce customer acquisition strategy is a procedure to bring new customers to your store. The objective is to build a satisfied customer base and make your customers stay with your brand for an extended period.
There are several ways to promote your eCommerce business and acquire new customers, from online newsletters and Facebook advertisements to radio, TV, and billboard advertisements.
So, let's discuss the best customer acquisition strategy in WooCommerce that you can leverage for your brand.
eCommerce Best Customer Acquisition Strategy
You can improve customer engagement and shopping experience with the best customer acquisition strategy. Let's look into the list!
Determine your Target Audience
The first important step is determining your store's target audience or potential crowd to achieve eCommerce success. Remember, when a customer loves your product, the credit goes to your store and your product quality. So, it's just a matter of finding the perfect product for your target audience.

Always know who your target audience is to promote your brand effectively. It's in your hands to meet your customers' needs, use the best eCommerce customer acquisition strategy, and identify the audiences for your brand.
For instance, let us assume that your brand sells women's fashion clothing in eCommerce stores. Your interest group may be twenty to thirty-year-old females and Gen Z's.
Then they are your target audience, and you must focus your marketing tactics on them. Study their shopping behaviour offline and online. Then advertise your products in those right channels to grab their attention and bring them to your store. This is how the eCommerce customer acquisition strategy works.
It would be best to determine your target audience to achieve an eCommerce customer acquisition strategy. So, make sure you take advantage of this first step.
Use an effective WooCommerce Plugin
Extending what we examined above requires more than knowing your target audience. It's similarly vital to know the best WooCommerce plugin like WPLoyalty.
Get WPLoyalty – Points and Rewards for the WooCommerce plugin to reward your customers for every action they make.
You can reward your customers in various ways with WPLoyalty. For example,
Points for purchases
Rewards based on spending
Rewards based on achievements
Rewards for sign up
Referral rewards
Free product / Free shipping
Social-share reward
Birthday rewards
Once you set up a points rewards system for your customers, you can increase customer engagement and move forward with the best eCommerce customer acquisition strategy.
Implement a Loyalty Program
A WooCommerce Customer Loyalty program is a reward-based eCommerce customer acquisition strategy intending to:
Retain existing customers & increase Word of mouth marketing
Improve brand loyalty and customer engagement
Encourage people to purchase more from your store
Set up a loyalty program in your WooCommerce store to create a bond with your customers.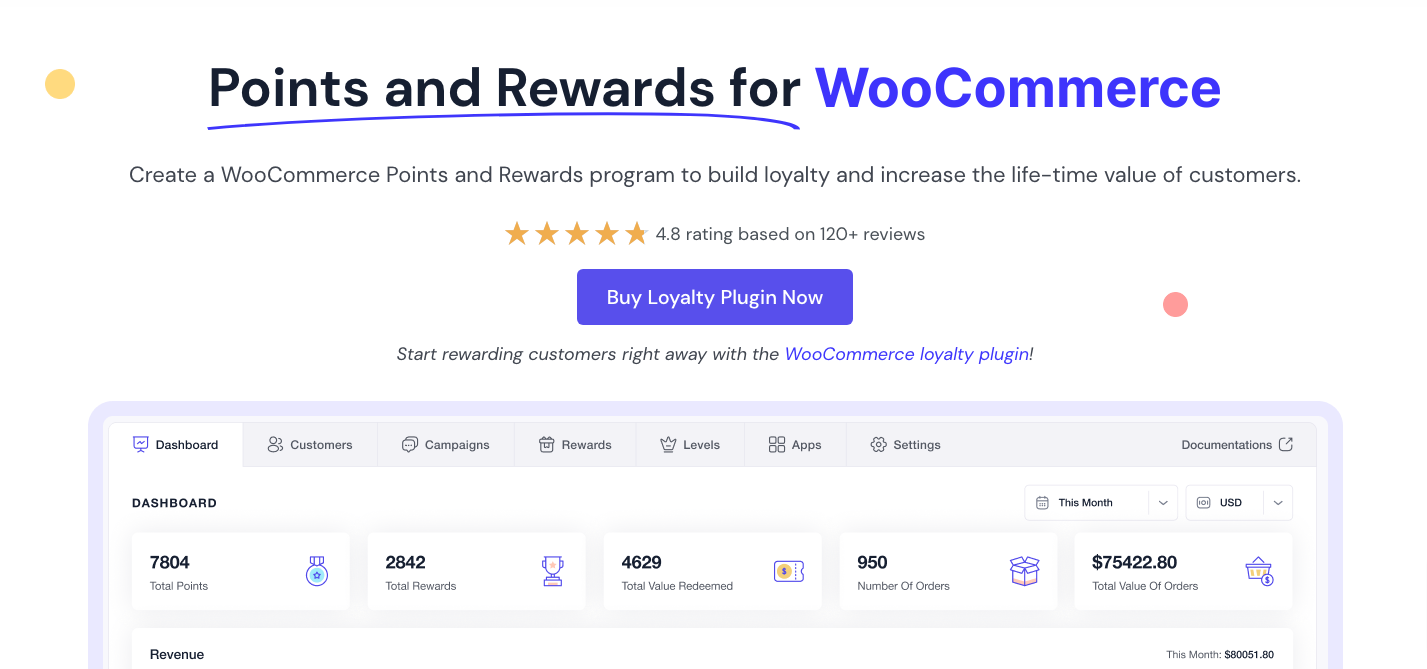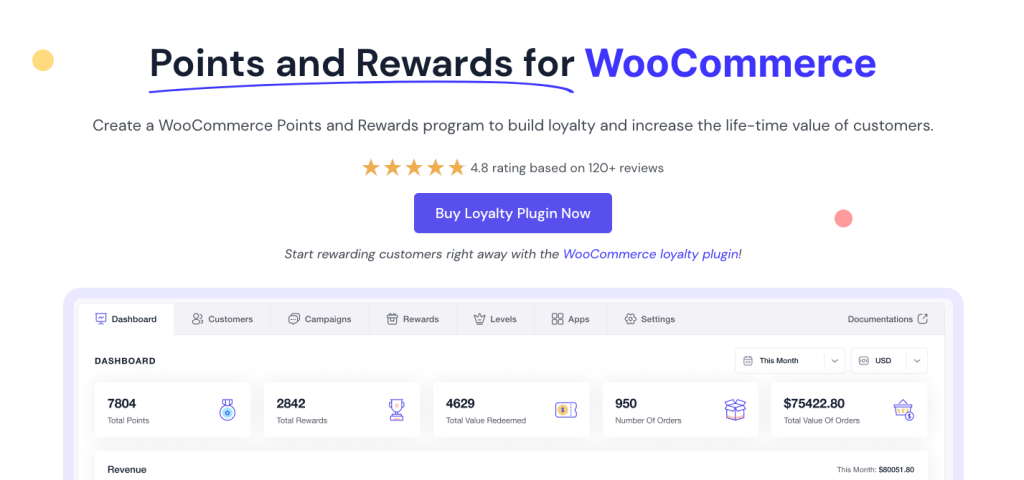 Loyalty programs in WooCommerce provide points, discounts, coupons, and other unique rewards to nurture customer loyalty and increase WOM to acquire more customers.
WooCommerce Loyalty programs benefit organizations by creating consumer loyalty and giving essential data on how they are spending and what items or kinds of offers are generally engaging.
Start a Referral Program
Referral programs usually work well when it comes to tracking down new customers. You can offer existing customers exciting rewards and discounts to motivate them to refer your brand or product to others.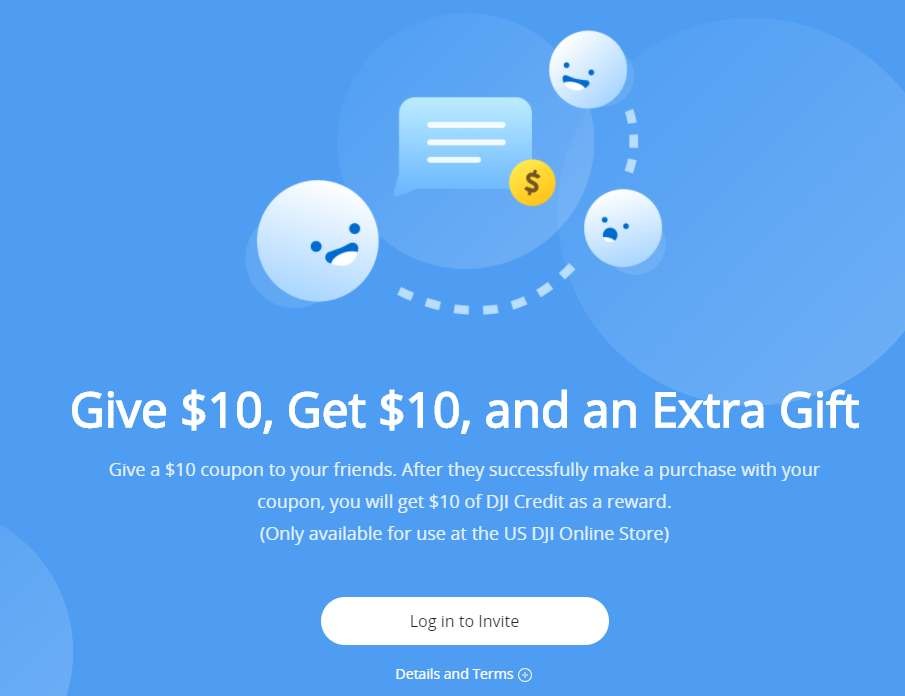 You can provide these new shoppers with equivalent offers to encourage them to buy your products. For example, "Refer a friend, and you Get $10 Off, and your friend gets a free product."
So, how will you set up your referral program in WooCommerce?
WPLoyalty is not just a loyalty plugin; you can also run a Referral program with it. This simple-to-use plugin allows you to run a referral program for your brand and reward referrals and referees with exciting discounts and coupons.
Using this plugin, you can provide your customers with unique referral links, offers, social share buttons, rewards with expiry dates, and everything.
Organize Giveaways
Customers need something beyond words or surprise to purchase your service and products. The new purchasers who visit your store for the first time will not be influenced by word-of-mouth or influencer advertising.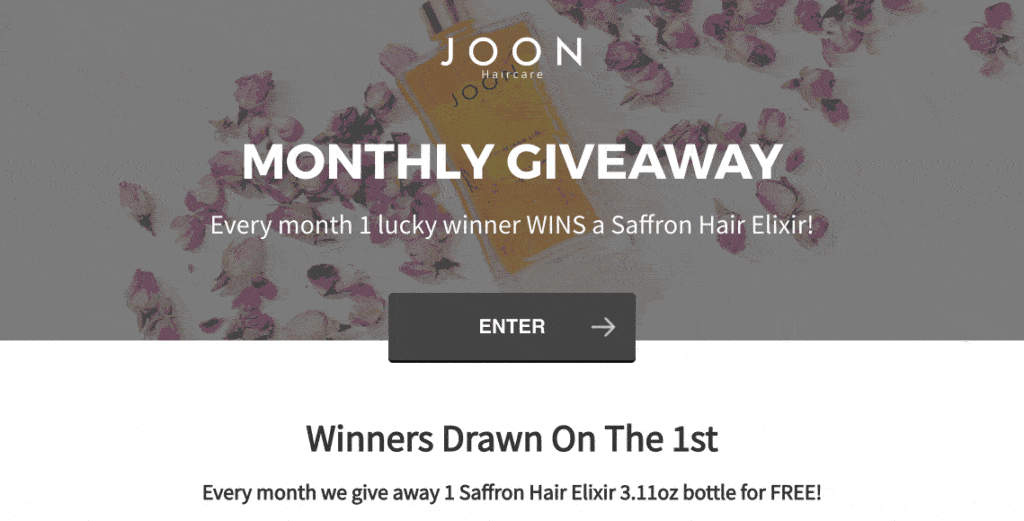 To convert these first-time purchasers into loyal ones, consider adding giveaways. Offering them an opportunity to uncover your new products is an extraordinary method for giving them that additional excitement they need to think about your brand as an eCommerce choice.
The simplest method for implementing such an online customer acquisition strategy is to run giveaway drives via social media.
Conduct Deals and Promotions
eCommerce customers love offers that help them save cash and feel they're gaining access to something unique and limited. A few ideas for providing offers and promotions include:
Conduct product promotions on your social media profiles
Have an email campaign & send order follow-up emails for future purchases
Gift low-cost products or ones that don't affect your revenue
Promote products via shopping or advertising platforms
A good promotional campaign motivates the user to share your content. Thus you can easily reach more audiences as well as increase brand awareness.
People show more interest when their loved ones share the offer with them. Since it's from somebody they know and trust, they feel bound to redeem the offer and keep sharing it with others.
Like that, you can promote your eCommerce products on multiple advertising platforms like WhatsApp, Facebook, Twitter, Email, etc. Upload your products using a WooCommerce product feed plugin and start the ad campaign.
People stay with your brand as long as you offer high-quality products with promotional coupons or discounts. It will boost your revenue and help you build a loyal customer base.
Provide High-Quality Content
Content promotion is effectively one of the best eCommerce customer acquisition strategies. Getting customers to trust your brand is challenging, and content advertising assists you with winning over that challenge.
Digital books, guides, and different kinds of content offer diverse content promotion because they generally include making more depth and valuable content.
For instance, you can take a portion of the content from your whitepaper and publish it as a separate blog post. This way, you can build a collection of valuable resources and focus on building SEO ranking for your keywords. As blogs assist with driving traffic to your website, you can convert them into leads easily with content upgrades.
Buyers stay informed nowadays. By engaging your loyal customers to help them decide their purchasing choices, you will acquire their trust and convert them into VIP customers sooner. Making helpful, informative, and engaging content will, eventually, assist with driving your eCommerce customer acquisition.
Work on your SEO
Once you have gained your online presence by delivering engaging content, you should focus on SEO. It will assist with optimizing the rankings of the content on the search engines. Consequently, making your content more available and approachable to your target audience.
Increase your brand's permeability by letting the customers participate and create a purchasing culture around your brand.
Wanting to get through the initial phase of the customer acquisition funnel quickly? Implement the fundamental SEO strategies by creating organic content with industry-relevant keywords and building quality links to your pages.
Create Optimized Landing Pages
Among the best eCommerce customer acquisition strategies, improving your landing pages is one of the best moves. Optimized pages attract customers to your products or services. In addition to displaying essential data, a compelling landing page should have inviting Call to Action buttons that convert.
Running A/B tests help you enhance your landing pages, further develop them, and ensure conversions. It makes it easy to know your customers' requirements and address them quickly.
Influence Your Target Audience by Utilizing Video Content
Images and visuals are more appealing to customers than other content. Videos are the most effective way to attract potential customers to your brand and your products.
Importantly, strike a decent balance between exciting and captivating videos. Use the influencers or enlist some video production professionals to make appealing videos and share them via social media and your eCommerce website.
Most attractive videos engage and educate the viewers about your product range convincingly.
WPLoyalty helps you improve eCommerce customer acquisition effectively.
Ways to acquire new customers in WooCommerce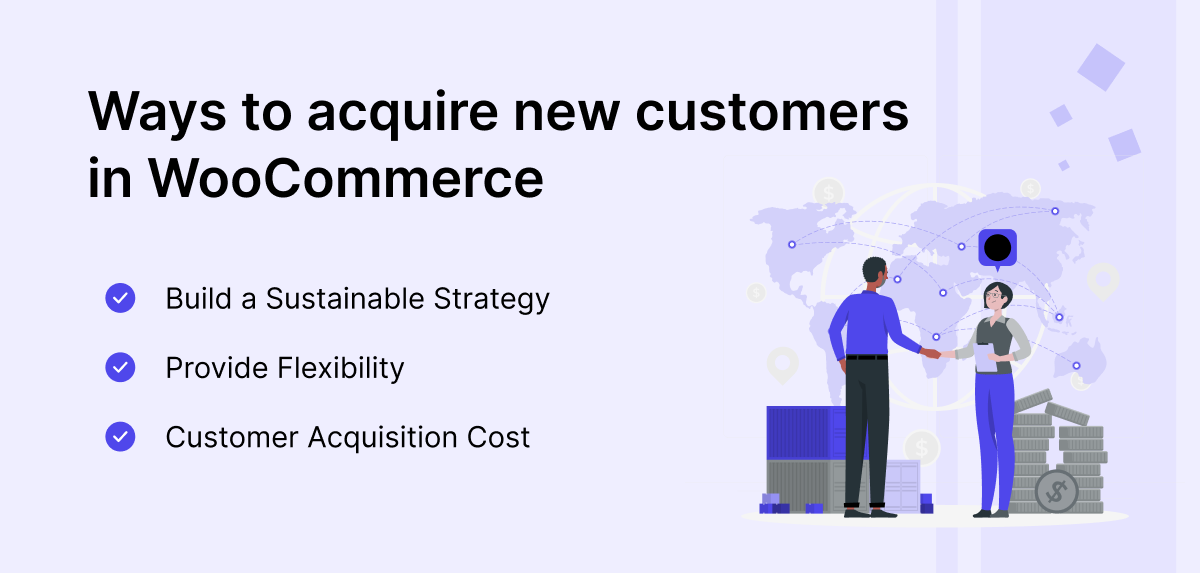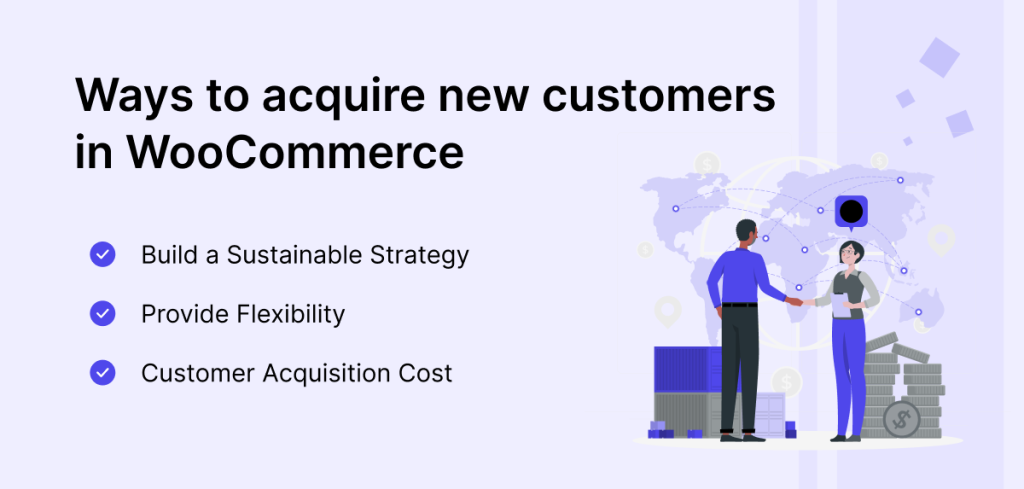 Acquiring customers is relatively easy when you know which eCommerce customer acquisition strategy to implement for your store. Here are a few ways on how to acquire new customers in WooCommerce.
Build a Sustainable Strategy
An eCommerce customer acquisition strategy works over time, implying that your investments (cash, time, or manpower) can be upheld for future returns.
For instance, let us assume you intend to acquire more customers through a blog. Then, you must have the content, tools, and resources set up. It will guarantee that content creation lives beyond a couple of posts – successfully acquiring natural traffic for months or years. Inbound marketing seems powerful – it makes sustainable traffic for new customers.
Provide Flexibility
Provide flexibility to customers in various ways to improve customer acquisition. You can give them flexibility in payment options and allow them to choose their preferred payment options. Your online customer acquisition strategy should likewise be easy for customers to follow. Having flexibility means you value your customer's journey more. It's more effective, and at the same time, the adaptability in it allows customers to choose your brand over and over.
Brand flexibility is about relevance, increasing brand resonance, and brand response effectively. Reach the top brand equity pyramid with creatively flexible eCommerce marketing strategies.
Customers trust the guidance of loved ones over organizations. Keep your eCommerce customer acquisition system flexible, and let your customers spread the word about your brand's trustworthiness. Be prepared to engage new customers easily.
Customer Acquisition Cost
The total cost obtained by a brand to acquire a new customer is known as customer acquisition cost (CAC). For example, assuming you make an expense of $2,000 on a promotion drive that collects 100 new shoppers, your customer acquisition cost is $20 ($2,000 divided by 100).
Considering this model, the campaign deals with an average of $30 per new client. That implies your benefit is $10 per deal, which is extraordinary, assuming your CAC is just $20. Overhead expenses could wind up diminishing that benefit or negating it. Tracking down the best customer acquisition strategy will take a few trials.
The primary objective is to get more profit than it took to gain every shopper. So do your analysis to arrive at the best customer acquisition strategy.
What are the ways to reduce customer acquisition costs in WooCommerce?
A fundamental truth about eCommerce customer acquisition strategy is that you can constantly improve it according to your customers. You can continuously approach new audiences, market your product with better content, and reduce eCommerce customer acquisition costs.
There's continuously something to learn and constantly something to develop. Assuming you are hoping to work on your CAC, the following are a couple of ways of reducing the eCommerce customer acquisition costs in WooCommerce:
Improve your website
While this might be an old method, it is still one of the best customer acquisition strategies. Improving your website increases the user experience of your audience, advertising your content, offers, and product data. It's likewise the least demanding way you can establish a connection and gain new shoppers.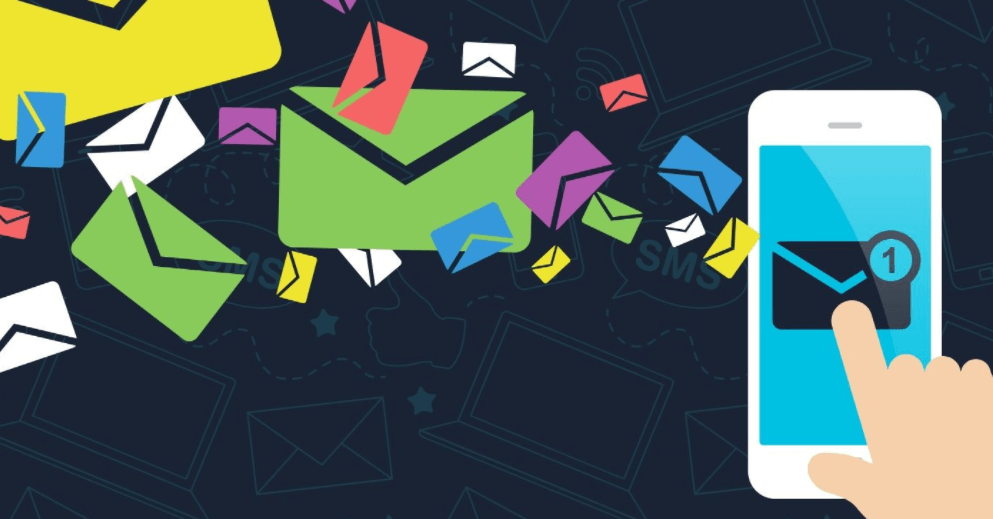 Improve your calls-to-action, make sure your website is mobile and tablet responsive, enhance your landing pages, and work on copywriting. Think about A/B testing your website's main page or shopping cart before checking whether a specific plan or copywriting works well. These actions will ensure that your eCommerce customer acquisition strategies serve the purpose as expected.
Appreciate existing customers
In other words, customer appreciation is recognizing customer value. If you are adding a new feature or product range to your eCommerce store, ensure that your loyal customers get early access to them and let them spread the word about it. The customer value can likewise increase when they refer to different customers or essentially go about as advertisers for your business.
Improve eCommerce customer acquisition strategy
Invest in some opportunity to format your eCommerce customer acquisition strategy and see what every step costs you. Find where you can scale down additional promotion costs or labor. Costs for different channels can climb after some time, and you can continuously limit Customer Acquisition Costs by finding more up-to-date, less expensive channels to put resources into. This cycle additionally guarantees your strategies mirror the latest promotion patterns and stay agile.
Ways to retain customers in WooCommerce
The eCommerce customer retention strategies you set will change because of your action plan, crowd, assets, etc.
Despite how you intend to retain your customers, one common factor is giving an incredible customer experience.
You can engage your customers to promote your business and assist you with getting a good deal on other acquisition strategies.
Ask for Customer Feedback
Ask for customer feedback about your products and their shopping experience. Let your customers share how they found your brand and why they value it and choose your brand over competitors.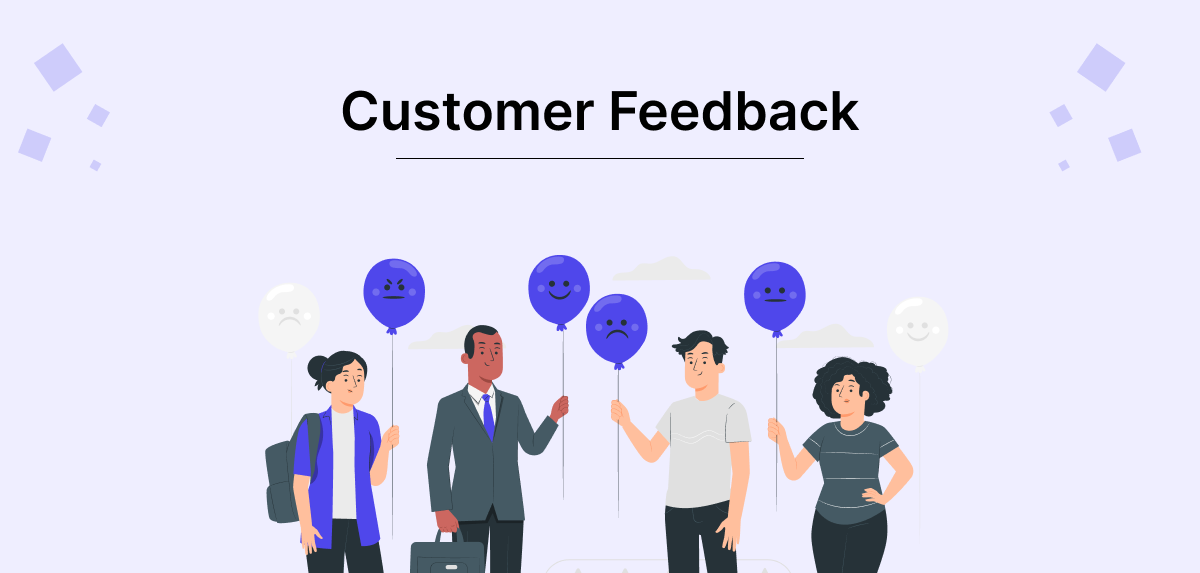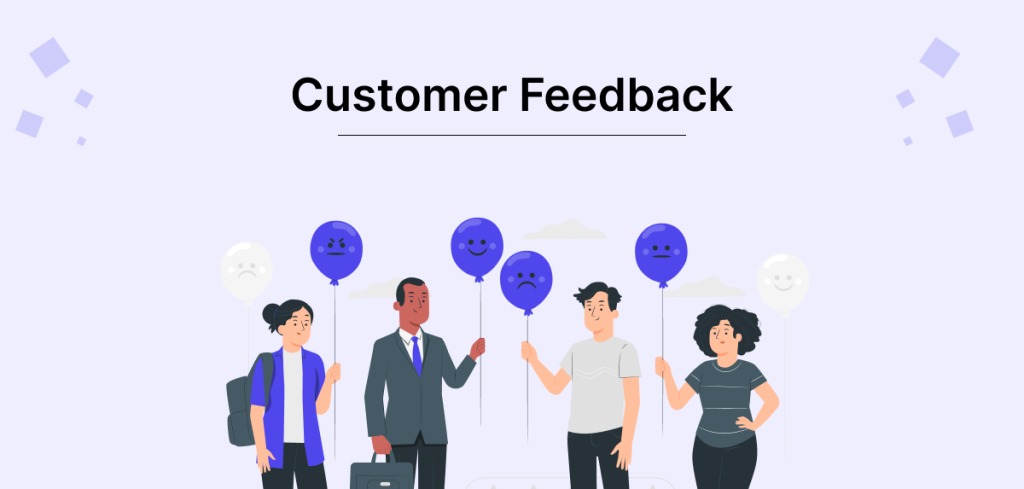 Additionally, ask for product reviews and allow your new customers to know about your product. On the other hand, you can know why people love your product.
Encourage Referrals
Implementing a WooCommerce referral program is a reliable method for acquiring customers. When you consider a customer referral important for your business, you should give them something similarly significant.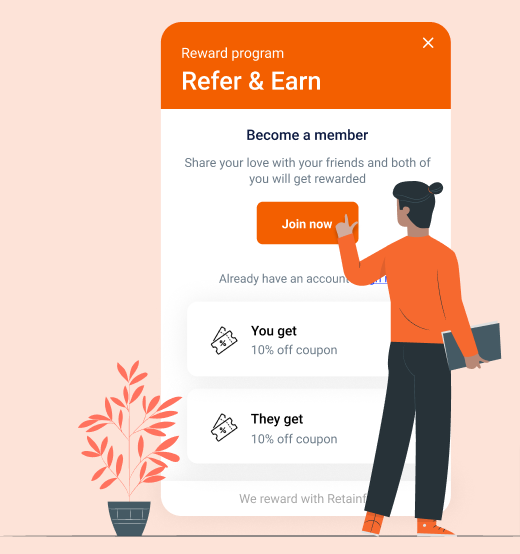 Reading your customers with exciting discounts and coupons is typically the most effective way to encourage a shopper to share information about your brand.
So whichever referral methodology you pick, make sure to offer some incentive first and pose inquiries later. Convince your customers to need to refer to you – because they're so happy with your brand, they can't resist the urge to share.
Acquire more customers and efficiently increase customer engagement with WPLoyalty.
Conclusion
Though eCommerce Customer acquisition costs more than retaining existing customers, do it right for good. Consider it a long-term investment as they enter the customer loyalty cycle.
Understanding eCommerce customer acquisition strategy accelerates business growth. Determine a customer acquisition plan, characterize your ideal target audience, reduce acquisition costs with the right marketing strategies, and begin building landing pages. Streamline them effectively. Remember to test, A/B tests assist you with refining your methodology further.
There you are, all set to put things into action. Start acquiring customers and start increasing your sales and revenue. All the best!
Learn more about the best customer loyalty program ideas with examples, what's the difference between loyalty and referral programs, and how to reward loyal customers on WooCommerce.
How do eCommerce stores find customers?
eCommerce stores can find customers through various channels, including:
1. Search engine optimization (SEO)
2. Paid advertising
3. Social media marketing
4. Email marketing
5. Content marketing
6. Referral marketing
What are four ways to attract customers?
1. Offer high-quality products or services that meet customers' needs and exceed their expectations.
2. Offer promotions, discounts, and other incentives to attract new customers.
3. Create a user-friendly and visually appealing website
4. Implement effective marketing and advertising strategies that reach your target audience
How can I get more visitors to my online store?
You can acquire more visitors to your eCommerce website by implementing loyalty programs and rewarding customers for every action they perform at your store.
What are the five strategies that can attract customers?
The five strategies you use to attract customers are;
1. Reward customers for sign-up, purchase, etc
2. Implement loyalty program
3. Start a referral program
4. Reward freebies
5. Create VIP levels/tiers
How do you find the target audience for eCommerce?
1. Recognize the value of the target audience
2. Consider identifying your audience
3. Imagine your potential customer
4. Divide up your customer base
5. Take customer feedback surveys
6. Recognize your promoters
7. Follow your competitors.
8. Reexamine your marketing activities.