Loyalty Programs are a must-have for any eCommerce business these days to engage customers in a meaningful way. To increase customer acquisition, customer retention, and customer experience, consider implementing a loyalty reward program for your online store.
A study says 64% of customers prefer brands with loyalty programs and spend more dollars to get more rewards. It is one of the reasons to consider loyalty programs for eCommerce businesses.
Start rewarding customers, and increase customer loyalty with WPLoyalty.
What precisely is a loyalty program?
While each loyalty program differs from one another, the objective is the same. A WooCommerce loyalty program is a promotional framework run by eCommerce stores to reward customers' buying behavior and encourage them to remain loyal to your brand.
An eCommerce loyalty program will offer customers.
Loyalty points
Store Credit
Coupon Rewards
Or any advantage that would attract the loyalty of a shopper.
Keep reading to find out more about Loyalty Programs and types.
Importance of Loyalty Program for eCommerce Business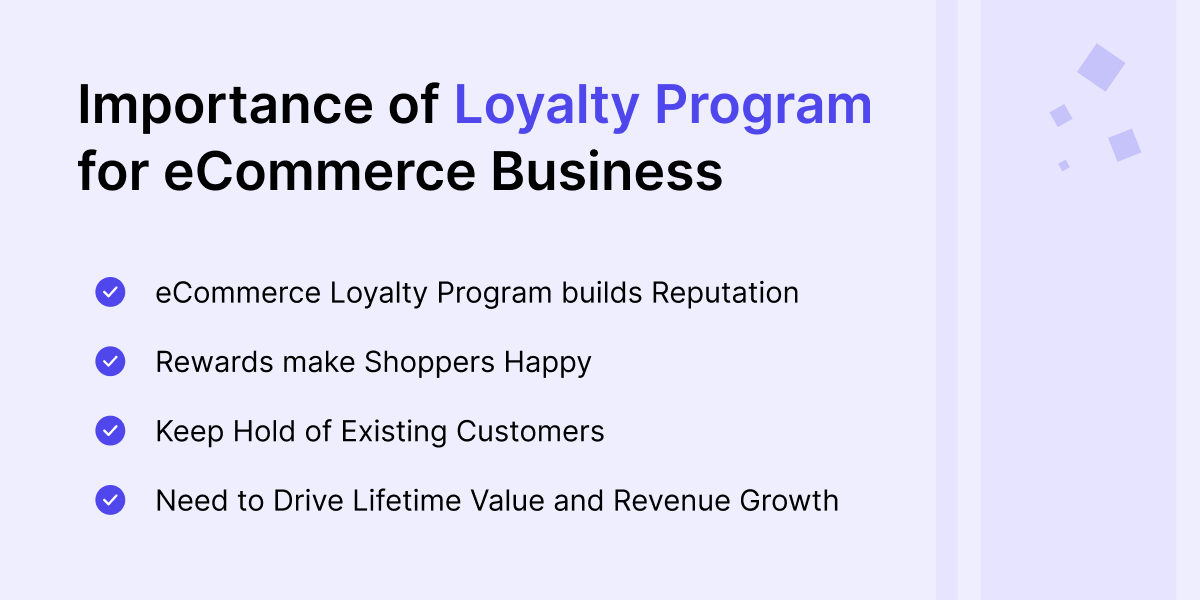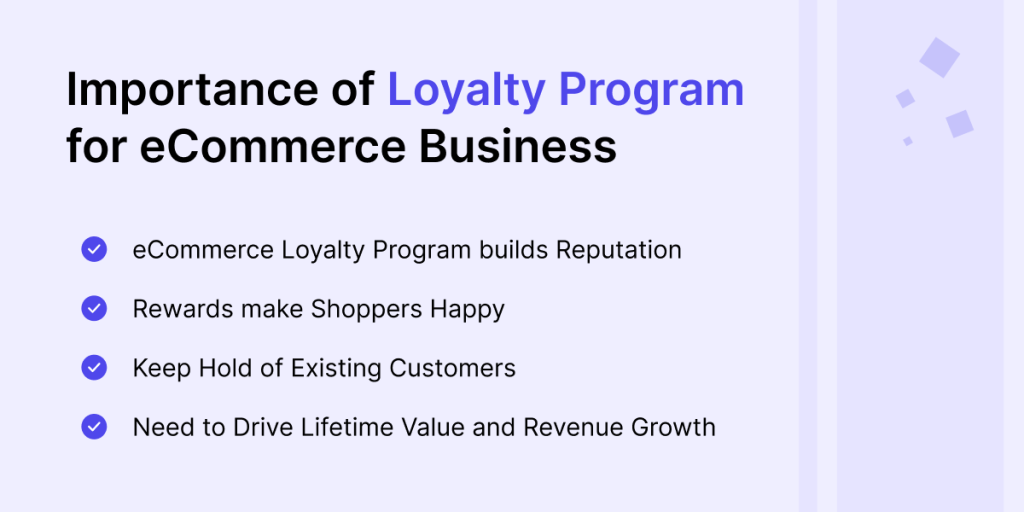 Check out the top reasons to understand the importance of loyalty programs in eCommerce businesses.
eCommerce Loyalty Program builds Reputation
When a WooCommerce loyalty program is set up in your eCommerce store, it performs a dual role.
First, they encourage new shoppers to stay close to you after they purchase your products. Second, it guarantees that existing loyal customers feel valued by your action.
Obviously, having the best eCommerce loyalty program further ensures customer satisfaction. And additionally, it increases the chances that existing customers will share their satisfied shopping experience with their loved ones.
The more customers feel valued by a business, the more they help the brand by referring it to others. In turn, this cycle continues with word-of-mouth marketing that builds brand reputation.
Rewards make Shoppers Happy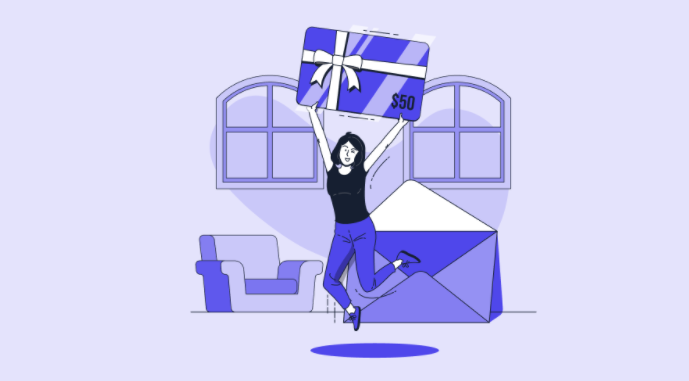 eCommerce customers love rewards. So, you can give rewards to your loyal consumers, which will make your shoppers delighted and excited to refer new customers to your business.
Of course, the perks you provide in your Woocommerce loyalty rewards program are a way to say that you value your customers very much. But your drive to give extra rewards to your loyal customers makes your store stand out from other eCommerce brands.
By carrying out a loyalty rewards program in WooCommerce, you are making an impression on your current and future customer base that you are not just about making profits but additionally engaging with customers and developing a connection.
Keep Hold of Existing Customers
It is essential to take all necessary steps to retain existing customers. Reward customers for their loyalty by implementing a loyalty program. By offering rewards, you can turn existing customers into brand advocates for your promotional campaign & acquire new customers.
Adding a WooCommerce loyalty program to your online business brand makes customers engage with you eagerly! By letting existing customers know that you have a loyalty program, you are showing them that you care about their presence and want them to purchase again & again from your store.
Also, you can start giving birthday gifts, free shipping, product updates, explicit time-limit offers, and more. These are great strategies that would get a shopper reconnected with your brand. Not exclusively are you showing you care about their loyalty, but you are making it fun for them to shop for your items!
Increase the Average Order Value
A WooCommerce loyalty program can assist by boosting your average order value. Every time customers place an order, they can acquire points or offers just for being loyal to your brand.
Whenever there's a motivation for your customers to acquire points under your loyalty program, you can hope to see your average order value increase.
Here are a few suggestions to look into when having a loyalty program in store:
Pick a legitimate name and plan to make a more profound feel.
Foster a legitimate encounter. Ensure it seems like a game.
Guarantee clients have various avenues of enlistment.
Provide non-monetary and worthy motivations.
With an effective customer loyalty program, you can retain customers and build associations with your clients, ultimately urging clients to buy again.
The advantage of having a WooCommerce loyalty program is that it assists with building brand advocates and shoppers who continue to return to your site to shop. Repeat customers are bound to purchase more from your store than individuals who are new to your store.
Let us assume that your store sells consumable items people need to repurchase, like razors, toothpaste, or shaving cream. People generally stock these items over a period. You should set up a rewards or loyalty program, as there is more room for repeat purchases.
With the repeatedly created deals, you create a huge fanbase that will probably order more products at your store. They are less expensive to promote through retargeting, social media, or email advertising. Subsequently, your customers will assist you with expanding the average order value.
Need to Drive Lifetime Value and Revenue Growth
The loyalty program is the most effective way to drive customer lifetime value, which is one of the essential reasons to consider a loyalty program for eCommerce businesses.
If you are seeing a regular decrease in your recurring customers and customer advocacy, this implies your consumer retention technique needs to be improved.
Growing profit through customer acquisition is still achievable if you nurture customer loyalty the right way. It likewise implies your relationship with your customers could be more engaging, impacted by cost, or there is no energetic relationship to make them loyal to you.
With a WooCommerce loyalty rewards program, you can undoubtedly construct a solid bond with your customers as it assists you with sending loyalty prizes with customized offers. Make an explicit WooCommerce rewards program that mirrors your brand and permits your clients to communicate with it in compelling ways,
Reward your customers for the action they perform on your online store.
Motivate reviews as a trade-off for loyalty points and value customer assessment of your items.
Give points for their engagement on your social media channels. (For their likes and shares)
Reward clients on their special days, like birthdays.
These are a few ways to use a WooCommerce loyalty program and engage with your clients more significantly. This drives customers to feel you care about them as a person.
Why must eCommerce businesses consider a loyalty program?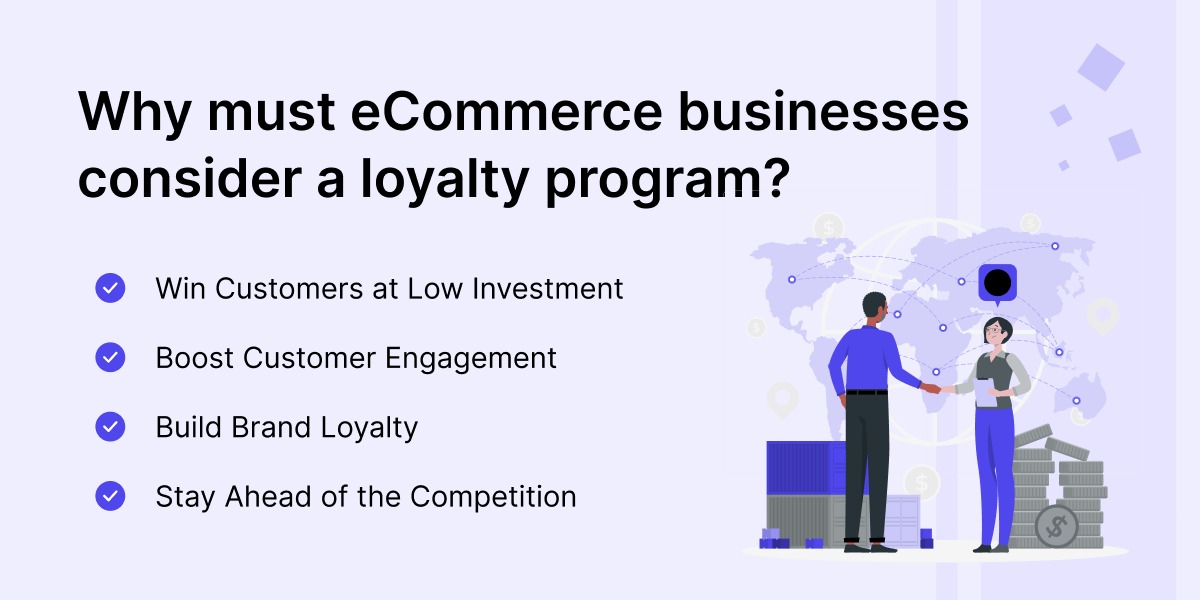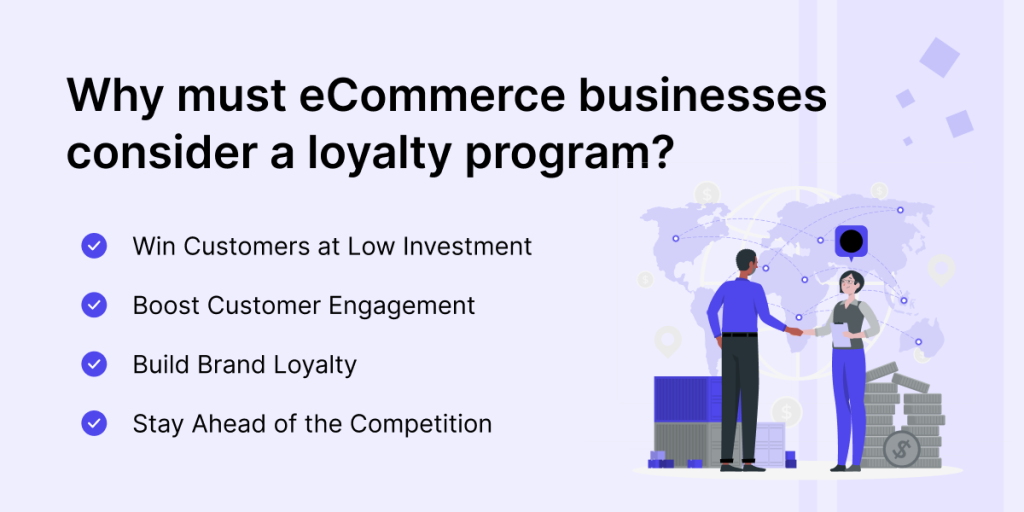 The following insights show why you must consider loyalty programs for your eCommerce business.
Beyond these statistical data, a loyalty and rewards program enjoys a few benefits that make it necessary for an eCommerce advertising technique.
Win Customers at Low Investment
Do you constantly think of engaging new consumers without going beyond your financial budget? And, wondering how? Fortunately, you are not alone, and a WooCommerce loyalty program is all you need to solve the issue.
Keeping a loyal customer base is a method for reducing expenses. The higher the income generated from this loyal customer base, the less the requirement for massive investments.
Boost Customer Engagement
By investing resources and efforts into loyalty programs, the expected outcome will be that shoppers stay loyal to your organization. It comes up with additional benefits like improving the customer's relationship with the brand, increasing trust, and greater engagement via social media.
Besides, consumers can prescribe your eCommerce store to others, a vital exposure for business development.
Build Brand Loyalty
However, a loyalty program appears as a technique that consumes a ton of time and cost and builds brand loyalty in real time.
Assuming that you have a great eCommerce business platform, it is vital to incorporate a loyalty plugin to reward customers with various rewards and build your brand loyalty.
You can likewise depend on the assistance of WooCommerce loyalty programs with a well-built plugin and build customer loyalty.
Stay Ahead of the Competition
To stand ahead of the competition is undeniably challenging for eCommerce business owners. While product choices are expanding, customers are turning more demanding. In addition to cost and quality, they search for brands that know how to reach their target audience and build relationships.2
You must consider the loyalty program for your eCommerce businesses because, other than making the brand stand ahead of the competition, it takes the customer closer to your brand. It creates a mutually beneficial situation.
Offer exciting personalized rewards to your customers with WPLoyalty.
Best eCommerce Loyalty Program Ideas
Here are the best eCommerce loyalty program ideas to take your eCommerce business to the next level. Let's begin!
Brand your Loyalty Program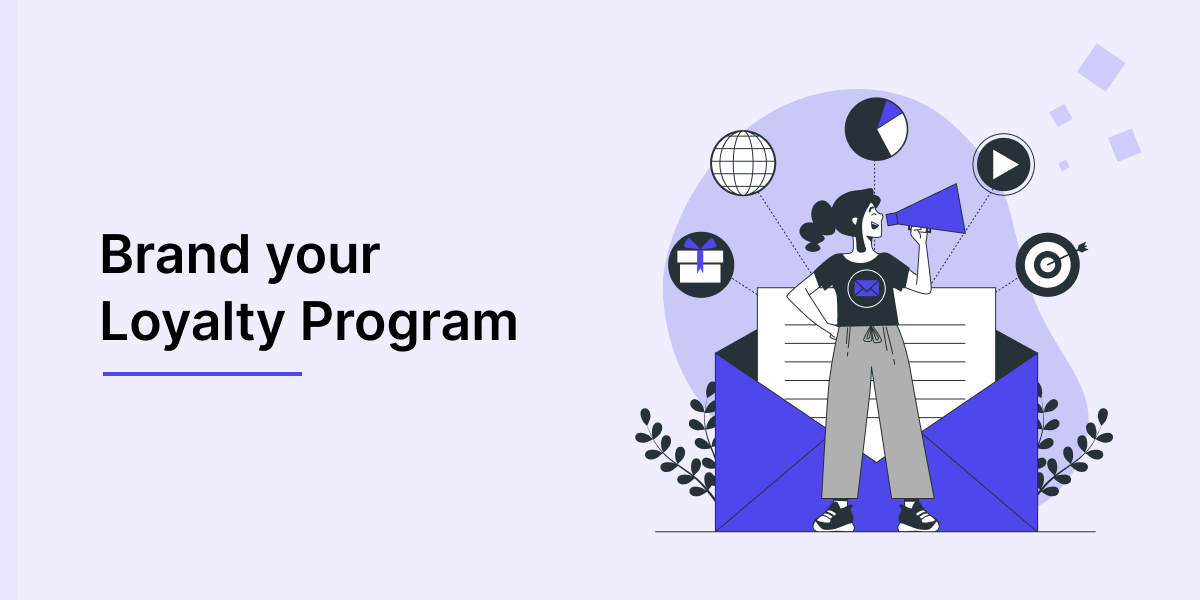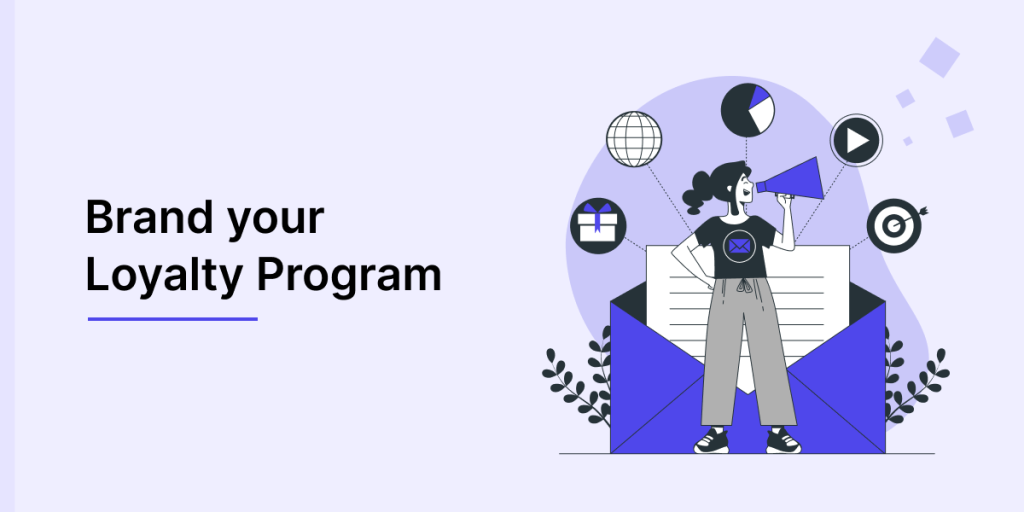 Loyalty programs that are not branded aren't exciting for people. Guarantee you use your brand shades and details. Ensure to provide an entertaining/ catchy name to your loyalty program that matches the products you sell. This will ensure a superior and exciting shopping experience for your loyal customers.
Focus on your Customers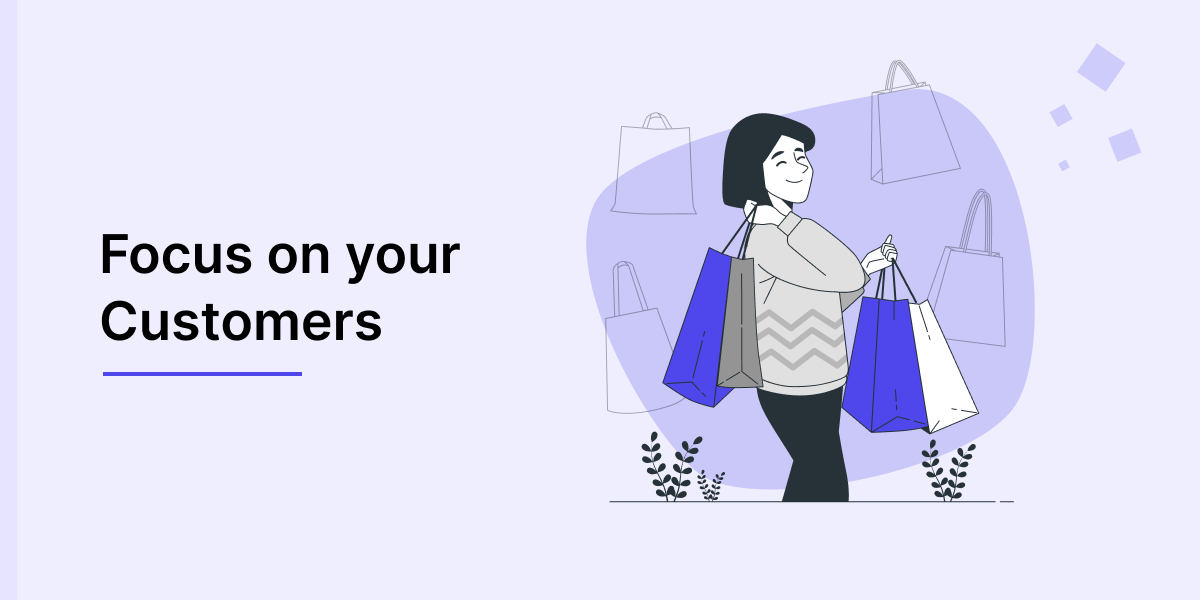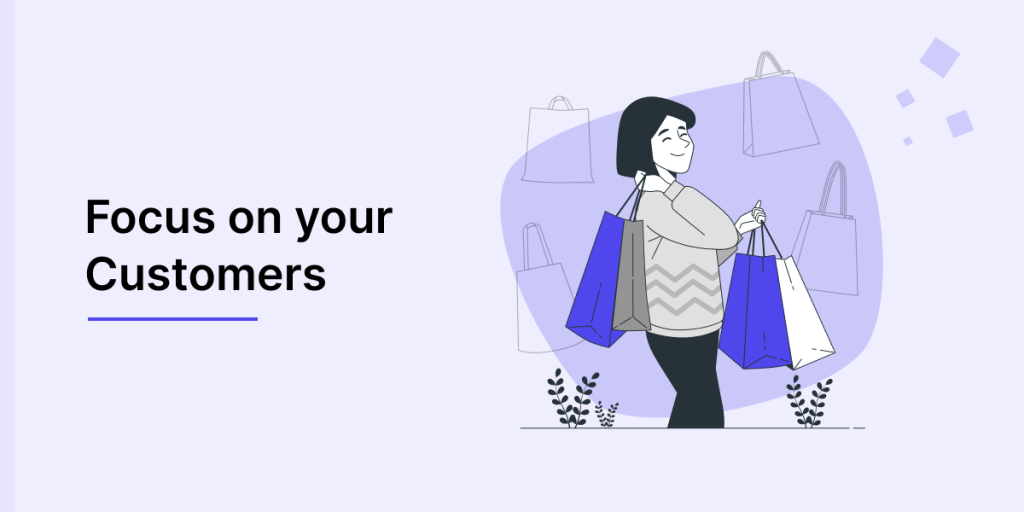 Having a WooCommerce loyalty program is your opportunity to show your customers that you care about them. Your loyalty program shouldn't be entirely about your products but the ways customers can bond with you.
Please provide them with different ways to gain and reclaim points, so they have reasons to return to your store more often.
Let it be Simple
Your loyalty program shouldn't be complicated. Indeed, it's better when it's easy. The more complex your program becomes, the more the customers feel they need help understanding.
Make acquiring points easy enough that anybody can earn them, and make redeeming points manageable. Instead, give a variety of options to your customers to redeem their points earned.
Use a Trustworthy Loyalty Program Tool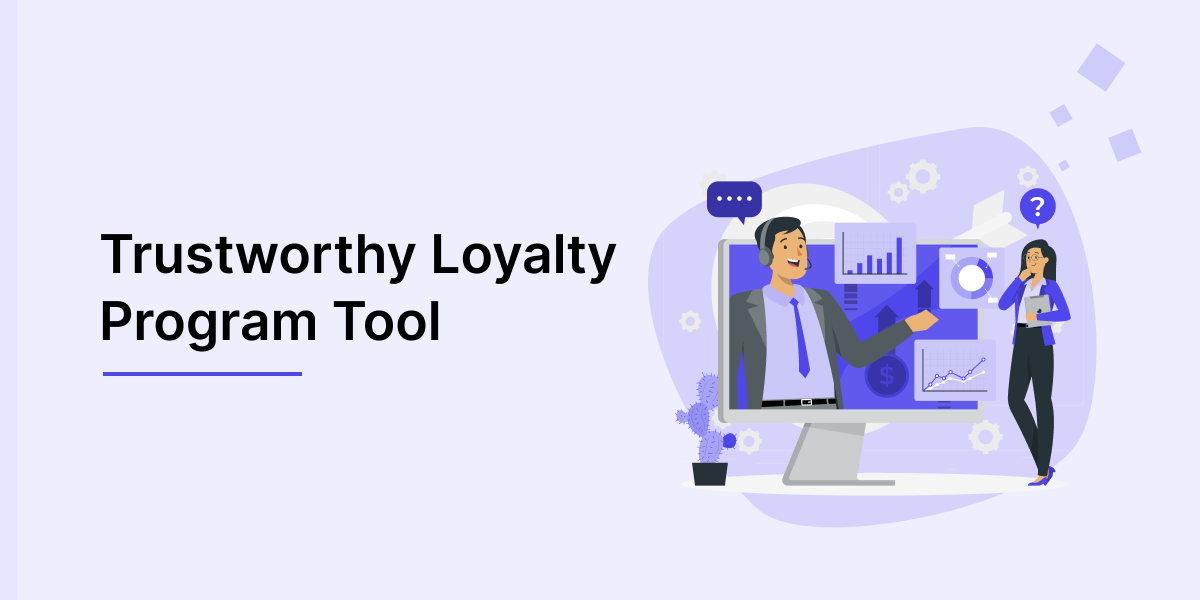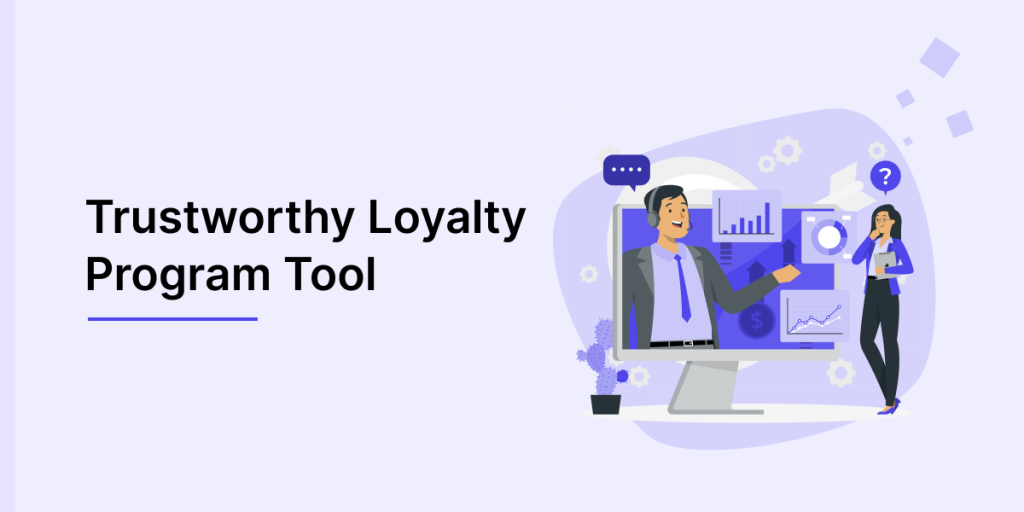 While adding applications to your online business store, you'll need to utilize the best plugin to free yourself from trouble. Constantly do your research on finding a suitable plugin for your store.
Each loyalty program tool offers something different from its competitor. From implementation, and reward choices, to design, you will need to conclude what type of loyalty program will turn out best for your business.
Measure Your Success
Always look for customer feedback and various ways to upgrade your present program or make an advantageous loyalty program for your customers.
Market your Loyalty Program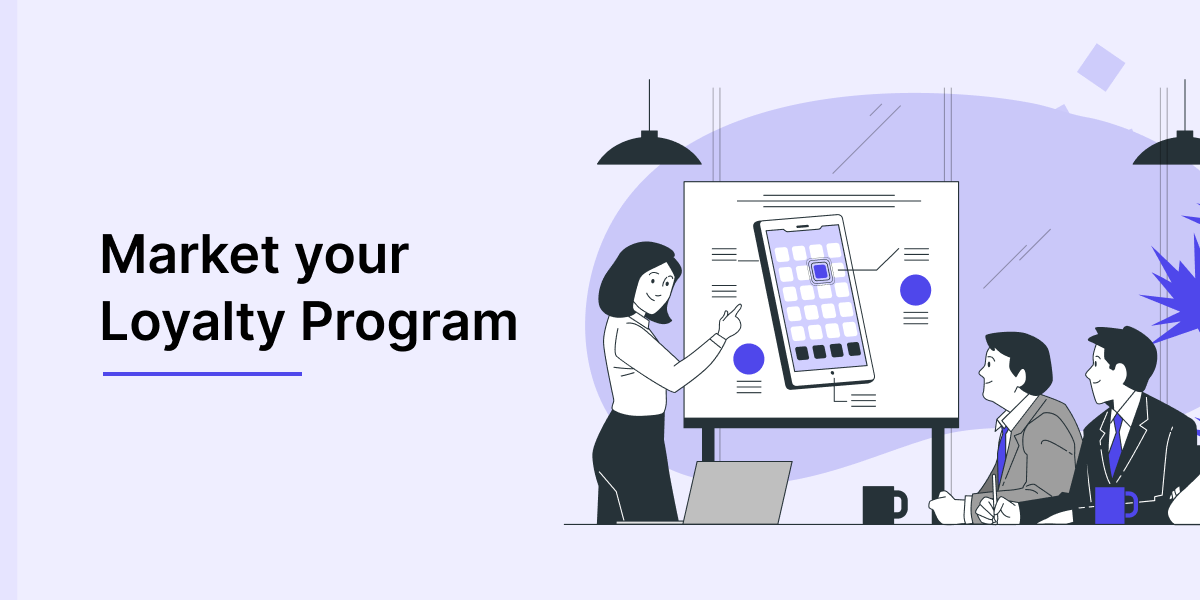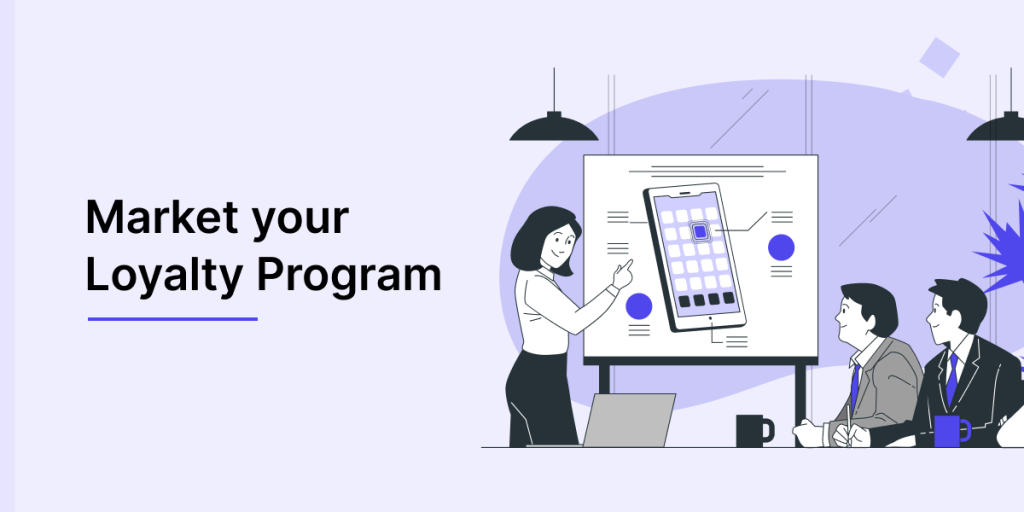 People will only join your loyalty program if they realize it exists. Running promotional drives will expand your WooCommerce loyalty program awareness and possibly excite new customers to attempt shopping at your store as well.
The main phase to making a loyalty program is your website design and landing pages that urge individuals to join. You'll have to utilize advertising to make them aware of the program you've made.
Personalize your Loyalty Program
Personalization is one of the significant aspects of promoting your loyalty program. It can assist you with increasing engagement rates by guaranteeing that all customers are interested in your program and feel like they are part of your brand.
Personalization in messages and landing pages makes it simpler for customers to engage with your products or services personally.
Automate your Email Marketing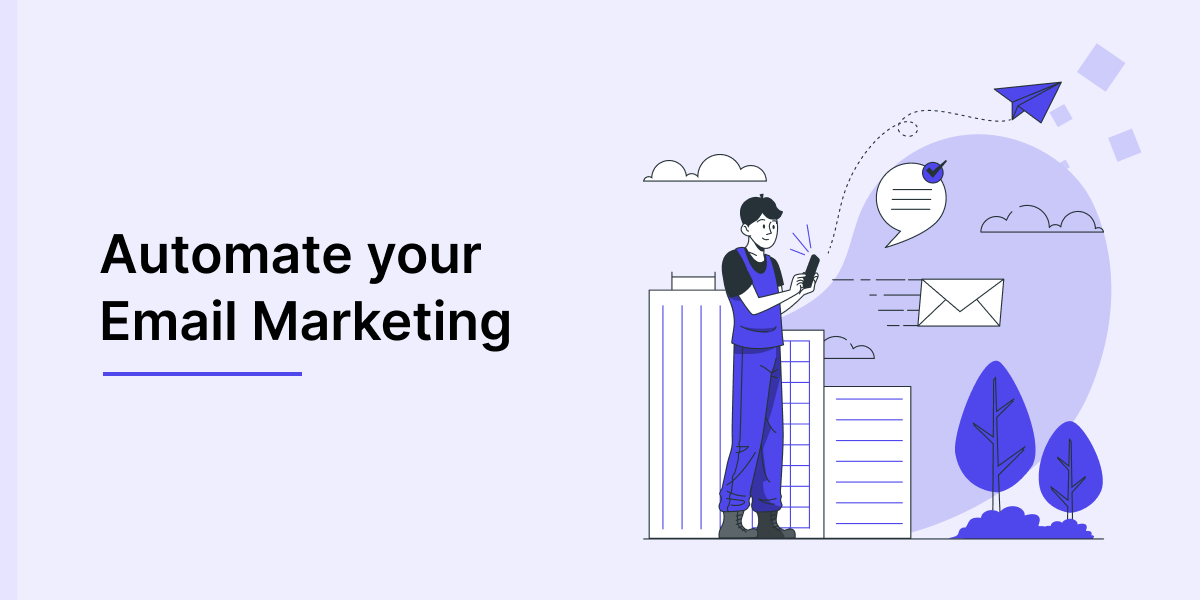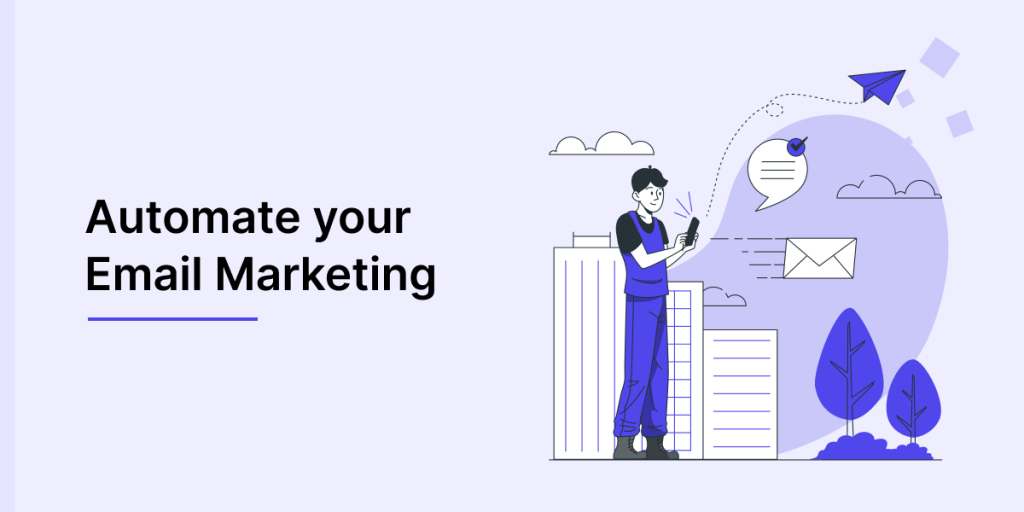 Create an email campaign to engage and acquire customers with your WooCommerce rewards program and incorporate steps for achieving these benefits.
Feature the prizes they can get using convincing product pictures and wonderful email layouts. Ensure to make your email marketing automated to save time and energy.
Launch an eCommerce loyalty program with WPLoyalty and start increasing your sales & revenue easily.
Conclusion
It is a well-known fact that loyalty programs are practical promotional tools. Hope the blog has given you clearer thoughts on why you must consider a loyalty program for your eCommerce business. Customers gain more benefits each time they shop, and you enjoy the benefits like recurring purchases, increased growth, customer retention, and improved brand image.
Therefore, by having a loyalty program in your advertising strategies, you can achieve your marketing and sales goals effectively.
You need a robust and adaptable eCommerce platform for a WooCommerce loyalty program to be effective. Here is how you can set up an eCommerce Loyalty Program.
Identify your goals and KPIs
Determine the actions you need to reward
Determine the rewards you need to offer
Determine the kind of loyalty program to run
Spot an appropriate loyalty program plugin
Welcome clients to join the program
After your loyalty and rewards program is set up in your eCommerce store, it has just started. You screen constantly, break down, and update your loyalty program depending on your customer's input and the information you gathered.
Learn more about what loyalty programs are and their five benefits, Customer's expectations from a loyalty program, and the best ways to acquire more customers for your WooCommerce store.
Why is customer loyalty important in eCommerce?
It is important to consider loyalty programs for eCommerce businesses as it leads to repeat purchases, positive word-of-mouth recommendations, and increased customer lifetime value. Loyal customers are less likely to switch to competitors and more forgiving of minor issues.
What are the factors of a successful eCommerce loyalty program?
A successful eCommerce loyalty program includes the following factors:
1. Value to customers
2. Easy to understand
3. Personalization
4. Multiple ways to redeem rewards
5. Constant communication and flexibility
What is a loyalty program in eCommerce?
A loyalty program in eCommerce is a marketing initiative that rewards customers for their repeat purchases and loyalty to a brand. These programs incentivize customers to make repeat purchases by offering rewards such as points, discounts, exclusive access, or special perks.
What is the key purpose of loyalty programs?
The key purpose of loyalty programs is to incentivize repeat purchases and increase customer retention by creating a long-term relationship between the brand and the customer. Loyalty programs aim to achieve this by offering rewards and incentives to customers for their loyalty and engagement with the brand.
How does ecommerce retain customer loyalty?
Ecommerce companies retain customer loyalty by providing,
1. Excellent customer service
2. Offering personalized experiences
3. Providing frequent promotions and discounts
4. Offering quality and unique products
5. Maintaining a strong brand reputation
6. Providing convenient payment and shipping options.