As an online store owner, you know that customer satisfaction is key to building a successful business. One way to keep your customers happy is by showing them how much you appreciate their loyalty through a customer rewards program. In this blog, we will explore some effective strategies for rewarding your loyal customers on WooCommerce.
With so many options available online, customers need a compelling reason to keep coming back to your store. By implementing a customer rewards program, you can incentivize your customers to continue shopping with you, increasing the chances of repeat business and word-of-mouth referrals.
We understand that creating successful customer reward programs can be daunting, especially if you are new to the e-commerce world. That's why we have compiled a list of the best ways to reward loyal customers in WooCommerce that works for your store. Whether you are looking to increase sales, build customer loyalty, or simply reward your most valuable customers, this blog will provide you with the loyalty rewards ideas. Also, steps on how to reward loyal customers using WPLoyalty WooCommerce plugin.
So, sit back, relax, and get ready to learn how to reward loyal customers and take your online store to the next level!
Use WPLoyalty to reward loyal customers easily with points and coupons.
Importance of Loyal Customers in eCommerce
A study says loyal customers spend more money and are more likely to try new products than new ones. Also, they say a 5% increase in customer retention gives you more than a 25% increase in profit.
It's time to show your customers how loyal you are to them by offering the right set of loyalty rewards and incentives. Implement the right rewarding strategies by choosing the right Loyalty Rewards program for your WooCommerce Store.
Why is it Important to Reward Loyal Customers in WooCommerce?
Rewards make the customers happy, and happy customers stay around for a long time. In other words, you have offered them a satisfying customer experience, resulting in improved customer retention. Meaningful rewards create a deeper connection with your customers. Also, customer loyalty rewards make their shopping journey memorable— a major reason why they choose your brand over others.
Loyalty isn't just about repeat purchases, it's a positive relationship between a brand and its customers, and it's a win-win for both. Customer satisfaction leads to great customer experience, and a good customer experience leads to word-of-mouth marketing. WoM communication stimulates customer acquisition, and your new customers are your next loyal customers. This cycle works for good, which is why you should implement a Customer Loyalty Rewards Program for your WooCommerce store.
Best Ways to Reward Loyal Customers in WooCommerce
The reward program for customers is a key to unlocking various benefits, so it's all about the way you get your customer rewards program up and running. Let me list out efficient loyalty program reward ideas to help you learn how to reward loyal customers.
Set Up a Goal
Customers love it when you recognize and appreciate their efforts. Monitor every action the customers transact with your store, and
Make a strategic plan.
Reward customers for their actions like purchases, reviews, referrals, social shares.
Give them unique rewards, coupons and discounts.
Further, show your customers that you value each dollar they spend at your store. To conclude, setting up a plan or goal is the foremost step to success for every store.
Membership and Early Access
Run a members-only program that opens early access options for loyal customers. Access to new product offers and discounts will make them feel special. Also, it fosters an emotional connection. They feel valued, and in turn, they begin trusting your brand. Hence, treat your customers reliably to encourage them to join the members-only loyalty rewards program.
Feedbacks and Rewards
Receive feedback from your customers to know them better. As loyalty is more than retention, it's time to know what your loyal customers think about your brand, product range, and services. Feedback is a customer satisfaction indicator that attracts new customers into your woocommerce store.
Receiving reviews and feedback from customers is mutually beneficial if you reward them with points when they write a product review or give feedback on a product. Also, negative feedback let you work on the problematic areas that slow down your revenue generation.
Reward Customers for Every Action
Little appreciation makes a huge difference. So, reward customers for every small action they make. For instance,
Give one point for every dollar they spend.
Give points as soon as they sign up for your store.
Celebrate your customer's birthday or any special occasion by giving offers and discounts.
Provide points when they share your product on social media.
Provide a Referral Bonus
It's not just a loyalty program; you are running relationship marketing, focusing on nurturing a long-term relationship with your customers. Happy customers don't stop just with repeat purchases; they talk about your brand's reliability with their friends and family. Their emotional loyalty and effort to make word-of-mouth marketing should be recognized and rewarded to convey that you value their time. Hence, reward them suitably for every referral they make and convert.
People trust their close one's choices and experiences, and referral marketing endorses brand affinity and trust. Invest in the line of trust, creating a trustworthy relationship with your customers priorly. Your rewards and discount offers will make them feel valued and make more people engage in a referral program.
Use WPLoyalty Referral Plugin and start rewarding your customers for every referral they make.
Create Levels or Tiers
Levels and tiered programs rear a sense of belonging and encourage community-building among customers. It's one of the best ways to improve brand value and strengthen customer bonds. Let customers enable themselves with earned points or by reaching an eligibility threshold to enter a level or tier you create for them. It helps you segment or differentiate customers and reward them accordingly.
Offer Free Shipping
Loyal customers are your brand advocates. It's essential to let them enjoy one of the popular privileges of being a part of a customer loyalty program. Free Shipping is one of the proven benefits that all prime members of popular brands enjoy.
Free Shipping rewards pull in customers quickly, and it's also one of the most popular methods to reduce cart abandonment. Whether point-based or subscription-based loyalty programs, even new customers want to qualify for free Shipping by adding themselves to the programs. All you need is a proper strategic plan to implement the free shipping reward plan that doesn't pinch your pockets.
Now that you know why you should implement a reward program for customers in your WooCommerce store, it's time to choose a WooCommerce Points and Rewards plugin to create a rewards program easily.
How to Reward Loyal Customers in WooCommerce?
To reward loyal customers in WooCommerce, you must need a WooCommerce points and rewards plugin like WPLoyalty. The first step is to install and activate WPLoyalty and create campaigns to reward your loyal customers. WPLoyalty is one of the most popular plugins for creating a loyalty points and rewards program in a few easy steps.
Best customer rewards programs always look after their customers well.
Reward loyal customers with points, coupons, discounts, free gifts, and free shipping. You can reward them with points for
purchases
Sign up,
Writing reviews
Referrals
Birthdays
Social media share
Meeting specific goals/achievements.
A simple-to-use customer reward program saves up your time.
Let's go ahead and create a customer rewards program in WooCommerce.
Creating a simple Customer Loyalty Rewards program in WooCommerce
Reward your customers with points for every dollar they spend. For example, Your customer gets one point for every dollar spent. It is one of the most popular ways to reward loyal customers and encourage repeat purchases.
Step 1: Install WPLoyalty
To get started, visit your WordPress -> Plugins -> Install and activate the WPLoyalty plugin. Download the WPLoyalty plugin from your account.
Also, a step-by-step guide for installation of the WPLoyalty plugin can be found in the documentation.
Once the installation is done, you can now see the WPLoyalty dashboard on your screen.
Step 2: Create a campaign
Go to your WordPress dashboard -> WPLoyalty -> Campaigns -> click on the "Create New Campaign" button. You can see different types of campaigns. Choose the "Point for purchase" as the campaign.
Create a Point for Purchase campaign by filling out the necessary details, as shown in the screenshot below, and clicking on Save and Close.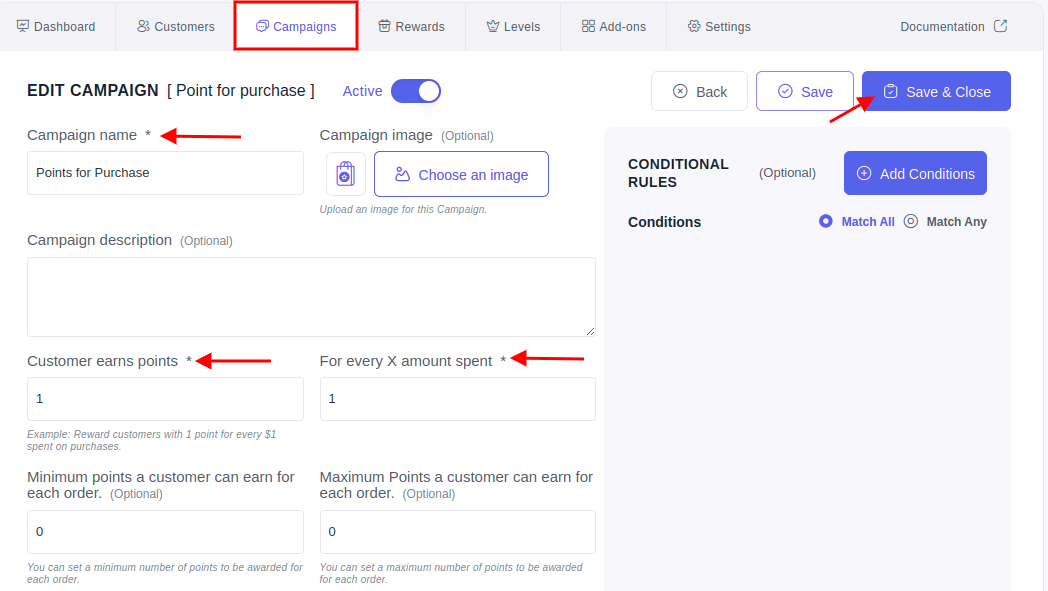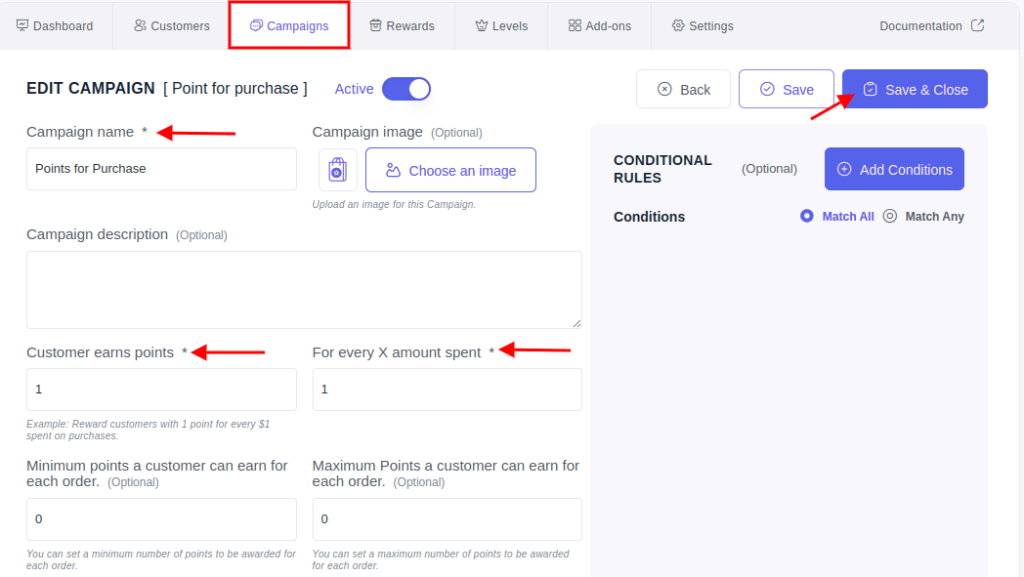 This will enable the customers to start earning points for their purchases. Let's create rewards so that they can spend their points.
Step 3: Create rewards
WPLoyalty comes with a number of rewarding options. You can let customers convert their points into coupons or redeem the points for a fixed discount, a free product, free shipping, and more.
The following steps show you how you can create a reward that allows customers to convert their points into coupons.
Example: Customers can redeem 500 points for $5 dollars
So, visit the WPLoyalty dashboard -> Rewards -> Create New Reward -> Point Conversion -> Fill in the details and Click on Save and Close.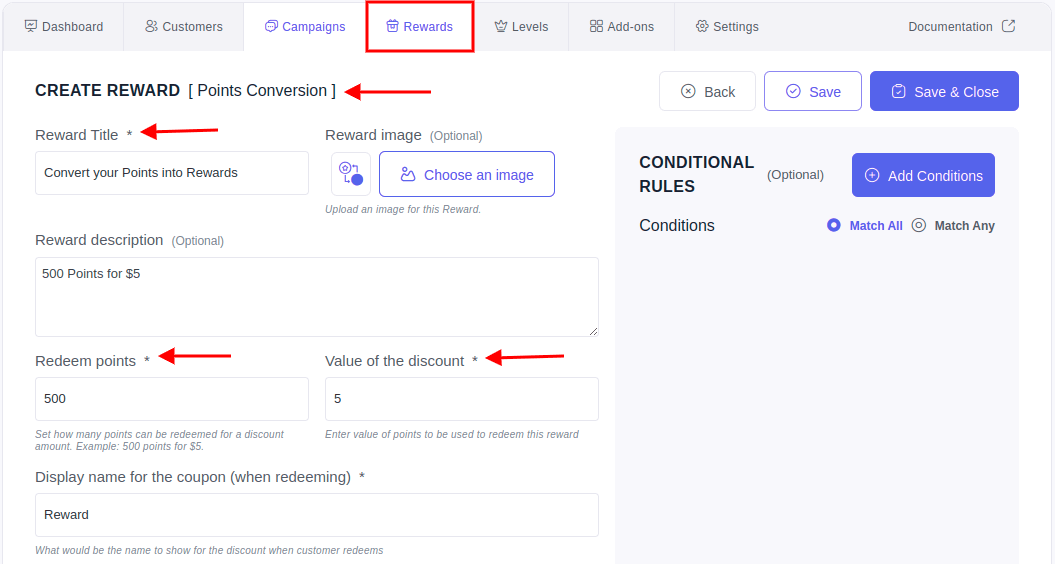 Now, your customers can earn and spend points in your store. Let's make this loyalty program discoverable to your customers.
Step 3: Customer's Page
Now, your customers can see the 'point reward' on their 'My Account page -> Points & rewards section – Ways to earn points.
On the other hand, there is a chat-like launcher widget available at the bottom right corner of the site. Your customers can also look out for their rewards on the widget.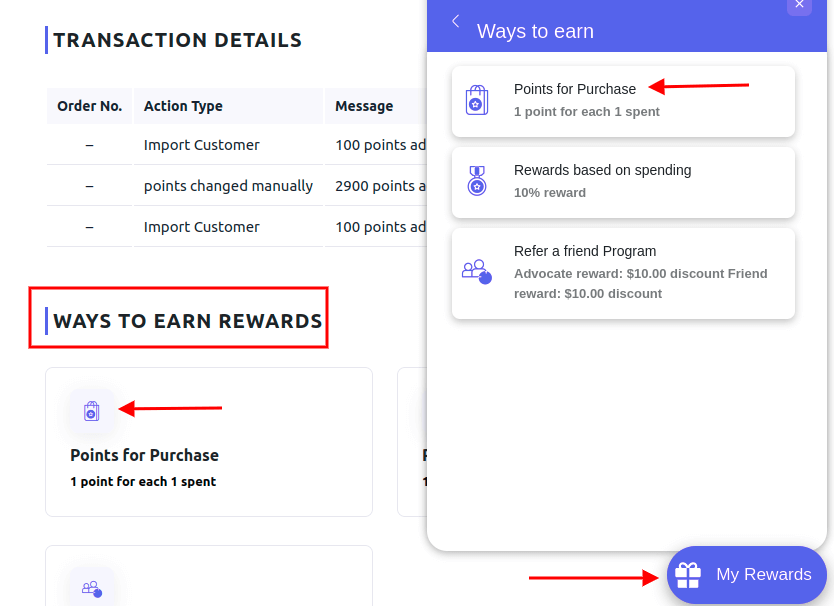 Once the customer makes a purchase successfully, they will receive points which can be collected and redeemed as coupons for future purchases.
Also, your customers can visit the 'My Rewards' page to redeem their 500 points into a $5 reward.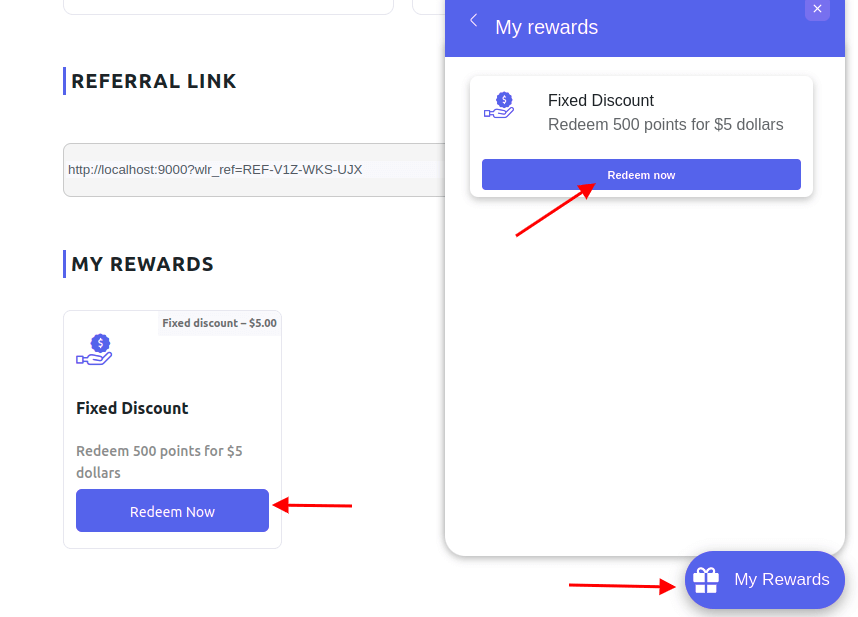 Once the customer clicks on 'Redeem Now', a coupon will be generated. Next, by clicking on 'Apply Coupon,' the coupon will be redeemed during the 'Checkout Page.' This way, you could encourage customers to earn more points and redeem them for a reward.
With WPLoyalty, you can now reward your customers for every purchase they make at your store.
Conclusion
At the end of the day, all you need is to give your customers a satisfying shopping experience to increase customer engagement rate. The more engagement, the better the conversion. The best customer rewards program helps you maximize customer lifetime value. Now, it's time for you to implement one in your WooCommerce store.
I hope this blog helped you a lot in knowing how to reward loyal customers. Don't delay anymore to convert your normal visitors into loyal customers.
Learn more about what a customer rewards program is?, How To Set Up A VIP Loyalty Program In WooCommerce? And Why Is It Important To Reward Your First Customers Right Away?.
How do you reward your loyal customers?
Rewarding loyal customers can be done by implementing a rewards program, offering exclusive discounts and offers, providing personalized experiences, creating a VIP program, recognizing and showing appreciation, and making them feel special. These incentives can increase customer retention and drive repeat purchases, ultimately leading to greater profitability for the business.
What is the purpose of a loyalty program?
The purpose of the loyalty program is to reward customers to increase customer retention, repeat business and increase the customer lifetime value. The goal is to create repeat customers who are more likely to make additional purchases and become more loyal to the brand.
How do you incentivize loyal customers?
Incentivizing loyal customers can be done by offering rewards programs, exclusive discounts and offers, personalized experiences, VIP programs, recognition and appreciation, and making them feel special. These incentives can increase customer retention, drive repeat purchases, and lead to positive word-of-mouth marketing for the brand.
Why should we reward loyal customers?
Rewarding loyal customers can benefit businesses by increasing customer retention and driving repeat purchases. This in turn can lead to greater customer lifetime value and reduced acquisition costs. Additionally, rewarding loyal customers can also lead to positive word-of-mouth marketing, helping to attract new customers to the brand.
Why are loyal customers more profitable?
Loyal customers are more profitable for businesses because they are more likely to make repeat purchases, which can lead to greater customer lifetime value. Additionally, loyal customers may also be more likely to purchase higher-priced items or add-on services, and may require less marketing and advertising expenditure to maintain engagement. As a result, businesses can see increased revenue and reduced costs from having a loyal customer base.