If you ask for more of your customers money or time, you must provide them with something valuable.
A loyalty program is a marketing strategy in which a business rewards and discounts its customers for being loyal. A brand offers to become a part of a reward program to consumers who perform repeat purchases or any specific action with the store. It helps businesses keep customers and increase sales.
Rewarding customers with loyalty points is a widely used and proven customer loyalty strategy. This loyalty points strategy rewards your customers for engaging with the store or taking a specific action.
In this article, you'll learn more about loyalty points, their importance, and how to set up WooCommerce Loyalty Points.
What are loyalty points?
Customer loyalty points are probably the most popular loyalty program. Companies provide customers with points for each purchase or specific action like referring friends, writing a review, etc.
Once they have enough points, customers can redeem them and get something for free or at a lower price. Customers can check the number of points at any time. Starbucks, Mariott, and many other reputed brands reward their existing customers with points they can redeem for something useful later.
Why are loyalty points important?
"Customer satisfaction is worthless, and customer loyalty is priceless," American author Jeffery Gitomer once quoted.
Loyalty programs are the backbone of modern business, and loyalty programs benefit marketers just as much as they do customers. Customer loyalty points are the most widely used and examined method of generating customer loyalty. Firms can expect the following benefits from Implementing customer loyalty point programs.
Loyalty points to increase customer satisfaction.
Customers indeed want you to care about them. Customers join loyalty schemes mainly to benefit financially, which means your program should provide them with opportunities.
Loyalty points are a simple way to do this. Giving customers points that can crash in for discounts on future purchases can encourage retention, keeping them shopping. Several ways to reward customers include purchases, social likes, customer photo reviews, etc.
Customers will have a more satisfying experience if they can earn and redeem their points quickly. As a result, your rewards program must link to the value customers seek in the brands.
Increase in Sales and Revenue
According to Frederick Reichheld of Bain & Company's research, "increasing customer retention rates by 5% increases profits by 25% to 95%."
Customer acquisition costs outweigh customer retention costs. Retaining customers will increase profit for your eCommerce store at a lower cost and help to increase sales and revenue.
Customer loyalty points lead to customer retention and loyalty, which leads to increased repeat purchases.
Contribute More customer data
Once customers join a loyalty scheme, you can track their preferences, buying habits, and interests. According to Research, most Americans are willing to exchange personal information for loyalty program perks.
Customer loyalty points are a decent deal, and both customers and store owners benefit, which Makes it a fair trade. Businesses can use collecting information to personalize outreach and tailor monthly offers to specific customer segments.
Raise the customer's voice.
It's better to rely on members of rewards programs to drive more business rather than to create numerous new marketing campaigns. But for this, you must focus on user experience.
Businesses can ask customers to review their user experience on third-party sites, social media, or anywhere by encouraging customers with loyalty points. Customers with a positive experience with a loyalty scheme are likely to tell others about it. These referrals help the firm by bringing in new clients and loyal members.
How to set up loyalty points on WooCommerce?
We checked a lot of benefits of Rewarding loyalty points as part of the Customer loyalty points. Let's look at how to set up WooCommerce Loyalty Points.
Install WPLoyalty Plugin and Activate
WPLoyalty enables you to quickly build a Loyalty and Referral program in your store to increase customer loyalty and retention rates. To Install WPloyalty, follow these simple steps.
Step 1: Download the WPloyalty WordPress plugin.
Step 2: Log in to your WordPress dashboard and Click on plugin -> Add New
Step 3: Click on "Upload Plugin"
Step 4: Click "Browse" and Select the WPloyalty plugin
Step 5: Click "Install Now" and Activate the plugin.
Go to Campaigns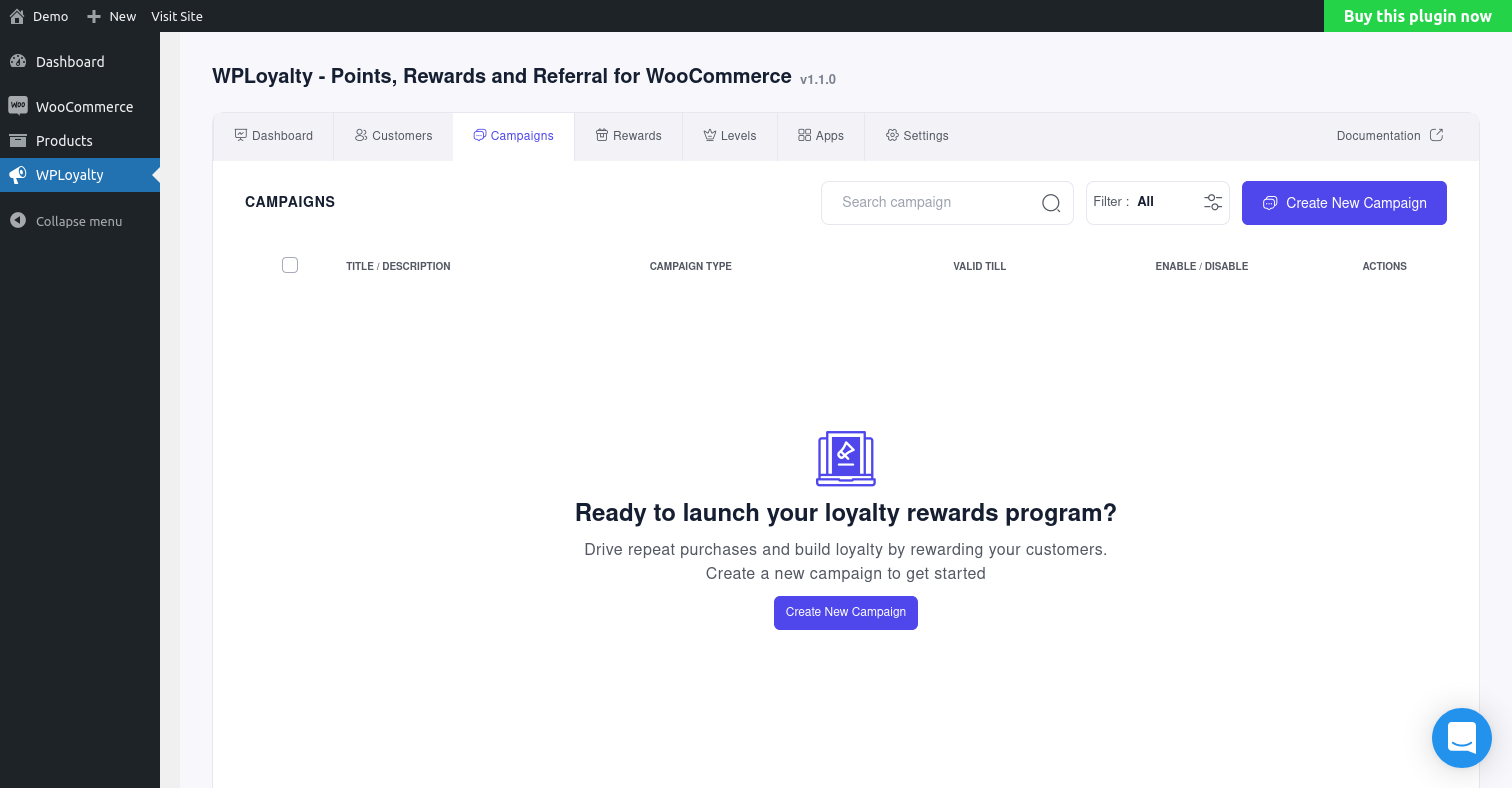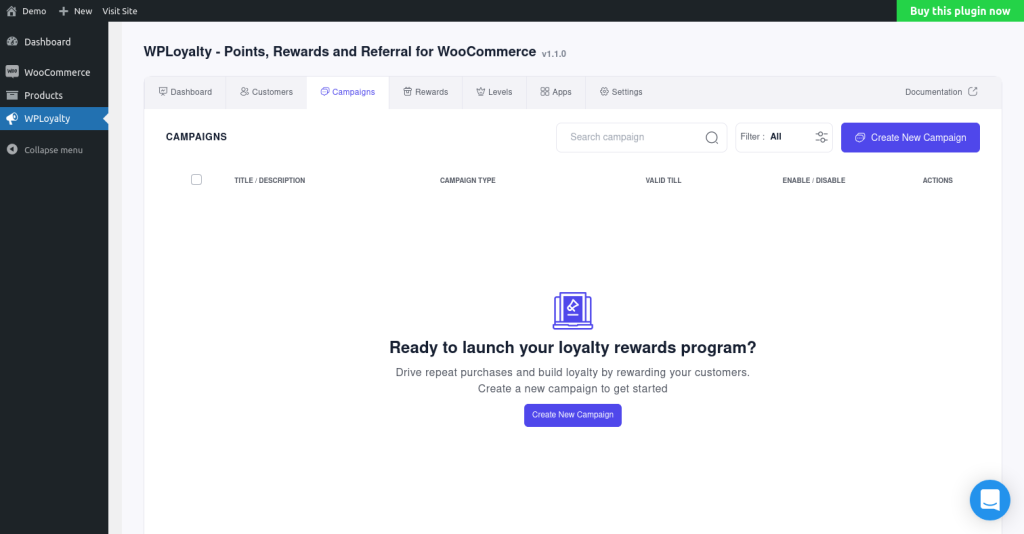 You need to create a campaign here to set up WooCommerce Loyalty Points. So, go to the WordPress dashboard→WPLoyalty→Campaigns. Click on the "Create a New Campaign" Button. You will get a window with many options to set up WooCommerce Loyalty Points.
Choose Way to Reward
You can reward your customers with WooCommerce Loyalty Points in various ways, and the following are the most common engagements that allow customers to earn their rewards.
Purchase: Offer WooCommerce Loyalty Points for placing a new order.
For example, you can offer 10 points for purchasing new Product X at $100
Sign up: Reward WooCommerce Loyalty Points for creating or registering an account with your store. It is helpful to turn visitors into loyal customers.
Review: Pass WooCommerce Loyalty Points to customers when they write a review for a product they purchased, increasing your store's social proof and growing revenue.
Referral: Give them WooCommerce Loyalty Points for referring friends to your store.
Launching customer loyalty points can turn your customers into brand advocates. People trust satisfied customers more than advertisements.
Social Sharing: Offer WooCommerce Loyalty Points for sharing your store or products on Facebook, Twitter, Whatsapp, or Email. It helps you boost sales through more social media visibility and proof.
Birthday: Reward your customers with WooCommerce Loyalty Points for sharing their date of birth with you, which will help you offer special offers on their birthdays.
All these programs are available on WPLoyalty. Make a concept of a rewards or points program suitable for the campaign. It will make the process easy and effective.
Create New Campaign
After Choosing the rewards program, click on the create campaign button in the respective reward type.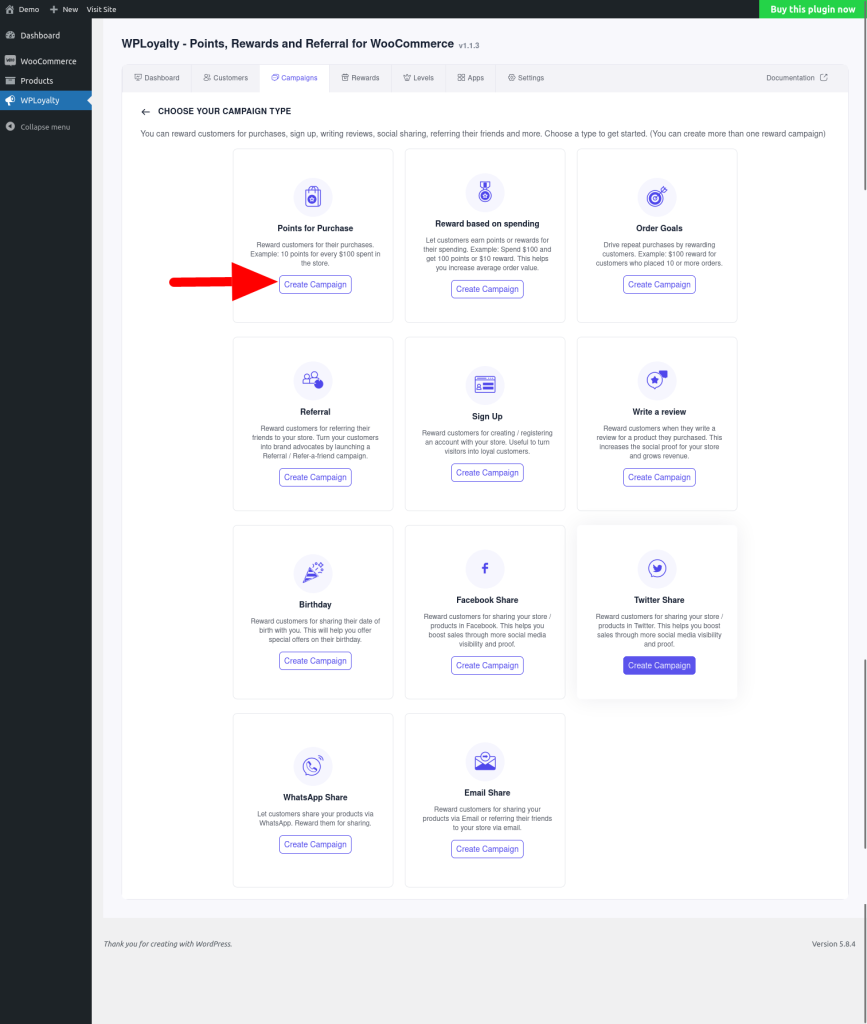 In the following window, you can set up the campaign name, campaign description, campaign start and end date, and type of reward.
Choose the Type of Reward
Choose the type of reward following the selection of campaign type. On the 'Create a Campaign page, as you can see in the picture, there is an option to choose the reward type.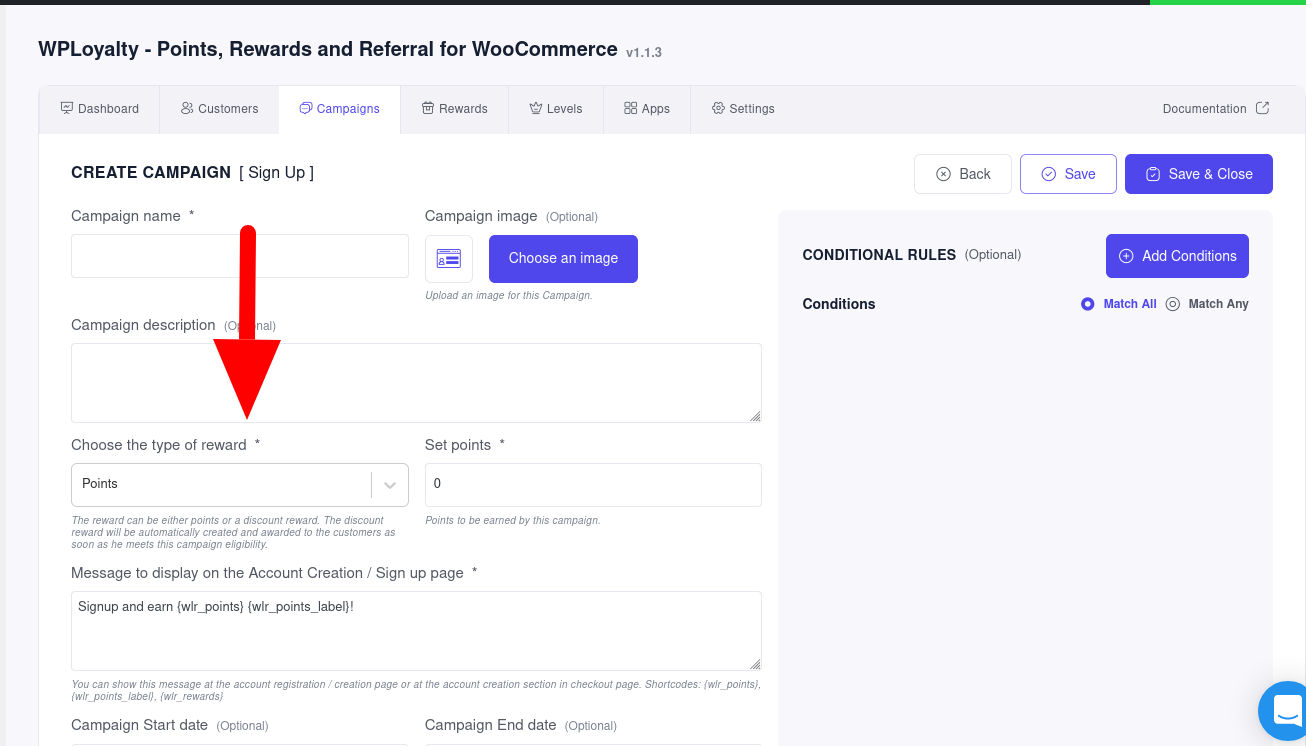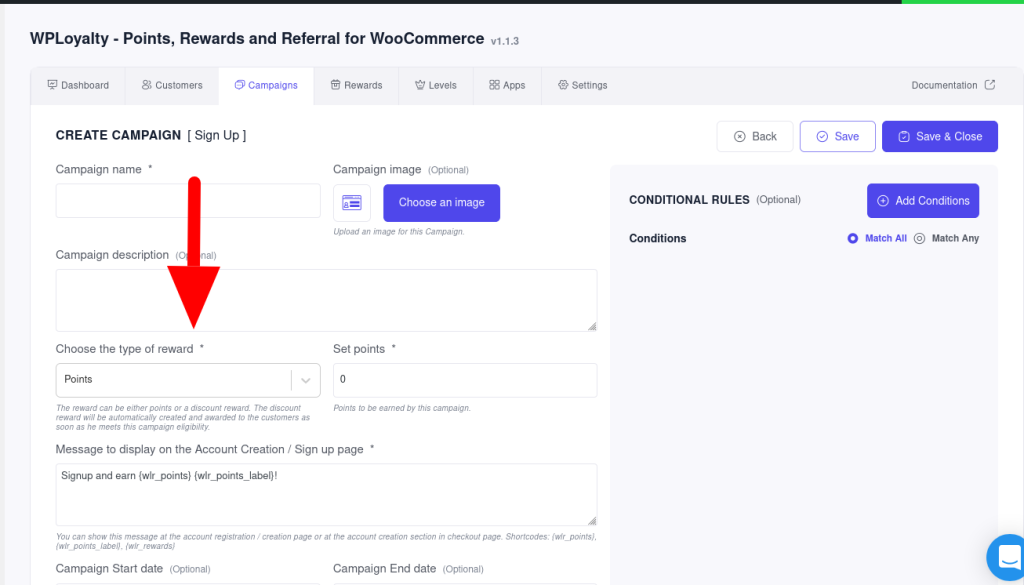 To set up loyalty points, you must choose "points" here. Then set points and campaign start and end dates.
Save, Activate, and Track the Campaign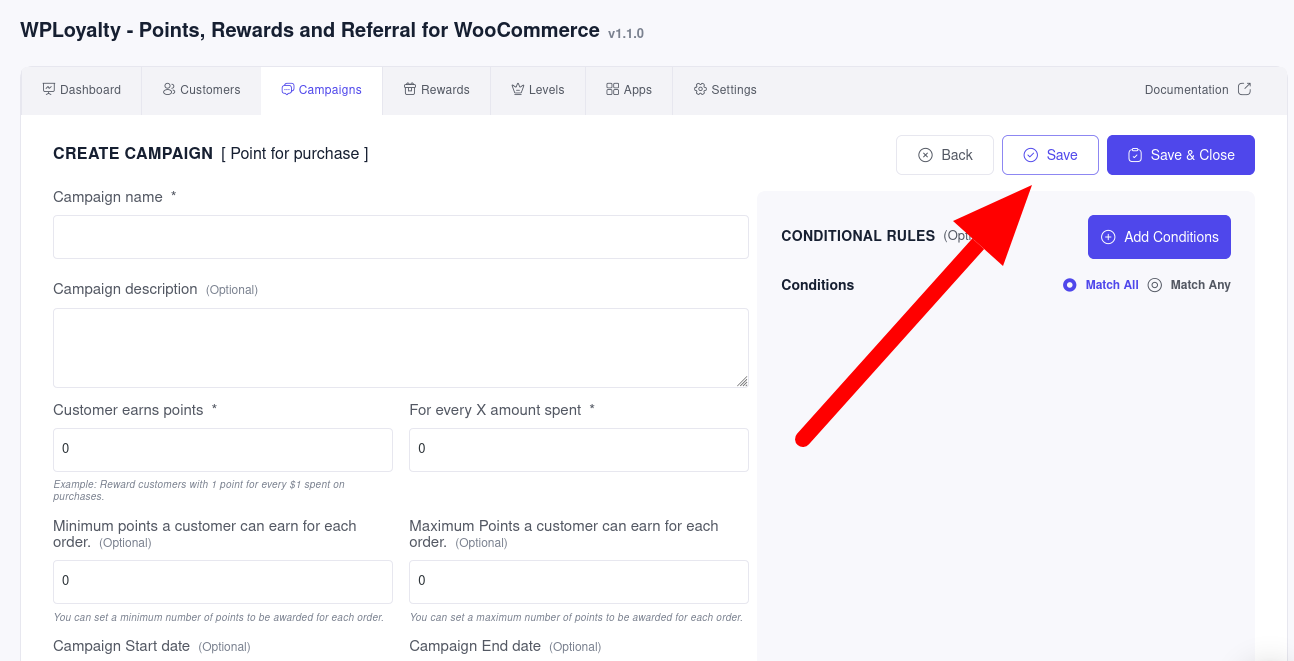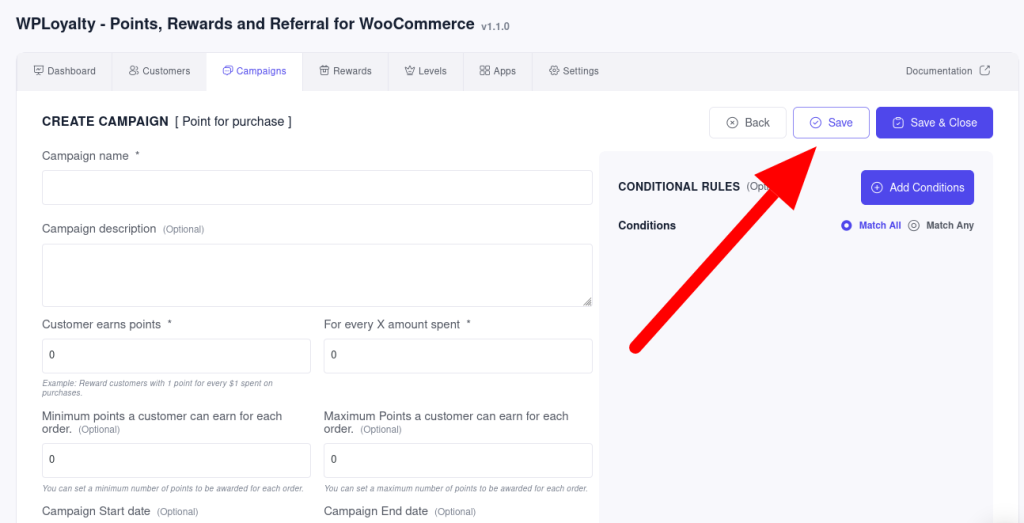 By clicking the save button, the campaign is active, and then you can track the campaign with a dynamic dashboard and further control it.
Wrapping Up
Whether you go with a point-based, tiered, or paid membership structure, customer loyalty points programs constantly offering value to their members are the best way to ensure repeat purchases. For your rewards program to work, you must keep your customers engaged and interested with status emails, special offers, birthday gifts, and more.
Giving away loyalty points to customers for every penny they spend is one of the successful ways to create customer loyalty, and most brands follow it.
We hope we helped you get an idea of loyalty points, their importance, and how to set up WooCommerce Loyalty Points. Check out more WooCommerce Loyalty Programs – just click here.
What do loyalty points do?
Customer loyalty points are points offered to customers for purchases or specific actions like referring friends, writing a review, etc. It helps to increase customer engagement and customer retention.
Best loyalty plugin for WordPress
WPLoyalty is one of the most effective WooCommerce Points & Rewards plugins. This loyalty plugin comes with several features to boost customer retention and engagement.
Do loyalty points expire?
Yes. Loyalty points expire. Shop owners can set up different conditions when crafting loyalty point campaigns, including the Start and end date of campaigns, Points expiry date, etc.
How do loyalty Points work?
Customers can earn points in most loyalty programs by making purchases or performing simple actions in your store. Customers earn points on every purchase, which can then be redeemed as a reward to encourage them to make a repeat purchase.