Do you want to attract more customers and boost your online store's revenue? Leveraging word-of-mouth is a proven and effective approach to attain this. But how will you encourage your existing customers to refer their family and friends to your store? The answer is WooCommerce Referral Program.
A successful WooCommerce referral program is an effective marketing strategy that encourages your existing customers to refer their friends and grow referral sales. In simple terms, referral marketing is often called 'WooCommerce refer a friend program' or 'word-of-mouth marketing'. Research found that 86% of brands with a customer referral program witnessed an increase in revenue.
By employing refer a friend program,, you can encourage your existing customers to refer their friends and family to your store, ultimately driving more traffic and sales. And with the right referral plugin for WooCommerce, you can easily set up and manage a referral program that rewards your customers for spreading the word about your brand. In this blog, we'll take a look at what a WooCommerce referral plugin is, why eCommerce store's need this, and some of the best referral plugins available for WooCommerce.
Want to know more? Let's explore how they can help you build a loyal customer base and increase your revenue.
Launch a best WooCommerce Referral program and grow your word-of-mouth sales easily.
What is a WooCommerce Referral Plugin?
WooCommerce Referral Plugin is an extension that adds referral marketing to your eCommerce store. The plugin allows you to reward customers for referring new customers, and is an essential tool to grow your online store. Also, you can encourage your customers to refer their family and friends to your store, by offering incentives or rewards.
Referral plugins for WooCommerce helps you to increase your brand awareness and develop a loyal customer base. You can use the Referral plugin to monitor and track your referral program's success easily that allows you to make data-driven decisions. Moreover, a WooCommerce referral plugin can help your store increase customer loyalty and generate more sales.
Why do you need a WooCommerce Referral Plugin?
Your online store needs a WooCommerce referral plugin that allows you to incentivize your customers to refer their friends and family. With a referral plugin, you can create a referral system where customers can earn points or discounts for referring others to your site. Customers can use their referral reward in their future purchases.
WooCommerce referral plugin helps you increase your customer base naturally and can drive high-quality traffic to your store. Rewards can motivate customers and turn them into loyal customers and into brand advocates. If you need an efficient and cost-effective way to increase your store's sales, a Referral plugin for WooCommerce is imperative to your online store.
Benefits of WooCommerce Referral Plugin
The benefits of the WooCommerce referral plugin include word-of-mouth marketing, increased sales, and helping you generate more revenue. It also fosters a sense of loyalty and encourages repeat purchases. Also, it is one of the effective ways to attract new customers to your store since people are more likely to trust referrals from someone they know.
Let's have a look into some of the benefits a WooCommerce referral plugin can offer for your store in brief.
Brand Advocates
WooCommerce referral programs are cost-effective because your existing customers will be your brand advocates, and they will keep you from spending dollars on advertising.
As brand advocates, they will share about your brand with their friends or family and help you acquire new customers organically.
When you acquire more new customers, your sales grow naturally. To make this strategy work effectively, all you need is a well-built referral marketing plugin for your WooCommerce store to help you offer suitable rewards and incentives to the customers and encourage them to stay with your brand forever.
Increase customer loyalty
A good WooCommerce referral system helps you show the customers that you appreciate and value the time they spend with your brand. When you provide instant rewards, you quickly appeal to customers' interest and encourage them to return for more, thus increasing the repeat purchase rate.
A WooCommerce referral plugin is a perfect extension to boost customer loyalty. Through rewarding customers for their loyalty, you can build stronger relationships with your customers. It's the powerful word-of-mouth that helps in improving credibility and trust with your customers.
Improve customer retention
A WordPress referral plugin helps improve your customer retention rate, which is important for your eCommerce store's huge success. Customers who find your referral program effective tend to stay with your brand rather than switch to competitors. So, it will reduce customer churn and improve your customer lifetime value.
Easy to implement
Installing a WooCommerce referral Program plugin at your online store takes only a few easy steps to install and set it up. The WooCommerce referral system will also have a user-friendly interface that makes it easy for you to manage the program. So, you do not need technical expertise to launch a customer referral program. Now it's just easy to implement with a proper referral plugin.
5 Best Referral Plugins for WooCommerce
WooCommerce referral plugin can be a powerful tool to drive more traffic and sales to your online store. By leveraging the power of word-of-mouth marketing, you can incentivize your customers for referrals and acquire more customers.
To help you set up a successful referral program, there are several plugins available for WooCommerce. Here are 5 Best Referral Plugins for WooCommerce, their unique features and pricing:

WPLoyalty is one of the best WooCommerce Referral plugins that helps you create loyalty rewards and WooCommerce referral programs in a few clicks.. You can create a customer referral program using the pre-built campaigns, set up the rewards for your customers and their friends and launch in minutes.
It is one of the best referral plugins for WooCommerce that helps you in turning your loyal customers into your brand ambassadors, recognizing their beneficial role, and rewarding them for referring their friends to your store. The act of rewarding customers for successful referrals helps you retain existing customers and acquire new customers organically, thus expanding your customer base, brand visibility, and revenue.
No coding and no complications! It's easy to set up and configure the WPLoyalty referral plugin. This plugin gives you a unique referral link and a responsive social media share. So, the main advantage of using this plugin is that your existing customer becomes a brand advocate, and their referrals become your customers.
Key features of this best referral plugin for WooCommerce:
Track customers' activities and data
Manage dashboard easily
Set expiry dates for the rewards
Remind customers by sending emails
Offer rewards with fixed discounts and the percentage discount
Help customers redeem points for rewards
Offer freebies and free shipping
Create multiple rules and conditions
Group customers based on tiers or levels(e.g., Levels I, Level II, and so on).
Pricing
You can start with a starter plan of $99/per year. For professional businesses, it's $129/ year; for agencies, it's $199/ year.
Install WPLoyalty to create your referral program and reward your customers for referring their friends.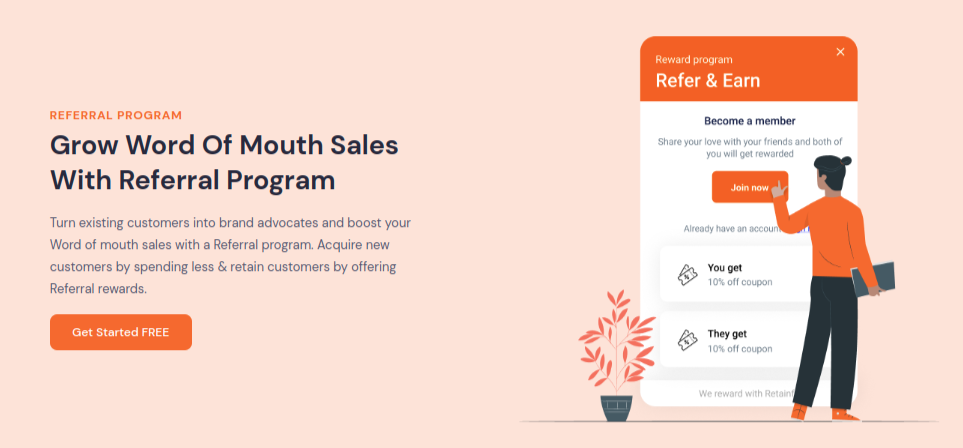 Retainful is one of the best WooCommerce Referral Plugins to run a robust referral program for WooCommerce store. The best feature of Retainful is that it is totally automated, has many referral features, and enables you to run refer a friend program successfully.
This WooCommerce referral plugin is user-friendly and easy to set up, with no coding knowledge required. With Retainful, you can set up a referral program in just a few minutes and start increasing your sales in no time.
The retainful referral program plugin gives you a lot of branding choices to promote your referral program. Popups and chat widgets are available that help customers find out about your referral program. Also, customers can receive automated reminders through referral emails. Retainful also provides a variety of promotional tools, including email templates and social media sharing buttons, to help you get the word out about your referral program.
Features
Send next-order coupons and increase customer loyalty easily
Set up the referral program in minutes
Showcase your Refer-a-Friend program using referral widgets
Use a Retainful dashboard and manage customer data
Allow customers to share referral links via Facebook, Twitter, or email
Tracks reward granted and total earnings with the Retainful Dashboard
Use the simple Drag & Drop email editor for email customization.
Create appealing emails by including logos, images, and text.
Customize using shortcodes
Pricing
$19/ month for starters, $49/ month for growing businesses, and $199/ month for professionals.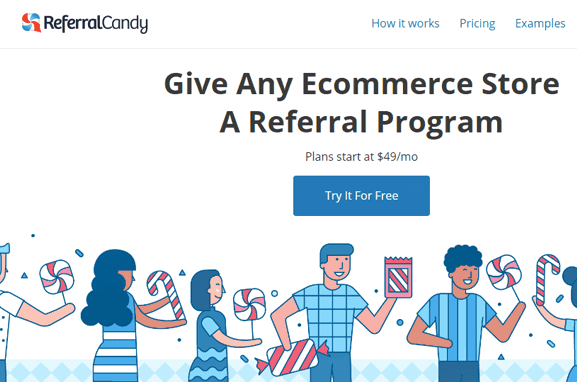 ReferralCandy is another popular WooCommerce referral plugin that enables you to design your referral marketing strategy from the beginning. You can create an incredible referral reward program with personalized benefits ranging from cash rewards to product discounts. The best part about referral candy is that there are so many different ways you can incorporate it into your website.
You can send automated emails instantly once a customer makes their purchase. You can also invite customers to participate in your referral program with customized and post-purchasing emails. Reward your customers who have made successful referrals. Also, the rewards can be cash rewards, store discounts, or customized gifts.
Features
Allow any number of customers to your referral program
Enable post-purchase popups
Customized referral widgets
Unique referral links
Offer customized freebies
Track customers activities
Detect suspicious transactions
Pricing
The premium plan starts at $49/ month.

WPGens referral program plugin for WooCommerce is an effective referral system that is easy to build and implement. This plugin allows you to reward our customers with coupons instead of paying dollars for referrals. Additionally, you can reward your customers with exciting discounts that your customers can redeem while making purchases at your store.
Each of your customers will get a unique link generated by the plugin that appears on their account page. Customers can use this referral link to refer their friends and family to your website, and you can reward them with a voucher each time someone uses their referral link to visit your store and make a purchase.
Features
Offer freebies and exciting discounts
Set the minimum number of orders
Set the coupon to your preference
Set the value for each coupon
Set the coupon's expiration date
Allow coupons for only specific products
Pricing
For a single site, the premium edition costs 47 USD.

When it comes to free WooCommerce referral plugins, Gratisfaction is an excellent choice. You may design a variety of customer referral rewards using this free plugin, and you can develop referral programs from each stage of your sales process.
The plugin also has features for developing loyalty programs. Enable loyalty programs that promote subscriptions, repeat business, and various subscription period milestones. For different loyalty levels and tiers, create special badges and levels. The plugin enables you to build a fully equipped marketing campaign to help you increase sales and followers.
Feature
Easy and simple to set up and manage
Offer rewards for both visitors and customers
Flexibility to create referral campaigns
Appreciate customers with level/badges
Pricing
For up to 100 Loyalty members, Gratification is free; extra plans depend on the number of members.
How to choose a Best Referral Plugin For WooCommerce
Choosing the best WooCommerce referral plugin requires various factors to consider. You need a few things to keep in mind before selecting the right referral plugin. Here are they:
Compatibility: The first thing you should consider is the compatibility with your WooCommerce version. You can check this through contacting the plugin's customer support to confirm about compatibility.
Features: Pick up a referral plugin with the feature you want to run a perfect referral marketing program. Some of the great features include automatic reward payouts, customizable referral program settings, etc.
User Interface: It is crucial to manage your referral program in an easy way. Pick a WooCommerce referral plugin that is simple to use.
Support: Ensure about the support quality of the plugin you choose suppose if you come with any issues. Check their website to know about the plugin support.
Doing some research and considering these factors , you can come up with the best WooCommerce referral plugin that suits your online store and helps you attain your marketing targets.
Launch a referral program with the best referral plugin, and reward customers with exclusive deals.
Conclusion
A WooCommerce referral program is an effective way to establish a win-win relationship with your customers. All you have to do is to find the best referral plugin for WooCommerce that helps you motivate your loyal customers to recommend or refer your brand to their family and friends.
Find the best way to reward them for actively involving in boosting your brand value. We are glad to bring you the list of the best WooCommerce referral plugins for you to choose from. Each plugin has its own unique features, so choose your referral plugin that fits well with your brand. Start a referral program right today!
Learn more about 25+ Best WooCommerce Plugins To Boost Your ECommerce Business, 5 Best WooCommerce Rewards Plugins To Drive More Sales and 5 Best Loyalty Plugins For WordPress.
What is the easiest way to track referrals?
The easiest way to track referrals is by using a referral marketing tool. There are many referral marketing software available to help you in tracking referrals.
How do I create a referral program in WooCommerce?
You can create a referral program in WooCommerce by purchasing a well-built/best referral plugin for WooCommerce. Install, activate, configure and finally run – an easy way to create a referral program.
How to select a referral plugin for the WooCommerce store?
Select the referral plugin based on its features, interface, and user experience, and choose whether it fits your online store best.
Does WooCommerce have a referral program?
WPLoyalty – 'Points and Rewards for the WooCommerce Plugin' comes with a referral program and enables you to reward customers with coupons/discounts for referring their friends and family.
Do referral programs increase profits?
WooCommerce Referral programs attract more customers to your store and help you increase sales. Increase in sales will gradually lead to increase in profit.
Why are referrals so powerful?
Referral Programs are a great way to acquire new customers for your WooCommerce store. Referrals come from customers who are already satisfied with your product, so they are likely to refer your brand to their friends and family.
How can I attract referrals?
You can attract referrals by rewarding them with attractive rewards. For example, Fixed Discount, Percentage Discount, Freebies or Free Shipping, etc.