Are you noticing that shoppers leave your WooCommerce store without completing their purchases? It is called WooCommerce abandoned cart, and it can be a big problem for your business.
If you're struggling with an abandoned cart for WooCommerce, you're not alone; it's a common hurdle for many online retailers.
According to Baymard, the cart abandonment rate is up to 70.19% in 2023.
But there is hope. You can win back those wandering customers and increase customer engagement with the right tools.
This blog is your guide to the seven best WooCommerce cart abandonment recovery plugins, along with the role of abandoned cart emails that can turn hesitant browsers into happy buyers.
Don't let hesitant shoppers slip away.
Entice them with timely automated emails and increase your WooCommerce sales
What is a WooCommerce Abandoned Cart?
A WooCommerce Abandoned Cart refers to the situation where a shopper on a WooCommerce-powered online store adds items to their online shopping cart but leaves the website without completing the purchase.
At this point, WooCommerce Abandoned Cart Recovery Plugins become the helping hand. These tools send reminder emails, trying to follow up with customers to encourage them to return and finish buying the items they were interested in.
Impact of Abandoned Carts on WooCommerce Sales
The impact of a "WooCommerce abandoned cart" is not just a loss in sales but also a potential dent in the customer's trust and future engagement. When customers abandon their carts, more sales slip away for the store owners.
Timely engagement with customers who have an abandoned cart for WooCommerce can help reclaim potential revenue.
Abandoned cart statistics often show that a good chunk of potential sales doesn't make it through the checkout.
On average, the cart abandonment rate all over the industry is 69.57%. High abandonment cart rates can significantly impact the store's bottom line. Implementing WooCommerce recovery campaigns can recapture lost sales by targeting customers who have left items in their carts.
Why do Customers Abandon their Carts?
"WooCommerce abandoned cart" can be a great problem to the store owner's revenue. Understanding why shoppers leave without paying is key to solving the puzzle. Here are some common reasons for WooCommerce cart abandonment:
Unexpected Costs: Imagine you're buying a cool T-shirt online. You get to the checkout, and – surprise! – there's an extra charge for shipping or taxes that you didn't know about. You need to address the issue of the abandoned cart in WooCommerce by being upfront about all costs. It's like choosing a $1 ice cream and being told it actually costs $3 when you go to pay. Frustrating, right? This is the top reason for the abandoned cart in WooCommerce.
Complicated Checkout: If the WooCommerce abandoned checkout process is long and hard, customers might just give up. Streamlining the checkout process can significantly reduce the abandoned cart in WooCommerce. Customers want it to be quick and easy.
Account Creation: Sometimes, stores ask customers to create an account before they can buy anything. Many shoppers don't want to bother with that.
Payment Security: If your store's checkout page looks sketchy, instead of a clean, safe convenience store, customers might not trust it enough to give their credit card info. To combat WooCommerce abandoned cart arising out of this issue, providing transparency throughout the shopping experience is essential.
Confusing Website: If your website is hard to navigate or takes more time to load, customers can get lost and frustrated. They want a clear path to buying, just like clear directions to the checkout in a physical store.
Limited Payment Options: If you only accept one type of payment, a variety of customers would likely stop the payment process. Customers want options – credit card, PayPal, or even modern methods like Apple Pay.
Poor Return Policy: If returning items is difficult, buyers might not take the risk. They want the confidence that they can return a product easily if it's not right, just like they can easily return a misfitting shirt to a local store.
Lack of Customer Support: When shoppers have questions but there's no one to help, they might leave. Good customer support is like having a friendly assistant in the store ready to help.
Now, let us talk about abandoned cart solutions. One of the best ways to handle this issue is by using a WooCommerce Abandoned Cart Recovery Plugin. These tools send friendly abandoned cart email reminders encouraging customers to complete their purchases.
WooCommerce Cart abandonment analysis involves looking at the data to understand and reduce abandonment rates. By doing this analysis, you can make the customer's shopping experience smoother and quicker.
The Role of Abandoned Cart Recovery Plugins in WooCommerce
Abandoned cart recovery plugins in WooCommerce are tools that help online store owners remind customers about items they added to their shopping cart but didn't buy. These plugins send emails or notifications to encourage shoppers to complete their purchases.
These abandoned cart emails can offer special deals or ask if there was an issue during checkout. Employing strategies to check WooCommerce abandoned carts can help personalize the recovery process, offering more relevant deals to customers. By doing this, the store encourages customers to return and finish their shopping.
How do Abandoned Cart Recovery Plugins for WooCommerce Work?
WooCommerce Abandoned cart recovery plugins are straightforward yet powerful tools in your WooCommerce setup. Here's how they function:
Track: Abandoned cart recovery plugin for WooCommerce monitors the shopping carts on your website to detect when items are added but not purchased.
Notify: These plugins send out automated abandoned cart emails to customers, gently nudging them to revisit their carts and complete their purchases.
Analyze: By keeping tabs on cart abandonment patterns, these plugins help you understand the common points at which customers tend to drop off.
Recover: The primary goal is to recapture the customer's interest and lead them back to complete the transaction, turning what was an abandoned cart into a successful sale.
Benefits of Using WooCommerce Cart Abandonment Recovery Plugin
Recapture Lost Sales: When shoppers leave without buying, the WooCommerce Cart Abandonment Recovery Plugin sends them abandoned cart email reminders. It's like nudging someone who forgot to finish a task, helping you win back customers who were close to buying.
Personalized Emails: The plugin lets you send emails that feel personal. It uses the customer's name and what they left in their cart, making the message more likely to get their attention and bring them back.
Easy to Use: You don't need to be a tech whiz to use abandoned cart recovery plugins for WooCommerce. It's designed to be user-friendly. You can set it up quickly and start seeing results without needing to learn any complicated software.
Proactive engagement through personalized approaches can diminish the rate of WooCommerce abandoned cart scenarios.
Insightful Reports: Abandoned Cart Plugins for WooCommerce gives you data about what's happening with your store's carts. You can see patterns, like when people are more likely to leave and use that information to make smart changes to your store.
Timely Follow-Ups: Abandoned cart recovery for WooCommerce automates the timing of your emails so they reach customers at just the right moment to increase WooCommerce sales.
However, you should still check WooCommerce abandoned carts to ensure the automation aligns with customer behaviors. It's like having an alarm that reminds you to reach out to customers before they forget about their cart.
Customization Options: You can change how your emails look and what they say. This means you can make them match your store's style and voice, which can make your messages more effective in getting customers to come back and complete their purchases.
Top 7 WooCommerce Abandoned Cart Recovery Plugins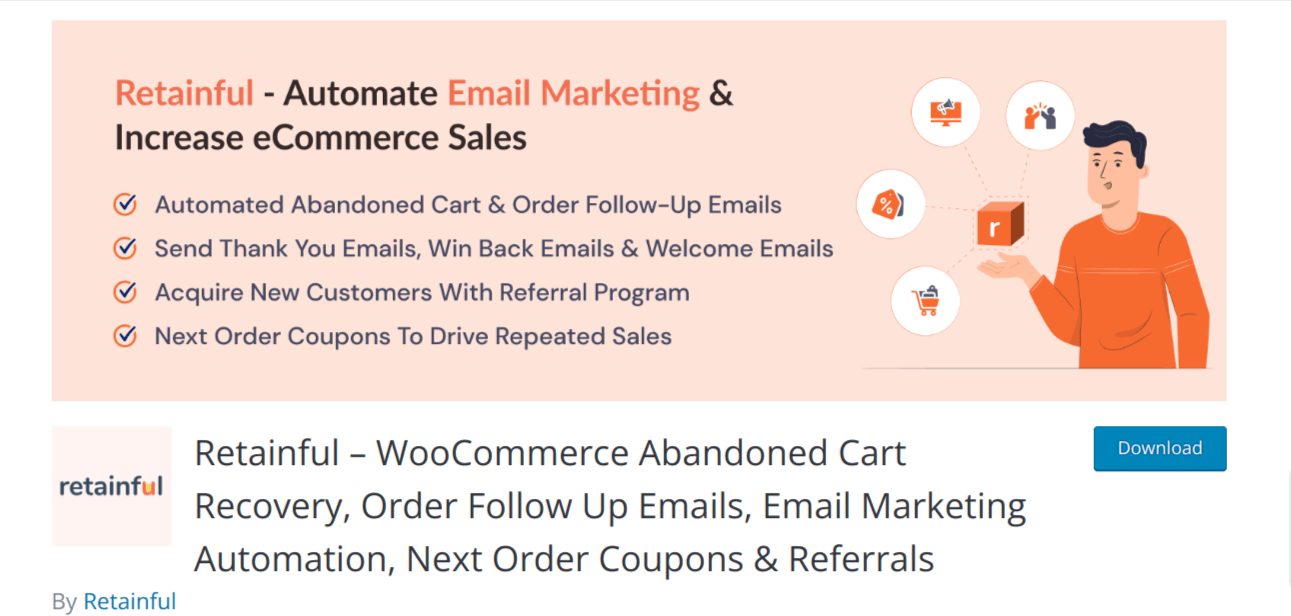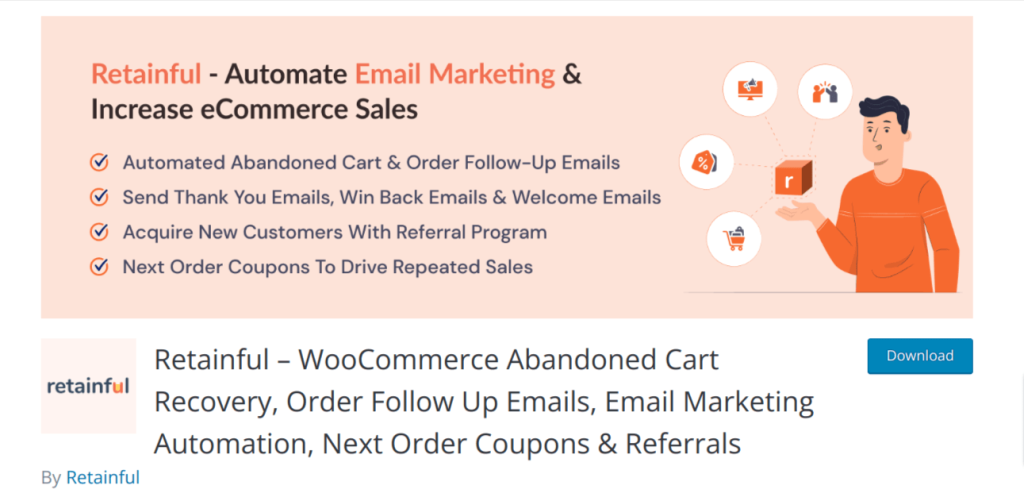 If you want an easy abandoned cart solution, installing "Retainful" is a reliable way.
Everything is customizable, starting from email templates and content to automation workflows. The powerful drag-and-drop email editor lets you design emails that will immediately grab customers' attention. The one-click abandoned cart recovery feature makes it easier for abandoned shoppers to recover abandoned carts instantly.
To send targeted abandoned cart recovery emails, there is an option for segmentation. You can group the customers by the average cart value, the abandoned products, and the total number of abandoned carts.
You can create a series of emails if you think a single abandoned cart recovery email won't get the job done. Retainful is primarily a WooCommerce abandoned cart recovery plugin, but it has email campaign automation to keep customers engaged for every step of the customer journey. The plugin also has a referral program that lets you retain and acquire customers in one shot.
Key Features
Segmentation and Targeted campaigns
Effortless WooCommerce integration
Integration with popular plugins like MailChimp and Hubspot
Drag and drop email editor
Customizable email templates
Abandoned cart emails
Exit intent popup
Referral program
Pricing
It has a free plan
The paid version starts from

Essential Plan – $9/month
Starter Plan – $19/month
Growth Plan – $49/month
Start sending WooCommerce abandoned cart emails right away using pre-built email workflows of Retainful's easy automation.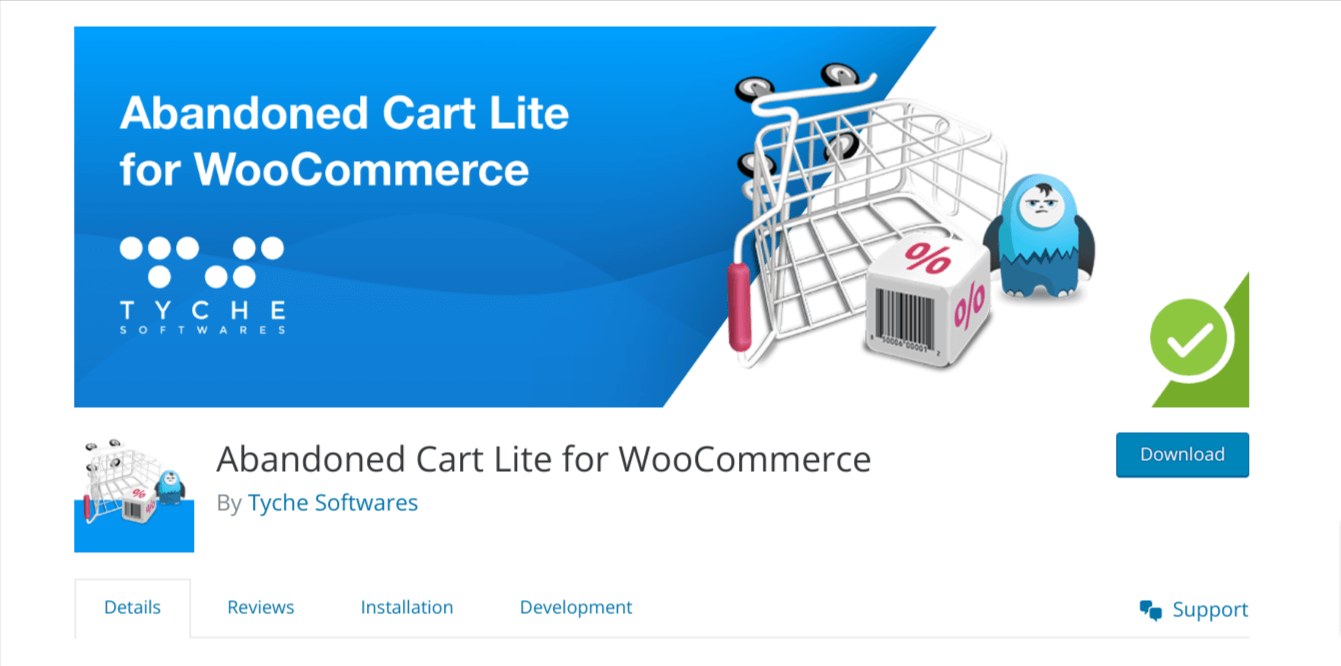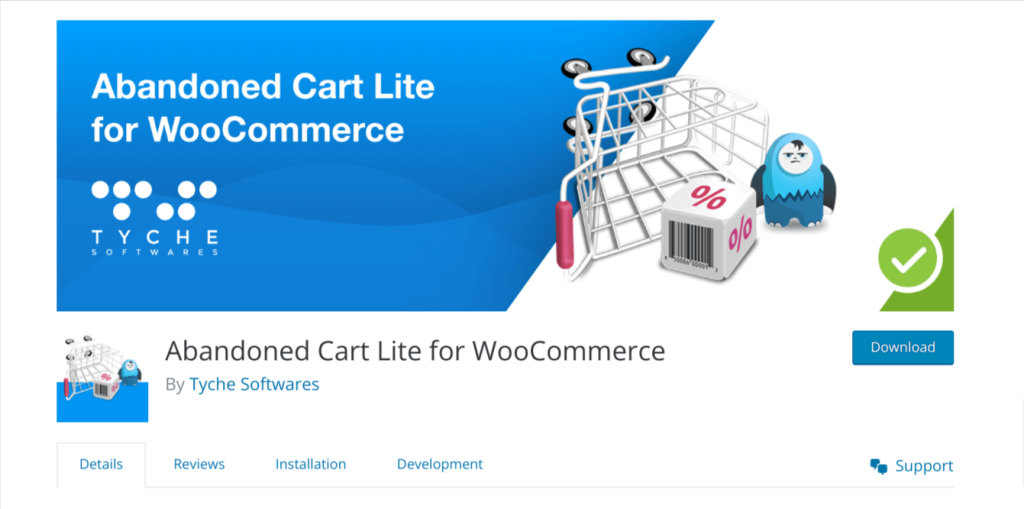 "Abandoned Cart Lite for WooCommerce" plugin is great for small businesses looking for a no-cost solution since it's completely free to use. It is a simple and effective way to recover lost sales on your WooCommerce site.
This free woocommerce abandoned cart recovery plugin captures abandoned carts by logged-in users and guests and sends them abandoned cart email reminders to complete their purchases.
Key Features
Rich Text Editor
WooCommerce abandoned cart email templates
Easy customization
Pricing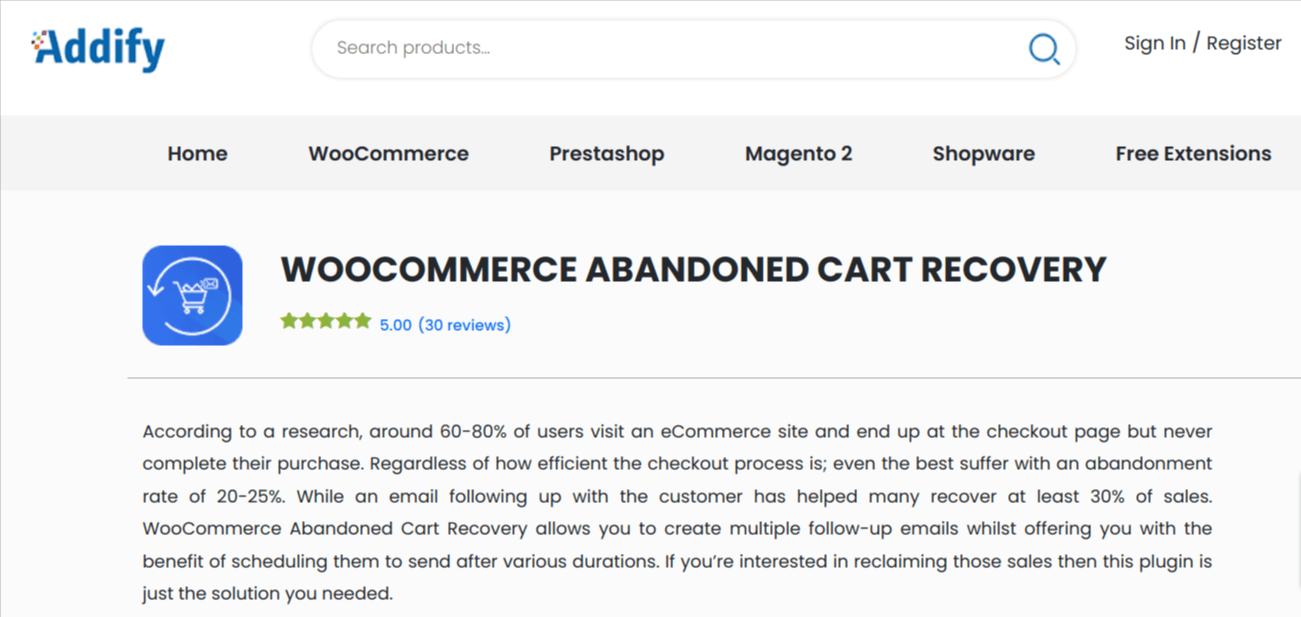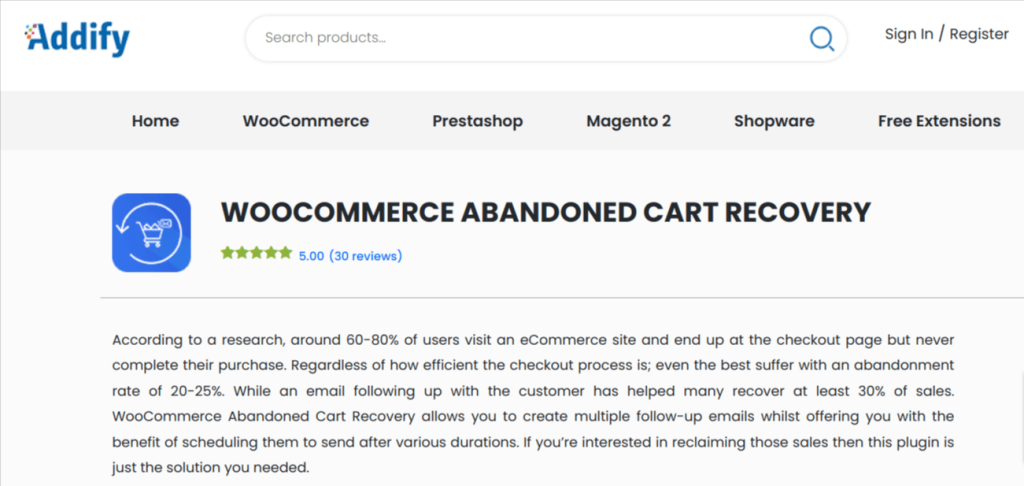 For a more comprehensive abandoned cart solution, the "Abandoned Cart Recovery by Addify" is a robust choice. It's designed to help you reclaim lost revenue with automated reminders across multiple channels like email, push notifications, and retargeting ads.
Abandoned Cart Recovery by Addify features a detailed dashboard where you can monitor recovered revenue, which could be quite beneficial for your ROI analysis.
Key Features
Detailed emails log
Multiple email templates
Easy Customization
Clear dashboard
Pricing
It's a premium plugin; pricing starts from:
$6.58/month
Billed annually at $79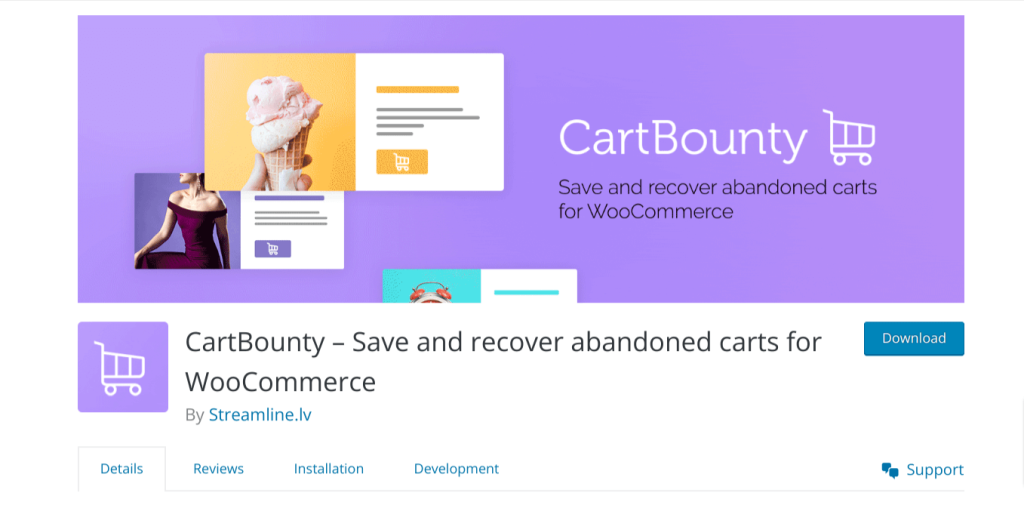 "CartBounty" is another solid abandoned cart solution when it comes to saving and recovering abandoned shopping carts in WooCommerce. It captures customer details early, allowing follow-up with abandoners to encourage the completion of purchases, boosting sales and conversion rates.
Key Features
Live shopping cart monitoring
Remember user input
Personalized coupons
Pricing
It has a free version
The paid version starts from,

Pro – $92/year
Pro+ – $276/year
Agency – $1295/year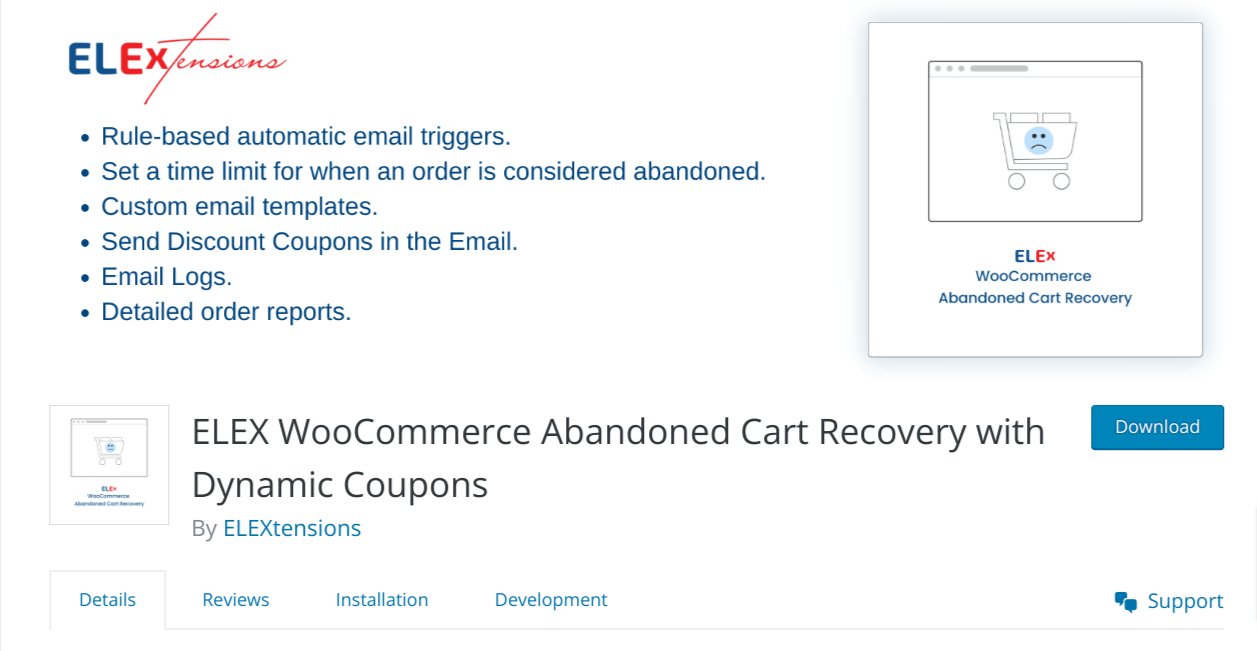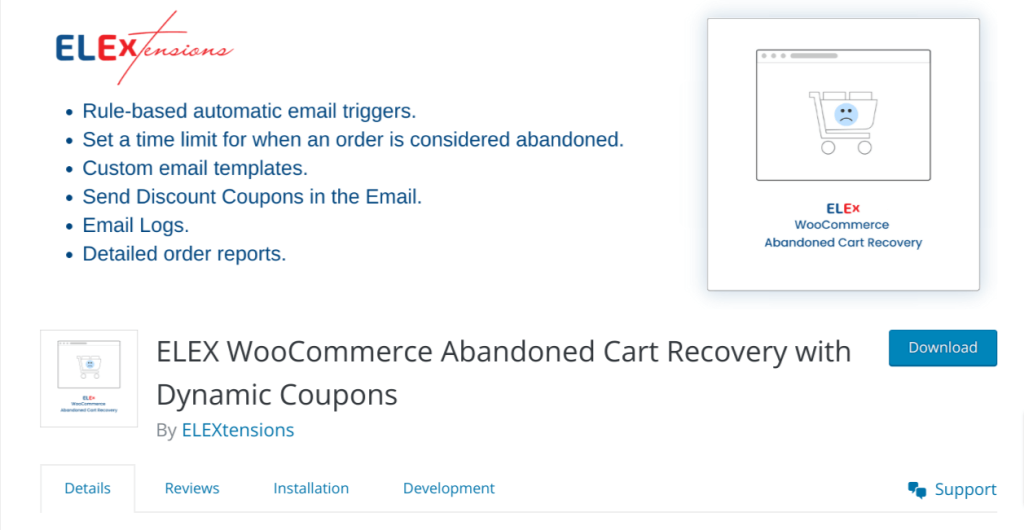 "ELEX WooCommerce Abandoned Cart Recovery" is an excellent plugin for those who need advanced targeting options. It lets you make different emails like initial abandoned cart emails, follow-up emails, thank you emails etc., to send out regularly, reminding people about the orders they didn't finish.
Key Features
In-depth data on abandoned and recovered amount
Email restriction
Detailed email logs
Apply smart coupons in the abandoned cart email.
Pricing
It has a free version
The paid version starts from,

$79 for a single site
$119 for up to 5 sites
$199 for up to 25 sites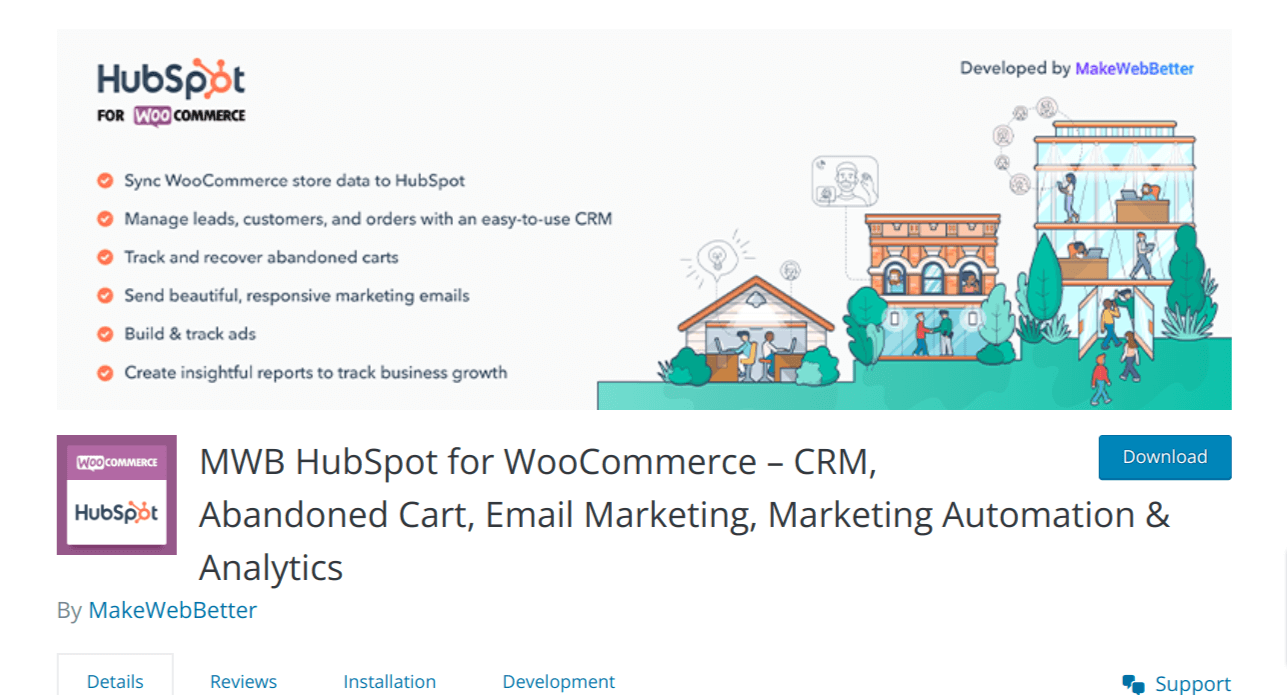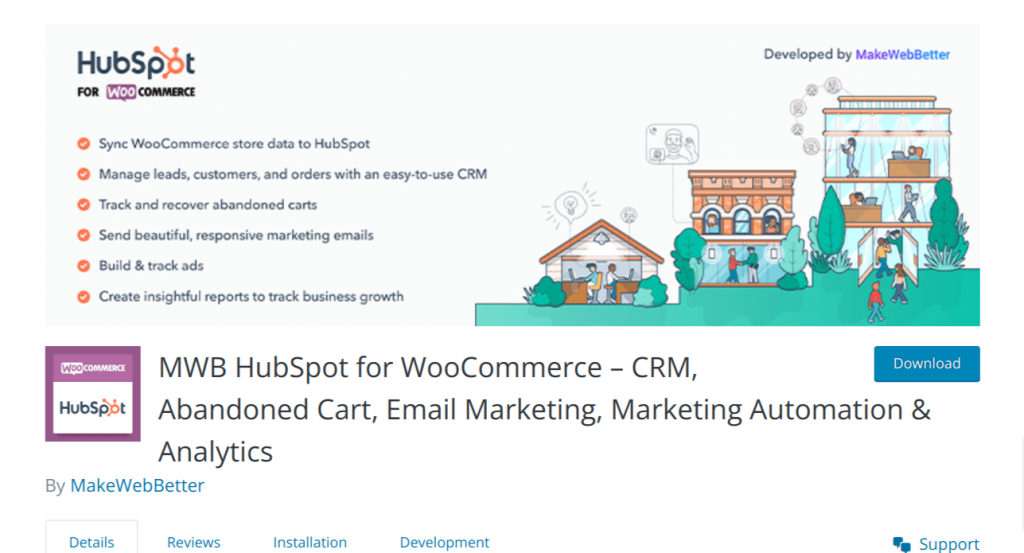 "MWB HubSpot for WooCommerce" is a free woocommerce abandoned cart recovery plugin with amazing workflows. It integrates WooCommerce with the powerful CRM and marketing services of HubSpot.
This plugin helps you create professional email campaigns and automation workflows to remind customers of their abandoned carts.
Key Features
Comprehensive customer profiles
Powerful list segmentation
drag and drop email builder
Pricing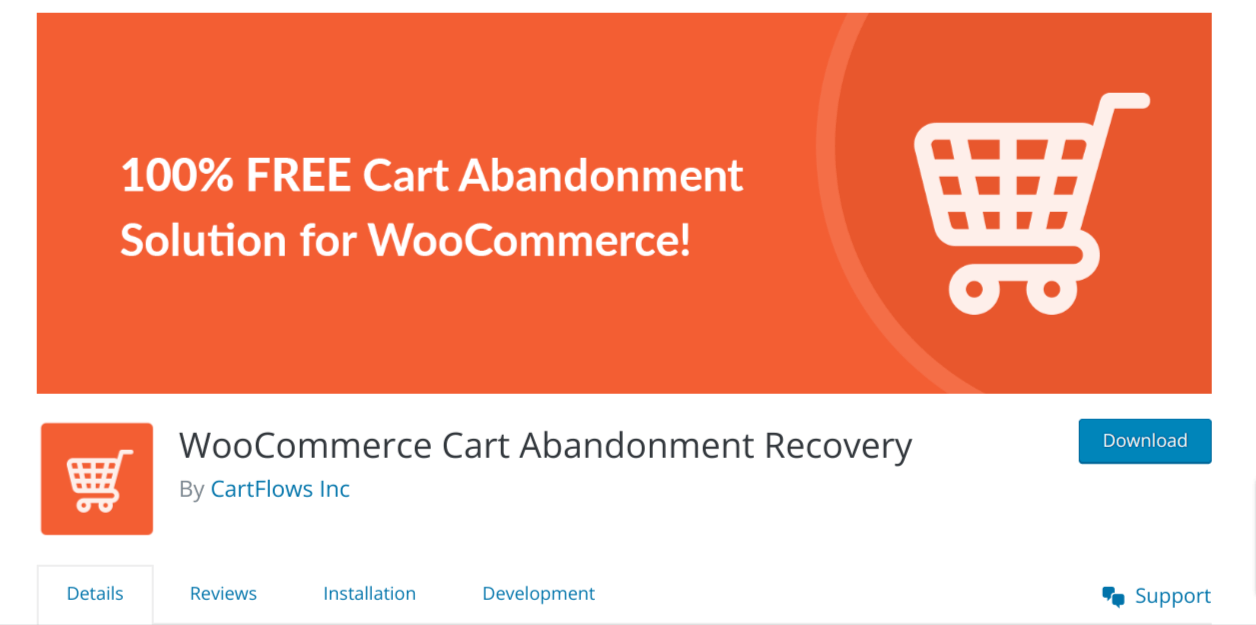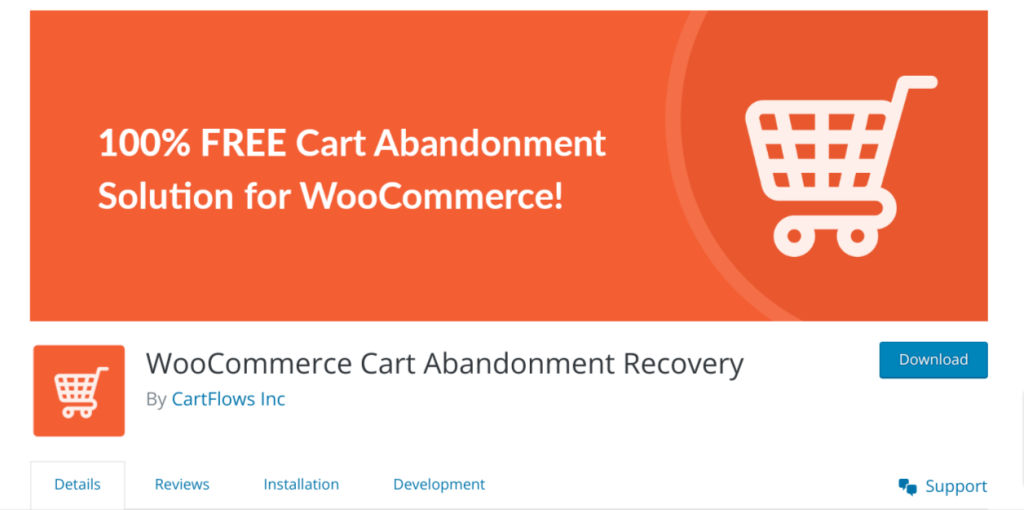 "WooCommerce Cart Abandonment Recovery by CartFlows" plugin offers a unique approach by creating a special checkout experience.
It provides a frictionless checkout process to reduce WooCommerce cart abandonment and triggers emails for any carts that are left behind.
Key Features
Quick setup
Unique checkout links
Personalized emails
Professional email templates
Pricing
Starter – $79/yearly
Plus -$149/yearly
Pro -$269/yearly
How to Recover WooCommerce Abandoned Cart using Retainful
WooCommerce abandoned cart emails are an effective way to recover lost sales, engage potential customers, and understand the reasons behind cart abandonment.
Follow the easy-to-implement steps below to recover WooCommerce abandoned carts with Retainful.
The plugin allows you to send a series of WooCommerce abandoned cart emails and enables you to customize the rules for the recipients and the timing of these emails. You can also add Dynamic Coupons to encourage hesitant customers to complete their purchase. This level of automation and customization easily enhances the open and engagement rate, ultimately recovering lost sales.
Installing Retainful Plugin & activating it
Go to your WordPress dashboard, search for the 'Retainful' plugin, and install it. To connect the WooCommerce store with Retainful, copy the API from the Retainful Dashboard and enter it in the WordPress Dashboard under the 'Connection' tab.
Creating a WooCommerce abandoned cart email automation workflow
Step 1: Go to the Retainful dashboard and select Automation -> Create workflow.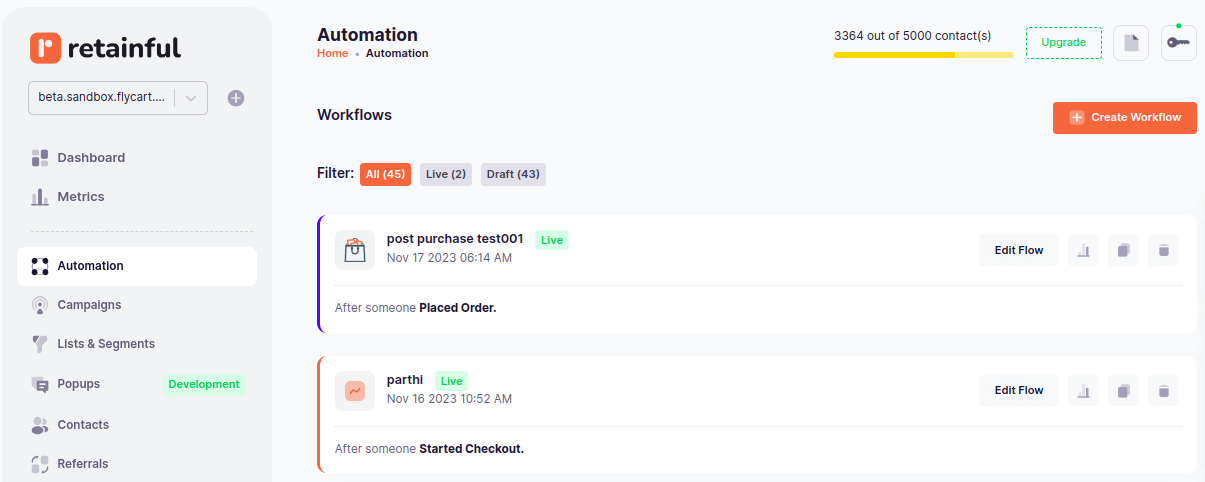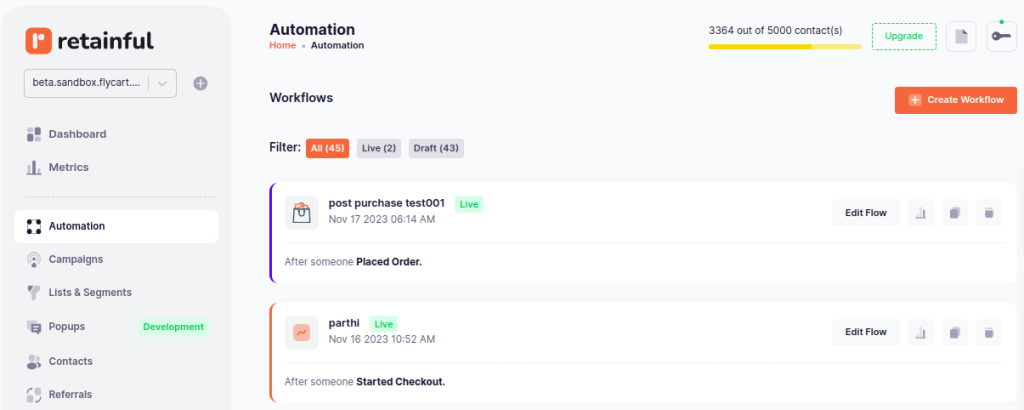 Step 2: Select abandoned cart recovery with dynamic coupon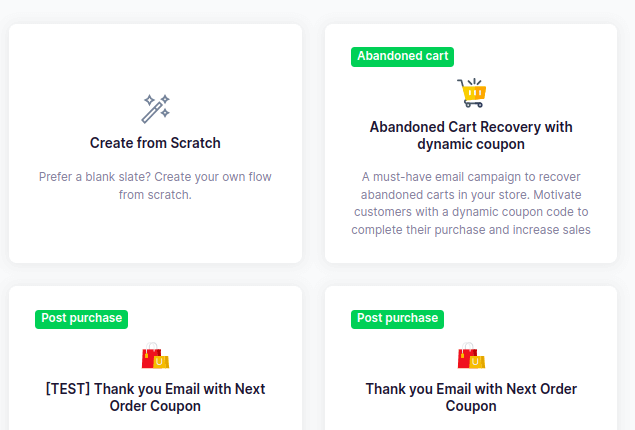 Step 3: Name the workflow and click on continue.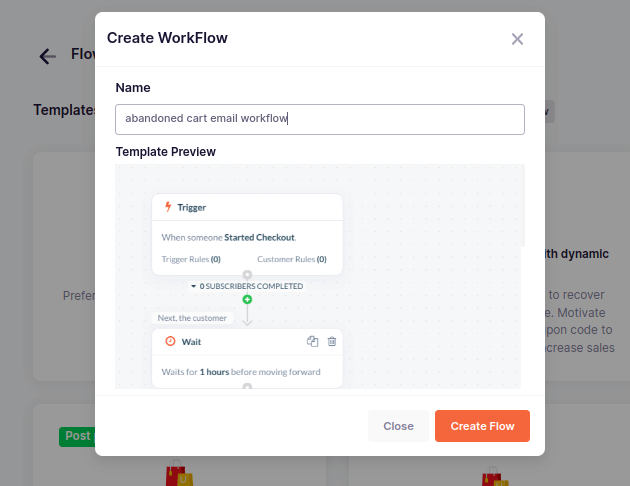 The workflow setup will open like the following image.
Step 4: Set the entry, trigger, customer rules, and wait conditions by clicking on those blocks.
Trigger: The 'Trigger' is located at the beginning of the workflow, allowing you to specify when a customer becomes eligible to enter the workflow. For instance, in the case of an abandoned cart workflow, you can establish the trigger criteria based on factors such as the order total, product name, or product ID.
Wait: The 'Wait' block enables you to create a time delay before the customer proceeds further in the workflow.
Entry rule: It enables you to prevent customers who have already entered the automation workflows from re-entering them.
Customer rule: The Customer Rule allows you to choose from four options: Email, Name, Country, and Signed up. For example, you can opt for the Country "is not" India, and the email will be sent to customers not based in India.
Step 5: Select the email block to edit the email content and template.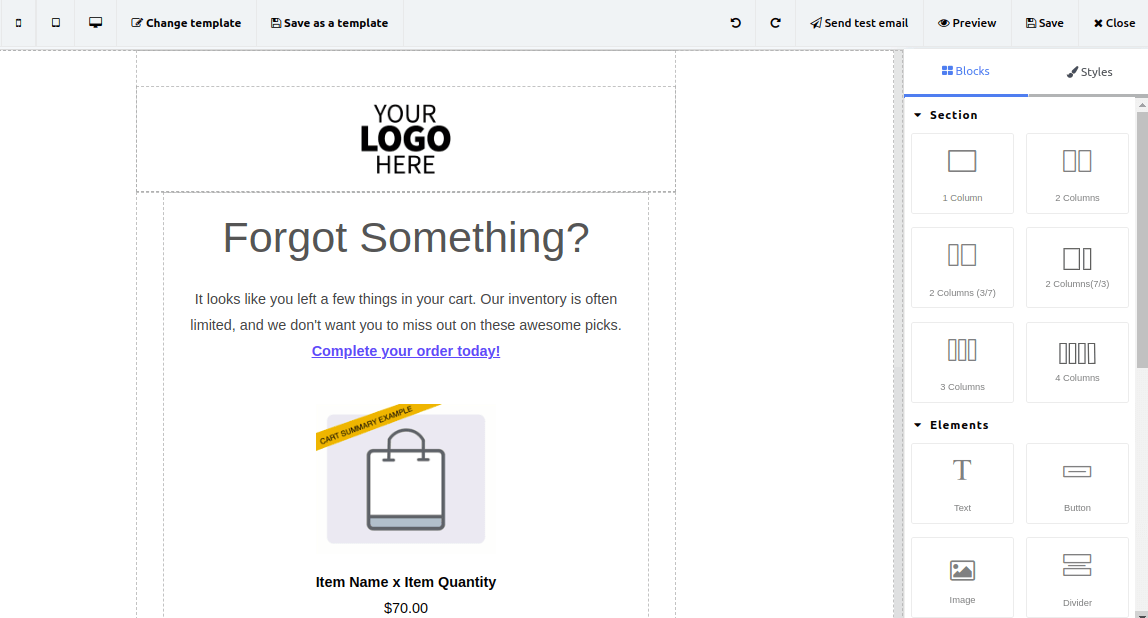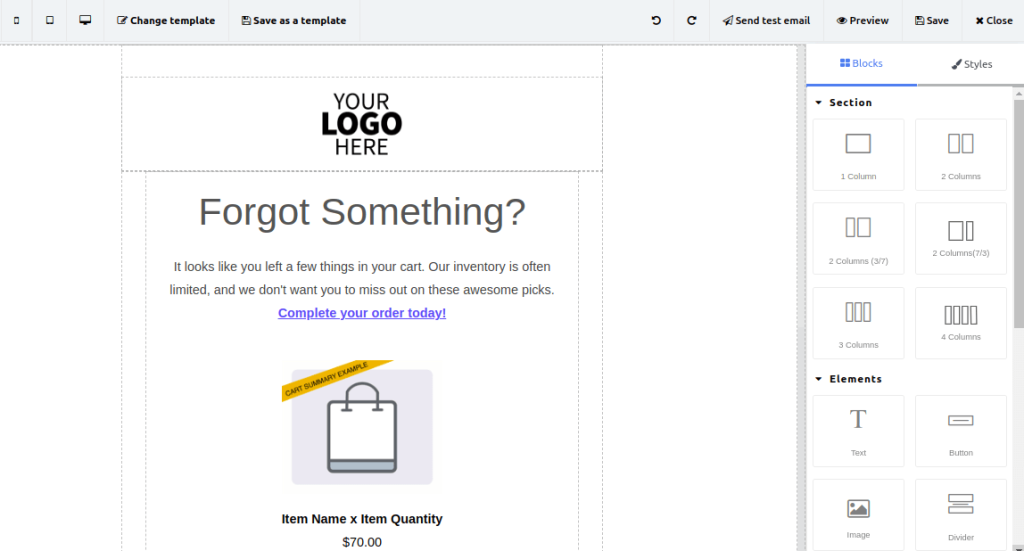 Step 6: Save the template after you are done editing.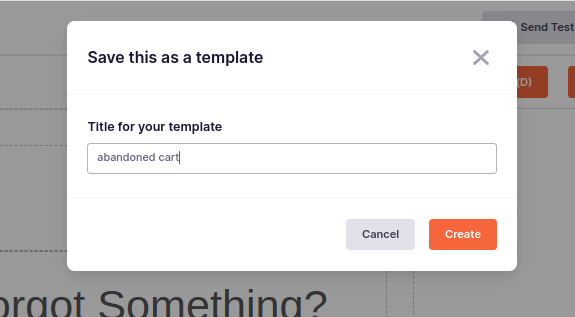 Step 7: To configure a coupon, click on the coupon block. You can tailor it to offer a percentage discount, an amount discount, or free shipping. Additionally, you have the option to define an expiration date and a minimum order requirement.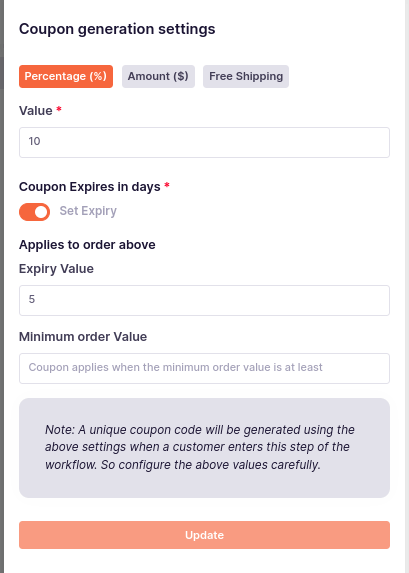 Step 8: Once you are done setting up the workflow, click on "start workflow" and "close."
How WooCommerce Abandoned Cart Emails Shape the Digital Customer Journey?
WooCommerce abandoned cart emails have a big positive effect on the digital experience. The abandoned cart recovery process reminds customers about the products they are interested in, which can help bring them back to complete the purchase.
It makes the abandoned cart recovery process easier and more personal because the automated abandoned cart emails include special deals or ask if the customer has any problems with checkout. By receiving a friendly nudge through email marketing, they might decide to come back and finish buying.
By doing this, you can make more sales, and customers feel that the store cares about their business.
5 Essential Tips for Crafting Effective WooCommerce Abandoned Cart Emails
Dealing with a WooCommerce abandoned cart is a challenge many online stores face. One good way to bring customers back is to send a friendly email nudge. Here are five simple tips to make your WooCommerce abandoned cart emails really work:
Tip 1: Say Hello Again Quickly
Don't wait too long to remind them. Send an email soon after they leave the site to say, "Hey, you forgot something!" If you wait too long, they might not remember or care about the items anymore.
Tip 2: Make It Personal
Use their name if you know it, and show pictures or a list of the items they left in their cart. This can help remind them exactly what they are interested in and make the message feel like it's just for them.
Tip 3: Offer a Little Help
Sometimes, people leave their carts because they have a question or a problem. In your cart abandonment email, ask if they need help and give them a way to get in touch with you, like a phone number or a chat link.
Tip 4: Give Them a Reason to Come Back
You might want to offer them a special deal, like a discount code or free shipping. This can encourage them to finish their purchase.
Tip 5: Keep It Simple and Friendly
Make sure your abandoned cart follow-up email is easy to read. Use short sentences and friendly language, just like if you were talking to a friend. You want them to feel good about coming back to buy, not pressured or confused.
Turn abandoned carts into sales and maximize revenue with Retainful's automated abandoned cart emails.
Wrapping Up
"WooCommerce abandoned cart" is a common challenge that online retailers face, but it's manageable. With the right nudge, you can turn that "maybe" into a "yes!
A WooCommerce abandoned cart often reflects an area where the shopping experience can be optimized for better conversion rates.
The cool WooCommerce abandoned cart Recovery plugins we talked about can really help you out. Pick the plugin that feels right for your shop, set it up, and watch as those forgotten carts turn into sales.
Read more about Best WooCommerce email customizer plugins, Ways to increase eCommerce sales, and Best WooCommerce Popup plugins.
How do I recover abandoned carts in WooCommerce?
To recover abandoned carts in WooCommerce, use plugins designed for cart recovery. These plugins track abandoned carts and help you reconnect with customers, often through email reminders or special offers to encourage them to complete their purchase.
Can I recover WooCommerce abandoned cart without a plugin?
Recovering abandoned carts without a plugin is challenging and requires manual tracking and follow-up. Abandoned cart recovery plugins automate this process, sending reminder emails and offering discounts, making recovery more efficient.
What are some effective subject lines for WooCommerce abandoned cart emails?
Effective subject lines for abandoned cart emails are clear, urgent, and personalized, such as "Did you forget something?", "Hurry, your cart is expiring!", or "Complete your purchase with a special discount!"
How do I send abandoned cart emails in WooCommerce?
In WooCommerce, abandoned cart emails can be sent using specialized plugins. These plugins automatically send customized emails to customers who have left items in their cart, reminding them to complete their purchase.
Does abandoned cart recovery work?
Yes, abandoned cart recovery can be effective. It helps reconnect with customers who showed interest in your products but didn't complete the purchase, often resulting in increased sales and improved customer engagement.
What is the abandonment rate for WooCommerce carts?
The abandonment rate for WooCommerce carts varies, but it's typically high, often ranging between 60% to 80%. This means a significant number of potential sales are left incomplete.
How many abandoned cart emails should I send?
It's usually effective to send 2-3 abandoned cart emails. The first within a few hours, a follow-up after a day, and possibly a last one with a special offer after a couple of days to maximize recovery chances.
How long should you wait before sending an abandoned cart email?
The first abandoned cart email should be sent within 24 hours, ideally sooner. This prompt follow-up can effectively catch the customer's attention while their interest is still high.
How do I retarget abandoned carts?
To retarget abandoned carts, use email campaigns, retargeting ads on social media, and personalized notifications. These methods remind customers of their incomplete purchases and encourage them to return to your store.