Every store owner knows that satisfied customers keep coming back. Rewarding your customer loyalty helps your brand to win back sales and keep its loyal customers loyal. A study says 84% of customers say belonging to an eCommerce store with a loyalty program makes their shopping experience smooth. Your customers must be aware of the loyalty program benefits you provide to keep them coming back.
One of the main advantages of loyalty programs is that it's cost-effective. You can attract customers who show tireless support and loyalty through exciting rewards. WooCommerce loyalty program allows you to gain customers and boost sales and revenue in no time.
Use WPLoyalty to implement an effective loyalty program. Start increasing sales and revenue.
What are Loyalty Programs in WooCommerce?
Loyalty programs in WooCommerce are where an eCommerce store rewards its regular customers with huge offers and discounts to increase sales and revenue. The WooCommerce loyalty program benefits may include free products, personalized discounts, free shipping, and other exclusive deals.
Nowadays, every store, from small to large, knows the benefits of loyalty programs. That's why most stores offer exclusive discounts and points to their customers and keep them with their brand.
The benefit of loyal customers is that they choose your brand over and over rather than switching to competitors. Another purpose of loyalty programs is to retain loyal customers and bring in new customers. Also, these loyal customers help you generate more revenue and sales.
How does a Loyalty Program work for your eCommerce store?
A loyalty program effectively boosts customer loyalty, increases sales, and drives brand engagement. The purpose of loyalty programs is to reward customers for their loyalty and encourage repeat business.
Also, the advantages of a loyalty program include increased customer retention, repeat purchases, and higher order values. Additionally, your loyalty program will make customers feel valued and appreciated, leading to increased customer satisfaction and brand loyalty.
There are many different loyalty programs, each with unique benefits and features. Some common examples include,
Points-based programs,
Tiered programs, and
Cashback programs
Points-based programs
It allows customers to earn points for each purchase, which they can redeem for rewards such as discounts, free shipping, or exclusive products.
Tiered programs
Tiered programs are when you reward your loyal/VIP customers for their constant support of your store. Through this tiered program, you can reward your VIP customers with exclusive deals and discounts.
Cashback programs
You can reward your customers with a percentage discount or a fixed discount, and this will encourage customers to shop more and redeem more.
Get the best out of a loyalty program in WooCommerce by ensuring that it's properly organized and managed. It includes setting clear goals for the program, determining the type of rewards to offer, and how rewards will be redeemed. Additionally, it's important to regularly evaluate the program and make changes as necessary to keep it relevant and engaging for customers.
What are the Benefits of having a Loyalty Program
The benefits of having a loyal program in an eCommerce business include: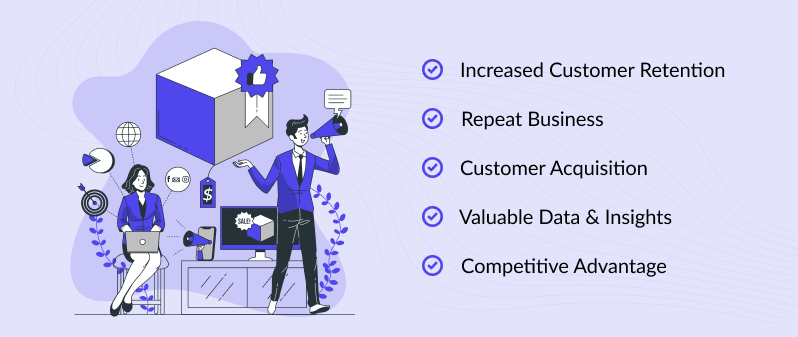 Increased customer retention: Loyalty programs incentivize customers to continue doing business with a store, reducing customer churn and improving customer lifetime value.
Repeat business: Loyal customers are more likely to make repeat purchases, driving consistent sales & revenue for a business.
Customer acquisition: Word-of-mouth from satisfied program customers can help attract new customers to a business.
Valuable data and insights: Loyalty programs can provide businesses with data and insights into customer behavior, preferences, and purchasing patterns, which can be used to improve marketing efforts and business strategy.
Competitive advantage: A loyalty program that is well-designed can make it harder for competitors to take away loyal customers, giving an eCommerce business a competitive benefit.
Five Benefits of a Loyalty Program
Here are five loyalty program benefits you must know to make your customers happy.
Loyalty Programs help you stay ahead of the competition
One of the most important benefits of a loyalty program is that it helps you build brand affinity and outrank your competition easily. You can boost sales and revenue by increasing customer satisfaction and loyalty by incentivizing your customers to repeat purchases.
Retaining customers is another advantage of loyalty programs, as repeated customers are those who make regular visits to your store. Businesses can leverage the benefits of a loyalty program effectively to gain a competitive edge and drive long-term success.
A Loyalty Program increases the average order value
The importance of loyalty programs is that they encourage customers to return to your store more often. Also, make them add more products to their cart to "level up" to the next VIP tier. As a result, your store's average order value (AOV) may significantly rise.
To encourage customers to make larger or bulk purchases, brands can reward customers on their special days, like birthdays or anniversaries, to make them feel special. All of these strategies will increase overall loyalty and support long-term AOV growth.
Loyalty Programs improve customer retention and loyalty
You allow your customers to enjoy the benefits of a loyalty program that eventually give them a reason to stick with your brand. Giving your customers a great shopping experience will help in customer retention and increase loyalty.
Also, remember to build a deeper bond with your customers and tell them that you care about their presence in your store.
Loyalty Programs engage customers
Through a loyalty program, you can encourage customers to write product reviews and engage them by rewarding their actions. Product reviews are a great way to understand your product quality and what customers think about it and effectively engage your customers.
The more you engage your customers, the more loyal they will be to your store.
Loyalty Programs create brand advocates
Creating brand advocates is one of the customer loyalty benefits that you must be aware of. Most customers prefer suggestions and referrals over your brand promotion.
So, encourage your customers to participate in your referral program and make them spread about your brand to their friends and family. Additionally, reward your loyal customers with points or coupons for every referral they make.
Create a Referral Program and easily reward your brand advocates with WPLoyalty.
Five Successful Customer Loyalty Program Examples
Look at the five successful customer loyalty program examples of other eCommerce stores, which tend to be people's favorites.
The Body Shop
The Body Shop makes a positive difference in a customer's shopping experience. Customers can earn points and get access to special events, birthday presents, and exclusive deals, along with other perks for their loyalty.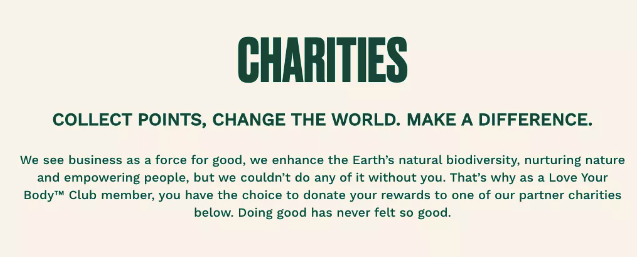 Additionally, the brand allows customers to donate funds to charities. Customers can contribute the $10 coupon they receive when they reach 100 reward points to Black Lives Matter, No More, the World Land Trust, Wires, and Born Free USA.
Chubbies
Chubbies run a point-based reward system to encourage their customers to shop for more. Customers can move up the level from Weekend Connoisseur to Weekend Master by accruing points for each purchase. Exclusive rewards and benefits come with each different rank.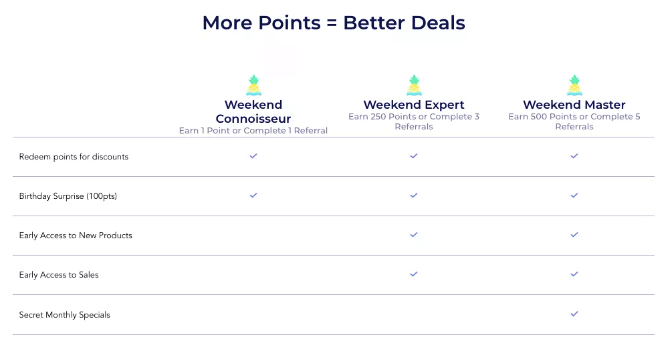 Making it easy for customers to earn points is another example of a great practice that Chubbies does. Chubbies will give a one-time customer up to 350 points, which is about a $20 discount on your subsequent purchase!
PowerShop

"Switch your mates" is what PowerShop calls their loyalty program. The idea of Powershop is concise: if you refer your friends and family, you'll get $100 in free power, and your friends get $150 in free power.
Customers of Powershop only have to copy and share one invitation link, and the bonus money is automatically deposited when their friends register.
Famous Footwear

Famously you use this strategy: Customers who make purchases receive cashback rewards, which they can use to reduce order prices. Members of this loyalty club also receive free shipping, exclusive discounts, birthday presents, early notice of sales events, and other benefits.
Customers move up to the Superstar level if their yearly spending exceeds $200. When you achieve that position, you'll receive even greater incentives.
48 Bowl
This 48 Bowl loyalty program provided a digital punch card with frequent customer discounts and tiered prizes. They mainly focus on rewarding guests and rewarding loyal customers.
The program has three levels: Silver, Gold, and Platinum.

Customers receive birthday gifts, free games when they sign up, special discounts and promotions, and discounts on bowling, food, and beverages with each visit.
Installing the loyalty app is all necessary to receive a digital punch card and start. This loyalty program is a great concept for entertainment firms to follow because every visit counts toward unlocking extra perks.
Different ways to reward customers using WPLoyalty
WPLoyalty provides various ways to reward your customers for their loyalty. You can reward customers with points, discounts, free products, or free shipping. Let us guide you through some instances you can use to reward your customers.
Example 1: "Earn 1 point for every $1 spent"
Example 2: Spend over $200 in an order and earn a $10 reward.
Example 3: Get instant 10 points for signing up to our store.
Example 4: Get free shipping on orders above $100.
Example 5: Get 15% Off on your Birthday!
Example 6: Redeem 500 points for $5 reward.
Example 7: Get free products on orders above $300.
Example 8: Reach Level II and Get free shipping.
We hope these examples give you an idea of how you can reward your customers in various ways. Start using WPLoyalty today and automate your reward process. Also, increase your sales and revenue naturally.
Use WPLoyalty and reward customers with points and exciting rewards and enjoy the benefit of a loyalty program.
Conclusion
When customer engagement is clear as crystal, there's more room for brand advocates. Customer Loyalty Programs let you understand who's a one-time shopper and who is a valued long-term customer. So, make your loyalty program benefits every customer who visits your store.
Also, remember loyal customers are a great asset for your brand, and they are the ones who enjoy your benefits of a loyalty program. So ensure to focus on the loyal customers, win their hearts, and keep them coming back.
Read more about how to reward loyal customers on WooCommerce, how to increase WooCommerce customer loyalty, and how to set up a tiered loyalty program in WooCommerce.
What are the five factors of Customer loyalty?
The five factors of customer loyalty are providing good products, exciting rewards, personalized shopping experience, customer service, and listening to customer queries.
Why are loyalty programs so important?
The benefits of loyalty programs not only stop with customers but also help eCommerce stores to generate more sales and revenue.
How effective are loyalty programs?
Loyalty programs are so effective that they help in customer retention and customer engagement and increase customer loyalty.
What is the power of loyalty programs?
Loyalty programs have the power to encourage customers to keep coming back and spending more, while also providing businesses with lots of loyalty program benefits, valuable information about their customers' habits and preferences.
How do loyalty programs retain customers?
Loyalty programs benefit/retain customers by offering rewards, perks, and incentives for repeat business.