Repeat purchases from existing customers account for at least 67% of the sales in any eCommerce store. One of the proven ways to increase repeat sales is through rewarding customers. A WooCommerce Customer Rewards Program can help you reward your customers for their loyalty and retain them.
A Woocommerce rewards plugin like WPLoyalty can help you create and launch a reward program. You can reward customers with points and let them redeem the points for their future purchase. With the WPLoyalty plugin, you can easily set customer rewards or points as you prefer.
This blog will guide you on how to reward customers in WooCommerce and the types of rewards you can offer for them. Let's get started.
Launch a WooCommerce Reward Program with WPLoyalty and increase sales.
How does a Reward Program work?
Reward program works effectively when you reward customers with points that they can redeem for a discount value during their next purchase. Ensure to keep your reward program simple and easy to understand. When your rewards program is effective, it creates a better shopping experience for your customers.
Example: Reward customers with a point for each dollar spent. And let them redeem these points for a reward. The reward can be a fixed or a percentage discount, free shipping or a free product.
For instance, allow customers to redeem 50 points for free shipping or a ten percent discount on their next purchase.
When customers spend more than a certain amount, offer them bonus points. Reward customers for all types of engagements at your store.
Appreciate customers for their loyalty with rewards and points. This will boost your sales and build a stronger bond with your customers. Building a lasting relationship will help you increase your brand value and trust.
Why should we Reward Customers in WooCommerce?
We should reward customers in WooCommerce to increase customer loyalty and repeat business, as well as attract new customers through word-of-mouth recommendations. Rewards programs can also provide valuable data and insights on customer behavior and preferences. Additionally, by offering rewards, eCommerce businesses can differentiate themselves from competitors and create a sense of exclusivity for customers.
You can lower the costs of acquiring new consumers when your brand concentrates on developing the best customer rewards program.
A reward program in WooCommerce works amazingly because it makes your customers feel special and recognized, leading to retention, more referrals, and profits. Let's look into some interesting benefits these reward plugins bring you. Some of the key benefits we get in rewarding customer loyalty include:
Customer retention
Revenue Boost
Building stronger customer relationships
Differentiating a brand from its competitors
Encouraging word-of-mouth marketing
Improving Customer Appreciation
Driving customer satisfaction.
Also, research proves that rewarding customer loyalty is very effective for an eCommerce store. Customer loyalty rewards help build a more customer-engaging experience. 75% of people buy products based on their experience. Companies with better woocommerce customer rewards programs have grown revenues 2.5 times faster than their competitors. According to Accenture, more than 90% of companies have started a customer rewards program.
Implement a Customer Rewards Program with WPLoyalty to boost Sales and Revenue.
How to Reward Customers in WooCommerce?
To reward customers in WooCommerce, you will need to create a loyalty rewards program that allows customers to earn points for purchases and actions like writing reviews or referring friends. Customers can then redeem their points for discounts or free products. and redeem them.
You will need a WooCommerce Reward plugin like WPLoyalty to create a loyalty program and reward customers.
A well-run customer rewards program demonstrates your concern for your customers, broadens and strengthens your relationship with them, and encourages sustained loyalty and support.
Customers participating in your customer loyalty rewards program positively perceive your brand, which eventually increases their level of trust in your company. This section will further guide you on how to reward customers in WooCommerce. With the best plugin like WPLoyalty, it's made easy and simple.
There are various ways to reward customers in woocommerce with the WPLoyalty plugin. The following are the most popular rewards in WooCommerce:
Reward for purchase
Reward customers with points when they make a purchase. E.g., Spend $200 and get 20 loyalty points along with free shipping. This strategy will make them purchase more of your product.
Rewards for more orders
Reward them based on the number of orders they make, which will improve customer engagement for your brand. For example, get 500 points as bonus when you cross 10 orders or more.
Rewards based on spending
When a customer spends more dollars on their purchase, you can reward them with points or rewards. For example, Spend a minimum of $500 on a purchase and get 100 bonus points
Reward for writing reviews
Encourage customers to write a review after their purchase and let them earn loyalty points. It's a win-win situation here; you will know what customers think about your product when you receive a review. For example, write a product review and earn 15 points for each review.
Reward for referrals
Give loyalty points once your existing customer refers a friend or family to your store. This will get you a new customer and retain an old customer as well. For example, Refer a friend, and you get $10 Off, and your friend gets $10 Off.
Reward for sharing on Social Media
Your site's overall activity and traffic will increase in social networking. Additionally, you can promote your products on social media. So, give away points to your customers when they share your product or the referral link. For example, Share the referral link on Whatsapp and get 15 points.
Reward for Birthdays & special occasions
Reward customers on their special day as a token of love. Customers will remember this gesture from you, and it will also enlighten their day. For example, It's your birthday! We offer you 500 points on your special day.
Reward for Sign up
Reward customers with loyalty points once they sign up for an account in your store. You may gain new users' trust by rewarding them with a welcome bonus, and you can also encourage users to make repeated purchases. For example, Sign up to our store and get 100 points.
How do I Add Reward Points in WooCommerce?
To add reward points in WooCommerce you must install and activate the WPLoyalty plugin. With the WPLoyalty plugin, you can easily add reward points to your customers for every action they make at your store. Like, as signup, making a purchase, referrals, and so on.
Installation of WooCommerce Rewards Plugin
This guide assumes that you have already downloaded the WPLoyalty plugin. Once downloaded, please follow the steps given below to install and activate the woocommerce reward plugin – WPLoyalty.
Step 1: Go to your WordPress dashboard -> Plugins -> Add New -> click on the Upload Plugin button
Step 2: Choose the WPLoyalty plugin and install
Step 3: Click on the activate button.
You can now see the WPLoyalty menu on your left sidebar.
To know more about the installation process in detail, Read our documentation.
How do you Set Up a Reward System in WooCommerce?
To set up a reward system in WooCommerce, the first step is to create a reward campaign using the WPLoyalty plugin. WPloyalty allows you to reward customers for all types of actions including purchases, sign ups, reviews and referrals.
The following steps will guide you through the process of setting up a simple reward system in WooCommerce that allows customers to earn points for purchases. We will be allowing them to earn 1 point for each dollar they spend in the store.
Go to your WordPress dashboard -> WPLoyalty -> Campaigns -> click on the Create new Campaign button.
Choose the Points for Purchase campaign
Configure the campaign options as shown in the screenshot below: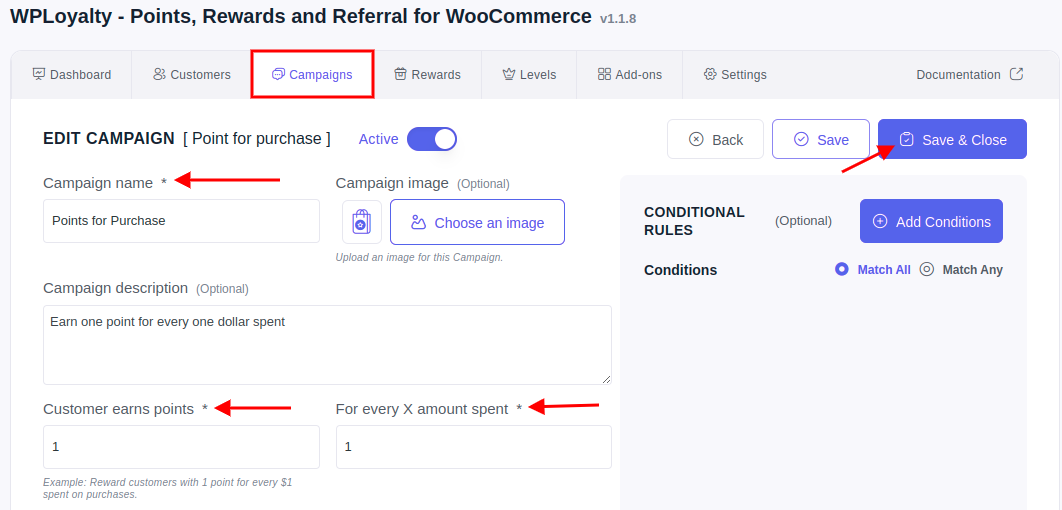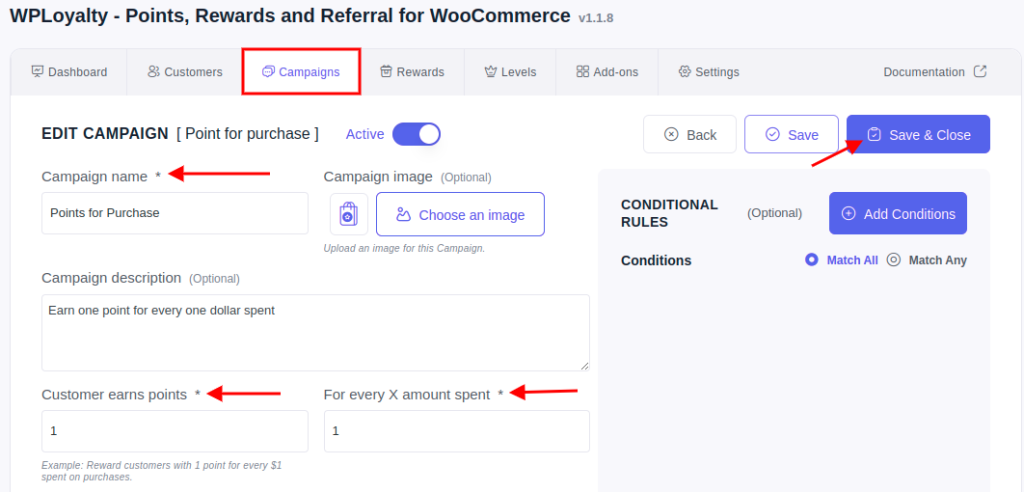 After you create the campaign, click on save and close. Now, your customer can start earning points for their purchases. Let's now create a reward so that they can redeem their earned points.
The following example allows customers to redeem 100 points for $10. So customers can get a $10 reward for each 100 points collected.
Go to your WordPress dashboard -> WPLoyalty -> Rewards -> click on Create new reward
Choose the Points conversion
Configure the reward as shown in the screenshot below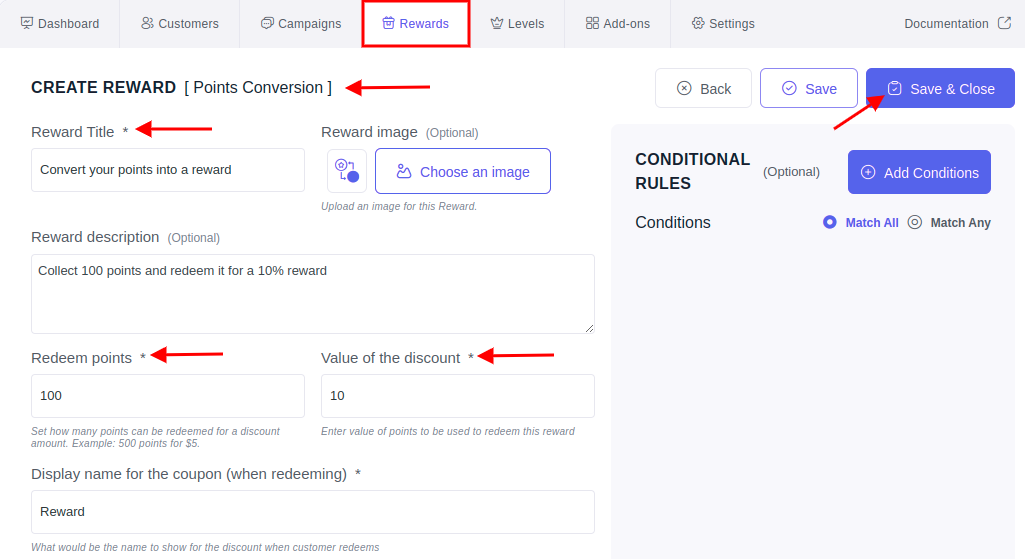 Remember to click on Save and Close to create the reward. Now, your customer can see this reward option in their My Account page -> Points & Rewards section.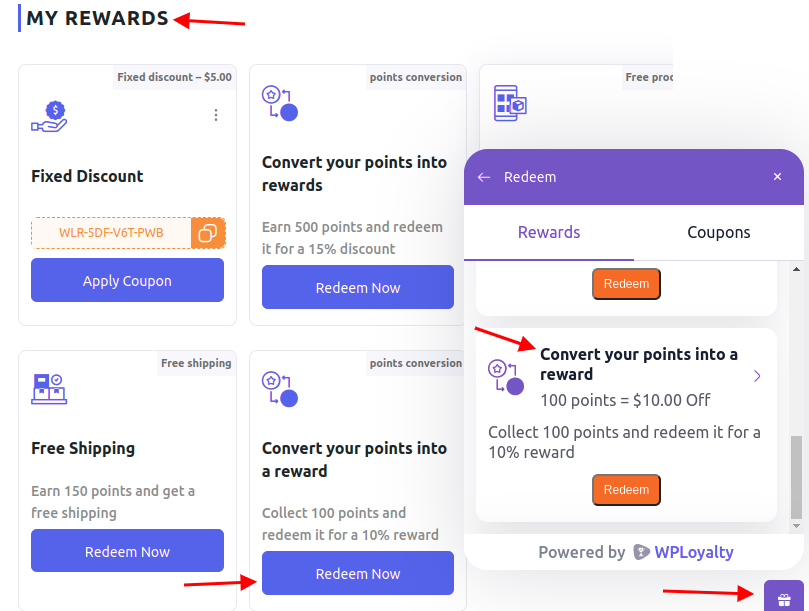 Reward your customers with points and exciting rewards in an easy way through WPLoyalty.
Wrap Up
Creating a loyal customer base adds a huge value for an eCommerce business. A woocommerce customer rewards program can help you unlock the value and build a successful brand. These initiatives assist brands in improving customer satisfaction and retention while reducing additional advertising costs. Starting to reward customers and keeping it going over time will help keep your customers happy.
As you think about growing your brand to the next stage, ensure to make your customers happy, as they are the main reason for your growth. Remember, rewards, points, and coupons are a way to optimize their happiness.
With the help of the WPLoyalty plugin, You'll be well on your way to the successful growth of your ecommerce store.
Learn more on the best ways to acquire more customers for your store, how to reward customers for referrals, and how to set up a points and reward system in WooCommerce
How do I add reward points in WooCommerce?
After installing WPLoyalty for WooCommerce, go to Campaigns -> Create a new campaign -> choose the Points for purchase type. Set up the points to be earned for spending in your store and activate it.
How do loyalty rewards work?
Loyalty rewards work in such a way that you reward your customers for every action they perform at your store. Reward loyal customers with points, discounts, freebies, or free shipping.
How do rewards motivate customers?
The process of rewarding customers gives you a lot of chances to win their trust, provide a memorable customer experience, and strengthen their loyalty to your brand.
How do you create a reward system for points in WooCommerce?
Install and activate WPLoyalty to create a reward system for points and reward customers in WooCommerce. You will need to create campaigns that allow customers to earn points and rewards for various actions like purchases, signups, reviews and referrals.
How do you give rewards to customers?
You can reward customers with points, free gifts, and free shipping. You can also let customers redeem their points for rewards like a fixed or a percentage coupon for their next purchase.
How do you reward high value customers?
You can reward high value customers in WooCommerce by creating a level/tier program and rewarding them with exclusive discounts and rewards.
Why should we reward loyal customers?
You must reward loyal customers for increasing customer loyalty and engagement. Additionally, you must also reward them for increasing customer lifetime value.
What a Good Loyalty Reward Program should have?
Creating a customer rewards program will bring in more visitors, and those visitors are your store's growth. So, make sure you recognise and appreciate the existence of your customers, as your customers are your brand ambassador who will promote your brand further. Here are a few simple, inexpensive rewards a good loyalty rewards program should have.

1. Points Conversion
2. Fixed Discount
3. Percentage discount
4. Free product
5. Free shipping