In today's competitive world, setting up and implementing a points and rewards system in WooCommerce may be a complex topic to deal with. But it's easy and simple when you know how to do it. Usually, people love points and rewards, save them to redeem the benefits in the future.
Some people make frequent purchases as they are fond of adding points and rewards. So, set up the points and rewards system right now and maintain a fruitful relationship with your customers right from today.
Using the right loyalty plugin for your eCommerce store to set up points and reward programs is a must. There are usually a lot of plugins that offer limited features, but with the WPLoyalty plugin, you can use many upgraded features. Also, this points and reward plugin is the quickest method to set up points and rewards for WooCommerce.
Give points and rewards to your customers.
Benefits of Points and Rewards System
The main benefit of your WooCommerce store's points and rewards system is that you can retain your existing customers. Also, you can bring in new customers in the name of referrals. Surprising right? Your customers will bring their friends and families whenever they benefit from your store.
If the plugin you install benefits you, there will be an increase in sales and a boost in revenue. The exciting thing is you can win your customer's loyalty with this program. Once you've won their hearts, then they place immense trust in you. Also, they prefer your brand over competitors.
By receiving points and rewards, customers feel appreciated and attached to your brand, and gradually you will become their only shopping option. So, customers put effort into making a purchase, and you reward them with points. This way, they will feel valued and unique.
Download and Install the WPLoyalty plugin
Step 1: WPLoyalty plugin helps you offer points to your customers in an easy way in a few steps. With this plugin, you can reward customers for,
Purchase
Rewards based on spending
Order goals
Referrals
Sign up
Write a review
Social-Media share – Facebook, Whatsapp, Twitter, Email
Points for following Social Media page
Note: If you have already installed and used the WPLoyalty plugin, enable auto-update in WordPress to enjoy the latest features. Or, if you haven't enabled auto-update, you will be notified by WordPress on the dashboard page if there is any update to be made.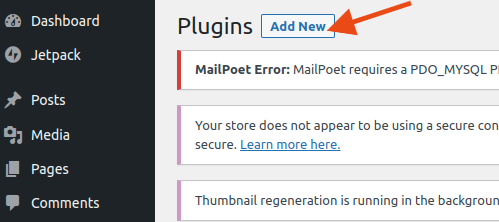 Step 2: Install the WPLoyalty plugin, then go to your WordPress site. In the plugins, click on Add new -> Upload plugin -> Choose file
You will be taken to the file folder, where you can see the WPLoyalty plugin you have already bought. Add that and click on install.

Enhance sales by rewarding points.
How to Set Up Points in WooCommerce?
Step 1: Once the WPLoyalty plugin is installed, you are all set to run the plugin on your site. Now let us guide you through how to set up points in the plugin.

To set points, click on campaigns -> Create a new campaign. Once you click to create a new campaign, various options will be displayed at your screen. Every campaign offers a huge benefit to your store.
Step 2: So, now you can choose the campaign you like to create. To clarify how this campaign works, let us explain the reward based on the spending campaign.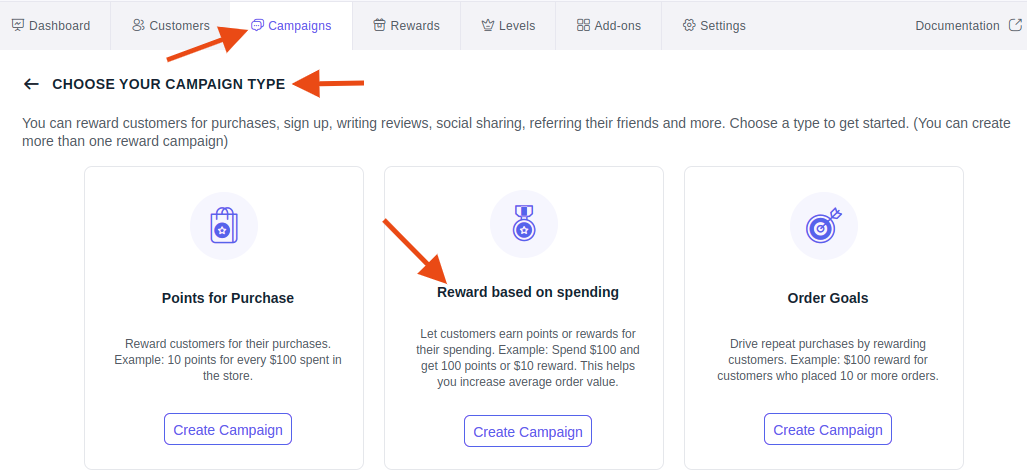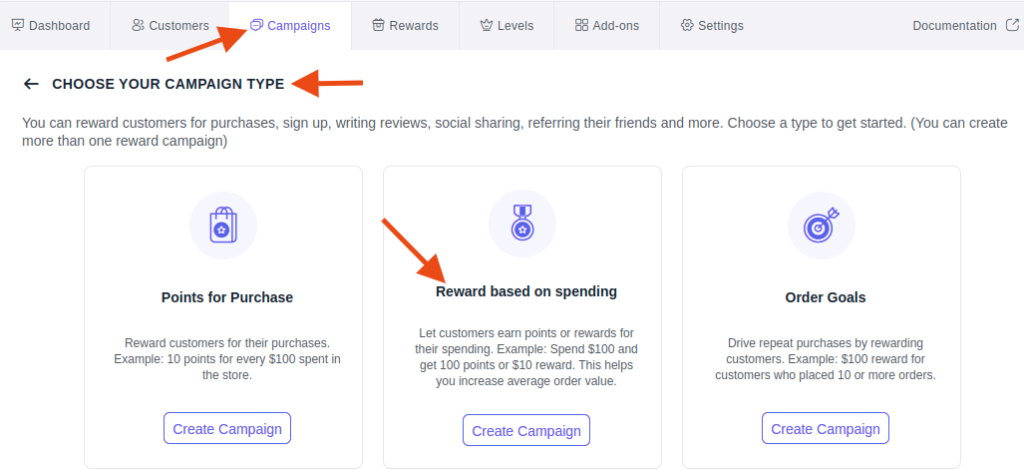 Reward-based on spending: You will give points to your customers once they spend money on your store.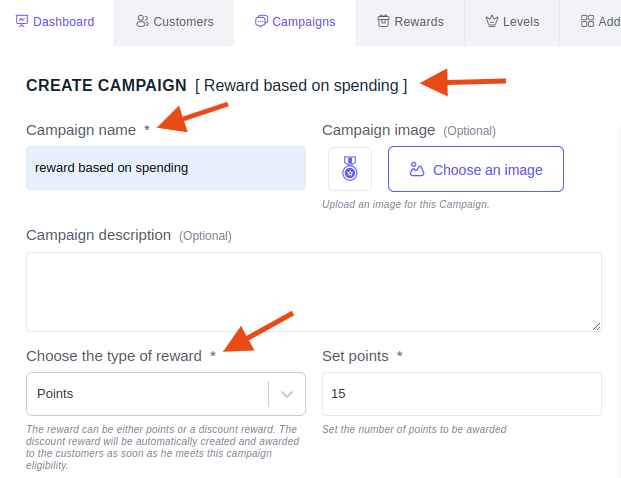 Step 3: All you have to do is fill out the details and create a campaign. You can give a campaign name as per your preference. If you want your campaign to look even more attractive, you can choose the campaign image (Optional). You can also give a campaign description explaining it in brief.
Step 4: Now you have to choose the type of reward, and there will be two types displayed. Since you are going to set up points, click on points. Once that is done, set the number of points you love to give your customers for each spend.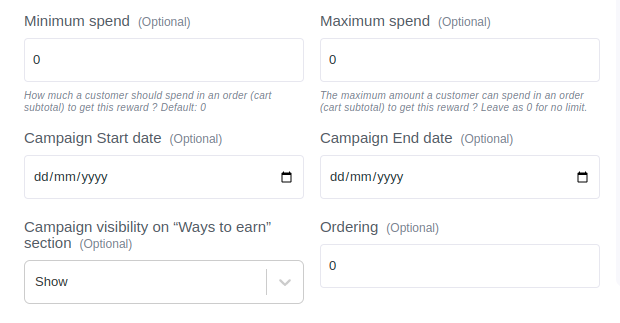 The fields, as shown in the picture, are optional. It's up to you to set minimum and maximum spending, and choosing the campaign start and end date are also optional.
If you set it as "show", the campaign will be visible and remind your customers about it. The campaign will not be visible to your customers if you "hide" it. Similarly, when you choose zero for ordering, this campaign will be on the top, followed by the rest of the campaigns.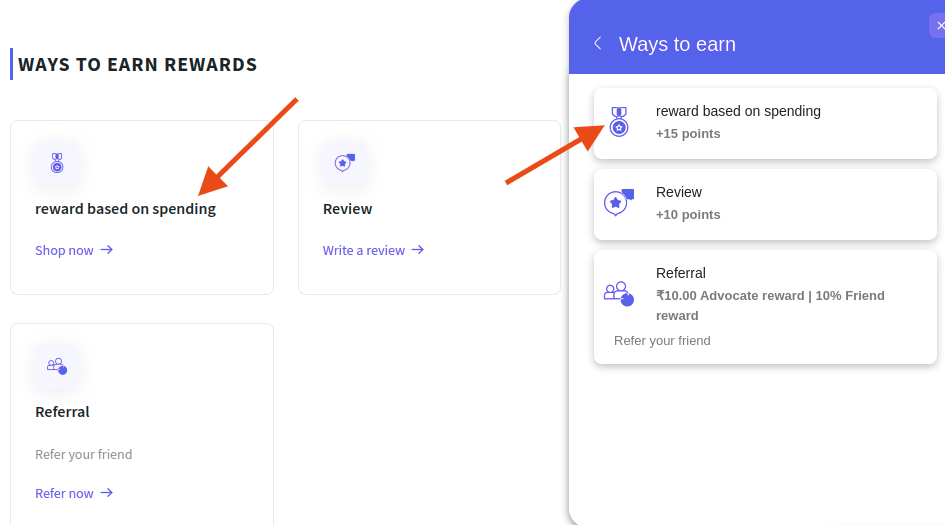 Step 5: Once you have set up your preferences, you can save by clicking save in the top right corner. Remember, the campaign will not be created if you don't save.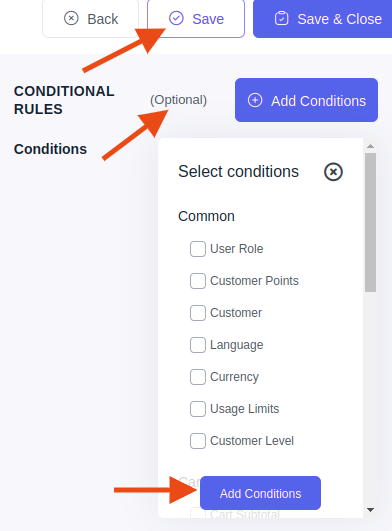 Conditional rules: There is a list of conditions that you can choose as per your preferences. But, these conditional rules are only optional for you to add.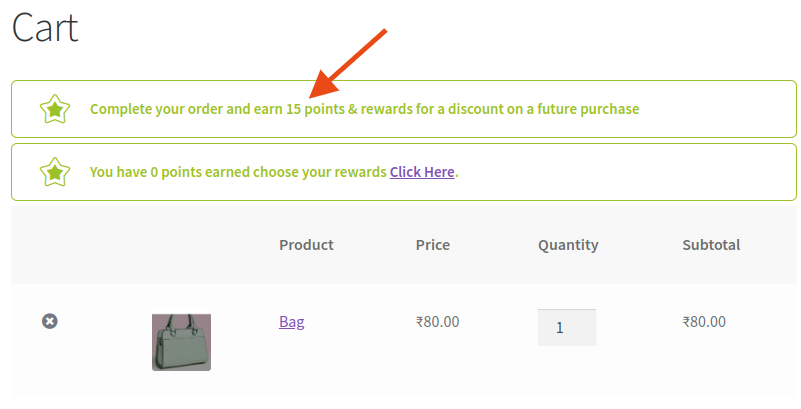 Step 6: Once you have set points and saved them successfully, your customer will get a display of them, as shown in the picture. Once their purchase is successful, the 15 points you set will be given to the customers.
How to Set Up Rewards in WooCommerce?
You can make your customers happy by giving them rewards as well. Providing rewards to customers is made easier with the WPLoyalty plugin. There are various types of rewards you can offer your customers. They are;
Points conversion
Fixed discount
Percentage discount
Free product
Free shipping
Points conversion is where you allow customers to convert their points as discounts. For example, if customers have earned 100 points, they can convert the points to a 15% discount, and you can set this as per your preference.
Now, let us guide you on how the fixed discount reward works. We assure you all the rewards mentioned will excite your customers and boost your sales.


Step 1: Click on Rewards -> Fixed Discount – Create Reward.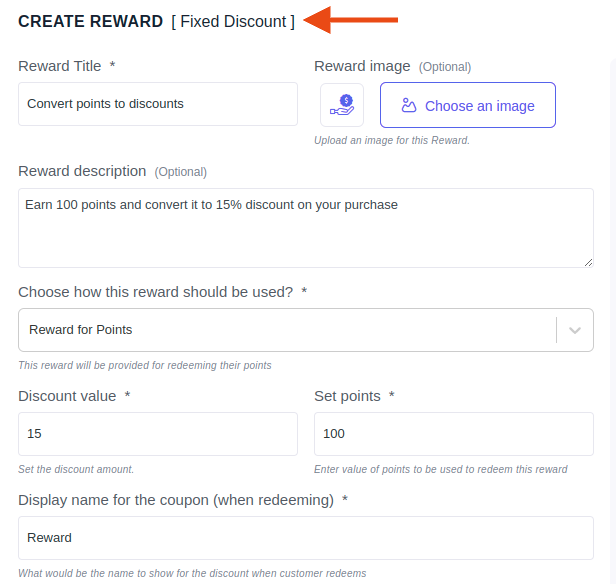 Step 2: Give a title and description, and you can choose how the reward must be used. If you select points, customers will receive this reward for redeeming them.
Similarly, if you select a reward as a coupon, the coupon will be given to the customers once they complete the campaign.

Step 3: As shown in the picture, those fields are optional, and it's up to you to set them according to your preferences. Also, there are a few conditional rules on your right side; you can select them if you want to.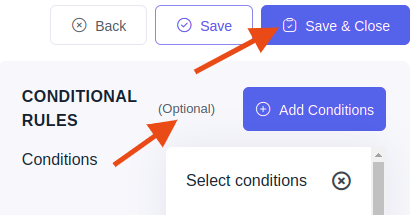 Step 4: Once you have set all your preferences, don't forget to save the campaign.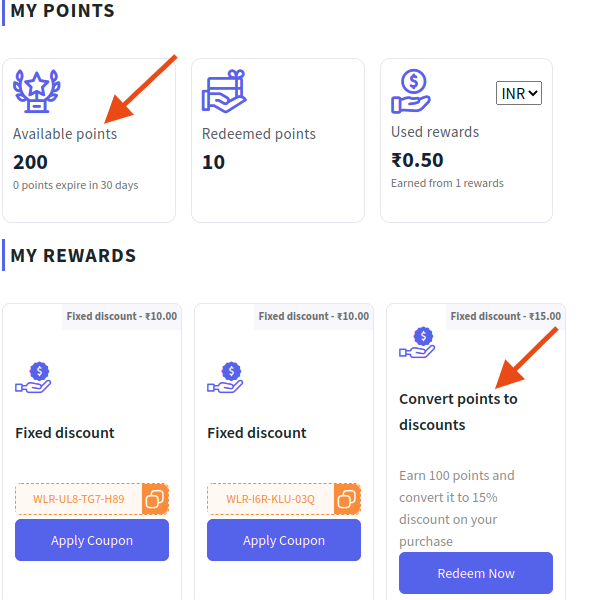 Now, your customers have 200 points with them, and you have set the fixed discount campaign. Now, your customers can redeem the discount by clicking 'Redeem Now'.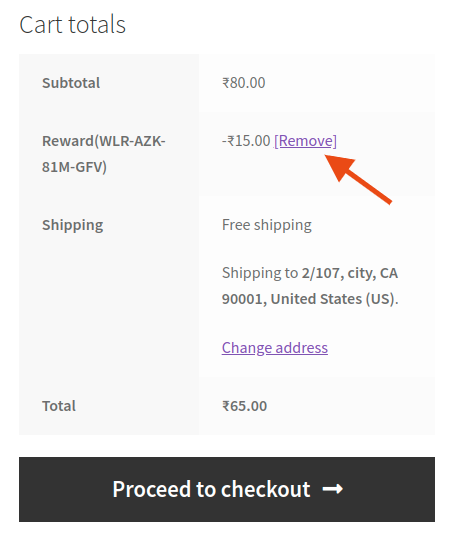 As shown in the picture, by using the reward, there will be a reduction in the cart. For example, if a customer adds a product worth $80, then by using the coupon, they will be able to save $15.
Customers who see they are saving money will regularly purchase at your store. Regular purchases mean an increase in sales, which means a boost in revenue. So, all you have to do is impress them with fantastic reward options using the WPLoyalty plugin.
Delight your customers by rewarding them.
Conclusion
Points and reward systems are powerful tools for those who want to increase their sales and revenue. With our WPLoyalty plugin, you can drive sustainable business growth, and also, you can efficiently retain customers.
The points and reward system is like a game; the more you play, the more customers you bring into your store. So, if you have not yet purchased the plugin, make a purchase today, and it's worth investing in.
How does the reward points system work?
Reward programs work in such a way that it makes customers purchase more to receive many rewards. Customers earn points after every purchase and redeem them on their future purchases.
How do I add a point system in WordPress?
To add a point system in WordPress, download and install the WPLoyalty plugin and add points through the campaigns.
What are some good incentives?
Giving points for purchase, spending, order goals, referral, signing up, writing a review on birthdays, and sharing on social media are good incentives to offer your customers.