Loyalty programs are one of the effective strategies that will help you strengthen customer relationships and drive repeat business. Research says 63% of the eCommerce customers prefer brands with the best customer loyalty program. That's why it's crucial for your store to run an effective loyalty program and improve customer engagement.
Also, we've listed the best customer loyalty programs examples in this blog to make it easy for you. Unlock the secret to keeping your customers coming back with the best customer loyalty program ideas from the blog.
WPLoyalty allows you to implement the best customer loyalty programs to increase revenue & sales with its exciting features.
Importance of Customer Loyalty Programs
Customer loyalty programs are important for eCommerce businesses as they help:
Increase customer retention: By offering rewards and incentives, ecommerce businesses can encourage customers to keep coming back and make repeat purchases.
Boost customer lifetime value: Loyal customers are more likely to spend more money over time, which increases the overall value of each customer to the business.
Collect customer data: Customer loyalty programs often involve collecting customer data, such as purchase history, which can be used to create personalized experiences and target marketing efforts more effectively.
Stand out from the competition: By offering unique rewards and benefits, ecommerce businesses can differentiate themselves from competitors and build a strong brand reputation.
Apart from that, a well-planned customer loyalty program will save you time, money, and effort. Once you install the best WooCommerce plugin and set up your loyalty program, you're all set.
Loyalty programs benefit repeat customers who make regular purchases at your store. Research says 54% of the customers who completed two to three orders at your store will definitely make their fourth purchase at your store. This is why rewards programs can potentially retain customers and make them your regular customers.
Also, loyalty programs can convert normal visitors to loyal customers and make them invest more in your store. Furthermore, these loyal customers will start referring your brands to their friends and family and help you acquire new customers.
Overall, WooCommerce loyalty programs can be a valuable tool for your brand, increasing the store's sales and growth.
Customer Loyalty Program Ideas
We give you the best Customer loyalty program ideas to make your customers happy and generate more revenue for your eCommerce store.
You can reward customers for signing up, purchases, achievements, based on spending, referral rewards, rewards for writing product reviews and many more.
Let's look into detail with the examples;
Reward for Sign Up / Account creation to New Customers
Reward your customers on their first Sign up or creating an account on your store. These first rewards will motivate customers and give them a reason to purchase in your store. Remember to offer appealing rewards to your target audience. For instance,
Sign Up and Get a 10% Off discount on your first order.
Sign Up and Get a free gift along with your first order.
Sign Up and Get free shipping on your first order.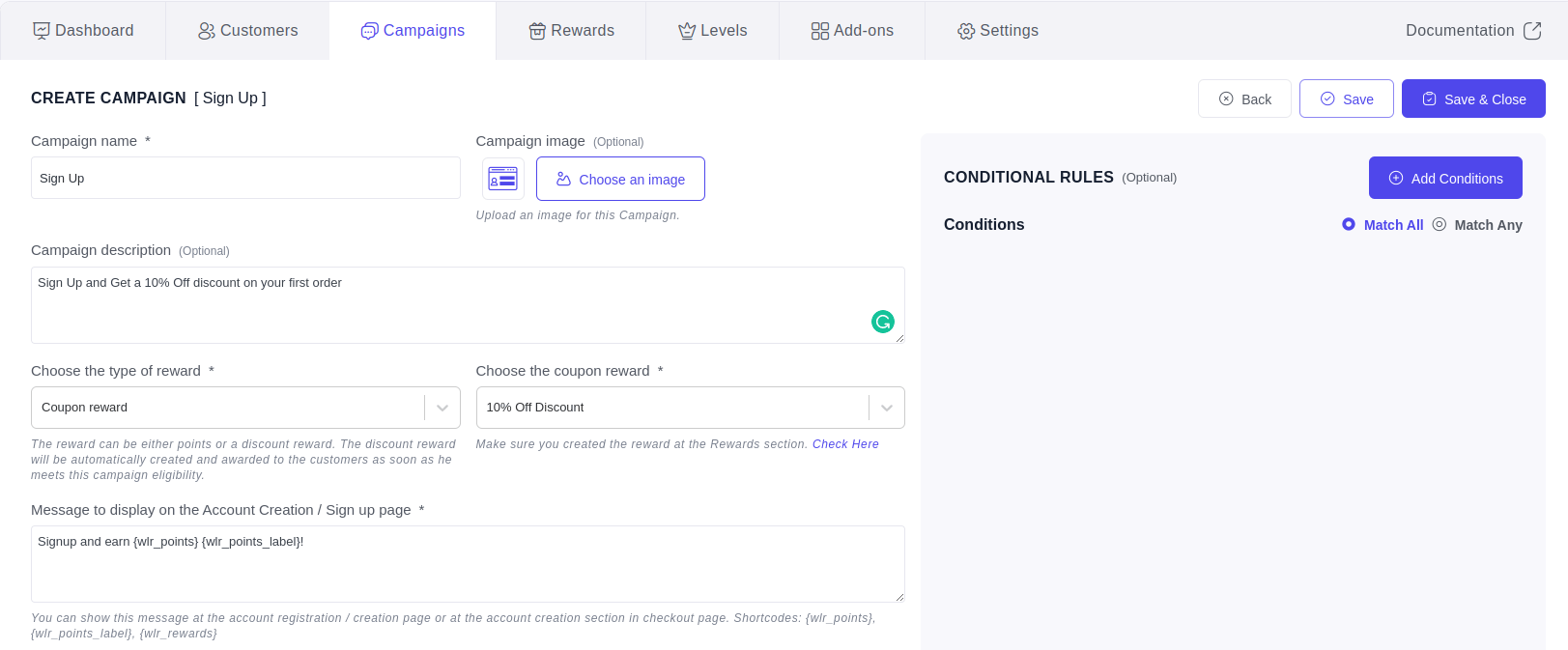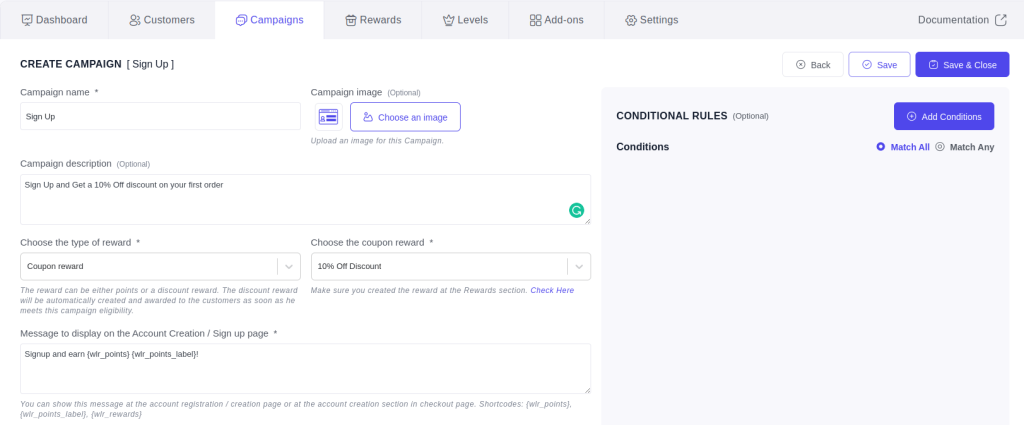 Rewards for Purchases
Rewards customers when they make their first purchase at your store. These first-purchase rewards will encourage customers to continue their second purchase at your store. Here are a few examples of how to reward your customers after a purchase:
Earn one point for every one dollar spent
Earn a maximum of 100 points for every $500 spent
Collect 500 points and redeem them for 50% Off on your next purchase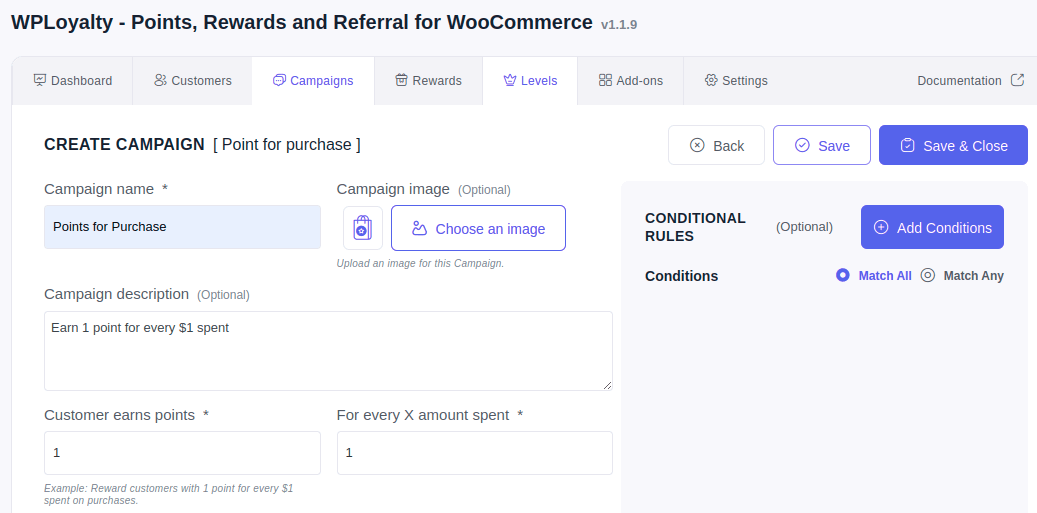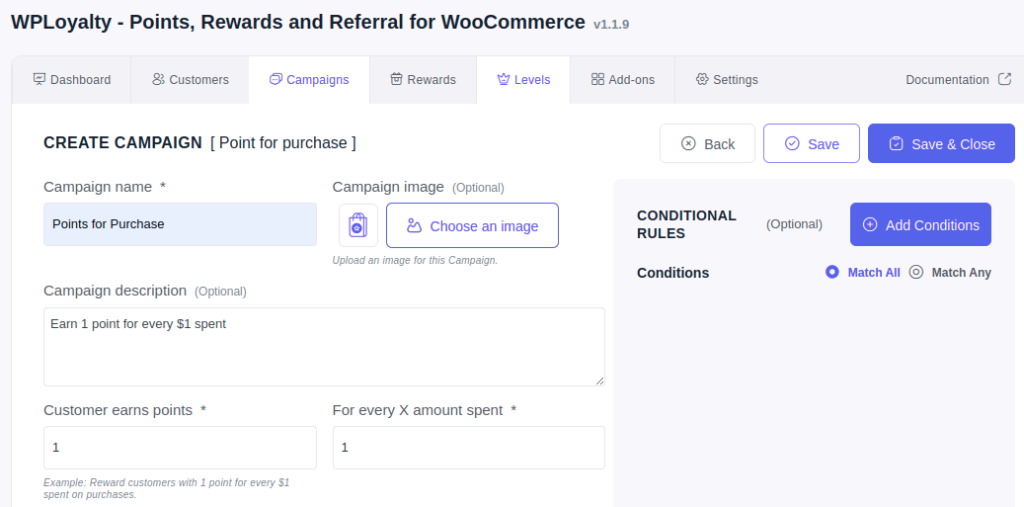 Rewards Based on Spending
Reward your customers based on the number of dollars they spend on their purchases. This type of initiative will help you generate more revenue and sales. Here are a few examples of how you can reward your customers based on their spending:
Spend $50 and Get 5% discount
Spend $500 and Get instant 100 points
Spend $5000 and above and get $100 as a bonus reward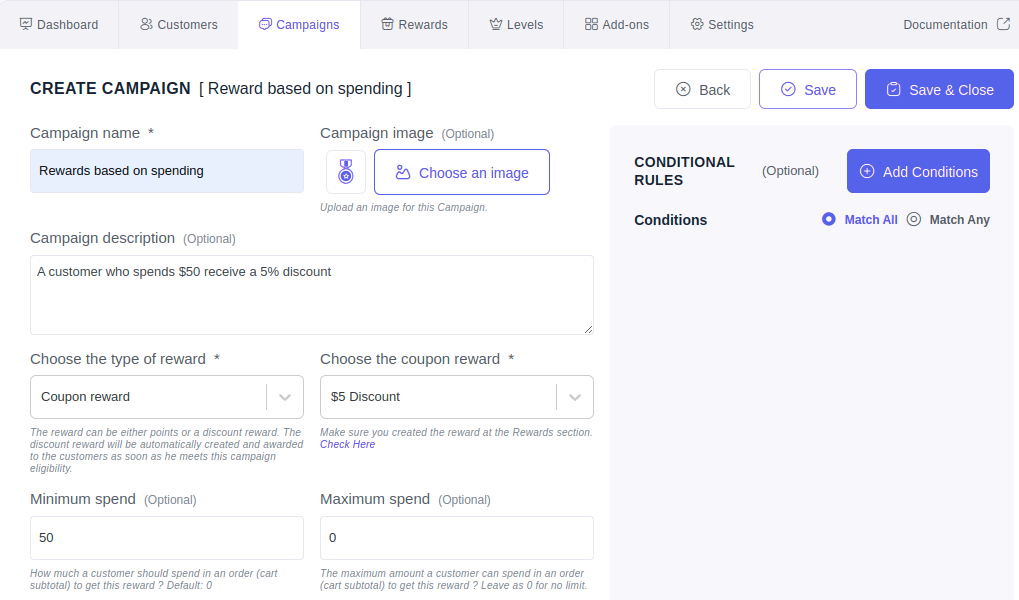 Rewards Based on Order goals / Achievements
Appreciate customers who place more orders on a purchase or for achieving an order limit with exciting coupon rewards. Exclusive coupons/discounts will help customers to make bulk purchases. For example:
Order Two shirts and get 20% Off
Buy Three hoodies and Get a 25% discount.
Get a $100 reward for placing ten successful orders.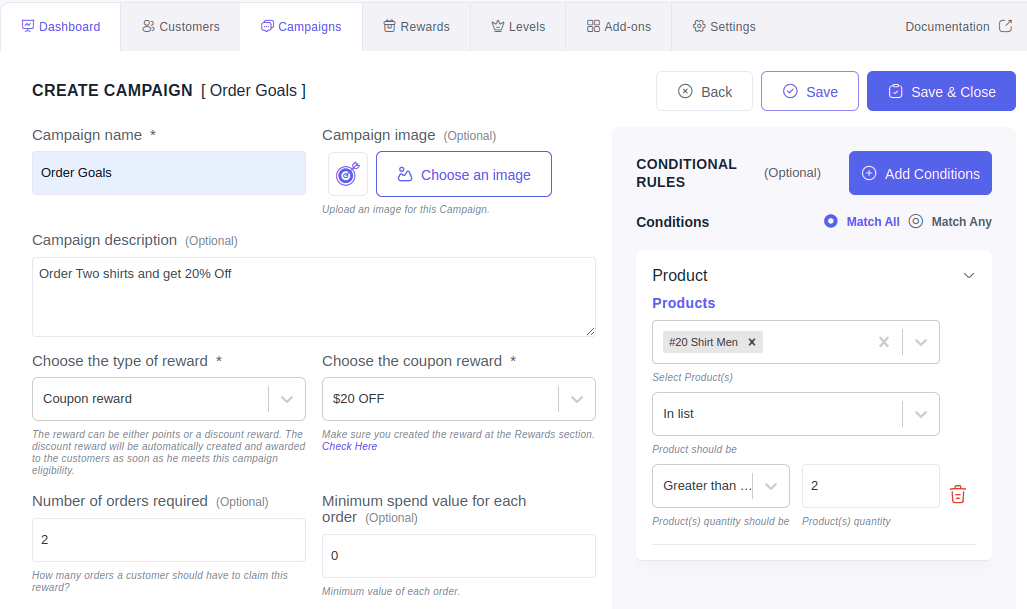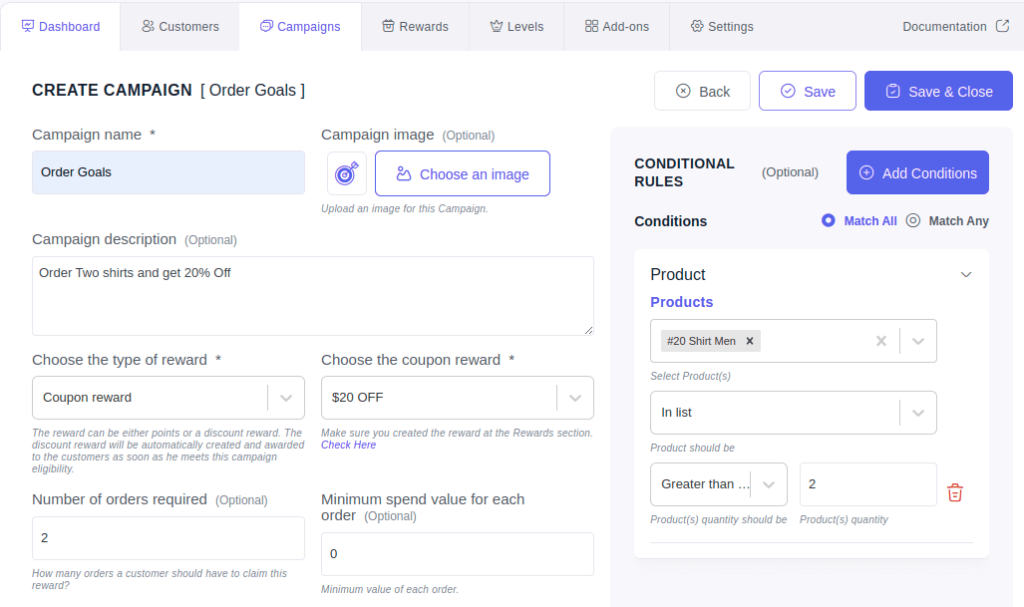 Rewards for Referrals
Reward customers with exciting offers for referring your brand to their friends and family. Remember to reward existing customers who refer to your brand as they are your brand advocates. For instance:
Refer a friend, and you Get $10 Off, and your friend gets a free product.
Give your friend 30% off, and you get a free product.
Your friend gets a gift on completing their first purchase, and you get a 100% coupon on your next purchase.
Rewards for Writing Product Review
Most customers will look at the product review before purchasing a product. Rewarding customers for writing product reviews is a great way to know what customers think about your brand and product. For example:
Review a product and get 50 points
Leave a product review and get $10 Off on your next purchase
Write a product review and get free shipping on your next order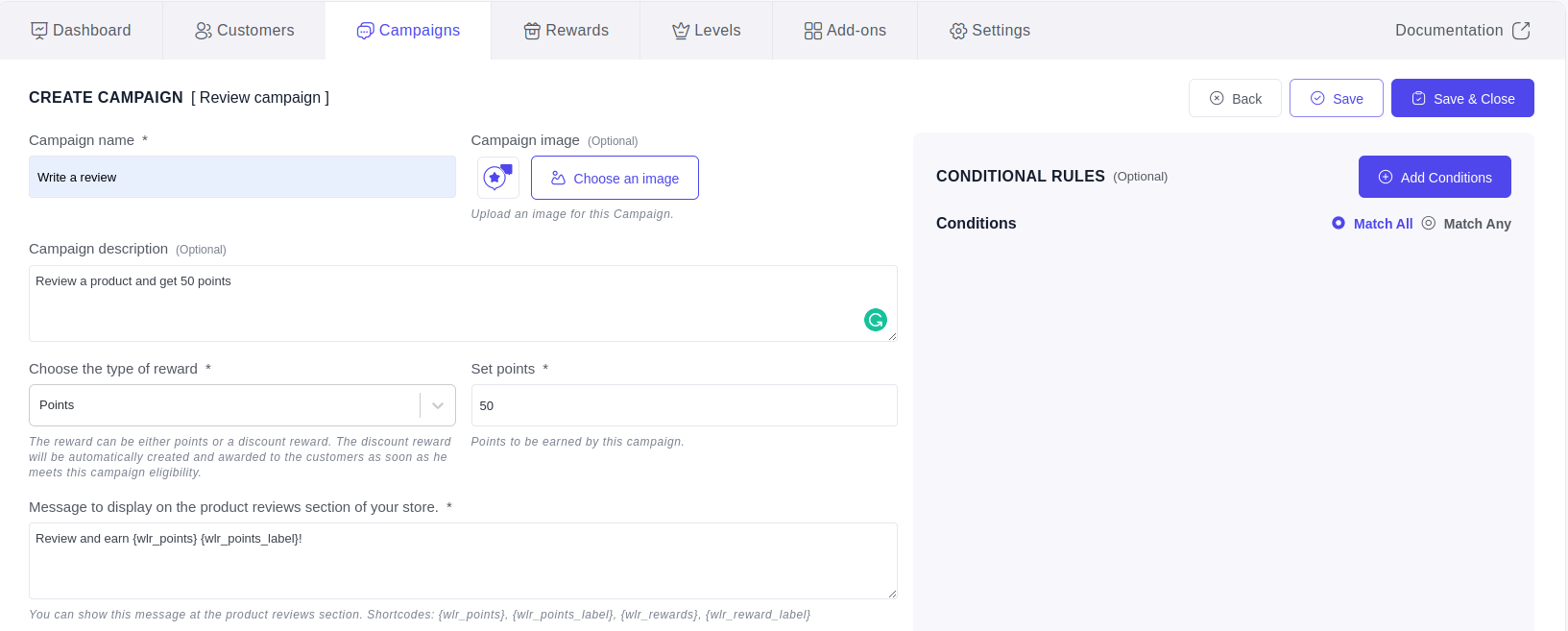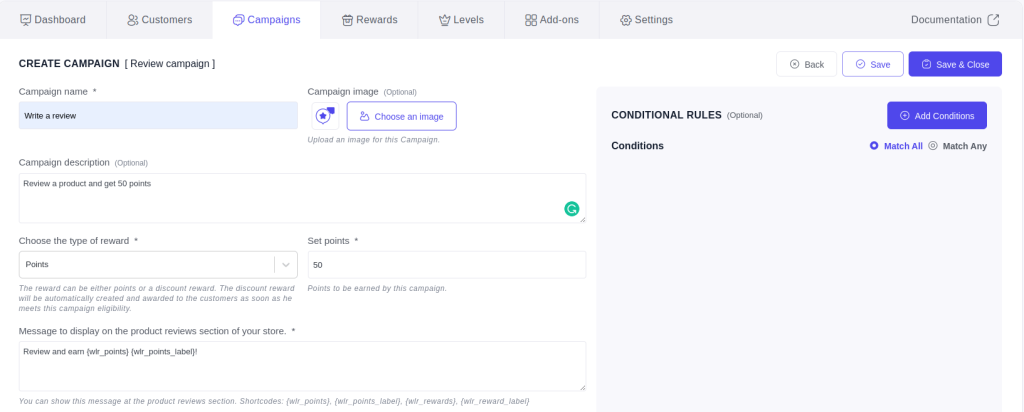 Offer Free Gifts and Free Shipping
Freebies and free shipping are great incentives to turn your normal visitors into repeat customers. People are fond of the word 'Free,' so offering freebies and free shipping are the best ways to attract customers. For example,
Collect 500 points and redeem them for a 'Free Travel Pouch.'
Get free shipping on the cart subtotal greater than $200
Get a 'Cap' free for ordering two same products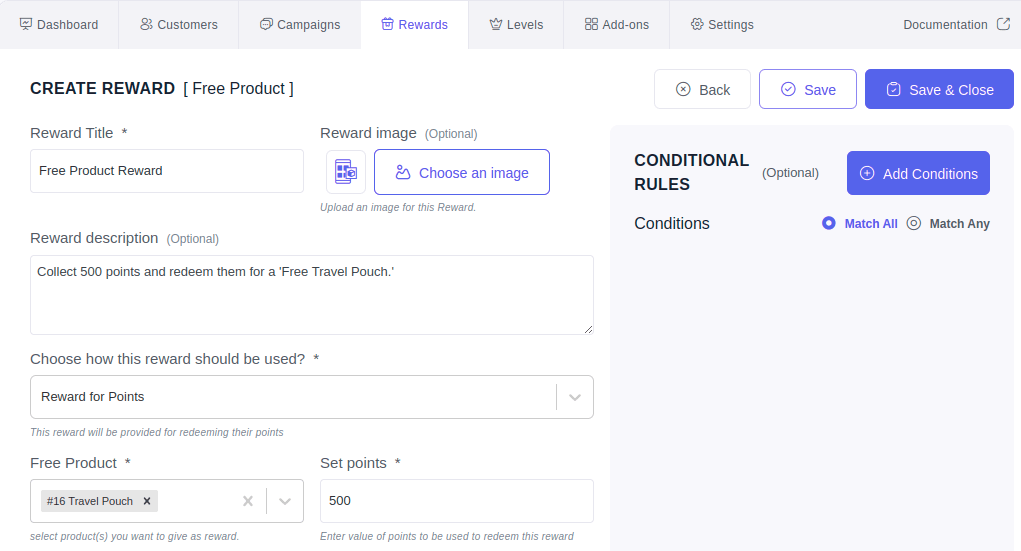 Rewards for Birthdays and Special Occasions
Rewards on customers' birthdays will make your customers feel special. Celebrate your customer's birthdays and show them you value their big day. Make sure to consider your customer's preferences before offering birthday rewards.
Enjoy 30% Off on your birthday month.
It's your birthday! Get 25% Off on your favorite products.
Get a free product on your birthday.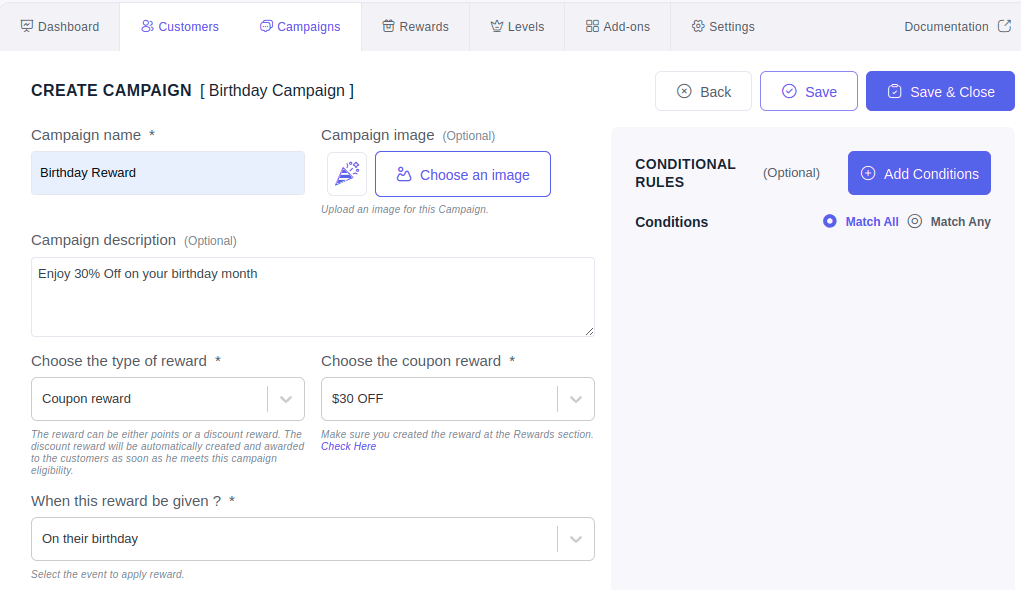 Rewards for Social-shares and Page Follows
Sharing products on social media has the highest chance of reaching most of your target audience. So, to encourage customers to share products and follow your page on social media, you must reward them with exciting offers. For example,
Share the referral link with your friend and get 20 points
One social share = 10 Points
Follow our page on social media and Get 5% Off on your future purchase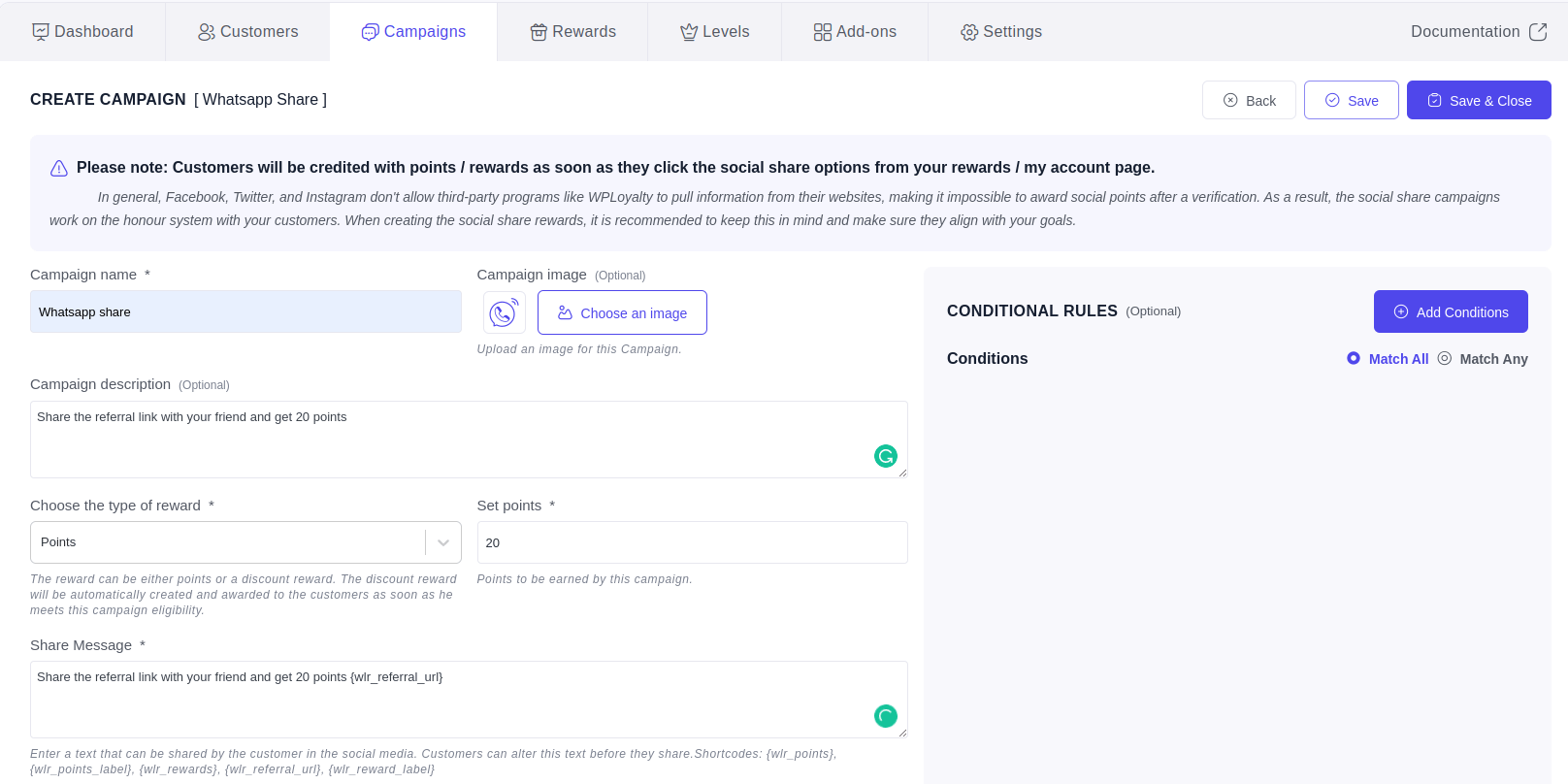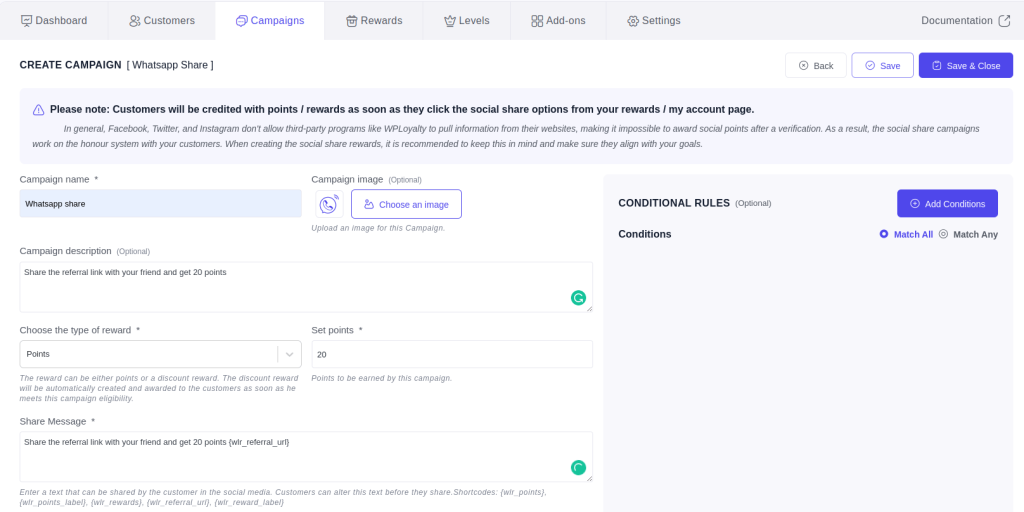 Create a Level/Tier Program for VIP Customers
VIP customers are your loyal customers who stick with your brand for a long time. These loyal customers prefer your brand more than other brands. So, give exclusive deals and discounts only for your VIP customers. For example:
Customers in the silver level get 20% Off on their purchases.
Gold level – Get 15% off and free shipping on completing five orders.
Platinum level – Get 20% Off on all your future orders.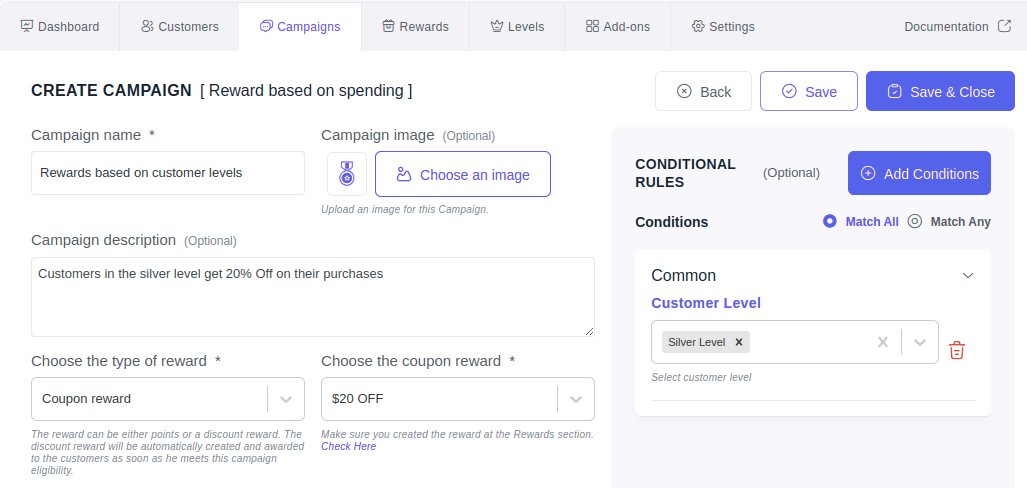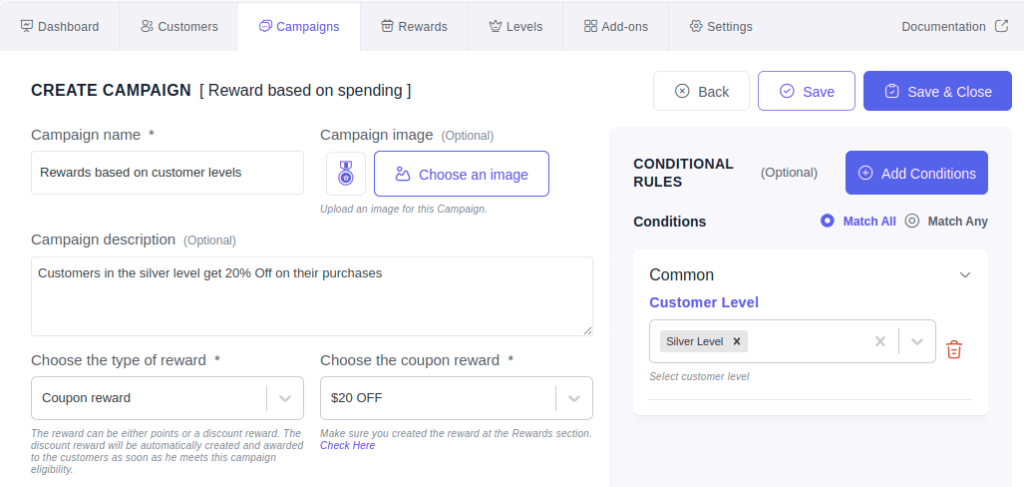 Run an effective customer loyalty program for your customers and generate more sales & revenues in an easy way.
Customer Loyalty Program Examples
Here are a few customer loyalty programs examples that give you an idea to make your website & program successful.
FARFETCH "Access" Loyalty Program
FARFETCH named their customer loyalty program as "Access" loyalty program. Also, they give you unique loyalty rewards examples. Customers from more than 100 countries participate in this program. This brand is for the luxury fashions and boutiques industry.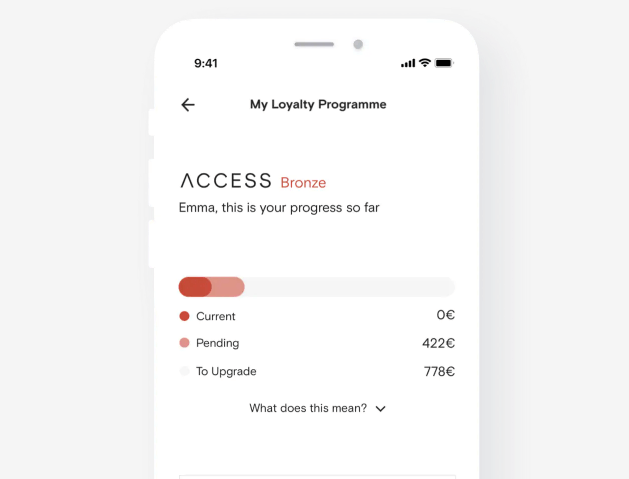 They divide customers into five tiers based on their purchase history, points earned/redeemed, or dollars spent. Let's look into the benefits each tier offers:
Bronze – Customers must make a single purchase and receive a welcome bonus, birthday gift, and access to presale products.
Silver – Customers who spend $1200 will get all the rewards on the Bronze Tier, special Silver deals, exclusive discounts, and free delivery on two orders.
Gold – Customers who spend $2400 get all the perks from Bronze and Silver. Additionally, free shipping on four orders.
Platinum – Customers in this level should spend $6,000 and get additional benefits of one-year free shipping, an extended 28 day return period, and access to exclusive products.
Private Customer – Customers who spend $12,000 get exclusive private offers, fast shipping, personal styling, and many more.
Customer loyalty program ideas used by the stores encourage customers to spend more dollars to move from one tier to another.
Newegg's EggPoints Program
Newegg's EggPoints program is one of the best customer loyalty program examples most people love the most among other eCommerce stores. They named their loyalty program "EggPoints." This store is a California-based company specializing in electronics and gaming products.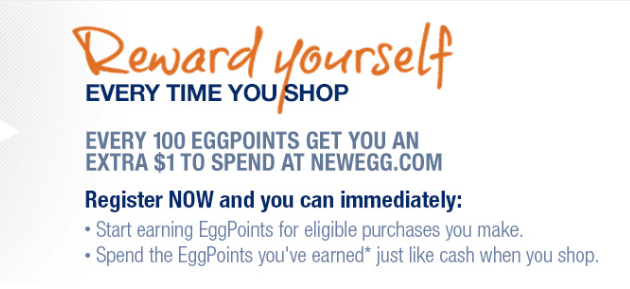 Their loyalty program rule is straightforward and they give you the best customer loyalty program ideas. That is, 100 EggPoints = $1. Customers get 1 EggPoint for every one dollar they spend. Once customers use the EggPoints, they have to redeem the points within 90 days before it expires.
Customers who participate in this program can earn EggPoints in various ways like:
Purchasing a product with EggPoint Badge
Providing feedback about the product
Participating in the events store's conduct
Let's see the customer loyalty program ideas stores use and the benefits stores get in return:
They allow customers to redeem the EggPoints only on their official website. So, customers can purchase only Newegg's products.
This strategy motivates customers to purchase more products to earn rewards.
With this, the stores receive more orders which means more sales and revenue.
As a member of this program, customers can enjoy the flexibility of making decisions on the number of points they like to spend on their purchases. Customers can engage with the brand to ensure the collected points do not expire in 90 days.
ALDO Crew
ALDO Crew's customer loyalty program ideas and strategies attracted many people worldwide. ALDO has stores in over 65 countries, and its main motive is to deliver an amazing shopping experience and build customer loyalty.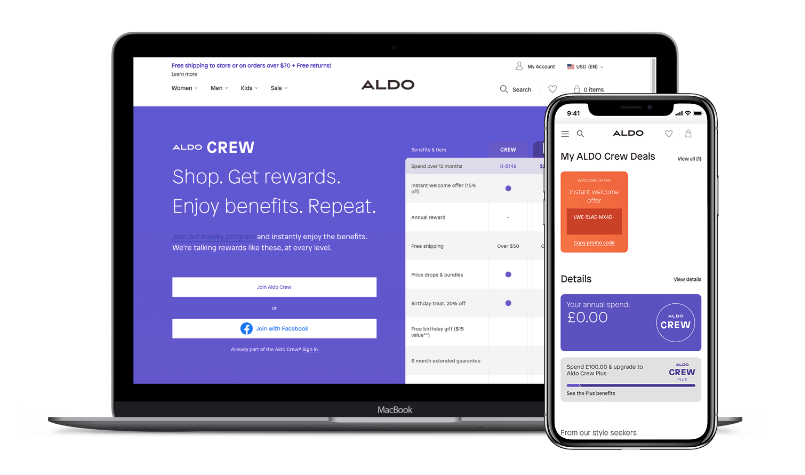 They divide people into three tiers – Crew, Plus, and VIP. Customers who sign up for their store will come under the Crew tier. But, to become Plus and VIP tier members, customers must spend $150 – $299 on their purchases. Let's look into the benefits each tier offers:
Crew – Spend a minimum of $50 to get free shipping, Discounts, birthday gifts, a welcome bonus, and many more small incentives.
Plus members – 15% discount on every purchase for one year, a special 20% OFF on handbags when purchased with footwear, a 6-month warranty for product defects, and many more.
VIP member – 20% discount on every purchase for one year, free shipping, exciting deals & surprises, and members can share their 20% OFF with up to five friends.
The exciting benefit ALDO store offers is that customers can share their discounts with friends and family. Through this, they acquire new customers and increase their sales.
Sephora Beauty Insider
Sephora is a store that provides personal care and beauty products to people. Sephora runs stores in more than 35 countries and offers personalized products to customers. They are one of the best loyalty program examples, everyone must know. They named their customer loyalty program as "Beauty Insider Program."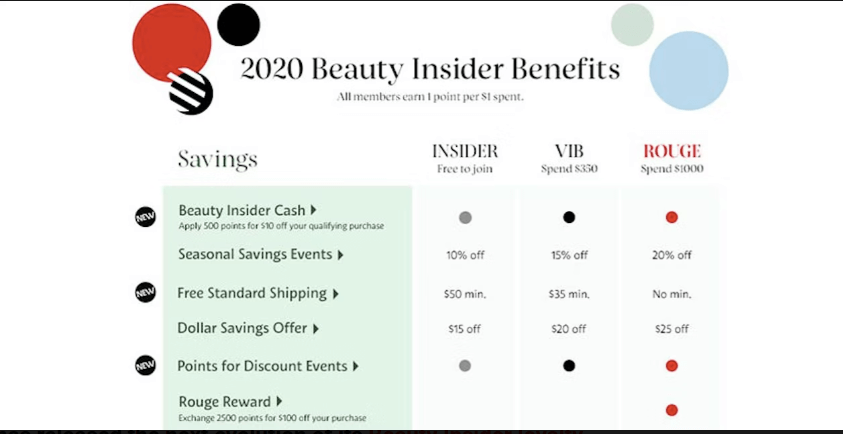 They divide customers into three tiers, Insiders, VIB, and Rouge. Their rule to earn points is easy, that is, 1 point = $1. The insider tier is free for every customer, and can move to VIB and Rouge tiers by following their rules. To become VIB and Rouge members, customers must spend $350 or $1,000 on their purchases.
Customers get various deals being a Sephora beauty insider member, like:
Beauty Insider cash
Free shipping / Freebies on birthdays
Exclusive discounts and gifts
Access to rewards bazaar
Redeem their points for various products
Join the program with mobile/desktop and many more.
Zappos VIP
Zappos is a retailer that sells shoes, handbags, accessories, and many more. With Zappos loyalty program you can get the loyalty rewards ideas to excite and engage customers. Customers can join the VIP program for free and earn points for making purchases on their website or app.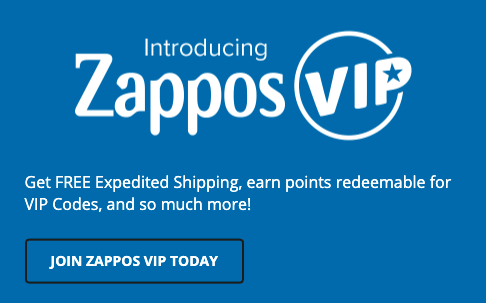 Similar to other stores' loyalty programs, Zappos follows a simple loyalty rule, which is 1 point for every one dollar spent. Customers can earn VIP points for;
Participating in promotional activities
Writing product reviews
Participating in sales promotions
Customers can redeem points for discounts
Besides the VIP customers, existing customers will also receive benefits from purchasing at Zappos stores. The benefits include:
Free shipping with no minimum purchase
Easy return
Easy refunds and many more.
Launch WPLoyalty and start a customer loyalty program to increase sales & revenue with pre-built automation.
Conclusion
If you use all the loyalty program ideas and examples in the blog, you can improve your sales and revenue. Additionally, you can increase customer loyalty and engagement and give your customers a fantastic shopping experience.
So, launch a customer loyalty program with the best WooCommerce plugin like WPLoyalty, understand the loyalty rewards ideas and start winning your customer's hearts.
Learn more on how to set up a referral program in WooCommerce, what's the difference between loyalty and referral programs and how to set up a point reward system in WooCommerce.
How do you attract customers to your loyalty program?
You can attract customers to your loyalty program by giving your program an attractive name and offering exclusive discounts & coupons. Additionally, reward customers with gifts on their birthdays and many more.
How do you create a customer loyalty program?
To create a successful customer loyalty program, you must use a well-built WooCommerce plugin like WPLoyalty. Install and activate the plugin, create a points reward system and increase sales naturally.
What a good loyalty program should have?
A good loyalty program should be straightforward for the customers to understand and participate in. Also, rewards are relevant to customers' needs and an easy way to redeem the rewards.
What are the 3 R's of customer loyalty?
The 3 R's of customer loyalty are Rewards, Relevance and Recognition.