Happy customers, come back and stay loyal to a brand. Their happiness and loyalty don't stop with repeated purchases, joy is doubled when shared, and they share it with their friends and people they know. They turn into the best marketing asset for your business by bringing in new customers.
Customers are the best marketers, and referral programs are the trusted way of marketing. Discovering brand advocates for your ecommerce store is necessary to build a positive relationship with your customers. Brand advocates discuss their favorite products with friends and families and increase traffic to your store.
Usually, store owners spend revenue on advertising their brand among their customers. But by having these brand advocates, you need not spend money on an advertisement; your customers will do the work for you.
When customers participate in your refer-a-friend program, all they expect in return is rewards from you. Setting up our woocommerce referral program in your store benefits your customers by offering rewards for every referral they make. This blog will further guide you on how to set up a woocommerce referral program in your store.
Ready to set up a referral program?
Why are referral programs important?
Referral programs help you spread your brand name to your target audience at the right time. Refer a friend program is important to show your customers why you are the best. Here are a few reasons why referral programs are important to your store.
Customers usually trust the word of their friends or families. So, a referral program for Woocommerce is a trustable way to maintain proper growth. Once they love your brand, customers promote your product among many people via social media.
When referral rates are high, it's a reminder that many people are hearing about your brand. Also, it means your brand offers customers a quality product and a wonderful experience.
Moreover, Woocommerce Referral Programs are a great way of customer retention.
Customers who shop with your brand are more likely to stick with you. Gaining customer loyalty is another important aspect you get through implementing referral programs.
Explore the various strategies to reward customers for referrals.
How to Set Up a Referral Program in WooCommerce?
Using the WPLoyalty plugin, you can reward your customers for every referral they make. Let us guide you on how to set up a woocommerce referral program.
Step 1: Install WPLoyalty
Install the WPLoyalty plugin. Now, login to your WordPress – Visit dashboard – Plugins – Add new – Upload the plugin – Install.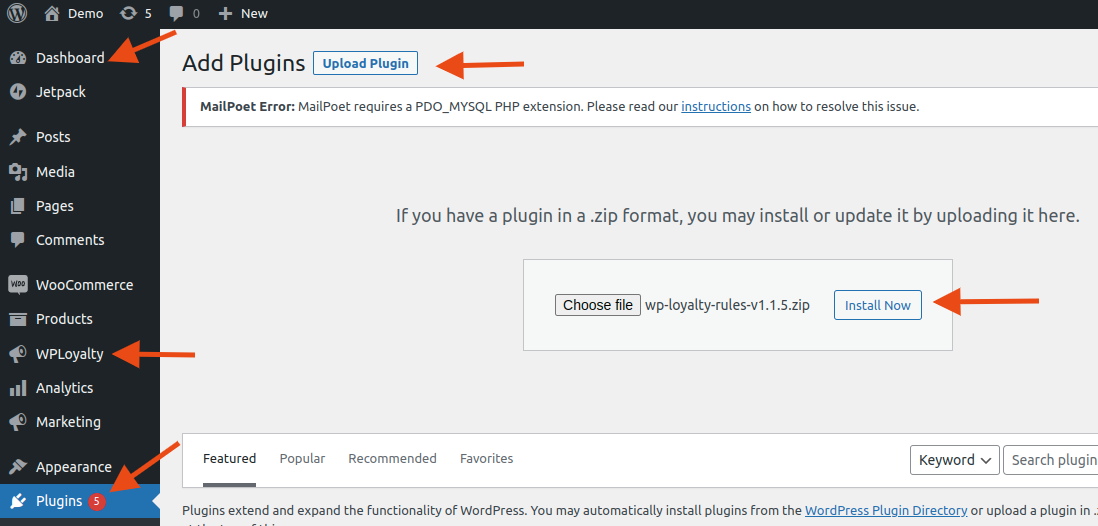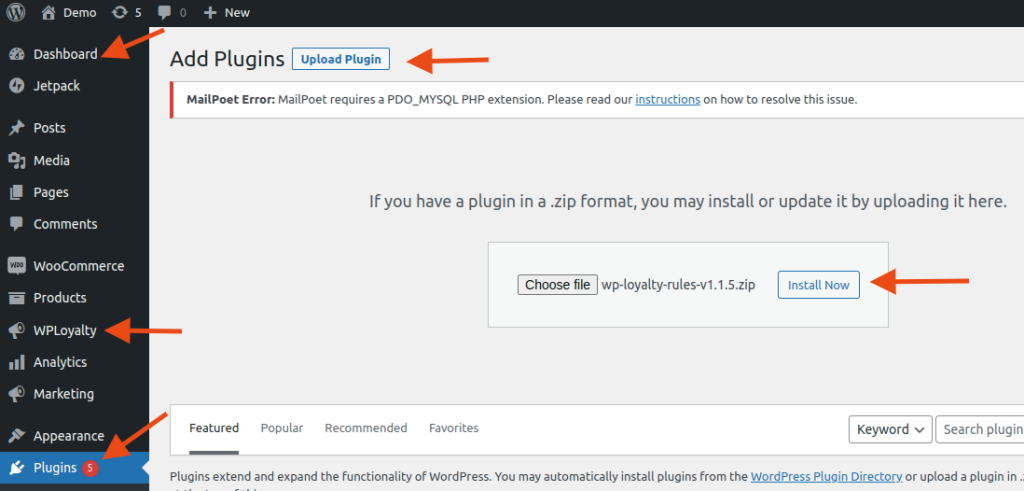 Once the installation is done, You can use the WPLoyalty plugin. Then you will be directed to the WPLoyalty dashboard.


Step 2: Create a Referral campaign
To reward customers for referrals, you need to create referral campaigns. Click on campaigns, and you will find referral campaigns.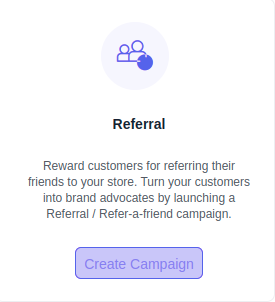 After clicking on the referral campaign, start filling out the campaign details as per your preference.


Create a campaign by giving it a campaign name, description, and image. Now, you have two options, one is to reward existing customers, and another is to reward new customers.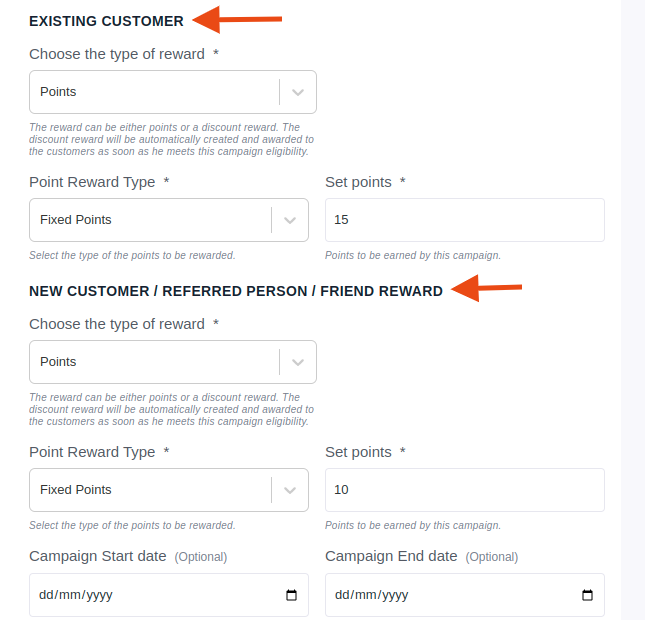 Existing & New customers: You can choose to give points as a reward and reward type. Set points according to your preference.
Campaign date: If you want to give a campaign start and end date, you can use this field. Otherwise, it is optional.


Conditional rules: This field is optional, with conditions like language, currency, and more.
Once you click on save, the referral campaign will be created.
Step 3: Create Rewards (Coupons)
Suppose you want to reward your customers with coupons instead of points. You have to create a reward beforehand. There are various rewards for you;
Fixed Discount
Percentage Discount
Free product
Free shipping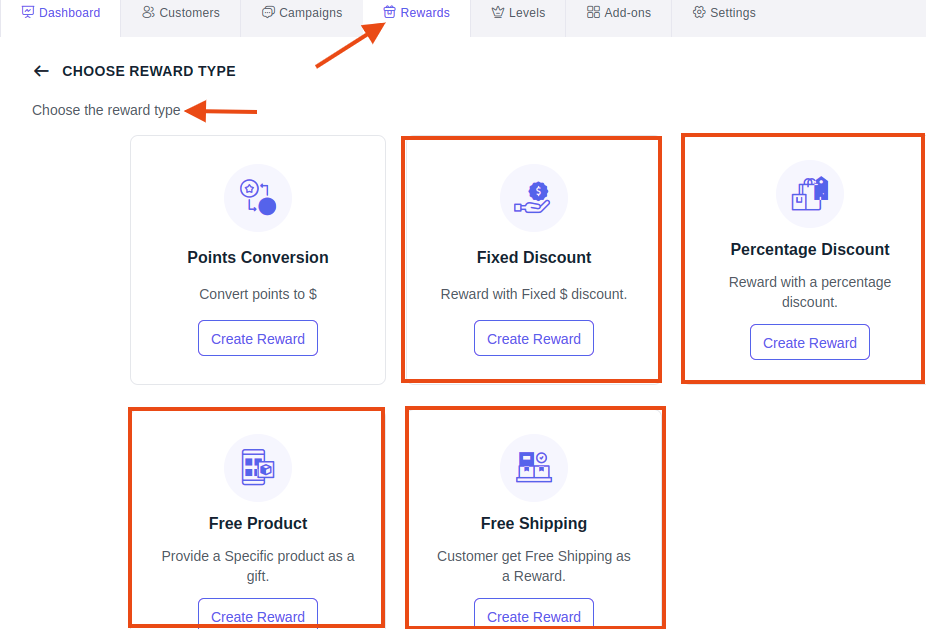 Fixed Discount – With this campaign, you can reward coupons with discounts immediately to your customer, and you have to select the option reward as a coupon immediately.
Note: You have to choose the option as a reward as a coupon immediately, and only then can you reward coupons for customers in referrals.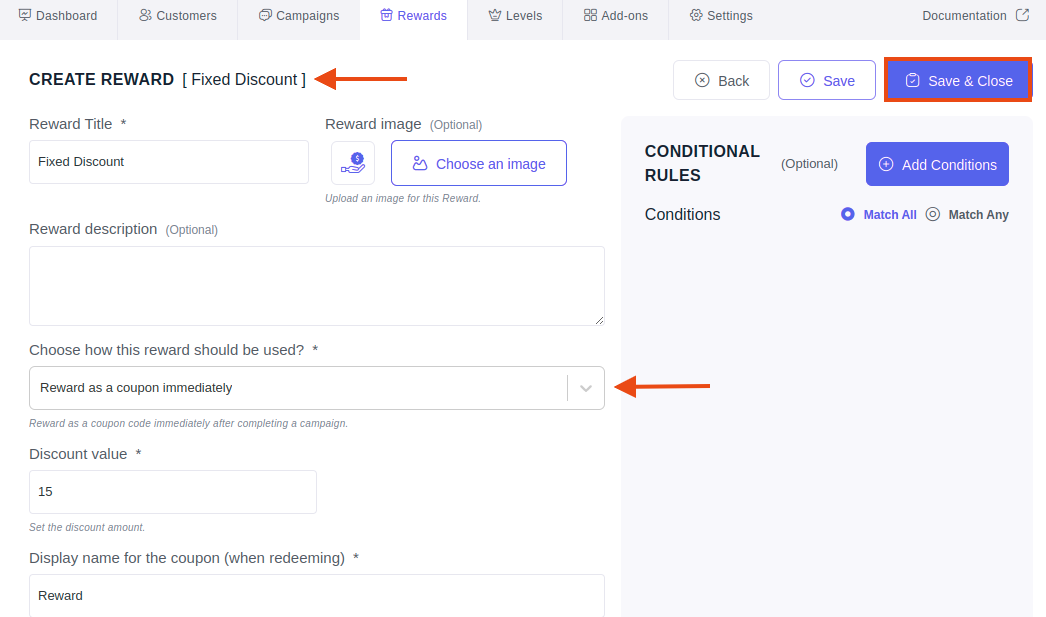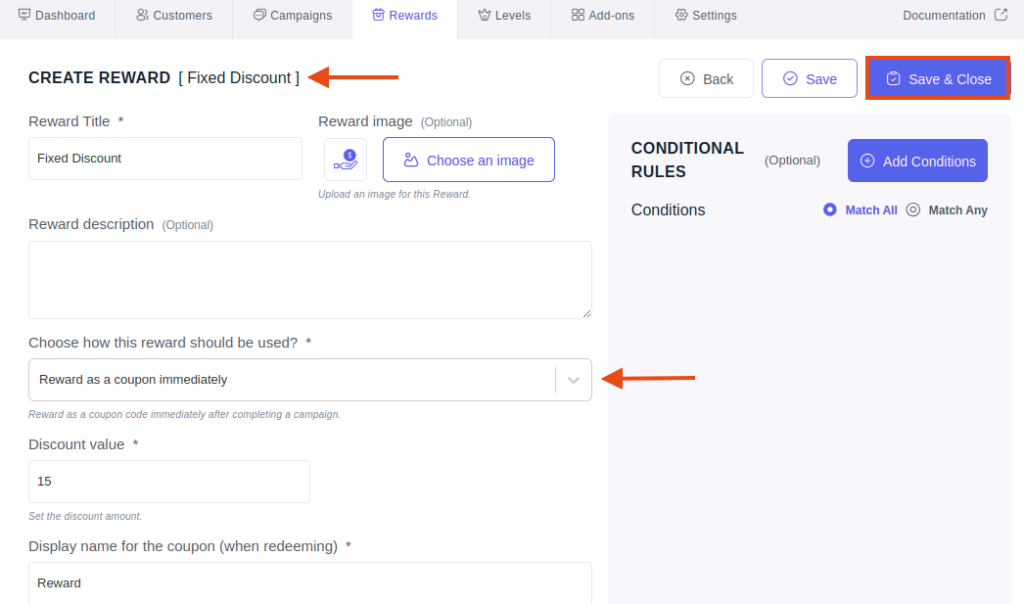 Percentage Discount – With this campaign, you can reward coupons with discounts immediately to your customer, and you have to select the option reward as a coupon immediately.
Note: You can set the coupon's expiry date, which is an optional field.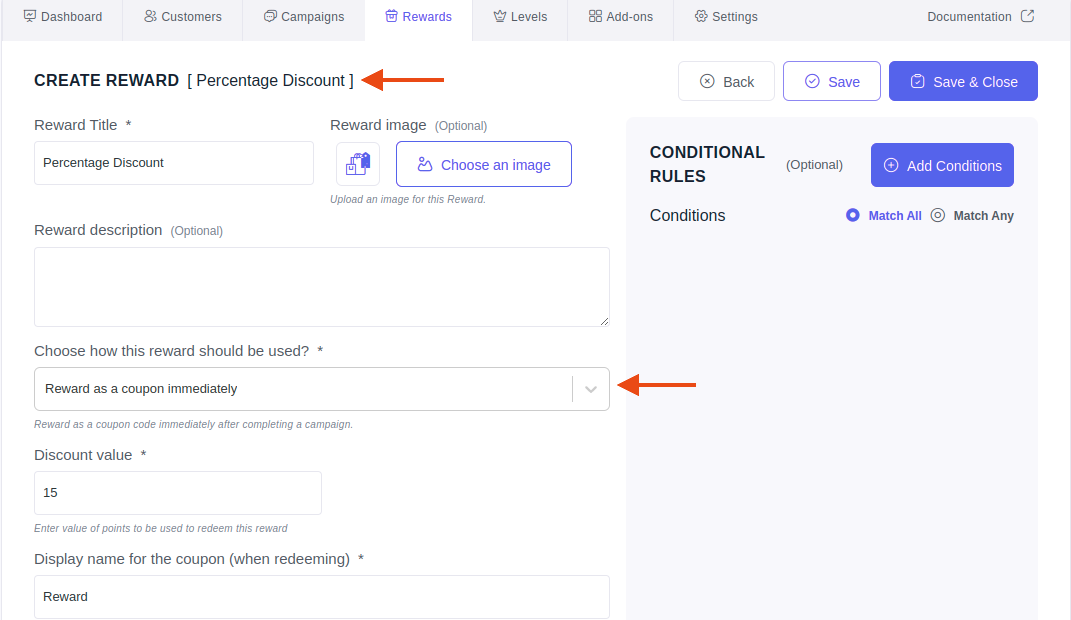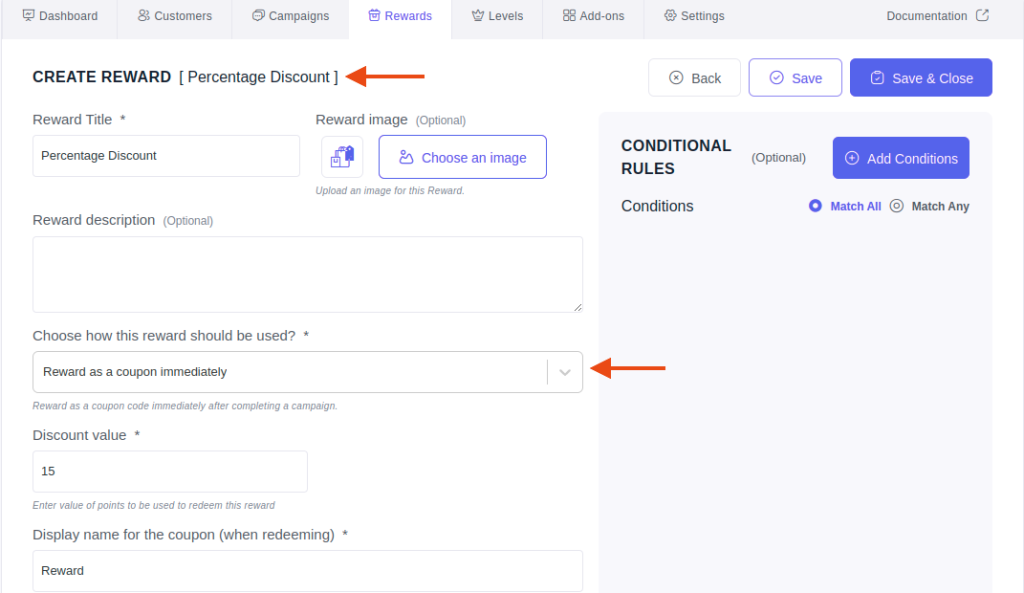 Free Product – You can use this campaign if you prefer to give your customer a free product. Please fill out the details per your preference, choose the product you want to offer, and save it.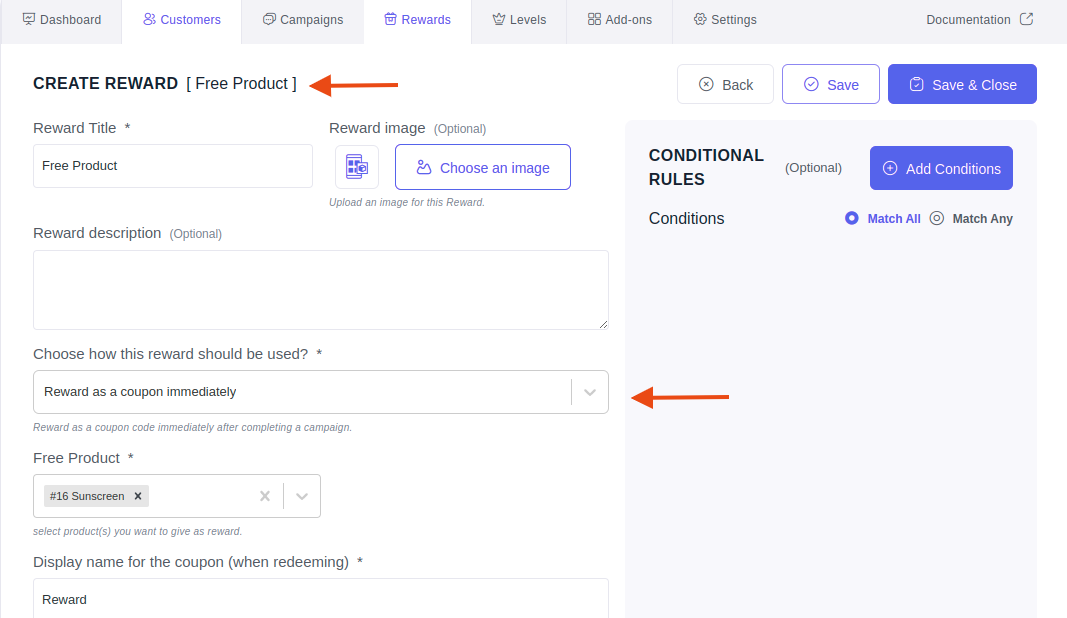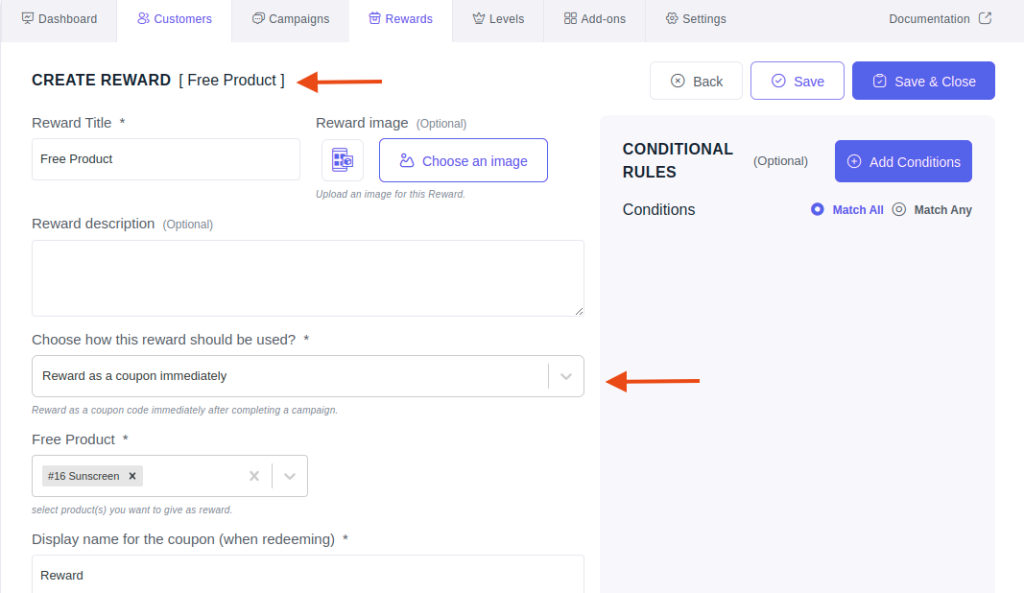 Free Shipping – You can also give your customer free shipping as a reward by filling out this campaign.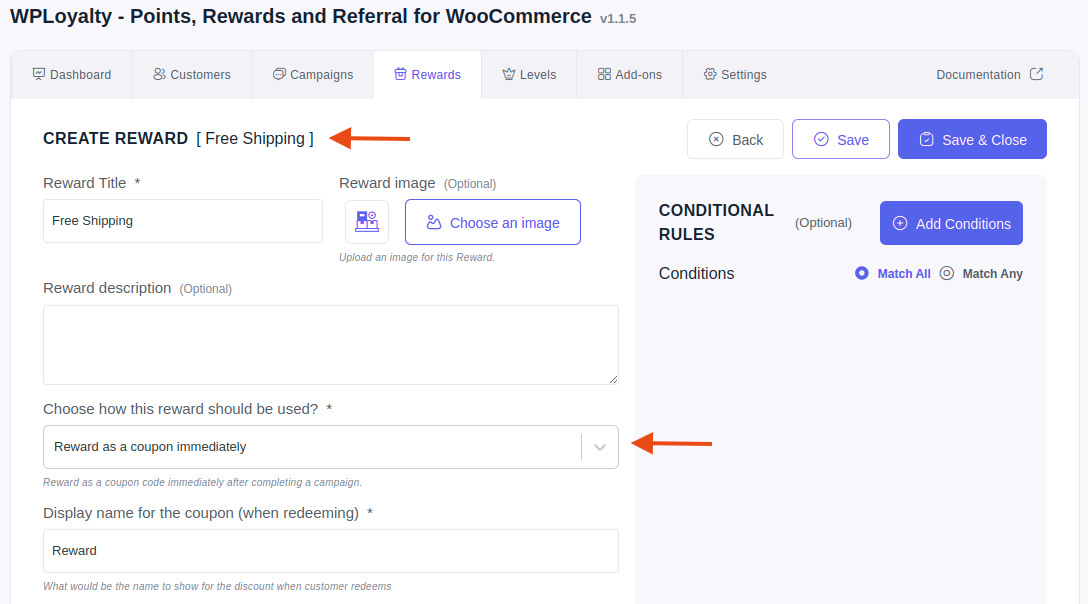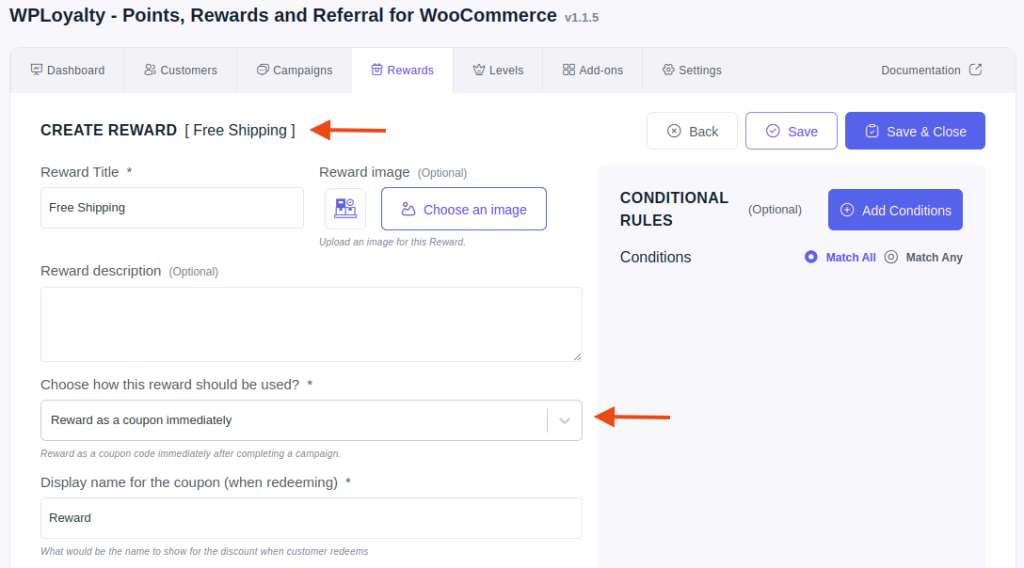 Step 4: Reward as a coupon
So, you have created a reward you prefer to give as coupons. Now, go back to the referral campaign you have created. Choose the coupon as a reward. In the reward type, you can choose any of the rewards you have created.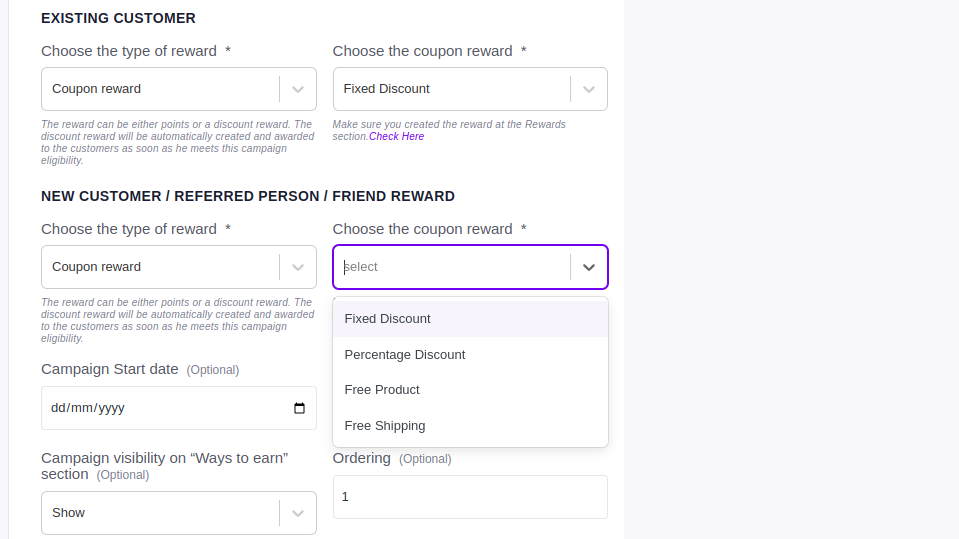 Finally, your customer will get a referral link to share with their friends and family. Once the link is shared and the referred person makes a purchase, then your existing customer and the new customer will receive a reward in the form of points or coupons.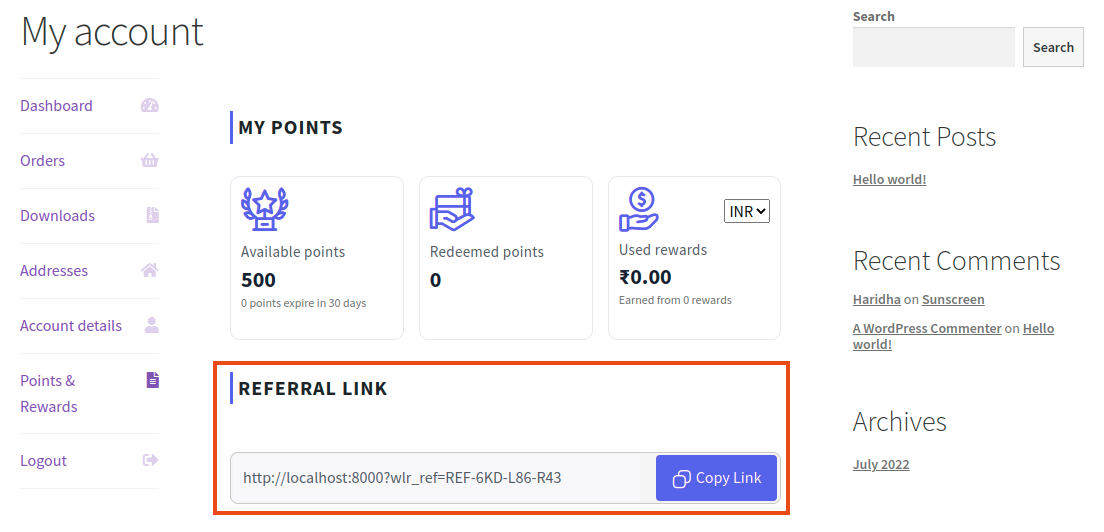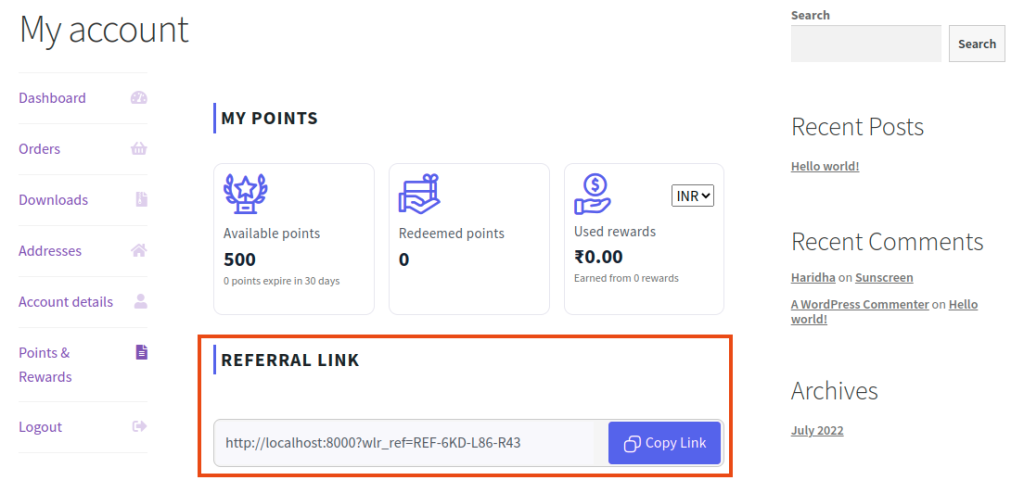 Ready to create a referral program?
Conclusion
Referrals are trustworthy, and they will definitely build trust in your brand. People usually shop when their friends or family suggest a product. Woocommerce Referral programs will help you acquire new customers; on the other hand, they will retain your old ones.
To run the best ecommerce store, every brand needs the best plugin. Like cream in ice creams or jam in bread, it's all about having the best plugin for your eCommerce store. So, creating a Woocommerce Referral Program and encouraging them to stick with your brand is very much necessary.
What are the four types of referrals?
The four types of referrals are – Direct referrals (word of mouth), Email referrals, Incentive-based referrals, and social media referrals.
What is a referral coupon?
Referral coupons will be given to the existing customer once they refer a friend and to the new customer once they make a purchase.
Is a referral program necessary for your ecommerce store?
Yes. Through a referral program for woocommerce, you can spend less and grow your business rapidly. Also, referral programs bring in new customers to your store.