Loyalty and referral programs are two popular strategies used by businesses to reward and retain customers. Both programs aim to incentivize customers to make repeat purchases and promote the business through word-of-mouth marketing. However, they differ in their design, objectives, and target audience.
Loyalty programs are reward systems that incentivize repeat purchases by offering customers points, discounts, or special perks for every purchase they make. The goal of loyalty programs is to keep customers coming back to the business, increase customer lifetime value, and build a long-lasting relationship with customers. The primary target audience for loyalty programs is existing customers who have already made a purchase from the business.
Referral programs, on the other hand, incentivize customers to refer new customers to the business. Customers who refer a friend or family member to the business receive a reward such as a discount, cash, or points. The objective of referral programs is to drive new customer acquisition, increase brand awareness, and leverage the power of word-of-mouth marketing. The target audience for referral programs is both existing customers and new customers.
Let's discuss the difference between loyalty and referral programs and how these programs will help you increase your store revenue.
Implement a Loyalty and Referral Program using WPLoyalty and quickly drive repeated sales and revenue.
What is a Customer Loyalty Program?
A customer loyalty program is a reward system designed to incentivize customers to make repeat purchases from a business. Customers earn points, discounts, or special perks for every purchase they make, and these rewards can be redeemed for future purchases or other rewards offered by the business.
The goal of a loyalty program is to increase customer retention, build long-lasting relationships with customers, and drive repeat purchases. By rewarding customers for their loyalty, businesses can create a positive customer experience, boost customer satisfaction, and improve their bottom line.
The loyalty rewards programs will help you increase your store's profits and generate more sales, which is one of the primary objectives for any WooCommerce store.
You can track all your customer's purchases and offer rewards to your customers accordingly. For instance, you can provide a membership card or rewards to those customers who make bulk purchases. This way, you could encourage others to make regular purchases in your store. For example,
Points for purchases – "Earn one point for every one dollar you spend"
Free Product – "Earn 500 points and get a free product"
Sign Up – "Sign Up and earn instant 10 points"
Birthday reward – "Get 15% Off on your birthday"
Customers earn rewards or points in a loyalty program after every purchase. Once enough loyalty points have been gained, customers can redeem the points for free products, coupons, or other benefits. It is how the first loyalty program worked. In the 18th century, American Retailers gave copper coins to every customer after every purchase, and the customers could collect the copper coins and redeem them in their next purchase.
What is a Customer Referral Program?
Customer Referral Program encourages existing customers to refer their family and friends to your store. In other words, referral loyalty programs are the most trusted form of advertisement. The exciting thing is that you need not do the ad; your customers will do it for you.
All you can do is give them rewards for the referrals they make. This gesture from your side will encourage them to participate in the referral loyalty program more often. To make this customer referral program more interesting, you will also have to provide rewards for your new customers.
Also, ensure that you make your customers happy, as this customer referral program will work much better when your customers are satisfied.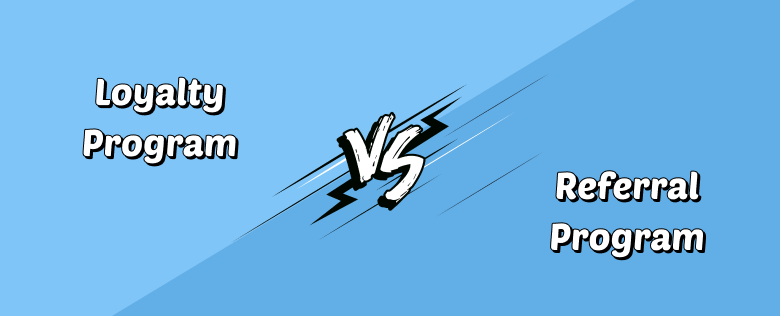 Difference between Loyalty Program vs Referral Program
Loyalty and Referral programs are marketing strategies that help reward your customers and help in customer retention and increase sales. Let's further look into the difference between Loyalty Program vs Referral Programs.
Customer Loyalty Programs engage your current customers to continue to shop for more products and use your service more often to earn rewards or coupons. Customers will receive a reward only if they purchase or spend a specific amount at your store.
As a result, your customers will purchase more to earn rewards. You will build a strong brand connection by encouraging customers to make repeat purchases. Also, loyalty and referral programs can convert your ordinary customers into loyal customers and build customer relationships.
Customer Referral Programs encourage customers to advertise your store/product to their friends or colleagues. In addition, you will earn new customers, and customers will receive a reward when they bring in new customers to your store.
As a result, you will acquire new customers, and your new customers will participate in your customer referral programs in the future. The primary purpose of this referral program is to bring in new customers by using word-of-mouth marketing. Also, you can create many loyal brand advocates with a customer referral program.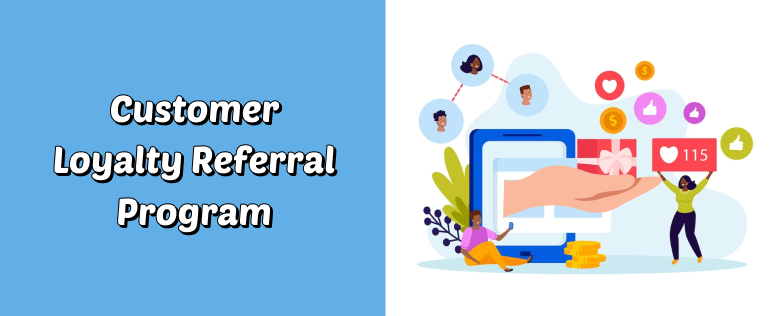 Benefits of the Customer Loyalty Referral Program
With the difference between loyalty and referral programs, now let's look into the benefits customer loyalty Referral programs offer to your WooCommerce store. Showering love upon your customer with rewards must be your primary focus. Referral Loyalty Program can,
Increase Customer Retention
Customers prefer your brand over others
Improve customer loyalty and
Increase the customer lifetime value
Revenue, an essential aspect of any ecommerce store, is known to boost after loyalty programs are set in place. According to Forbes, 50% of customers say their primary reason for joining a loyalty program is to earn rewards on everyday purchases. So, reward customers for every action they make in your store.
Additionally, implementing a customer loyalty referral program for your eCommerce store is more efficient and straightforward. Referral programs work in such a way that it is,
Cost-effective
Saves Time
Help you Acquire New customers
Build Brand Advocates easily
Take your business to the next level
Customer Loyalty Program Ideas
Here are a few customer loyalty program ideas you can use at your eCommerce store to make your customer's shopping experience easy.
Points for Purchases
Reward your customers' loyalty by offering them points for every purchase. Once customers collect certain points, allow them to redeem them for a reward. This way, you can encourage customers to purchase more and earn more points, automatically improving your sales and revenue.
Free Giveaways
Reward your customers with freebies and show them that you value their presence. You can give away free products once they collect certain points or make certain purchases. Additionally, reward customers with freebies on their birthday to make their journey even more special.
Free Shipping
Most customers prefer brands that give them free shipping. People tend to think that shipping costs affect their shopping journey. So, reward free shipping coupons to customers and encourage them to use the coupon on their purchases.
VIP Privileges
Create a tier-based loyalty program, especially for your VIP customers, to appreciate their effort and loyalty. If there are three tiers, Tier I, Tier II, and Tier III reward each tier with unique rewards and discounts that mainly privilege VIP customers. This will motivate other customers to be a part of the rewards.
With WPLoyalty you can reward your VIP customers by creating a tier-based loyalty program.
Customer Referral Program Examples
Take a look below at the examples of different brands that are successfully running referral loyalty programs.
Kipling's


Kipling's is the best place to visit if you want to buy personal accessories like bags, wallets, keychains, etc. Kipling has amazing referral programs prioritizing keeping existing customers and acquiring new ones. For their first purchase, your referrer gets a 25% discount.
When the purchase is complete, the advocate receives a $25 bonus for completing the purchase and referring customers to the store.
This referral program has the objective of increasing revenue because there is a condition that the Referral must buy $100 worth of products to qualify for the incentive.
Leesa


For buying furniture, mattresses, and other home goods, Leesa is the best place to go. Additionally, they have a highly successful referral program.
For each successful Referral, Leesa's Referral program pays a $75 cash prize. Share the referral link and wait until the Referral purchases to complete the process.
The best aspect of this program is that there are no reward criteria. As soon as your Referral makes a purchase, you'll get a reward.
Pet Flow


PetFlow is the ideal site to purchase products that your pets need, such as chew toys, litter boxes, and other items. The Referral Marketing Program for PetFlow is an example of how simple a referral program should be.
Earn $10 off your purchase when you refer friends to PetFlow. A $10 bonus will also be given to the Referral for completing their first order.
What makes a functional Loyalty Program?
The answer is simple. Any guesses? Yes! Loyalty Rewards programs can make a functional and practical loyalty program. Whether a free product or exclusive perks, the reward must be valuable.
Customers love new products, and products are a great place to start when considering a loyalty program. A functional loyalty program will drive repeat purchases, providing customers with discounts, rewards, unique offers, VIP events, and so on. Also, ensure customers love your rewards and benefit from your rewards program.
What makes a successful Referral Program?
To make your referral program an immense success:
Be precise, accurate, and straightforward.
Don't exaggerate while requesting referrals from your customers.
Make it simple!
Each time someone has a conversation about your products or store, you can introduce your offerings to a new pair of ears.
Launching a referral loyalty program is not tricky because your most loyal, trustworthy customers are the ones who are most likely to refer to your store. If a referral succeeds, it means it raises awareness of your business's brand. Anyways, it's a win-win for your WooCommerce store.
How to choose between Loyalty and Referral Programs?
Before choosing between the Loyalty and Referral programs, let's look into some standard features. Both programs offer benefits to customers and are an affordable strategy to attract and retain customers. Also, they
Create a better value for your customer
Generate Revenue and High-Profits
Active participation
Build relationships with your customer
Build trust and loyalty
So, don't be confused about choosing between loyalty and referral programs. Choose both programs and enjoy the double benefits!
Creating customer loyalty referral programs and acquiring more customers is now made easy and simple with WPLoyalty plugin.
End-line
Whether you run loyalty programs, referral programs, or both referral and loyalty programs, you open up the possibility of developing enduring customer relationships that expand your store.
The referral and loyalty programs create tremendous value for your eCommerce store and your products. Implementing referral and loyalty programs together will strengthen relationships with your customers, and you can enjoy the long-term benefits.
Learn more on how to reward loyalty points for product reviews in WooCommerce, how to create a point based loyalty program in WooCommerce and why is it important to reward your first customers right away.
Is a referral program the same as a loyalty program?
Loyalty programs allow you to reward your loyal customers. On the other hand, referral programs will enable you to reward customers who refer to your brand. But either way, both loyalty and referral programs help you increase your customer base and revenue.
What are the three types of referrals?
The three types of referrals are customers who refer to your brand directly, via emails, and through social media platforms.
Do you need a Customer Loyalty or Referral Program?
A WooCommerce store must need both loyalty and referral programs to increase sales and acquire new customers naturally.