In the eCommerce business, loyalty programs have proven themselves as one of the most effective sales strategies for increasing revenue and inspiring customer loyalty.
As many as 84% of consumers say they like to stick with a brand that creates a loyalty program. And 66% of customers say that their ability to earn rewards changes their spending behavior. So, once you get the chance, you need to satisfy your existing customers and keep them returning for more.
By default, WooCommerce has limited features for creating loyalty programs. Here it would help if you had the WPLoyalty – WooCommerce points and rewards plugin that allows creating the advanced loyalty program for your store.
Let's look on why loyalty program is essential and how to create loyalty programs for the WooCommerce store.
What is a Loyalty Program?
A customer loyalty program in eCommerce marketing is a strategy that rewards loyal customers who frequently interact with the brand.
Customer loyalty programs incentivize repeat purchases by providing members with discounts, unique offers, and VIP events.
When creating a customer Loyalty program, you can take it in many forms, from simple stamp cards to sophisticated, point-based reward systems. Still, they all have the same intention: to encourage customers to interact with a brand.
A well-thought-out loyalty program is to attract new customers, retain existing customers, reactivate inactive customers and nudge them all to spend more.
Why is Loyalty Important?
Just Check these figures,
82% of businesses agree that retention is less expensive than acquisition.
75% of consumers say they favor companies that offer rewards.
65% of a company's business comes from existing customers.
Increase customer retention by just 5% and boosts profits by 25% to 95%.
58% of companies pursue personalization strategies to increase customer retention.
These numbers say the importance and benefits of creating loyalty programs. Let's look at the key benefits of creating a loyalty program in your eCommerce business.
Increased Customer Retention– Loyalty programs are effective strategies for encouraging customer retention. Loyalty programs help with retention in two ways, Help you keep your best customers and Help you win back lost customers. Businesses use customer retention to track customer loyalty over time and assess overall success.
Increase in Sales and Revenue– According to Frederick Reichheld of Bain & Company's research, "An increase in customer retention rates by 5% causes an increase in profits by 25% to 95%." Customer acquisition costs outweigh customer retention costs. Creating a loyalty program will help repeat purchases and increase sales and revenue.
Increased Customer Lifetime Value – Customer lifetime value, or CLV, is the net profit attributable to a specific customer. Creating a loyalty program directly impacts CLV and significantly improves the brand-customer relationship's longevity. It encourages customers to stick with a brand for reasons other than its products and services.
Attrition Rate Reduction – Customer attrition is a problem that many brands face across industries. Create a loyalty program to combat this serious problem. Loyalty programs increase customer engagement, which results in reduced attrition.
Promotes Brand Advocacy – A satisfied customer is a vocal one.
Loyalty programs significantly increase customer satisfaction, which promotes brand advocacy. Brand advocates positively influence their network of family and friends, which aids in brand penetration.
Attract new customers – customers as brand advocates impact new customers and refer them to the brand. Creating a loyalty program with a loyalty scheme that offers great rewards and loyalty points promotes brand advocacy and dramatically expands the customer base.
Access to First-Party Data – Data will remain a priceless commodity in 2022 and in forthcoming years. Create a loyalty program to enable you ethically source first-party data while adhering to general data privacy compliance rules. First-party data can help you craft a perfect marketing strategy.
How to create a loyalty program in WooCommerce?
The easiest, most effective, and fastest method to create a loyalty program in WooCommerce is by using the WPLoyalty – WooCommerce points and rewards plugin. WPloyalty is one of the best WooCommerce loyalty program plugins in the market.
The plugin lets you create all types of WooCommerce loyalty points and rewards programs in a few simple steps. With the WPLoyalty points and rewards plugin, you can reward customers for,
Purchasing a product
Signing up for an account
Writing a product review
Referrals / Refer-a-friend
Birthday
Social sharing
Customers also can earn rewards in the following forms:
Points
Free product/gift
Fixed or Percentage discounts
Free shipping
Instant coupons and bonus rewards
Let's check out how to create loyalty programs using WPloyalty step-by-step.
Install WPLoyalty and Activate the Plugin.
WPLoyalty is a WooCommerce loyalty plugin, and it's a paid one but a reasonable price when acknowledging its features and support.
Visit WPLoyalty to purchase and download the plugin. There are three plans. You can get all the features of WPLoyalty to create loyalty programs in every three plans, and the only variation is the number of websites that can operate with the WPLoyalty plugin.
Let's follow step-by-step how to install and activate WPLoyalty.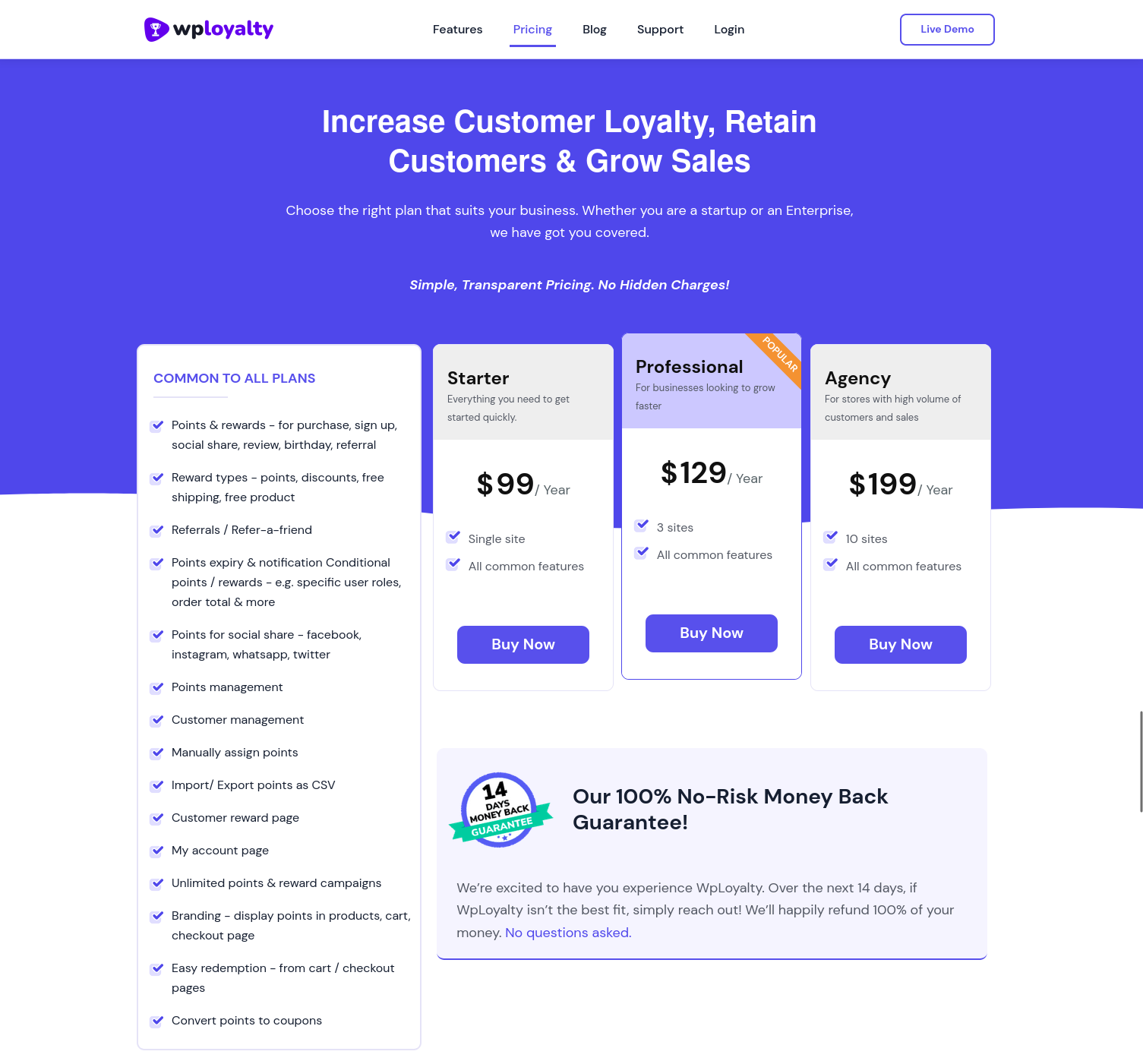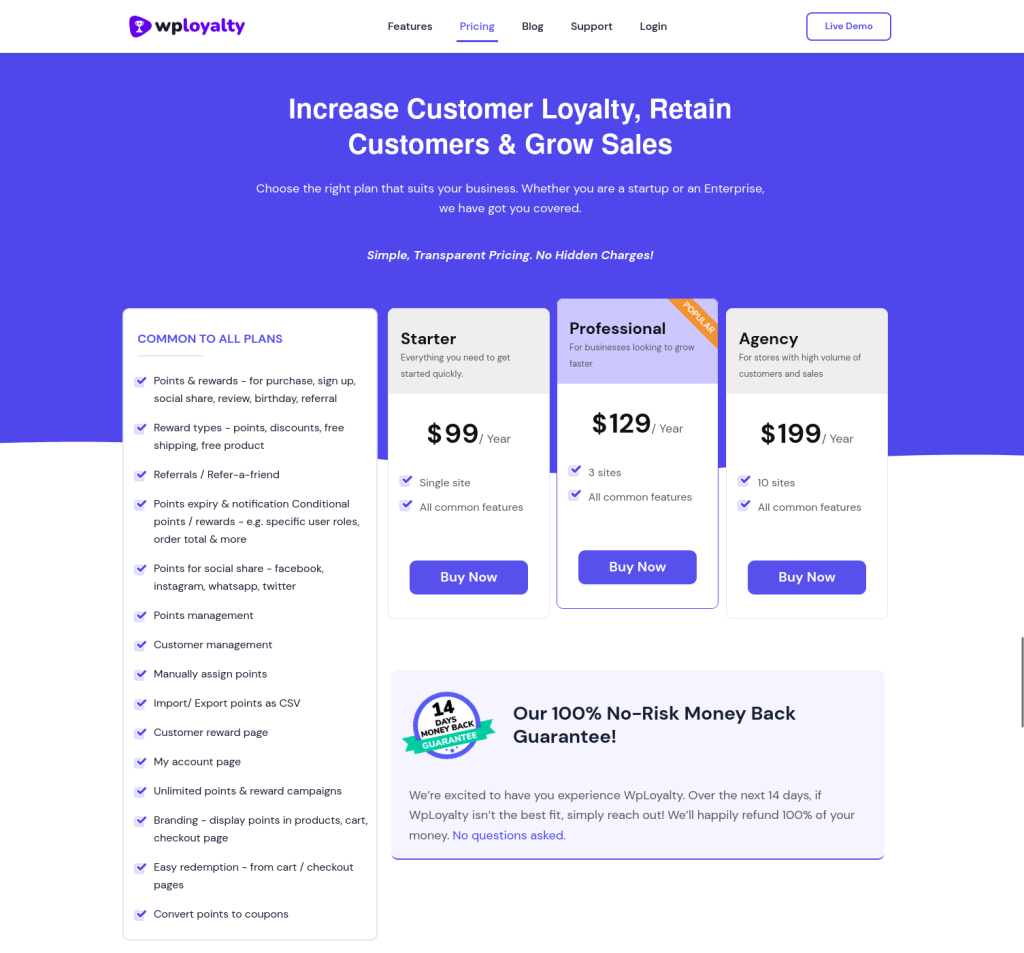 Step 1: Download the WPloyalty WordPress plugin.
Step 2: Log in to your WordPress dashboard and Click on plugin -> Add New
Step 3: Click on "Upload Plugin"
Step 4: Click "Browse" and Select the WPloyalty plugin
Step 5: Click "Install Now" and Activate the plugin.
Create Campaigns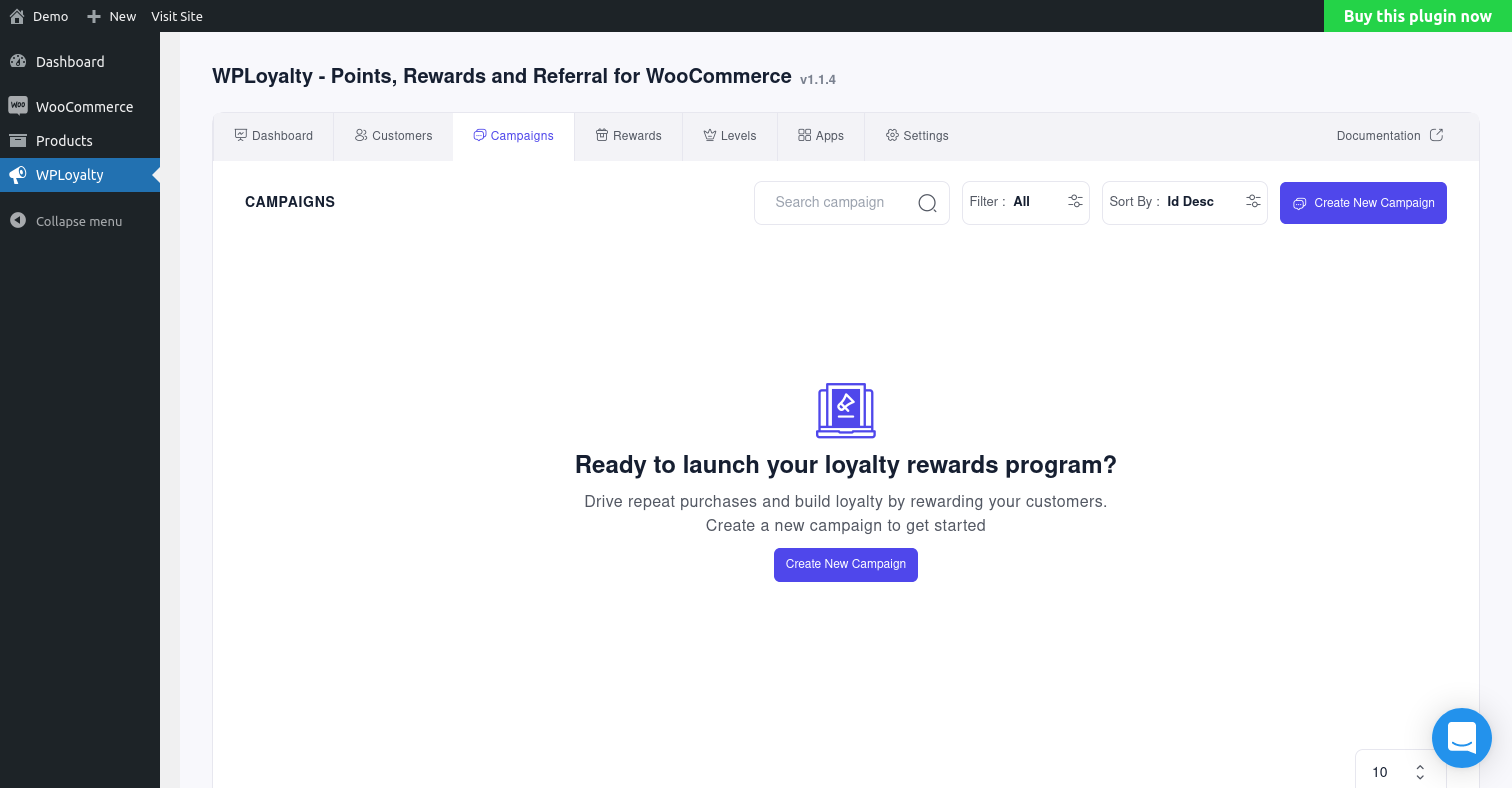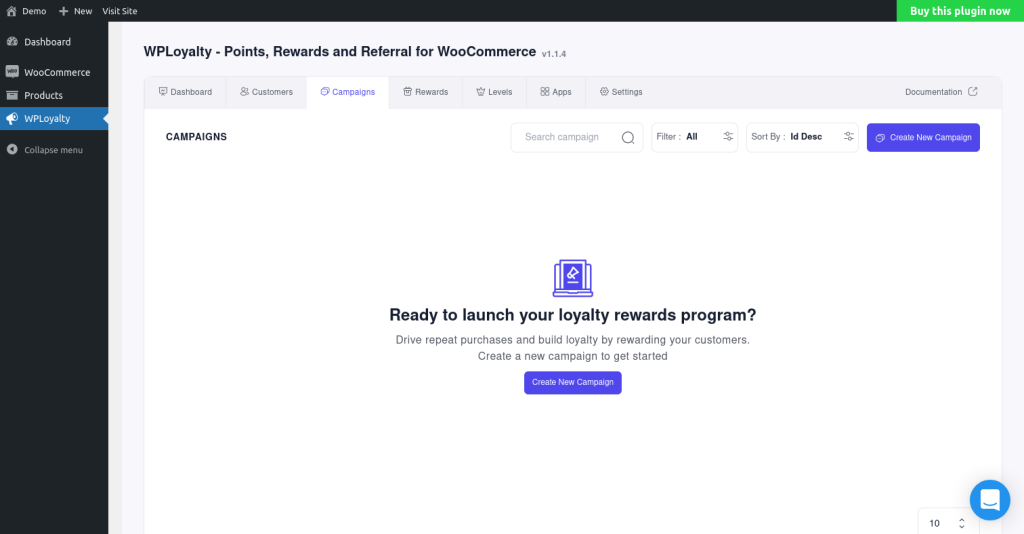 You need to create a campaign here to create loyalty programs. For that, Follow these steps.
Go to WordPress dashboard→WPLoyalty→Campaigns.
Click on the "Create a New Campaign" Button. You will get a window with many options to create a loyalty program.
Choose a way to reward customers.

You can reward your valuable customers in various ways, and the following are the most common engagements that allow customers to earn their rewards.

Purchase: Reward Customers for placing an order.
Sign up: Reward Customers for creating an account or registering.
Review: Reward your Customers for writing a review.
Referral: Reward Customers for referring to their friends.
Social Sharing: Reward Customers for sharing your product on social media.
Birthday: Reward Customers for entering their date of birth.

Choose the type of reward.

Let customers earn different types of rewards.

Points: Customers earn specific points for each action, like purchase and signup.
Coupons: An immediate reward. You can use direct coupons for rewards like one-time bonuses, meeting spending goals, etc.

For example, customers who spend more than $500 on an order will receive a $10 reward, a percentage, or a fixed coupon.

Free Product: Customers can use their points to get a free product, or you can use it as an instant reward for meeting specific goals.
Free shipping: Customers can redeem their points for free shipping, or you can also offer this as an instant reward for achieving specific goals.

Click on the "Create New Campaign" button. Select a campaign that connects with your marketing strategies. It all depends on your business. There is an option for selecting the type of reward in each campaign. But "Points on Purchase" is exclusively for adding points.
There is a "Create Campaign" button in each campaign type. Select one.
You can set up the campaign name in the new window and put a description in the following box. You can set up customer earning points for each amount of spending: campaign start and end date. You have advanced settings and conditional rules too.
By clicking the save button, the campaign, your WooCommerce loyalty program is active. Then you can track the loyalty points, loyalty scheme and, WooCommerce loyalty rewards program, whole WooCommerce loyalty program with a dynamic dashboard and further control it.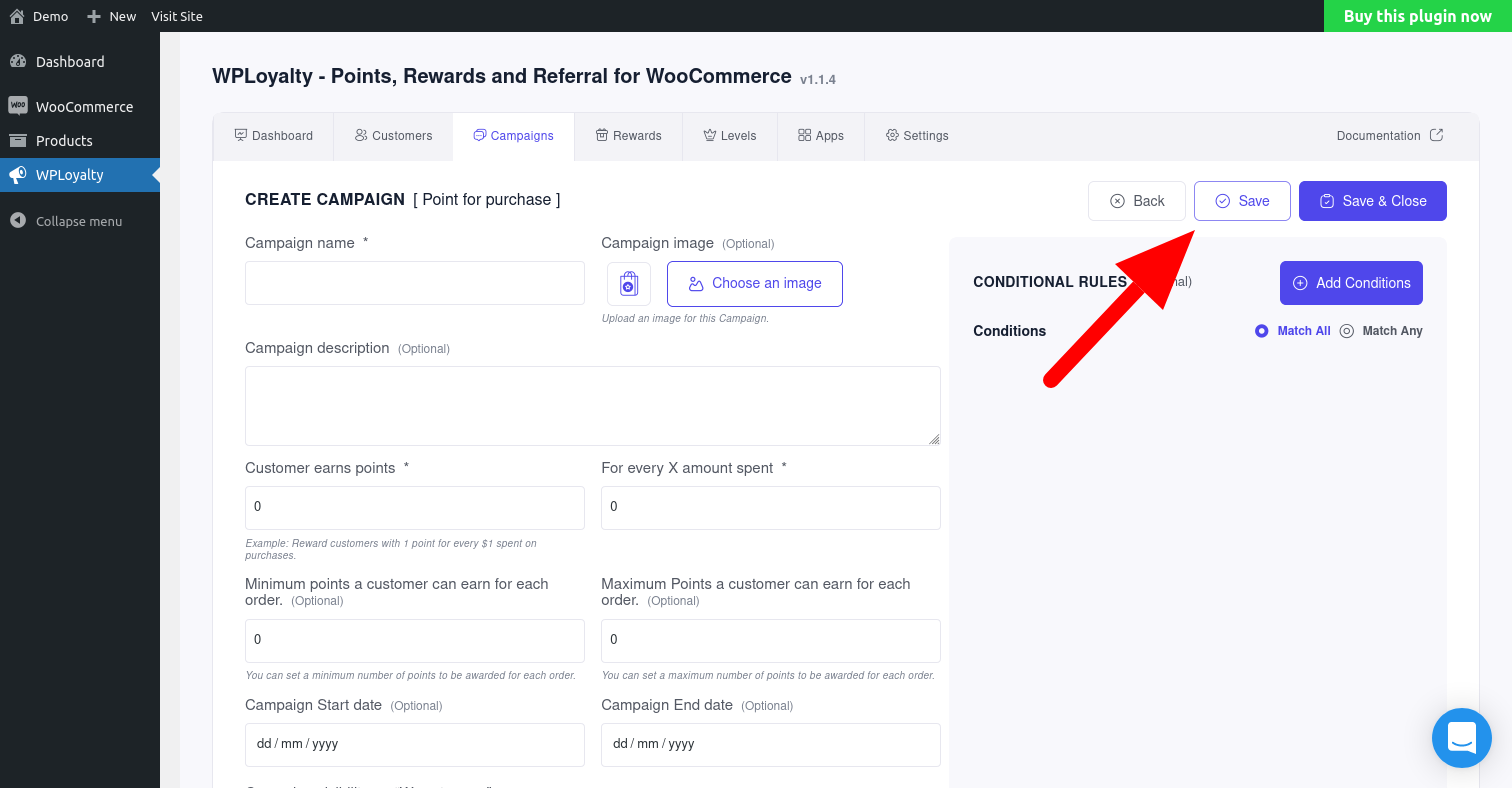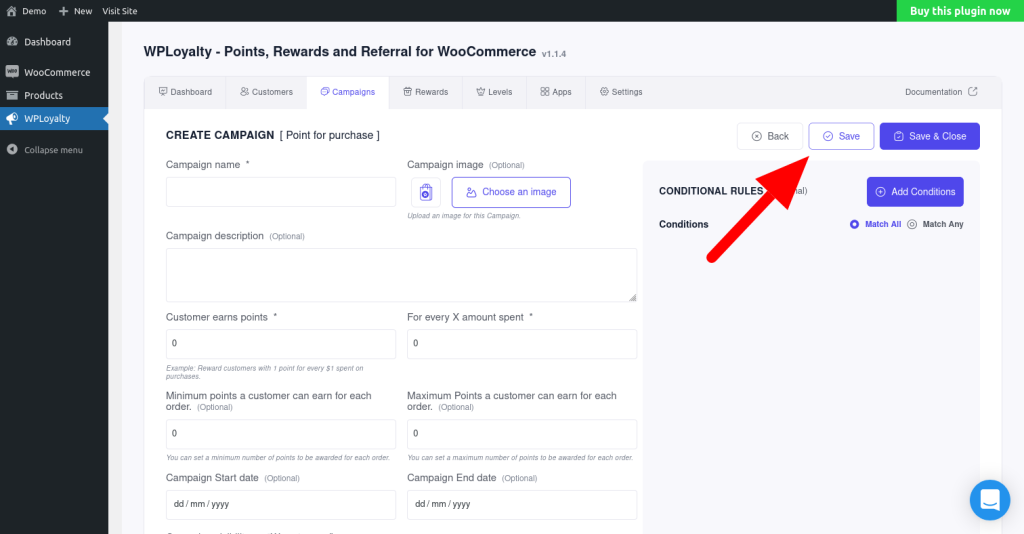 Benefits of the WPLoyalty plugin
WPLoyalty, the WooCommerce loyalty program tool, is here to assist you in growing by creating loyalty programs. WPLoyalty will help you retain your customers while also gaining new ones. All advantages of the successful WooCommerce loyalty programs.
With the free demo, you can see how a WooCommerce loyalty program works for you.
WPLoyalty offers the following features;
Loyalty Points & rewards
Rewards programs
Referrals/ Refer-a-friend
Points expiry & notification
Conditional points/ rewards
Points for social share
Points management
Customer management
Manually assign points
Import/ Export points as CSV
Customer reward page
My account page
Unlimited campaigns
Branding
Easy redemption from checkout pages
Convert points to coupons.
Wrapping Up
Creating a loyalty program has proven effective in increasing customer retention, increasing customer lifetime value, inspiring loyalty, and many other benefits over the decade.
While the low-key punch card has its place for some businesses, a truly innovative approach to customer loyalty programs can create massive value for retailers. Whether you go with loyalty points and rewards programs or any loyalty schemes, customer loyalty programs constantly offering value to their members are the best way to ensure repeat purchases.
For your WooCommerce loyalty program to work, you must keep your customers engaged and interested with status emails, special offers, birthday gifts, and more. Take inspiration from e-commerce brands and use a perfect loyalty tool like WPLoyalty with a strong focus on its perks. And try to explore more about customer loyalty programs by clicking here.
Happy Customers, Happy Business.
Frequently Asked Questions
What are the different types of loyalty programs?
There are many different types of loyalty programs. The most commonly used one is point programs. Tiered programs, Value Based Programs, and Paid Programs are other loyalty programs.
Do loyalty programs increase sales?
Yes, Loyalty programs lead to Customer satisfaction and Customer retention. As existing customers spend more, it leads to increased sales.
Why do loyalty programs fail?
The most common reason for loyalty program failure is incorrect reward selection and not proper utilization of data.
Which loyalty program is best?
The rewards for purchase and SignUp are the most commonly used customer loyalty programs. Selecting customer loyalty programs depends entirely on your business and customer personas.