Rewarding your first customers helps you build a strong foundation of loyal customers who will continue to support your business and spread the word about your product or service to others. If you are trying to establish a customer base and gain a foothold in your market in the early stages of your business, rewarding first customers is most important. Rewards retain customers.
Loyalty programs, when used correctly, can encourage repeat purchases and turn first-time purchasers into brand advocates. According to a study, 86% of customers join loyalty programs just to collect points for rewards. Purely transactional relationships do not last long, so creating an emotional bond with the customers is important. Even if it's the first time, they're shopping with you, being rewarded immediately at the first purchase makes them feel important.
Persuading your customers to make a second purchase is crucial to turn them into returning customers. When you reward your first customers right away, you get to secure your second purchase. Your business will reap the benefits of rewarding your first customers in more ways than one.
Make your first time buyers special with customized rewards using WPLoyalty easily.
How would you create a long-lasting relationship with your first customer?
Know how different your customers are and find a unique way to reward each of them suitably. Offer discounts, promotions, exclusive access to new products or features, or exclusive discounts to appreciate your customers for doing business with you. The first-time customers feel welcomed, included, and thankful for being rewarded for their first purchase.
Rewards will delight them undoubtedly. New customers are the hardest to acquire, but they have the highest potential to become your repeat customers. Good customer service, product support, and rewards lay a foundation for a long-time business relationship. To make them even more special, you can conduct loyalty rewards programs. Once they are convinced, you are all set.
Your first buyers may become your most loyal brand advocates if treated as important. Providing a great shopping experience can increase their chances of becoming repeat customers or sharing their excellent experiences with friends or family members.
First-order coupons and sign-up points are great icebreakers. It's a clear strategy to encourage first-time shoppers to make the next purchase and then the next.
Live Tinted offers 10% OFF on signing up to their mailing list. This prompts the user to shop as they could be using the reward which is at their disposal. Live Tinted also follows up with rewards earned through clever use of email marketing.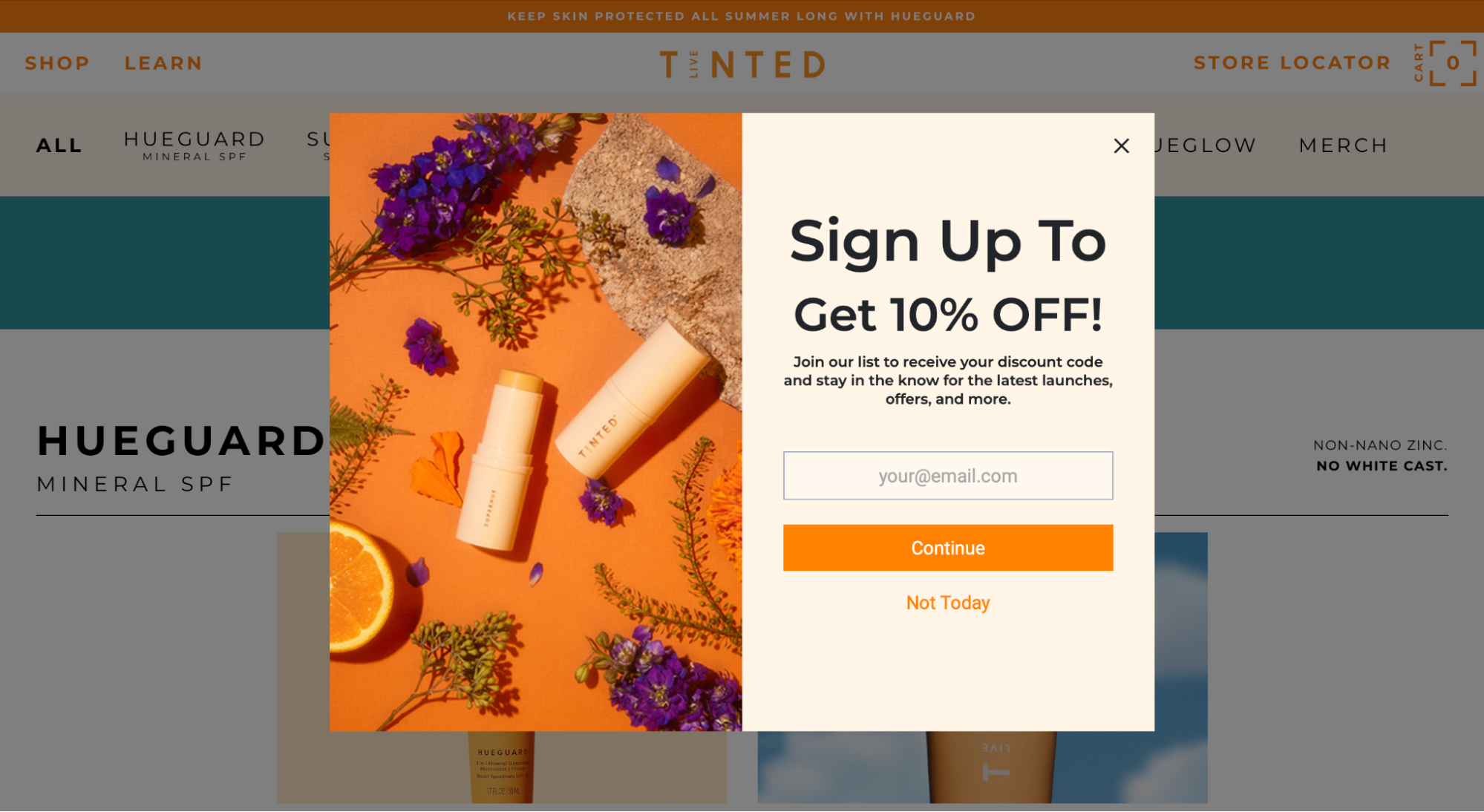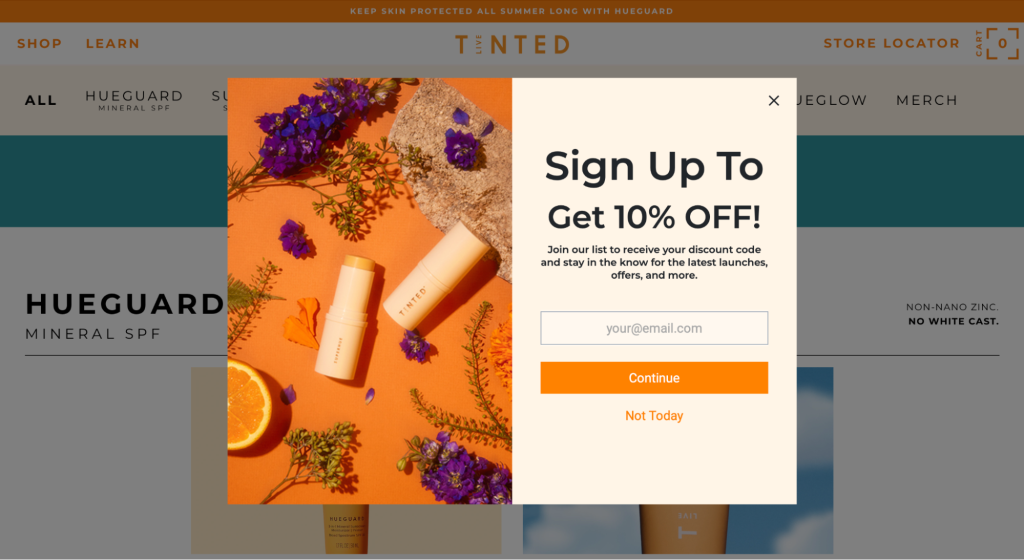 What is customer loyalty?
Loyalty programs are an effective way to interact with your customers. Once customers interact with your store, your efforts should keep them welcomed, entertained, and engaged. One-time shoppers do not have to stay as one-time shoppers. Going out of your way to reward them will encourage them to reciprocate your commitment. You can also have a loyalty program, which is found to be effective nowadays.
Customer loyalty refers to a continuing emotional bond between you and your customer, expressed by a customer's willingness to engage with and frequently purchase from you against your competitors. Loyalty is a result of a good customer experience with you, and it helps you to build trust.
Why is Customer Loyalty Important?
Repeat customers tend to spend more than new customers. Also, customer loyalty leads to increased conversion rates. Existing customers convert at a far higher rate than new customers. A loyal customer's conversion rate is higher than a new customer's.
Customer Loyalty increases sales, and brands must cultivate customer loyalty to increase profitability. When customer retention rates are enhanced, your business profits will definitely increase.
How do you show your appreciation to your first customer?
Imagine a scenario where you and your competitor offer the same product and the same delivery service. In a neck-on-neck competition, rewarding new customers will make them come back to you. Also, there are multiple ways you can reward your customers. Like
Free product/shipping – Reward your customers with free products or give them free shipping to make them come back for more.
Points/Coupons -Give your customers specific points and allow them to convert the points into coupons. Your customers can use the coupon in their future purchases.
Rewards rule out the possibility of considering the competitor for the next order. Rewarding your first customers right away serves as soft power. Your emails will be received more warmly.
Rewarding your first customers right away can:
Increase the reasons to finish a purchase
Cushion the user experience
Reduce abandoned cart rates
Trigger a purchase action
Turn your customers into repeat buyers with a loyalty program.
Why are rewards important for customers?
Rewards are important for customers because they can incentivize and motivate customers to continue doing business with a company.
Rewards can also make customers feel valued and appreciated increasing customer loyalty and satisfaction. Additionally, rewards can provide customers exclusive benefits and perks that may not be available to non-reward members. This can make customers feel special and more likely to continue using the company's products or services. Overall, rewards can be an effective way for companies to retain customers and encourage repeat business.
71% of customers who participate in loyalty reward programs say that being a member significantly impacts their interactions with brands.
When you reward the customers, you are making their overall customer experience delightful. This is what keeps them coming back and motivates them to share their experiences with others. You must continue to give this experience to convert even the most irregular customer into a regular loyal customer. Rewards heavily influence human feelings and interests. People have a natural impulse to be loyal to someone who appreciates them. This is what giving away rewards will help you with.
Loyalty and Growth Marketing strategy
Relationships are time-sensitive. The most convenient time to inspire loyalty is when they first interact with you. Loyalty is a powerful customer retention booster. Every loyal customer was once a first-time shopper. Rewarding your new customers immediately makes a lasting impression and can also make their day.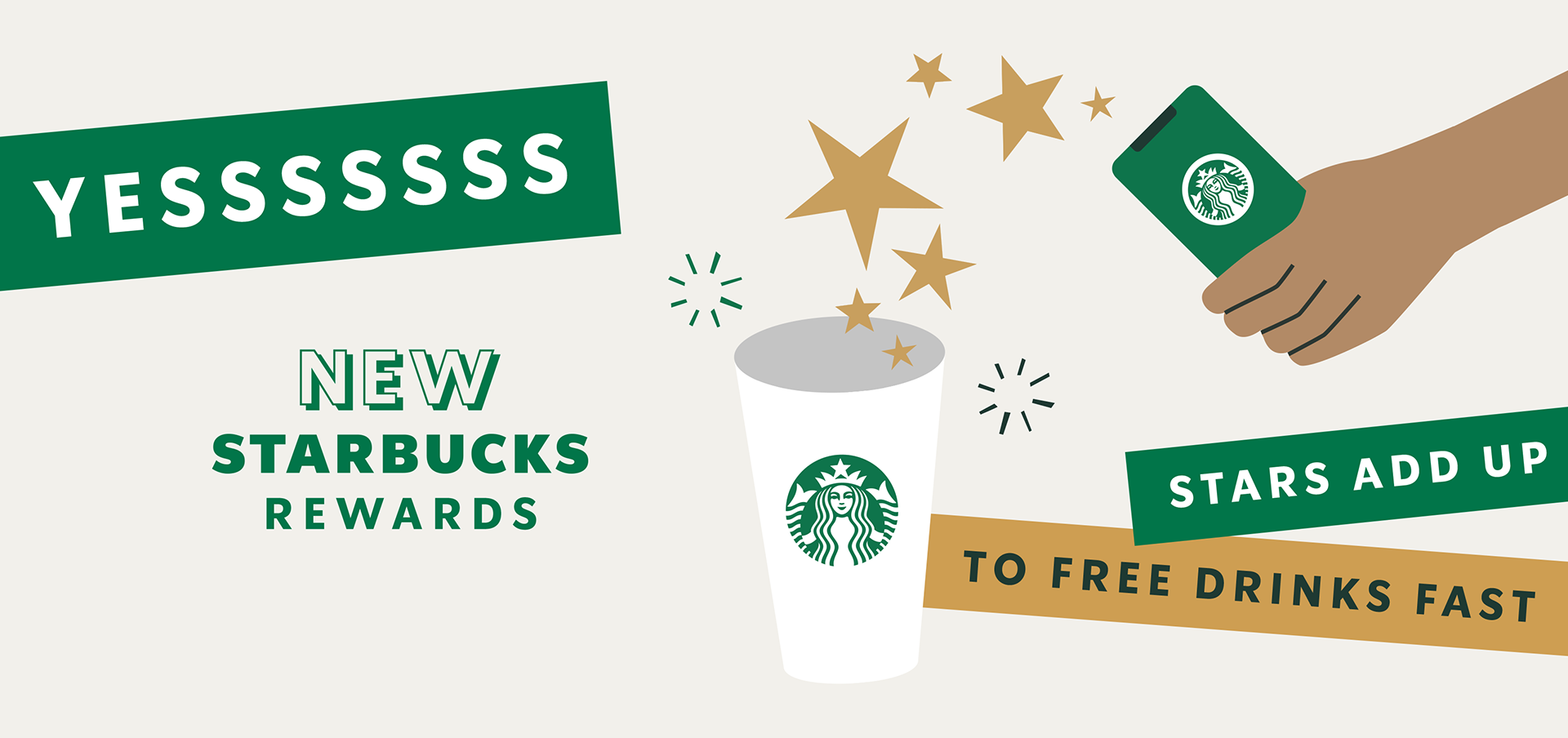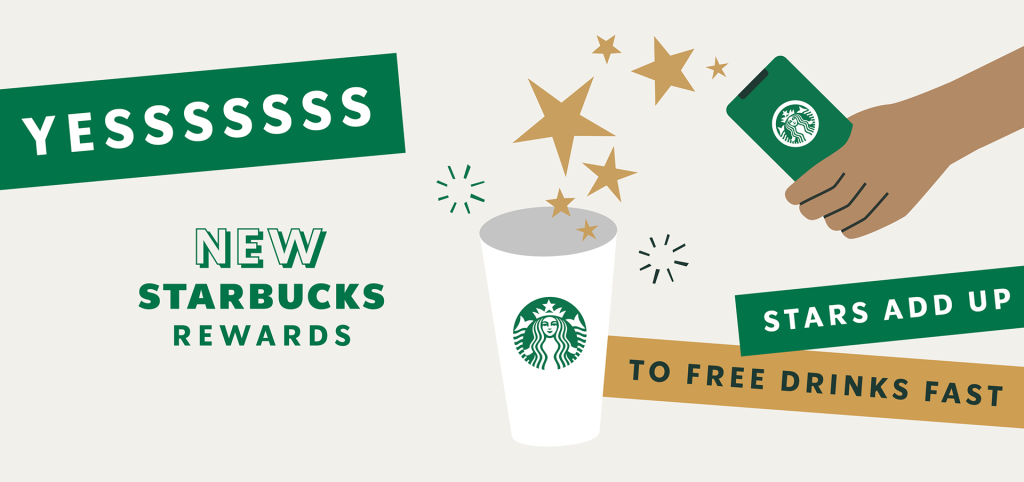 Starbucks uses a branded loyalty program that attracts customers intuitively. It creates a win-win scenario for users. The loyalty program is designed for acquisition. Customers can earn rewards for every dollar spent. It gives full freedom to customers, and they can choose to save up their points for a higher reward or use it in any way possible. The well-loved coffee mogul also launched its loyalty program way ahead of the competition.
Promoting your Loyalty program to your first-time customers
You cannot wait for the opportunity for meaningful interactions to present itself. Start firing connections straight away with your first customers. Make an impact by rewarding new customers. You make the most out of your Loyalty program when you reward the first customers. You're influencing how your customers perceive you with your rewards, so why miss out on bonding with your first customers?
Create a referral program.
You build loyalty and increase sales by meeting these marketing objectives through referrals. Referral marketing attracts new customers through pre-earned trust. It opens new doors for your business. One of the best ways to reward your first customers is through referral rewards, unlocked after the first purchase because referrals can:
Bring down acquisition costs
Increase Word of Mouth Sales
Retain loyal customers
Make first-time customers feel welcomed.
Make your new customers feel included! Reward your first customers right away, as it is like a cherry-on-top investment in customer acquisition. Using referrals can keep your loyal customers active, and referred customers drop inhibitions. When that happens, they are likely to indulge in a shopping spree. Referrals can make customers see a brand as an ally.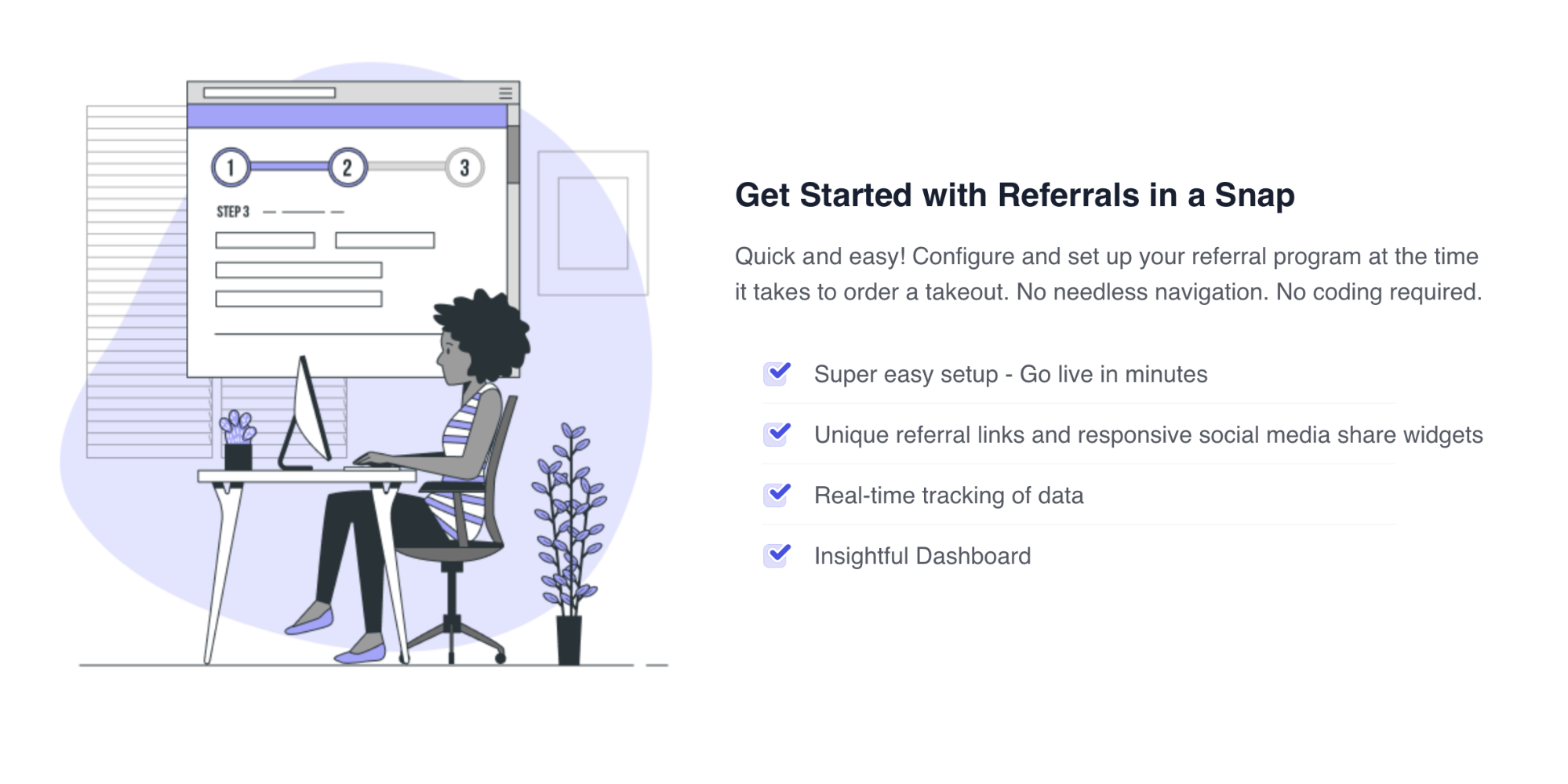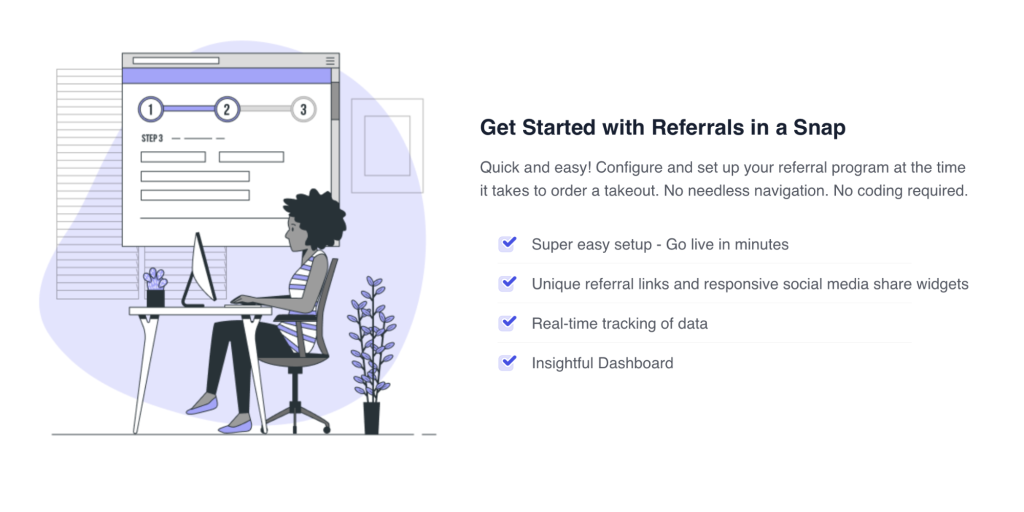 Reward Loyal Customers with a Loyalty Program
WPLoyalty's Referral marketing tools let you reward both the brand advocate and the first customer. Offering flexible rewards and no downtime setup, WPLoyalty helps you encourage loyal customers to refer their friends. We work with brands and store owners to help their loyal customers share their love and excitement for the brand with new customers, elevating brand perception.
Reward your first customers & build loyalty. Drive repeat sales with a loyalty program.
Wrapping Up
When you reward your first customers right away, it'll make them feel appreciated and keep them around for the long haul. Giving out rewards to your new customers is giving them an experience. Reward your first-time shoppers, and sustain customer relationships easily. Also, with the newly acquired customers who are the new members of your brand community, make the most of your loyalty programs and customers to win over the competition. There's really no caveat in rewarding your first customers. You get more in return than what you invest with immediate rewards, and loyalty is worth the investment.
What is customer loyalty?
Customer loyalty is a reward program for new or existing customers to make them purchase your product repeatedly.

For instance, Uber's customer loyalty program helps its customers earn points that can be used to redeem rewards as they travel from miles to miles. This way, you could retain customers and make them loyal to your store.
How do you reward your customers?
Build your loyalty with rewards. Especially rewarding your new customers will make them stay loyal to your store. Now, focus on sending rewards as soon as they sign in or log in, after their first purchase, when they make a referral, once they review your product, and many more.
What makes a good rewards program?
Reward programs must be in such a way that it benefits your target customers. Make sure you reward the customers with the product they like or prefer. This is a kind of strategy businesses use to attract customers, which is considered a good rewards program.
How do I start a rewards program?
Setting up a rewards program is not that difficult. Before you give away a rewards program, choose what kind of reward you are willing to offer. Secondly, decide the actions customers take. Next, make your rewards appealing to your customer and choose your platform to optimize it.
Do rewards create loyalty?
Absolutely Yes! Giving rewards to your existing and new customers will encourage them to try your products again and again. An effective strategy in giving away a reward program will create a loyal relationship between you and your customers.