What is the toughest thing to do in Marketing?
Without complexity, the answer to this question is "retaining existing customers or making the existing customers stay loyal to your store".
It is believed that making the existing customer stay is tougher than acquiring a new customer but it is very cost-effective. Making the customers engaged with your brand is one of the easiest ways to retain the existing customers.
Well! The ultimate thing to keep customers engaged and foster customer loyalty is by offering the customers points and rewards for their purchases.
WooCommerce Loyalty Points and Reward plugins play an important role in this process as they can help you reward customers for their loyalty. Further below, this blog will discuss some of the best and most important WooCommerce Points and Rewards Plugin.
Understanding Woocommerce Points And Reward Plugins
The term WooCommerce Points and Reward plugins are not a familiar one in our day-to-day life during purchases; rather we would have come across a few terms like offers, discounts, coupons, and vouchers. So the root for all these are the WooCommerce Points and Reward plugins.
Before going deep on how Woocommerce points and Reward plugins work, let us look into an overview of it.
So what are Woocommerce points and Reward plugins?
Basically, it is something that allows eCommerce stores to reward the customers with Points during their purchases and even for some of the actions done relatively. Rewards here are given as points so that it can be redeemed for discounts and offers on further future purchases.
Some organizations provide points that can be redeemed for discounts on other stores and sometimes on physical stores as well. To be more precise, customers will earn a set of points on every single penny spent on every single purchase. These points can be redeemed when it reaches a set limit for availing discounts.
The points here are mainly set within a specified boundary amount for offers and discounts.
For example:-
On a single purchase, you get a set of points based on the cost of the product and services. So this can't be redeemed to avail discounts or offers because the points would be minimum.
When you purchase a few more points and collect a maximum set of points, it can be redeemed for further future purchases, and even on those purchases, you will be added up with a few more points.
This is how WooCommerce points and rewards plugins work, not just points you can also reward customers with discounts, free products & more.
Pros Using Woocommerce Points And Reward Plugins
The best eCommerce platform for developing an online store is WooCommerce.
According to a referred survey data, WooCommerce platforms have evolved, have increased the number of sales, and have gained greater revenues than many organized eCommerce platforms.
Most of the store owners have gained profit when they have implemented WooCommerce Points and Reward plugins to their stores.
Let us dive into the advantages-
WooCommerce Points and Reward plugins help stores to increase their sales.
It has given multiple profits on revenues to businesses.
By giving rewards It makes the customers loyal.
It builds a bond of longer-lasting relationships with customers than usual.
It makes a customer buy from your eCommerce store often when you impose WooCommerce Points and Reward plugins.
It helps in retaining previous customers.
It creates an extended lifetime value for a customer.WooCommerce Points and Reward plugin systems can help you compete with the other eCommerce stores.
5 Best Woocommerce Points And Reward Plugins
Technically there are many different WooCommerce Points and Reward plugins in the eCommerce platform. So choosing wisely the best WooCommerce Points and Reward Plugins for your store will be helpful in gaining profits on sales and revenue.
Based on research, let us explore the 5 best WooCommerce Points and Reward Plugins.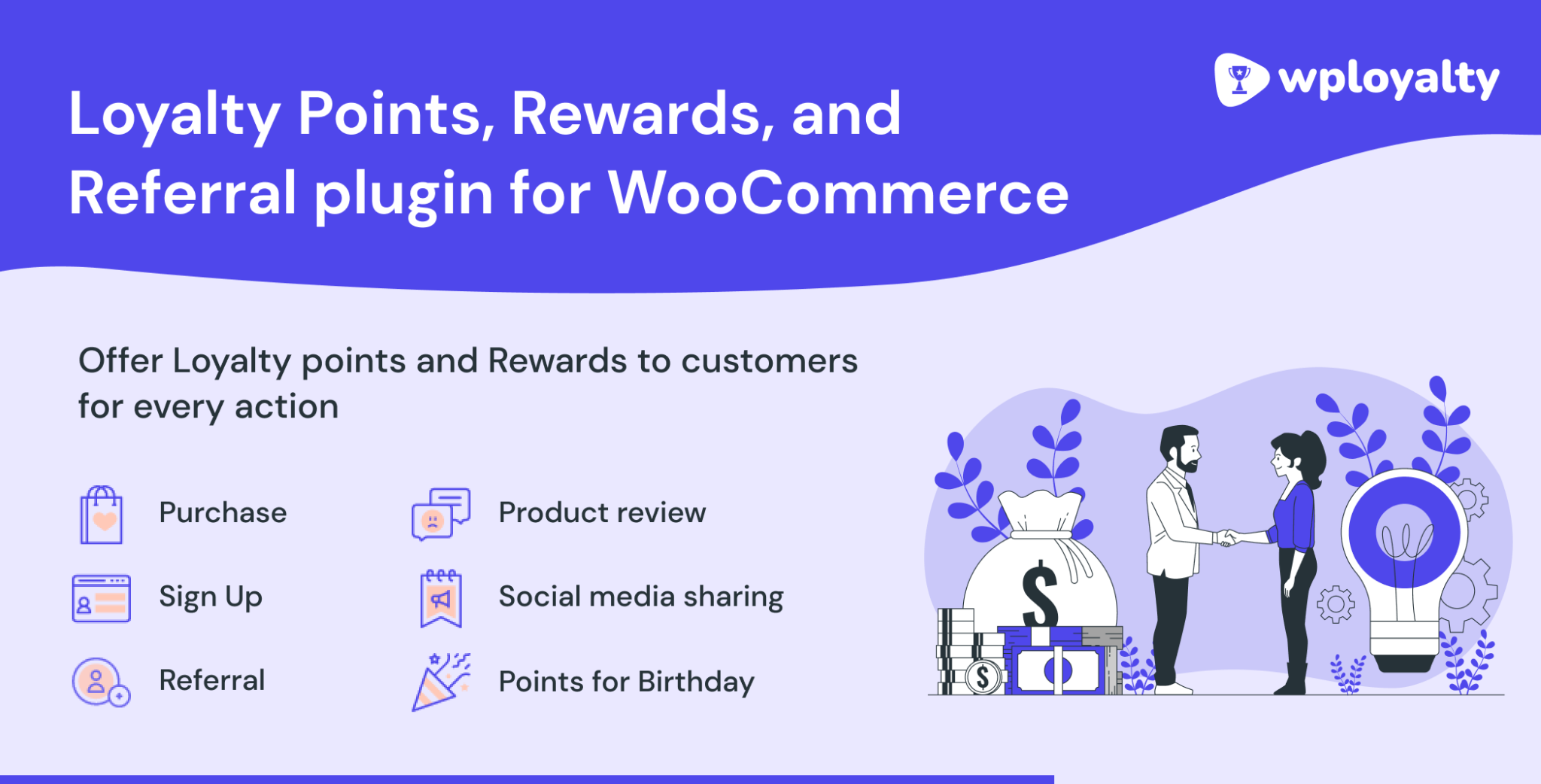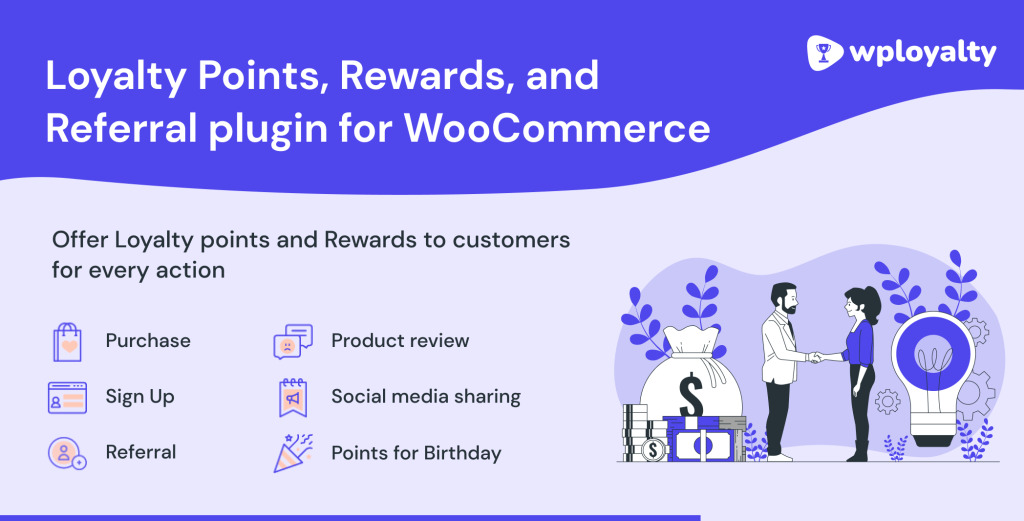 This Plugin gives Points to customers when they Sign-up, Purchase Products, Write Reviews, Share it Socially, and also a complement as birthday Points. These points can be redeemed as usual in their future purchases.
This plugin sets up loyalty Points on specific products based on Categories as well.
And one of the interesting features of this Plugin is that it lets you do a partial redeeming of Points (as much as Points you want to redeem based on the Product that you're purchasing).
Loyalty Points grants creative offers to customers and makes them loyal customers.
You can also run a Referral program using this plugin, turn your existing customers into brand advocates and acquire new customers cost-effectively. Reward referral points to customers after the referral completes his/her first purchase.
Features:-
Gives the customers Sign-up Rewards
Lets you earn Points for every single purchase
Points for writing a review about the Product that has been purchased by a customer
It allows you to earn more points when you conduct an eCommerce referral Program
Points for Referrals
In this Plugin, After purchase more referrals will give you bonus points
Based on the rules Implemented, the Points will be redeemed automatically
Allows you to choose whether to give discounts for new customers or not
Shows the rate of redeemed Points that is applied to offers and Discounts.
It allows the customers to redeem their Points partially or fully (as much as they want).
Customized expiry dates are set for the Points.
It allows us to check every detail about customers that they have provided(Points, Referrals etc).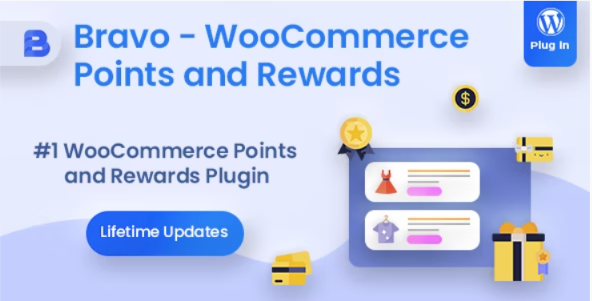 This helps in setting up Points and rewards for customers on their every purchase & various actions. As we have discussed above i.e you can set a limit based on per product, per category, or globally according to your convenience. This Plugin helps you to control the Reward Points or loyalty points on every category purchased by the customers.
There are even some more interesting features in this Plugin, they are, you can control customer Points like when a refund is done you can automatically remove the points and even reset Points, controlling the maximum Points, etc.
This plugin gives active support to every single customer. It is available 24*7 for any support. This creates efficiency. It gives a lateral update frequently.
Features:-
It gives Points on every single purchase.
Set expiry dates for Points.
User's points can be imported and exported
Points can be easily redeemed for discounts.
Discounts based on specific Points converted.
Points also can be earned by setting Point conversion boundaries during sales.
Customers can shop independently just to earn Points when point conversion boundaries are set.
Discounts can be maximized.
Lets customers earn Points from the first purchase itself.
Rewards and Points for signing up.
It helps to manage customer's Points
It shows the history of the Points and rewards.
It lets the customers view their Points data.
Points are removed during refunds.
Manages cart's total when redeeming Points.
Emails are sent on every action like expiry of points, redeemed Points etc.
Points can be redeemed automatically.

YITH allows you to offer instant reward points that satisfy every customer on their purchases. Here, on every single purchase a customer does, Points will be rewarded which can be redeemed to earn reduced price for products in their future purchases.
It is easy to filter out the Points while earning and redeeming Points and it also notifies the customers with the expiry of points.
The best thing about this plugin is that it gives accurate updates day to day.
Features:-
Allows us to set the expiry dates for points
Gives Points for new registered users.
Over-all threshold is checked often.
Targets are set and once the targets are reached Points are rewarded.
Automatically removes Points from canceled or refunded orders.
It has a set of rules on every product and category.
This also enables us to manage customer Points.
Points are given even to simple and varied products purchased.
Shows Points for every single product.
It shows how to calculate Points for discounts.
Shows the current logged-in customer's current points.
Shows Points history
Reset Points options are available.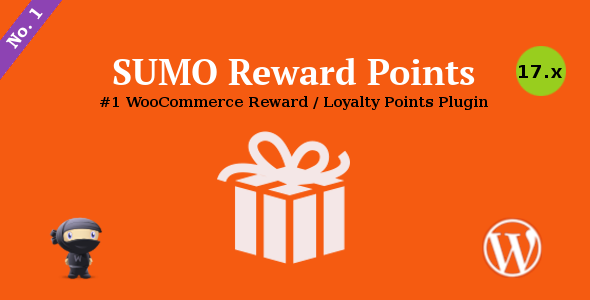 Sumo Reward points- WooCommerce Reward system actually gives Points to the customers for actions like Sign-up, Purchasing a Product, Referrals, Writing Reviews, and Social Promotions on your website. Customers can easily redeem points for their future purchases. It gives a set of fixed points based on the price tag of the product.
This also allows setting a limit to the Points that can be given for a Product. Here, Points can be shared even with the other customers as it is set in a way that Points are rewarded in merchandise level, category level, and global level.
This Plugin is very simple and easy to use which provides all facilities that can be used for rewarding points to customers. But it has a lot of settings that need to be figured out and monitored one by one.
Features:-
This gives an efficient rewarding system for customers in your store.
Points are assigned to every action done like Signing-up, Referrals, Review writing, Social Promotions etc.
It allows sharing Points with other users.
Sets a limit for Points redeeming.
SMS notifications are sent on every update.
Has User restrictions.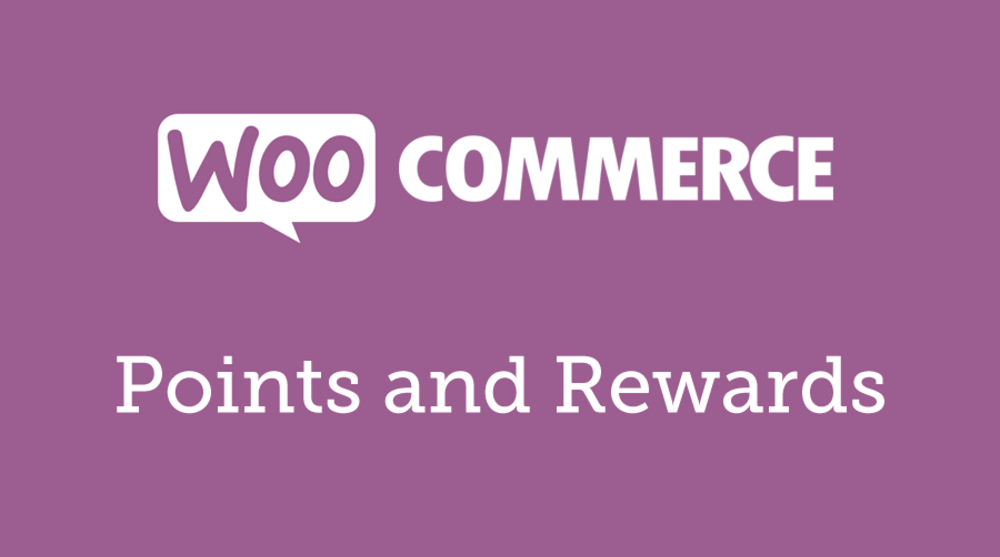 WooCommerce Points and Reward Plugins allow you to reward the customers with points for every purchase and every action you ask them to do.
This Plugin literally allows you to have complete control over the reward system by setting limits for allocation of Points, Offers and Discounts. Here it will allow you to choose the Points you want to give to customers based on different categories of the products with its global range in your store.
You can reward customers for writing a review, this is a great way to increase social proof in your store. Reviews build brand credibility and generate better word of mouth which in-turn can skyrocket your sales.
This Plugin allows the customers to view and manage their Points and also allows you to use particularized options to personalize the reward system by communicating with customers directly. This Plugin has all the features as other Plugins and is exceptional for Import and Export features.
Features:-
It is an easy system for offering Points for purchases and other actions of the customer in your eCommerce store.
No coding knowledge needed to use this plugin
This plugin gives Points for reviews on products.
Sets a limit for Offers and Discounts on Categories, Merchandise, and Cart levels.
It has simple settings.
Points and rewards offered can viewed on a clean- dashboard
Based on the purchases the percentage of the Points to be rewarded can be determined
Discounts can be controlled at the Cart, Category, and Product level.
Points for Signing-up and Writing Product Reviews.
Points are given on every purchase so that the customers can collect a set of Points and apply for Discounts.
Examples
Amazon Prime
Starbucks Rewards
Apple
DSW (Designer shoe warehouse)
Conclusion
When doing a business it is always important to fulfill and satisfy customers on their requirements on their purchases.
Points and Rewards here are mainly to help you build a long-term relationship with the customers and even helps in getting back lost customers and retaining the existing customers.
I have listed the best five Plugins with all the features so to be more precise about the above five plugins you can check into those Plugins websites.