WooCommerce is a powerful eCommerce platform enabling businesses to create and manage online stores. However, with so many available features and options, it could be overwhelming to know where to start. An important aspect of running an online store is creating a loyal customer base, and one way to do that is by installing the best WooCommerce points and rewards plugins.
A points and rewards system offers rewards for every action the customers perform at your store and incentivizes customers to come back for more.
Let's discuss in this blog the best WooCommerce points and rewards plugins that can help you increase customer loyalty and drive more sales. These easy-to-use plugins are customizable and will help you create a rewarding experience for your customers. Read on to find the perfect plugin for your business and take your business to the next level.
Implement loyalty programs easily with the best WooCommerce points and rewards plugins.
How do WooCommerce loyalty points and reward programs work?
Loyalty Points and Rewards for WooCommerce help customers earn points for certain actions like purchasing or leaving a review. Customers can redeem these points for discounts or free product rewards during later purchases.
To set up loyalty points and rewards for WooCommerce, install a loyalty points rewards and referral plugin for WooCommerce or an add-on that supports this feature. Once installed, you can set up the rules for earning points, for example—the number of points earned per purchase or referral. You can also set up rewards for certain points, such as a discount code.
Customers can view their points balance and redeem rewards by visiting their 'My Account' page on your store. The store owner can also set up tiers or levels for the program, where customers can earn more points or access exclusive rewards as they reach higher levels. Additionally, the store owner can set expiration dates for points or limit the number of monthly points that customers can earn. Loyalty points and rewards for WooCommerce can incentivize customer loyalty and encourage repeat purchases.
Benefits of Using Points and Rewards Plugin in WooCommerce Store
WooCommerce Points and rewards systems help you build a sense of community among customers and create a more personalized shopping experience. The WooCommerce points and rewards plugins can be a powerful tool for driving customer loyalty and increasing sales in a WooCommerce store.
Increased customer loyalty
By offering rewards and incentives, customers are more likely to return to your store and make repeat purchases.
Increased sales
You can encourage customers to purchase more or higher-priced items by offering rewards.
Better customer engagement
The plugin allows you to create custom points and reward systems tailored to your customer's specific needs, leading to better engagement and customer satisfaction.
Easy to use
The WooCommerce Rewards plugin is easy to set up and use, so you can start using it immediately to see results.
Customizable
You can set your own rewards and customize the rewards program to fit your business needs.
Increases customer retention
Rewarding your customers for their loyalty can reduce customer churn and keep them engaged with your brand.
Cost-effective
The plugin is cost-effective and does not require any additional costs.
The best WooCommerce loyalty plugin systems can help you stay competitive in a competitive market.
This blog will discuss some of the best WooCommerce Points and Rewards Plugins out there.
5 Best WooCommerce Points And Reward Plugins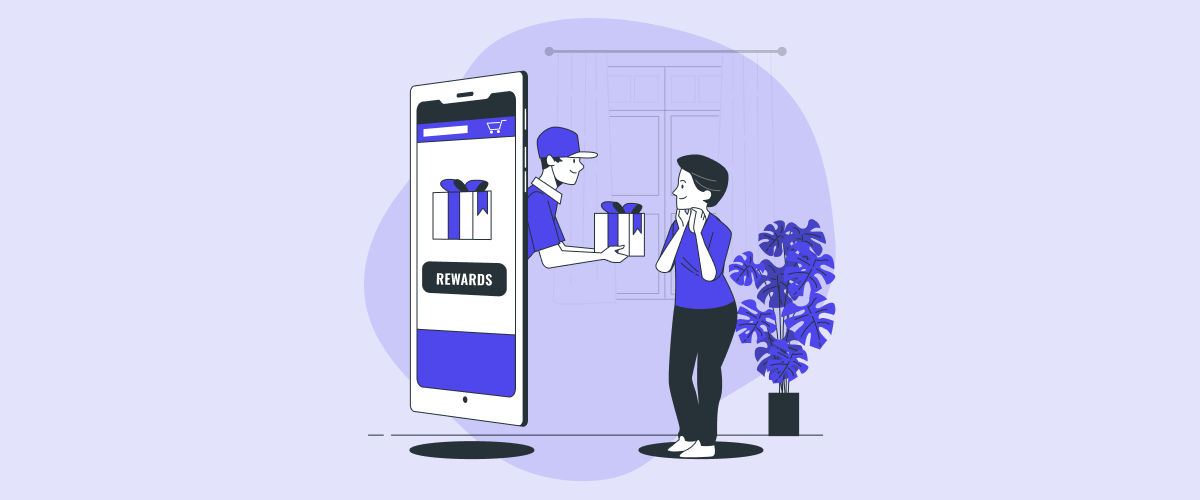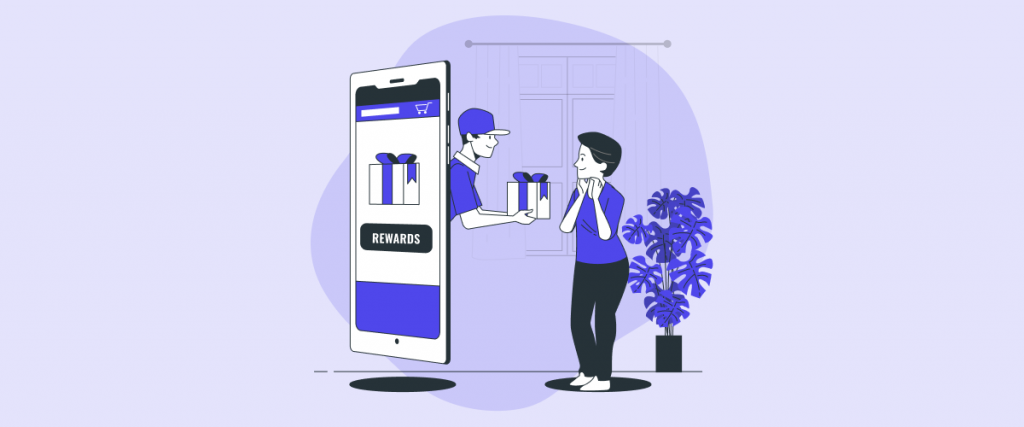 The Best WooCommerce points and rewards plugins allow customers to earn points for various actions, such as making a purchase or leaving a review. These points could be redeemed for discounts on future purchases. Each WooCommerce Loyalty plugin has its own unique features, such as the ability to set different point values for different products or actions. Let's take a closer look at these loyalty point plugins for WooCommerce.
WPLoyalty – Points and Rewards plugin for WooCommerce
Bravo WooCommerce Points and Rewards
YITH WooCommerce Points and Rewards
SUMO Reward Points – WooCommerce Points and Rewards Plugin
WooCommerce Points and Rewards Plugin
WPLoyalty is one of the best WooCommerce points and rewards plugins that offer a variety of features to enhance customer retention and engagement. This plugin allows you to reward customers for various actions like purchasing a product, signing up for an account, writing a product review, referrals, birthdays, and social sharing. Customers can earn rewards through points, free products/gifts, fixed or percentage discounts, free shipping, and instant coupons.
One of the standout features of WPLoyalty is its chat-like Launcher widget, which makes it easy for customers to discover your loyalty program and see all the rewards offered. Additionally, the plugin offers a Refer-a-friend feature to launch a referral program and acquire new customers through word-of-mouth.
WPLoyalty is compatible with WPML and supports multi-language and multi-currency stores. Other key features include levels and badges, one-time rewards, conditional points and rewards campaigns, customer management, bulk import/export of points, flexible rewards based on conditions, integration with WooCommerce Subscriptions, a simple and clean dashboard, real-time analytics, and email notifications for points earned and redeemed.
Ideal for eCommerce businesses of all sizes, WPLoyalty's annual pricing starts at $99. With its user-friendly interface, native integration with WooCommerce, and ability to create unlimited loyalty campaigns and rewards, it is the best option for boosting customer loyalty and sales.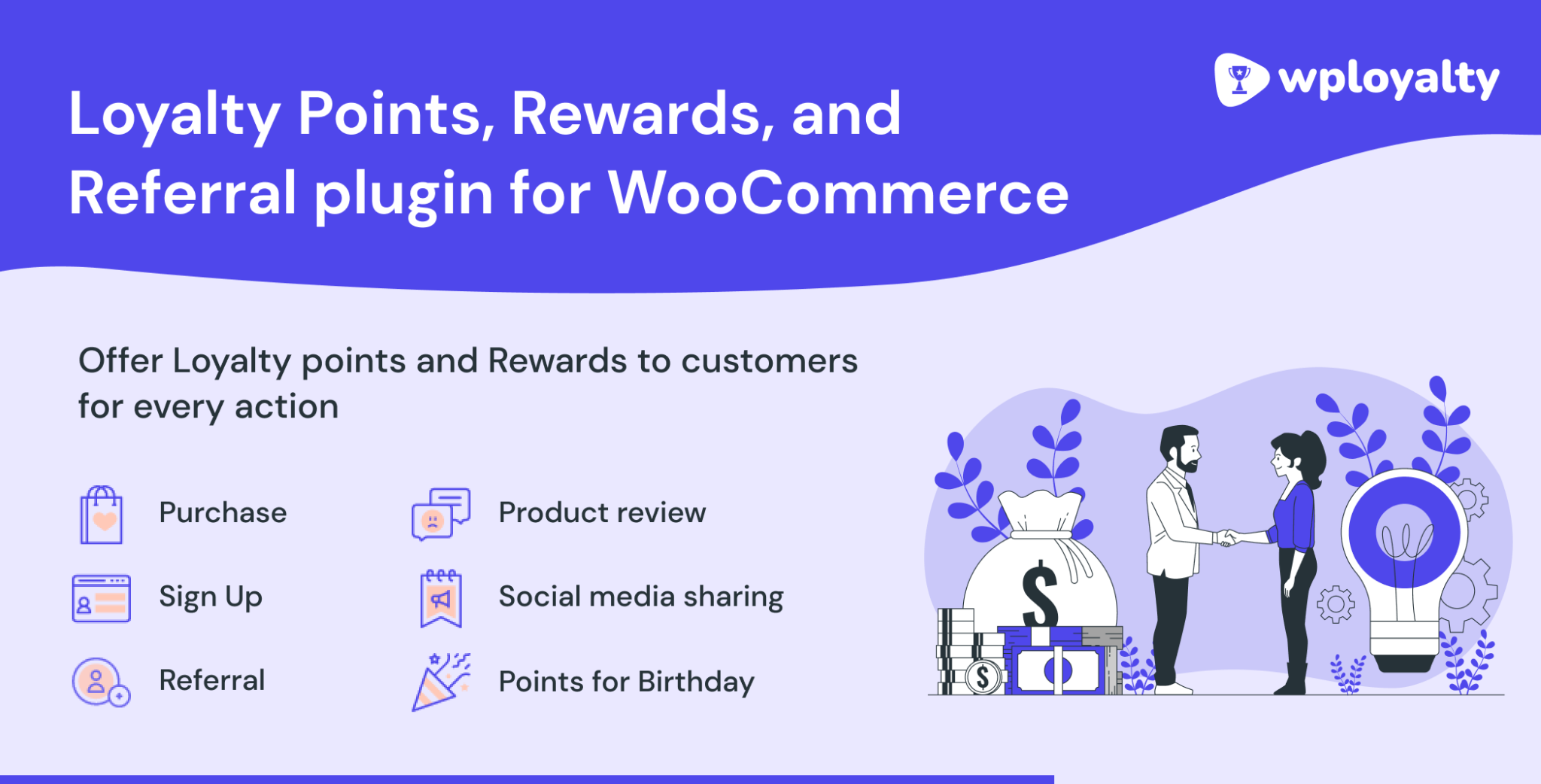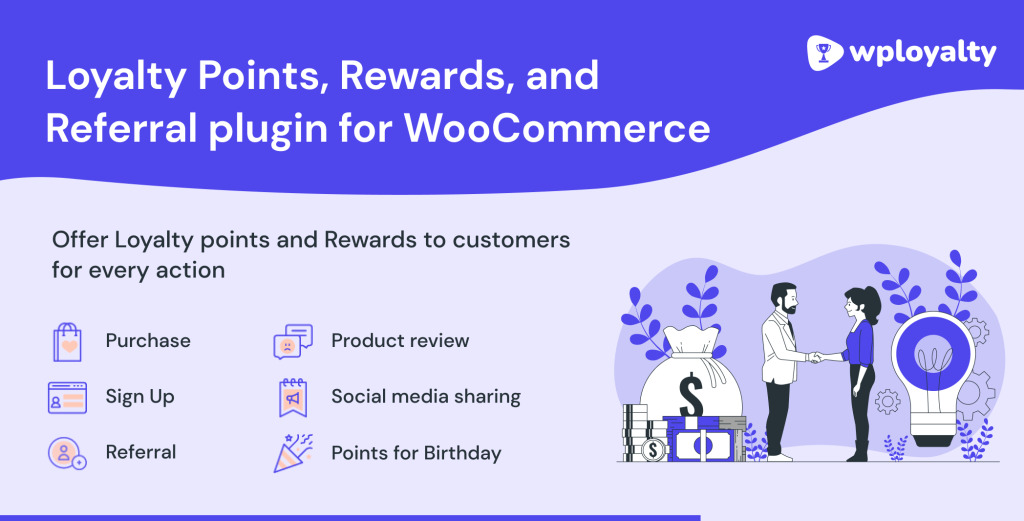 Features of WPLoyalty – WooCommerce Points and Rewards:
WPLoyalty – Points and Rewards for WooCommerce offer a variety of key features to enhance customer loyalty and engagement. These include:
Multiple levels and badges to encourage customers to reach higher milestones and earn rewards
The ability to offer one-time or bonus rewards to incentivize certain actions or purchases
The flexibility to create conditional points and rewards campaigns based on specific conditions
A customer management system to track and manage points and rewards for individual customers
The ability to bulk import and export points for customers for easy management
The option to convert points to coupons for added convenience and flexibility
Email notifications for customers to keep them informed of points earned and redeemed
Automatic expiry notifications for points and rewards to encourage timely redemption
Integration with WooCommerce Subscriptions to seamlessly track points and rewards for subscribers
A simple and clean dashboard for easy navigation and real-time analytics to track performance
WPLoyalty allows customers to redeem their points partially, unlike most WooCommerce Rewards Programs. The balance points can be saved for later.
Use WPLoyalty and engage your customers by implementing WooCommerce points and Rewards Program.
Bravo WooCommerce Points and Rewards WordPress Plugin helps you control the reward points you want to give away for a specific amount of purchases.
It gives you total control over the point/reward management with the threshold, ensuring zero cases of user exploitation. Bravo WooCommerce Loyalty Points and Rewards is a lightweight plugin that integrates smoothly.
This Plugin hosts some impressive features that will take any WooCommerce loyalty program to the next level. It enables the customers to view their Points data.
You can set limits per product, category, or even globally, according to your preference. When point conversion boundaries are set, customers can shop independently solely to earn Points.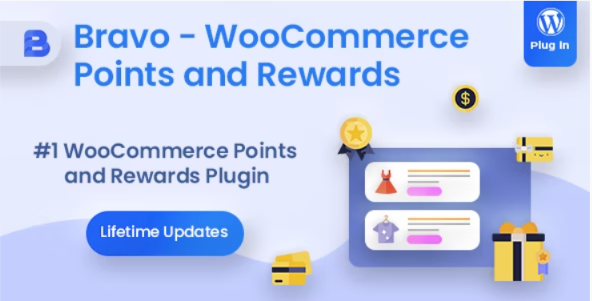 Features:
It gives Points on every single purchase.
Set expiry dates for Points
User points can be imported and exported
Discounts based on specific Points converted
Manage customer Points
Manages cart total when redeeming Points
Discounts can be maximized with points
Rewards, and Points for signing up
Shows Points and reward history
Not all WooCommerce Rewards Programs adeptly manage points from refunded orders. With Bravo WooCommerce Points And Rewards, it's different as it makes rewards easily accessible and removes rewards related to refunded orders automatically.
This plugin offers 24×7 active support and gives a lateral update frequently.
YITH is another best WooCommerce points and rewards plugins that rewards customers in exchange for Loyalty. It offers instant rewards to satisfy each customer tier.
The best thing about this plugin is that it manages customer data effortlessly. You can send an expiry notification for every reward earned.
Building your WooCommerce Loyalty Program with this plugin will make managing and filtering out reward points easier. You can set targets, and the sooner the customers reach their targets, the sooner they receive points and rewards.
Reward your customers for every single action that benefits your store.

Features:
Set the expiry dates for points
Reward newly registered users
Option to check the overall threshold regularly
Automatic removal of Points from canceled or refunded orders
Rules for every product and category
Points for simple and varied products purchased
Shows Points for every single product
Shows the current logged-in customer's current points
Shows Points History
Sumo WooCommerce Points and Rewards Plugin rewards customers for a diversified range of actions. It prompts customers to engage more and keeps them active. Customers can readily redeem their points for future purchases.
Actions rewarded by Sumo Reward Points
Signing-up
Referrals
Posting a review
Sharing on their individual social media handle
One striking feature of this WooCommerce loyalty program is its Shareable Points- Users can share reward points amongst themselves. Enabling user-to-user interaction. It increases user engagement and brings about a sense of belonging.
You can reward Points at the merchandise, category, and global levels. Setting a limit to the Points earned for a product and rewarding your customers with fixed points based on the product price tag.
As for launching a WooCommerce rewards program, it fits the bill perfectly, making rewards more attainable and exciting. Having said that, this plugin comes with loads of settings that help you monitor each step of this program effortlessly without costing you time and money.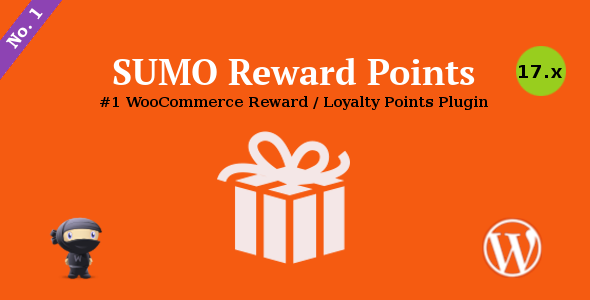 Features:
Points for every rewardable action
Sets a limit for redeeming points
Users can share points
Update notifications via SMS
User restrictions for eligibility
WooCommerce Points and Rewards Plugin offer rewards with the purchase and every other positive action. You get complete control of the reward strategy.
Launching your WooCommerce loyalty program with this plugin helps you:
Personalize the reward system
Communicate directly with your customers
Set limits for the allocation of Points, Offers, and Discounts
Choose how your customers want to redeem points.
Choose rewards based on product category, cart value, or quantity.
A great way to increase social proof in your store is to encourage customers who love you to drop a review. WooCommerce Points and Rewards Plugin rewards customers for writing reviews. Helping you build brand credibility and generate better word of mouth that skyrockets sales.
This is the one to go for if you're looking for a Plugin with exceptional Import and Export features! This Plugin allows the customers to view and manage their Points.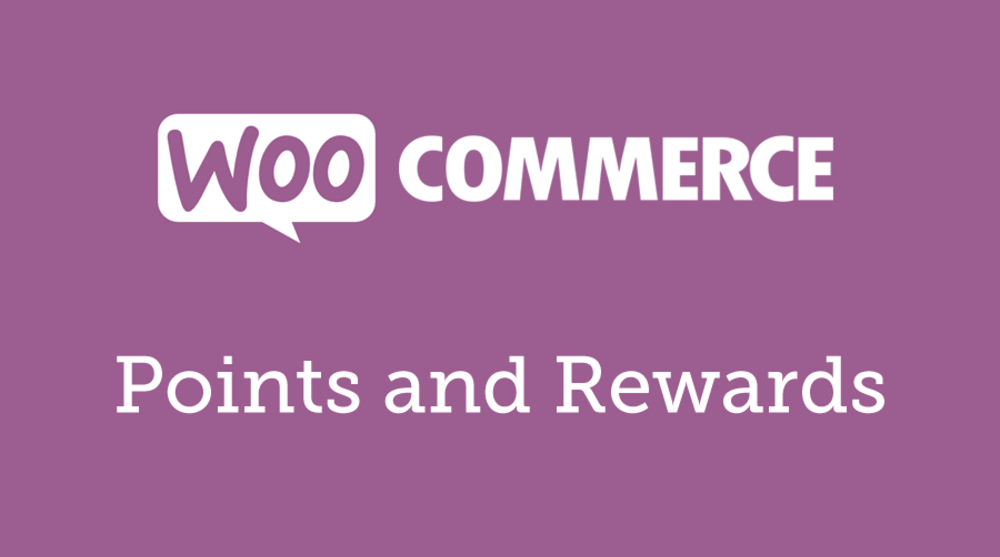 Features:
Simple. No coding required
Sets a limit for Offers and Discounts on Categories, Merchandise, and Cart levels
A clean dashboard that tracks customer movement and all your rewards
Cart, Category, and Product level discounts
Points for Signing up and Writing Product Reviews
Points for every purchase so that customers can collect them and apply for Discounts.
Implement Points and Reward system with WPLoyalty and increase sales & revenue.
Wrapping Up
The Best WooCommerce points and rewards plugins offer a comprehensive and user-friendly system for customers to earn and redeem points and various customization options for the store owner. Some popular options include WPLoyalty Loyalty Points, Rewards and Referral Plugin for WooCommerce, YITH WooCommerce Points and Rewards, Bravo – WooCommerce Points and Rewards, and SUMO Rewards.
When choosing a plugin, it's important to consider the specific features and functionality that align with your store's needs. For example, if you're looking for a more advanced system that allows for referral rewards, multiple reward levels, and tiered points, WPLoyalty – WooCommerce Points and Rewards plugin may be the best choice.
A points and reward system is an excellent way to incentivize customers to make repeat purchases and build a loyal customer base. By choosing the right plugin, you can create a rewards system tailored to your business's and your customer's unique needs.
Learn more about 'the best customer loyalty program ideas with examples, 'what's the difference between loyalty and referral programs, and 'how to reward loyal customers on WooCommerce.
How to provide points for purchase in WooCommerce?
To provide points for purchase in WooCommerce, you will need to use a rewards points plugin. There are several plugins available in WordPress. One of the best WooCommerce points and reward plugins in WPLoyalty. Once you install and activate the WPLoyalty plugin, you can configure the settings to assign points to customers based on their various actions.
What are reward points in WooCommerce?
Reward points in WooCommerce are a loyalty program feature that allows customers to earn points for their purchases, spending, signing up, writing reviews, and on their birthdays. In future purchases, customers can redeem the points for rewards, such as discounts, free shipping, or free products.
Why do we need to use points and rewards in our WooCommerce store?
Using points and rewards in your WooCommerce store can increase customer loyalty, encourage repeat purchases, and ultimately increase sales & revenue. It also provides a way to differentiate your store from competitors and create a positive shopping experience for your customers.
Can I give points based on the total amount spent?
Yes, you can give points based on the total amount spent using the WPLoyalty plugin. This plugin allows you to create a campaign to set the number of points earned per dollar spent, and you can change it anytime as per your preferences.
How can I reward my customers?
There are various ways to reward your customers using the popular plugin like WPLoyalty. It includes fixed and percentage discounts, free products, free shipping, or exclusive offers. You can use the WPLoyalty plugin to automate the process of rewarding points and rewards. The key is to find a reward that your customers will value and appreciate and to make the process easy.