Loyalty rewards programs are effective for eCommerce stores to increase customer retention and sales. Brands are more likely to implement rewards program for customers because it costs less to retain existing customers than to acquire new ones. Likewise, one should know how to set up a rewards program for customers before starting an online store.
Creating a customer loyalty rewards program in WooCommerce is easier than you think; a well-built WooCommerce plugin and a proper plan are all needed. This blog will guide you on how to set up a customer rewards program for customers.
Set Up a Customer Rewards program with WPLoyalty and start retaining customers & acquire new ones easily.
What is a WooCommerce Rewards program?
A WooCommerce Rewards Program is an effective marketing strategy to build a loyal customer base and increase sales. With an effective loyalty rewards system, you can increase customer engagement and drive more repeat purchases. So, start rewarding your customers with points, reward them coupons/discounts and other exclusive offers.
Customer loyalty rewards programs not only benefit customers but also the stores. Providing customer rewards helps you acquire new customers and increase repeat purchase rates. To make the loyalty rewards program a win-win, read the entire blog to know how to set up a rewards program in WooCommerce.
Benefits of a Loyalty Reward Program
A customer loyalty rewards program enables you to build strong relationships with customers by rewarding them for purchasing from your WooCommerce store. There are various benefits reward programs offer, and WPLoyalty plugin will help you give an amazing rewards program for customers with its advanced features.
Let's look into those and get started with how to set up a customer rewards program right from today if you have not already started.
Customer Retention
Customers usually think twice before purchasing any product, sometimes by looking into the reviews or asking for suggestions from friends. They will always ensure to spend money smartly. So, making sure to help customers' buying decisions with the right set of marketing impressions is equally important.
Therefore with customer rewards retain your loyal customers and make them feel extra special by offering incentives. Moreover, delighted customers will continue to purchase more from you and refer other customers; generally, they are your superstar advocates for your brand.
Launch a loyalty rewards program with WPLoyalty & retain your customers in an easy way.
Increased Revenue
Prefer giving your customers reward points for every dollar they spend. Because customers tend to visit your store again to redeem the points they earned for a coupon/discount. Further, when customers visit your store more frequently, it means they make more purchases. More purchases will automatically lead to more revenue.
Word-of-Mouth Referrals
Satisfied customers who benefited through your loyalty rewards program share their buying experience with their friends and family. They will do a word-of-mouth promotion about your products and services if they are exceptionally satisfied with their purchase. They may refer your brand to their circle of people and help you grow your business.
Referral programs are like a double benefit, as you can bring new customers to your store free of cost, and your existing customers will become your brand advocate. All you have to do is set up a customer rewards program to reward your customers and the referrals with exciting coupons or discounts.
Learn different ways on how to reward customers for referrals.
The above-discussed benefits are the most important benefits that loyalty rewards programs can offer your store. So, now it's time for you to set up a rewards program for customers. Let's get started!
How to Create a Rewards System for Customers?
To set up a customer rewards program for customers, all you need to do is install the best WooCommerce plugin like WPLoyalty. With many of its unique features, it's easy for one to create a loyalty rewards system for customers. So, have a look at the ideas given below and get started.
Choose the Right Plugin
To set up a rewards program for customers, you must choose the right plugin that fits well into your store. Choose the plugin that is user-friendly and has advanced features. Also, consider the plugin that is easy to install, has various rewarding options and quick to set up and run.
For example, Let's consider WPLoyalty – Points and Rewards for WooCommerce. WPLoyalty has amazing features which allows you to set up a customer rewards program and reward customers for various actions they make at your store. Like, rewarding points for every purchase, rewards based on spending, and order goals. Rewards for referring to your brand and sharing products on social media.
It also has other exciting features like, point-expiry app, where you can encourage customers to redeem the points before it expires.
Choose Rewards
Once you choose the right plugin, make sure to choose the right rewards. The rewards you choose must meet the needs and expectations of your customers. There are various ways you can reward your customers. Like,
Rewards for purchases
Rewards for spending
Rewards based on order goals
Fixed or Percentage discount
Freebies or free shipping
Referral rewards
Rewards for social-shares
Promote
Promote your loyalty rewards program through social media or by email marketing. Once the rewards program is live, spread the word about the benefits and the exciting offers to your customers. Send emails with catchy phrases and encourage people to visit your store.
If you are not sure of what rewards would excite your customers, conduct a survey to know your customers likes and dislikes. This type of survey will help you offer the best loyalty rewards program.
How do you Structure a Customer Rewards Program in WooCommerce?
A Customer rewards program helps you encourage your loyal customers and make them feel special. Also, with a rewards program you can reward your customers for every engagement at your store. For example,
Points for Purchases
Reward points for every dollar your customers spend. For instance, 'Get one point for every one dollar you spend'. This will motivate customers to spend more and earn more points.
Rewards based on Spending
Reward customers with coupons/discounts based on the amount of dollars they spend. For instance, 'Spend a minimum of $100 and Get a $10 Off'.
Rewards for Referrals
Encourage customers to participate in the referral program and reward them with exclusive offers for their action. For example, Refer a friend and you Get $10 Off and your friend gets a $10 Off.
Rewards for Social-Shares
Appreciate customers for sharing your brand or product on social media. For instance, 'Share our product on social media and get an instant 10 points reward'.
Rewards for Writing Product Reviews
Most of the customers read product reviews before purchasing a product. Also, product reviews are the best way to know what customers think about your product. So, reward customers for writing product reviews. For instance, Review a product and get a 10% Off.
Learn how to set up points and rewards for your eCommerce store.
How to Set Up a WooCommerce Rewards Program ?
WooCommerce rewards program is now easy to set up with the best WPLoyalty plugin. With the plugin, you can offer rewards for your customers in various ways. For example, 'Get $15 Off for 200 points' or 'Get a free product for 500 points'.
Let's look in detail into how to create such rewards for your customers. We will be using the WPLoyalty for creating a reward program in WooCommerce.
So before you start creating a rewards campaign, make sure you download and install the WPLoyalty plugin. Now, visit the WPLoyalty dashboard to get started.
Create a Rewards Campaign
One of the most popular forms of reward is offering points for purchases. Customers can earn points for a number of other actions as well. For example, customers can be given points for spending on your store, signing up for an account, writing a review or referring their friends. And customers can redeem these points for different rewards.
So let's create a rewards campaign in WPLoyalty.
Please go to your WordPress dashboard -> WPLoyalty -> Campaigns -> click Create New Campaign
Choose the "Points for Purchase" campaign and start configuring.
In this guide, we will use the example: Earn 1 point for every $1 spent.
You will get various rewards like fixed discount, percentage discount, free product and free shipping. Click on your preferred rewards, fill out the details and create the rewards campaign.
Example 1: Let customers redeem points as coupons
Let your customers redeem their Points into a Discount.
Click on Rewards – Click on Points Conversion and fill out the necessary details. Click on Save and Close to create the reward.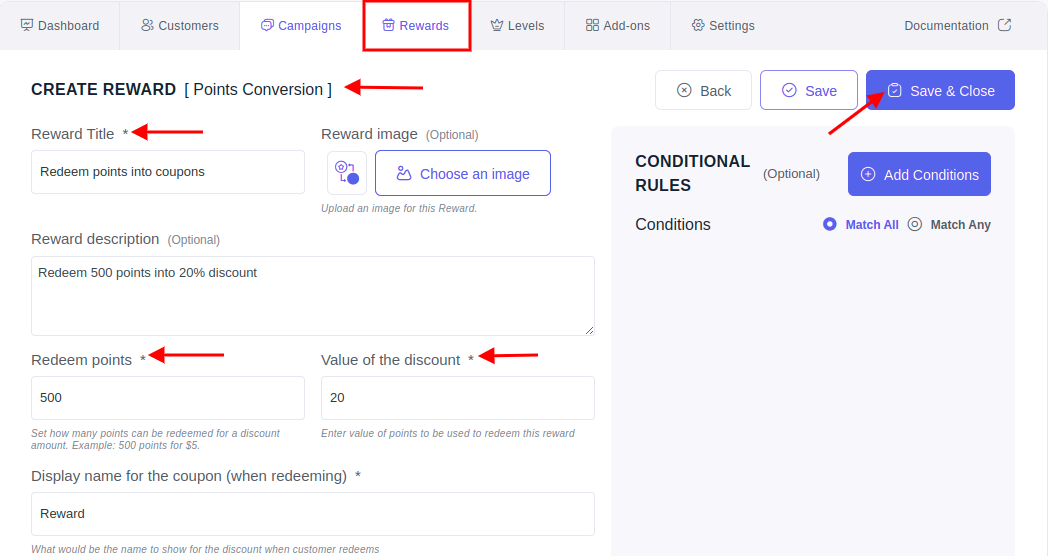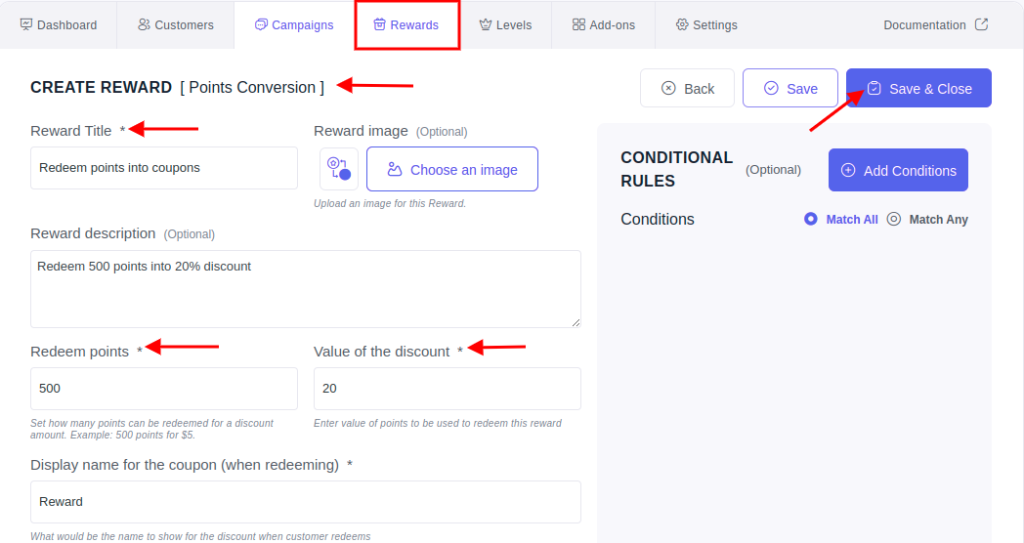 Your customers can visit their my account page – points & rewards section to redeem their reward.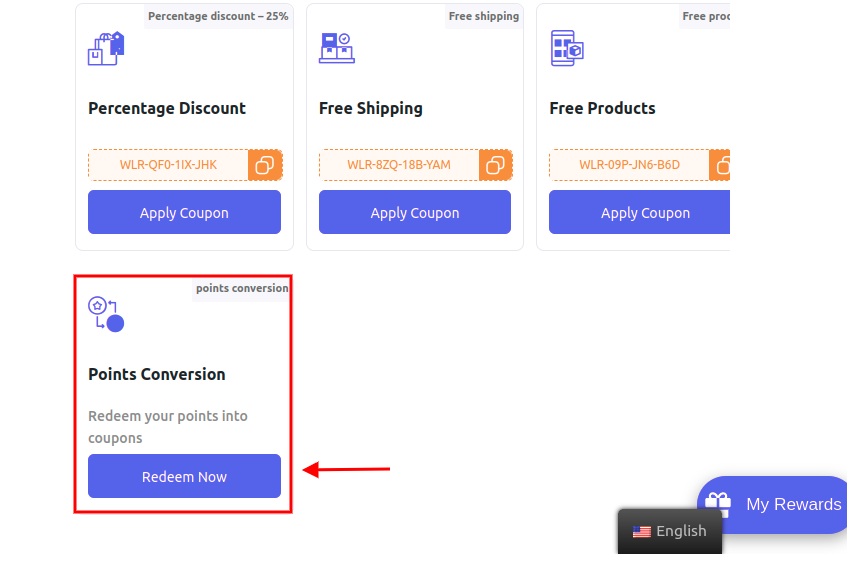 Once your customer clicks on redeem now, he will get a pop up asking for how much point he's willing to redeem on this purchase. For instance, if he wishes to redeem 500 points he will get a $20 Off coupon. In case, if he wishes to redeem 1000 points, he will get a $40 Off coupon.
Example 2: Fixed Reward – $50 for 500 Points
So, once your customers earn 500 points, they can redeem the points for $50 Fixed Discount.
Visit the Dashboard – Click on Fixed Discount – Fill in the details and Click on Save and Close.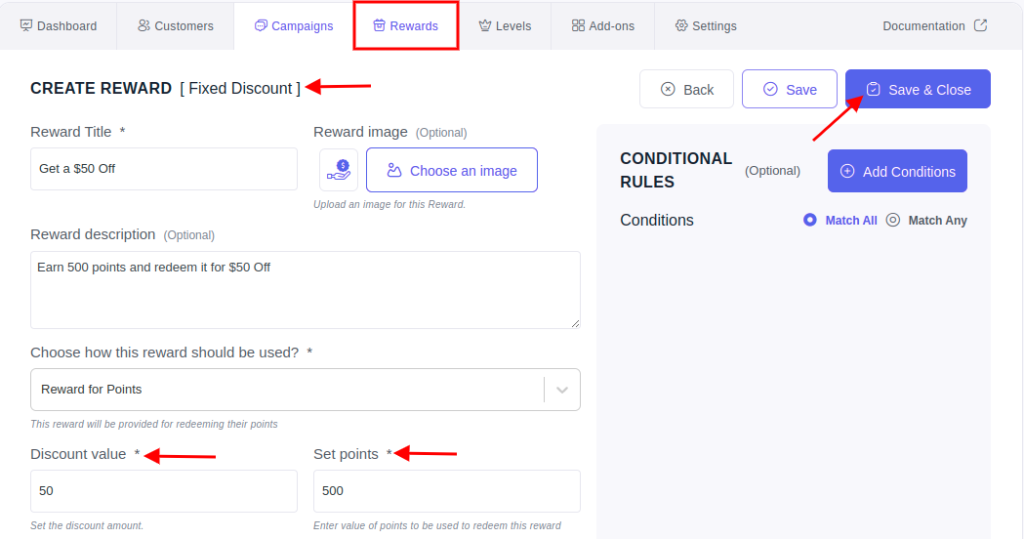 Once the reward is created, your customer will be able to see the rewards on their rewards page. So, during their check out customers can apply their coupon and enjoy their benefits.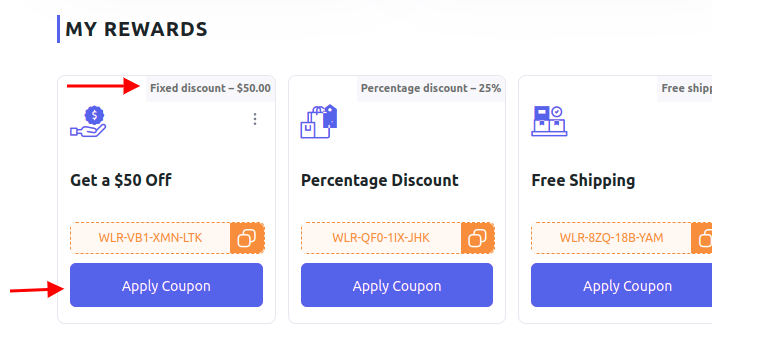 Example 3: Free Product – 'Get a free product for 500 points'
Reward free product for customers for earning 500 points. Let's see how to do this!
Visit the WPLoyalty Dashboard – Click on Rewards – Free Product – Fill in the details and create a Free Product reward.
Once the Free Product reward is created, your customers can see the rewards on their rewards page and collect it by redeeming it for 500 Points.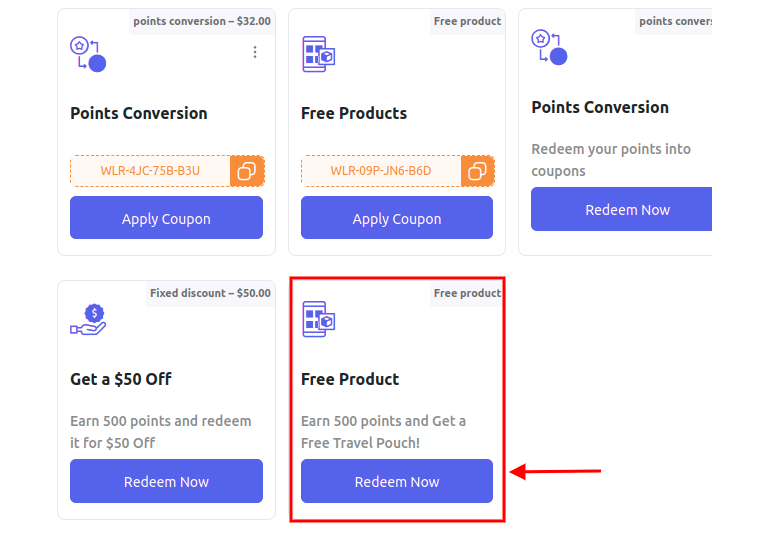 The Free Product reward will be added to the customers on their check out page.
75% of the customers buy more products from a brand with a customer rewards program. Get WPLoyalty & increase your store revenue easily.
Conclusion
To conclude, it's as easy to set up a rewards program for your customers as shown in the blog. Remember, a perfect customer rewards program will work as a charm for your business and encourage customers to return to your store more often. So, be flexible, start listening to your customer's feedback, and be willing to give them the customer loyalty program they prefer.
Similarly, consider the different ideas and examples mentioned in the blog and set up a customer rewards program for your store.
Furthermore, if you want to know how to reward customers for referrals, Read from the blog.
How do I get customers to join rewards program?
You can show your customers the benefits and value your rewards program offers. Also, set up a customer rewards program that encourages them with more creative ways and you can easily get customers to join rewards programs.
How do you offer customer rewards?
The customer rewards you offer can be points, coupons or discounts. Sometimes, you can also excite them with freebies and providing free shipping.
How do I create a reward system for my business?
You can create a reward system for your business by installing a popular WooCommerce plugin like WPLoyalty and set up a customer rewards program for customers.